17 In-Demand Freelance Skills To Learn In 2023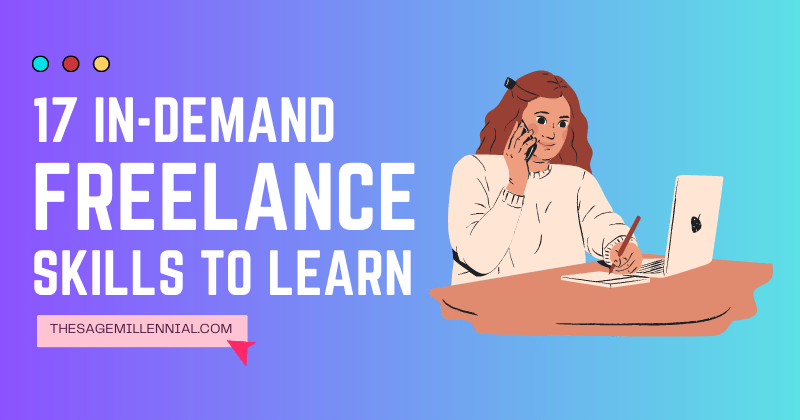 This article may contain affiliate links. If you make a purchase using my links, I'll earn a small commission at no extra cost to you. I appreciate your support!
Being a freelancer is no longer a part-time or weekend job. 
Every day thousands of new freelancers join the marketplaces hoping to quit their day jobs and be full-time freelancers.
Better work-life balance, job satisfaction, higher pay, and no boss to trouble are some of the benefits of being a freelancer in 2023.
While all this is great, you need to have some skills to be a freelancer. If you don't have skills that can be freelanced or you're not sure what skills would be Da best, sit back and relax.
In this list post, I have compiled the 17 most in-demand freelance skills. Each one of the freelancing skills if learned can help you quit your day job and take up freelancing full-time.
You'll learn:
The best in-demand freelance skill in 2023!
And how you can learn these freelancing skills.
Your next steps…
Write down what skills you can learn and offer to your clients as a freelancer. Once that's done, I have another article and more information for you at the end of this post (the next step).
Let's go!
1. Freelance Writing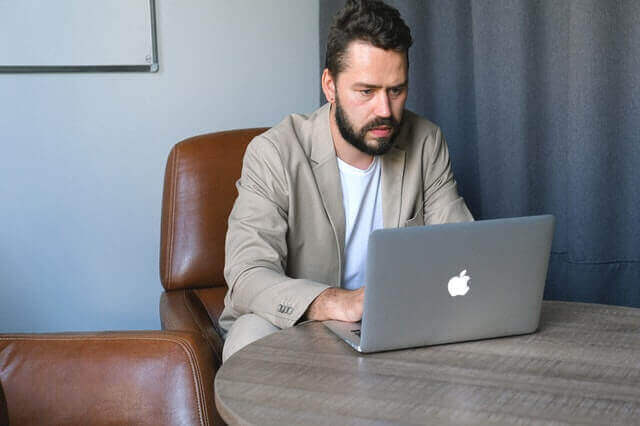 Websites need content to rank on Google and other search engines! Instead of figuring out what to write, how to write it, and hiring a huge team to manage content creation on their website, companies hire freelance writers to fill in the gap. 
Writing articles and newsletters is an important skill. Companies pay top dollar to content writers and copywriters to write attractive pieces of content.
Freelance Writing is always going to be one of the most sought-after freelancing professions because every company on the internet NEEDS content on their website to attract new customers and retain existing customers.
Where Can You Learn Freelance Writing?
The good news is that you already know the basics of How to Write! The bad news is that you already know the basics of How to Write 🙂
Writing (as a profession) is a difficult skill to master, especially if you have been taught the wrong way to write in school. 
Sure, knowing how to write will make things a bit easier, but it does more bad than good! 
Luckily, some great courses go above and beyond to help you make a living as a freelance writer. Here are my top course recommendations:
Filthy Rich Writer (Best Freelance Writing Course)
Filthy Rich Writer, a freelance writing course founded by Nicki Krawczyk is one of the best courses on freelancing and content writing.
This course shows you the exact way to be a freelance writer and make an income of 5-6 figures per year.
Nicki has been in this field for over 20 years and knows how professional freelance writers (like her) make a ton of money while most beginners fail to make a few hundred dollars.
Her signature course – Comprehensive Copywriting Academy is all about building a freelance writing business from scratch.
They also have a 30-day refund policy, so for some reason, if you don't find the course useful, they'll happily refund you!
None of the students I've recommended the course to have asked the Filthy Rich Writer team for a refund.
What I recommend is checking out their Free CCA Training where they'll go through the following topics:
1. How to Land Clients Outside Of Freelancing Platforms
2. Step-by-Step Process to Make 6 Figures as a Copywriter 
3. How to build a copywriting career in the least time possible
Not just that, Nicki and her CCA Team will also give you a blueprint of how to run a freelancing business by building systems.
That's a lot of information for free! I recommend signing up for their Free Training now!
If you want to learn more about freelance writers, check out my in-depth review, where I break down this course to determine if it's a good fit for you.
🏆 Best Freelance Writing Courses (2023) 🏆
🏆 Best Freelance Writing Courses (2023) 🏆
2. Video Editing
Video Editing is BOOMING! There has never been more demand for professional video editors. 
With the rise of YouTube, online advertisements, and OTT platforms like Netflix, the demand for professional video editing is through the roof.
Good video editors are paid top dollar for their work (provided their freelance work is top-notch!) 
As a video editor, you will have access to raw video files that you then have to crop, merge and add effects that make the video engaging, relevant, and interesting. 
If that's something you find interesting, video editing is a golden ticket for you.
Where Can You Learn Video Editing?
To an outsider, video editing sounds like an easy-to-learn freelance skill, but that's far from reality. 
If you're serious about learning professional video editing, I recommend these two courses:
Video Editing in DaVinci Resolve 17: Beginner to Advanced
DaVinci Resolve is one of the best video editing software in 2023. 

It has a free plan that includes most of the essential and advanced features that you'll need to be a video editor. This course focuses on teaching you everything using the Free Plan. 

This Beginner to Advanced course by Louay Zambarakji has been taken by 25000+ students and has a superb average rating of 4.6/5.

I definitely recommend this course for anyone looking to enter the video editing space.

Check out the course here – Video Editing in DaVinci Resolve 17
Adobe Premiere Pro CC Masterclass: Video Editing in Premiere

Adobe Premiere Pro is an industry-standard video editing software. If you wish to edit videos with this software, this course will be the perfect fit for you!

This 24 hours course is broken down into 20 sections that take you right from the basics of Premiere Pro to the most advanced features. 

The Masterclass has been a bestselling course on Udemy for quite some time with over 400K+ students taking the course (average rating 4.7).

I'm confident that by the end of the course, you'll be a professional video editor and a master of Adobe Premiere Pro.

Check out the course here – Adobe Premiere Pro CC Masterclass.
3. Data Analysis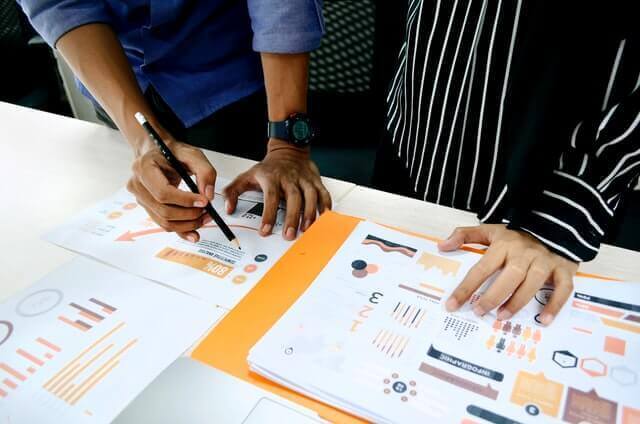 Data Analysis is one of the most in-demand freelance skills that will never cease to exist. 
That's because we live in a world where one who understands data is the King! 
Any business with an online presence needs help with analyzing its data.
If you can interpret your client's company data and give insightful information to them, you're the most valuable person for the client. 
The insight you provide can help expand their knowledge, grow their business, and make their money!
Where Can You Learn Data Analysis?
When it comes to learning data analysis, especially as a freelancing skill, I always recommend taking a course with DataCamp.
DataCamp is one of the best websites to learn everything about data. They focus on teaching essential data skills, machine learning, and data science. 
The courses are curated according to your data analysis level i.e. there are courses for beginners, intermediates, and advanced data-driven enthusiasts. 
You don't need prior coding experience to attend these courses. DataCamp will teach you how to use codes like Python, R, and other tools to understand data in a way you have never done before.
If you're serious about data learning, I suggest you take a course from DataCamp.
4. Proofreading
Would you read a book that has countless grammatical mistakes or a book that is slightly less interesting but has little to no grammatical mistakes? 
I hate reading something when it's filled with errors. 
Book publishers, bloggers (like me), and newspaper companies write a lot of content. 
Mistakes are bound to happen, so naturally, every article will have a bunch of errors in it. To ensure these errors don't see the light of day, companies hire freelance proofreaders.
These guys are responsible for reading between the lines, finding such grammatical errors, and rectifying them to ensure people have a smooth reading experience.
Proofreading is in high demand. With more and more content being published every day, companies will need proofreaders to do more work. 
This means you stand to make a fortune as a successful proofreader.
Where Can You Learn Proofreading?
Proofreading is a difficult skill to master! You need to have an eye for detail, and you must learn proofreading marks and all other tips and tricks elite proofreaders use. 
That said it's not impossible and can be learned under proper guidance.
Here's a list of my top picks to learn to proofread the right way:
🏆 Best Proofreading Courses (2023) 🏆
🏆 Best Proofreading Courses (2023) 🏆
Knowadays (Previously known as Proofreading Academy)
If you're in the market for the best proofreading course in 2023, you'll not find a better course than Knowadays! 

The course module is structured in a unique way that ensures you truly understand proofreading in-depth. They also update their content regularly which keeps your information on being a proofreader relevant.

The course price justifies the content you get, and the customer service team is quite responsive.

I mean it, this in-depth beginner's proofreading course is so good that they also provide you with a work guarantee at the end of course completion. Who does that!?

To learn more about Knowadays, check out my in-depth review here.
Proofread Anywhere
The all-time best course, Proofread Anywhere is a well-known reputable course for proofreaders. 

Caitlin, the founder of Proofread Anywhere is one of the top proofreaders in the industry and has created a course specifically designed for beginner proofreaders to start a successful proofreading business.

To learn more about Proofread Anywhere, check out my in-depth review here.

Both the above courses are packed with value, but Knowadays is a little cheaper than Proofread Anywhere, in terms of the course syllabus both are equally amazing.
Read More >>> 13 Foolproof Tips to Improve Your Proofreading Skills​
5. Social Media Marketing
The average person spends 2.5 hours on social media every day. You're probably spending more time than that number 🙂 
But there's a productive way to spend time on social media – Be a Social Media Marketer. 
I'm sure I don't need to explain the demand social media marketers have! There's never been a better time to be a social media marketer. 
Instead of wasting time scrolling and not getting any monetary value in return, why not work for clients and help them with their social media business!? 
They make money, you make money, and you get to scroll on social media! It's a win-win situation for all. Hurray!
Where Can You Learn Social Media Marketing?
Being good at marketing means you need to learn to read and interpret your clients' customers, come up with innovative and unique strategies to attract new customers, engage with the audience, and find ways to reduce cost while providing the best results. 
To learn all this and more, I suggest you take up this best selling course by Udemy:
Social Media Marketing MASTERY
One of the most in-depth courses on social media to teach you all the tricks & tips you need to master the game of digital marketing. 

It's a 10-hour course, broken down into 12 sections. At the end of the course, you'll learn marketing on the 10 best social media platforms. 

This will help you get new clients and make money as a freelancer.

If that seems interesting, take a look at the course here.
6. E-commerce Consulting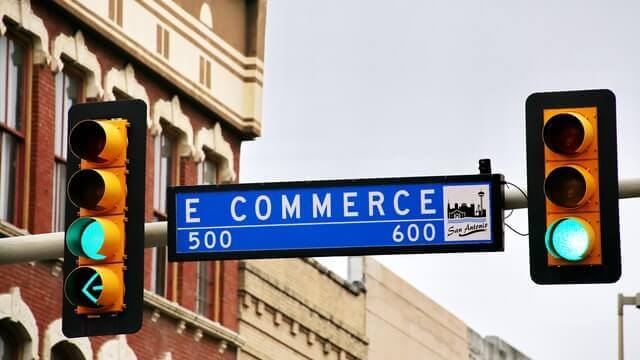 The E-commerce industry is expected to grow to $ 111.40 billion by 2025. That's more than double the growth we saw in 2020! 
This means the E-commerce space is buzzing right now, and the ones who know how the game works are the real moneymakers.
If you've used e-com tools like Shopify, BigCommerce, Woocommerce, etc., and know-how to increase sales, profits, and the overall e-commerce business, you should be a consultant. 
Figuring out how to make it big on Google is tough! If you can simplify your client's work by giving him a successful and profitable business on a silver platter, you will be paid very well.
Where Can You Learn E-commerce Consulting?
To learn about this space, you need to learn all e-commerce platforms in detail. The best way to do that is to practical experience these platforms. 
Create e-commerce websites and try to sell products. Once you prove you're the person for the job, clients will be ready to pay you money. 
You can watch videos on YouTube, read articles that teach you how to deal with e-commerce software and how to make money by selling products. 
A course won't be helpful if you don't practically set up websites that run on platforms like Shopify, Bigcommerce, and Woocommerce.
7. Virtual Assistant
A virtual assistant is a freelance worker who handles the administrative work of his clients from a remote location. 
This job is perfect for anyone who can manage multiple tasks, is quick at work, and likes working under the clock. 
The job is dynamic and requires you to work on what your clients want you to work on.
Where Can You Learn To Be A Virtual Assistant?
If you want to know exactly how to be a virtual assistant, here's an article where I've explained it: How to be a Virtual Assistant (2023).
In short:
Be good at multitasking
Try being good at getting things done before the time
Always provide quality results.
If you want to become a profitable virtual assistant and make a 5-6 figure yearly income and you don't want to spend too much time figuring it out, check out Abbey Ashley's VA Course – The Savvy System!
It is one of the best virtual assistant courses on the market that teaches you EVERYTHING you need to know about how to be a successful VA and make a full-time income as a VA. Hundreds of Students enrolled in her VA Course have been able to create consistent income, get new leads and grow their biz!

I've written a detailed review of The SavvySystem, go through my review and if you're interested, enroll in their course today!
🏆 Best Virtual Assistant Courses (2023) 🏆
🏆 Best Virtual Assistant Courses (2023) 🏆
8. Website Development
If you've learned coding and building websites, web development is a great freelance skill that you can monetize! 
Website development is a high-demand skill, but there aren't many web developers to fulfill client projects. That means demand is more and supply is less.
When this happens, already existing web developers get paid more than fair rates. 
What this means for you is to stop reading anything else and start your freelance journey as a website developer (provided you already have the skills).
Where Can You Learn Website Development?
Website development is an easy-to-learn skill but having sufficient practical experience is the key here as learning how to build a website is not the same as working for a client.
I'd suggest The Complete Web Developer Course 2.0. Unlike most web development courses, this course takes a practical approach by helping you build 25 websites and mobile apps using HTML, CSS, Javascript, Python, PHP, and MySQL.
This course is suited for beginners that said a basic knowledge about HTML, CSS, and others would be extremely useful.
9. WordPress Management
Not everyone needs a heavily coded website to run an online business. In such cases, companies use WordPress to run their website. 
Neil Patel, one of the most influential digital marketers uses WordPress on his website. Many large corporations use WordPress to run 7 figure businesses. 
As a WordPress Manager, you'll be responsible for creating and designing web pages, scheduling blog posts, ensuring the website runs fast, trying and testing new plugins to optimize for users, and managing comments and other backend work.
In short, the demand for WordPress-based websites is skyrocketing, while those who know this freelance skill are extremely few.
Where Can You Learn WordPress Management?
There are a few great courses on WordPress, but there's nothing rocket science about this skill. Anybody can learn this skill quickly and without putting in much effort. 
You don't need to spend on courses to learn WordPress. Here's a 2 hours course on YouTube that will teach you the basics. Watch a few more videos on YouTube and i
Oh, and this website is also running on WordPress!
10. Search Engine Optimization Specialist
Search Engine Optimization, aka SEO, is a skill that helps websites rank on the top pages of Google. 
It's a branch of digital marketing that focuses on growing an audience using organic traffic. 
As an SEO Specialist, it's your job to ensure your client gets traffic to his website, the website is SEO optimized, etc. 
Being an SEO Specialist is a tough job, at least if you know nothing about it! It involves using excel sheets, graphs, stats, and other SEO tools. 
For example, you need to figure out why a user clicks an article instead of another and optimize your website accordingly.
This freelancing skill will always be an in-demand skill to learn. 
I recommend practicing and acquiring a wide range of SEO skills to make money freelancing.
Where Can You Learn SEO?
The best place to learn SEO is Google. Just search "How to learn SEO", and you'll find thousands of articles. 
Here are two such in-depth articles by Moz. Read, understand and read more!
If you want a course that will teach you SEO step-by-step, you can check out this Beginner to Advanced SEO Course.
11. Graphic Designing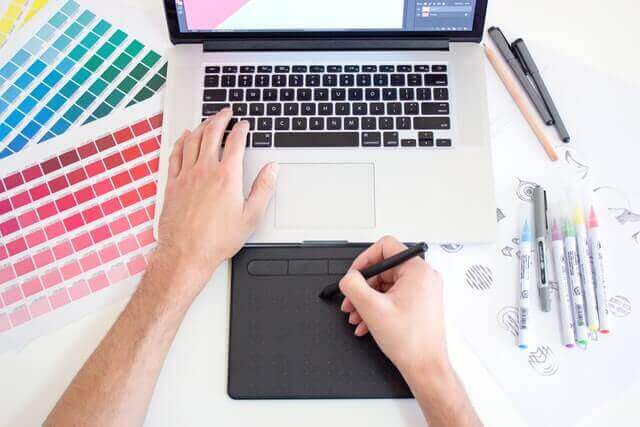 Like creating visuals? Interested in drawing digitally? Graphic designing might be your perfect fit! 
This past year we have seen tremendous growth in the internet marketing space. 
The design you see on social media channels like Instagram, e-commerce websites, and brand company websites hire graphic designers to create attractive designs for customers. 
The role of a graphic designer is to create designs that attract and appeal to their target audience. 
If that's something you prefer, take a look at how you can learn to be a top-notch graphic designer.
Where Can You Learn Graphic Designing?
There are two types of graphic designers:
One who uses Canva
The other uses high-end tools like Adobe
If you're a beginner, Canva is the perfect tool to learn graphic designing. It is my favorite designing software, and to this date, I use Canva every week!
If you want to learn graphic designing using Adobe Photoshop, this course from Udemy will be very helpful:
Graphic Design Masterclass – Learn GREAT Design
By the end of this course, you'll be very smooth with Photoshop, Illustrator, and Indesign. 

You'll also learn things like Design Theory, Branding, and Logo Design. 

Put up these high-paying freelance skills on various freelancing platforms, and clients would love to hire you as a graphic designer.

I'd suggest you start with Canva, learn some basics then immediately take up the above course to upgrade your skills to the next level.
12. Photography
Visual Images are everything today. People enjoy seeing images, watching YouTube videos over plain old text! 
Images speak words and portray emotions that entice the readers. 
That's why social media platforms like Instagram are growing at exponential rates. 
By being a photographer, your job is to take pictures of things that fascinate you and create a sense of curiosity in your mind.
Apart from selling your images online or for freelancing clients, you can be a wedding photographer or start an event photography business. 
Sites like Shutterstock, Pexels, and Unsplash have thousands of beautiful images by photographers, you can also portray your images on these platforms. 
In all, there's a huge potential for photographers, which means you can make a lot of money in this field!
Where Can You Learn Photography
Photography is not just about capturing images, but it's also about editing images. To make a living as a photographer, you need to be great at both these skills.
The course I'm recommending you takes care of these two aspects. Here's the course – Photography Masterclass: A Complete Guide to Photography.
Over 280K students all over the world have taken this course. It teaches you every small detail about photography, editing, and making money with your newly founded skill. 
Extremely good course for anyone looking to learn and excel in this field.
Check out the course for more information: Photography Masterclass
13. Mobile App Development
I don't know if you noticed, but every company wishes to have an app to attract their customers. 
People spend most of their free time on their smartphones, and companies want to use this time to market their products. 
If you're an app developer (Android & iOS), you're in high demand! 
Companies could hire a team of coders to create and run their apps, but it's simply too expensive. 
You'll either be working alone or with a group of freelancers (like you), depending on the project.
The demand for app developers is only going to increase with Web 3.0, so now is a great time to be an app developer!
Where Can You Learn App Development?
If you have prior coding knowledge, developing an app won't sound like a nightmare. 
You could read some articles online, check out free videos on YouTube and understand how to create an app.
But if you're a complete beginner and you wish to learn and create an app for clients, I suggest you check out these courses:
A) Google Developers Training
Google Developers Training offers an amazing library of courses from Pathways to Codelabs to Chatbots and app development. 
The best part of Google courses is that everything is broken down so that beginners won't find it tough to learn to code. And yes, It's Free! No money whatsoever. 
B) The Complete iOS App Development Bootcamp
The Complete iOS App Development Bootcamp is one of the bestselling Udemy Courses for iOS and swift mobile development. 
The course is divided into 36 sections totaling up to 60 hours 25 minutes.
Here's all that you'll learn:
How to wireframe, mockup, and prototype your app idea
Create Augmented Reality apps using Apple's new ARKit
Learn to use Swift UI (Apple's latest UI Framework)
App marketing to generate app downloads
And more…
Coding Requirements:
No coding experience is necessary, it's designed for complete beginners.
After learning everything from Dr. Angela Yu (Your Course Instructor), you will easily be able to build any iOS app you want.
C) The Complete Android 12 & Kotlin Development Masterclass
The Complete Android 12 App Development Masterclass is an Android Bestselling course designed to teach android app development to complete beginners. 
The course has 20 sections totaling up to 63 hours 26 minutes.
You'll learn to:
Build an Android app of any difficulty
Work as a full-time Android Freelancer 
Develop Cloud Apps using Google Firebase
And more…
More than 25k students have taken this course. If you want to learn app development as a freelance skill, there's no better course I've heard of right now.
14. Transcription
Are you good with languages? Especially English Grammar? A Transcriber is a person who converts audio into text. 
They listen to the audio file (provided by the client) and write it down word for word. 
Youtube subtitles, meeting notes, and a summary of a conference are typical examples where a transcriber's services are needed. 
Digital marketing companies hire freelance transcribers all the time, so if you have good transcription background, you're in demand!
Read More >>> How To Become A Transcriptionist (With No Experience)
Where Can You Learn Transcription?
Transcribing is not as easy as it seems, but it can be easily learned. The best way to learn how to be a profitable transcriber is by taking an online course.
If you're looking into online transcription courses, the best one that comes to mind is Transcription Anywhere Course by Janet Shaughnessy.
She has been a transcriptionist for over 10 years and knows the ins and outs of transcription like no other person.
If you're serious about getting into transcribing as a full-time (or part-time career), I recommend looking into their Free Transcription Workshop (20% DISCOUNT included!) below.
I've broken down everything the course offers in my Transcribe Anywhere Review, take a look at it and start making money transcribing!
15. English Teaching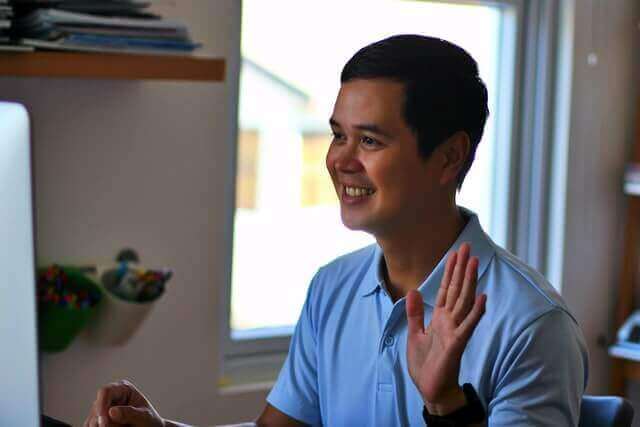 Teaching is one such skill that's never going to reduce in demand. 
Public school teachers may not earn enough, but if you know how to monetize your teaching skills in the digital world, you'll be rich way sooner than you expect to. 
By being a freelance tutor, you'll be paid on an hourly basis which means you can charge based on your true potential and earn quite a lot. 
That means you will definitely get paid for overtime! That's AWESOME.
Companies like Cambly and Vipkid are always hiring the best English teachers to teach on their platforms. 
You don't need to worry about getting students as such platforms already have thousands of students in their database. 
You can also attract students using your website, charge them accordingly and have a flexible schedule. 
Online English teaching is much more flexible, less of a stress and a highly lucrative freelance profession. 
If you're into offline teaching, I urge you to give online teaching a try.
Where Can You Learn English Tutoring?
Teaching is a skill every person should master. 
I won't recommend any courses but basic communication skills like public speaking, video calling, making lectures interactive and fun, etc. are essential skills to keep in mind.
Read some articles on how to be good at online teaching, and I'm sure you'll do a great job!
16. Cybersecurity
As a cybersecurity expert, you will be in charge of managing the security of your client's website. 
With the rise of the internet and the increasing cybercrime happening all over the world, every company should hire a cybersecurity expert to ensure they don't fall prey to these hackers. 
Imagine all your work has been stolen by an unknown hacker and now your private data is not private anymore!
To ensure sensitive data does not fall in the wrong hands, companies hire freelancers to test their websites, create good security layouts and keep the website safe from online threats.
Where Can You Learn Cybersecurity?
There's a 12 hours Cybersecurity course on Udemy called – The Complete Cyber Security Course: Hackers Exposed!
Nathan House (course instructor) dives deep into online threats and helps you learn all the technicalities required to be a kickass cyber security expert.
The full course is broken down into 13 sections making it easy to learn and understand.
If you're serious about entering this space, I highly recommend you to try this course.
Sage Tip: Don't try to watch the videos fast. The course may get slightly complicated for non-tech students (like me!).
17. Voice Over
Voice Over is about narrating what happens in a play, video, podcast, e-learning courses, etc. 
With the increasing demand for podcasts and youtube channels (without a face), a Voice Over artist is super essential!
The beauty of this industry is that no matter how unique your audio sounds, it can be used by someone on this planet. 
Unique accents and tones are in higher demand than typical voices we are used to hearing. 
For example, a unique voice will be the only distinguishing factor in a youtube channel that shows images and animated videos and hides the owner's face. 
Similarly, many podcast owners don't have the time to record what they've written down. So they hire Voice Over artists to talk on the podcast. 
This may not be the most paying freelance skill on this list, but it surely is one that you must consider.
Where Can You Learn Voice Over?
I highly doubt a course will help you become a better voice-over artist. Save that money and use it to invest in stocks.
Here's what you should do:
Read articles on how to have a clear voice
Practice speaking with a microphone and listen deeply to the audio output
Try various combinations by tweaking your voice
Learn to be confident and calm during the voice-over
Keep practicing and showcase your work to your clients.
Your Next Steps
That was a long article! I hope you have picked up a few freelance skills that you can learn and offer clients as a freelancer.
Remember, freelancing is a highly lucrative industry but you need to put in the time and effort to be at the top. 
Also, your client is your top priority! Always ensure you keep them happy and help them make their work easier (That doesn't mean you work for free!).
As for the next steps, here you go:
Narrow down your freelance skills to a max of 2 (out of 17 skills, finalize 2)
Then, choose 3-5 top freelance platforms to help you land jobs and make money online. 
Each time you land a client, solve their problems and over-deliver. Then ask them to review your work on that freelancing platform.
Repeat the process and see your bank account grow!
Try to have a work-life balance while making a living as a freelancer
If you want to take a shortcut by learning how to be a freelance writer fast, enroll in any one of the best courses below.
🏆 Best Freelance Writing Courses (2023) 🏆
🏆 Best Freelance Writing Courses (2023) 🏆
Feel free to leave your comments below if:
You have a question or feedback
You need me to clarify something regarding this blog post
You wish to share your freelancing journey with us
Read Next >>> How to Be A Profitable Freelancer in 2023!
Enjoyed this post? If so, you might want to subscribe to my newsletter. It usually contains life lessons and money-related topics, some interesting observations, links to articles or books I've read, and tips to be a better person. If you're interested in these things then subscribing will be simply wonderful 🙂 PS: Subscribe and Get your Freebie below!
Also, I'm a YouTuber now! If you're interested in Pinterest Marketing, Blogging, or business-related things, Subscribe to my Channel and I'll see you in the comments!