Write To 1K Review: Best Freelance Writing Course? (2023)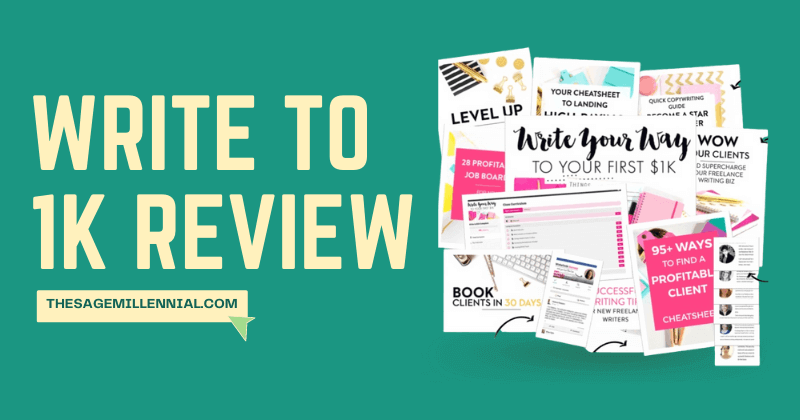 This article may contain affiliate links. If you make a purchase using my links, I'll earn a small commission at no extra cost to you. I appreciate your support!
Do you like writing and wish to make a living as a writer? 
Writing content online is a money-making business as many clients pay top dollar to those who can write a great piece of copy.
But not all writers were created equal! To be a content writer, you need to have certain specific skills that take you from the average Joe to the Kickass Freelance Writer!
You could take the long road to learn all this by yourself, or you should skip a few unimportant steps by taking on a course for aspiring freelance writers.
In this Write Your Way to 1K Review, I will be taking a good look at what this course offers so that you can decide if Write to 1K is a good freelance course for your writing career or not!
Don't have too much time to read the entire article? Read my Quick Summary & Verdict below to get my views on Elna Cain's freelance writing course!

Quick Summary & Verdict
Ratings: 4.8/5
Write to 1K Summary
Write to 1K is a step-by-step online course for freelance writers who wish to earn an income online. Course Modules are broken down into 7 chapters that go in-depth on how you can get high-paying clients and make a full-time income as a freelance writer for online businesses.

Is Write to 1K Scam or Legit?
Write to 1K is a 100% legit course for writers looking to make money online by being successful freelance writers. Elna Cain (Founder) has been a reputable freelance writer and blogger for over six years. The course is suited for beginners and intermediate-level freelancers.

Write to 1K Pricing Plans
$195 (one-time payment)
$75/month (for 3 months)
Pros
Elna Cain's Personal Pitches 
Lifetime Access To Write to 1K 
7 Additional Resources
Who is Elna Cain?
Elna Cain is the founder of Write to 1K and has been a successful freelance writer & blogger for over six years! 
On her website, she writes articles on how to start a freelancing business, writing tips and tricks, blogging how-to's, etc. 
She also runs a successful free email course where she teaches 20000+ writers how to learn freelance writing from scratch and make money from their hard work.
But she didn't start freelancing right away! She worked for a company before while doing writing gigs on the side. 
In just 6 months of freelance writing part-time, Elna quit her day job and replaced the entire salary she earned there with her part-time gig.
She kept on pursuing her freelance writing gig, took more jobs, and learned all the essential skills which eventually got her well-known in the freelancing niche. 
Today, she is well known by ProWritingAid, Business Insider, Dollar Sprout, Entrepreneur, and Upwork for her skills in the freelance writing world.
And she achieved all this while taking care of her twin toddlers! That's sincere dedication right there!
If you plan to make an income online by writing content for potential clients, Elna Cain can carve a path for you and make your wishes come true. 
Her famous course Write to 1K is quite a good course for content writing and leveling up your freelancing business.
Who is Write To 1K Course For?
The Write to 1K course is a legit course created for freelance writers looking to make money online. 
The course is designed specifically for beginners and intermediate freelancers to help them tackle problems that most freelance writers face and grow their online business to 5-6 figures/year.
If you want to:
Learn to write high-value content
Turn this gig into a money-making business
Attract new clients and retain old clients
Learn from the best freelancers in the space
A 1K course is suited for you. The course modules are updated regularly, structure, and method of teaching are suited to modern times. 
Once purchased, you also get lifetime access to all course modules + 7 additional resources + all future updates.
How Much Does Write To 1K Cost?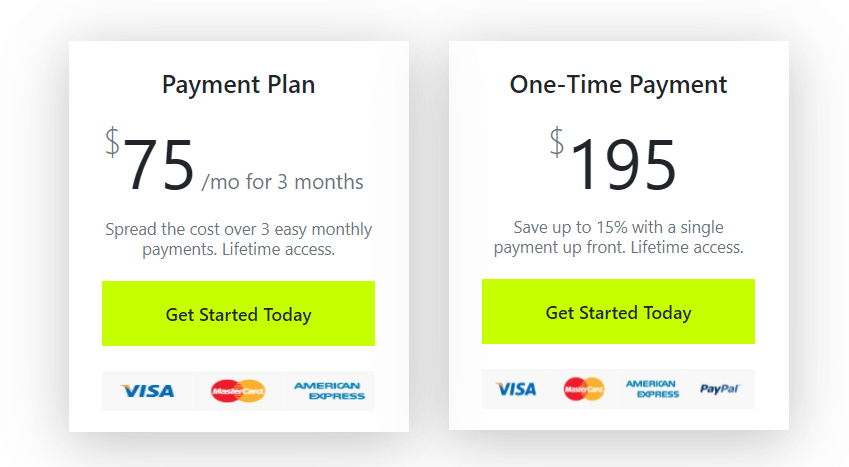 Write to 1K costs $195 (as a one-time payment) or $75/month for 3 months (75*3 = 225)
I would suggest going with the one-time payment plan for $195 as it's $30 cheaper than the monthly option.
Here's what you'll get for $195
The exact steps Elna Cain used to make her first $1K
Lifetime access to all 7-course modules (50+ lessons)
Exercises with each lesson for practical understanding of content
Ready to use templates and email swipe copy
Learn to build a writer platform to attract clients
Additional guides and resources
Write To 1K Refund Process
Elna Cain trusts that her course will provide immense value to anyone who makes the payment. If you don't find the course useful, Elna offers a full 30-day money-back guarantee. 
Send them an email at sup[email protected], and your money will be refunded immediately.
Write To 1K Course Breakdown
Here's what you'll learn in Write to 1K:
Module 1: Laying The Foundation
Discover what to expect as a freelance writer and understand the skills you need to start on the right track.
Learn the costs to start freelance writing, how to find your profitable niche, what services to offer, creating goals, and having that solopreneur mindset.
Module 2: Building Your Writer Platform
Learn the exact copy to increase your conversion rate (aka more gigs) on your writer's website, create and optimize your social media profiles and start building a visual brand online.
Module 3:Building Your Portfolio
Learn how to create and display your portfolio for maximum visibility.
Find the key components to land a guest post, draft your author bio, and format your blog posts to attract high-paying clients.
Module 4: Finding Writing Clients
Learn step-by-step how to find clients on job boards, social media, through cold pitching, locally, with boutique content marketing agencies, and from unlikely ways.
Yes, I will tell you all ways to land clients, and you'll get your handy 95+ ways to land client cheat sheets too.
Module 5: Your Pitch
Learn the process to set your rate (so you can make a living out of this) and learn the skills and tools to pitch like a pro.
You will also get access to my pitch archive full of swipe copies and templates you can use.
Module 6: Your First $1K
Dive deep into online writing for small businesses.
You will get a breakdown of how to write a highly engaging, high-paying blog post for your clients.
You will also learn (with video enhanced training too) how to format your post, submit your post, source and optimize images, upload posts to WordPress, create zip files, my 5-step editing process, and how to annotate your images.
Module 7: Your Freelance Business
Discover the elements of a successful freelance business.
Learn how to have a great interview, tips to invoice your clients (so you always get paid), draft your service agreement, how to effectively communicate to clients, the tools to run your business, and how to secure recurring work.
Additional Resources Include: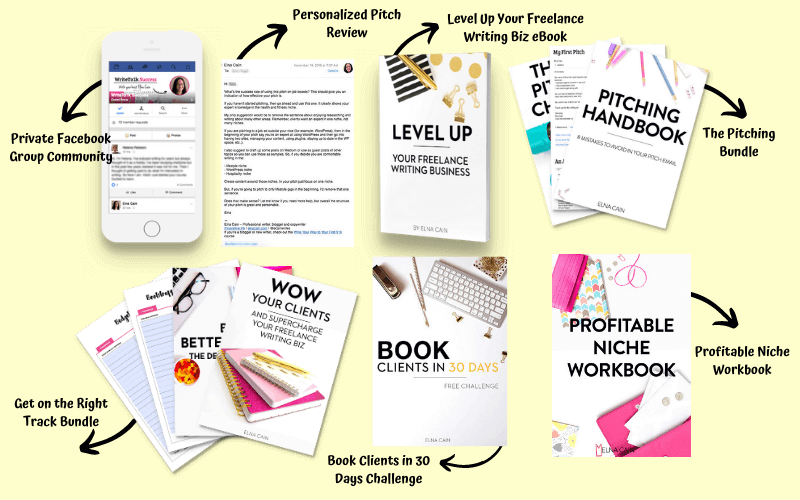 The Pitching Bundle is a handbook that lays out the exact pitch that Elna Cain uses to land huge clients (her conversion rates stand at 75%, that's huge!). 
The handbook provides you with a blueprint needed to make sure your pitch stands out.
Level Up Your Freelance Writing Business E-book
Level Up Ebook will help you navigate your freelancing journey by teaching you to work smart, double your rates, build a business brand, get testimonials, and level up your freelancing skills. 
A great book to revamp your strategy and focus on the most important aspects of your business.
Get On The Right Track Bundle
A budget tracker worksheet, SMART Goal tracker sheet, better writing guide, and wow your client's toolkit. 
Additional worksheets, templates, and guides are all included to amplify your writing strategy.
Profitable Niche Workbook
If you're confused about which niche is most profitable for you, this workbook will help sort out the confusion. 
There are worksheets to help determine lucrative niches.
Book Clients In 30 Days Challenge
The 30-Day Challenge consists of daily tasks that focus on your core business needs to ensure you land multiple clients in the 30 days you start this challenge. 
Follow along and do exactly what the task asks you to do.
Personalized Pitch Review
A personalized Pitch Review is super cool! Here Elna Cain personally goes over your pitch, gives her suggestions, and shows you how to take an average pitch to a high-converting pitch. 
The private Facebook group has tons of freelance writers who can help you in your day-to-day endeavors. 
Elna constantly runs challenges, and quizzes to keep you guys engaged. Have a question? Ask them here to get some clarity on the problem.
Pros & Cons Of Write To 1K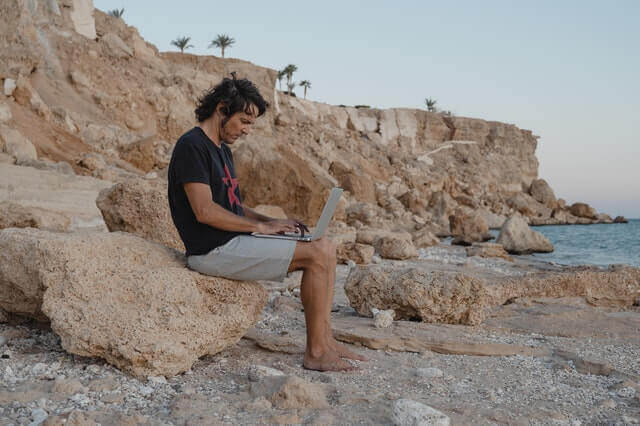 What I DID Like
Elna Cain's Personal Pitches
One of the additional resources Elna offers is The Pitching Bundle. The Pitching Bundle is a masterpiece that includes all the pitches Elna used to land her clients. 
She also shares her current pitch which has gotten her about a 75% closing rate. That itself is an incredible piece of information that you get free access to with this course. 
On top of that, Elna also assures you that she would personally go over your pitch and give her honest suggestions to help you get the best results possible.
Lifetime Access To Write to 1K
Most courses offer lifetime access, but some don't. The fact that Elna Cain offers lifetime access with all future updates is quite impressive.
7 Additional Resources
The modules cover enough material to help you become a kickass freelance writer. 
But Elna and her team go seven steps beyond to offer you seven additional resources that can take your freelance writing game to the next level. That sure grabs my attention!
What I DIDN'T Like
Too Much To Study
I've seen way too many online courses make this mistake. 
They want to provide the best of resources, and in doing so, they pack their course with a hell lot of content. 
Having too much content is great, but it takes up all your time. Instead of implementing and doing work, you binge-watch course videos. 
It's a negative as well as a positive. Try to ensure you learn and work daily.
Write to 1K Reviews
"Cold pitching works! I cold-pitched a client in the niche I want to start writing about and landed my first blog post for $150. A few months later I emailed to ask how the blog post went and if they felt it had any value. They wrote back and said they really liked the post and asked if I also write white papers. I said I wanted to get more experience since I hadn't done white papers specifically, but had done reports. I quoted them $2500. They accepted and were so pleased with my work they paid me $3000. I'm doing one more assignment for them for $500 this month. That's $3650 that came from one cold pitch email, a strong portfolio, and willingness to go above and beyond. I can't tell you what this all has meant to me, especially since I was just laid off last month. The funniest part is I remember when I wanted to sign up for WriteTo1k telling my husband, 'If I can just make the money back I will be happy!' Boy, did that course deliver! Thanks to Elna's course, I felt much more prepared to pitch clients and deliver! Thank you Elna!"
"I did it!!! Not only did I make my first $1k…I made $2k! From one project! Elna, thank you!"
Misty Coplen, Course Participant
"I plowed through Elna's course in one week and hit the ground running. Now, after one week and three days, I landed my first big client that is going to pay me way more than anything I was getting working for content mills! Jump in and get your hands dirty, your life will change. I know mine did!"
The BEST Freelance Writing Courses?
My job is to find the best freelance writing course for you! This includes spending a lot of time digging through the course with a fine comb finding out what's good and what's not!
And I can openly say that the below courses are the Best freelance writing courses I've come across! If not Write to $1K, I highly recommend any of these freelance writing courses!
🏆 Best Freelance Writing Courses (2023) 🏆
🏆 Best Freelance Writing Courses (2023) 🏆
1. Filthy Rich Writer (Best Course Overall)
Filthy Rich Writer is an online blog site owned by Nicki Krawczyk. Nicki has over 20+ years of experience as a freelance copywriter and has made over 6 figures as a freelancer.
She created the Comprehensive Copywriting Academy (CCA) with the sole purpose of teaching aspiring freelance copywriters to make a full-time income and break financial independence.
CCA is a practical freelance copywriting training designed to teach beginners how to be successful copywriters and make 5-6 figures by helping businesses write effective copies.
If you ask me if Filthy Rich Writer is worth it, I'd say Yes absolutely! The course is broken down into 6 modules following a well-structured approach.
They also offer over 8 bonus courses that'll help you navigate the journey of being a freelancer, setting up shop, and making a living being a freelance copywriter!
If you want to start your Copywriting journey, for a limited time they are offering Free Training. You might want to check that out!
If you want to learn more about the Filthy Rich Writer course, I suggest you check out my in-depth review here.
2. Freelance Writers Den (Best Value For Money)
Freelance Writers Den is an online course + community of freelance writers who focus on making a full-time income (5-6 figures) as a freelance writer. 
Carol Tice (Founder of Freelance Writers Den) has been a successful freelancer for over a decade now and has trained students from all over the globe. 
Carol's course is packed with resources, step-by-step guides, boot camps, 300+ hours of video content, job boards, live webinars, and forums. 
The Writers Den is my go-to recommendation for anyone looking to excel in the freelance writing world.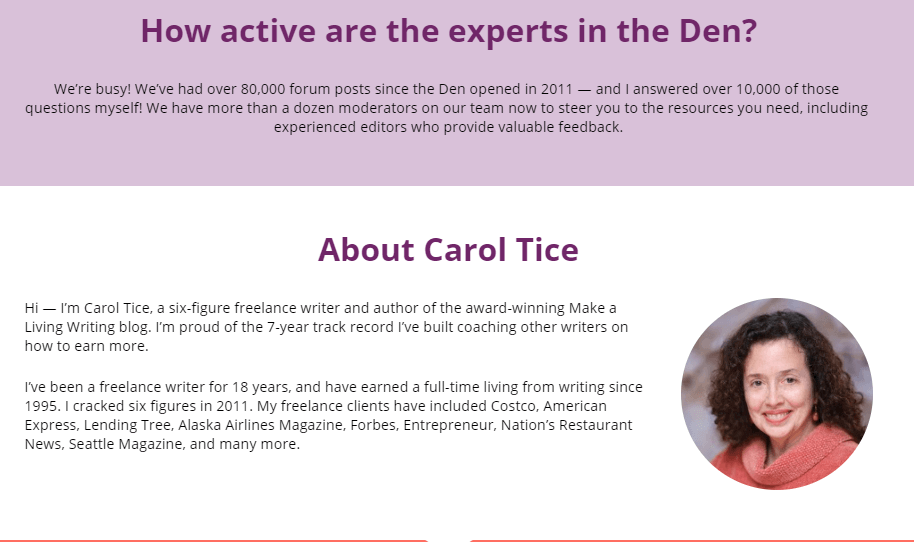 They also teach you how to get high-value clients and keep them on retainers in your business. 
They offer all this and more just for $40/month. I know many freelancers who have taken their courses and reaped amazing benefits from them.
If you want to learn more about this course, I suggest you check out my in-depth review here.
As they have a huge demand to join, the course opens only twice a year, but you can join their waiting list (link below). 
That way when they're welcoming new students, you'd be the first one to know.
Is Write Your Way To 1K Worth It?
If freelance writing is your career path and you want a straightforward approach that gets you success in the content writing space, Write to 1K is a great course to help you get there. 
The 7 Modules along with multiple additional resources make this course practical, easy to grasp, and worth the price.
Elna Cain is a reputable freelance writer so you can count on her knowledge in this niche.
The course is not a scam and certainly delivers through its content.
But for some reason, if you don't find the course fit for you, you can always get a refund on the course, or you can check out Filthy Rich Writer. 
It's one of my favourite freelance writing courses. Everything about it is just spot-on and great. If you're interested, Enroll in their Free Course Today!
I hope this Write Your Way to 1K Review was useful and helped you get a better picture of this freelance writing course.
Write to 1K is a great writing course to improve your skills and give your writing career a boost!
Feel free to leave your comments below if:
You have a question or feedback
You need me to clarify something regarding my Write to 1K Review
You wish to share your Freelance Writing journey with us!
Read Next >>> How to Be A Profitable Freelancer in 2023!
Have you enjoyed this post? If so, you might want to subscribe to my newsletter. It usually contains life lessons and money-related topics, some interesting observations, links to articles or books I've read, and tips to be a better person. If you're interested in these things then subscribing will be simply wonderful 🙂 PS: Subscribe and Get your Freebie below!
Also, I'm a YouTuber now! If you're interested in Pinterest Marketing, Blogging, or business-related things, Subscribe to my Channel and I'll see you in the comments!
Write To 1K Review: Best Freelance Writing Course? (2023)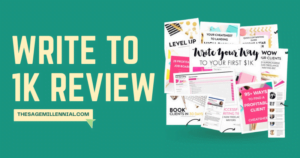 Write to 1K is a 100% legit online course for freelance writers who wish to make money online and earn a full-time income as a freelancer.
Course Provider: Person
Course Provider Name: Elna Cain Write to $1K
Course Provider URL: https://thesagemillennial.com/go/write-to-1k/