Freelance University Review: Is It Worth It? (2023)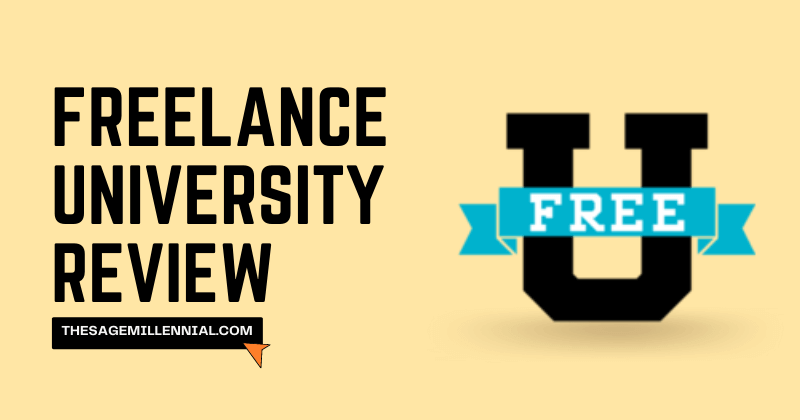 This article may contain affiliate links. If you make a purchase using my links, I'll earn a small commission at no extra cost to you. I appreciate your support!
Do you like binging on Netflix with popcorn and soda on a comfy couch?
Freelance University is just like Netflix but in the educational learning space. 
FreeU is an all-access learning platform for freelancers, virtual assistants, and online businesses to help them grow their businesses. 
But is it worth your money? Will it help you make tens of thousands of dollars in the fastest way possible? 
In this Freelance University Review, I'll dive deep into Craig and Kelly's (Co-Founders) University to see if the course is the right fit for you. 
Don't have too much time? Read my Freelance University Quick Summary & Verdict below!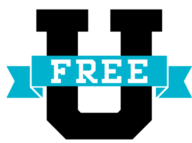 Quick Summary & Verdict
Ratings: 4.5/5
Freelance University (formerly known as VAClassroom) is an online learning platform founded in 2008 by Craig and Kelly Cannings to help online businesses achieve financial independence. The university teaches you all the aspects of an online business, right from marketing to management. Courses help business owners save time and tons of money.

Is Freelance University Worth It?
Yes, they have 80+ certification courses focused on building an online business empire in the least time possible. The courses are practical, well-structured, and suited for freelancers and virtual assistants.

Pricing Plans
Annual Plan: $597 (One Time)
Monthly Plan: $59/month ($708/yearly)

Pros
Industry-Leading Certification Programs 
Live Monthly Workshops  
Office Hours  
In-Depth Practical Courses  
Private Facebook Group  
Exclusive Student Discounts
Cons
Too Much Learning, No Executing  
Everything Isn't For You
What is Freelance University?
Craig & Kelly Cannings (Co-Founders of Freelance University) started the company in 2008 to help freelancers from all niches boost their income and live a financially rich life. 
Since its inception, they have helped over 25,000 students from 75+ countries make part-time/full-time income freelancing.
They started freelancing in 2003 and had to learn everything about the freelancing industry themselves. 
So when they achieved success in freelancing, the first thing they thought of was starting an online platform that teaches newbies to become successful freelancers like them.
FreeU is like a university for online marketers and business owners looking to use digital marketing and other online skills to start freelancing or build massive online businesses. 
The courses are well explained with practical tips to help you understand and grow fast.
In the university, you'll get access to 80+ certifications and workshops, an engaging community, income-building courses, professional certifications, live Q&A sessions, and tons more (check out Pricing below to know everything you get with this course)!
Who Is Freelance University For?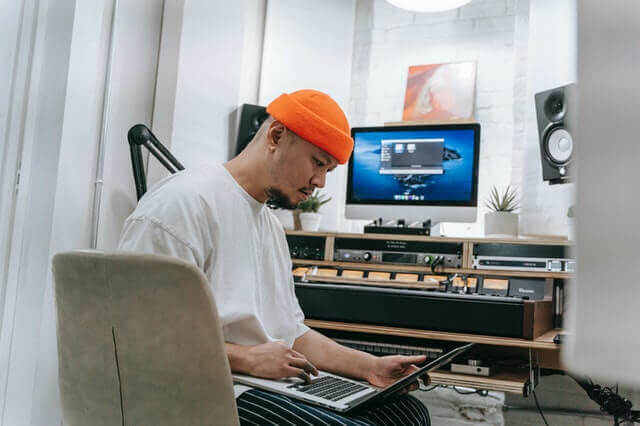 Freelance University is a one-stop-shop for freelancers, virtual assistants, and online business professionals looking to make extra income on the side or make freelancing a full-time gig.
Freelance University is for you if you fall under these categories:
Frustrated with your day job
Do you want to quit your day job to make money freelancing? People in the category find their job unsatisfying and irritating. 
They need to find a way out that makes financial sense. If you fall in this category, FreeU will help you accomplish these goals through its courses. 
You will learn to choose a niche and the skills needed to be an effective freelancer. Craig and the team will help you navigate a clear path to success and financial freedom.
Beginner Freelancers
New freelancers often get overwhelmed with hundreds of things they need to do every day. 
There's a lot of content on Google to help you out, but they lack structure (eg: step-by-step approach to achieving a target). 
Freelance University provides you with a smooth and seamless dashboard that you can use to learn things in no time.
Struggling Freelancers
Did you think being a freelancer means money pouring out of your pockets? The sad reality is that it's not easy to make money as a freelancer. 
Almost 80% of freelancers quit their business in the first year and head back to their day job because they couldn't make enough money to survive! 
A well-guided course with proper tools, skills, and techniques can make a huge difference. 
Freelance University focuses on helping struggling freelancers get out of the box and make 5-6 figures with their gigs.
Online Busines Owners
Freelance University is not only for freelancers. Do you want to start and scale an online business with a small investment and a couple of hours a day? 
They have a course for you! Their dashboard is a one-stop destination for all the practical things you need to get started and scale an online business. 
Of course, they teach you content creation and digital marketing, but they also focus on other crucial aspects of a business.
Part to Full Time Freelancers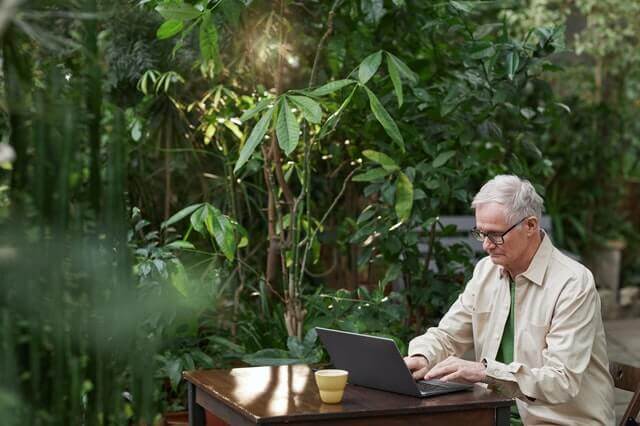 Going from part-time freelancing to full-time freelancing is no joke! You'll need a proper project management system in place, along with time management skills and communication skills. 
You will also need to learn how to grow your business (by taking on potential clients, upselling, and retaining old ones). 
You will also need to hire a team that can handle things. All of this is covered in great depth in the course.
If you're serious about freelancing and you want someone to guide you through your freelancing journey, I think you should consider checking out Freelance University.
Freelance University Course Structure
Freelance University has a wide variety of courses in over 40+ niches. The majority of their best-selling courses are:
DIGITAL MARKETING SPECIALIST:
Digital Marketing Specialist
Product Launch Manager
Become a Digital PR Specialist
Create Lead Marketing Funnels
The Email List Builder
Online Video Marketing 101
Local Digital Marketing Success
Book Marketing Mastery
SOCIAL MEDIA MANAGER:
Social Media Management
Facebook Marketing Specialist
Instagram Marketing Specialist
Pinterest Marketing Specialist
LinkedIn Markeitng Specialist
Social Media Contests
Online Community Management
WRITER / EDITOR:
Website Writing
SEO Content Writing
Copywriting
Blog Post Writing
Email Newsletters & Sequences
ONLINE BUSINESS MANAGER:
Virtual Project Management
Virtual Team Management
Business Consulting
Financial Management
Business Strategy & Systems
VIRTUAL ASSISTANT:
Digital Customer Service
Email & Calendar Management
Virtual Bookkeeper
Online Researcher
CRM / Lead Generation
WORDPRESS SPECIALIST:
WordPress Fundamentals Program
WordPress Maintenance & Management
WordPress Security
Mastering Woocommerce
VIRTUAL EVENT & MEDIA MANAGER:
Virtual Event Manager
Online Course Creation & Management
Digital Content Manager
Multimedia Editing & Production
Zoom Webinar Set-up & Production
The Online Course Builder
Podcast Production Specialist
TECHNOLOGY SUPPORT:
Canva Design Specialist
Adobe In-Design, Photoshop & Illustrator Pro
WordPress Designer & Manager
Squarespace Designer
Shopify Specialist
Kajabi Specialist
WooCommerce Specialist
MailChimp
ConvertKit
ActiveCampaign
Asana
Check out Freelance University Course Catalog to know exactly what you are going to get out of this course. 
There are many other additional benefits you get access to; check those out in the Pros and Cons section below!
Freelance University Pricing & Refunds
Freelance University has two plans – Annual and Monthly.
Annual Plan Cost: $597
Monthly Plan Cost: $59 (59 * 12 = $708)
Both these plans offer the following things:
80+ Certifications & Courses across Eight Training Tracks
New In-Demand Training Programs
Monthly Access to the Learning Curve Newsletter
Powerful Facebook Learning Community
Freelance Resource Centre with templates and checklists
Live Monthly Skills Workshops
Monthly Office Hours
Industry-Leading Certifications
Practical Software & App Tutorials
Student Success Interviews
Ongoing Support from Our World-Class Business Mentors
Freelance Directory Listing & Job Board
As you can see the annual plan is far more affordable than the monthly as the course provides a lot of value to consumers, and it is not possible to learn everything in a single month or even two for that matter.
By choosing the Annual plan, you're saving $111 in a year. You also get enough time to watch and re-watch any course module anytime.
FreeU offers full refunds up to 15 days from payment. In those 15 days, you should check out the courses and see if the course makes sense to you. 
If it doesn't you can always get in touch with their team at [email protected]. 
Once you send the team an email, they will initiate the refund process based on your monthly/annual plans right away.
Pros and Cons of Freelance University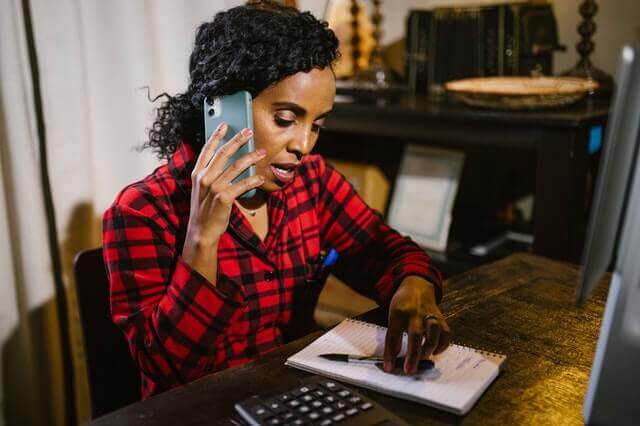 What I Like:
Industry-Leading Certification Programs
When I purchase a course, I want them to provide me with a certificate that I can use to showcase the new skills I've learned. 
Craig and Kelly know that certificates are important. That's why they provide you with industry-leading certification programs that you can connect to LinkedIn, your website, or social media with ease.
Live Monthly Workshops
Attending workshops is amazing as it builds a community, helps you learn more about other businesses, and improves your skillset. 
That's why every month, they have a live 90-minute workshop on topics that make an impact on your business. 
Most of the time that's something related to freelancing and business. 
What I like about these live workshops is that the content for the workshop is figured out by taking surveys and listening to feedback. 
They aim to solve the pain points for all their members and help them get better freelancers.
Office Hours
Office hours are when you ask your questions directly to the host, and you get instant answers. 
Having live Q&A sessions once a month with Craig and special guests can help you overcome challenges and build an effective strategy. 
You don't need to attend every office hour but attend the ones when you are stuck and need some help growing your freelancing business.
In-Depth Practical Courses
The best courses are usually in-depth but still not practical. 
They teach theory-based topics and hope that their students learn and implement practices based on theory knowledge alone. 
FreeU courses aren't like that, they offer practical courses on topics like marketing your services, recruiting, managing clients effectively, time management, and dozens of other aspects that I'm sure will only help you grow as a freelancer.
Read More >>> 17 In-Demand Freelance Skills To Learn In 2023
Private Facebook Group
Course providers offering private Facebook groups to build a community of like-minded freelancers is nothing new! 
Almost all big companies offer this service nowadays but it's still valuable for you as a freelancer. 
These groups discuss real-life problems on a day-to-day basis and questions are answered by experts and fellow members. 
This idea-sharing concept can help you understand business in a way no online course could teach you.
Exclusive Student Discounts
Being a FreeU Student means you a massive discount on the best software out there like Adobe, Freshbooks, WordPress design packages, and Honeybooks. You can save a lot of money using these discounts!
What I Don't Like
Too Much Learning, No Executing
Now, this point does seem counterproductive because I just said that the course material covers everything and that helps a lot! 
But the downside to that is you watch those videos all day long without executing and working on your freelance business. 
It's much easier to learn than to execute and that's where you'll end up spending days even months learning but no time executing your freelancing business.
Everything Isn't For You
There are over 40+ niches to learn from and start a freelancing business. 
Apart from this, they are courses that may or may not be useful for you, but you're paying for it anyway. 
In the long run, it's not much of a trade, but you're probably going to watch 10-30% of the content (based on your niche and goals). 
So the question arises, why pay for everything if you're consuming a small portion of it? 
If Freelance University could develop a pricing plan based on the number of certification courses you can opt for, I think that would benefit everyone.
Freelance University Reviews
I can't say enough about Freelance University. I have taken numerous courses and each one has proven to be an invaluable resource. Craig Cannings and his team of instructors have a wonderful way of explaining sometimes complex ideas and do so with infinite patience. I wouldn't go anywhere else for my training. FreeU is where it's at!
No matter your industry, FreeU offers something for you. I work full-time as a digital project manager as well as manage a side hustle as a course creator and Etsy shop owner. The courses offered at FreeU are not only beneficial for up-leveling my personal business, but also as a full-time employee. Even better – these courses are not just theory but actual practical applications." "The FreeU community is also amazing. If there are questions everyone is so supportive. Of all my "business expenses", FreeU is one that is absolutely worth every penny!"
Freelance University consistently delivers high-quality training programs for Freelancers and Online Professionals. Craig's genuine love of training and interest in helping participants results in top-notch presentations and quality resources. The FreeU support team is efficient, interactive, and very helpful. I highly recommend Freelance University. This is the place to go for learning and growth as an online freelancer.
The BEST Freelance Writing Courses?
My job is to find the best freelance writing course for you! This includes spending a lot of time digging through the courses with a fine comb finding out what's good and what's not!
And I can say that Freelance University is one of the good freelance writing courses I've come across!
I would recommend choosing the better courses like Filthy Rich Writer (more on this below), Write to $1K, or Freelance Writers Den as they are much better and more value for money than Freelance University.
🏆 Best Freelance Writing Courses (2023) 🏆
🏆 Best Freelance Writing Courses (2023) 🏆
Filthy Rich Writer (Best Freelance Writing Course)
Filthy Rich Writer, a freelance writing course founded by Nicki Krawczyk is one of the best courses on freelancing and content writing.
This course shows you the exact way to be a freelance writer and make an income of 5-6 figures per year.
Nicki has been in this field for over 20 years and knows how professional freelance writers (like her) make a ton of money while most beginners fail to make a few hundred dollars.
Her signature course – Comprehensive Copywriting Academy is all about building a freelance writing business from scratch.
They also have a 30-day refund policy, so for some reason, if you don't find the course useful, they'll happily refund you!
None of the students I've recommended the course to have asked the Filthy Rich Writer team for a refund.
What I recommend is checking out their Free CCA Training where they'll go through the following topics:
1. How to Land Clients Outside Of Freelancing Platforms
2. Step-by-Step Process to Make 6 Figures as a Copywriter 
3. How to build a copywriting career in the least time possible
Not just that, Nicki and her CCA Team will also give you a blueprint of how to run a freelancing business by building systems.
That's a lot of information for free! I recommend signing up for their Free Training now!
Is Freelance University Worth It?
If you want to boost your freelance career and build a profitable online business working freelance jobs, then FreeU is the right course for you!
FreeU is also a great online course for experienced freelancers and small business owners looking to upskill themselves.
The cost for the program is reasonable considering the amount of valuable content offered on their platform.
They have over 80+ certification courses that go deep into online marketplaces, growing your online business, and of course, being a successful freelancer. 
For all the content and community they offer, I feel Freelance University is one of the better online courses and worth your money! 
If you want a super-fast way to make money freelancing, the courses offered here would surely help you do that.
But if you still don't like it, they have a 15-day refund period! No harm in testing it out for at 15 days at least.
I hope you found this Freelance University Review useful!
Read this article to know the best freelance platforms to find freelance work in 2023! 
Feel free to leave your comments below if:
You have a question or feedback
You need me to clarify something regarding this Freelance University Review
You wish to share your freelance journey with us
Read Next >>>
1. How to Be A Profitable Freelancer in 2023!
2. 17 In-Demand Freelance Skills To Learn In 2023
Enjoyed this post? If so, you might want to subscribe to my newsletter. It usually contains life lessons and money-related topics, some interesting observations, links to articles or books I've read, and tips to be a better person. If you're interested in these things then subscribing will be simply wonderful 🙂 PS: Subscribe and Get your Freebie below!
Also, I'm a YouTuber now! If you're interested in Pinterest Marketing, Blogging, or business-related things, Subscribe to my Channel and I'll see you in the comments!
Freelance University Review: Is It Worth It? (2023)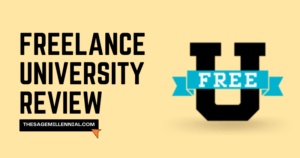 In this Freelance University Review, I'll dive deep into Craig and Kelly's Freelance University to find out if this freelancing course is perfect for you.
Course Provider: Person
Course Provider Name: Craig and Kelly Cannings
Course Provider URL: https://thesagemillennial.com/go/freelance-university/