Transcribe Anywhere Review 2023: Is It Worth It?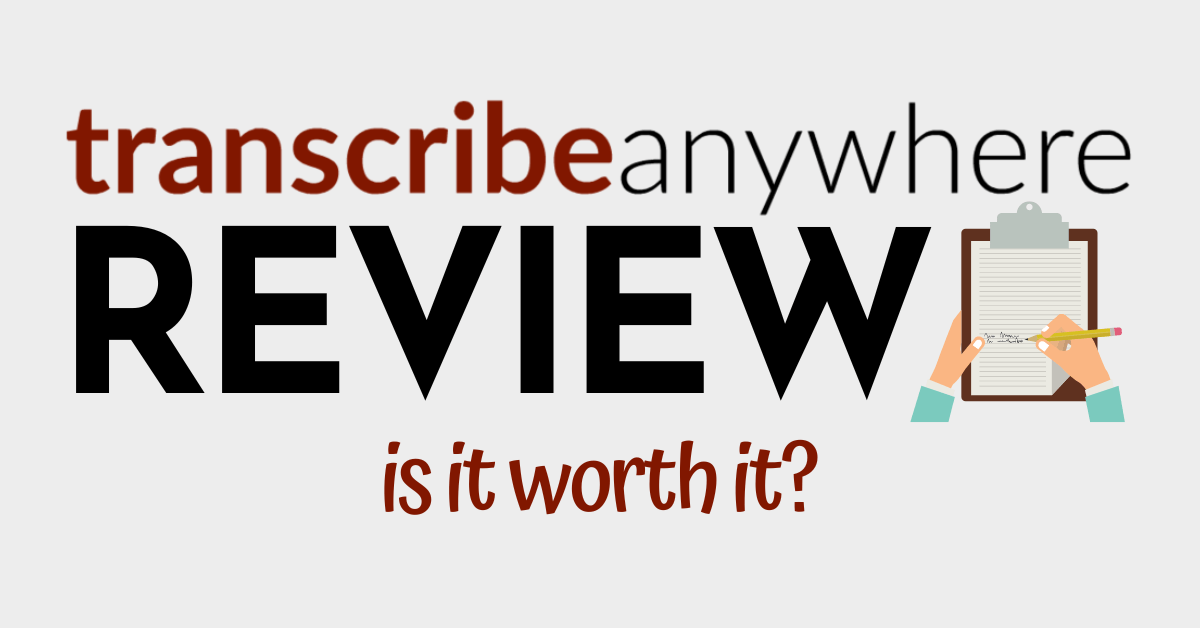 This article may contain affiliate links. If you make a purchase using my links, I'll earn a small commission at no extra cost to you. Thank you for your support!
Have you been struggling to find a side hustle to make money from the comfort of your home?
You've probably come across Proofreading, Transcribing, and Freelance writing to jump-start your career.
If you've decided to start your side hustle career as a freelance transcriber but have no idea how to be a transcriber or make money transcribing (on the side), this article is perfect for you.
What Is Transcription?
Transcription is writing down information from an audio clip. It's turning spoken words into written text. You need to listen to the audio clip and simultaneously type out what's being spoken.
Typing Speed, Active Listening & Precision are key skills that companies looking to hire professional transcribers look out for!
Being a transcriptionist pays well as companies are always in need of good transcribers to help document later what's being done during meetings, legal proceedings, medical records, and other important conversations.
Transcribe Anywhere is a platform that offers online transcription courses to anyone who's interested in taking up Transcribing as a serious part-time or full-time career!
In this Transcribe Anywhere Review, I'll review every aspect of this comprehensive course to help you decide if this transcription course is well suited for you!
And I'll also answer the most important question – Is Transcribe Anywhere a value-for-money course?
Check out my Quick Summary and Verdict below to get the answer!
Quick Summary & Verdict
Ratings: 4.5/5
Content: 4.5
Customer Service: 4.4
Value For Money: 4.6

Is The Transcribe Anywhere Legit?
Transcribe Anywhere is an online course that teaches people how to become professional transcriptionists. It was created by Janet Shaughnessy, a transcriptionist and entrepreneur with over 20 years of experience in the field.

The course covers a wide range of topics, including how to transcribe audio and video files, use transcription software, proofread and edit transcripts, and find transcription work. Transcribe Anywhere is accredited by AAERT!

Free 7-Day Mini Course
You'll learn why transcribing is a high-demand skill, how to be a successful transcriber, common transcription myths, make money transcribing, and a list of equipment to be a profitable transcriber!
Check Out the Free 7-Day Mini-Course!

Pricing
General Transcription: $497.00
General Transcription & Legal Transcription: $797.00

Pros
Accredited by the AAERT
Lifetime Access, Facebook Group & Course Updates
Free 7-Lesson Mini Course
Practice Dictation Files
Dives Into Marketing Your Business
Cons
Time Investment Required
No Money-Back Guarantee
What is Transcribe Anywhere?
Transcribe Anywhere is a well-structured online transcription course created by Janet Shaughnessy for freelancers and anyone who wishes to make a living being an online transcriber.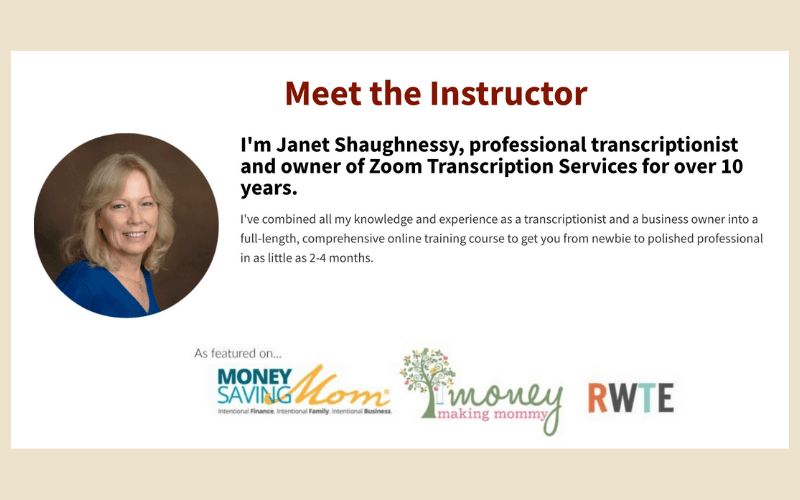 Janet Shaughnessy is the owner of Zoom Transcription (for over 10 years) where she offers professional transcription training to general, legal, and medicinal transcriptionists.
Transcribe Anywhere is the only online transcription course that is certified and approved by the AAERT (American Association of Electronic Reporters and Transcribers)!
Is Transcribe Anywhere Suited For You?
Transcribe Anywhere is for you if you're willing to put in the time and effort to complete the course.
Courses are available online 24/7 and are self-paced but due to the amount of information, and effort poured into the course by Janet and her team, the course will take you at least 2 – 6 months to complete.
Transcribe Anywhere covers everything there is to learn about Transcription and gives you lesson plans and practice dictation files to help you be the best transcriber in your space.
Note: To get the certificate, you need to demonstrate proficiency in all aspects of being a transcriber. In short, take the course seriously to get the certificate and make a full-time income transcribing!
Transcribe Anywhere Cost & Refunds Breakdown
Transcribe Anywhere comes offers three packages:
General Transcription: $497.00 (OR 4 installments of $125/month)
General Transcription & Legal Transcription: $797.00 (OR 4 installments of $200/month)
Both Courses + Website & Support + Live Access to the Transcribe Anywhere Team: $3997.00 OR 4 installments of $1000/month)
While you can easily get a transcription course on Udemy for under $50, it's nothing compared to the resources, knowledge content, and years of practical experience you get with Janet's Transcription course!
The General transcription course is their top-selling foundation course for anyone who wants to get into transcription as a career.
You can opt for Option 2 – General Transcription & Legal Transcription if you plan to be a transcriber in the legal space.
And then there's Option 3 – Here you get an all-inclusive online education system for general and legal transcription.
This option is only for that 1% of people who are extremely serious about transcribing as a full-time career, and you have the funds necessary to pay for an all-rounded system.
Refund Policy
Transcribe Anywhere does not offer a refund once the course is purchased! So only buy the course if you are committed to learning and becoming a transcriber!
Transcribe Anywhere Course Breakdown
The General Transcription Course consists of 6 modules, with lesson plans and bonuses to make your transcribing journey smooth!
Module I – Laying the Foundation
Module 1 focuses on the basics of transcription, the skills, and the right tools needed to be a professional transcriber in 2023!
List of things covered in this module:
Introduction
Process for Submitting Support Requests
The Right Equipment for the Job
Tools of the Trade
GT Style
Standard vs. Strict Verbatim
Types of GT Jobs
Formatting a Transcript
Cyber Security
Module II – Essential Skills for Excellent Transcription
Module 2 is all about grammar, sentence structure, spelling, and going more into detail on Module 1.
You'll also learn the critical thinking skills needed to be a proficient transcriptionist. These lessons will improve your grammar and spelling skills which will be quite beneficial for you as a transcriber!
List of things covered in this module:
Parts of Speech
Sentences, Fragments, and Run-ons
Phrases
Clauses
Punctuation Makes Perfect
Punctuation Practice
Spelling: The Lost Art
Transcribing Numbers
Miscellaneous Transcription Conventions
Module III – Time-saving Tools for Efficient Transcription
Module 3 is about increasing speed and efficiency! You'll learn keyboard shortcuts, text expanders, and all sorts of skills that will amp up your transcribing speed! You will also learn time coding which is an essential skill used in video production.
List of things covered in this module:
Using Text Expanders and Shortcut Keys
Shortcut Keys for the Top 102 Most Frequently Used English Phrases
Spell Check, Search & Replace, Modern Usage Notes
Commonly Used Transcriptionist's Notes
Using Transcription Templates (includes downloadable templates)
How to Download Practice Transcription Files (video tutorial)
Time Coding
Midterm Exam
Module IV – Introduction to Practice Dictations
Practice Makes Perfect! I'm sure you've heard this quote dozens of times before 🙂 Well, Module 4 dives deep into practicing real-world audio and video dictations. There are seven practice levels, beginning with easier dictation files and moving through to more difficult transcription exercises. Each level is unique as it focuses on certain specific aspects of Transcription.
At the end of this module, you should be capable of being a super fast, highly efficient, and professional transcriber.
Level 1 Practice Dictations: Clear audio in simple, short videos
Level 2 Practice Dictations: Audio-only Files; Non-American English accents
Level 3 Practice Dictations: Transcribing "Strict Verbatim" Style
Level 4 Practice Dictations: Transcribing Multiple Speakers
Level 5 Practice Dictations: Semi-Poor Audio Quality & Research Skills
Level 6 Practice Dictations: Working with Time Codes
Level 7 Practice Dictations: Transcribing Poor Audio with Foreign Accents
Module V – Final Exam and Certification of Completion
Module 5 is the Final Exam! If you've studied all the modules, and lesson plans and practiced all the dictations in Module 4, it's time to take the Final Exam.
You can also revisit these courses to brush up on your skills before you take the exam.
A person will manually evaluate the test and necessary feedback will be given to the student.
You can retake the exam as many times as you want!
Once you pass the exam, you'll be awarded a Certificate of Completion, and you're finally ready to step into the world of freelancing as a transcriber!
Module VI – Building Your Business
Module 6 – The final module focuses on setting up a home-based transcriptionist business. You'll also learn how to find and work for large transcription companies. This module should help you make money as a transcriber!
List of things covered in this module:
Income Guidelines and Setting Your Rates
How to Handle Finances and Taxes When Working as a Freelance Transcriptionist
Developing a Business Plan
Marketing and Advertising
Customer Service Essentials
Connecting with Clients Where to Find Contract Work
Top Business Directories for Local Marketing
How to Find Clients on YouTube
Opportunities for Expanding Your Services
BONUS – Transcriptionist Pro Website Theme
As a freelance transcriber, one of the first things you'll need to do is create your transcription portfolio.
For that, you will need to set up a website! Instead of spending a lot of time trying to figure out the nitty-gritty of building a website, Transcribe Anywhere gives you bonus material where you get access to their own professionally designed transcription service website template along with thorough tutorials on customizing it.
If you want to know the course syllabus for General Transcription & Legal Transcription, check it out on this page.
Pros and Cons Of Transcribe Anywhere
Pros Of Transcribe Anywhere
Accredited by the AAERT
Transcribe Anywhere is Accredited by the AAERT (American Association of Electronic Reporters and Transcribers).
Transcribe Anywhere is the only online transcription course that has been approved and verified by the AAERT!
Companies looking to hire professional transcribers on payroll or as freelancers value the fact that they've done a course (especially one which is Accredited).
This goes a long way to help you get better opportunities in this space!
Lifetime Access, Facebook Group & Course Updates
As part of Transcribe Anywhere, you get lifetime access to all course materials, practice files, lesson plans, and bonus materials!
You also get inside their exclusive Facebook group where you can ask questions, participate in discussions and work together with others to build an online work-from-home business! This lifetime update also includes all course updates.
So if Janet and her team make changes in the course, you'll have access to those new materials.
This way you always stay updated on the latest tips and strategies which gives you an edge over all the other transcribers!
Free 7-Lesson Mini Course
If you're unsure about purchasing the course, you should start your journey with this free 7-day transcription course.
You'll learn how to create high-value skills desired to be a successful transcriber. Along with two key aspects to achieving success as a transcriptionist.
The course also includes a list of all the necessary equipment to help you get started!
Practice Dictation Files
The only way to get better at transcribing is by practicing!
Janet knows this quite well, so she's included over 25 audio/video practice dictation files for you to practice and get better at being a transcriber.
You'll get most of your practice sessions in Module 4! Redo these dictations again if you wish to get faster at providing transcription services.
Dives Into Marketing Your Business
Most courses out there teach you the basics of transcribing while leaving the core things that differentiate an average transcriber from a top-tier transcriber!
Well, Transcribe Anywhere not only takes you through the entire journey but also takes the course a step further by showing you how to market yourself, create a business plan, working on your website SEO, and advertising.
You'll also learn to manage your finances, grow on social media platforms and expand your business smartly!
Cons Of Transcribe Anywhere
Time Investment Required
The course is specifically designed for beginners who wish to make money as newbie transcribers.
To master any skill, you need to invest a lot of time by putting in the hours practicing, reading, and learning!
Transcribe Anywhere course materials are quite comprehensive! You won't be able to finish it off in just a week.
According to the TA team, you will take anywhere from 2 – 6 months depending on how much time you invest each day learning the skill.
If your current lifestyle doesn't leave you with enough hours per week to learn the modules, this course may not benefit you that much!
No Money-Back Guarantee
Transcribe Anywhere does not offer a money-back guarantee once the course is purchased.
The reason given by the team is that Janet has put over 30 years of experience and hard work into transcription courses so it doesn't seem fit that people buy the course, use it for some time and ask for a refund.
While this does make sense, many companies still offer 14 or 30-day refunds.
For example, Knowadays known for one of the best proofreading courses called Becoming a proofreader gives their students a 14-day money-back guarantee!
Only enroll yourself in Transcribe Anywhere if you're committed to learning and building a career as a transcriber!
Positive & Negative Transcribe Anywhere Reviews
Elizabeth M. – I am a homeschooling mom to six cute kiddos and wife to a wonderful husband. I found this transcription course when looking for a way to supplement my husband's income. I was excited to find something I could do that would use some of the skills I've improved upon while teaching my children. The course was an easy read and provided me with exactly what I needed to break into the transcription business. I am immensely grateful for the 60 + sample files that gave me the opportunity to learn from my mistakes. I would not have wanted to make the same mistakes on paid work. The knowledge and experience I'm gaining from transcription is helping me to better teach my kiddos as well!

Dawn M. – I purchased the course and…HOLY COW! This program is every bit as comprehensive as most programs out there costing in the $2,000 range! Your General Transcription course is well worth $1,200. Had I spent that much on it, I'd not have felt ripped off.

Terry S., Pace, FL – I have purchased a General Transcription training course written by Janet Shaughnessy, finding this to be one of the best programs I could have ever put my money towards. I have checked out and paid for several other work-at-home programs that never worked for me other than taking my money. I have recently purchased this course and find it to be exactly what I have been looking for in advancing myself in a career. If you are looking for a work-at-home program that has an easy walk-through description and helps provide all information in beginning your own business, this is for you. Working from home has been one of my passions and could be yours also. If you are a college student, or stay-at-home mom, or just tired of the rat race of going out working in the workforce, this program can work for you. I am very pleased with this product and hope that you will not waste time investing in programs that don't work, like I have in the past. Seriously, this program is for anyone that wants to make serious cash whether it is part time or full time. This program is well worth the money. Thank you, Janet, for leading me into the right direction for my career and success.
Best Alternative Side Hustles
If you've tried the Free Mini-course and you're still not sure if the transcription is the right freelance part-time career option for you, here is my list of the best side hustles along with comprehensive well structured courses so you can jump into these sectors as a newbie, learn everything the courses teach you and immediately start making money.
Proofreading
Proofreading is one of my favorite side hustles to recommend as it's easy to learn, you don't need some crazy hours of practice, and the best part is the two below courses are so good that once you're done going through the course materials, you'll mint money proofreading right away!
Knowadays (Proofreading Academy)
Knowadays (previously known as Proofreading Academy) teaches students, retirees, and stay-at-home parents how to become a proofreader and make a full-time income as a freelance proofreader.
Their top-selling course Becoming A Proofreader has helped freelancers make money in a few months.
Here's my detailed Review on Knowadays – read it to get better clarity if this course is right for you!
Proofread Anywhere
Proofread Anywhere (Founded by Caitlin) is one of the most in-detail proofreading courses out there.
Proofread Anywhere is an online proofreading course suited for beginner proofreaders. Caitlin herself has been a top-tier proofreader for over 14 years!
Here's my detailed Review on Proofread Anywhere, read it so you can get better clarity if this course is right for you!
Caitlin is currently offering a Free 76-Minute Workshop where you'll learn the basics of proofreading, how to close huge clients, make money and manage a freelance business.
I recommend you take the free course to see if proofreading is a good career option for you!
Freelance Writing
Freelance writing is yet another amazing side hustle that anyone with little to no experience can learn and make money!
Some would say that freelance writing is not as easy as proofreading, but that's where Filthy Rich Writer, Write to 1K, and Freelance Writers Den come into play.
All three of these courses are extremely beneficial if you're goal is to be the next best freelance writer!
Detailed Depth Reviews on all three are below:
Is Transcribe Anywhere Worth It?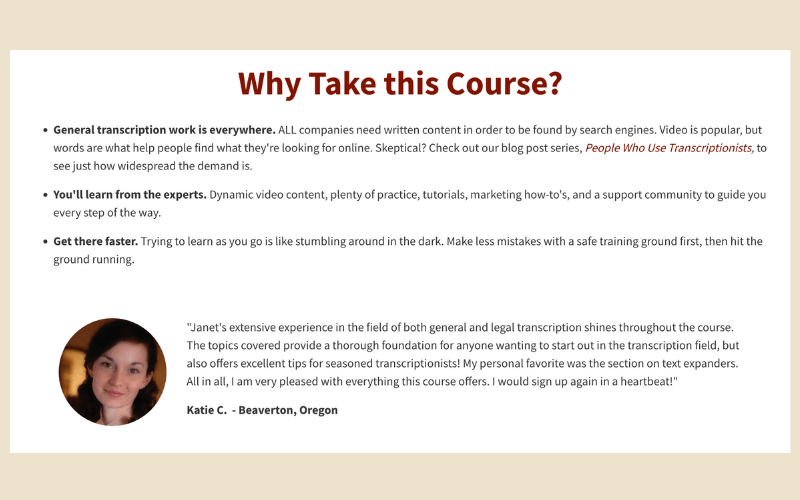 Overall, Transcribe Anywhere has received positive reviews from students who have taken the course.
Many people have praised the comprehensive nature of the course and its helpfulness of Janet.
The course is comprehensive, easy to understand, and provides good support and resources.
If you're not sure about spending that much money on the course right away, a good idea would be to try out their Free Mini-Course! 
This free course will give you a holistic view of Transcription, the skills required, and how to get to the top as a transcriber!
Bottom Line
Becoming a professional transcriptionist requires a lot of hard work and dedication. It can be a challenging field to break into, and it's not suitable for everyone.
If you're considering taking the Transcribe Anywhere course, it's a good idea to do your research and make sure that transcription is a field that you're interested in and that you have the skills and dedication to succeed in.
If you're willing to start your career as a freelance transcriber and need a well-structured course to guide you throughout your journey, I believe Transcribe Anywhere is The Course for you!
Feel free to leave your comments below if:
You have a question or feedback
You need me to clarify something regarding my Transcribe Anywhere Review
You wish to share your Transcribe Anywhere review with everyone
Enjoyed this post? If so, you might want to subscribe to my newsletter. It usually contains life lessons and money-related topics, some interesting observations, links to articles or books I've read, and tips to be a better person. If you're interested in these things then subscribing will be simply wonderful 🙂 PS: Subscribe and Get your Freebie below!
Also, I'm a YouTuber now! If you're interested in Pinterest Marketing, Blogging, or business-related things, Subscribe to my Channel and I'll see you in the comments!
Transcribe Anywhere Review 2023: Is It Worth It?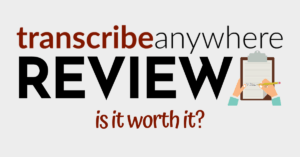 In this Transcribe Anywhere Review, I'll review this comprehensive course to help you decide if Janet's transcription course is well suited for you!
Course Provider: Person
Course Provider Name: Transcribe Anywhere
Course Provider URL: https://thesagemillennial.com/go/transcribe-anywhere-free-course/