15 Best Survey Sites To Make Money Online in 2023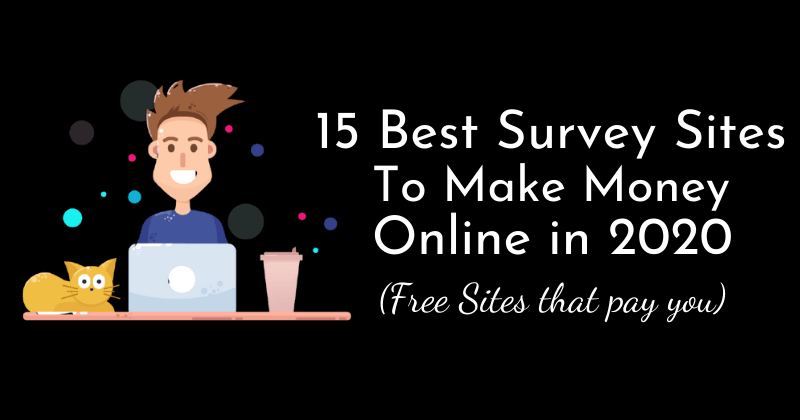 This article may contain affiliate links. If you make a purchase using my links, I'll earn a small commission at no extra cost to you. I appreciate your support!
Get Paid To (GPT) Sites aka Survey Sites are by far the easiest side hustles to make money. Although all sites are not created equal. Read below to learn how to approach survey sites strategically to make money in 2023.
Get paid by filling surveys! No, it's not a scam policy to make money online.
It's a legitimate way for you to make money from anywhere in the world, all you need is a phone, an internet connection, and the eye-sight to understand whether a survey is a value for money and time or not! Don't worry, I'll teach you that! 
Top 15 Survey Sites To Make Money in 2023
1. Swagbucks
Shop online, watch videos all day, browse the web! It's the dream life, ain't it! Well, Swagbucks fulfils it for you. Yes, you can also fill surveys to make money if you don't like doing the above-mentioned things.
Sign up, it's really easy; take surveys, you'll get Swagbucks (sb) points that you can redeem for cash once the minimum payout is met. It has a whole lot of surveys so you'll never run out.
It's not a scam website, it's legitimate and has been in this industry for years. 
Average Payout: $0.40 – $2
Min Cash Out: Gift Cards – $3, PayPal – $25
Payment Method: PayPal or Gift Cards.
2. Survey Junkie
The best survey site to make money is Survey Junkie. Survey Junkie is 100% free and legitimate, unlike many other survey sites you see on the web. The best thing about survey junkies is that it's easy to use and they don't spam you with too many emails all the time.
If you're worried about running out of surveys to complete, don't anymore, they have a lot of surveys to fill and you won't run out so easily. Signing up is easy as sign up with Google, Facebook or your email address is acceptable. 
Average Payout: $1 – $3
Min Cash Out: 1000 points (10 dollars)
Payment Method: PayPal or Gift Cards
Sign Up with Survey Junkies Now!
3. PrizeRebel
PrizeRebel has been around for over 10 years and has done an enormous amount of surveys. Signing up is easy as they only ask for your name and email address. 
They'll gather details based on your demographic by checking your first survey for which you do get points that can be converted to money. They too have a loyalty program. 
Earning 3% bonus, getting 3% discount when you redeem your prize and some more. $5 is equal to 500 points. Do try this out! 
Average Payout: $0.50 – $1
Min Cash Out: $5
Payment Method: Gift Cards and PayPal
4. MyPoints
MyPoints is just like InboxDollars, it allows you to want gift cards by answering questions, watching a lot of videos, taking polls, shopping and other things. You may also earn some points even if you don't qualify for the survey. 
The sad part is that many offers take you away from the MyPoints website this may mean slow page speed, bad user interface. 
5. Inbox dollars
Inbox dollars is another great GPT website where you can make money. It works on a cash-based system. Signing up is easy and the user interface of the platform is great. You can play games online, browse the web also to make extra money. 
Sure they have quite a lot of surveys but you probably won't be able to make much from this platform. The Tip here is to do a few short surveys throughout the day whenever you get the payouts for the short surveys are comparatively better so you'll end up making decent money compared to the time spent.
There are large surveys too but they may not give the necessary payout and that just means you spend more time and make less money. You don't want that, do you? 
Average Payout: $5
Min Cash Out: $30
Payment Method: Check, Gift Card, Visa.
Sign Up with Inbox dollars Now!
6. Survey Club
Survey Club doesn't work like your ordinary survey websites. Usually, survey sites host survey's themselves but with Survey Club, that's not the case. They act as a middleman. 
Do you still earn your money? Yes, sure you make your share. It only means that you might make more if you took that survey from the main company, the one that hosted the survey. 
Average Payout: $0.50 – $5
Min Cash Out: $20
Payment Method: Gift Cards and PayPal
7. Opinion Outpost
Opinion Outpost is a company with a low payout threshold. They have a simple website design, super easy for anyone to understand. 
It works perfectly if you're a beginner. Cashing out is available through PayPal and Gift cards and rewards for survey work on points systems. 
They have a very high number of surveys on the site which means your probability to get selected for surveys also increases, which is awesome. 
Average Payout: $0.50 – $5
Min Cash Out: $5 for gift card, $10 for PayPal
Payment Method: Gift Cards and PayPal
Sign Up with Opinion Outpost Now!
8. OneOpinion ($10 Sign Up Bonus)
If speed is all you like, you're going to prefer OneOpinions sign up process. It's fast, it's quick, the website is easy to navigate. 
Here 100 points will be equal to $1. So 25000 points = $25 and once it's that, you can redeem it using Amazon gift cards and PayPal or Visa. They are known for their fast payments, interesting surveys and awesome customer service. 
Average Payout: $1 – $5
Min Cash Out: $25
Payment Method: PayPal or Gift Cards or Visa.
9. Branded Surveys
Branded surveys is a great platform that pays you to complete surveys and various other tasks. 
Their sign up process is simple, you'll also receive 50 points for signing up. Immediately after that, a few "get to know you" surveys will be asked and they'll pay you about 10 – 50 points for it. After that, you can start taking surveys that you're eligible for. 
Why I like Branded Surveys is that they have a loyalty program system in place – So there are three levels – Bronze, Silver, Gold. You'll start at bronze and you have to make your way up to gold. 
To unlock each level you will have to collect credit which you will receive when you complete more surveys. Higher the level, better the earnings opportunities. 
So try to reach gold, whatever it takes! One thing to keep in mind – Some surveys may take you off a website which may result in slower page speed and bad user experience. 
Average Payout: $3 (300 points)
Min Cash Out: $10
Payment Method: PayPal or Gift Cards
Sign Up with Branded Surveys Now!
10. Ipsos I-Say Panel
The name may be a bit weird but this is surely a super-duper platform to earn money through surveys. I-Say by Ipsos is a platform to want money by filling out surveys. 
You can redeem the points you earn through Amazon gift cards, some merchandise or cash (PayPal). All members get prize draws which is a cool bonus. The rewards threshold is quite low comparatively so you can redeem fast. 
They too have a loyalty program. Certain milestones give you certain specific points. For example, fill in 5 surveys and you'll get 25 points, fill in 100 surveys and you'll get 300 points. Superb isn't it!
Average Payout: $0.10 – $1
Min Cash Out: $10 for gift cards, $15 for PayPal
Payment Method: PayPal or Gift Cards
11. Harris Poll Online
Harris Poll has got some negative feedback in the past due to its long procedure on signing in but lets me tell you that it's worth the extra effort! They have a clean interface that is just amazing and will make you fall in love with their simple elegant design. 
Fill in surveys, collect points then cash out using a gift card. The reason why I like Harris is the fact that I can donate all the amount I make to a charity which is a great option to consider. 
Average Payout: $1
Min Cash Out: $10
Payment Method: Gift Cards or Charity Donations
12. Pinecone Research
This is an amazing site you have to try. Every survey pays you a minimum of $3 and they usually take about 20 minutes. Sometimes you get a chance to test products, yes you can keep it, awesome! 
The only problem is that it's hard to get in, they have a very specific demographic to get into and only if you qualify, you can get these awesome benefits. Additionally, each survey is an invite-only basis, so you may get a few a month or maybe not even that. 
They send you pre-qualification surveys each month and then select you based on that. So unlike other surveys, you don't need to waste time filling surveys only to know you don't qualify at all. 
It has the best ROI out there, so do make use of it. If you make it in one or more of the demographics below, apply to Pinecone Research and enjoy the awesome ROI.
18-24
Hispanic
Male
High School or less
Asian
Average Payout: $3 (Minimum)
Min Cash Out: $3
Payment Method: PayPal or Gift Cards or Cheque.
Sign Up with Pinecone Research Now!
13. YSense
YSense is a global online community to earn money by filling out surveys and taking part in contests.
The sign-up is very smooth, just put in an email address and you're good to go, the website is elegant and easy to navigate, so you shouldn't have any problems.
YSense allows you to get paid for testing new products and services all the time. You can also earn money by referring your YSense Referral link to your friends and families. For every successful referral, you will earn up to 30% of what your referrals make!
YSense is a comparatively new platform but it has the energy to compete with the big players in the field like Swagbucks and PrizeRebel. This makes YSense a low competition and highly lucrative opportunity for you.
I highly recommend everyone to try out YSense and make money online!
Average Payout: $0.3 to $5
Min Cash Out: $5
Payment Method: PayPal and Gift Cards
14. LifePoints
LifePoints is one of the largest influencer communities worldwide. When signing up for a survey site, your main goal is to get selected for most surveys. LifePoints qualifying system for surveys is easier so you'll end up being accepted for more surveys, thus making more.
The surveys are short too, so you may not take more than 10 minutes for a survey. This means lesser payouts too but ROI on time is good, so no worries there. It's a good site, not too complicated to make money, go ahead and sign up. 
Average Payout: $0.60 – $1
Min Cash Out: $20
Payment Method: PayPal
15. Valued Opinions
Here is another extremely large survey site that you can use to make money. The number of surveys here isn't as much as you may see in other platforms but your chances to get selected for a survey is greater, so yea you get your dollars. 
The money will be given in the form of gift cards. The cool part about valued opinions is that it matches your profile with the surveys that may fit you and show you those. 
Their dashboard is easy to understand and navigate, you're sure to feel at home. Surveys may take 30 min to complete but they may pay you about $4 – $5 for the same.
Average Payout: $1 – $5
Min Cash Out: $20
Payment Method: Gift Cards
Sign Up with Valued Opinions Now!
My Survey Sites Earning Strategy
Every day in the morning, give 10 minutes towards filling a few surveys. If the morning isn't a good time for you, do it before you go to sleep at night. Set a specific time every day and you'll be much more consistent at earning money through survey sites. 
Tips to Make Money From Survey Sites
Choose survey platforms that easily accept you to take their survey. You don't want to wait for days before you get selected or rejected.
Sign up for 5 – 6 different survey sites and try filling surveys on all of them. 
Most of these Platforms offer Payouts through PayPal, so before you begin, setting up your PayPal account is a must. 
Prefer a reputable company over a fresh company.
Note: Once you apply to fill out a survey form, the survey site examines if you're a perfect candidate for that survey. If you're rejected, then you'll have to apply for another survey. 
The Best Survey Site
The Best Survey Site is the one where you put in efforts and consistently focus on getting surveys done. 
Enough pep talk! Other than that, you need to calculate how many points they give you to how much time you have invested. 
Some people take 15 min to complete 'Survey X' while some take 10 min to complete the same survey. To see how much time you take and then take a call.
Some give you money just for signing up like Swagbucks, choose them over the others. 
Further, you also need to see if the payout option is something you prefer. If you don't like gift cards but your survey site doesn't allow any other mode of payment, it's a waste trying to use that platform. 
Once you do all this, choose 3-5 platforms and start checking for surveys. I'm sure you'll make awesome money in the process!
Have you tried making money through survey sites yet? It's a side hustle everyone must try. Go ahead and sign up for a few.
Have you enjoyed this post? If so, you might want to subscribe to my newsletter. It usually contains life lessons and money-related topics, some interesting observations, links to articles or books I've read, and tips to be a better person. If you're interested in these things then subscribing will be simply wonderful 🙂 PS: Subscribe and Get your Freebie below!
Also, I'm a YouTuber now! If you're interested in Pinterest Marketing, Blogging, or business-related things, Subscribe to my Channel and I'll see you in the comments!