Proofread Anywhere Review: Best Online Proofreading Course? (2023)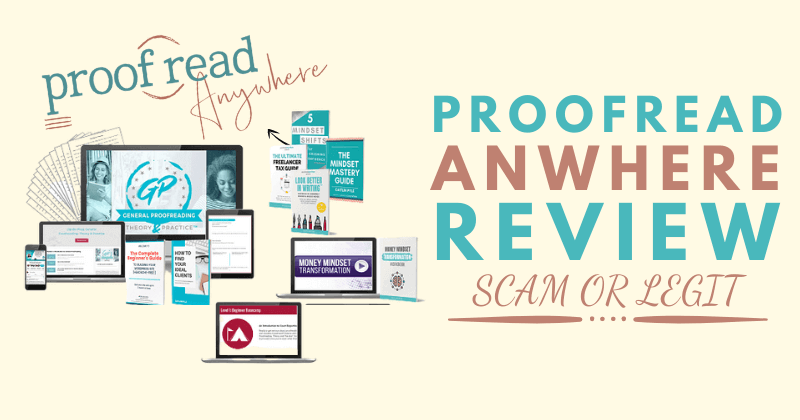 This article may contain affiliate links. If you make a purchase using my links, I'll earn a small commission at no extra cost to you. I appreciate your support!
Can you spot grammatical errors in your colleague's email? Do you like to correct grammar but hate it when they repeat the same mistake!?
You were born to be a Proofreader!
A Proofreader is a person who reads and rectifies errors in a document. Grammar, spelling, punctuation, quality, and consistency in writing are some of the most common mistakes that are rectified by a proofreader. 
Proofreading seems like an easy job to do, but in all honesty, it is NOT! 
Anyone can be a mediocre proofreader, but if you want to enter the big league of earning high payouts, you need to up your game and learn from the best in the proofreading industry.
That's where Proofread Anywhere comes to your rescue!
In this Proofread Anywhere review, I will share my thoughts on this online proofreading course and help you decide if this course can make you a full-time 6 figure income.
In a hurry? Take a good look at my Proofread Anywhere Quick Summary and Verdict below.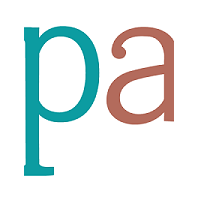 Quick Summary & Verdict
Ratings: 4.7/5
Content Value: 4.7/5
Customer Service: 4.6/5
Value For Money: 4.6/5

One of the most in-detail proofreading courses out there, Proofread Anywhere is an online proofreading course that can help you make a part/full-time income as a freelance proofreader.

Is Proofread Anywhere Legit or Scam?
Proofread Anywhere is a legitimate proofreading course and not a scam. This course has been created by Caitlin, who has a reputable name and 14+ years of experience in the proofreading space.

Proofread Anywhere Course Summary
The course focuses on the best strategies and techniques in the proofreading space. Caitlin and her team help you build essential proofreading skills that attract big clients and make you a hefty income. I assure you this is one of the best proofreading courses out there.

76-Minute Free Workshop
Proofread Anywhere conducts a Free 76-Minute Workshop where you will learn:
a) 5 signs proofreading could be the perfect fit for you
b) Proofreading Basics
c) How to land huge clients and make money

Pricing
Ignite: $497
Ignite Plus: $597

Pros
Free 76-Minute Workshop
Facebook community
Most Comprehensive Proofreading Course
Personal Guidance
Great Support Team
Cons
A Bit Pricey
Learning Could Take Months
No Refund Policy
What is Proofread Anywhere?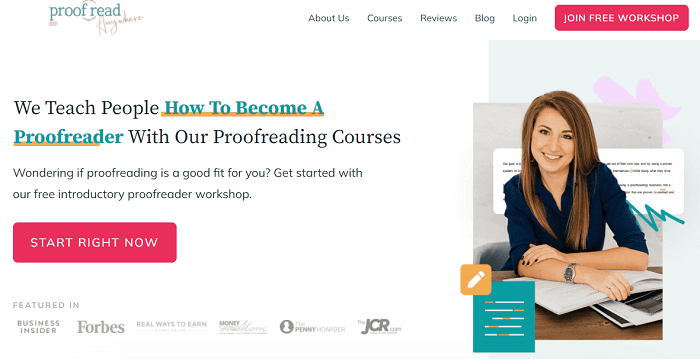 Proofread Anywhere is an online course/community for beginners like you and me where Caitlin (Founder of Proofread Anywhere) teaches you essential skills, techniques, and top-notch strategies to help you become a freelance proofreader.
Want to learn how to become a proofreader with no experience?
Proofread Anywhere covers all the secrets Caitlin has learned for over 14 years, and she teaches you these tips and tricks in a structured manner to ensure you understand everything in a smooth flow.
Who is Caitlin Pyle?
Caitlin Pyle is a reputed proofreader in the world today. She has been featured in top publications such as Forbes, Business Insider, and The Penny Hoarder.
Her journey started in 2007 when she used to get paid to help her friends speak fluently and correct their essays. 
She then found a passion for correcting errors and grammatical mistakes in documents.
By 2012, she had a massive list of clients that she proofread for every week. You can check out this article to see how she earned $43,096/year as a proofreader in 2014, working 20-25 hours per week!
Caitlin started Proofread Anywhere in November 2014, and since then, it has been one of the best proofreading courses for beginners as well as advanced proofreaders.
Her dedication to providing the best resources and putting maximum effort into every student is why I believe in this course.
Useful Resource: Link to the Proofread Anywhere Blogs.
Who is Proofread Anywhere for?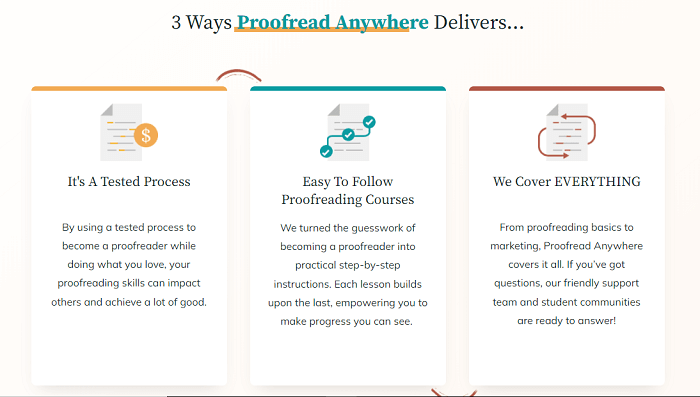 If you have a knack for spotting grammatical errors, paying very close attention to detail, and delivering close-to-perfection results, being a proofreader will reward you in many ways.
Proofread Anywhere is a course if you fall into one of these three categories:
If you're a beginner and you want a proven step-by-step strategy to succeed as a proofreader

A Majority of you fall into this category as proofreading is still a very new and growing field. 

Proofreading Anywhere is designed in such a way that any new beginner with zero experience and average English skills can easily set up shop and quit their 9-5 job if they learn and practice what Caitlin teaches them again and again. That seems easy!
If you have been in the proofreading industry for a while and are looking for The Big Break

We all want that client who pays top dollar, right? This course has a simple goal and that is to get you free from your 9-5 job. 

Some specific modules dive deep into marketing yourself, landing big clients, and expanding your network.

Learning these modules will take you to the peak of your proofreading career. You can read more about the course material below.
If you're a full-time proofreader (Advance- level) and want to learn what the elite proofreaders do

This won't be an eye-opening course for you. You already have the skills necessary to go full-time as a proofreader. 

It will teach you those few bits and pieces that can take you from 5 figures to 6 figures and help you close big clients. 

You will learn how to increase your prices without losing clients. The entire course will also be a good revision to help brush up on your skills.
General Proofreading Course Material Breakdown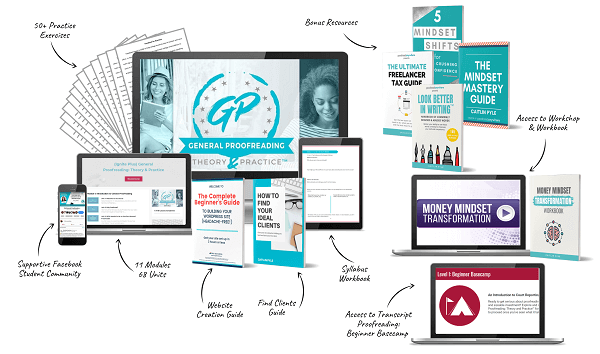 Module 1: Introduction to General Proofreading
Here's what you'll learn in the first module 
What is proofreading? 
Why should you be a proofreader? 
Skills needed to be a successful proofreader
Module 1 will teach you what a general proofreader does and doesn't do and carve a roadmap to ensure you're ready for your Proofread Anywhere final examinations.
You will also learn commonly used proofreading terms and the difference between copy editing, editing, and proofreading.
Module 2: Grammar Refresher
A professional proofreader needs to be excellent at grammar, punctuation, vocabulary, parts of speech, etc. This module focuses on polishing your grammar. 
You will learn principles and common mistakes newbie proofreaders make that keep them from being one of the best proofreaders out there.
Module 3: Sentence Structure
Moving forward, Module 3 teaches you sentence structure, subjects and predicates, run-on sentences, sentence fragments, subject/verb agreement, adjectives, adverbial clause vs. participial clause, and other crucial structure aspects to enhance your writing skills.
Module 4: Spelling and Word Use for Proofreaders
You'll learn about the different types of errors, variations in American and British spelling variations, commonly misused words, and key points to keep in mind. 
Module 4 is where most people make mistakes, so get ready to give this module your best.
Module 5: Punctuation Principles
Module 5 will break down the most commonly used punctuation principles (apostrophes, hyphens, compound words, etc.), and American and British punctuation differences. You also get to take a vocabulary test to evaluate your skills.
Module 6: Proofreading Methods
Module 6 is where the magic begins. You'll learn the four different types of proofreading methods that will be explained in-depth through lessons and tutorials. 
You'll also learn about style in proofreading and get a chance to apply what you've learned with sample practice jobs. 
Note: This will be your very first mock assignment. Before you jump into it, I suggest you quickly revise everything so you end up making fewer errors.
Module 7: Proofreading Practice
Module 7 will be all about practice, practice, and practice. You will be given three sets of practice essays. 
Each set contains 12 or more individual practice essays and includes annotations for each practice essay. You can self-assess your performance, identify your weakest areas, and work on them.
This is a time-consuming module. Practice is all about building accuracy. If you're slow right now, relax! With more practice, your speed will also increase.
Module 8: Types of Proofreading
Here you'll cover the primary types of proofreading like academic proofreading, podcast show and blogging notes proofreading, content writing for newsletters, media publishers, etc.
Module 8 will help you understand the flow of content and the overall theme of any type of content.
Module 9: Turning Proofreading into a Business
Learning how to become a proofreader and running a proofreading business is a whole other thing. 
Module 9 focuses on giving you the fundamentals needed to turn any new business into a money-making proofreading business in the least time possible. 
Create your website
Set your hourly rates
You'll learn how to attract clients and pitch them 
Make them like your work
All this (and more) will ensure the money starts pouring into your bank account, Yippee!
Module 10: Finding Clients
Like I said before, learning how to proofread a document and marketing your services is an entirely different ball game. 
Most proofreading courses out there skip this step entirely because it's not easy to get big clients to pay you.
But in Proofread Anywhere, you'll learn exactly how to find clients and close the deal. Module 10 is packed with proven strategies, tips and tricks, and an evergreen ebook – How To Find Your Ideal Clients. 
This ebook will surely help you learn a lot about marketing.
At the end of this module, you will be ready to find clients who value you and your services.
Module 11: Marketing Basics
Your proofreading services are great, but nobody knows YOU! That's a common thing in every industry. In Module 11, Caitlin and her team will teach you how to market yourself through websites, blogs, and social media. 
By the end of this module, you'll learn how to write high-converting proposals, vet clients to ensure you tap into the right client circle, and market yourself to look awesome!
Module 12: Your Workflow
Your journey begins when you land your first client. Now that you have a job, you need to learn to deal with it professionally. 
Any big company works systematically due to its smooth workflow. 
This module will teach you how to get things organized, have a system in place, and cultivate a good relationship with your clients, so they can refer new clients to work with you.
Module 13: Getting the Most Out of the Freelancing Life
Congratulations! You're a professional proofreader that people would love to work with. 
By now, you have already groomed yourself and learned all the essential skills needed to outperform and overdeliver to your client. 
Now you'll learn how typical proofreaders structure their day, and how to reduce fear and boost confidence to thrive as a freelance proofreader. Learn effective tips to stay productive and organized.
General Proofreading Bonus Materials 
The 13 Modules are packed with loads of knowledge and years of experience. This bonus content is like icing on the cake. 
These bonuses will polish your already existing skills and take them up a notch.
So once you're familiar and completely set up with the 13 modules, take a look at these to get more efficient.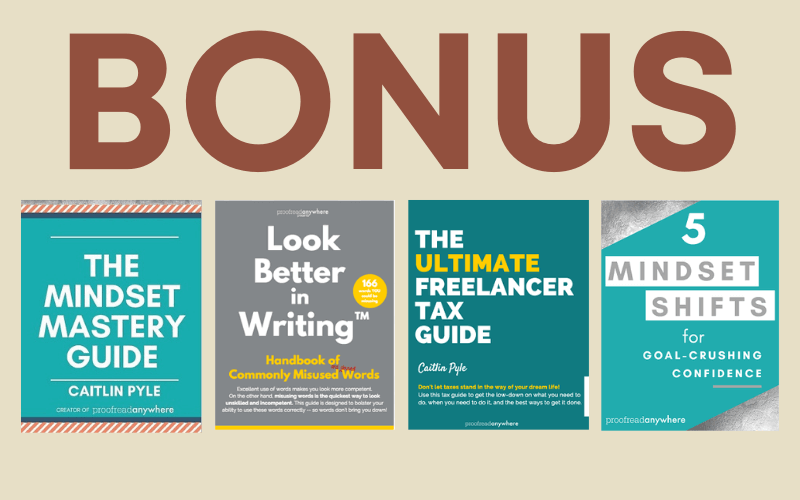 Look Better in Writing Handbook of Commonly Misused (and Abused!) Words
This reference book contains the most commonly misused words in the English language. 
It also includes a worksheet to help you practice these words as much as you'd like. Keep this book handy to avoid repetitive mistakes.
The Ultimate Freelancer Tax Guide
Taxes are not my best friends, and I'm sure you feel the same way. The one thing freelancers never seem to understand is Taxes. 
In this ebook, you'll learn all about tax preparation, accounting, deductions, and more for your freelance proofreading business. 
You'll learn unique ways to save taxes in several ways. Studying this will surely make your freelance taxes less scary.
The Mindset Mastery Guide
We all get distracted from time to time. Having the right mindset is not an easy task.
The right mindset can help you take your business from a small 4-figure income to an enormous 6-figure income. 
As James Clear said, "Many people think they lack motivation when what they lack is clarity."
By having a clear vision of yourself, you're setting yourself up for success and happiness. The Mindset Mastery Guide is one of the most important bonus materials that you'll spend your time on. 
This 5-part guide will teach you how to overcome your fears, overcome impostor syndrome and give you the strength to ace your proofreading tasks.
5 Mindset Shifts for Goal-Crushing Confidence
This ebook will teach you the 5 mindset shifts that people use when loaded with work or stressed to the core. Learning it will help reduce stress and achieve more.
Access to Level 1 of Transcript Proofreading Course: Theory and Practice
Once you completely finish the General Proofreading Course, Caitlin will give you access to Level 1 of Transcript Proofreading (Caitlin's other popular course). 
Along with this, you will get lifetime access to Proofreaders Facebook Group where you can chat with other fellow proofreaders while learning and growing your new business. 
Students love interacting with others, and everyone gains from each other. It's a win-win situation for all!
Money Mindset Transformation Workshop & Workbook
The next bonus has nothing to do with proofreading. It's all about Money! Because money is honey right! Kidding 🙂 (Not!)
This workshop will teach you seven life-changing concepts that will change the way you think about money. 
In other words, this workshop will help you make more money by understanding how money works. Quite interesting I would say!
Hand-graded Exam with Certificate of Completion
There will be a final assessment where your exam responses will be hand-graded by an expert instructor. 
The test won't be easy, so I suggest you study well for the exam. Once you pass the final assessment, you will receive a certificate for completing the General Proofreading Course. 
Many clients probably know Caitlin and her amazing course, so this certificate could be showcased to your future clients as proof of your quality work.
Listing in the Self-Publishing School (SPS) Preferred Outsourcer Rolodex
Once you pass the hand-graded exam in Bonus 7, you will be listed in Self-Publishing School's Preferred Outsourcer Rolodex. 
This Outsourcer Rolodex is an exclusive list of proofreaders, editors, designers, etc., and is used by thousands of Self-Publishing school students. 
Caitlin claims this listing itself is much more valuable than the price you pay for General Proofreading Ignite Plus! 
If that's so, are you excited, cause I know I am 🙂
Transcript Proofreading Course
Once you've completed the Proofread Anywhere Course and the Level 1 Beginner Basecamp of the Transcript Proofreading course (Bonus course included in PA Course), you'll be more interested in checking out their Transcript Proofreading course.
The Transcript Proofreading course is the perfect add-on course that takes your proofreading skills and enhances them by teaching you how to be a transcript proofreader.
You'll learn to proofread legal and medical transcripts, general formatting, and advanced transcription tips and tricks used by industry-leading professionals.
The Transcript Proofreading Theory and Practice is broken down into modules as follows:
FOUNDATION: The Nuts and Bolts of Transcript Proofreading
MECHANICS: Transcript Formatting, Moving Parts, and Processes
METHODS:​ Use Technology and AI Tools to Proofread Transcripts
PRACTICE: Real-Life Transcripts Exercises to Develop Your Skills
ASSESS: Actual Feedback on Your Progress
EVALUATE: Put Your Proofreading Abilities to the Test
FLOW: Effective Client Communication and Accounting
BUILD: Creating & Building Your Online Business
CONNECT: Finding Transcription Jobs in the Real World
The course is extremely exhaustive and will work as a complete guide to help you be a skilled transcript proofreader and make money online.
It will show you how to set up your online business, find clients, use AI software to your advantage, and scale your proofreading & transcription business.
Try Transcript Proofreading Course!
How Much Does General Proofreading: Proofread Anywhere Cost?
General Proofreading course has two plans:
Ignite: $497
Ignite Plus: $597 (includes lifetime access to the Facebook group, hand-graded exam, certificate, listing in self-publishing schools, and Marketing Mastermind Group)
If you want a $100 discount on the two above plans, attend their free 76-minute workshop using the link below!
Proofread Anywhere Reviews: Positive & Negative
So what's the buzz regarding the Proofread Anywhere course structure? Do students love the program or find it boring and not valuable? 
I've gathered three positive and two negative Proofread Anywhere reviews from Google. Let's check it out.
Some Positive Reviews:
All the information presented in the course was helpful. I was very glad that I chose this course to launch my proofreading career.
Proofread Anywhere provides an exceptional opportunity to develop and sharpen your proofreading skills through online learning at your own pace. There is more than enough work in this field to build a stable client base.
Proofread Anywhere Is a Life Changer. Proofread Anywhere gave me the courage to go out on my own and do something I love without having to work for someone else.
Some Negative Reviews:
I completed the course and passed the exam a year ago. Despite my diligence, I haven't been able to find any work related to proofreading and editing.
I completed the course and passed the exam, but overall, I don't think this was worth the cost of the course. The course content itself, and the exercises, were relatively good (though there were several errors in the answer keys), but not worth the price.
Pros and Cons Of Proofread Anywhere
Pros: What I like!
Facebook Community
An overlooked benefit of Proofread Anywhere is its strong and loving Facebook Community. 
People are very active in the group. They ask questions, help others, laugh, share ideas, and make more money. 
Caitlin's core team ensures things run smoothly in the community. They also answer your queries and share insightful tips and tricks from time to time to help you grow as a money-making proofreader. 
Most Comprehensive Proofreading Course
I've said it before, The General Proofreading Course by Proofread Anywhere is the most comprehensive course. 
There's so much to learn that you're bound to make this a success (provided you like correcting English). 
Personal Guidance
This may not seem like a massive pro for you, but I've seen Caitlin reply to several blog posts and Facebook groups. You're getting help directly from the source, isn't that cool!?
Cons: What I don't like!
A Bit Pricey
General Proofreading course comes in two packages:
Ignite: $497
Ignite Plus: $597
If you plan to purchase the course, Proofread Anywhere Ignite Plus ($597) is the better choice because it comes with access to the private Facebook group, a hand-graded exam, a listing in self-publishing schools, and a certificate of completion.
If you emotionally think about paying $597 upfront, you won't ever pay because it's simply too expensive.
But if you think about this rationally, you're getting a great return on your investment. Let me explain.
Caitlin and her team are offering you an opportunity to start a part/full-time business as a freelance proofreader. 
This also includes learning how to market yourself to attract big clients and get rich in the process. 
And if you didn't know this, most successful full-time freelance proofreaders make north of $100,000.
When I think of it from that point, I don't think that $597 is too much. It's an investment in you and your future. 
But if you can't pay it because of financial problems, figure out another way to learn things for free or take up a part-time job.
Note: I feel they should have a payment plan of some sort to reduce financial costs upfront and attract more people, but as of this moment, they don't offer anything like that.
Learning Could Take Months
Most bachelor's degrees are four years, and what do you learn at the end of those four years? Not much I suppose. 
If you thought this course could help you get rich quickly, I'd have to say I'm sorry! 
The course is long, very long as Caitlin goes in-depth and explains her entire proofreading process to you so that you can emulate her process to succeed as her.
I agree that after a point of time, learning could get monotonous but there's no shortcut to learning this course faster and making money in days. 
It's a long process. It's tough, but you need to commit to the course if you wish to run a successful freelance proofreading business.
No Refund Policy
While Proofread anywhere is the most well-rounded knowledge-packed course out there, you will need to be careful before purchasing the course as there is no money-back policy.
In 15 days if you feel like you don't find the course useful or you don't have the time to learn, you can't ask for a refund!
So only purchase the course if you're committed to learning how to be a proofreader.
Even Caitlin's team encourages potential course takers that if they're not committed to the course, they shouldn't purchase as refunds won't be provided under any circumstances.
The BEST Proofreading Course?
My job is to find the best proofreading course for you! This includes spending a lot of time digging through these courses with a fine comb finding out what's good and what's not!
And I can openly say that Proofread Anywhere is one of the best proofreading courses I've come across! The course has everything you need and more so being a proofreader (even if you're a beginner) is fairly easy!
If you're not sure about Proofread Anywhere, check out Knowadays below.
🏆 Best Proofreading Courses (2023) 🏆
🏆 Best Proofreading Courses (2023) 🏆
Knowadays (Becoming A Proofreader)
If there is any course on the internet as detailed and useful as Proofread Anywhere, it has to be Knowadays (Previously known as Proofreading Academy).
Knowadays Becoming a Proofreader Course is designed to turn you from a complete beginner to a professional proofreader and copy editor in no time. 
They have a dedicated support team to help you along your proofreading journey.
This course is 50 hours long and includes 15 modules and 1 final assignment. 
It also includes a guaranteed freelance work opportunity if you manage to score 80% or more on the final assignment.
Becoming a Proofreader course costs $499 only (Use Code "Rylan10" for a 10% Off)
At that price, I consider this course a steal. So if you can afford to pay $597, you can certainly pay $449, for $148 less price, This course offers a ton of value and support from their core team.
I suggest you take this opportunity and invest in yourself to learn and grow as a professional freelance proofreader.
They have a free trial offer going on right now for new users to test out their quality content.
You can check out my in-depth Knowadays Proofreading Academy Review here.
If you want to compare Knowadays vs. Proofread Anywhere, you're in luck. I've recently compared both courses to help you decide the best proofreading course. Here's the comparison K vs. PA article. Enjoy the read 🙂
Proofread Anywhere FAQs
Is Proofread Anywhere Free?
The General Proofreading course is the best-selling and one of the best Proofreading courses on the internet as of now (according to me), and it's not free. 
But Caitlin does have a free 76-minute workshop that will teach you how proofreading can be your ticket to quitting your 9-5 job.
You will also learn surprisingly easy strategies to attract clients.
This Free Workshop is Free and one of a kind. I highly recommend you check out this workshop and see the results for yourself.
Enroll In Free Workshop By Proofread Anywhere NOW!
Are Online Proofreading Courses Worth It?
Do you want to be a professional proofreader who learns fast, acts fast, and practices the core skills needed to be an elite proofreader?
If Yes, then yes, online proofreading courses are worth your money!
But I'd be lying if I said all courses were equally capable of teaching you how to become a proofreader in the fastest possible way. 
Most courses promise a lot and barely deliver anything. Then you think, "I could YouTube and find these basic proofreading skills, tips, and tricks. I shouldn't have paid for the expensive course!" 
And you were probably right! Out of all the proofreading courses I checked up on, only two courses made sense to me, one was Proofread Anywhere By Caitlin (Use Code – SAVE40 to save 40% Off) and the Other was Knowadays (Previously known as Proofreading Academy).
Do you need qualifications to be a Proofreader?

You don't need to have a specific qualification to be a proofreader. But you do need specific skills to be a good proofreader. 
Learn the skills and strategies to be a professional proofreader, and you'll be hired for most of the projects.
Taking up a course like Proofread Anywhere or Knowadays Proofreading Course definitely bumps up your chances of landing huge clients and work proposals.
What skills do I need to be a Proofreader?
I'll list down and explain in brief the basic skills you will need to be a proofreader. Working on these skills will help you start as a beginner proofreader in the industry.
1. Know The Language
You are not a proofreader if you don't know the language inside out. 
Be it English, French, or Italian, you have to know the grammar, punctuation, sentence structures, basic vocabulary, and flow of the language. If you hate studying language, proofreading may not be a good option for you. 
In that case, you can read my article on the Top 26 Most Profitable Side Hustles.
2. A Sharp Eye For Errors
Being the best at grammar is not enough. Being attentive i.e. having a sharp eye for errors in a document is a proofreading skill that separates a mediocre proofreader from an expert proofreader.
3. Time Management
You have a deadline, and you need to figure out a structured way to get your work done before the deadline. 
Learn various time management strategies to ensure you reduce wasting time and be more productive.
Here's an article by Timecamp to help you with time management.
Can Proofreaders Make a 6-Figure Income?
Many proofreaders are already making 6 figure incomes, so Yes you can make a 6 figure income as a proofreader. 
You need to find the right place to learn the skills, techniques, tips, and tricks. Once you practice these things over and over again, getting rich and being a proofreader is no dream!
Is Proofread Anywhere Worth It?
Yes, Proofread Anywhere is worth the price you pay for it, and is an excellent course for anyone interested in becoming a high-earning proofreader.
Caitlin provides her knowledge, skills, the mindset you need to succeed and a clear step-by-step approach to excel as a beginner proofreader.
The course has its pros and cons, the biggest con being the price of General Proofreading ($597) (Use Code – SAVE40 at Checkout to get 40% OFF), but it does a brilliant job teaching anyone how to be a successful proofreader. No doubt about that!
If you can't afford this course, there is a lot of free content on Google and YouTube to help you out. 
Once you make enough money to afford the course, take your call.
But if you can afford it and you seriously want to make money proofreading in the least time possible, Caitlin and the Proofread Anywhere team will be the best way to start your journey!
Feel free to leave your comments below if:
You have a question or feedback
You need me to clarify something regarding my Proofread Anywhere Review
You wish to share your Proofread Anywhere review with everyone
I will get back to each one of you as soon as I can.
Read Next >>>
1. Most Common Proofreading Mistakes You Can't Afford To Make
2. 13 Tips to Improve Your Proofreading Skills​
Enjoyed this post? If so, you might want to subscribe to my newsletter. It usually contains life lessons and money-related topics, some interesting observations, links to articles or books I've read, and tips to be a better person. If you're interested in these things then subscribing will be simply wonderful 🙂 PS: Subscribe and Get your Freebie below!
Also, I'm a YouTuber now! If you're interested in Pinterest Marketing, Blogging, or business-related things, Subscribe to my Channel and I'll see you in the comments!
Proofread Anywhere Review: Best Proofreading Course? (2023)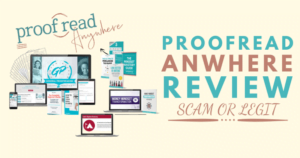 Caitlin Pyle's Proofread Anywhere is a legit online proofreading course that can help you make a full-time income as a freelance proofreader.
Course Provider: Person
Course Provider Name: Caitlin Pyle
Course Provider URL: https://thesagemillennial.com/go/proofread-anywhere/