The Savvy System Review: Best Virtual Assistant Course? (2023)
This article may contain affiliate links. If you make a purchase using my links, I'll earn a small commission at no extra cost to you. I appreciate your support!
Want to become a freelance virtual assistant?
Ummm, it's a bit tricky and competitive, and you'll need to put in a lot of effort to make a name for yourself!
But there's a shortcut – The Virtual Savvy's Savvy System Course!
This course is quite popular (and one of the best) for aspiring virtual assistants looking to start and grow their online VA business in 30 days!
If you've decided to start your side hustle career as a freelance virtual assistant but have no idea how to be a virtual assistant or make money as one, this article is perfect for you.
In The Savvy System Review, I'll review every aspect of this comprehensive flagship course to help you decide if this virtual assistant course is well suited for you!
And I'll also answer the most important question – Is Savvy System a value-for-money course?
Check out my Quick Summary and Verdict below to get my short answer!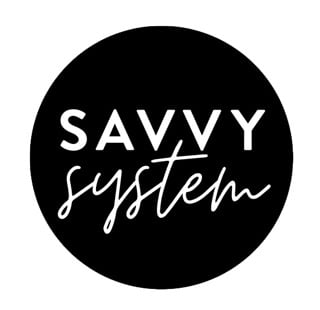 Quick Summary & Verdict
Ratings: 4.8/5
Content: 4.8
Customer Service: 4.7
Value For Money: 4.7

Is The Savvy System Legit?
The Savvy System is a legit online course that teaches people how to become professional Virtual Assistants and make a full-time income as a VA. TVS was created by Abbey Ashley, a successful virtual assistant, and entrepreneur with over 12 years of experience in the field.

Free Booked Out Virtual Assistant Course
In this FREE training program, you'll learn:
1. How you can quickly earn 100k+ working as a virtual assistant
2. What paying clients are REALLY looking for in a VA
3. How to find thousands of clients who are waiting for your services
Join The Free Training NOW!

The Virtual Savvy Course Pricing
SavvySystem Lite – $997
SavvySystem Pro – $1497 (Most Popular)
SavvySystem Ultimate – $2997
Pros
Extremely Comprehensive Course
Turns You Into Professional VA
Exclusive Job Opportunities
Not Too Girly
Fresh Videos Every Month
Cons
It's Not Cheap
Bonuses Are Confusing
What is Virtual Savvy (The Savvy System)?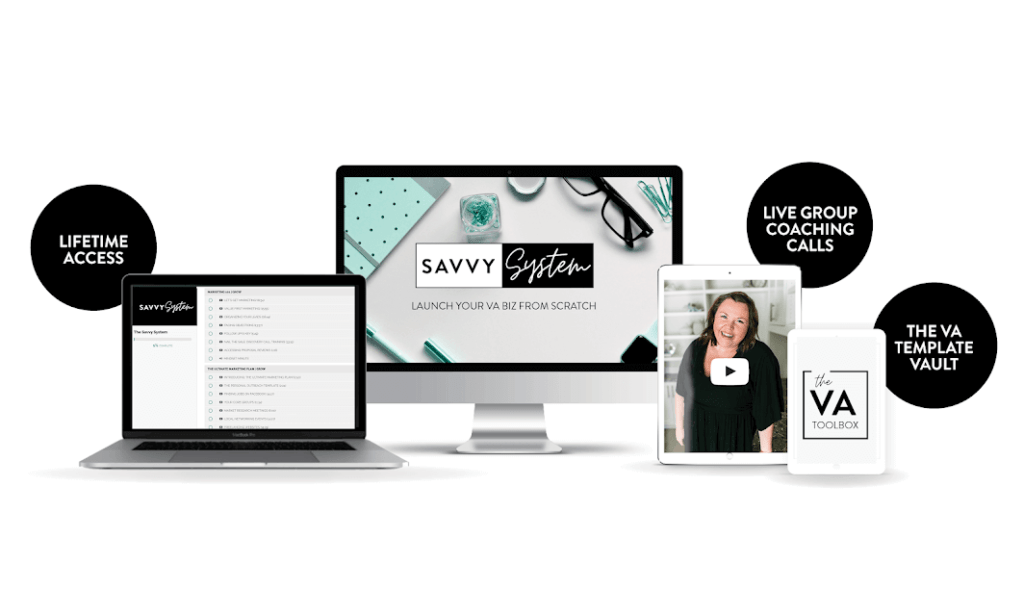 The Virtual Savvy (TVS) is a team (founded by Abbey Ashley) that helps new virtual assistants figure out how to become virtual assistants from scratch with zero experience.
Abbey and her team are highly determined, goal-oriented, and successfully driven which inspired their course – The SavvySystem (previously known as VA Bootcamp), A Premium Virtual Assistant course designed for beginners wishing to start their freelance career as a virtual assistant (in 30 days) and looking to form a structured business that makes 5-6 figures in profit each year!
I know it sounds magical, but Abbey has created the perfect system that ensures anyone (with the desire to learn, grow and take action) can make a full-time income as a VA!
The Virtual Savvy Course teams course (The SavvySystem) teaches you EVERYTHING, I mean it.
They've pushed the boundaries by providing in-depth videos on how to, why to, and what to do to get to that level where you're sitting on a beach drinking mai tai!
From building your VA skillsets to setting up a structured business to sorting out taxes and accounting, this VA course has got it all, and no they don't just brush through topics, they do it in detail and break down how to ace that subject.
Do you Have To Enroll in The SavvySystem? No Of course Not!
You don't have to take this course to become a successful virtual assistant, but if you want to speed up the process by 10-20X by taking a shortcut and learning from someone who has done hundreds of mistakes over her years of being a virtual assistant, then Abbeys TVS course is a great investment for you.
The BEST Virtual Assistant Course?
My job is to find the best virtual assistant course for you! This includes spending a lot of time digging through these VA courses with a fine comb finding out what's good and what's not!
And I can openly say that The SavvySystem is the best virtual assistant course I've come across!
🏆 Best Virtual Assistant Courses (2023) 🏆
🏆 Best Virtual Assistant Courses (2023) 🏆
Is The Savvy System Suited For You?
Abbey's Savvy System is not suited for everyone. Plain and Simple!
This course is not suited for you if:
You're not willing to spend 3-6 hours each week learning and growing your business.
You expect to get rich just because you bought the best VA course!
You're lazy, and you hate working as a VA
You don't have the finances to fund her course
This Course is suited for you if:
You can afford to invest in yourself (By Enrolling in the Course)
You're focusing on building a money-making business
You're looking for an advanced virtual assistant course (to guide you)
You're quick on your toes
You're willing to implement EVERYTHING Abbey teaches in this course
You're ready to make money and take charge of your life
Taking Action is the key factor that determines whether you'll succeed and become a rich Virtual Assistant or not!
Abbey and her amazing team are really good at their job of showing you how to make money as a VA, but it's up to you if you take those learnings and apply them to your VA biz.
Some might say that the course is too expensive, but logically speaking, you're trading money for time.
In my opinion, the time you save because you purchased this course (Shortcut) is far more valuable than the cost of the course.
The Savvy System Cost & Refunds Breakdown
The Savvy System comes in three price plans:
SavvySystem Lite – $997
You can opt for Part Payment which includes 12 payments for $97 (each month)
The Lite plan comes with the following:
14 Step-By-Step Modules
The VA Toolbox
Drag & Drop Va Portfolio
The VA Template Vault
Milestones/Gameboard/Merch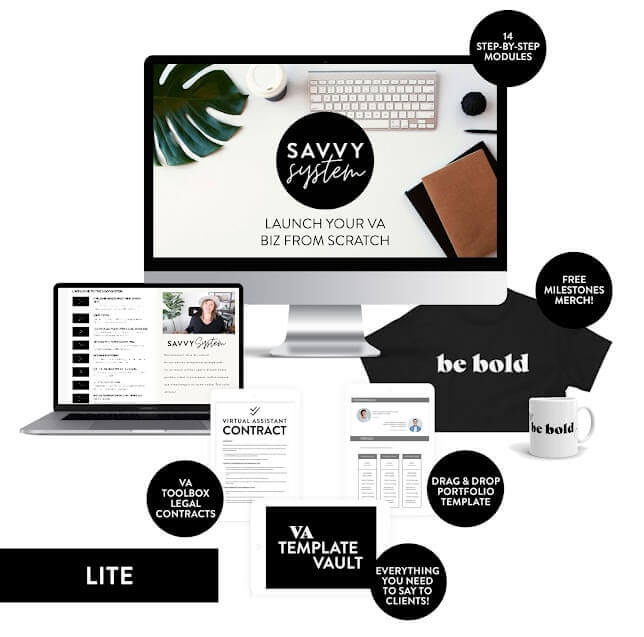 SavvySystem Pro – $1497 (Most Popular)
You can opt for Part Payment which includes 12 payments for $147 (each month)
The Pro plan comes with the following:
Everything from Lite Plan
Unlimited Proposal Reviews
Group Coaching And Support
Private VA Online Community
Mega Crazy Swipe File
Proposals That Win Training
Savvy Your Site Training
Abbey Ashley's Discovery Call Demo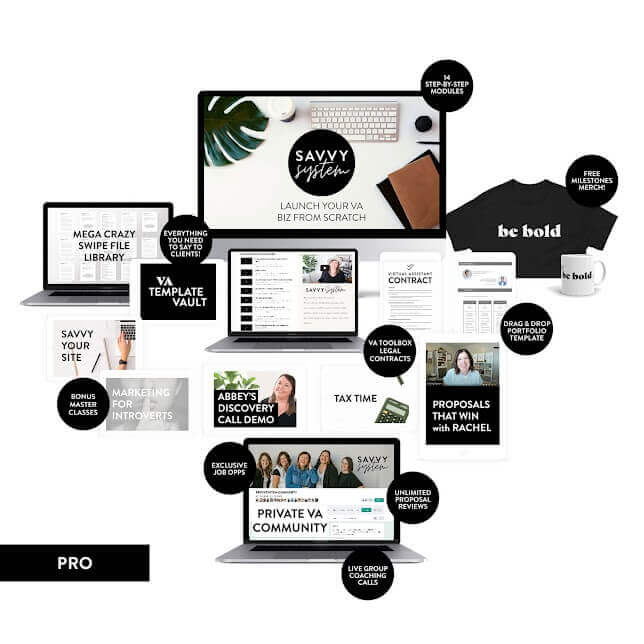 SavvySystem Ultimate – $2997
You can opt for Part Payment which includes 12 payments for $297 (each month)
The Ultimate plan comes with the following:
Everything from Pro Plan
Lifetime Access To Savvy Vault
Unlimited Technical Support
80+ Tech Training Courses
Tech Live Group-Coaching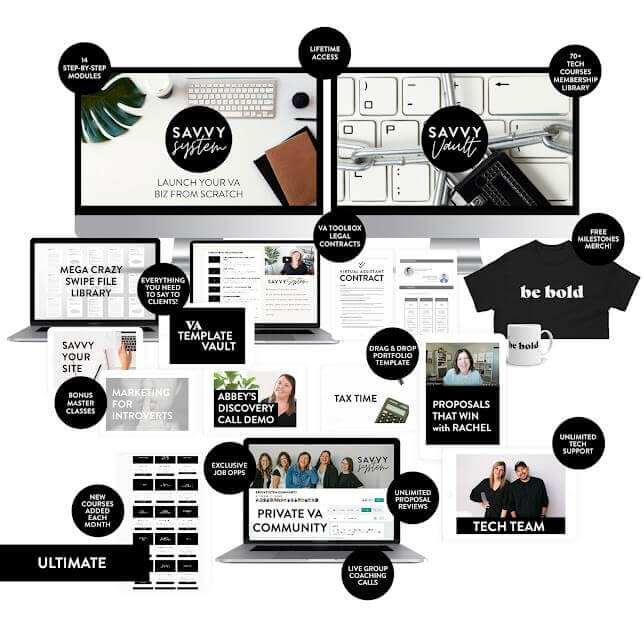 Refund Policy
The Savvy System comes does offer a refund policy for all three plans:
SavvySystem Lite – 7-Day Money Back Guarantee
SavvySystem Pro – 30-Day Money Back Guarantee
SavvySystem Ultimate – 30-Day Money Back Guarantee
If after purchasing the course, you're not fully satisfied with the contents, you will get a 100% refund from The Virtual Savvy Team!
The Savvy System Course Breakdown
Abbey Ashley's The Savvy System contains 14 Modules that take you through the entire process of being a rich virtual assistant. Here's what you learn in each module below:
Module 1: Welcome To The SavvySystem
Abbey and her team will show you the basic structure of how to build your Virtual Assistant Business from Scratch.
You'll also learn how to work on your own time and set appropriate expectations. (Free: Launch From Scratch Blueprint)
Here's everything you'll learn in Module 1:
SavvySystem Introduction
Setting Expectations
Getting the Most Out Of This Course
Virtual Assistant Dictionary
The VA Template Vault
Module 2: Discover Your SkillSet
You're probably not sure what skills you currently have that you can offer to clients for money!
In this module, you will focus on breaking down your experience to discover the unique skills which you can offer as a Virtual Assistant.
Abbey will also share the best skills to have on your bucket list to be a top-notch Virtual Assistant.
Here's everything you'll learn in Module 2:
Let's Talk Services
10 Ways You Can Offer Services Now
To Niche or Not to Niche?
Deciding on Your Services
Mindset Minute
Module 3: Pricing And Packages
There are about 1,000 unique ways to package your services as a Virtual Assistant. What do you think works best for clients looking to hire top-notch VAs?
As a Virtual Assistant, should you charge by the project or by the hour?
Abbey and her awesome team (Rachel, Erica, Emily, Alex, and the rest) will help you double down on your pricing strategy, so you and your clients get the best offer ever!
You'll work together with the team to package and price your services in a way that is competitive to the market, suited for your skill set, and structured to generate consistent monthly income.
Here's everything you'll learn in Module 3:
Mindset and Money
Packaging Your Services
Your Premium Package
Pricing Your Packages
Get Clients Now
Check Out The Savvy System Free VA Training Here!
Module 4: Branding Academy
Branding is such an important concept today, yet many entrepreneurs and freelancers tend to skip it! Well, Module 4 is all about building your brand personality.
The Brand Academy Module works on your logo, brand colors, elements, etc. This will attract the right kind of people, which will help your freelance business grow!
Here's everything you'll learn in Module 4:
Discovering Your Brand Personality
Intro to Canva
Your Business Name
Branding Elements
Logo Creation
Branding Board Creation
Module 5: Processes And Assets
I'm a firm believer in creating systems to make sense of my business! Without a proper system in place, things will be messy, and you won't get too much work done!
Developing a system that is clear to you and your clients will help you streamline your processes and appear more professional.
Abbey's unique system is what differentiates her from other Virtual Assistant Courses across the globe, so leverage this to make your VA life easier!
Here's everything you'll learn in Module 5:
Your Processes
Your Facebook Page
Proposal & Portfolio Creation
Onboarding Your New Client
Claim Your EIN
Module 6: Payments, Invoicing, And Taxes
Managing Money is such a tough topic to talk about! Freelancers simply give up learning about filing taxes and bookkeeping simply because no one teaches them exactly how to get these things done.
Well, The Virtual Savvy Team has invested quite a time figuring out how to teach their Virtual Assistants the ins and outs of money management!
You'll learn everything about money in the business, but more importantly, you'll learn about bookkeeping, invoices, taxes, and those nasty things!
Here's everything you'll learn in Module 6:
Let's Talk Money, Baby!
Dealing with Unpaid Invoices
Let's Talk about Taxes
Developing Your P&L Spreadsheet
Module 7: Legalities
Money is one thing freelance gets crazy about, the one is Legalities! Abbey will show you how to be legally on the right side of things.
You will know your legal rights as a Virtual Assistant, establish your contracts, and you will get answers to your legal questions (negotiations, alterations in your contracts, etc.)
Here's everything you'll learn in Module 7:
Intro to Legalties
Understanding Your Contract
Live Outside of the USA?
Choose Your Legal Entity
State Requirements & Insurance
Module 8: Marketing 101
Landing your first client is the most difficult thing to do as a freelancer and to do that, you need to learn Marketing!
This includes social media marketing, email marketing, running Facebook ads, and understanding Google Analytics.
Abbey guarantees that by the end of this module, you'll have your first paying client!
Now that's quite a promise to make but if she trusts and believes in The Savvy System, she knows you'll land your first client and make a ton of money being a marketing machine after learning this module!
Here's everything you'll learn in Module 8:
Let's Get Marketing
Value First Marketing
Organizing Your Leads
Facing Objections
Follow Up is the Key
Nail the Sale: Discovery Call Training
Accessing Proposal Reviews
Module 9: The Ultimate Marketing Plan
Once you have learned the basics of marketing, it's time to break down exactly how you need to portray yourself to potential clients!
Here you will work on creating a specific Marketing Plan designed to make you awesome in the eyes of employers!
Here's everything you'll learn in Module 9:
Personal Outreach Template
Finding Jobs on Facebook
Your Core Groups
Marketing Research Meetings
Local Networking Events
Freelancing Websites
Mastering LinkedIn
Job Search Sites
Craigslist for Clients
Conferences and Live Events
Instagram for Marketing (Social Media)
High-End Client Targeting
Asking for Referrals
Module 10: Web Development 101
Abbey's The Savvy System is not just a course on how to become a Virtual Assistant! It's the whole package which also includes designing your website!
You don't need to hire fancy web designers and empty your pockets, you will learn how to design a website that's intuitive enough to attract potential clients.
Here's everything you'll learn in Module 10:
Your Website Options
Website Core Components
Purchasing and Linking Your Domain
Squarespace Your Site
Submit Your Site
Module 11: The Virtual Assistant Lifestyle
Now that you're a VA, you will see a difference in your lifestyle.
In this Module Abbey will be covering some of the challenges you'll encounter and how to plan for success as a Virtual Assistant!
Here's everything you'll learn in Module 11:
You're a VA! Now What?
Dealing with Difficult Clients
Asking for Testimonials
It's About Time
Self-Care and Balance
Transitioning to Full Time
How to Fire a Client
Vacation and Planning Extended Leave
One aspect Module 11 takes into consideration is the emotional side of being a virtual assistant. It covers modules to take care of your health by teaching you how to find your work-life balance!
Module 12: Raising Your Prices
You have built a strong Virtual Assistant business! Now you need to make sure you're consistently driving revenue and growing your business.
You'll learn how to grow your business to a point where you're proud of it! You'll also learn how to price accordingly and raise your prices if you feel you're charging less.
Here's everything you'll learn in Module 12:
Choose Your Adventure (Where Will You Go From Here?)
Your High-End Service
Transitioning to High-End Services
Overcoming Objections & Getting Paid What You're Worth
Module 13: Building A Team
Module 13 is all about scaling your business by hiring people.
Learn how to make your first hire, set systems in place to hire great talent, and create a highly productive team.
Here's everything you'll learn in Module 13:
Intro to Outsourcing
How to Start Subcontracting
How to Hire the Perfect Team Member
Project Management Platforms
Workflows and SOPs
Parting Ways With A Subcontractor
Module 14: What's Next?
Module 14 is about taking the next steps for your VA Business.
How to create a vision as a VA business owner and work towards accomplishing it. Focus on building a business that makes money!
Here's everything you'll learn in Module 14:
Your Journey Doesn't End Here
Scaling Your Agency Model
Scaling as an Online Business Manager
Scaling Your High-End Service
Scaling Through List Building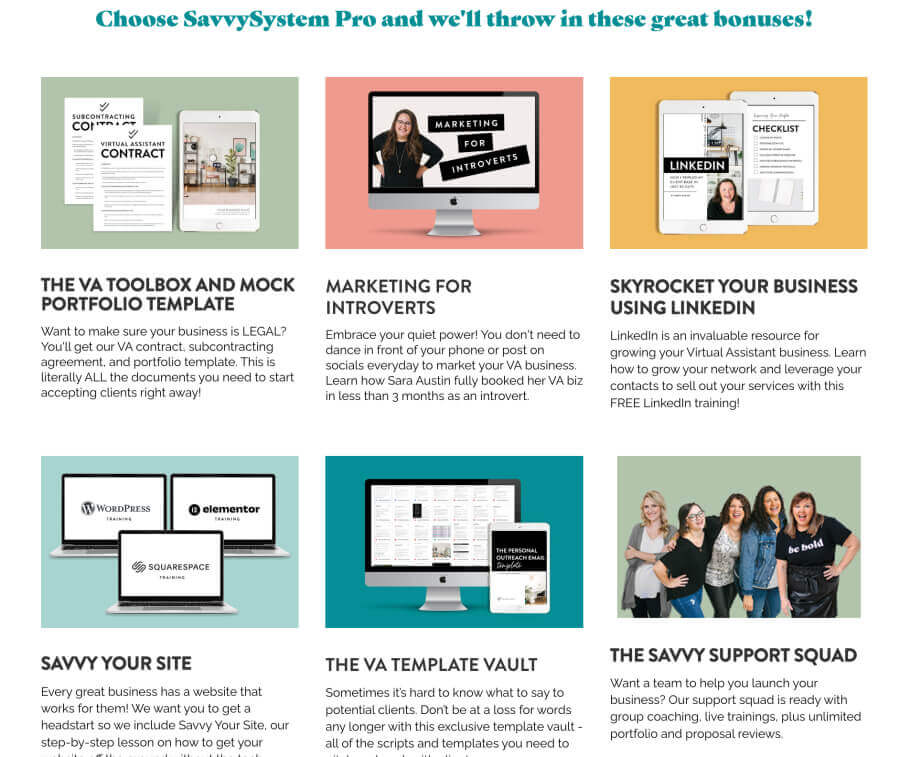 Take any plans, and you'll get These New Exciting Bonuses (Practical Stuff Only):
Proposals That Win
Discovery Call Demo
Monthly Group Accountability Calls
Your Name in the Virtual Assistant Database Listing
Discovery Call: Guided Workbook and Video Training
Proposal Reviews (Send Abbey your client proposals before sending them to your clients and get an in-detailed review)
Weekly live Calls to connect with other Savvysystem students, ask questions, and receive feedback.
The Savvy Course Companion Workbook
SavvySytem Milestones
If you opt for SavvySystem Pro, You'll get free access to these useful bonuses!
The VA Toolbox and Mock Portfolio Template
Marketing for Introverts
Skyrocket your business using LinkedIn
Savvy Your Site
The VA Template Vault
The SavvySupport Squad
Pros and Cons Of The Savvy System
Pros
Extremely Comprehensive Course
Abbey Ashley's The Savvy System covers everything. Right from how to become a Virtual Assistant to sorting out Legalities to Setting up an online persona to attract potential clients. She's got it all covered.
Course modules are well-structured and easy to grasp.
The tough topics are broken down into simple examples which makes things easier for course takers!
The Live Discovery calls, new monthly videos, VA Template Vault, tech skills, VA ToolBox, and their private Facebook group are aspects of this online course that you simply can't get anywhere else!
Turns You Into Professional VA
A major company will sign up with the Professional VA over the Messy VA because people like to work with people who are organized, systematic, and have a good command of their business.
If you're not spending time building a system and getting things organized, potential clients are going to smell this and go with the one whos more systematic and mature.
Lucky for you, Abbey gives you the roadmap of how to become a "Real Professional" by giving you Trello Boards (to create systems), contracts, templates, spreadsheets, email swipes, website-building tools, etc.
Take your VA skills, add all these elements in that, and you're suddenly a super attractive Virtual Assistant that can attract clients with little to no effort.
Exclusive Job Opportunities
The problem I have with most courses is that they teach you everything you need to know, but you still can't land your first client.
Abbey's SavvySystem Facebook Group posts Virtual Assistant Jobs that are exclusive to course takers only.
This makes landing your first client a hundred times easier. You get access to top-notch clients looking to hire VAs in their Facebook Group (Free Access when you sign up).
Not Too Girly
Most VAs are women, so most VA course owners are women. Male course takers usually find course content way too girly and thus lose interest in learning throughout the course.
The SavvySystem is mostly women, but the course doesn't feel too feminine! It has a neutral balance to it, and trust me (Guys), you won't feel awkward when you listen to their course videos.
Fresh Videos Every Month
Abbey understands that outdated information won't do any good for her Savvysystem students, so she launches fresh new courses each month to bring out the latest and greatest in the VA Space.
With The SavvySystem, you won't have to worry about using outdated strategies to get clients, make money and run a successful business!
Gamified SavvySystem
With the help of gameboards and milestones, Abbey Ashley "Gamified" the SavvySystem.
If your business achieves certain milestones, you receive real rewards and prizes, and you'll receive notifications for those milestones in the mail so keep an eye out for these emails.
They also offer 30-Day Money Back Guarantee, which is simply amazing as some VA Courses I've come across don't have any refund policy set up!
Cons
It's Not Cheap
The SavvySystem is not cheap under any circumstance. It's priced on the higher side. That said, it does give you the knowledge and resources to become a successful Virtual Assistant.
You get what you paid for and much more (additional bonuses), so it's a great deal but still expensive!
We can't ignore the fact that you're also getting Lifetime Access to The SavvySystem Support team and Community.
Most other Virtual Assistant courses do charge less but they also compromise on course quality, resources, etc.
For example, they'll offer 5 hours course, and that's it! If you see The SavvySystem, they offer a complete system from (A to Z) on how to start your journey as a Virtual Assistant to beyond. (Check out Course Breakdown)
Bonuses Are Confusing
When I purchase an online course, I want it to be super organized, where I simply watch the videos they recommend me to watch.
Like any book or syllabus (Chapter 1, then Chapter 2).
The Main SavvySystem course is organized and easy to understand, but when you come to bonus course materials, you might get confused as to which to start first because there are many bonus VA courses!
What I recommend is to pick those bonus courses first which you're most doubtful about. Work on your weak areas first, then study the other bonus courses later.
For example – If I have trouble figuring out how to build a VA website, I'll study the bonus course that includes website designing.
This con isn't a huge turn-off. If you go through these course materials, take notes, and understand what Abbey and her team are breaking down in these modules, your chances of becoming a good Virtual Assistant who makes a ton of money drastically increase.
Positive & Negative The Savvy System Reviews
I've listed down 3 virtual savvy reviews. Read these to get an idea of how this course helped them run a professional VA business from scratch.
Kayleigh – "I can't believe it, y'all! One year. One year ago I quite literally stumbled upon Abbey Ashley and found out about virtual assistant businesses. Now a year later and I run a VA and OBM agency. Like WHAT. I seriously always tell my family I had no clue this is the path I was going down, but HERE WE ARE, SIS! Someone pinch me! Literally living my dream life. Just thought I would post in the group that has helped me in so many ways. Thanks, Virtual Savvy!"
Lynette – Leaving my career after 15 years to start my own business as a Virtual Assistant was huge for me. I am approaching the one-year anniversary of when I decided to start this journey and I can absolutely 100% assure you that I wouldn't be where I am without this program and the amazing people I've met. Since starting the Savvy System, I've been fully booked, I've expanded my services, AND now, thanks to all of the education and knowledge sharing, I'm embarking on the next step of my entrepreneurial journey and entering a Director of Operations Program. I could go on and on about Abbey, her amazing team and the incredible community she's built, but I'll sum it up here and just say this… Joining this program was THE BEST first decision I made hands down! There's no way for you to truly know up front all the value that comes along with your financial and mental investment in this program. Literally, it was THE BEST first decision I made… I hope you make the same choice and if I can help in any way… I am always available. Love you guys!"
Leah Bryant – I wouldn't be where I am today without the SavvySystem. The program helped me have a SOLID foundation to build on. If I went back to do it over again, I would do it the very same way. I see so many people who have come into my industry who didn't have the same start/foundation and they feel lost. I'm so so grateful for finding this program and for diligently putting in the work. THANK YOU SavvySystem!
Is The Savvy System Worth It?

The SavvySystem is certainly one of the best virtual assistant courses out there.
That said, the course doesn't come with a hefty price, but then if you don't find value in the course you can always ask for a 100% refund (30-Day Money Back Guarantee).
The Virtual Savvy team covers all the basics and the advanced-level tactics VAs follow all over the globe in their course.
They've compiled a course that can take any average person and turn them into a Professional Virtual Assistant provided they are willing to learn and take action.
Now if you're an experienced virtual assistant and you're wondering if this course will add any value to your current skillsets (as it's mostly suited for beginners), it will help you learn a few things!
Given that Abbey and her Virtual Savvy Team have poured in every last piece of knowledge they have on virtual assistants in this course, there's always something to learn for everyone here no matter how skilled a virtual assistant you are.
So is it worth it? – Yes it is indeed a good course designed to help fresh virtual assistants make a full-time income in this online space.
They have got many positive reviews, and VAs have made 5-6 figures after taking this digital savvy course, so yeah that's really good!
To answer my first question – The Savvy Sustem is a value-for-money course that can take your business to new levels!
I recommend taking this course if you're willing to spend time learning and implementing these strategies to grow your online virtual assistant business.
Feel free to leave your comments below if:
You have a question or feedback
You need me to clarify something regarding my The Savvy System Review
You wish to share your The Virtual Savvy review with everyone
Read More >>> How to Make Money as a Virtual Assistant (2023)
Enjoyed this post? If so, you might want to subscribe to my newsletter. It usually contains life lessons and money-related topics, some interesting observations, links to articles or books I've read, and tips to be a better person. If you're interested in these things then subscribing will be simply wonderful 🙂 PS: Subscribe and Get your Freebie below!
Also, I'm a YouTuber now! If you're interested in Pinterest Marketing, Blogging, or business-related things, Subscribe to my Channel and I'll see you in the comments!
The Savvy System Review: Best Virtual Assistant Course? (2023)
In The Savvy System Review, I'll review this comprehensive course to see if this virtual assistant course is good. Is Savvy System value-for-money?
Course Provider: Organization
Course Provider Name: The Savvy System
Course Provider URL: https://thesagemillennial.com/go/savvysystem-course/