Filthy Rich Writer Review: Best Copywriting Course? (2023)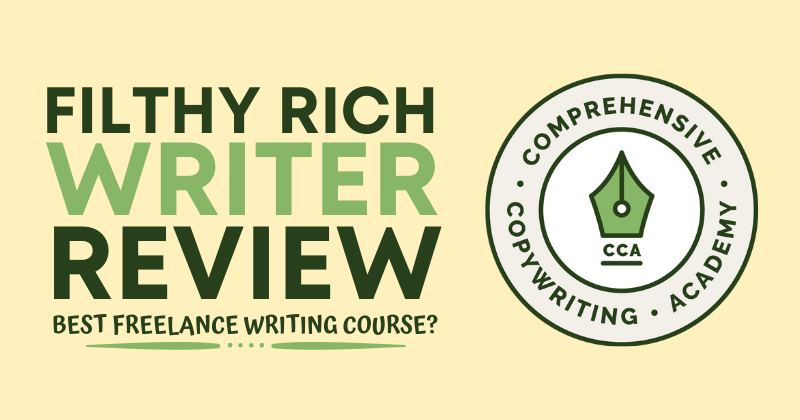 This article may contain affiliate links. If you make a purchase using my links, I'll earn a small commission at no extra cost to you. I appreciate your support!
Copywriting is a buzzing word today, so, naturally, more and more people want to learn how to be a copywriter.
When it comes to the top online copywriting courses, there aren't many that tick-mark all the essential boxes and come out shining. 
Today I'm going to review Filthy Rich Writer's Comprehensive Copywriting Academy, an online learning platform focused on teaching aspiring copywriters the art of copywriting and helping them make a full-time career as freelance copywriters.
Filthy Rich Writer Course sounds quite spammy if you ask me! So I started doing some research to see what it is and if is this something that can add value to your career goals, basically your copywriting goals.
In this Filthy Rich Writer Review, I am going to check out if Comprehensive Copywriting Academy is worth spending your time and money on. 
I'll break down what the course covers (modules), its features, and its pros and cons to determine if it will help you become a successful copywriter in 2023.
Before I get to how good or bad CCA is for you, I need to address the giant elephant in the room!
Is Copywriting A Money-Making Side Hustle?
Yes! If you have the skills required for the job, copywriting can be a highly lucrative side hustle. 
No one will hire your services if you don't show how good a copywriter you are! 
Having a copywriting portfolio serves best to show new clients what they can expect you to provide for them.
Don't have too much time to read the entire review? 
Check out my Quick Summary & Verdict below to get my honest views on Nicki's Comprehensive Copywriting Academy 🙂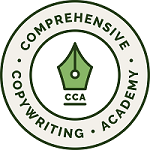 Quick Summary & Verdict
Ratings: 4.8/5
Filthy Rich Writer is an online resource website (blog) that writes articles on content writing and how to become a successful copywriter. Nicki (Founder of Filthy Rich Writer) created a course called Comprehensive Copywriting Academy which is an online copywriting course for aspiring freelance copywriters to create more freelancers to make money copywriting.

Is Filthy Rich Writer Legit?
Yes! Filthy Rich Writer Comprehensive Copywriting Academy is a legit online course for beginner copywriters. Nicki (Founder of CCA) has more than 20 years of copywriting experience and is quite reputed in the copywriting niche.

Filthy Rich Writer Testimonials
Here are a few written and video testimonials by course takers on the CCA

CCA Free Training
In this Free Training, you'll learn:
1. How to Land Client Outside Of Freelancing Platforms
2. Step-by-Step Process to Make 6 Figures as a Copywriter 
3. How to build a copywriting career in the least time possible

Pros
Live Monthly Coaching Calls
Private Facebook Group & Bonus Materials
Lifetime Access to Filthy Rich Writer Academy
Cons
Unclear Pricing Structure 
Slightly Overpriced 
Not A Get Rich Quick Scheme
Who is Nicki Krawczyk?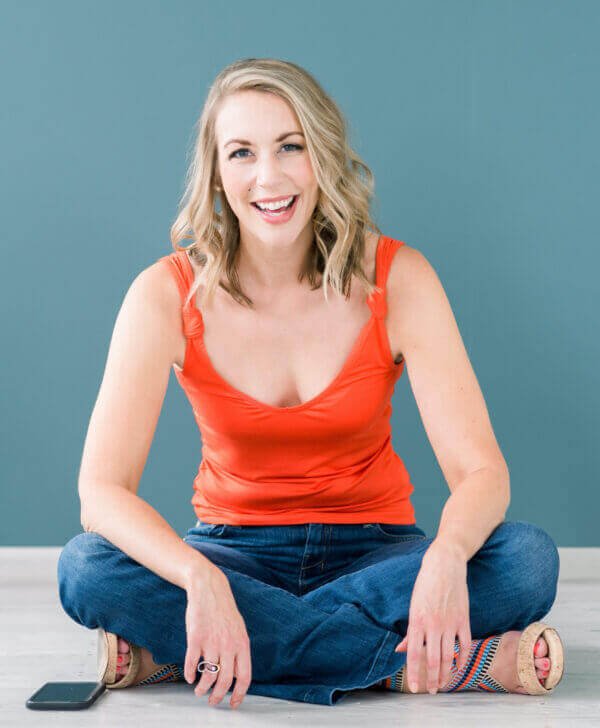 Nicki Krawczyk is the founder of Filthy Rich Writer and has been an experienced freelance copywriter for 20+ years, making over six figures. 
She created Filthy Rich Writer (blog) and Comprehensive Copywriting Academy (course) because she couldn't find high-quality copywriting courses to help beginners make good money copywriting. 
She knew that there aren't many experienced copywriters to help businesses scale, and that's what motivated her to create the CCA. 
CCA is a practical freelance copywriting training designed to teach beginners how to be successful copywriters and make 5-6 figures by helping businesses write effective copies.
What Does Filthy Rich Writer (CCA) Course Offer?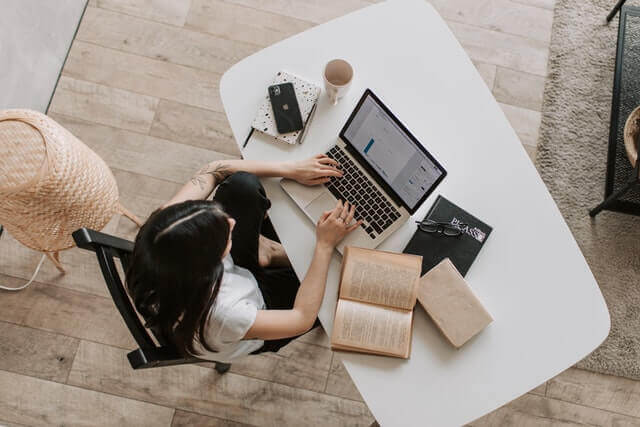 In this course, you'll find everything Nicki has learned over her 20+ years as a freelance copywriter broken down into simple video formats and slides for easy learning. 
Below are the modules included in the CCA and bonus courses offered in the package.
Filthy Rich Writer's CCA Course Modules
Module 1: Copywriting Fundamentals
Module 2: Copywriting Tactics
Module 3: Project Lifecycle
Module 4: Interactive/Digital Copywriting
Module 5: Print Copywriting
Module 6: Building Your Business
The best part about these modules is that they all have action sheets to help you get a more practical approach to copywriting. 
If you have doubts or trouble understanding certain things within these courses, go back and rewatch them, then google whatever you don't understand immediately. 
The best way to become one of the best copywriters is by learning as much as you can about the field.
Comprehensive Copywriting Academy Bonus Materials
Nicki doesn't just stop teaching at the end of her modules. CCA also offers bonus courses that can help you concur with the business side of things. 
Anyone can easily start making money in copywriting with the above modules, the action sheets, and all the bonus courses in this online course. 
Just remember to keep practicing while learning everything these courses teach you. 
Here's a list of some of the bonus courses you'll have access to when you're a CCA Student:
Bust Your Fears and Blocks to Pursue Your Dream Life
Pricing Your Services
High-Converting Pitches For Your Clients
Creating Your Print Portfolio
Finding Small Business Clients 
Building Your Online Portfolio
Using Facebook Ads to Build Your Online Copywriting Business 
Writing Product Descriptions, Webinars, Sales Pages, Videos
You might have the urge to skip all these bonus courses once you're done with the modules but don't do that. 
These bonus courses are equally important in growing your online copywriting business. 
If you have the skills but don't know how to sell your services and keep growing your business, you're in for a hard time. 
To shed a few hours every day (after completing all modules and action sheets) to go through these courses and take notes.
How Much Does Filthy Rich Writer Cost?
Pricing Plans differ from time to time, but if you want the best price for the course, you better sign up for the free training. 
The course might seem a bit expensive, but if you carefully look at everything they offer, it's priced quite well. 
There are a few good copywriting courses that actually teach you everything you need to learn and build an online business and the Filthy Rich Writer is one of them. 
Considering that, I think Filthy Rich Writer's CCA is priced well, and it is not expensive when compared to similar quality courses in the market.
But if you can't afford this course, don't burn down your pockets! Check out these affordable value-for-money course recommendations:
CCA Refund Policy
Filthy Rich Writer gives you 30 days to check out the course and see the value it provides. 
If in 30 days you feel that the course doesn't justify the price or is not adding any value to your copywriting career, you can get a full refund immediately. 
I appreciate course companies that provide a 30-Day Money Back Guarantee instead of the usual 14-Day Guarantee. 
That way course takers like you can test out the waters and see if you want to stay in it.
Pros And Cons Of Comprehensive Copywriting Academy
Pros:
Live Monthly Coaching Calls
Online courses usually lack live audiences and a sense of getting to learn in real-time. Well, Nicki understood that! 
Each month they have live coaching calls where students can ask questions, receive live feedback, talk strategy, and figure out a customized game plan on the spot! 
You can ask for guidance on specific areas of the copywriting business you're stuck in, and the experts will be there to help you. 
They also record live sessions, so if you couldn't make it then, you can always check it out later.
Private Facebook Group & Bonus Materials
An important aspect of any course is interacting with a community of like-minded individuals. That's why the CCA has a private Facebook group. 
Here members share their thoughts, strategies, tips and tricks, and their ups and downs with the community. 
If you pay close attention to the conversations, you will likely learn a lot from this Facebook group. Be sure to interact and be polite with everyone, and you'll have a great time!
Lifetime Access to Filthy Rich Writer Academy
Are you that person who works 9-13 hours a day and gets very little time to work on something else? 
Well, Filthy Rich Writer's team made sure this course is self-paced! 
This means you don't need to finish it in 2 months! You can take as much time as you need to complete the course and start your copywriting journey. 
Having lifetime access to this course also means you can come back to specific video lectures again to revise concepts or learn something which you didn't previously touch. 
Lifetime also means you can be part of the monthly coaching calls and Facebook group for as long as you want. Yep, that is awesome!
Cons:
Unclear Pricing Structure
Filthy Rich Writer isn't clear about its pricing structure. 
They want you to attend their free training where they will teach you how to make 6 figures as a copywriter, give you the exact steps to do it, and then pitch you their actual course. 
While that's a good sales funnel, having a one price fits all approach and telling the price beforehand would be much better for students!
Slightly Overpriced
The course is comparatively expensive. Paying that much money for an online course raises questions such as – Is CCA value for money? Will it make me financially independent?
Nicki doesn't promise anything but is confident that her course will help students learn the fundamentals of copywriting. 
The modules teach you copywriting tactics that can help any newbie copywriter drastically level up his copywriting game.
Most online reviews say that the course pays for itself once you start earning through copywriting. 
If that's the case, I don't see it as overpriced, I see it as an investment in myself to learn a skill that could pay me top dollars!
Not A Get Rich Quick Scheme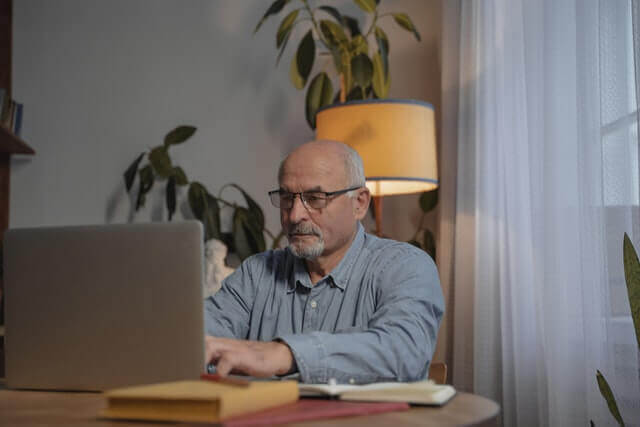 When you come across filthy rich writers you might assume that taking this course is an easy way to make a lot of money! But that's far from the truth. 
Filthy Rich Writer's Comprehensive Copywriting Academy is not a get-rich-quick scheme that'll make you millions in a few months! 
It will show you how to get rich as a copywriter, teach you essential copywriting skills, and train you to be a professional copywriter. 
Not all copywriters are rich or successful! Like every industry, some gain and some lose. The course content is quite comprehensive but don't expect to be a Filthy Rich Writer instantly.
Filthy Rich Writer Q&A
Will Filthy Rich Writer's CCA Course Help Me Get Clients?
Nicki and her team don't promise anything, but their course CCA focuses on teaching you the Dos and Don'ts of copywriting along with steps to get new clients and retain existing clients. 
The Comprehensive Copywriting Academy won't directly give you access to new clients, but it will teach you effective strategies to attract new clients to grow your online copywriting business.
Is Comprehensive Copywriting Academy Really Comprehensive?
Like I said before, Filthy Rich Writer is on the expensive side so this course better be comprehensive! Yes, Comprehensive Copywriting Academy is really comprehensive.
It teaches you all the basics and advanced skills needed for the job. Nicki ensures the academy trains you well for writing the best copy for your clients. 
Along with that, they are also going to teach you how to run a profitable business, price, and market your services, build an online portfolio, send sales pitches to new clients, manage social media, etc. 
These content-packed courses will give you the clarity that you need to earn money as an online copywriter.
What Does It Take To Be A Successful Copywriter?
Most successful Copywriters follow certain specific characteristics. I'll list a few key traits I see commonly in high-performing copywriters:
Adaptability
Good copywriters know that every project is unique and needs to be handled differently. 
Using the same old process for every project will only lead to dull and declining results for their clients. 
Constantly adapting to new technology, trying out different techniques, and understanding the core principles of your project are some key aspects every professional copywriter needs to learn.
Not Too Perfect
You might have heard that copywriters need to be perfectionists. That's not entirely true. 
A smart copywriter always proofreads his work 2-3 times before sharing it with the client. 
While an average copywriter spends hours and hours trying to be perfect with no qualitative results whatsoever! 
You can always tweak your draft to be better but at what cost? Learn to stop when it's good enough!
Always Learning
The best copywriters online are also the best learners. 
They spent at least 20% of their time learning about new copywriting trends, tips, tricks, strategies, etc. 
This helps them improve their copy and their control of the English language.
The BEST Freelance Writing Courses?
My job is to find the best freelance writing course for you! This includes spending a lot of time digging through the course with a fine comb finding out what's good and what's not!
And I can openly say that the below courses are the Best freelance writing courses I've come across! If not Filthy Rich Writer, I highly recommend any of these freelance writing courses!
🏆 Best Freelance Writing Courses (2023) 🏆
🏆 Best Freelance Writing Courses (2023) 🏆
1. Write To 1K – Elna Cain
Write To 1K is an online course created by Elna Cain to help students start and run a successful freelance writing business.
Elna Cain has been a well-known freelance writer for over six years now, and she's really good at building freelance writing side hustles. 
Write To 1K is a course specifically made for beginners and intermediate freelancers. Right from the foundations of freelancing to how to attract high-paying clients, this course is pretty good.
Elna also helps you make your first $1K and gives you her personalized client pitches so that you can tweak your sales pitch to get better conversions.
Along with the modules, you also get many additional resources like The Pitching Bundle, Level Up Your Freelance Writing Business Ebook, Get On The Right Track Bundle, Profitable Niche Workbook, Book Clients In 30 Days Challenge, Personalized Pitch Review, and access to the private Facebook Group!
If you wish to learn more about Elna Cain's course, check out my Write To 1K Review.
All this is just for $195 (one-time fee)! Based on the contents of the course and the value it provides for beginner freelancers, I find this course quite useful and valuable for money.
If you don't like the course, you can get a 100% refund within 30 days of purchase. Isn't that awesome!?
So, Ready to start your freelance writing career with Elna, her team, and their students? 
If you're not sure, read my in-depth Write to 1K Review.
2. Freelance Writers Den – Carol Tice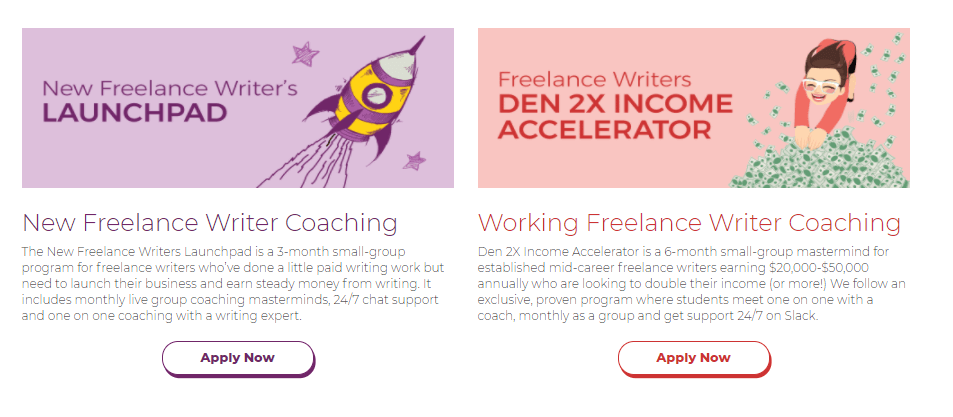 Freelance Writers Den is an online community founded by Carol Tice. 
Carol Tice has been a freelance writer for over a decade and has earned well over 6 figures. 
She has also founded Make a living writing which is one of the best free resources online for freelance writers.
Freelance Writers Den is a content-rich platform with over 300 hours of video content, live monthly events, special guests (exclusive top freelancers), boot camps, online community forums, and additional resources to help you make 6 figures as a successful freelance writer. 
The reason why I like Writers Den is that they don't accept everyone in their course. 
They could accept as many students as possible to maximize earnings, but they don't do that because they prefer giving personal attention to each freelancer during their course.
The course dives deep into attracting new clients, pricing your services, upselling, and increasing client retention while ensuring client satisfaction. 
Learning how to be excellent in these areas will drastically boost your earnings, brand value, and trust in the freelance writing space.
Carol Tice charges $40/month for everything included in Freelance Writers Den. 
I know many freelancers that have taken this course and have had commendable success within the first year of setting up shop.
If you wish to learn more about this course, I recommend checking out my in-depth Freelance Writers Den Review.
It will clear all your confusion and will help you decide if this is a value-for-money course for you.
If you have decided to move forward with Carol's course, you better Join Their Waiting List below.
They open only twice a year, so I suggest you quickly add yourself to the top of their waiting list!
Is Filthy Rich Writer Worth It?
I believe Filthy Rich Writer is certainly one of the best copywriting courses I've reviewed. 
If you're an aspiring copywriter who needs a top-notch course to make good money online, I highly recommend Nicki's Filthy Rich Writer!
No doubt the course is expensive and will surely make you think twice before clicking on the buy button. 
The upside is that the modules inside this comprehensive copywriting course are valuable enough to make up for the money spent (if implemented properly).
If you take some time to learn everything Nicki has to offer in Comprehensive Copywriting Academy, and implement the steps properly, I'm sure you will find the return on your investment sooner than expected.
If you don't want to spend so much money on a course, check out the Filthy Rich Writer's Alternatives – Freelance Writers Den and Write to 1K.
Both these courses are top-notch and will guide you to make 5-6 figures as a freelancer.
I hope you found this Filthy Rich Writer Review useful.
Feel free to leave your comments below if:
You have a question or feedback
You need me to clarify something regarding this Filthy Rich Writer Review
You wish to share your Filthy Rich Writer Reviews with us
Read Next >>>
1. How to Be A Profitable Freelancer in 2023!
2. 17 In-Demand Freelance Skills To Learn In 2023
Enjoyed this post? If so, you might want to subscribe to my newsletter. It usually contains life lessons and money-related topics, some interesting observations, links to articles or books I've read, and tips to be a better person. If you're interested in these things then subscribing will be simply wonderful 🙂 PS: Subscribe and Get your Freebie below!
Also, I'm a YouTuber now! If you're interested in Pinterest Marketing, Blogging, or business-related things, Subscribe to my Channel and I'll see you in the comments!
Filthy Rich Writer Review: Best Copywriting Course? (2023)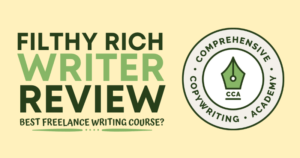 In this Filthy Rich Writer Review, let's find out if Comprehensive Copywriting Academy (Nicki Krawczyk - Founder) is worth spending your money on.  
Course Provider: Organization
Course Provider Name: Filthy Rich Writer
Course Provider URL: https://thesagemillennial.com/go/filthy-rich-writer/