How to Be A Profitable Freelancer in 2023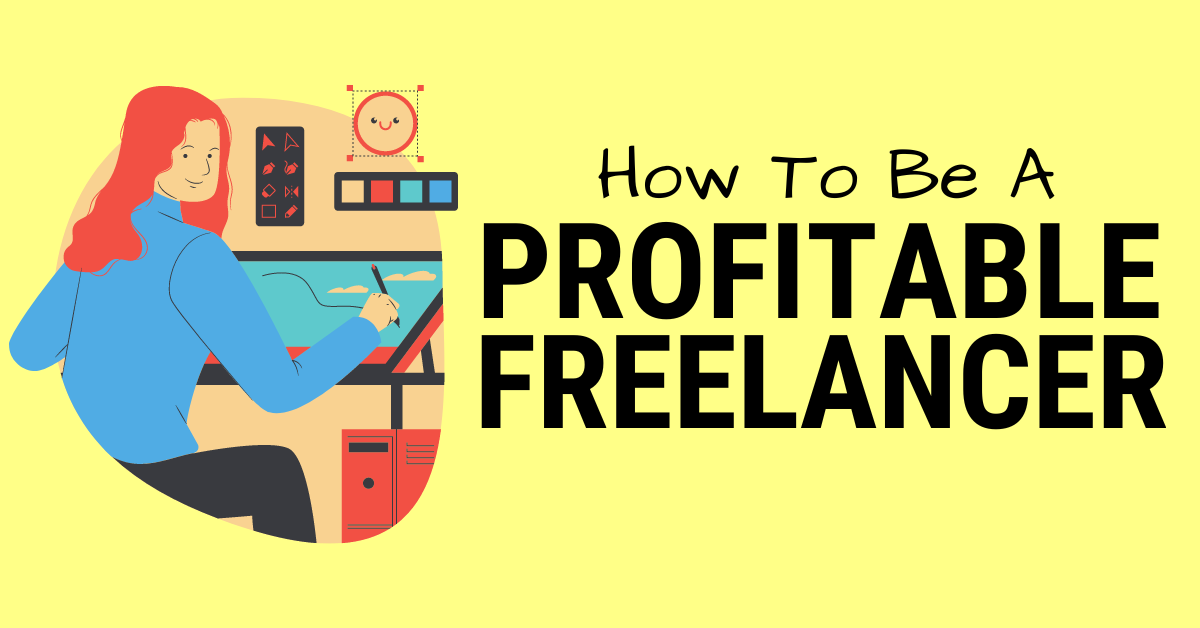 This article may contain affiliate links. If you make a purchase using my links, I'll earn a small commission at no extra cost to you. I appreciate your support!
Want to be a profitable Freelancer and make money on the side? Keep reading as I decode exactly how you can start freelancing, make a living, and quit your job (works even if you're a newbie)
Hiring freelancers is not only being accepted today but it is also becoming attractive and cost-saving for many businesses. 
That's exactly why you see your neighbor secretly working on the laptop after office hours.
He is probably offering a skill on one of these freelancing platforms to make money and secure his future. 
Just like he makes additional income each month through freelancing, you too can do it.
The industry is growing fast, about 60% of businesses are hiring freelancers, there is a lot of money to be made here and compared to the time invested, it's a steal! 
If that's the case, why aren't you on any of these platforms? Huh! 
After reading this article, I hope you get a clear idea of how to tackle the freelancing game. Let's get started!
Steps to Become a Successful Freelancer
1. Determine what you're good at
Freelancing is a huge marketplace with numerous opportunities to earn money. 
There are over 300 different skills for you to choose from. So before you start thinking of making money from freelancing, choose the skills you'll use as a freelancer. 
If you don't know what skill you possess or want to choose one of the popular skills in freelancing, I've written an article on The Ten Best Freelancing Platforms, if you already know which freelancing website you want to join, visit their home page and search for skills listed.
These skills are high in demand on their website.
These will be the services that are most popular on their platform. Pick anyone you like and learn all you can learn about that particular niche. 
Want to accelerate your freelance career? Any of the below courses can help you achieve just that! I highly recommend opting for these courses.
🏆 Best Freelance Writing Courses (2023) 🏆
🏆 Best Freelance Writing Courses (2023) 🏆
Let's take an example – Graphic Designing. Now google graphic designing and read about how to be a successful graphic designer. 
How to edit images like a professional. How to edit fast, and create new images from scratch. How to get innovative, etc.
The more you read, the more you learn and the more you earn. You can choose two different niches if you like.
Once you are clear on the niche you want to offer your services, it's time for the second step.
2. Set up Your Account
This is a tricky part. I suggest you browse through the profiles of various profitable freelancers from various niches and see how their profile is set up, the qualifications, or the additional work they have done that will increase their credibility in the market. 
This is the most crucial step as what you fill in your profile will be seen by businesses trying to hire someone like you. If they like your profile, they'll hire you right away. 
So you better read up or watch videos on how to create an awesome profile as a freelancer. 
A profile showcases your portfolio, personality, resume, and skills all rolled into one. So you can't afford to mess this up. 
Note: There is no perfect way when it comes to creating a profile, focus on writing a good one. Keep changing it to try out what works better. Include SEO-rich words.
When hiring, businesses may completely base their judgment on how well you present yourself in your profile, and how experienced your portfolio seems to be. If you don't know what to write in the beginning, that's okay. 
Try to write as much as you can and move on to the next step. You can always change your profile details as and when you grow and understand the platform more and more. 
3. Find Projects and start bidding
Once you finish setting up your account, it's time to do some real work. Most freelancing platforms have a bidding system. 
What is that? When a client or a business puts up a job on the platform, you and 1000 others as freelancers will bid on the project, in that bid, you quote the price you would like to get for completing the job. Once everyone puts their bid, the client can choose one which they prefer. 
The choice is based on two important factors – Quality of work and Cost of the project. If you're new, try to offer a lower cost than everyone as most people bidding are experienced and have more credibility, thus have more leverage in the market as compared to you. 
Once you complete a few projects, you can start bidding at higher amounts but remember, don't be too greedy, there is always someone who can do the same job, offer the same quality of work for a lower price and the client won't have a problem picking that person over you.
Note: Some freelancing platforms like Fiverr don't use the bidding system, here freelancers create a  particular job (a gig -called by Fiverr) and price it according to their needs.

When a business needs a particular service, they browse through all the jobs various freelancers have put-up, choose one they like (based on reviews, profile, and cost) and book the service. Then freelancers and clients contact each other and get the job done.
I've written a detailed article on How to Make Money On Fiverr. If Fiverr is one of the platforms you're targeting, this article is surely going to help you.
4. Work Hard
Okay, once you get accepted by the client, now it's time to do the work. If you did everything right till now, kudos to you! This is it! This is what you've been waiting for. Here are Three Tips to ensure you shine in this process – 
Overdeliver
Overdeliver
Overdeliver
I can't stress this enough, you've got to overdeliver. Think of the situation from the other side, this client has hundreds of options to choose from, because you set-up a good profile or your price was reasonable or he liked you, you were selected.
Anyone can get the job done, do what is asked, take your money and move to the next job. But the ones you give more than they are asked for are valued more. 
If your client tells you to create 50 high-quality beautiful images for his company's website, make those 50 and make an additional 10. 
What happens when you offer more than what is asked? The client gets happy and is pleased with your work. 
He/ she might even leave an amazing review with a 5-star rating which will benefit you massively as reviews/scores matter a lot for freelancers. 
Note: Just because you're focused on overdelivering, don't delay your project. If the client says he wants the work done by 24th December, make sure you can get it done on or before that date.

Nothing is more frustrating than a freelancer who can't get the work done on time. So before focusing on over-delivering make sure you get the work done before the due date.
5. Get Paid and Search for your Next Job
Now that you have over-delivered, and submitted your work and provided quality work before the deadline, your client will surely be happy. Great work! I'm proud of you. 
He will pay you the amount and you can withdraw this money via various withdrawal services provided by that freelancing company. 
Most companies have PayPal integration or direct deposit feature which you can use for withdrawing your money easily. But before you close the deal with your current client, ask him for a positive review. 
This is vital as a good 4/5-star review can boost your earning potential. Don't be shy to ask for a review, you have worked hard for the project and have given it your best, so you deserve a good review. 
Most clients give a good and detailed review if you have exceeded their expectations (Overdeliver).
Get a few jobs, complete them properly, make the client happy. Repeat this process and soon you'll make enough money to leave your full-time job and start working as a full-time freelancer.
Do's and Don'ts of freelancing
Okay, now that you know how to get started and be a successful freelancer, here are a few checkpoints you need to know. 
Follow the do's and avoid doing the don'ts. Your Freelancing journey will be much faster if you stick to these points.
The Do's and Don'ts Of Freelancing
Do's
1. Communicate and be clear
An agreement will only take place without chaos if both parties convey their inputs properly. Be clear when you state your offer and communicate everything properly, what aspects do you offer, your services and what aspects you don't. 
Don't assume the client knows everything. State your reasons clearly before making a deal. You don't want to fall in controversy and a bad fight later on. Make everything crystal clear initially. 
2. Use Marketing to promote yourself
If employers and businesses don't know you, they can't hire you. Freelancing is a big marketplace where there are thousands of people trying to earn money. 
You need to promote yourself if you want to get a job. Don't just make a profile and wait for someone to show. 
Bid consistently, use social media for promotion, do paid promotions on these freelancing platforms if needed to get jobs. 
Once you rank high, then you can reduce your promotion spending and earn more money.
3. Choose your clients carefully
Be wary of clients who hire you constantly trouble you or call you any time of the day, yell at you for no reason whatsoever and keep insulting you. 
Even if you're at fault, there is a sensible way to talk about your mistakes, insulting and yelling isn't the right way. If you see your client having any of these traits, don't take the job, the next job will be much better. 
If you have already taken the job and the client does all of the above, don't be afraid to back out of the deal. 
Tell the client that you can't work with his schedule and exit. If the client is ruining your life, it's essential you part ways asap. 
4. Keep track of your finances
You need to focus on making money, but you also need to focus on keeping track of your finances. 
Know how much you earn, how much you spend and how much you save. Set a date every month where you sit down and check your finances. 
Trust me, it will help you in the long run especially when you're filing taxes. 
Don'ts
1. Don't work for free
Some of your old clients might get in touch with you, talk to you just to ask you if you could do a small work for them for free. 
This is a trap. Once you do something for free, you're trapped! Now they'll ask you again and again, and the worst part – It's not easy to say No. 
Negotiate a price suitable to both of the parties – you and your client, only then do the work they ask you to do.
2. Say no to add-on work once a project commences (unless it's paid for)
Your client might want to change the project by adding some additional work. Don't be sad about additional work, listen to what they have to say. 
If you can't do it, say it. If you want to do it but the client isn't ready to pay you, talk to him/her about additional charges they might have to pay you for this add-on. 
Negotiate the price with them but don't do something for which you're not being paid for, it's a waste of time. 
3. Don't trust clients who want to work outside the platform
Sometimes clients will tell you that if you partner with them outside the freelancing platform, they will pay you more. While this may be correct because if they use the platform, they need to pay fees. 
Yes, it's a great offer, but there is no guarantee that they will pay you the additional amount. There is no guarantee they will pay you anything at all. 
This has SCAM printed all over it. Be clear that you want to work only and only on the platform and not anywhere outside at least not till you develop a great relationship with the client.
4. Don't work for experience
Another funny thing clients say to new and young freelancers is that they should focus on experience and not on money. They convince freelancers that they will give them exposure instead of giving money. 
Many millennials get fooled into this logic and work for free. Let me tell you something if the client is big enough to give you that kind of exposure, he has a lot of money and can easily pay you but instead, he is just trying to loot you. You deserve to be paid for the work you did. 
Here you go, ensure you follow these dos and don'ts properly and I'm sure failure won't knock on your doors at all. 
How to Make Money Freelancing (2023)
To make money online, you need to understand a few things. Especially if you're a Freelancer in the service industry, you need to know that your entire business depends on the satisfaction of your current client, not your future clients. 
Many newbie Freelancers that want to make a quick buck often say things like, "I'll improve my skills with time; once I make some money off freelancing, I'll use that to improve my skills; the only reason I'm freelancing is that I want to be rich and buy expensive cars".
While saying things like these are okay, you aren't doing a crime, but you're doing injustice to your client. 
When a client hires you to do some work, he/she believes you will put in your 100% and some more but if you are just freelancing for the sake of making money, your quality of work won't be awesome, thus you won't get good reviews and ratings. 
In the long run, you'll be out of business. Instead, focus on learning something new about your niche (the skill you'll be offering as a service to the employer). 
In just a few months, your knowledge about that niche will increase exponentially. 
This will be noticed by your existing clients, they will recommend you to their business colleagues, other employers will start seeing your ratings and your freelancing business will boom. 
This is exactly how so many people make a living doing freelancing. They know the value of quality work and strive to do just that. Money follows.
What's your freelancing story? How did you learn about freelancing? Are you a profitable freelancer? Share your thoughts in the comments below.
Have you enjoyed this post? If so, you might want to subscribe to my newsletter. It usually contains life lessons and money-related topics, some interesting observations, links to articles or books I've read, and tips to be a better person. If you're interested in these things then subscribing will be simply wonderful 🙂 PS: Subscribe and Get your Freebie below!
Also, I'm a YouTuber now! If you're interested in Pinterest Marketing, Blogging, or business-related things, Subscribe to my Channel and I'll see you in the comments!