Freelance Writers Den Review: Is It Worth It? (2023)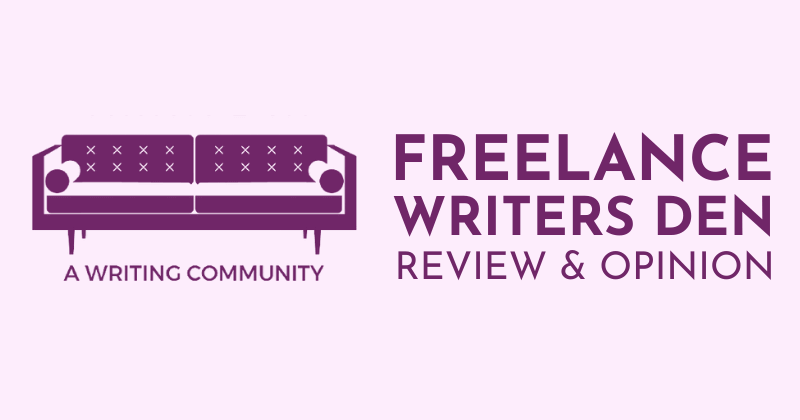 This article may contain affiliate links. If you make a purchase using my links, I'll earn a small commission at no extra cost to you. I appreciate your support!
Now more than ever, companies Need Freelancers.
But here's the problem, only the well-established, top freelancers are making a lot of money leaving very little to no money for new freelancers.
Making a living as a newbie freelancer isn't easy!
Often freelancers feel helpless, all they want is someone to guide them and teach them the skills used by the Elite Freelancers.
That's where Freelance Writers Den comes to the action. In simple words, Freelance Writers Den is a community of professional freelance writers that help newbie freelancers make 5-6 figures income a reality.
In this Freelance Writers Den Review, I'll be going over every aspect of this course to ensure you choose the best freelance writing course out there.
In a hurry? Take a look at my Freelance Writers Den Quick Summary and Verdict below.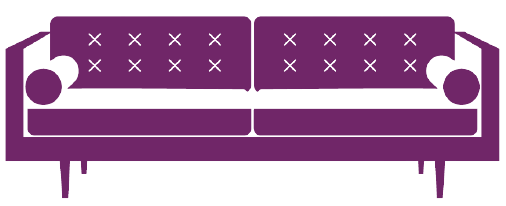 Quick Summary & Verdict
Ratings: 4.7/5
Freelance Writers Den is an online course where professional freelancers help new freelancers make a full-time income as a freelance writer. The boot camps, 300+ hours of video content, monthly live webinars, interactive forums, personal attention, and free additional resources make this course a complete package for anyone looking to enter the freelancing space. Highly recommended!

Is Writers Den legit?
Yes, Freelance Writers Den is Legit and useful for those who wish to advance their freelancing skills to make more money. You can read member testimonials (see below) to see if this is a good fit for you.

Freelance Writers Den Testimonials
Here are a few testimonials by Freelance Writers Den Course Takers!

Freelance Writers Den Summary
Freelance Writers Den is an online community of freelance writers looking to grow their freelancing income and get serious about being a freelance writer. Carol Tice, the founder of the Den Carol Tice is a six-figure freelance writer and is quite reputable in the industry.

Fees Charged
$40 per month

When Is The Den Open For New Students?
Writers Den is Closed NOW. If you're interested to Join the team and thousands of freelance students, The Den Is Now OPEN. Hurry Up!
What is Freelance Writers Den?
As the name suggests, Freelance Writers Den is a place to find a community of freelance writers along with power-packed video content of over 300 hours.
It's basically a hub where professional freelancers help beginner and mid-level freelancers make 5-6 figures income (per year).
The den was founded in 2011 by Carol Tice. She has been a successful freelancer for over 10 years and is really good at what she does.
The community has 1600+ members, that's because Carol Tice (founder) only opens doors to her den twice a year.
Also, Not all members get selected!
Membership costs $40 per month, at this price you'll get access to live events every month, Bootcamps, useful tools, personal attention, 300+ hours of video content, and a great growth-oriented community to interact with.
Is Carol Tice A Great Mentor for Freelance Writers?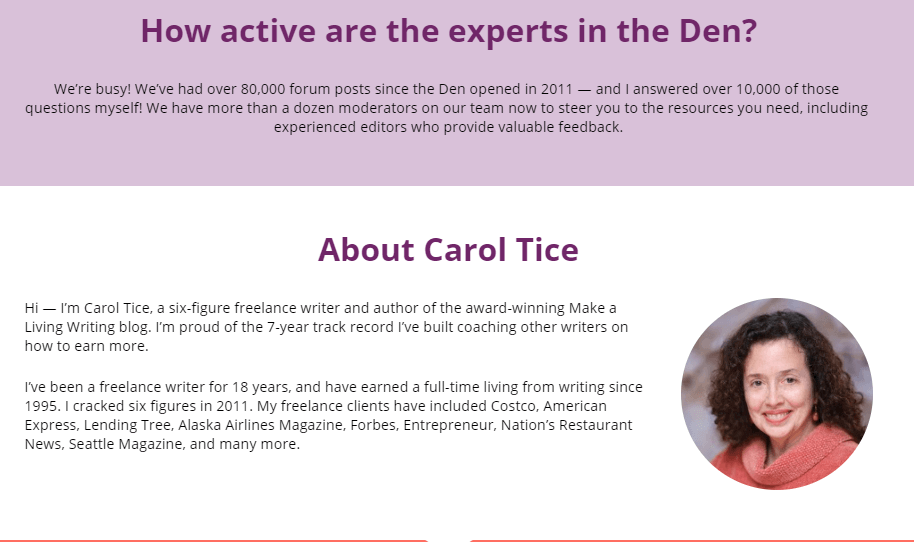 Carol Tice is a six-figure freelance writer and founder of the Make a living writing blog. Carol Tice has written articles for Forbes, Entrepreneur, Delta Sky, Costco, American Express, and many more.
Her aim with the Freelance Writers Den is to help as many writers as possible learn how to make money as freelance writers in the fastest way possible. Over the years she has trained more than 14,000 writers.
In one line, Carol is the one-stop-shop if you want to learn about making money through writing.
Who Is It For?
Freelance Writers Den is for those who are looking to start and grow a successful freelancing business from scratch.
You don't need to be an introvert or an extrovert to be a writer. Content Writing is a skill anyone can learn.
Practice is what helped me get better at writing and I'm sure it'll help you too.
If you don't want to figure out the writing game all by yourself, you want to start a business that pays you well and learn from experts in the freelance writing field, the Writers Den is the perfect place for you!
Not all freelancers get selected in the writer's den due to limited entries. If you want to join the community asap, here's your chance to JOIN NOW!
P.S. They open only twice a year, so I suggest you jump on their waitlist right now. The Den Is Now OPEN!
Can You Make Money As A Freelance Writer?
Imagine a tech company working day and night to create the best user experience for their customers. Someone has to write blog posts (to compete with their competitors and be no 1 in Google through SEO).
Then they also need to create sales brochures, case studies, emails, detailed guides, and whatnot. They either learn these things while they're doing their tech work or they outsource it to potential freelance writers. That's where you come in.
Freelance writers can easily earn a few hundred or thousand dollars each month.
Some start freelancing as a part-time side hustle and when they make more money through writing than their day job, they quit and become full-time freelance writers. 
Beginner freelancers can make approximately $30,000/year in the USA. In India, beginners make about Rs 3,00,000/year.
While this might be less, it's usually because you lack experience, knowledge, how-tos, and skills that your employer might need.
That's why joining a group of like-minded experienced freelance writers that help each other will benefit you and make you more money as a writer.

Den 2X Income
Accelerator: An exclusive 6-month den program for Working Freelance Writers to Double their Income using a proven 6-step process. If you feel your freelance writing career is stuck or you aren't making as much as the elite freelance writers (6 Figures!), the Den 2X Income Accelerator Program is the perfect program for you. Learn More – Den 2X IA Program.
Features & Benefits of The Freelance Writers Den
To pay for the Freelance Writers Den membership you need to know WITFU (what's in it for you). I'll list down the top benefits you may receive from this membership:
Video Content of 300+ hours
They have video content that's more than 300 hours. All the live events and other resource videos are compiled to make sure you are guided every step of the way.
These videos will help you learn new writing skills that only pro freelancers use to make money. You have access to it for just $40! What a steal!
Be a part of The Den Community that's filled with content to make you a professional writer – Join The Writers Den Waiting List! to get immediate access to all their course materials and webinars when they open. P.S. Writes Den opens only twice a year!
Online Community Forums
Do you get bored working alone? Do you wish to have a group of people where you can ask questions and get answers instantly? The den has an online forum consisting of peers and experts that are available 24/7.
Ask a question and you'll get answers from industry experts. They have put a lot of thought into making this online community forum a valuable one.
Exclusive Resources & Bootcamps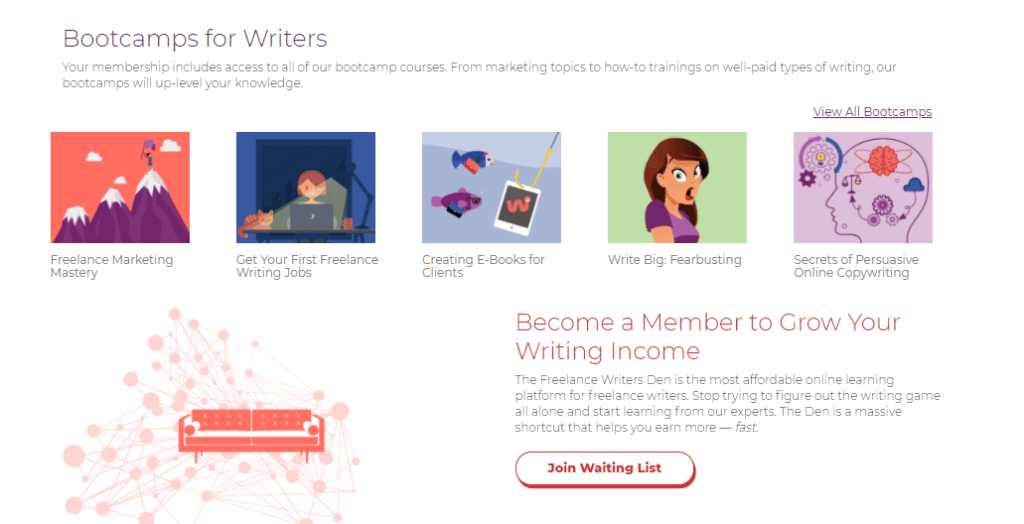 Here's another reason why I like Freelance Writers Den. They have a whole lot of content right from getting started as a freelance writer to mastering freelancing.
Your membership will give you access to all of their Bootcamp courses. Here's a list of all the things they teach you:
Create your Writers Website
Help you Understand SEO
Get your First Freelance Writing Job
Teach you Linkedin Marketing
Freelance Marketing Mastery
How to Close the Sale
Personal Attention
Carol Tice only has about 1600+ members at one time. She could take on more members if she could but her focus with the den isn't to make money without helping, that's why personal attention and individual growth are given special importance here.
You can email Carol or any of the experts anytime and they will help you immediately.
Most of the courses I've come across usually have tens of thousands of enrolled members, which's amazing for the company but as a young freelancer, you may feel the lack of personal attention which could de-motivate you easily.
Monthly Live Events
The Den members enjoy free monthly live webinars where guest speakers come to train on various topics related to freelancing.
Now, these events are just restricted to being a great freelancer, speakers aim to improve your productivity, teach you new skills and make you a better person fit for the freelancing world. You'll learn business skills, overcome fear and get work done.
If for some reason you couldn't attend one of their life events, you could watch it later as they do record the event, transcribe it and archive it in their resource library.
These monthly live events can get empowering because you're part of a family, a group of people striving to make more money as freelance writers. 
Free Resources Freelance Writers Den Provides
In case you're not convinced to pay the membership money or you don't have money to invest, no worries. I've listed 3 FREE resources the den provides you at no cost whatsoever! Grab it asap!
Special Paid Courses/Books Provided by The Den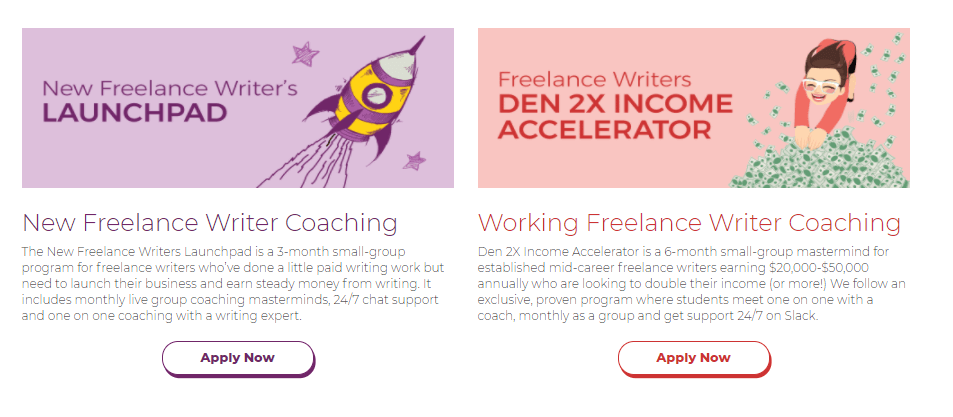 Freelance Writers Den 2X
The most premium course they offer is the Freelance Writers Den 2X. This course aims at teaching you simple steps that will take you from zero to six-figure as a freelance writer.
The cost for this course is slightly expensive but the results are worth it, anyway, if you're interested, check it out – Freelance Writers Den 2X.
If the cost seems too much, don't worry, the Den membership for $40 is a great option too!
Freelance Writers Launchpad
Launchpad is a 3-month program that provides you with 1-on-1 coaching. The best part and the worst part of this launchpad is that there are only 50 students enrolled in this program.
That means you'll be a part of a small team and thus you'll get a lot of personal attention.
The team will search for the best writers out there as the program needs to be a good fit for all writers.
If You want to learn more, check out their page – Freelance Writers Launchpad
How To Be A Well-Paid Freelance Blogger
This book provides you tips from 4 pro freelance bloggers as well as 21 key tips to set up your blog as a sample portfolio of your work.
The book also claims that knowledge will ensure you get $50 – $100 per post. Check it out here – Freelance Blogger Book.
Freelance Writers Den Testimonials
The platform is loved by every member as they all make a lot of money mostly due to the guidance provided by Carol and her team.
So, Yes the reviews for Freelance Writers Den are simply amazing! Everyone loves the course; Carol and her team support each student individually which makes them feel connected to the course and makes them better freelance writers.
Click here if you want to read the Testimonials. After reading the testimonials, I hope you get a clearer idea if this is a good fit for you or not. 
What I Don't Like About The Freelance Writers Den
Long Waiting List
I don't like the fact that they have a waiting list, because a waiting list means that I have to wait to get my first income after using the platform.
I understand why Carol and her team decided to use the waiting list concept – it's simply because they wanted to focus on helping the existing members and get them to massive success before they move on to train their next set of freelance writers. 
Let's say you started a freelancing journey today, you joined their waiting list and started working on the best freelancing platforms out there. You gain some experience and you now understand the freelancing market a little better.
By that time Carol and her team welcome you to their den; You've already learned the basics and now you learn the advanced strategies to grow your income with the den members. That makes sense!
300+ Hours Of Video Content
I also don't like the 300+ hours of video content.
Hear me out first – the content they are providing is great, and a lot of resources for a fraction of the cost, but here's the problem; people hate to make mistakes, they will study for hours and hours if they have access to resources and they'll delay executing.
So most freelancers will spend more time studying and less time actually doing the work.
Learning is great but it's useless if you're not executing anything. Figure out how to divide your time between learning (30%) and executing (70%) to ensure you're building an online profitable freelance writing business.
Does The Den Offer Good Support for Beginners?
They have an ecosystem of courses and articles for beginners. You'll fit right in and learn new things as you browse through their content.
Again you have an online community at your fingertips so anytime you feel lost or need a second opinion, don't hesitate to approach the experts and your fellow members.
How Much Does The Freelance Writers Den Cost?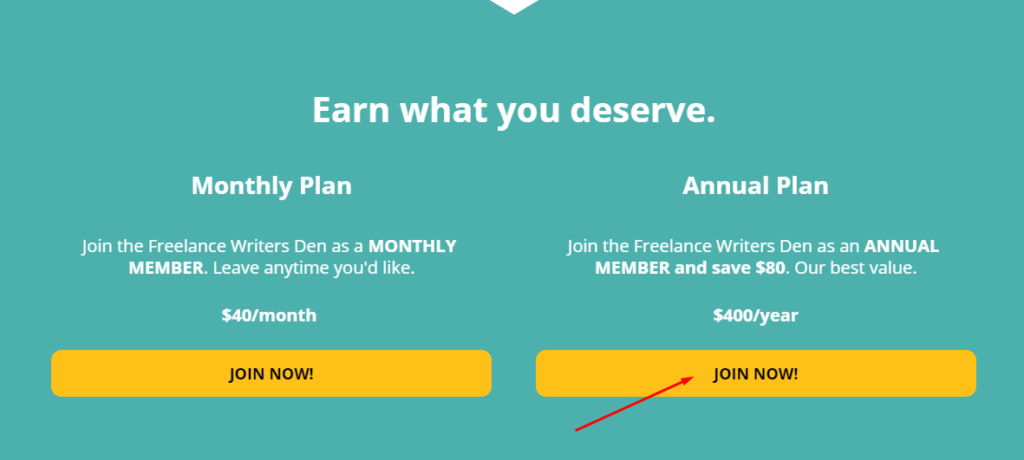 Memberships cost $40 a month, you can cancel it at any time without any charges, no questions asked.
They do have premium courses like Den 2X but I don't recommend that for everyone as they already have enough content and the cost for all of that is just $40 per month. 
When Will Freelance Writers Den Open?
They open to the public only twice a year but sometimes few people on the waiting list get enrolled sooner.
Bottom line – they open ONLY TWICE a year.
The BEST Freelance Writing Course?
My job is to find the best freelance writing course for you! This includes spending a lot of time digging through the courses with a fine comb finding out what's good and what's not!
And I can openly say that Freelance Writers Den is one of the best freelance writing courses I've come across!
Here's a exhaustive list of the best freelance writing courses in existence!
🏆 Best Freelance Writing Courses (2023) 🏆
🏆 Best Freelance Writing Courses (2023) 🏆
Is Freelance Writers Den Worth It?
Setting aside the waiting list, I truly love the platform. It's the best platform out there that provides such high-quality training.
Usually, companies focus on money more than teaching their members well but Freelance Writers Den doesn't do that (due to their waiting list system).
And if you don't like the den, they do have a 7-day money-back policy, so they will refund you your money.
Overall I'd like to say that if you want to turbocharge your freelance writing success rates from 4% to 40% in a month or two, hanging on the waiting list might be the best option. (It's Open For Students Now, don't miss your chance to get into Freelance Writers Den!)
If I were you I would immediately click the link below and start my freelance writing journey today! Unless you don't want to in which case, don't click the link below!
Feel free to leave your comments below if:
You have a question or feedback
You need me to clarify something regarding my Freelance Writers Den Review
You wish to share your Freelance Writers Den Review with everyone!
I'll be more than happy to reply to all your comments 🙂
Read Next >>>
1. How to Be A Profitable Freelancer in 2023!
2. 17 In-Demand Freelance Skills To Learn In 2023
Enjoyed this post? If so, you might want to subscribe to my newsletter. It usually contains life lessons and money-related topics, some interesting observations, links to articles or books I've read, and tips to be a better person. If you're interested in these things then subscribing will be simply wonderful 🙂 PS: Subscribe and Get your Freebie below!
Also, I'm a YouTuber now! If you're interested in Pinterest Marketing, Blogging, or business-related things, Subscribe to my Channel and I'll see you in the comments!
Freelance Writers Den Review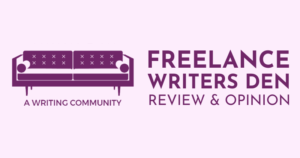 Freelance Writers Den is an online community of freelance writers looking to grow their freelancing income to become successful freelance writers.
Course Provider: Organization
Course Provider Name: Carol Tice Freelance Writers Den
Course Provider URL: https://thesagemillennial.com/go/freelance-writers-den/