How To Become A Transcriptionist (With No Experience)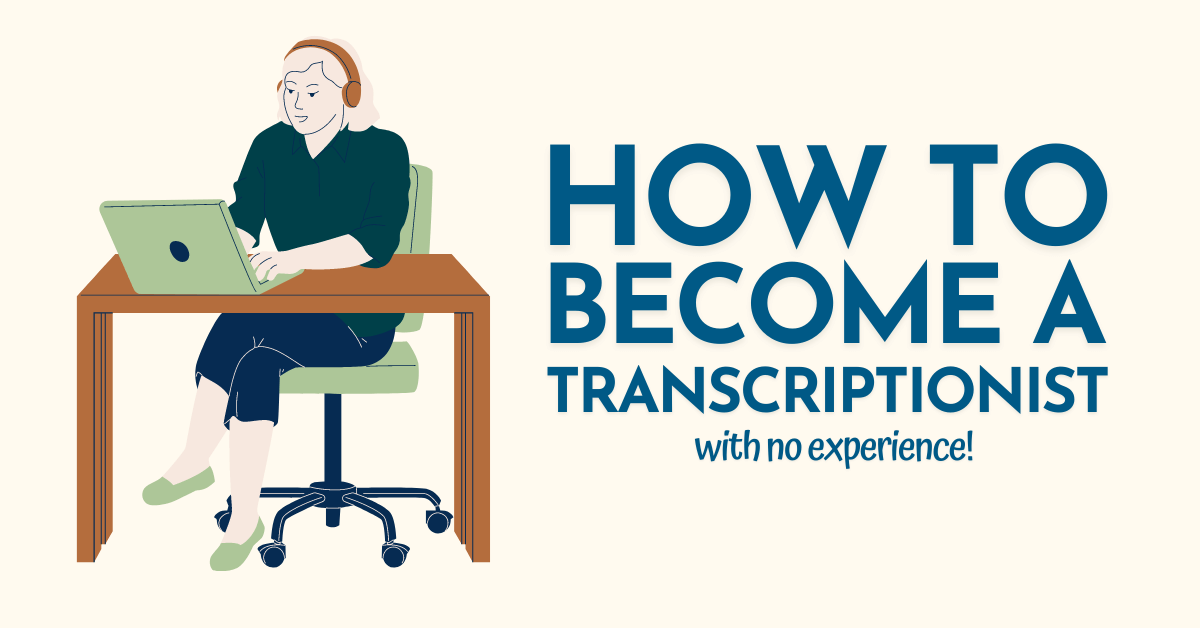 This article may contain affiliate links. If you make a purchase using my links, I'll earn a small commission at no extra cost to you. I appreciate your support!
While the rise of AI and advancements in speech recognition technology have automated some aspects of transcription, human transcribers are still in high demand.
These AI tools can sometimes even be more accurate than humans, but the fact remains that AI won't replace a transcriber's job but will help make a transcriber's life much simpler.
So, can someone with no transcription experience make money transcribing at home? and as quickly as possible?
Yes, Of Course!
But how you go about it matters! Being a transcriber is easy, but not so easy!
Anyone can get a job as a mediocre transcriber, but if your goal is to be one of the top transcriptionists in your niche, this article will give you a definitive roadmap on the steps you need to take to become a professional transcriptionist in 2023.
I'll break down different aspects of being a transcriber that will help you in your journey of being a professional transcriptionist.
What Does A Transcriber Do?
A transcriber is a professional who converts spoken language into written text. Transcribers listen to audio recordings or watch video footage and carefully transcribe the spoken words into a written format.
Most Transcribers either work as freelancers or are employed by transcription agencies or organizations requiring transcription services.
They need to be able to work with various types of audio or video recordings while having a good grasp of the language they're transcribing, proofreading, and editing Word documents, etc.
The great thing about being a transcriptionist (especially a freelance transcriptionist) is that you don't have a boss looking over your shoulder, there's a lot of flexibility with when and where you work (dw, you can work at a beach 🙂).
How Much Does a Transcriptionist Make
How much you earn as a transcriptionist can vary depending on several factors such as skill level, speed & efficiency of work, experience, specialization, market demand, competition, and the volume of work you handle.
Predicting an accurate figure is tough, but typically newbie transcribers make about $10 – $22, while experienced transcriptionists make about $25 – $50 per audio hour.
According to Glassdoor, on average, transcriptionists in the United States make roughly $41,582/year.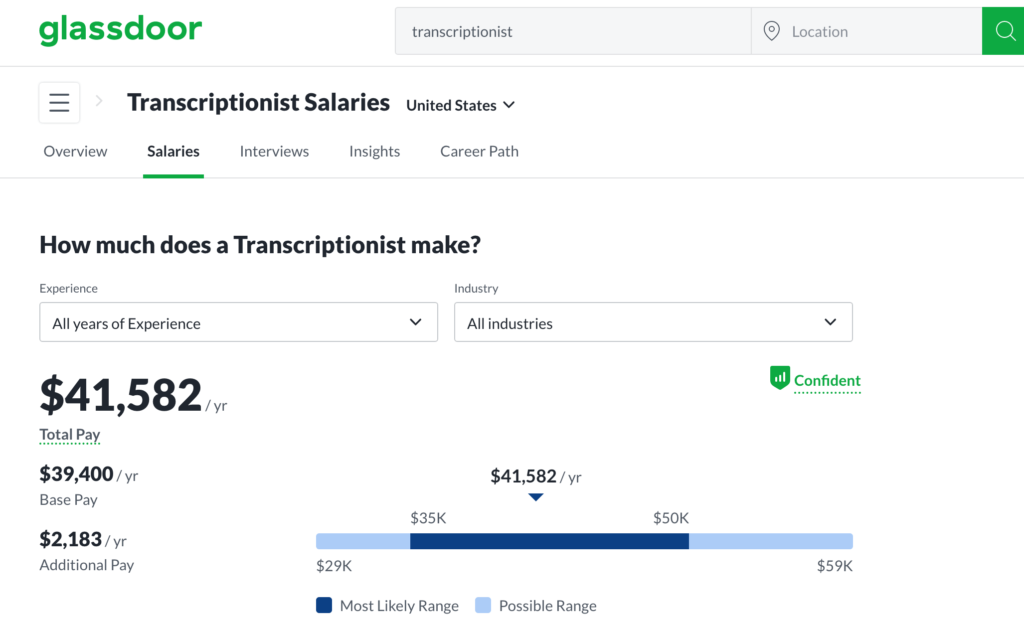 If you're working for a transcription company, you will likely be paid on a per audio minute/hour basis. The faster you transcribe, the more money you make.
Some companies pay on a per-project basis.
How much you make as a transcriptionist differs, but the more quality work you do, the better your chances to make more money.
To increase your hourly rates, I recommend improving your skills, consistently providing high-quality work, overdelivering, and building a strong portfolio.
In time you'll be able to charge more per hour per client and have a better lifestyle!
How to Become A Transcriptionist (5 Easy Steps)
Step 1: Enroll in the Transcribe Anywhere FREE Workshop
Following Step 1 may seem like I'm trying to promote Transcribe Anywhere's Workshop, which I am 🙂 but right now, I'm trying to help you learn transcription faster by signing up for their Free Workshop because you'll learn how to create high-demand skills, set up your transcription career (with tools, systems, and efficient workflows), and transform your work-at-home gig into a full-time career path and obviously make money!
In this Free Workshop, you'll learn a ton of things which if you figure out yourself will take you weeks!
So to save time and learn from one of the best transcribers – Janet, I recommend signing up for the free workshop below, learning the stuff Janet and her team teach, and then moving to the next Step!
Step 2: Choose Your Transcription Niche
Once you have an idea of how to go about as a transcriber, figure out the niche you want to target.
If you're a beginner, being a general transcriptionist is the way to go but, over time think about the transcription niche you want to enter (For example – Legal transcription or Medical transcription).
You can also distinguish yourself in the market by being a specialist transcriber (For example – Podcast Transcriber or Audiobooks Transcriber).
Being a general transcriptionist is good, but to make a ton of money, it's better to niche down like being a medical transcriptionist.
Step 3: Learn These Transcription Skills
There are a few transcription skills that you need to be great at.
I'll list down the most important ones, start practicing these skills as they'll help you once you start getting clients and transcribe audio files on a time limit.
Fast Typing & Accuracy
Active Listening
English & Grammar Rules
Time Management
Multi-tasking
Attention to Detail
As a transcriptionist, the most important skills you'll need to work on are your active listening and typing skills.
You need to hear every word clearly and simultaneously type it out with speed & accuracy.
I suggest you spend at least 30 minutes/day mastering these skills, as they will make your transcription journey much smoother!
To work on your typing speed, check these two websites:
Step 4: Build Your Transcription Portfolio
Once you've practiced the above skills, it's time to go out and apply for jobs.
For beginners, transcription marketplaces, and networking (word of mouth) are good places to start (detailed explanation of how to find online transcription jobs below).
Purchase a website, hosting for the website (I use Hostinger's Hosting for my website so I recommend that, they also give Free Domain for the first year), and build your portfolio on that.
Reach out to content creators, such as podcasters, YouTubers, or online course creators, and offer to transcribe their audio file or video content (maybe even for free).
In exchange, request permission to include those transcriptions in your portfolio. Reach out to Non-profit organizations, community outreach centers and provide your services to them.
You can also check out LinkedIn for jobs by writing a post or reaching out to potential clients that you're willing to offer your transcription services to them.
The goal here is to get 5-10 transcription jobs to build a decent portfolio that you can use to build your transcription empire.
Step 5: Get Experience To Make More Money
Like any freelance job, transcribers get paid more as they gain more experience. Go get more transcription jobs, get your hands dirty, and learn how to be one of the best freelance transcribers.
Look for internships or apprenticeships with transcription companies, media organizations, or content creation agencies.
These opportunities can provide valuable hands-on experience, mentorship, and industry exposure.
Connect with experienced transcriptionists or join transcription communities where you can learn from others and seek guidance.
Collaborating with seasoned professionals can provide valuable insights, help you refine your skills, and open doors to potential job opportunities or referrals.
As you gain experience and build a solid reputation, you can gradually increase your rates and attract higher-paying clients.
Focus on improving your typing speeds, and other essential skills I've talked about in Step 3.
Remember, delivering consistently high-quality transcriptions and maintaining professionalism are crucial to success in the transcription field.
Related >>> 9 Pros and Cons Of Being A Transcriptionist Online!
3 Tips To Amp Up Your Transcription Skills
Being a successful transcriber boils down to a few key skills that must focus on!
Improve Your Listening Skills
Enhancing your listening skills is crucial for 100% accurate transcription. Practice active listening by focusing on the audio recording, and paying attention to nuances, accents, and speech patterns.
Prefer using high-quality equipment like headphones to capture every detail. You cannot transcribe properly if you can't hear the audio clearly, so invest in a good pair of headphones.
If you could customize the audio output on your headphones like reducing the base, etc, that would make a good difference.
Additionally, listen to podcasts or watch shows on 1.5X-2X and try to hear every word they say clearly.
Challenge your ears to listen to words even in the worst of situations. These small things will train them to be great at listening to audio clips while transcribing.
Enhance Typing Speed and Accuracy
Typing speed and accuracy directly impact your transcription efficiency. Regular practice can help improve your typing skills.
Learn keyboard shortcuts, use autocorrect tools (so you don't waste time correcting simple words), and utilize online typing tutorials or applications to increase your speed.
I recommend checking out Ali Abdaal's Typing Masterclass on SkillShare, where he breaks down how he manages to type at 160 WPM.
Regular typing exercises and games can also help improve accuracy and speed.
Two Typing Test Websites I love using:
Research and Specialize
Expanding your knowledge in specific transcription industries or subject matters can open up opportunities for specialized transcription work.
Learn about industry-specific terminologies, jargon, and concepts. Clients love it when the transcribers have additional knowledge. (For example – If you're pursuing to be a legal transcriptionist, read the legal terminology)
Consider taking online courses, reading industry publications, or attending relevant webinars to deepen your understanding of specialized fields.
Specializing can help you stand out and attract clients seeking expertise in specific areas. 95% of all transcriptionists only learn as much as they think is needed.
The best transcribers invest their time to learn things most transcribers aren't aware of. Stand out from the crowd.
Best Transcription Courses To Boost Your Earnings
Go through the web and check for the best transcription courses, and you will find 9 courses at least that claim to be value for money.
Some even guarantee you an online transcription job!
Well, most of these transcription courses are far from good, and if you purchase them (no matter how cheap or expensive they are), you'll not learn anything and waste your time and money!
So which course should I invest in Rylan!?
After a good amount of research, I can recommend checking out the Transcribe Anywhere Course.
It's the only online transcription course that does what it says which is helping you become a professional transcriptionist!
Transcribe Anywhere is accredited by the American Association of Electronic Reporters and Transcribers (AAERT) and also provides you with a certificate on completion of your course.
To dig deeper into this transcription course, I wrote a detailed Review on Transcribe Anywhere, which I highly recommend you read!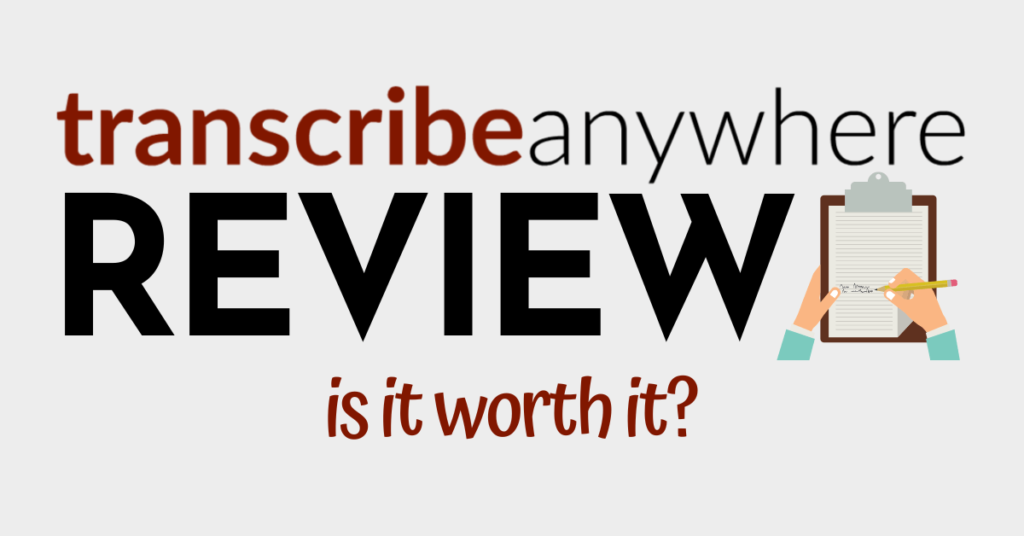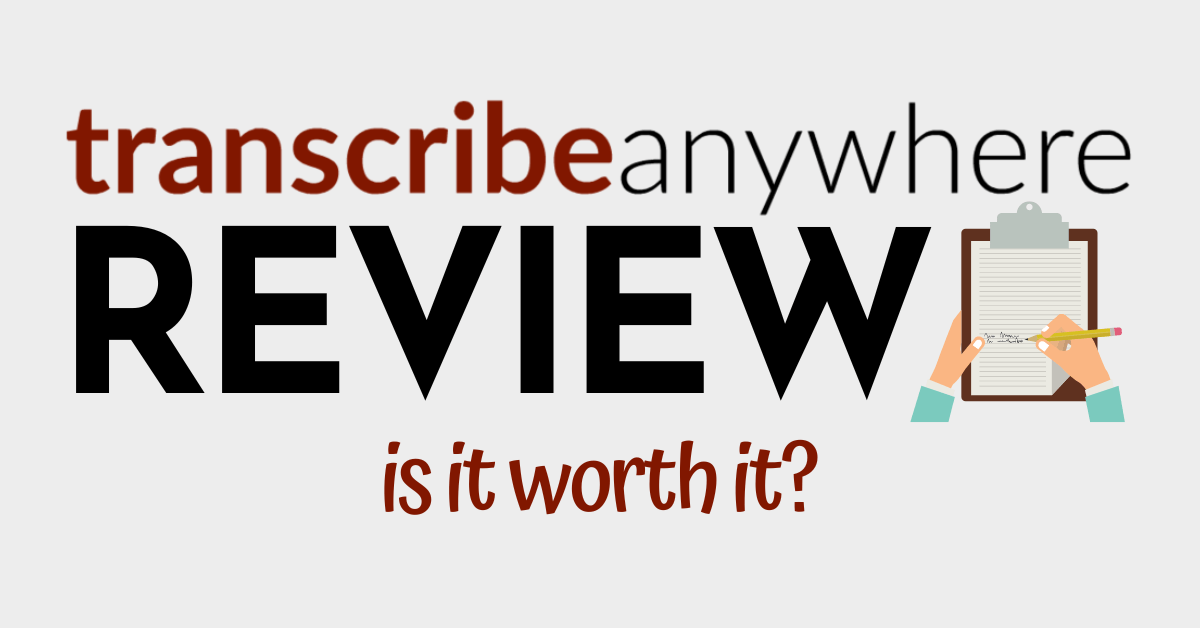 Before deciding to purchase the course, check out their Free Workshop below where you'll learn how to create a high-demand skill set, set up your transcription career, and transform your work-at-home gig into a full-time career path!
How to Find Transcription Jobs (With No Experience)
There are numerous platforms and resources where you can find online transcription jobs. I'll list down most of the avenues below:
Freelance Platforms
Websites like Upwork, Fiverr, and Freelancer offer transcription jobs posted by clients. You can easily create a profile, optimize it for transcription services (using SEO), showcase your skills, and apply for relevant transcription projects.
It's easier to get clients if you've niched down. Most of the top-earning transcriptionists are:
Medical Transcriptionist
Legal Transcriptionist
Court Transcriptionist
Once you get a job, provide satisfaction to your clients by overdelivering and getting quality transcription work done on time.
As a freelance transcriber, the first few clients matter a lot as they give you platform ratings that determine how well you'll do on that freelance platform moving forward.
Transcription marketplaces
Transcription marketplaces offer legal, medical, or general transcription services to clients, and the company hires freelance transcribers to help service these clients.
Here the rates are decided by the transcription marketplace you work for, unlike freelance platforms where you can decide your rates.
The pay here might be low, but if you're a beginner transcriber, you'll get good exposure through clients which can help you become more skilled at transcribing.
Here's the list of Transcription marketplaces:
Some marketplaces may require you to pass a transcription test post which you can browse their available projects. Practicing the transcription skills mentioned above will help you pass those tests easily.
Huge Companies
Companies that need an in-house transcriptionist can be a good place to start finding jobs.
List down companies that fit your criteria and apply to them (via Mail/LinkedIn/Job Portal).
Then crack their interviews, and you'll land a transcription job!
While working for huge companies, make sure you abide by their rules and regulations and work as per the agreement you've signed.
Networking & Local Businesses
In the initial phases of your business, it's best to spread the word that you're in the transcription business.
Friends, family, or colleagues may have connections or may know someone who needs transcription services.
You may get a few clients, enough to build a decent portfolio, then you can apply to a more demanding job easily!
Similarly, check if businesses in your locality need transcribers. If yes, pitch them your services and build your portfolio!
Online Forums
Join online communities or forums where transcriptionists share job leads and insights.
Places like Reddit can be gold mines if you can connect with people who need your transcription service.
Make Money Transcribing: My Thoughts!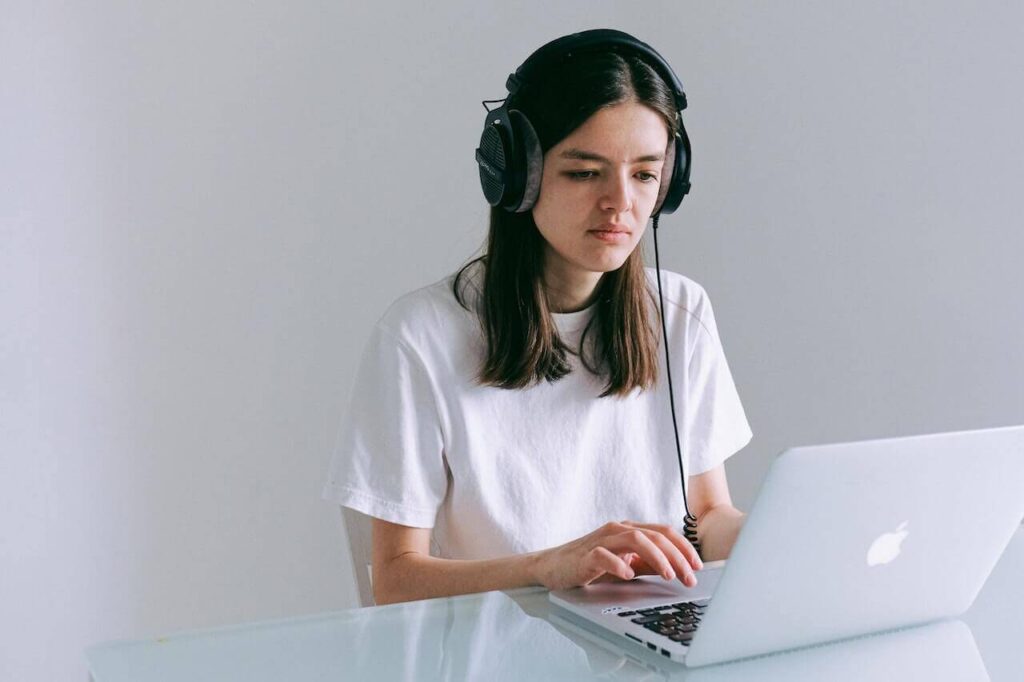 Can someone with no transcription experience with a full-time job work on the side and make money transcribing? Yes, that's 100% possible!
How to achieve that? I've spent hours researching and writing this article to help you do just that!
Even if you don't know the T of transcription, I believe you can learn and build the necessary skills provided you give time.
Start by Enrolling in the Free Transcribe Anywhere Course below, then carve a roadmap, and start working towards it!
Remember, success as a transcriber requires a combination of high-income skills like transcribing, having a good grasp of English, editing documents, proofreading, delivering high-quality work, and providing excellent customer service.
Put in enough time, and effort by following the steps and tips I've mentioned in this article, you can succeed in the transcription industry, and achieve financial stability while enjoying the flexibility of remote work.
Hope this article has helped you figure out how to become a transcriptionist in 2023!
Are you going to try being a transcriber? Leave all your doubts in the comments below for me to solve!
FAQ Section
Do you have to be certified to be a transcriptionist?
Certification is not required to work as a transcriptionist, but getting one or completing transcription training programs can enhance your skills, professional credibility, and client confidence. Transcribe Anywhere provides a certificate on completion of their course.
While certification is beneficial, practical experience and proficiency are also important.
Courses can fast-track your learning phase, giving you a clear roadmap of how to do it so you spend less time figuring it out from scratch and more time making money!
For starters, I recommend trying out Transcribe Anywhere Free Workshop, where you'll learn the basics of the transcription industry along with a few useful tips to make your work life easier.
What equipment do I need to become a transcriber?
The type of transcriptionist equipment you need depends upon the stage you're at and the money you can afford to spend on transcription equipment.
If you're a beginner transcriptionist who wants to spend as little as possible, you'll only need a computer, a fast internet connection, and Microsoft Word/Google Docs.
But, if you're in this for the long term and you're experienced, or you have a good budget, I highly recommend investing in equipment like high-quality headphones, a keyboard, a foot pedal, transcription software, a comfortable table, a chair, and maybe an additional monitor.
While investing in this equipment is not necessary, owning it can certainly speed up your transcription process, which means making money faster!
Can You Be A Transcriber On The Side?
Many people choose to pursue transcription as a part-time or freelance opportunity alongside their primary job.
Working as a transcriber on the side offers flexibility, allowing you to manage your schedule and take on transcription projects as per your availability.
If you currently have a day job, I suggest you stick to it and try being a transcriber on the side (part-time), and once you have a good grasp of your skills, how to get clients, etc. You can think of doing this full-time!
Read More >> 12 Things You Must Know Before Becoming a Transcriptionist From Home
Is it Easy to Make Money Transcribing?
It's easy to make tens of dollars transcribing; any newbie transcriber can make some money, but if you plan to make transcribing a full-time gig, you need to put in time, efforts, and skill which like any job is not easy.
As a transcriber, you will need to continuously improve your skills, explore different avenues for finding clients, and provide high-quality work (in time) to maximize your earning potential.
How long does it take to become a transcriber?
The time it takes to become a transcriber depends on various factors. Let's break it down into two scenarios:
Scenario A: Most people prefer doing the homework themselves, which means figuring out how to set up shop, reaching out to clients, trying to provide high-quality work, and making money. While all this is 100% possible to achieve, it will take twice the time as Scenario B to achieve the same results.
Scenario B: The fastest way to become a transcriber is by enrolling in a course that knows how to make money as a freelance transcriptionist and will train and help you every step of the way.
By enrolling in a good course, a beginner can be a job-ready transcriptionist in 4-6 months!
BUT which courses are Good?
While I was researching for the best transcription courses in 2023, I quickly realized that not all transcription courses are good.
The only ONE that will provide a great ROI and will train you to become a certified transcriptionist is Transcribe Anywhere!
If you have doubts about how to be a transcriptionist, feel free to leave them in the comments. I'll be glad to help you out 🙂
Read More >>> 13 Tips To Start And Grow A Transcription Business!
Enjoyed this post? If so, you might want to subscribe to my newsletter. It usually contains life lessons and money-related topics, some interesting observations, links to articles or books I've read, and tips to be a better person. If you're interested in these things then subscribing will be simply wonderful 🙂 PS: Subscribe and Get your Freebie below!
Also, I'm a YouTuber now! If you're interested in Pinterest Marketing, Blogging, or business-related things, Subscribe to my Channel and I'll see you in the comments!