90 Day VA Review: Is It Worth It? (2023)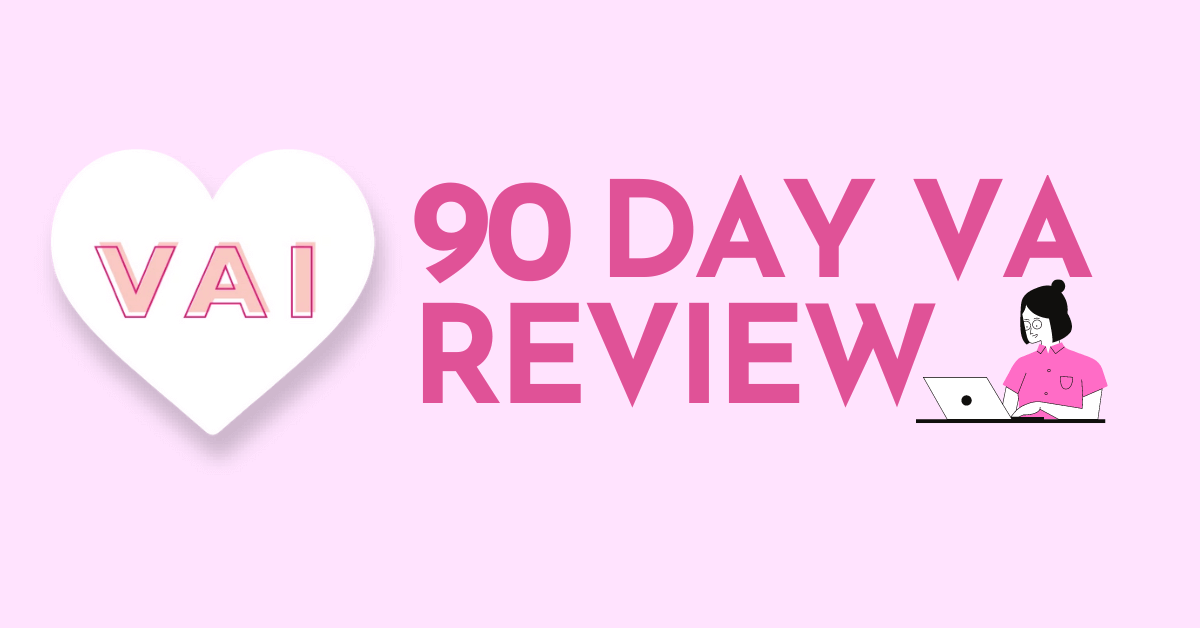 This article may contain affiliate links. If you make a purchase using my links, I'll earn a small commission at no extra cost to you. I appreciate your support!
Being a Virtual Assistant is a promising career path, especially after the rise of social media and online business growth.
If you're constantly searching for virtual assistant courses that can teach you the skills to be a virtual assistant and make money, the 90 Day VA course is the perfect course for you!
In this 90 Day VA Review, I'll review every aspect of this comprehensive course to help you decide if this virtual assistant course is well suited for you!
And I'll also answer the most important question – Is 90 Day VA a value-for-money course?
Check out my Quick Summary and Verdict below to get my short answer!
Quick Summary & Verdict
Ratings: 4.6/5
Content: 4.6
Customer Service: 4.5
Value For Money: 4.6

Is The 90 Day VA Legit?
The 90 Day VA is a legit online course that teaches people how to become professional Virtual Assistants and make a full-time income as a freelance VA. 90 Day VA is created by Esther Inman, a professional virtual assistant and founder of the Virtual Assistant Internship (VAI).

90 Day VA Testimonials
Here are a few testimonials by 90 Day VA Course Takers!

Free VA WFH Online Training
In this FREE VA training program, you'll learn:
1. How Much YOUR Current Work Skills Are Worth Online
2. Top Flex Time Job Options Anyone Can Start
3. The BEST Paying Entry-Level Flex Time Job I Recommend
Join The Free Training NOW!

90 Day VA Course Pricing
Monthly Plan – $77/Month (12 months)
One-Time Plan – $797
Pros
Course Structure
Teaches From Real Life Experience
14 Day Guarantee
Dives Deep Into Small Aspects
New Monthly Videos
Energetic Videos
Cons
No Lifetime Access
Lacks Video Summaries
What is 90 Day VA?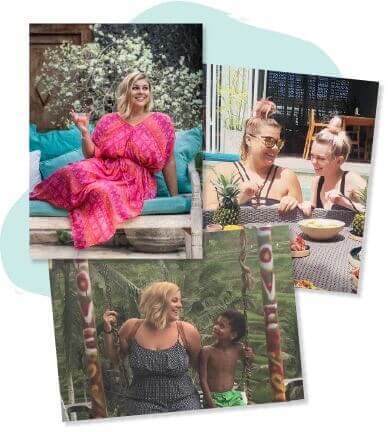 90 Day VA is an online virtual assistant course founded by Esther Inman (a professional VA and founder of Virtual Assistant Internship).
The 90 Day VA Course teaches you everything you need to learn to launch and run a successful virtual assistant business in 90 days or less.
I know it seems impossible, but Esther's 90 Day VA program is designed in a way that can get you results in 90 days (provided you learn, take action, and work hard towards your VA goals!)
If you're a beginner, this course will help you get off the ground and make money ASAP!
In 90 days, any beginner (who has studied the entire program) will feel like a professional VA with clients willing to pay top dollar to get their job done!
If you have any questions or need help with something, feel free to reach out to the VA team at [email protected].
Is 90 Day VA Suited For You?
Esther Inman's 90 Day VA is not suited for everyone! Here's how you decide if the 90 Day VA is for you or not!
This course is not suited for you if:
You're not willing to spend 5 hours each week for 90 days on how to be a VA.
You expect to get rich in 90 days just because you bought the best 90 Day VA course!
You're lazy, and you hate working as a VA
You don't have the finances to fund Esther's course (opt for monthly plans)
This Course is suited for you if:
You can afford to invest in yourself (By Enrolling in the Course)
You're focusing on building a money-making VA business
You're looking for an advanced virtual assistant course (to guide you)
You're quick on your toes (learn and implement tips)
You're willing to implement EVERYTHING Esther teaches in her course
You're ready to make money and take charge of your life
All in all, this is a value-for-money course, and if you're willing to put in the time and effort to learn the course materials, it will be an ROI-positive course (you won't be disappointed at all)
But is the course a necessity? Not at all!
The course will show you the tricks of how the game of VA is played (which is useful), but you don't need it if you're living paycheck to paycheck!
For those who don't want to spend time figuring it out, make hundreds of mistakes, and want to start making money from this job fast, this course is for you.
It'll help you get over all your obstacles and get business in just 90 days!
Note: As the course is packed with insights that can help you succeed as a virtual assistant much faster, I recommend taking notes along the way and revising them (even revisiting the modules) to get a better hold of what successful VAs do and how you can turn into a money-making virtual assistant in just 90 days.
90 Day VA Cost & Refunds Breakdown
The 90 Dya VA comes in two plans:
90 Day VA Monthly Payment Plan – $77 (for 12 Months)
90 Day VA One-Time Payment Plan – $797
You can opt for a one-time payment ($797) if you're comfortable with spending the amount in a go. Else you can opt for their monthly plans for just $77/month for 12 months.
Whatever plan you think works for you is the plan you should opt for. Both plans come with all course modules and bonus courses to help you become the best virtual assistant possible.
Ready to start being a VA in 90 Days? Sign Up For 90 Day VA Today!
Refund Policy
90 Day VA offers a 14-day money-back guarantee which means if you don't like the course, you can get a 100% refund within 14 days.
The only condition is you need to go through some course modules, then if you think that it's not good, ask for a refund (within 14 Days)!
90 Day VA Course Breakdown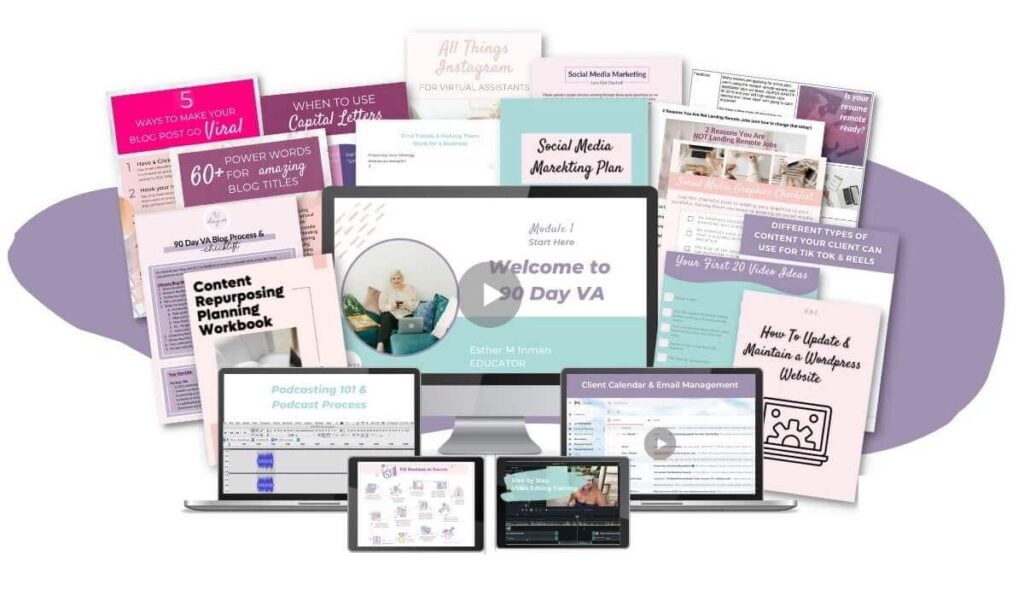 90 Day VA has 11 modules that include 61 lessons teaching you practical and effective ways to be a Virtual Assistant in 90 days or less.
Each lesson has video content, a homework section, and resources page. Video content to help you understand stuff, homework to apply those practical lessons you just learned, and resources page to understand and break down each lesson fully.
90 Day VA Modules
Module 1 Getting Started Right
The purpose of taking this course is obviously to learn how to become a virtual assistant, but more importantly, it's about getting a flexible job to make money as a VA.
To accomplish that, the first module will focus on building the foundation skills required by any VA. You'll learn to plan your training, and portfolio and figure out how to start your VA business with a BANG!
Module 2 Launch Your Skills TODAY
Module 2 focuses on email and calendar management tasks.
You'll learn how to manage portfolio tasks and the types of email, and calendar management you can offer your client today.
Module 3 Content Repurpose Like a BOSS
In Module 3, Esther will teach you how to repurpose content to drive engagement, get more clients, and build a solid user base!
You'll get access to a content repurposing planning workbook and tips on setting up these things to amplify your new VA business.
You'll also learn how to manage and effectively optimize your workflows for productivity.
Module 4 Repurpose -> BLOG'S
Most businesses know the value of creating content online but need to build a team to create said content. That's where you jump in and solve their problem.
Whatever business your company is involved in, figure out ways to repurpose it in the form of blog posts and optimize posts for google search (SEO-optimized blog posts).
If you don't know much about writing, worry not, Esther and her team teach you everything to make your life simpler.
Module 5 Social Media Superstar
Learn everything there is to figure out about social media marketing, strategies to grow your VA business, marketing plans, perfecting captions for social media, and much more.
This module will break down social media to make it easier if you're just starting and need to master the social media game. After this module, you'll be a pro at growing businesses using social media.
Module 6 Instagram & TikTok
Module 5 is an all-rounder social media module, whereas module 6 breaks down Instagram and TikTok because that's where most of the audience lies and where most businesses profit from.
Esther will share ideas, templates, strategies, trends, and content marketing thought processes with you which will help you plan, structure, and execute these to make your clients drool over you (not literally drool :))
Module 7 Get Paid to Pin!
Esther's Pinterest Manager (Alexis) from her team at Virtual Assistant Internship (VAI) walks you through how to turn content you've created into drool-worthy pins and how to upload, manage and schedule them for business owners too! After learning this course, you can offer your Pinterest VA services to businesses looking to explore Pinterest!
Pinterest is a great platform to get eyeballs and grow your client's business, that's why I use Pinterest to grow my online business.
I also have a YouTube Channel where I teach how to use Pinterest to drive traffic to your website and make money!
Module 8 Podcast Assistant
If you plan to offer podcasting services to businesses, this module is going to be a blessing! It's hosted by Esther's COO, Deya Aliaga (a podcast expert). She will guide you through the entire ecosystem of podcasting, so you and your clients are amazed by your podcasting skills.
Module 9 Video Editing & YouTube
Module 9 is hosted by COO Deya Aliaga, who has tons of experience in video editing and figuring out YouTube.
You'll learn how to create graphics, edit videos, understand the video process, create captions, thumbnails, titles, etc.
Deya has been a professional VA in the video editing, youtube, and podcasting space.
Hence, if there's anyone who knows how to get results as a VA, she's the one!
Module 10 Email Newsletter Writing & Scheduling
Learn what is email marketing, how to set up a newsletter using MailChimp, and how to write effective emails that drive sign-ups, sales, and more engagement.
Figure out effective ways to repurpose their content into emails to get more sales doing email marketing.
Module 11 WordPress Maintenance
Esther teamed up with WordPress Educator Julia Taylor to bring you the handful of admin tasks VAs are always asked to do so you can be ready, including how to post the awesome blog post you wrote in module 4!
WordPress isn't that hard to figure out but can take quite some time on your end.
With this module, you'll save a ton of time and get straight to how you can build systems, update WordPress and write blog posts to get SEO traffic.
Esther Inman knows that learning a skill isn't enough to cut it in this highly competitive space.
To make your life easier, she is offering two bonus courses, that will ensure those business problems you will be having won't be a problem anymore!
The VA Starter Pack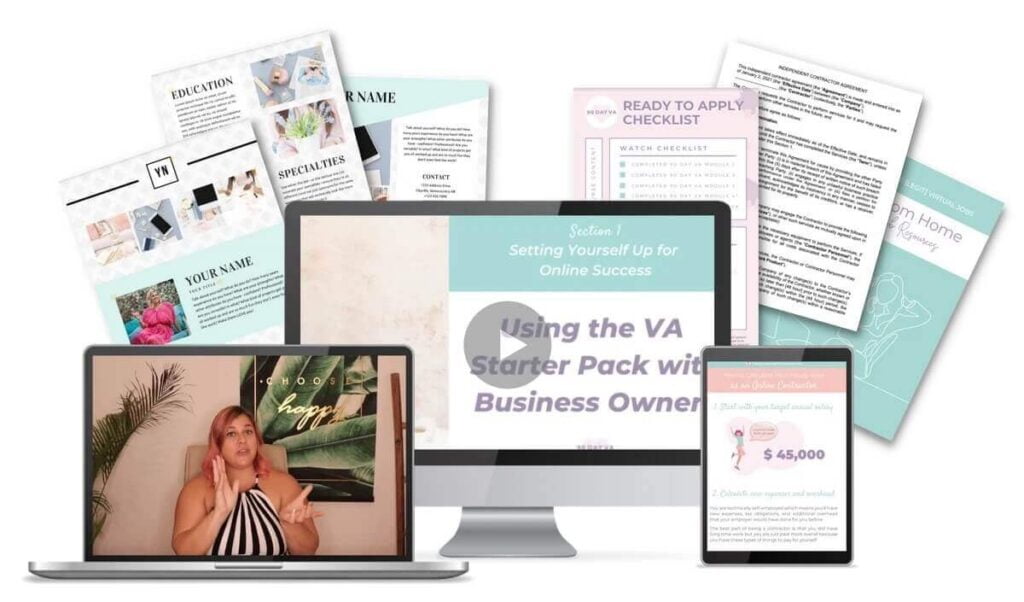 The bonus module focuses on handling clients from A to Z. The 8 Masterclasses cover topics like:
Where to find 'Good' clients
How to create an application kit and remote resume (+ useful templates)
Writing contracts and proposals
Setting your prices (Pricing Strategies)
Handling taxes, bookkeeping, insurance, etc.
The best ways to receive payments
Onboarding clients
This bonus course will work as an add-on once you learn the first 11 modules and master your skills. Once you're ready to find clients and run a business, start leveraging the VA Starter Pack to upskill yourself.
You'll also get Esther's Free ebook containing her favorite sites for remote work, the application kit template (quite useful!), sample contract templates, and many other templates that can help you get your business together in 90 days!
That's the promise Esther and her team give everyone who joins this Virtual Assistant course!
The VA Members Club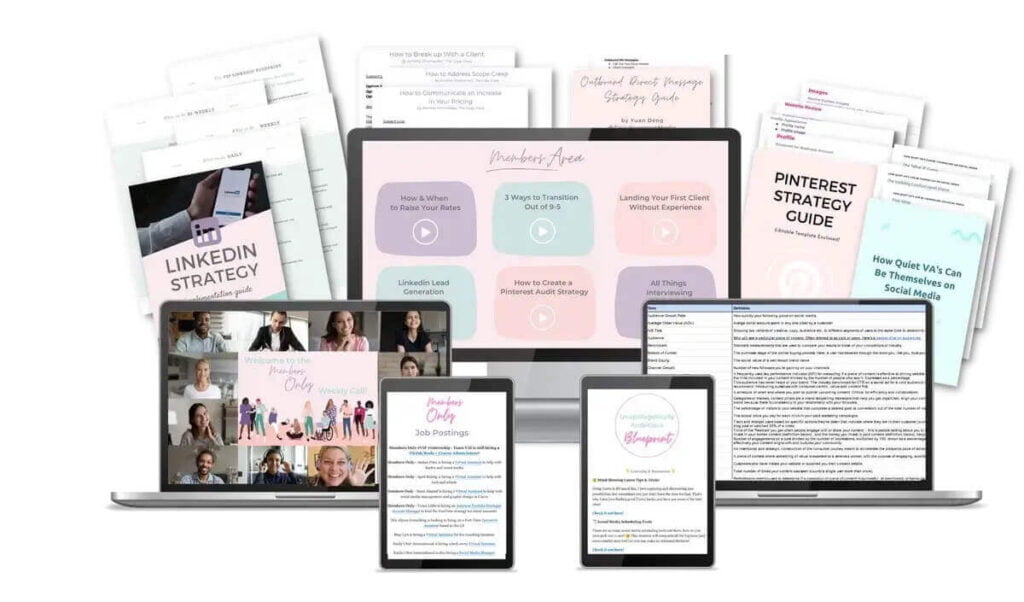 The VA Members Club is the juicy part of the 90 Day VA in my opinion.
The club includes access to Esther's bonus monthly class drops (I haven't seen any VA course do this) + the entire vault of 30 advanced pieces of training and guides + their quarterly VA industry newsletter designed to take you from an average virtual assistant to an extraordinary VA.
You'll get exclusive access to bi-weekly calls and a private FaceBook Community where you can share your ideas and questions with like-minded virtual assistants.
Many VAs post their portfolio work samples here and get honest feedback from the VAI and, other fellow VAs!
That's quite helpful knowing that you're not alone in this and you have access to a community of VAs eager to grow and help each other along the way.
Not only that! You also get 40-60 new exclusive jobs each month! Show these businesses you're qualified, and they'll partner up with you.
The VA Members Club is for those who can't seem to find the right jobs and make money quickly.
Note: The course comes with 12 months of access to the exclusive, members-only, VAI Members Club.
This job board will help them get new and well-established jobs (that pay well!) The 90 Day VA team also has 2 live QnA calls and 2 'Get Shiz Done' co-working calls every month.
Here's the entire list:
Peer-Reviewed Homework
Weekly Emails with motivation, jobs, and resources
50+ online jobs monthly (EXCLUSIVE for members)
Monthly Calls, like 2 Q&A calls hosted by VAI team members
Members Club Vault Access with over 30 classes, guides, workbooks, and templates! 
Monthly Bonus Training with Industry Experts 
Quarterly Industry Blueprint for Virtual Assistants to stay in the know
Access to Private Online Community to keep students motivated and accountable
Pros and Cons Of 90 Day VA
What I DID Like
Course Structure
Throughout the course, you'll notice that the system is structured very well.
All 11 modules are strategically placed, so beginners can first focus on the basics, brush up their skills there, then go on to the more critical aspects of running an online VA business.
Teaches From Real Life Experience
The beauty of taking the 90 Day VA course is that you're learning from somebody who has been through all the struggles of being a freelance virtual assistant.
Esther walks you through her journey while breaking down how you can get similar results and make money as a virtual assistant.
14 Day Guarantee
Esther's 90 Day VA has a 14-Day full refund policy. This means if you don't like the course, you can get your money back.
The only catch is you need to try the course, and only then you can ask for a refund. Isn't that like super simple!?
Dives Deep Into Small Aspects
Most courses focus solely on the big things like being a virtual assistant and the steps required to do that.
But rarely does anyone focus on the small problems that VAs get into. Esther gets into these issues and shows you ways to solve them asap.
New Monthly Videos
I like courses when they spend time constantly updating their course to better suit the current trends.
Esther releases new pieces of training each month, which means you have access to the latest training materials.
With hundreds of changes happening frequently in the online space, it's more than important for courses to keep their information and update their content all the time.
That's where the 90 Day VA course impressed me!
Energetic Videos
Esther's energy pops up in her videos. She teaches with passion and power, so it feels all the nicer to learn from someone so enthusiastic about her work.
Her energy will motivate you to work harder and become the best VA possible!
What I DIDN'T Like
No Lifetime Access
Most online courses offer lifetime access to all course materials, but 90 Day VA doesn't do that. The course comes with 12 months of access to all course materials.
If you need access to the courses after 12 months, you'll have to pay a small monthly subscription fee for access.
I don't think you'll need to opt for the monthly subscription fee as the course is designed in a way for you to complete everything in 12 months.
I recommend using the 12 months to squeeze out as much information as you can, learning and implementing all the tips Esther and her VAI team teach you, and mint money as a Virtual Assistant.
Lacks Video Summaries
I'm nit-picking, but some of the video courses are long, and if you're not taking notes while she's teaching, you're going to forget it, and you will have to revisit these courses to remember the deets!
If Esther could create downloadable summaries for each video, it would massively help students! That said, we should also keep writing any valuable tips or lessons we've learned while watching the videos.
So keep a notebook and pen or digital notepad to write down the point at that very moment so you won't have to revisit and spend more time learning the same thing.
If you're not sure about starting your VA Journey with 90 Day VA, try their Free Live Online Class On How to Work From Home As A Freelance VA.
Positive & Negative 90 Day VA Reviews
Spending money to buy a course is always a risky move in my opinion especially when the course is not cheap!
Below you'll see reviews from 90 Day VA course takers. These reviews are positive enough for me to believe that the course Esther is providing is good for any person looking to be a virtual assistant.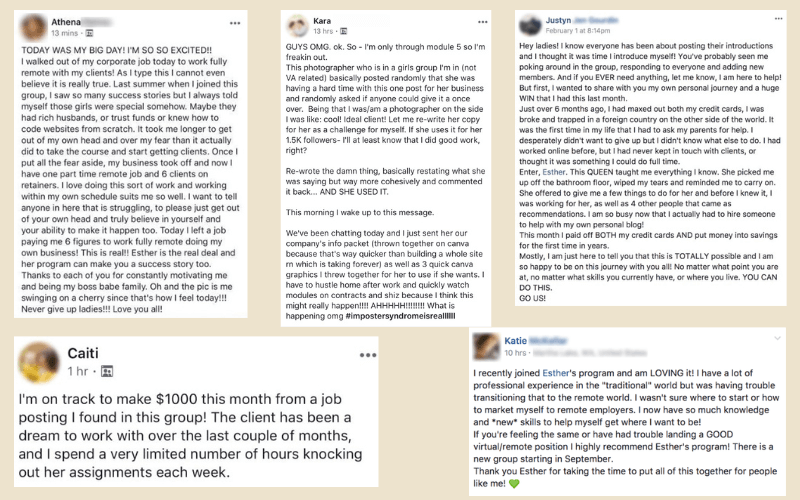 There are hundreds of posts like this on their private Facebook group. All this goes to say that the 90 Day VA is a great place to learn virtual assistant skills, get clients and make money as a VA!
I'm saying this again – 90 Day VA is a great course, but it's not going to magically make you rich and successful!
To get rich and successful, you need to work, you need to hustle to make your name in this space. Money follows provided you work consistently.
The Best Virtual Assistant Courses?
Here are the best virtual assistant courses for you! I've spent time digging through these virtual assistant courses and tried to find the best overall courses and the best value-for-money courses!
And I can certainly recommend the below freelance virtual assistant courses to you!
🏆 Best Virtual Assistant Courses (2023) 🏆
🏆 Best Virtual Assistant Courses (2023) 🏆
The Savvy System (Best VA Course – 2023)
The Savvy System is a legit online virtual assistant course that teaches people how to become professional Virtual Assistants and make a full-time income as a newbie VA.
The Savvy System came from The Virtual Savvy Team which was created by Abbey Ashley, a successful virtual assistant, and entrepreneur with over 12 years of experience in the VA field.
She has cracked the secret to being a successful VA and making a full-time income as a freelance virtual assistant.
Abbey has created the perfect VA system that ensures beginners (with the desire to learn, grow, and take action) can make a living as freelance virtual assistant!
There are 14 Modules along with at least 10 Bonus courses, templates, ebooks, and much more.
Here are some of the positive points of this course:
Extremely Comprehensive Course
Turns You Into Professional VA
Exclusive Job Opportunities
Fresh Videos Every Month
Power VA Team
In-Depth Lectures
I recommend taking this course as Abbey is one hell of a VA, and I know for sure she can get you your dream job and help you make enough money to live a nice life!
Need to know more about Abbey's Savvy System? Check out my In-Depth The Savvy System Review!
If you want to experience The Savvy System, check out this Free Training by Abbey where she teaches you How you can quickly earn 100k+ working as a virtual assistant, What paying clients are really looking for in a VA, and How to find thousands of clients who are waiting for your services.
I recommend you take it up if you're serious about being a professional virtual assistant!
Is The 90 Day VA Worth It?
In my HONEST opinion, The 90 Day VA Course is a value-for-money course for beginners looking to become profitable VAs in 90 days or less!
The 90 Day VA will work for you if you're willing to put in the time to learn the course modules and do the Homework they give!
The homework isn't some random stuff, you'll learn key skills and build a portfolio that you can show your potential clients.
Think about having a ton of work already done before you land your first client! Clients will look at the amount of work you've already done, be super impressed by your crazy awesome skills, and hire you on the spot!
The key point here is to do your HOMEWORK and go through the resource materials, engage yourself in the community, ask questions, and help others!
Esther's Virtual Assistant training is great for those looking to be part-time VAs and transform their life on their own time.
They give you real-life experiences, show you the practical stuff nobody talks about and gives you key insightful tips to make sure you get the results you hoped!
Feel free to leave your comments below if:
You have a question or feedback
You need me to clarify something regarding my 90 Day VA Review
You wish to share your 90 Day VA review with everyone
Read More >>> How to Make Money as a Virtual Assistant (2023)
Have you enjoyed this post? If so, you might want to subscribe to my newsletter. It usually contains life lessons and money-related topics, some interesting observations, links to articles or books I've read, and tips to be a better person. If you're interested in these things then subscribing will be simply wonderful 🙂 PS: Subscribe and Get your Freebie below!
Also, I'm a YouTuber now! If you're interested in Pinterest Marketing, Blogging, or business-related things, Subscribe to my Channel and I'll see you in the comments!
90 Day VA Review: Is It Worth It? (2023)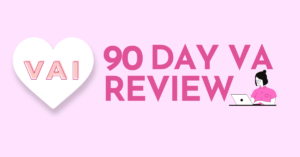 In this 90 Day VA Review, I'll review this comprehensive course to help you decide if this virtual assistant course is well suited for you!
Course Provider: Organization
Course Provider Name: 90 Day VA
Course Provider URL: https://thesagemillennial.com/go/90-day-va-course/