Top 10 Freelancing Platforms to Earn Money in 2023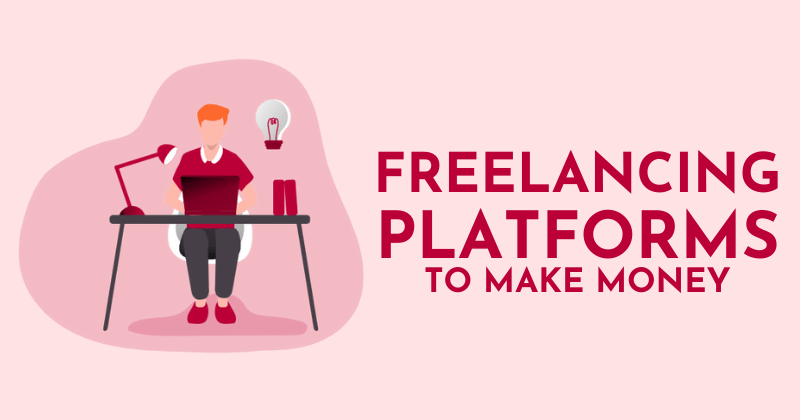 This article may contain affiliate links. If you make a purchase using my links, I'll earn a small commission at no extra cost to you. I appreciate your support!
Your daily job is boring, hectic and you don't like your boss?
You just wish there was something you could start today which would make sure you could quit your job in the next 6 months. You wish you could make more money and live financially happily.
Today's your lucky day!
Why start Freelancing?
The Freelance market is continuing to show tremendous growth and thus it is the right time to learn a skill so that you can become a Freelancer. 
But wait, you don't need to learn a skill. Freelancers exist in all markets. It means any skill you have maybe big or small, difficult, or easy is considered a skill in the freelancing world and you can definitely sell these services.
Research shows that the young generation is more inclined towards freelancing than the older generation as we enjoy the comfort of working from home.
There is no better time than 2023 to start freelancing, companies are going to rely more and more on outsiders to do their work, may it be big or small, easy or difficult. 
A quick rating scheme for all 10 freelancing platforms.
| Freelancing Platforms | Ratings |
| --- | --- |
| Fiverr | 5.0 |
| Upwork | 4.9 |
| TaskRabbit | 4.7 |
| Toptal | 4.7 |
| Freelancer.com | 4.5 |
| Truelancer | 4.0 |
| PeoplePerHour | 4.0 |
| Guru | 3.8 |
| 99Designs | 3.7 |
| GoLance | 3.5 |
Following are the 10 Best Freelancing Platforms you should start putting your services Today:
Top 10 Freelancing Platforms to Earn Money in 2023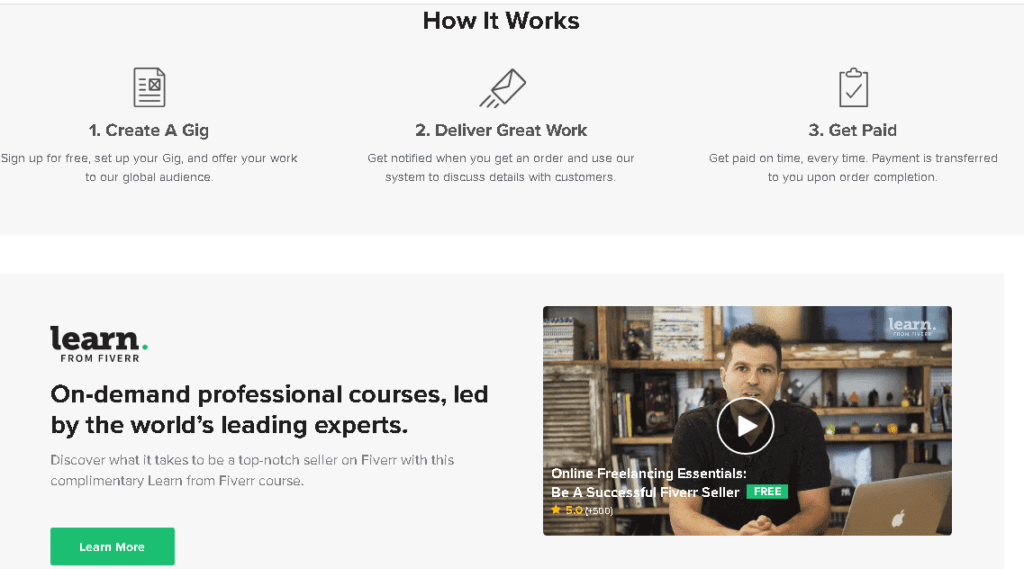 An award-winning freelance service marketplace that helps employers find the best talent for a particular project.
Fiverr is different than most platforms. Generally, employers post jobs, and freelancers bid for those jobs, the best bid gets the work. 
But in Fiverr, a freelancer has to make his profile and add the skills he is good at and the services he would like to offer Fiverr calls these "Gigs". The employer then chooses from various gigs and contacts the freelancer. Famous services include writing, virtual assistants, social media management, and logo designing.
The starting price for any gig is $5 which they promote saying that your task can be done in only $5! 
Fee Charged –
20% of the total gig value
When your gig sells for $5, Fiverr gets $1 and you get $4.
If the buyer purchases add-ons, the same rule applies. If Total order value = $12($5 – gig value, $7 – quick delivery add-on) Fiverr will take $2.4 and you will get $9.6.
Pros –
Freelancer can use keywords/customize their profile to look best to the employer
Large customer base
Three different packages(small, medium, large) can be showcased to the employer.
Add-ons can be charged separately 
Offers free learning to develop your skills
Transparency regarding freelancers work through their profiles, reviews received, etc
Each category is well-organized niche by niche
Buyers search for freelancing opportunities, not the other way around
Cons –
Super competitive prices
Profits can be low in the beginning as most services offered start at $5
Marketing your gig is difficult
You might have to wait for a few months to get your first order
Fees are the same even on High order value, unlike Upwork.
2.
Upwork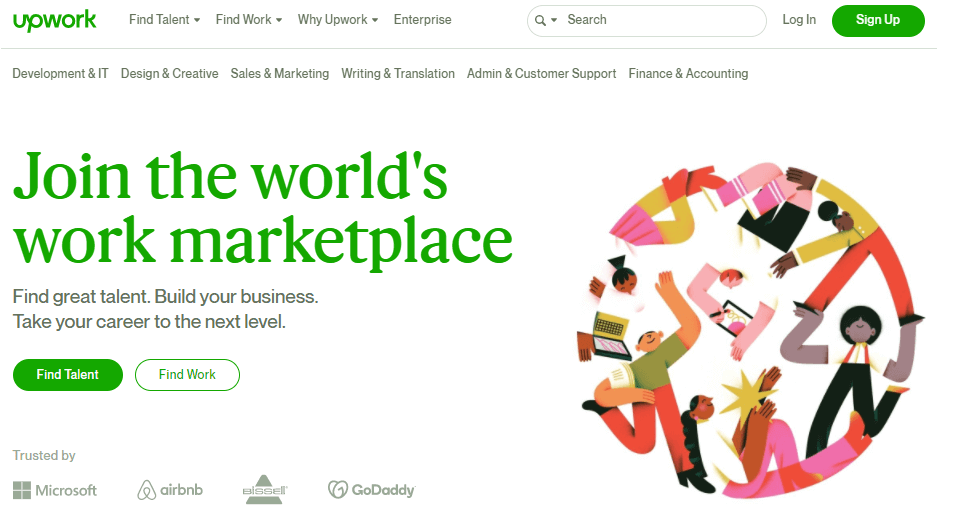 Upwork is the largest freelancing platform in the world. Here all sorts of services are offered from marketing to product development. 
It can be a per hour basis work or project-based work, anyone with entry-level or pro-level skills can easily find a match. Upwork always has some work for you.
Fee Charged –
Upwork fees depend on the price of the project
20% for the first $500 billed with client
10% for lifetime billings with the client between $500.01 to $10000
5% for lifetime billings with the client exceeding $10000
The basic logic with the fees is that the more you earn through a client, the lesser you pay in fees.
Let's say you get an order of $700, for the first $500, Upwork will charge you 20% – $100, and $200 will be charged at 10% – $20, giving us a total of $120 in fees and in hand $580.
Pros –
The largest trusted platform in the world
Projects for anyone and everyone
Video Communication is possible between both parties
Learn from the Seller Guide created by Upwork
Cons-
Fees are charged at every step by Upwork
Competition is high, the lowest bidder can get the job easily
Over-populated site, thus the probability of getting a job is tough
3. TaskRabbit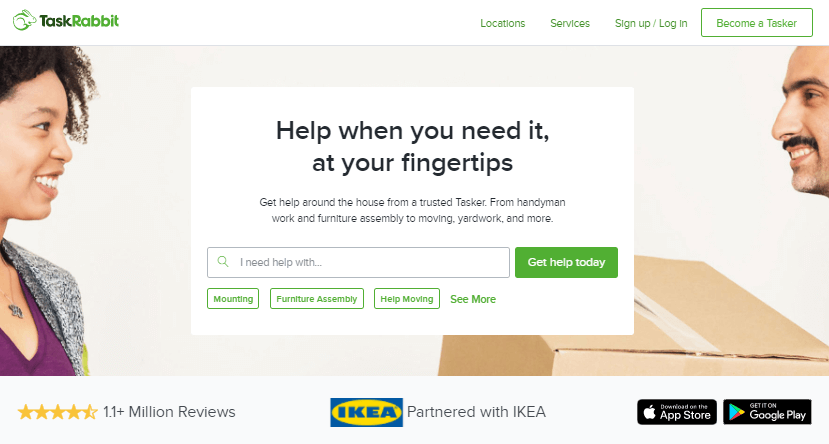 TaskRabbit is a freelancing platform specially designed for household purposes required to get household tasks done more conveniently and quickly. It acts like a middleman connecting the client and the taskmaster. 
Tasks include general handyman, moving and packing, furniture assembly, mounting and installation, home improvement, yard work, and much more. TaskRabbit makes it easier for people to get work done around the house efficiently and hassle-free by qualified taskmasters. 
The more jobs you get, the more you can charge per job as your value significantly increase provided it is backed up with great reviews.
Sign Up with TaskRabbit Today!
Fee Charged –
TaskRabbit charges a 15% service fee for every task you complete.
Pros –
Work is extremely professional without a hassle
Partnered with IKEA
Any sort of Handyman's work is done here 
Better communication with clients
Great Customer Service
Cons –
Tasks are not virtual, you need to be physically present during the task.
You are trading time for money, so scaling it is challenging.
🏆 Best Freelance Writing Courses (2023) 🏆
🏆 Best Freelance Writing Courses (2023) 🏆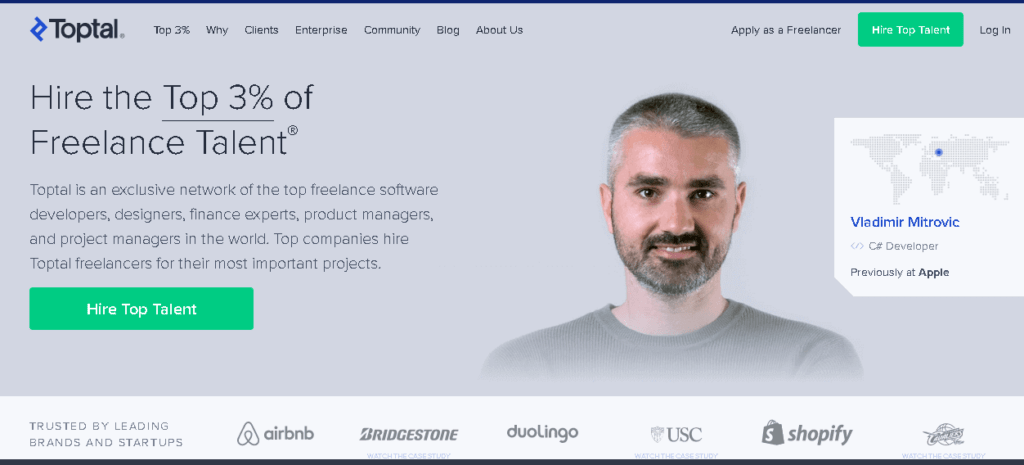 If you are a developer, not just any developer – The best developer and want a niche platform for freelancing, Toptal is the way to begin. 
Their process of qualifying a freelancer is tough but ensures the employer gets the best candidates to fill the gap they are facing. Here only the top developers provide their services as required by the employer.
Toptal has 5 different niches – Design, project management, engineering, finance, and product management. Toptal helps freelance pros to connect with businesses looking for the best Talent.
Fees charged –
Toptal does not charge anything to the freelancer. The hourly rate decided by the freelancer is what they get. Toptal charges money from their clients. How much they charge is not known as they don't specify how much commission they charge. 
Pros –
Low competition and jobs are very good.
Quality work is assured as only the best are chosen
Employers stress is diminished 
If employers aren't satisfied with the work they can change the person within two weeks at no cost
Toptal pays the freelancer not the employer if the person is changed within two weeks of starting the project.
Cons –
Hires only the top 3% of global freelancers, entry as a freelancer is very difficult
Fluency in English is a must
Freelancer.com is a freelancing and crowdsourcing platform having over 25 million users and which serves millions of employers. 
It specializes in social media marketing, web designing, data entry, graphic designing, writing, and creating mobile applications. They have niched down various categories to work in so that you can choose one which suits you best.
Fee Charged –
Hourly projects are charged at 10% or if you're taking up a certain project, it is 10% of the project or $5 whichever is greater.
Pros –
Millions of projects to get started
Crowdsourcing allows multiple freelancers to work with the employer in unison for a single project.
Multiple language support
Great fit for all verticals
Contests let you show your talents
Cons –
High Competition leads to low chances of getting a job
Limited number of bids per day
Customer service is not all great.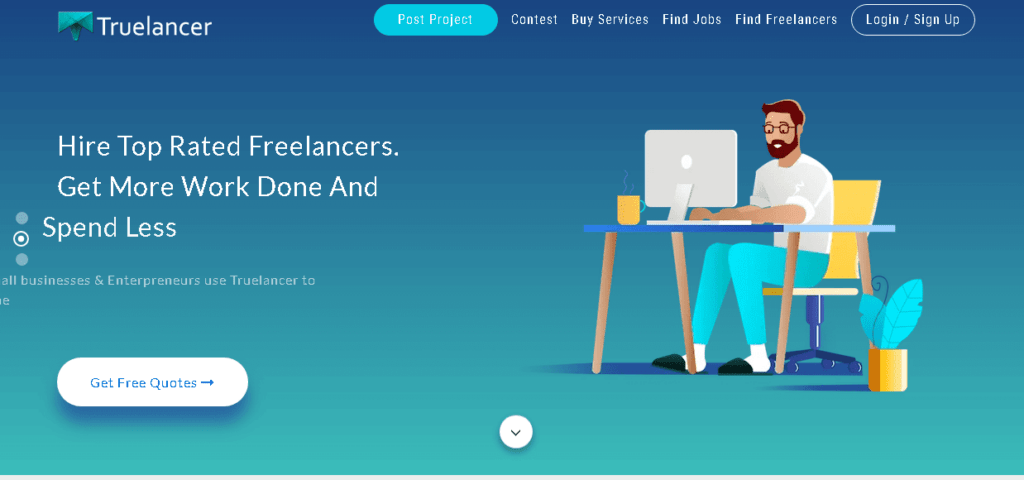 An Asia-centric freelancing platform well suited for new freelancers where new small emerging startups place their needs and freelancers help them with their problems.
Fee Charged –
Truelancer charges an 8% or 10% nominal fee on every freelancer's earnings which is comparatively less than Famous platforms like Fiverr.
Pros –
Great for New Freelancers
8% or 10% fee from Freelancer and 0% from Employer
Video calling system to connect with clients
20 free bids available each month
Cons –
Tons of customer guidelines, if not followed account will be banned
Also, the great thing is Truelancer doesn't charge any fee for the employer, only fees will be charged to the freelancer.
7.
PeoplePerHour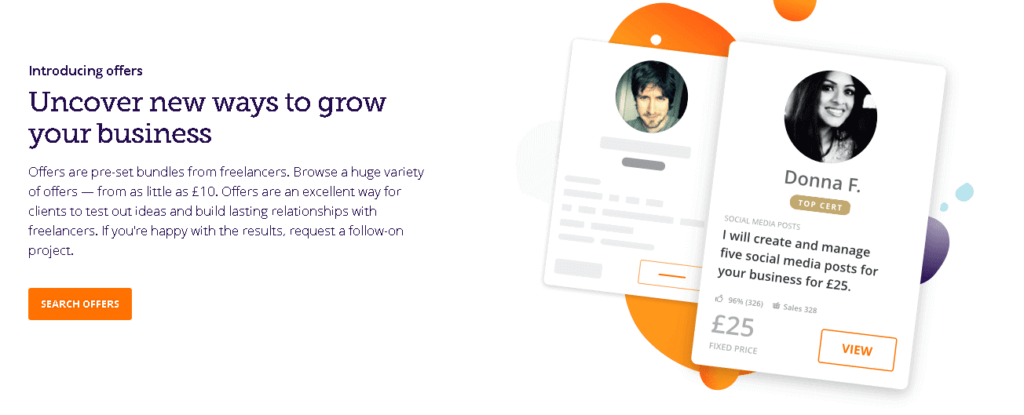 PeoplePerHour is another UK-based platform that is a great website to join to be a freelancer. Workflow ranges from web design and developers to marketing to interior designing to SEO specialists and much more. 
PeoplePerHour is preferred for more web-based problems. Payment is made on an hourly basis and is very efficient. Here you can share your professional experience, show your skills by building a great profile. 
You can also create your own custom services in an offer, set a price point, and make it look attractive.
Fee Charged – 
They have a set structure for their fees
Up to £250  = 20% will be charged. If the order goes above £250 but lower than £5000 = additional 7.5% will be charged
And anything on top of that will be charged at 3.5%
This is a pretty good fee structure for you as if you get a high order value you will be paying less in terms of fees. 
Pros – 
You can send 15 proposals per month for free
Get notified when new jobs come into the market
Buyers need to do down payment before you start working, ensuring you get payments on time
It allows you to search and accept offers from the region you live in.
Cons –
Their assessment is top-notch, If you are a beginner, selection can be a little hard.
Less flexibility with payment options.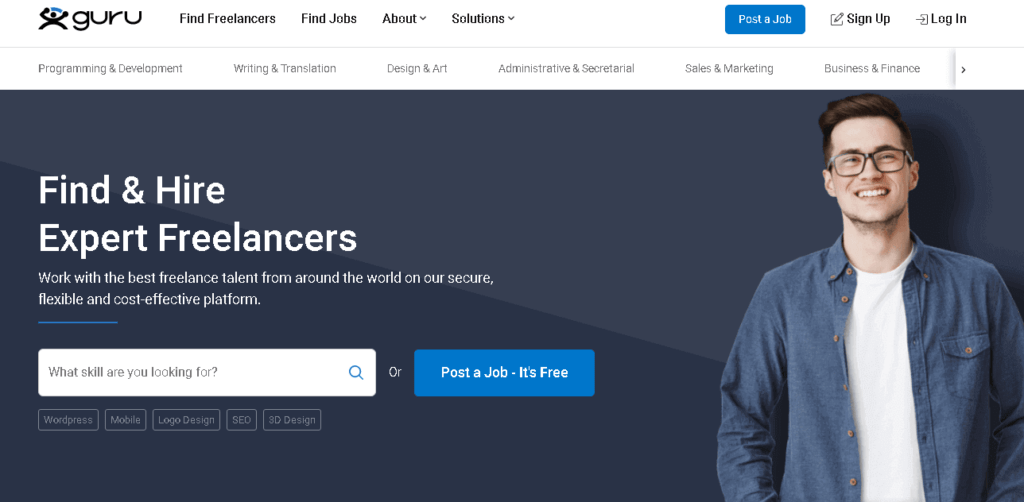 Guru creates an amazing hassle-free experience of finding jobs and projects by linking specifically skilled individuals to specific companies who need them. It allows you to create your profile and showcase your past work. 
It is best for writing, designing, marketing, and administration. It offers its services in eight primary categories sub-divided into smaller segments further where you can work in a group or individually.
Fee Charged –
Guru charges an 8.95% fee to all its freelancers.
The employer can choose from four different payment terms
Fixed-price
Hourly
Task-Based
Recurring Payments
Pros –
Allows region-specific jobs
Due to project promotion, you can get an even better job 
Cons –
If Feedback scores are not great, getting a job can be hard.
No Helpline number to contact.
The market is not as big compared to Fiverr.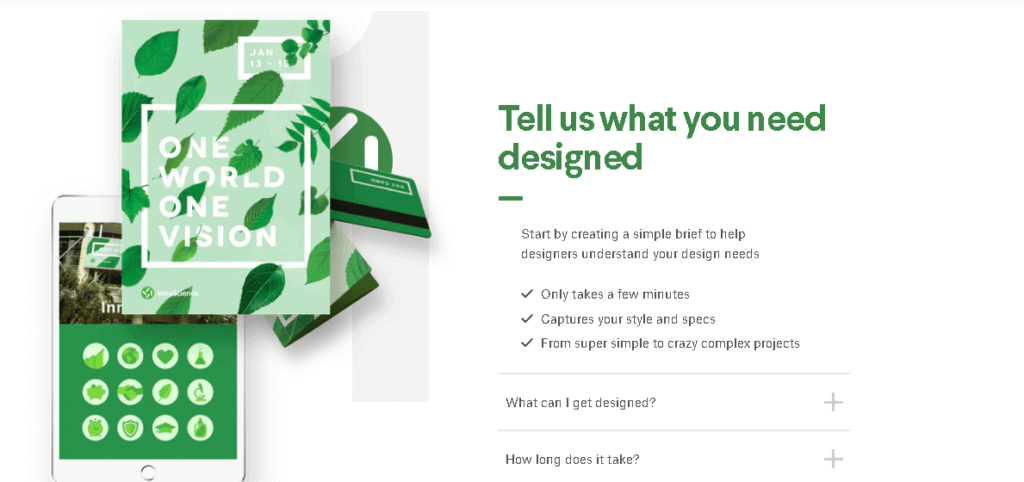 If you have a passion for designing, 99Designs is a great freelancing platform for you. It specializes in graphics and web designing and you can make quite some money on this platform.
Here you will find artistic people ready to work. It lets you compete in designer contests to showcase your skills to clients. The client then chooses the best design and gives feedback which is an added benefit for the designer to learn and improve. 
It provides designing for logos, websites, product packaging and labels, business cards, app designs, t-shirts, book covers, and much more. 
Fee Charged –
99designs charge you 10% as their commission for every project you get.
Pros –
Best for all sorts of Graphics designing
Global reach means varied creativity
Provides tips and trends for knowledge
100% copyright ownership on the project to the client
Cost-effective
Cons –
New designers usually don't get a project as in a contest the best ones win
Sometimes clients are not happy with the output
Lacks the relationship between client and designer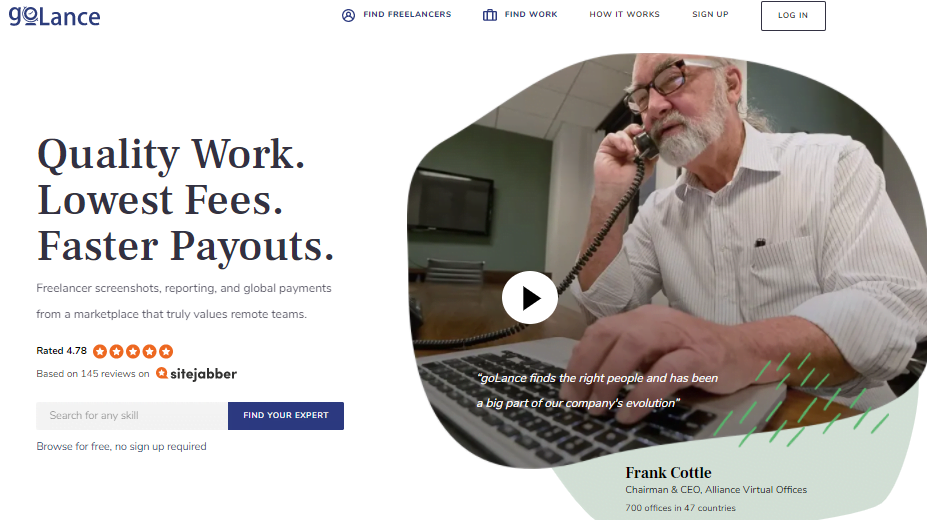 It specializes in web development, designing, data entry, virtual assistants, marketing, writer, and IT. Clients pay no money to hire and they also get cashback when they pay them from GoLance.
Fee Charged –
Golance charges a 7.95% fee on all earnings.
Pros –
Fees are lower compared to Upwork
You get cashback for every project
No limit on bids
Quality of work is good
Cons –
The market is comparatively smaller
Now you have a list of the best freelancing platforms to make money.
As Warren Buffet says, "Do not lay all your eggs in one basket".
I suggest making your account on at least three of these freelancing platforms.
Why do companies hire freelancers?
They are affordable
They are specialized in their fields
They are flexible and can provide faster outputs
They are found to be more innovative
The company doesn't need to invest their time and money in them. Just tell them what they require and the work is done.
How to get started with freelancing?
Find a skill you can offer 
If you can't think of one, learn a skill online
Make an account with the freelancing platform of your choice.
Set up your account, make your profile stand out.
Start hustling your way to the top
In the Beginning, you are at the bottom of the chain and might not get as many jobs because you lack reviews and rankings, although there are few tips to follow to ensure that you don't fail in the Freelancing Journey
Provide Super High-Quality Work
Ensure you don't Overprice your services
Be punctual, submit your work before time
Overdelivering is the key to a Happy Customer
Efforts, hard work, persistence will lead to success
Slowly as you keep getting jobs and improve yourself in your niche, start increasing your price. At this time, your customers might reduce as you have increased your prices, but remember to provide high-quality work to the jobs you have at present. Over time you will get a lot of orders and your workload will increase tremendously. 
At this stage, you can,
Either start a small firm who focus on freelancing work instead of you doing all the hard work
Or Continue to get all the projects done yourself, ensuring you don't mess up and submit everything on the deadlines given.
Every person should give freelancing a try as the potential growth of this industry is ever-increasing and if you put in sheer hard work with quality output, success is definitely assured.
Let me know down in the comments below which freelancing skill do you use to make an additional source of income? If you haven't started freelancing yet, put down all of your queries and doubts in the comments below.
Enjoyed this post? If so, you might want to subscribe to my newsletter. It usually contains life lessons and money-related topics, some interesting observations, links to articles or books I've read, and tips to be a better person. If you're interested in these things then subscribing will be simply wonderful 🙂 PS: Subscribe and Get your Freebie below!
Also, I'm a YouTuber now! If you're interested in Pinterest Marketing, Blogging, or business-related things, Subscribe to my Channel and I'll see you in the comments!