Knowadays Proofreading Academy Review 2023: Is It Worth It?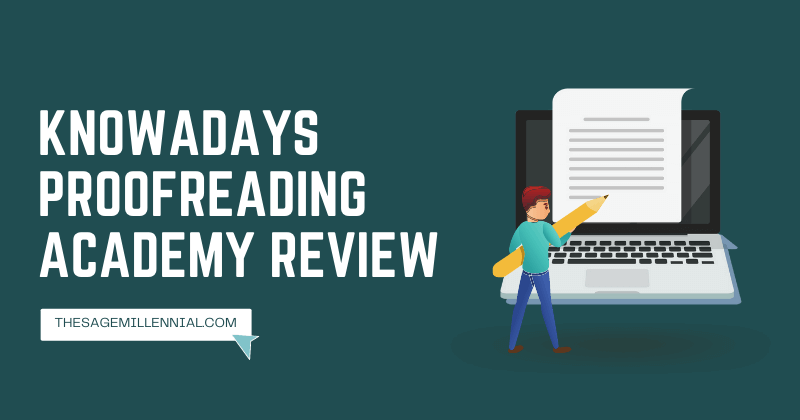 This article may contain affiliate links. If you make a purchase using my links, I'll earn a small commission at no extra cost to you. I appreciate your support!
Note: As of February 2022, Proofreading Academy has been renamed to Knowadays. Their top-performing online course 'Becoming a Proofreader' is still knowledge-packed, up-to-date with the latest information, and one of the best proofreading courses in my opinion.
Can freelance proofreaders make a full-time income?
​Are online proofreading courses worth it?
Chances are you're interested in becoming a proofreader, and you want to know if Knowadays – Proofreading Academy Course is the best online course for new proofreaders, right!?
Proofreading is a valuable skill every business with a content marketing strategy needs, and there are hardly any quality proofreaders in this space. 
So the million-dollar question!
Is the Knowadays Course – Becoming a Proofreader, a value-for-money course?
Will you learn how to become a proofreader with no experience and make money proofreading?
Check out my Quick Summary and Verdict below to get the answer!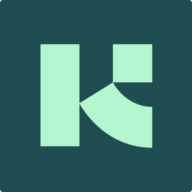 Quick Summary & Verdict
Rating: 4.8/5
Content Value: 4.8
Customer Service: 4.6
Value For Money: 4.7

Is Knowadays Legit?
Knowadays is a 100% legit & accredited proofreading course for beginner proofreaders figuring out how to make a full-time income online. Knowadays is also CPD certified, which has been reviewed and evaluated by an external team to ensure it provides high-quality and trustworthy content.

Proofed Work Guarantee
Knowadays Guarantees work with Proofed if you successfully get 80% or more in the final assessment (of the course). You get high-paid proofreading & editing jobs just by taking up these courses!

Knowadays Testimonials
Here are a few testimonials by course takers on the Becoming a Proofreader and Editor course!

Free Trial
Knowadays offers a Free Trial where you can access a small portion of the course for free. This gives you an opportunity to test the waters first and then if you like the course content, purchase their proofreading course.

Course Length: 50 Hours (15 Modules)

Pricing:
Knowadays Black Friday and Cyber Monday
Use Code Knowadays40 to get 40% Off on all courses!
Pros
Accredited By CPD (UK)
Courses are written by Ph.D. level industry insiders
Free Trial Access For Life
Guaranteed Work
Responsive Support Team
Detailed Syllabus and Fun Quizzes
Tutor-Graded Final Assessment
Proofreading Certification
Cons
Must-Have Microsoft Word
Proofed may be Over-Hyped
No Talk about Proofreading Symbols
A Little Too Expensive
​What is Knowadays?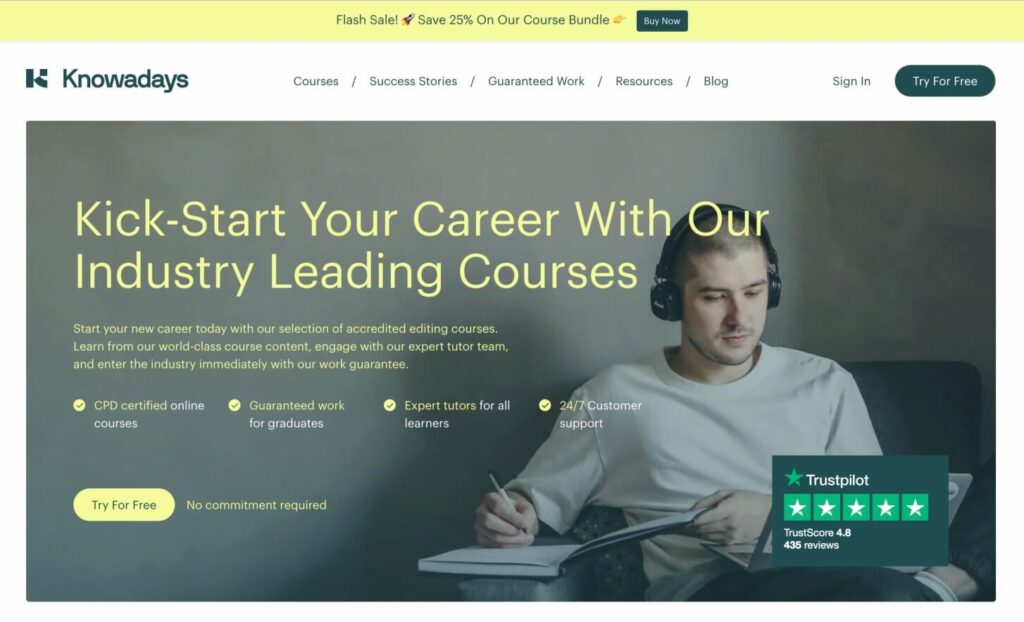 Knowadays (previously known as Proofreading Academy) is a company that teaches students, retirees, and stay-at-home parents how to become a proofreader and make a full-time income as a freelance proofreader.
Knowadays is a United Kingdom-based company, but their courses are popular and appreciated from all over the globe.
The course modules are well structured (by Ph.D.-level industry insiders) and suited for everyone.
You'll learn all the basics of proofreading/editing/freelance writing along with advanced-level tips, tricks, skills, and time-saving strategies to be an efficient work-from-home proofreader.
Here's a list of all the top-selling courses on Knowadays:
Don't forget to use the coupon code "Knowadays40" for 40% Off on all courses including the Bundle course (which already offers 15% Off).
These courses are not just for beginners but also for experienced proofreaders looking to refresh their knowledge and pick up a few new tricks and tips for proofreading, editing, or freelance writing.
Is Knowadays Suited For You?
When I look at an online course for review, I try to see what it offers to the customer, whether can it help achieve the customer's goals and is a value-for-money product. 
I also see if the company offers smooth and no-nonsense customer service; let's be honest nobody likes a bad customer service team.
Well, Knowadays ticks all the boxes here and comes out shining. 
How they teach the course and break down proofreading in simple terms makes learning super simple and enjoyable.
It also provides 1-on-1 Tutor support with industry-grade expert tutors to help you solve your proofreading problems.
If you're someone who seeks remote work (work-from-home), wants to start a side hustle, and wishes to be financially free, Knowadays can help you achieve those goals!
This course costs slightly less than its main competitor and it's also better than them in some ways!
I have done an in-depth review of the biggest competitor to our Knowadays proofreading online course – Proofread Anywhere by Caitlin.
Caitlin's online proofreading course is another knowledge-packed course that dives deep into proofreading and its fundamentals, but the price is slightly more than Knowadays.
Pricing and Refunds
Knowadays Becoming A Proofreader Course is priced at $499 for lifetime access to the course with all future course changes & updates. 
Looking at the competition, I'd say that $499 is a steep discount as huge proofreading companies charge $100 – $300 more than what Knowadays charges.
In addition to that, if you use the code "Knowadays40", you get a flat 40% Discount on $499!
If you wish to use part payments, you must contact their support team on the Contact Us page. They'll let you know if that's a possibility.
Click the below link to sign up for Knowadays Free Trial Today!
About refunds, they do give them sometimes. Here's what they say about this:
"Knowadays maintains a fair and simple refund policy. All course refunds requested within 14 days from the time of purchase will be refunded in full unless it is otherwise deemed that the course has already been accessed. In that case, the un-accessed portions of the course material will be proportionately refunded, less a $30 administration fee. All refund requests made greater than 14 days but less than 30 days after the course purchase will be assessed using the above methods. No refunds will be given if the course has been accessed and greater than 30 days have passed since the purchase. 
The first step in any refund request would be to email us at [email protected]. 
Thereafter, we will assess your request and will provide either a full or partial refund based on the nature of the refund request and the time elapsed since the purchase.
Knowadays has a higher cost for the administration of payment plans and any refund given to customers who have set up a payment plan will be proportional to the total course fee, not any part payments.
Refunds will take up to ten working days to process; therefore, please allow that time to elapse before the money paid is back into your bank account or card balance." – T&C
Knowadays is currently offering 15% Off its Bundle Course – Becoming A Proofreader & Becoming A Editor! I recommend this editing and proofreading course for all looking to start a career as a freelance proofreader/editor!
If you just want one of the two courses, use coupon code "Knowadays40" for 40% Off Black Friday and Cyber Monday Deals!
Knowadays Becoming A Proofreader Course Breakdown
Module 1: An Introduction To Becoming A Proofreader
Module 2: Proofreading And Editing
Module 3: The Basics Of Microsoft Word
Module 4: Common Spelling Mistakes
Module 5: Common Grammar Mistakes
Module 6: Common Punctuation Mistakes
Module 7: Other Common Errors
Module 8: Proofreading In Practice: Style
Module 9: Advanced Formatting In Microsoft Word
Module 11: Academic Proofreading
Module 12: Academic Proofreading: Referencing And Citations
Module 13: Creative Writing And The Publishing Industry
Module 14: Proofreading Business Writing
Module 15: Finding Work And The Final Assignment
Each course module takes about 2-5 hours. Each module goes into detail and teaches you everything there is to learn about proofreading. 
After learning all the modules, solving the quizzes, and practicing proofreading documents, you can easily earn as a freelance proofreader and even make a full-time income.
Companies prefer freelancers who can Proofread and Edit at the same time, so if you want to amp up your skills and make more money with each client (by offering proofreading + Editing services), Check out this Power-Packed Proofreader & Editor Course Bundle! Today! (15% discount at checkout)
Knowadays Work Guarantee With Proofed
What is Proofed?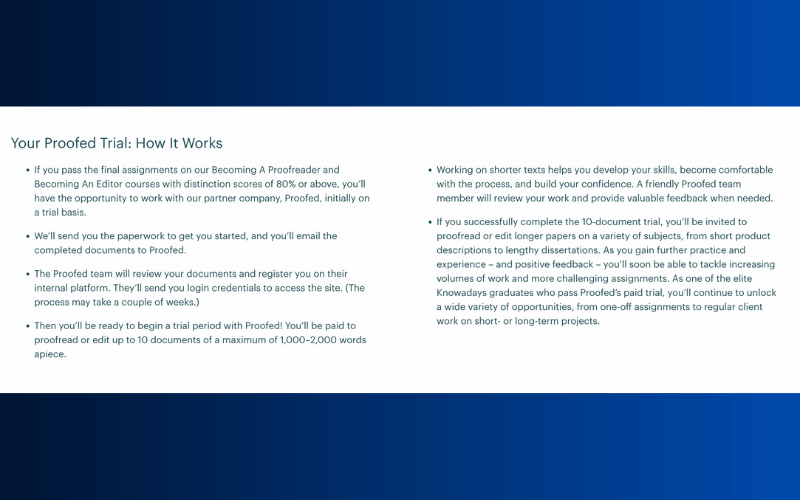 Proofed is a partner company of Knowadays. Proofed is a legitimate company that provides proofreading, editing, and formatting services. 
Being part of Proofed means being a part of an exclusive club of proofreaders and editors ready to hustle and make money proofreading.
How much do you get paid working for Proofed?
Working with Proofed is on a freelancing basis, no one amount fits all.
But if you want some stats, here you go:
Over 2000 Knowadays Graduates have worked with Proofed
Top performers working full-time earn over $50K with Proofed
Part-time earners make an average of $20K (on top of their full-time income)
Knowadays graduates have earned more than $5M working at Proofed
More than 60% of learners have been eligible for proofed guaranteed work.
Work will vary depending on demand/orders; How much you get paid to proofread depends on how much the clients are willing to offer.
As far as I've seen, the pay is typically on the higher side but getting jobs is a bit tough as many proofreaders have their eyes on these jobs.
Requirements For Work Guarantee
Using Proofed to find freelance proofreading work is a great plan but to be on the platform, you need to get at least 80% marks in the final assessment of the Becoming a Proofreader and Becoming an Editor course.
Note: It's not easy to get 80% or more in the two above-mentioned courses. That's because Proofed is a big company offering high-quality service to its clients. To be a part of it, you'll need to study hard, focus on everything they teach, and be a master at proofreading documents.
Pros and Cons Of Knowadays (Becoming A Proofreader)
What I DID Like
Accredited By CPD (UK)
Becoming a Proofreader Course is an accredited proofreading course by Continuing Professional Development (CPD) UK.
Being recognized by the CPD means the course meets all requirements to be one of the best and meets its symbol of quality and credibility.
Courses are written by PhD-level Industry insiders with extensive work experience.
That means this course is as legit as courses can be! You can show employers that you've taken a course that has been scrutinized by experienced proofreaders to ensure integrity and quality by the CPD.
Free Trial
The problem with most online proofreading courses is that they don't offer a free trial period to get a feel of how the course is structured. 
You simply pay the money upfront, read reviews online, and hope to get value out of the product. Well, Knowadays understand this pain point and thus provide a free trial.
You'll be able to access the first few video lessons of the course. This gives you a holistic view of what the entire course will be like and you can use this to decide if the Knowadays proofreading course is suited for you!
Access For Life
Knowadays had limited-time access to the course but once they rebranded their name to Knowadays, courses can be accessed forever. 
That means you will have access to all course modules, quizzes, and future course updates at all times!
If your account is inactive for 90 days or more, they will suspend your account, raise a query on the contact-us page, and they will activate your account immediately.
Guaranteed Work
One of the main reasons I love this course is cause they provide guaranteed work with Proofed after you finish the course and final assessment with a score of 80% or higher. 
With this opportunity, you're sure that if you study hard to become a proofreader, there's a 100% guaranteed proofreading job afterward.
I'm confident that many of you will jump right into this course due to Proofed.
Responsive Support Team
Getting in touch with the Knowadays support team is easy. 
You can schedule a call, do a live chat, or email the team with your queries and they'll get back to you in no time. Here is the Contact Us page.
Detailed Syllabus, Resources, and Fun Quizzes
The course is structured keeping in mind what the top proofreaders do in their line of work. The syllabus and course module are detailed yet to the point. 
You'll find a ton of free proofreading and editing resources like checklists, style sheets, and grammar guides to make your freelancing journey easier.
There are many interactive quizzes, and real-life Try it Yourself exercises throughout the course. They make the system more hands-on, fun, and engaging. It keeps you hooked, and thus you learn proofreading skills in a better way.
Tutor-Graded Final Assessment
They also provide tutor-graded final assessments where tutors (with a ton of experience) provide detailed feedback on your strengths, and areas of improvement and give constructive advice to help better your proofreading skills. This feedback can be discussed on a 1-on-1 video call with your tutors!
Proofreading Certification
Knowadays offers a Proofreading Certification after completing the course. Few companies today take the extra step to provide certification along with their course to bring more credibility to the student. That's great! You can put these up on Linkedin and other jobs/freelance platforms for better credibility.
What I DIDN'T Like
Must-Have Microsoft Word
Almost all Windows-based laptops today come with inbuilt Microsoft software. So most users shouldn't have an issue. 
But those with Mac or other laptops would have to spend some money to pay for Microsoft Word. It's not expensive as much, but yea it's an expense. 
If the team could also include Google Docs course material in the future, that would be a plus point right there!
Proofed may be Over-Hyped
I'm not saying Proofed is bad. 
Proofed is a great platform to get proofreading jobs, but you've got to understand one thing – Many people from all over the world take up this course (cause it's so damn good). 
Even if a few of these people get 80% or above, competition for each job just keeps increasing!
Additionally, you need to enroll yourself, in both proofreading and editing courses and score 80% to get into Proofed.
All I'm trying to say is don't completely rely on Proofed. 
Once you complete this course, use Proofed to build your profile and earn money proofreading, but in the long run, diversify the platforms through which you get new clients.
For example, you should get clients from:
Your Website
Freelancing Platforms
Social Media
Proofed
Reference from Past clients
Word of Mouth
No Talk about Proofreading Symbols
Knowadays doesn't teach you about Proofreading marks and symbols in the course. 
It's not a huge bummer as not all proofreaders use marks and symbols while doing their job. 
If you want to learn the basics of proofreading marks and symbols, here's an article by Knowadays on the topic.
A Little Too Expensive
The cost to buy the Becoming a Proofreader Course is $499. Proofread Anywhere (the second-best course after Knowadays) costs $597. 
While both courses are priced the same, Knowadays surely makes more sense to buy as it's better equipped for beginners.
They offer a free trial so you can check it out before you make a call.
If you still can't afford to pay $499, use the code "Knowadays40" for 40% Off, or else use Google and learn to proofread. 
Read tons of articles, watch hundreds of YouTube videos, join Facebook groups, and keep practicing the art of proofreading.
Positive & Negative Knowadays Reviews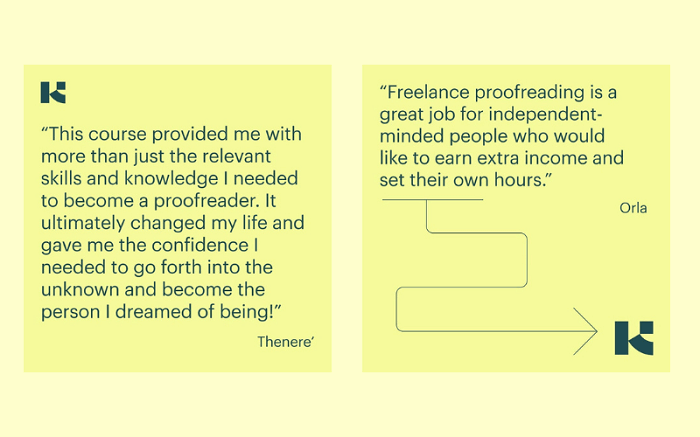 Simply listening to my opinion before purchasing a course doesn't seem right, so here are 6 Knowadays Reviews from course takers. Selected reviews are from Trustpilot.
Positive Reviews:
Sally Dawes (Spain): 5/5
I cannot rate the service provided by Proofreading Academy highly enough. I was completely new to proofreading, but with a good level of English language and grammar skills. I found the course material to be pitched at a perfect level – extremely comprehensive and in-depth but presented in an easy-to-digest, easy to understand, and almost enjoyable way. It was well structured and easy to complete one section at a time which was satisfying and motivating. It went into the right level of detail – referencing further resources where necessary. The support provided was excellent. I passed the assignment for the first time but did not receive the grade needed to work for proofed and I had an extremely helpful online tutorial with a member of their team who was friendly, professional, extremely understanding, and helpful. Following passing with over 80% I had another tutorial with an equally helpful member of their team. Overall the service offered was above and beyond my expectations.
Kathleen (USA): 5/5
The Proofreading Academy provided a thorough course that more than adequately prepared me for the world of proofreading. They cover so many aspects of proofreading one might encounter, and, more importantly, offer many resources for future use. The quizzes offered during the course are very helpful. They also offer webinars to help prepare you for the final assignments. My online meetings with the tutors were helpful and inspiring. My only critique would be to offer more "practice tests" that resemble the final assignment to give students a bit more confidence. However, when I asked my tutor for some other practice options, he was happy to provide me with tests to prepare me for my second round. Chatting with the tutors also provides insight into what the job with Proofed may be like. All the tutors and support staff were friendly and helpful.
Richard Eyre (Japan): 5/5
This was a great course and I am sad to see it end. I learned so much. I found that proofreading entails so much more than catching grammar and punctuation mistakes. A professional proofreader needs to know the ins and outs of Track Changes, Regional Grammar and Spelling, Abbreviations, APA citations, and Advanced Functions and Formatting in Microsoft Word—to name just a few skill areas this course offers. I have come out at the end of the course feeling confident that I can do professional-level proofreading. The price is well worth it.
Negative Reviews:
Jayne (UK): 2/5
The content is good but not outstanding. The hook of work and the low cost to the course is good. The lack of clarity on how they mark and assess above the tick boxes is the low point. Lack of clarity on the extent of editing V proofreading for the final assignments is poor. As marks are deducted for wrong comments it should have a consistent commenting section to the course. Tutors vary in what they teach in what should be the same tutorial. This ambiguity and lack of consistency in marking make passing the final assignment to gain work a game of chance.
Mrs. L C Lilly (UK): 3/5
I think the pre-marketing material slightly misleads potential applicants….if you pass the course (which is tough..you need 80%) then you will be offered a proofreading/editing role working for Proofed but a lot of the work Proofed has is mainly academic. The work is not simply proofreading in its traditional form – it also involves a lot of editing. If this is not what you're looking for, you may want to give the course a miss.
Having said that, the course content was really comprehensive in terms of grammar and spelling. A large part of the course focuses on editing academic work and the referencing systems required. It is easy to follow and well-written. It is interspersed with videos too which is helpful.
The support from the team is fantastic. They were brilliant, all the way along.
I would recommend the course if you're looking for a proofreading/editing role. If you only want to do traditional proofreading this may not be for you. If you love editing and proofing academic work, this is definitely the course for you!
Black Friday and Cyber Monday Deals – Click below to sign up for Knowadays Free Trial Today! (Use Code "Knowadays40" for 40% Off)
The BEST Proofreading Courses?
If you don't seem to find Knowadays a good fit for your proofreading career needs, I suggest you take a good look at its best proofreading alternatives below!
🏆 Best Proofreading Courses (2023) 🏆
🏆 Best Proofreading Courses (2023) 🏆
1. Proofread Anywhere
Proofread Anywhere is an online course for aspiring proofreaders to make proofreading a full-time job.
Caitlin the founder of Proofread Anywhere has been a proofreader for over 14 years. She has been featured in top publications such as Forbes, Business Insider, and The Penny Hoarder.
Caitlin's course is my second favorite course after Knowadays as it's one of the best in-depth proofreading courses with a great community and good customer service.  
So if someone like her creates a course, you should take a look at what she has to offer.
Caitlin is currently offering a Free 76-Minute Workshop where you'll learn:
5 signs Proofreading could be the perfect fit for you
The basics of proofreading
How to land huge clients & earn money from home
And much more…
Check out one of the best Proofreading Courses – Proofread Anywhere here!
Attend the 76-minute Free Workshop and then decide if the course is a good fit for you.
If you want to know more about the course, check out my in-depth review here.
While I like Proofread Anywhere and its course syllabus is top-notch, Knowadays is a bit sweet on the pockets, offers you a work guarantee after the course ends, and has more positive reviews than Proofread Anywhere.
If you want to compare Knowadays vs. Proofread Anywhere, you're in luck. I've recently compared both courses to help you decide the best proofreading course. Here's the comparison K vs. PA article. Enjoy the read 🙂
2. Proofread Like a Pro
Proofread Like a Pro is a course from Udemy that teaches you to be a proofreader. It takes a step-by-step approach to catch grammatical errors and be a kickass proofreader.
The course length is 105 minutes only, it won't be as detailed as the above proofreading courses, but for a beginner trying to understand what proofreading is and learn the basics, this proofreading and editing course will prove to be quite helpful.
Additional Knowadays Information
The above pages will help you understand what kind of support is provided by them, how much money you can expect as a proofreader, how often the course modules are updated (they update the modules regularly) and more in-depth information about Knowadays & their method to help you become a proofreader and editor.
Is Knowadays Worth It?
Would I recommend the Knowadays Proofreading Academy Course to a complete beginner wishing to learn how to be a proofreader? Absolutely!
Knowadays proofreading course excels in every aspect and that's what makes this course the best proofreading course of 2023!
Knowadays proofreading class is specifically designed in such a way that it suits beginners as well as intermediate proofreaders on their journey to becoming a proofreader.
With Proofed work guarantee, the chance of getting high-paid jobs (short and long term) is a whole lot easier. 
If paying for the course isn't an issue, I suggest you enroll in this Knowadays course and start making money as a freelance proofreader right away!
Bottom Line
If being a freelance proofreader has been on your to-do list for a long time and you aren't good at learning proofreading on your own, you need systematic guidance, the exact steps, tips, and tricks to be a money-making proofreader, and you want to start a proofreading career working from home; Knowadays Becoming a Proofreader Training is a great place to learn A to Z about Proofreading. 
And if you're still not convinced, think about the guaranteed work projects with Proofed that you'll get access to! That's icing on the cake, a lot of icing 🙂
Knowadays FAQs
Are Proofreading Academy and Knowadays the same course?
Knowadays was initially known as Proofreading Academy. They rebranded themselves as Knowadays in February 2022. During your research, if you come across Proofreading Academy, know that it's the same as Knowadays.
How Much Does Knowadays Proofreading Course Cost?
Knowadays costs $499 for their course – Becoming a Proofreader course while the Bundle Course (Becoming a Proofreader & Editor) costs $849.
You can get Becoming a Proofreader for a 40% discount using the code "Knowadays40". This promo code applies to all courses except the Bundle Course!
What's the difference between Becoming A Proofreading & Becoming A Editor courses with Knowadays?
In the proofreading course, the focus is on rectifying errors in spelling, grammar, punctuation, and tone of the context, whereas an editing course dives deeper into improving a text's overall quality, readability, flow, and structure, and may involve more significant content modifications. The top 5% of freelance proofreaders are master proofreaders and editors so learning both skills is vital to making a ton of money in this space.
Is Proofreading A Good Side Hustle To Make Money Online in 2023?
Yes, proofreading can be a great side hustle to make money online in 2023. The demand for quality content across various platforms such as websites, blogs, e-books, podcasts, and social media is ever-increasing for which clients pay well, and there is a constant need for skilled proofreaders so it's a good side hustle.
Feel free to leave your comments below if:
Also, If you want to learn what skills you need to be a transcript proofreader, you may want to check out my article in which I share 13 tips to improve your proofreading skills. Have fun reading!
Read this article in which I've compared the best proofreading courses in 2023!
Read Next >>> Most Common Proofreading Mistakes You Can't Afford To Make
Have you enjoyed this post? If so, you might want to subscribe to my newsletter. It usually contains life lessons and money-related topics, some interesting observations, links to articles or books I've read, and tips to be a better person. If you're interested in these things then subscribing will be simply wonderful 🙂 PS: Subscribe and Get your Freebie below!
Also, I'm a YouTuber now! If you're interested in Pinterest Marketing, Blogging, or business-related things, Subscribe to my Channel and I'll see you in the comments!