Transcription Certification Institute Review: It Is Legit?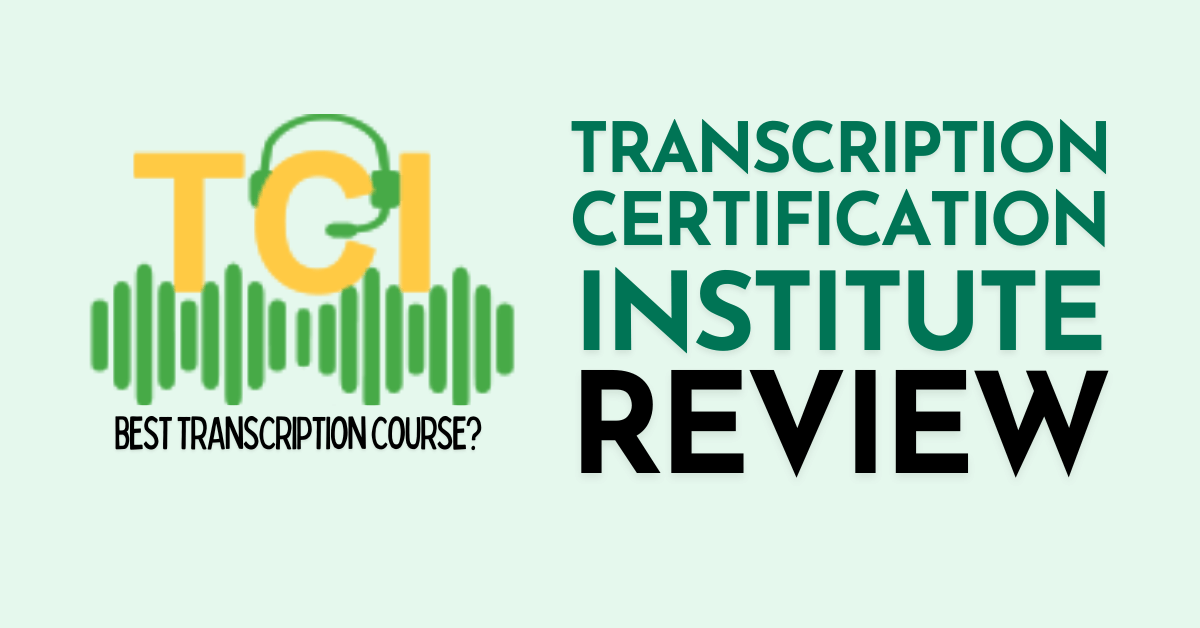 This article may contain affiliate links. If you make a purchase using my links, I'll earn a small commission at no extra cost to you. I appreciate your support!
Do you want to start working as a transcriber but don't know where to start?
You need a course that's not a waste of money, and that gives you a clear roadmap to becoming a transcriber and helps you to make money transcribing!
Meet Transcription Certification Institute!
Transcription Certification Institute offers an online transcription course for beginners and aspiring transcriptionists that's easy to follow and taught by experienced professional transcribers.
In this Transcription Certification Institute Review, I'll review every aspect of this comprehensive course to help you decide if this transcription course is well suited for you!
And I'll also answer the most important question – Is Transcription Certification Institute a value-for-money course?
Check out my Quick Summary and Verdict below to get the answer!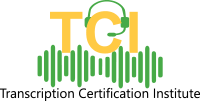 Quick Summary & Verdict
Ratings: 4.3/5
Content: 4.2
Customer Service: 4.2
Value For Money: 4.3

Bottom Line
Transcription Certification Institute is a content-rich course for beginners on a budget that want to invest in an online transcription course that will teach them everything about growing and making money as a transcriptionist. It's an expert leading institute that has a practical career-focused approach!

Fees Charged
$499 per month (part-payment: $199/month for 3 months)

Pros
Guaranteed Internship
Quiz After Each Lesson
Dedicated Job Board
Ongoing Career Support After Course Completion
Free Access to Accuracy Assessment Tool
Cons
No Free Trial
Better Transcription Course At the Same Price
What is Transcription Certification Institute?
Transcription Certification Institute (TCI) started its business in November 2008 to teach more individuals how to make money working from home as a transcriptionist.
They noticed that transcription as a career is in high demand, and they aren't many professional transcriptionists filling that gap.
That's when the TCI founder worked with a team consisting of a leading transcription company, experienced transcriptionists, proofreaders, and transcription supervisors to create a self-paced virtual transcription training program for anyone figuring out how to make money online and how to be a transcriber.
TCI General Transcription course is 100% online, self-paced, and available on the platform 24/7.
Is Transcription Certification Institute Legit?
Yes, the Transcription Certification Institute is a legit online transcription course for anyone looking to make transcribing a full-time career.
Transcription Certification Institute offers lifetime access to all course lessons, HD video lessons, and training materials, along with self-assessment quizzes for each lesson, lots of transcription audio files (for each level of difficulty), and resources (free transcription software, tips, and strategies).
Along with all these benefits, transcription companies offer their knowledge, tips, and framework on hiring transcribers, and how to build a career transcribing.
You're also entitled to a digital certificate after passing the final exam at the end of the course.
If you get 80% & more in the final exam, you're also eligible to enter their Internship Program where transcription companies like GMR Transcription hire TCI transcribers to work with them for transcribing 5 hours' worth of audio files.
And after completion of the internship, these companies also provide you with a letter of completion and agree to be a reference for future paid transcription work.
And the buck doesn't stop there!
If you perform exceptionally during your internship at said transcription companies, you can expect a job offer post-internship.
Yes, think about getting a job from a huge transcription company right after your internship!
Let's say you don't get the job after your internship, no worries, cause Transcription Certification Institute's Job Board is there to help you get a transcription job.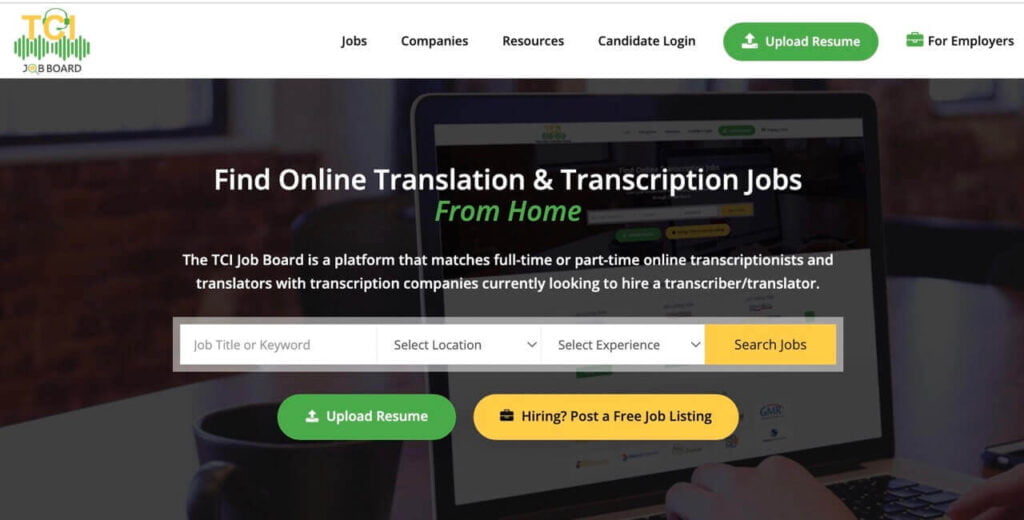 Upload your resume, reach out to companies during job openings, and show your transcription skills!
And did I mention that you get a Program Manager who's available to support you during your studies and assist with any administratively related queries!?
For all the legal transcription folks out there, Transcription Certification Institute also offers bonus materials that include a glossary of common legal terms and templates to help you understand court formatting.
For all USA folks, you can directly get into the course, BUT if you're located outside the US, you're required to pass an English Test before enrolling.
The test is done simply to ensure that everyone, that enrolls in the course has good language skills, as TCI will be giving access to internships and job boards to their students, and they only want people who have basic English skills to enter their Certification Program.
I gave the English Test, which has 12 questions, I did fail once but passed the second time. FYI, the test wasn't so easy! I recommend brushing up on your skills before you give the test. It won't take up too much time!
If you fail the test once, use another email address to try the test again, the same email won't work!
And if you still don't pass, then I recommend opting for Transcribe Anywhere Course (check their Free Workshop) as it doesn't have restrictions like this and is actually a much more value-for-money transcription course (check out my full Transcribe Anywhere review here)
Here's an image of why Transcribe Anywhere is a great course!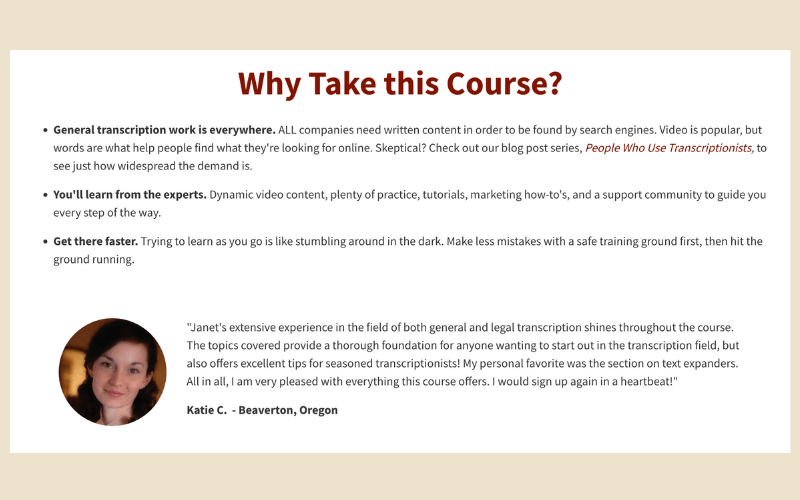 Transcription Certification Institute Cost & Refunds Breakdown
The Transcription Certification Institute has a straightforward cost system for all their fellow transcriber.
Transcription Certification Institute Costs: $499 (Part-Payment – 3 payments of $199).
Transcription Certification Institute Payment Options
They accept major credit cards and Paypal accounts.
Most families have at least one credit card, and most of them also have a PayPal account, so the payment process to purchase the course should be seamless!
Transcription Certification Institute Refund Policy
The Transcription Certification Institute offers a Full Refund for their course on two conditions:
You have paid the full amount beforehand
Your request for a refund in writing before Lesson 4
I'm glad they've kept conditions on their refund policy because some course companies offer 100% refunds without any terms & conditions, and what ends up happening is people refund the course after completing the entire course, for silly reasons, just to save their money!
That's wrong, and it affects the course company as they put all their efforts into training you while you rip them apart by taking their income.
As long as you ask for a refund in writing before Lesson 4, you're good to go! You'll get the entire amount back!
Transcription Certification Institute Course Breakdown
The Transcription Certification Institute includes 15 general transcription lessons, which will train you to become a professional top-notch transcriptionist.
Below are the fifteen transcription lessons they offer:
Lesson 1: Transcription Tips
This lesson includes an overview of transcription, what is transcription, the different types of transcription, career opportunities within the field, equipment needed for transcription work, and tips that will help you when transcribing.
The lesson also explains the importance of accuracy, formatting, and other important factors involved in being a transcriber.
Read More >>> 13 Tips To Start And Grow A Transcription Business!
Lesson 2: Speech
Figuring out English grammar helps you organize and communicate speech into sentences, phrases, and clauses.
Mastering speech and grammar basics is crucial so pay close attention to these grammar-related lesson plans.
Lesson 3: Punctuation
You will learn about foundational rules that will make your writing more professional, readable, and clear.
Figuring out Punctuation can be a high-value skill that can take any average transcriber into a well-rounded professional transcriber.
Lesson 4: Interruptive Dialogue
A lot of audio clips have multiple speakers that interrupt each other; it can be difficult to transcribe these types of files accurately.
This lesson will provide tips and rules on transcribing interrupting dialogue.
Transcribers need to improve their listening skills by practicing audio transcription (try listening to audio files with a poor-quality headset or at 50% of the volume making it difficult to hear).
Lesson 5: Sentence Structure
This lesson will help you recognize basic sentence types, increase your knowledge of English, and help you transcribe more accurately.
Lesson 6: Proofreading
Proofreading is an essential skill for any qualified transcriptionist.
No matter if your company has a proofreader or not, you should always proofread all documents after transcribing them.
Lesson 7: Keyboard Skills
Being good at keyboard skills is not just about being fast! It's about typing accurately and knowing every key inside out!
This will increase your typing speed and also allow you to access your programs and documents faster.
I recommend focusing on keyboard skills, as this will play a huge factor in how good a transcriber you are!
Lesson 8: Regional Accents
This lesson will give you tips on how to transcribe heavily accented speakers, so your transcripts can have the highest accuracy possible, even as you learn transcription.
Lesson 9: Microsoft Word
The MS Word lesson is a very detailed tutorial on the program. It has been carefully prepared to make you familiar with the tools of the newer version of the Microsoft Word format.
Most, if not all, transcription companies require you to transcribe your documents into Microsoft Word format, so it is imperative to complete this lesson and start working with MS Word like an expert!
Lesson 10: Time Management
You may end up working for several transcription companies as an independent contractor/freelancer and may find yourself juggling several projects along with your household commitments and other personal commitments.
This lesson gives many time management tips that will help you organize and maximize your income when working for transcription companies on several projects.
Lesson 11: Getting a Job in Transcription
This lesson will help you prepare for getting a job as a transcriptionist.
This includes tips on what will be required of you when you apply to work with different companies.
This lesson will guide you on expectations, after receiving a contract from the client, and how to best complete this process.
Lesson 12: Verbatim vs. Non-Verbatim
This lesson will teach you the difference between verbatim and nonverbatim transcription and will list some of the different circumstances in which verbatim transcription is required.
It will give you tips that will help when transcribing verbatim and non-verbatim, and guide you on what to include in both transcript types.
Lesson 13: How to Be a Professional IC
Here you'll learn how to be a professional independent contractor.
You will learn tips, schedule time & track assignments as an IC, and will specify the importance of meeting deadlines.
This lesson plan will help you enhance your communication skills and will guide you on how to be available and open to different assignments.
Lesson 14: How to Make the Most Money
This lesson focuses on how to make money as a transcriptionist, what jobs to take, how to improve your speed working, increase hourly rates, manage taxes, create an income spreadsheet, and other tips that will help you structure your business properly.
Final Exam
Once you're done with all the transcription lessons, it's time to give the final exam.
Now the final exam is not a joke so if I were you, I'd prepare myself by practicing all the advanced skills I've learned well before the exam!
The Final Exam consists of several audio files that you will need to transcribe accurately. It is recommended to download all the materials they give you, then transcribe.
As long as you follow the instructions and transcribe the audio files properly, you should have no problem getting 80% and above.
Steps to Transcribe for the Final Exam:
First, transcribe the audio file into text
Then proofread the text and rectify any mistakes, spelling & grammatical errors
Try to type quickly and finish with speed (while also ensuring you don't make silly mistakes)
Upload the file for grading once everything's done
Once you upload the document, the TCI Grading Department will email you your results in 2-3 business days during which you will receive personalized feedback on your transcript.
There are many final exam tests, so TCI recommends finishing one test, submitting it, letting TCI experts grade you on it than opting for the next test.
That way you won't repeat the same mistakes which increase your chances to achieve 80%.
Pros and Cons Of TCI
Pros
Guaranteed Internship
I can count on one hand the number of make-money-online courses that offer jobs or internships!
The great thing about Transcription Certification Institute is that it offers guaranteed internships with a transcription company to individuals who reside in the USA and score 80% and more on the Final Test.
Now the internship provided is unpaid, which means you will work for free for the transcription company that hired you (If the company likes your work, they can offer you paid work after the internship).
That's a negative, but here's why I recommend you do the internship with Transcription Certification Institute:
Post Internship work, the transcription company provides you a letter of completion and agrees to be a reference for future paid transcription work.
Get Real-Life Work Experience by transcribing five hours of audio
Builds your transcription portfolio
At least it allows you to work as a transcriber (which helps you build your portfolio). So that's a win for me!
Quiz After Each Lesson
TCI is quite practical in terms of its course modules, thus it challenges you with a quiz after every lesson you complete.
You can retake these quizzes as many times as you like.
This will help you to brush up on your skills and prepare for the final exam.
Dedicated Job Board
They have a Job Board where you can upload your resume (even if you're not a certified transcriptionist).
Transcription companies registered with TCI's Job Board will get a notification about you if you match their specific requirements.
When transcription companies post jobs on the portal, transcriptionists also get notified, which helps you as a transcriber grab the opportunity as soon as you get in.
The User Interface is great, and there are some huge companies like GMR Transcription, Crimson Interactive, Geneva Worldwide, Speechpad, etc.
Frankly, the TCI Job Board is not the best way to make a full-time income as a transcriber, but as a beginner looking for some practice, making some money, and building your portfolio, I think the TCI job board is quite good.
Ongoing Career Support After Course Completion
Another plus point of TCI is that they offer career support even after you finish the course.
I like companies that offer their services long after we finish their course and exam, so good job TCI.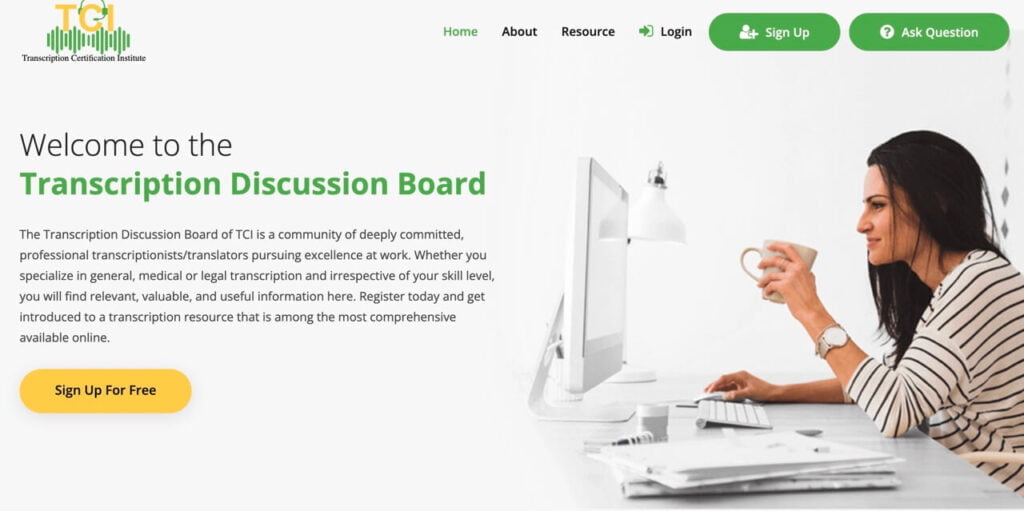 They also offer a Discussion board where you can reach out or talk to like-minded transcribers about how they're doing, tips, what works for them and what doesn't, etc.
While the Discussion Board is not as active as one might expect, it has some active members to clear your doubts.
Free Access to Accuracy Assessment Tool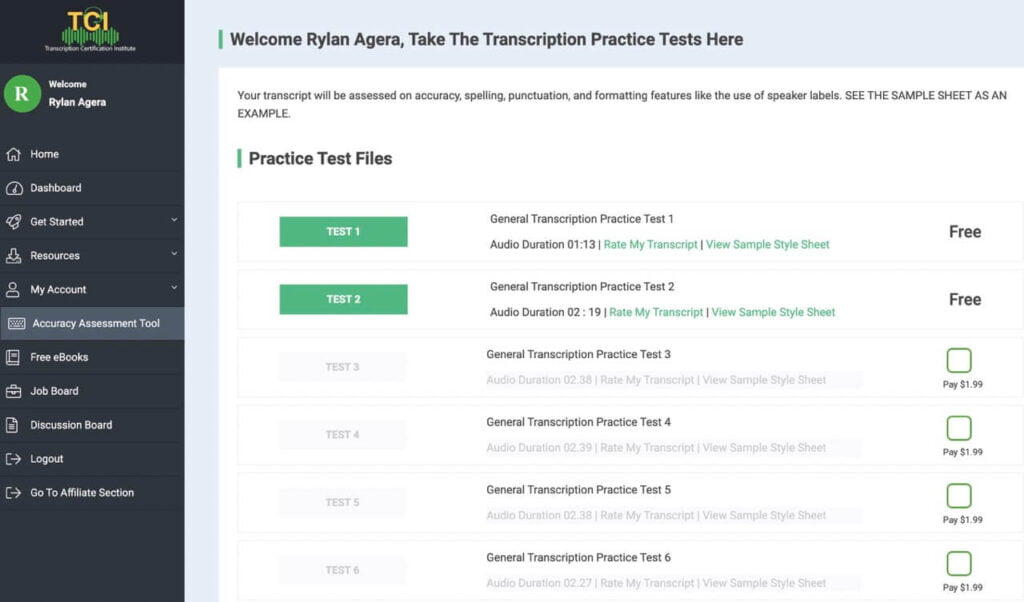 The Accuracy Assessment Tool is for beginner transcribers who wish to test their knowledge and abilities by practicing on real transcription files while receiving results & feedback right away.
This tool is designed to help you brush up on your skills. You'll be assessed on precision, spelling, formatting, and typing speed.
The entire process is automated, so there's no room for errors in this tool.
Accuracy Assessment Tool also has a WPM Counter to assess your typing speed which will show you areas of improvement.
You can access two transcription tests for free while, for the rest you need to Enroll in the TCI Course.
Cons
No Free Trial
As an individual new to transcription who's not sure if Transcription Certification Institute is a good course or not, I would be happier if there was a free trial of the course or a free workshop that shows me the basics and gives me an overall idea of how the course works for me.
TCI does not offer any free trial, so I would recommend purchasing the course only if you're sure about it!
No worries, as if you change your mind later, they do offer a 100% refund policy.
Better Transcription Course At the Same Price
While TCI seems like a good course what I feel it lacks is the price point it's at!
At $499, I expect the course to offer much more support and content.
Transcribe Anywhere is another online transcription course that charges $497 for General transcription and is much better, more reliable, and trustworthy than TCI.
Janet the founder of TA has been a transcriber for over 20 years and the course she offers is Gold Standard so while TCI is a good course, when compared to other courses at this price point, it doesn't stand a chance as Transcribe Anywhere is the best transcription course I've come across.
Check out their Free Workshop to get the exact framework to be a transcriptionist in 2023!
Positive & Negative Transcription Certification Institute Reviews
Below are some reviews that I found online on TCI! The average review on Repugen is 4.4, which is great!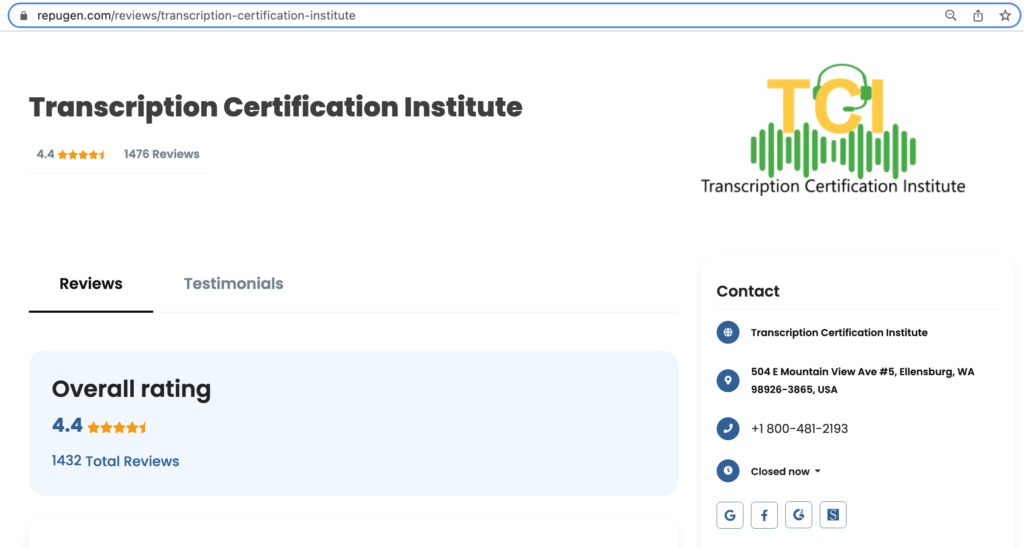 D.Lavelle – I recently completed my general transcribing training through the Institute and feel confident about my abilities as I start my new career. What I really appreciated was the quick response I received when I had questions and the variety of topics the lessons covered. I feel the training I received was the start I needed to succeed in this field.
Nicole Chrish – The instructor was very clear, concise and to the point. For someone like me, who is aware of transcription but hasn't really done work transcribing and would like to start, the course is a great starting point. It does tell you a lot of what you may know, but puts it in perspective for transcribing. Overall, am glad I did take this course, and am looking to being general transcriptionist.
Tiffany Springstead. – It's so easily explained! I love what you've done with this course as far as set up and presentation goes. Keep up the good work and no-one will have to worry about being able to understand the lectures.
Suezzanne Kamau – I am new here and I love it. I love venturing in it.
The BEST Transcription Course Online?
There aren't many good transcription courses out there, but the one true competitor to and the best transcription course on the planet has to be Transcribe Anywhere!
🏆 Best Transcription Courses (2023) 🏆
🏆 Best Transcription Courses (2023) 🏆
Transcribe Anywhere
Transcribe Anywhere is an online transcription course focused on teaching you how to become a professional transcriptionist.
Transcribe Anywhere was created by Janet Shaughnessy, a transcriptionist and entrepreneur with over 20 years of experience as a successful transcriber.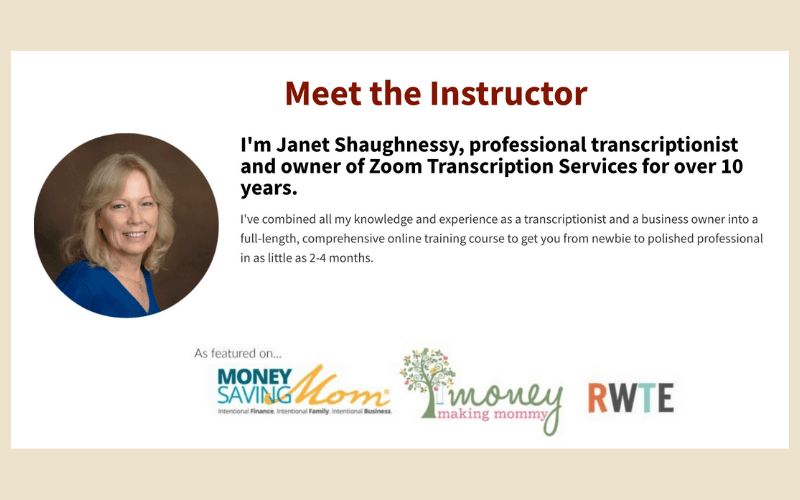 She is the owner of Zoom Transcription Services, where she offers professional transcription training to general, legal, and medical transcriptionists all over the globe.
Transcribe Anywhere is the only online transcription course certified and approved by the AAERT (American Association of Electronic Reporters and Transcribers), which makes this course much more valuable than any other transcription course on the planet (Not Kidding!)
The courses are self-paced, include 6 In-Depth Modules, personal support, and offer bonus course material to help take your transcription business to the next level!
Pros:
Accredited by the AAERT
Lifetime Access, Facebook Group & Course Updates
Free 7-Lesson Mini Course
Practice Dictation Files
Dives Into Marketing Your Business
Cons:
Time Investment Required
No Money-Back Guarantee
Transcribe Anywhere has a stellar review, as students enrolling always say good things about Janet and her amazing team.
The course costs:
General Transcription: $497.00
Legal Transcription: $597.00
Both – General Transcription & Legal Transcription: $797.00 (Save $297)
I recommend picking Both Courses (General & Legal Transcription) as you'll get so much more guidance and save $297, as individually purchasing General and Legal Transcription costs $1094!
So is Transcribe Anywhere a course worth exploring?
I believe it is, simply because the amount of information they offer for the price (which seems a lot, but considering the modules, support, and other things is a steal) is simply amazing!
I've written an in-depth Transcribe Anywhere Review. I'm sure all your doubts about this course will be answered there!
If you're not clear about Transcribe Anywhere, I recommend signing up for their Free Workshop, that way you'll get a good idea of how Transcribe Anywhere works.
If you've made up your mind about this transcription course, Check Out their Sales Page (TA).
Is Transcription Certification Institute Worth It?
If you're a beginner who's on a budget and wants to invest in a transcription course that will teach you everything about how to grow and make money as a transcriptionist, I recommend choosing Transcription Certification Institute!
Note that this course is specifically suited for general transcriptionists, if you're planning to pursue legal or medical transcription, you will need some more training!
I recommend Transcribe Anywhere as they have dedicated courses for General and Legal transcription and are also certified by AAERT, which makes this the best online course for transcribers.
While this course is good, I do feel that Transcribe Anywhere is better especially as both courses are priced the same.
That's all from my side for Transcription Certification Institute Review!
Feel free to leave your comments below if:
Read More >>> How To Become A Transcriptionist (With No Experience)
Enjoyed this post? If so, you might want to subscribe to my newsletter. It usually contains life lessons and money-related topics, some interesting observations, links to articles or books I've read, and tips to be a better person. If you're interested in these things then subscribing will be simply wonderful 🙂 PS: Subscribe and Get your Freebie below!
Also, I'm a YouTuber now! If you're interested in Pinterest Marketing, Blogging, or business-related things, Subscribe to my Channel and I'll see you in the comments!
Transcription Certification Institute Review: It Is Legit?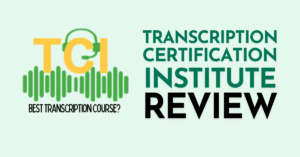 In this Transcription Certification Institute review, I'll review TCI online transcription course for beginners transcribers to help you decide if it's legit!?
Course Provider: Organization
Course Provider Name: Transcription Certification Institute
Course Provider URL: https://thesagemillennial.com/go/transcription-certification-institute/