The Best Proofreading Courses Online In 2023: Pros and Cons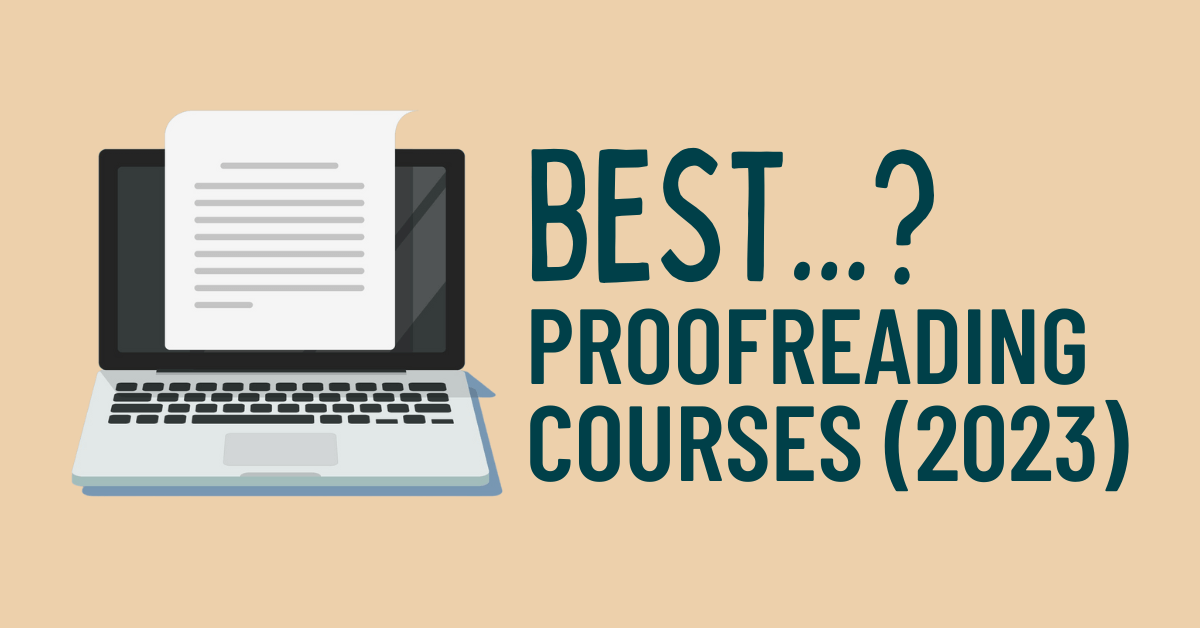 This article may contain affiliate links. If you make a purchase using my links, I'll earn a small commission at no extra cost to you. I appreciate your support!
The best proofreading courses on the planet have features that make them the best out there. 
The proofreading courses mentioned below are selected in this review after carefully analyzing the following features.
Comprehensive course
Value for money
Course Structure
Creative writing course
Customer Support
Positive Customer Reviews
Practical, Interactive & Modern Approach
Industry Standard and Up-to-date learnings
Easy Accessibility
I believe if an online course tick marks all or most of the features listed below, then that proofreading course is considered to be one of the top proofreading courses for 2023.
Keeping these points in mind, let's find out the best proofreading courses that you can use to make a part-time or full-time income as a freelance proofreader.
The BEST Proofreading Course?
My job is to find the best proofreading course for you! This includes spending a lot of time digging through these courses with a fine comb finding out what's good and what's not!
After spending tens of hours, I've picked two proofreading courses that I recommend to peers who wish to start proofreading as a career.
🏆 Best Proofreading Courses (2023) 🏆
🏆 Best Proofreading Courses (2023) 🏆
Best Overall: Knowadays (Proofreading Academy)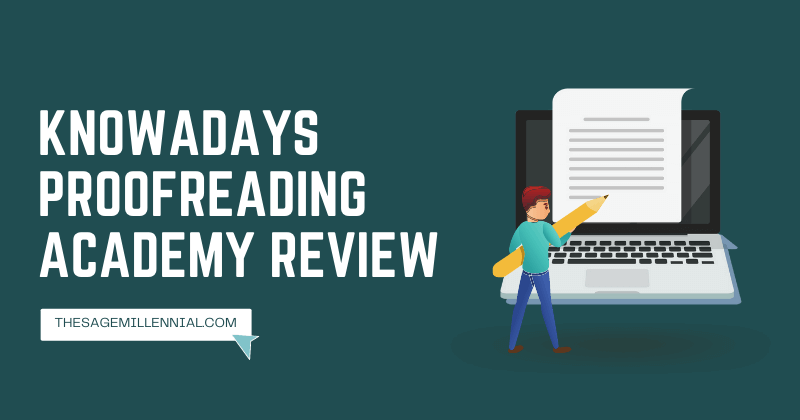 Knowadays (formerly known as Proofreading Academy) is a relatively new proofreading company offering best-in-class proofreading courses. 
Still, since its inception, it has created a one-of-a-kind system to teach beginners and established freelance proofreaders how to make money proofreading.
Knowadays knows what aspiring proofreaders need today because this course is not just packed with useful information to make you a successful proofreader quickly, but it's also well known in the industry and is taught by Ph.D. professors, and gives you guaranteed work post-course completion!
That's why Knowadays is the best proofreading course I've reviewed to date!
Pros:
Accredited By CPD (UK)
Courses written by Ph.D.-level industry insiders
Free Trial Access For Life
Guaranteed Work
Responsive Support Team
Detailed Syllabus and Fun Quizzes
Tutor-Graded Final Assessment
Proofreading Certification
Cons:
Must-Have Microsoft Word
Proofed may be Over-Hyped
No Talk about Proofreading Symbols
A Little Too Expensive
The course is comprehensive and best suited for beginners and established proofreaders eager to learn to proofread and make a career as successful freelance proofreaders.
So if you're looking for the perfect proofreading course that guarantees you a job at the end of it and is accredited by the CPD.
Accredited By CPD (UK)
Becoming a Proofreader Course is accredited by Continuing Professional Development (CPD) UK.
Being recognized by the CPD means the course meets all requirements to be one of the best and meets its symbol of quality and credibility.
That means this course is as legit as courses can be! 
You can show employers that you've taken a course that has been scrutinized to ensure integrity and quality by the CPD.
Work Guarantee At Proofed
Knowadays also gives you a work guarantee. 
It means if you successfully score 80 or more in their final assessment, you will be selected via Proofed to work on proofreading jobs. 
While it isn't easy to get 80, many freelance proofreaders have gotten into Proofed. 
Top performers working full-time are making $50K + while part-time earners make an average of $20K with Proofed.
So if you're willing to put in extra effort and are serious about making money as a proofreader in 2023, take the Becoming A Proofreader course today!
Time Taken to Complete Course
The course length is 50 hours which is broken down into 15 modules.
Knowadays gives you lifetime access to the course, which means it is a self-paced proofreading course. 
If your account is inactive for 90 days or more, it might get deactivated. 
In such cases, email the Knowadays team and they'll reactivate your account right away!
Becoming A Proofreader Module Breakdown
Module 1: An Introduction To Becoming A Proofreader
Module 2: Proofreading And Editing
Module 3: The Basics Of Microsoft Word
Module 4: Common Spelling Mistakes
Module 5: Common Grammar Mistakes
Module 6: Common Punctuation Mistakes
Module 7: Other Common Errors
Module 8: Proofreading In Practice: Style
Module 9: Advanced Formatting In Microsoft Word
Module 11: Academic Proofreading
Module 12: Academic Proofreading: Referencing And Citations
Module 13: Creative Writing And The Publishing Industry
Module 14: Proofreading Business Writing
Module 15: Finding Work And The Final Assignment
Knowadays courses are extremely comprehensive, easy to learn, and value for money. 
They explain all proofreading concepts, tips, and tricks that help any average proofreader become a professional proofreader in a matter of months.
Knowadays (Proofreading Academy) Cost
Knowadays Becoming A Proofreader Course Costs $499.
If you plan to purchase their course, use code "Rylan10" for a 10% discount!
At that price, this course is a bargain as it provides a lot of valuable proofreading skills along with lifetime access to the course and course materials.
Knowadays Becoming A Proofreader Refund Policy
The refund process is quite simple. If you wish to refund the course you should do so within 14 days of purchasing the proofreading course. After 14 days, no refunds will be provided.
If you wish to request a refund, you should email the team at [email protected].
Becoming A Proofreader Free Trial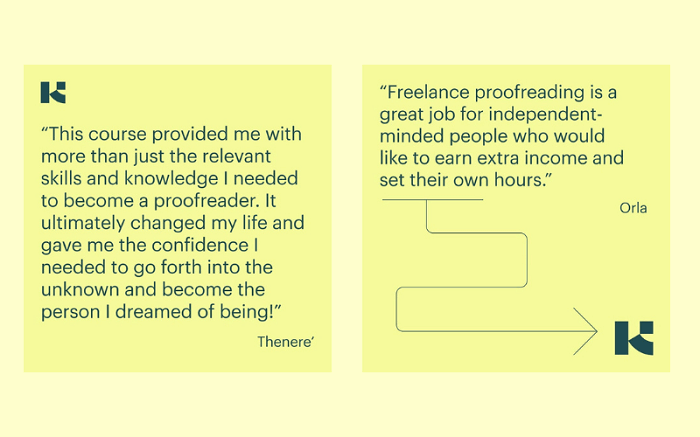 Knowadays team offers a free trial where you can binge-watch a part of their knowledge-packed course for free. 
After that, if you're interested, you can surely take up their course and be a full-time freelance proofreader.
Is Knowadays Proofreading Academy Worth It?
Is Knowadays course Becoming A Proofreader worth it? 
Yes, I believe the team has provided enough value in the course to justify the price. 
The course will get you ready with real-life skills to be the best freelance proofreader and make a full-time income proofreading.
Not only that, the course is accredited by CPD, and they also give you a guaranteed job.
If you want a more in-depth breakdown of the Becoming A Proofreader course by Knowadays, check out Knowadays Review.
I've also broken down each module to explain what they teach so you get better clarity before purchasing the course.
Best Overall: Proofread Anywhere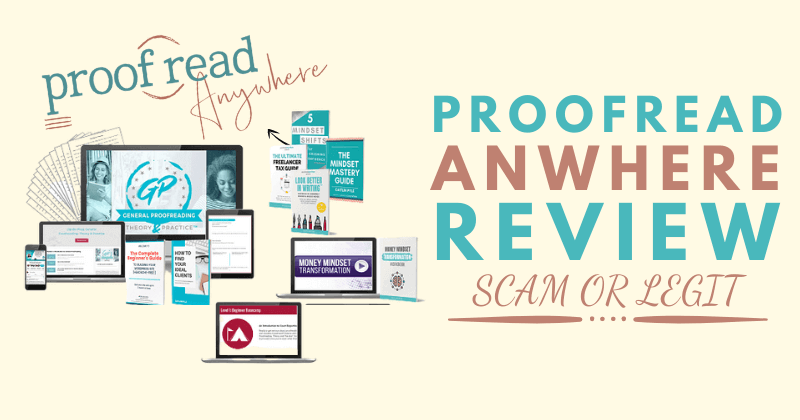 Let's start the list with my second pick for the Best Overall proofreading course. 
Proofread Anywhere founded by Caitlin Pyle has been one of the best proofreading courses on the market for a long time. 
Caitlin has been a professional proofreader for 15 years and has trained over 15,000 students.
Since 2014, Proofread Anywhere has been the leading provider for proofreaders to learn, grow, and make a full-time income proofreading. 
Pros:
Free 76-Minute Workshop
Facebook Community
Most Comprehensive Proofreading Course
Personal Guidance
Great Support Team
Cons:
A Bit Pricey
Learning Could Take Months
No Refund Policy
Time Taken to Complete Course
According to Caitlin and her team, the average course taker takes a month to complete the course but the course is entirely self-paced, meaning if you want to take 3 or 6 months to do the course, by all means! 
You also get lifetime access to the courses so you can rewatch things that you need further understanding about.
General Proofreading Course Modules Breakdown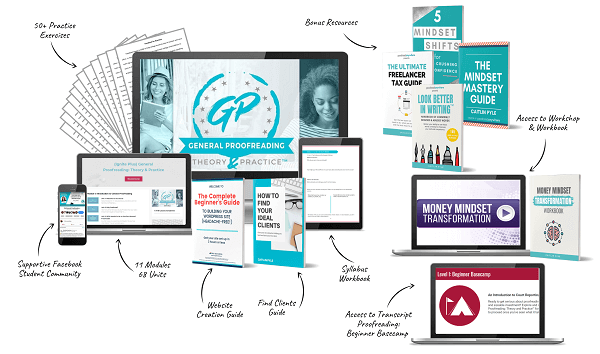 Proofread Anywhere's Course – General Proofreading contains 10 modules that dive deep into what is proofreading, the basics of proofreading, grammar, structure, punctuations, methods, tips, and strategies the best proofreaders use in 2023.
Module 1: Introduction to General Proofreading
Module 2: Grammar Refresher
Module 3: Sentence Structure
Module 4: Spelling and Word Use for Proofreaders
Module 5: Punctuation Principles
Module 6: Proofreading Methods
Module 7: Proofreading Practice
Module 8: Types of Proofreading
Module 9: Turning Proofreading into a Business
Module 10: Finding Clients
Caitlin's Course is quite comprehensive and suited for beginners and even established proofreaders with 5-10 years of experience. 
Why? 
Because she not only teaches you the basics of proofreading but also takes time to show you how the best proofreaders in the industry make money (through tips, methods, and running a business). 
Caitlin provides you with her proofreading guide which includes years of experience as a writer, proofreader, and editor.
Proofread Anywhere Cost
The course General Proofreading comes in two plans:
Ignite: $497
Ignite Plus: $597 (additional features – lifetime access to the Facebook group, hand-graded exam, certificate, listing in self-publishing schools, Marketing Mastermind Group)
Post Free Trial, they offer a $100 discount on Both Ignite and Ignite Plus Plans.
Proofread Anywhere Refund Policy
Currently, they don't offer refunds once the course is purchased. 
Caitlin and her team recommend that if you're not committed to following the course to become a proofreader, don't buy the course as if you change your mind later, a refund won't be provided.
If you're serious about becoming a profitable proofreader, then this course is for you! 
But if you're just seeing if proofreading can be a career you're interested in, then you might want to consider taking up a more affordable proofreading course – Knowadays (more on that below!)
Proofread Anywhere Free Trial
They don't offer free trials but if you wish to attend a completely Free 76- Workshop on becoming a proofreader and starting a freelance proofreading business, you should check out Caitlin's Free Workshop!
Post Free Trial, they offer a $100 discount on Both Ignite and Ignite Plus Plans.
Is Proofread Anywhere Worth It?

If you can afford the course, then Yes Proofread Anywhere is worth it! 
If you're interested in making a career switch or you've seen proofreaders make tons of money online, then Caitlin's General Proofreading course is just the right course for you. 
You'll learn essential proofreading skills that most proofreaders have no idea about thus giving you an edge.
If you want a more in-depth breakdown of Proofread Anywhere, I recommend giving my in-depth review a read – Proofread Anywhere Review. 
I've also broken down each module to explain what they teach so you get better clarity before purchasing the course.
Best Budget-Friendly Beginner Course
3. Skillshare: Editing and Proofreading Masterclass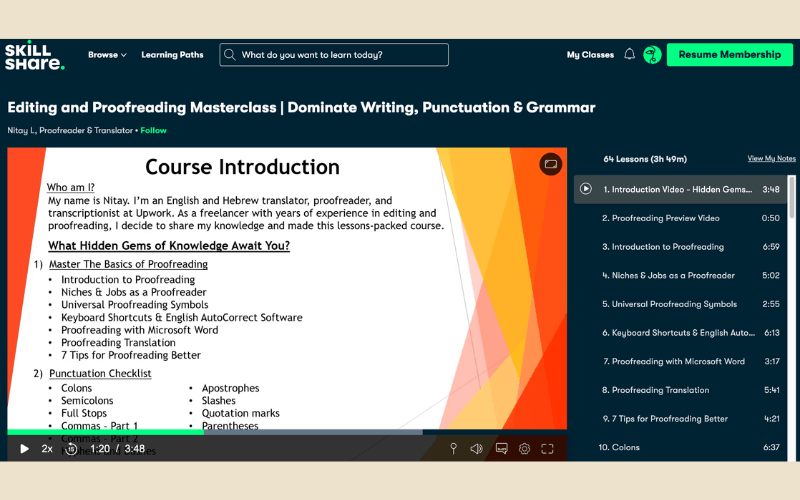 Editing and Proofreading Masterclass by Nitay who is an experienced proofreader working at Upwork for over 5 years. 
In this SkillShare course, Nitay teaches you how to proofread translations, and spot grammar, punctuation, and language errors. 
Nitay takes the course a step further by also teaching you editing using the best software and showing you how to make money through online job sites (Upwork) as a freelance proofreader.
The Proofreading and editing masterclass is almost 4 hours long and is self-paced with practice sheets to help you out.
Now, this course is surely not an in-depth full-on course like Proofread Anywhere or Knowadays but if you're thinking of entering the proofreading space and want to learn the bare minimum basics to get started, this Skillshare course is surely one of the best ones.
You'll need to buy a SkillShare plan which hardly costs anything and you'll also get access to thousands of high-quality courses on various topics. 
You can learn various skills to upskill yourself with SkillShare.
SkillShare is also offering 1 month free if you sign up using my link below! So hurry up and grab the offer before it expires.
4. Udemy: Proofread Like A Pro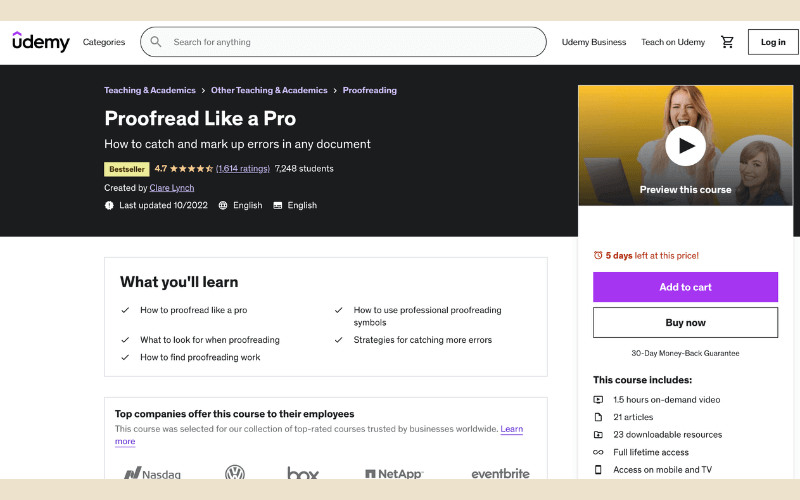 Proofread like a Pro is a course by Clare Lynch on Udemy. 
This course will teach you how to catch and mark up errors in any document and be a better proofreader. 
You'll also learn about proofreading symbols, how to find proofreading work and strategies to catch errors quickly. 
Again this Udemy course is a beginner's course (1.5 hours of video content) and will only teach you the basics.
If you want to see what a proofreader does and the type of work you'll be doing if you consider proofreading, then check out this course to learn some proofreading tips.
How Do I Become A Proofreader Online?
Anybody can become a proofreader with no experience. All you need is proper guidance from a professional proofreader who's made money proofreading for years. 
Proofread Anywhere and Knowadays offer you their top-selling course where they teach you how to become a proofreader from scratch. 
If you're serious about being a proofreader, I highly recommend picking one of these two courses to be a profitable proofreader.
Which Proofreading Course Is Best? 
Which online proofreading course according to me is the best proofreading course for you?
It all boils down to the two proofreading courses – Knowadays and Proofread Anywhere.
Knowadays Vs Proofread Anywhere
Course Quality Comparison
In terms of Quality, both courses do a great job of equipping their students with in-demand skills to be top-notch proofreaders. 
Both have good community support where you can ask questions, discuss with fellow students, and have an overall great experience with fellow proofreaders. 
But if I have to pick one, I guess it will be Knowadays since they're a newer company, they regularly update their course modules and I've seen their brand grow well. 
People who join Knowadays always talk highly of the course! I've also interacted with their team multiple times and they're always so good and friendly!
Cost Of Courses (Comparison)
While the course quality is almost the same, the cost for both these courses is also almost the same!
Knowadays Costs $499 (Use code "Rylan10" to get a 10% discount)
Proofread Anywhere Costs $497 (Ignite Plan), $597 (Ignite Plus Plan)
Attend their free workshop to get $100 off both courses. I recommend the Ignite Plus plan as it has a lot more things that make your proofreading journey much simpler.
As for my verdict, I think it's clear that Knowadays offers more for the same price and it would be a better option between the two.
That's said, Proofread Anywhere is literally amazing and has been in this space for quite some time, so I think it boils down to personal preference!
If you've been inspired by Caitlin and her teaching methods to start proofreading as a full-time career, you should pick Proofread Anywhere. 
If you want to compare Knowadays vs. Proofread Anywhere, you're in luck. I've recently compared both of these proofreading courses to help you decide on the best proofreading course EVER. Here's the Comparison K vs. PA article. Enjoy the read 🙂
Learning from someone who inspires you is an extra incentive to push harder.
Proofreading is a high-demand skill so I believe you should take up an online course that shows how to be a transcript proofreader or copy editor and start building your online proofreading business fast.
Read Next >>>
1. Most Common Proofreading Mistakes You Can't Afford To Make
2. 13 Tips to Improve Your Proofreading Skills​
3. How To Become A Transcriptionist (With No Experience)
Feel free to leave your comments below if:
You have a question or feedback
You need me to clarify something regarding the best proofreading courses
You wish to share your best Proofreading course review with everyone
I will get back to each one of you as soon as I can.
Enjoyed this post? If so, you might want to subscribe to my newsletter. It usually contains life lessons and money-related topics, some interesting observations, links to articles or books I've read, and tips to be a better person. If you're interested in these things then subscribing will be simply wonderful 🙂 PS: Subscribe and Get your Freebie below!
Also, I'm a YouTuber now! If you're interested in Pinterest Marketing, Blogging, or business-related things, Subscribe to my Channel and I'll see you in the comments!