9 Pros and Cons of Being a Transcriptionist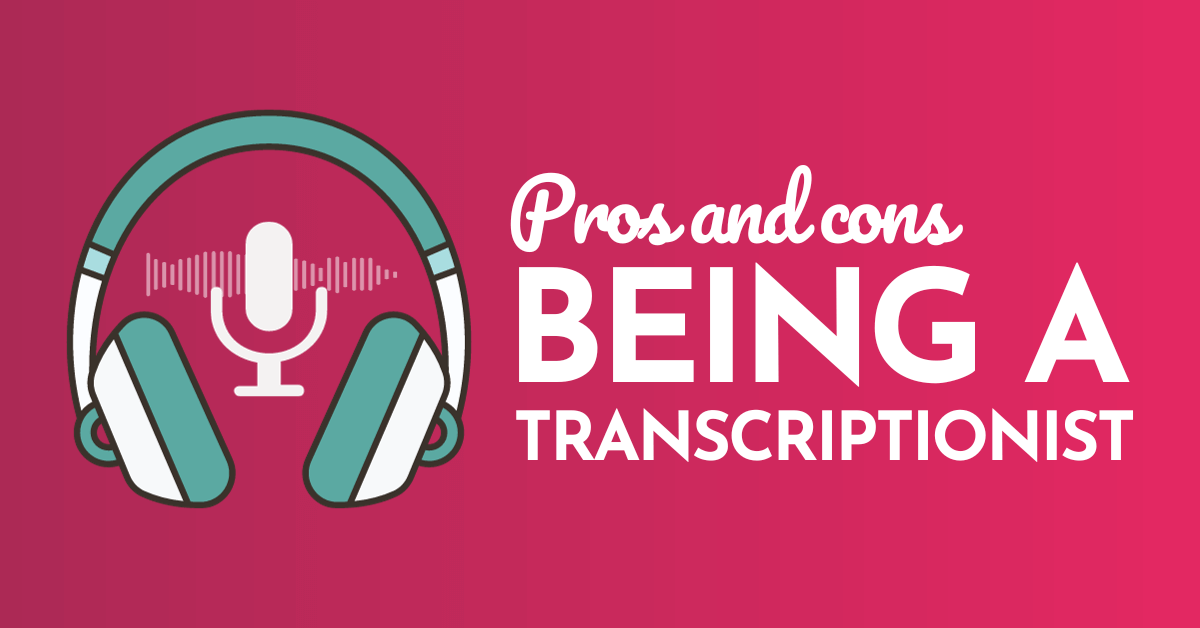 This article may contain affiliate links. If you make a purchase using my links, I'll earn a small commission at no extra cost to you. I appreciate your support!
If you're looking for a freelance job that pays off all your monthly expenses, helps you make money, and gives you the freedom to work for yourself anywhere in the world without a boss over your shoulders, then becoming a freelance transcriptionist is the best way for you.
That said, every job has pros and cons, which you need to know before you start learning these transcription skills.
I have some opinions about the upsides and downsides of being a transcriptionist, which I'll be sharing in this article.
Let's dive deep into the 9 pros and cons of being a transcriptionist online.
Quick Summary & Verdict
Transcription is a highly profitable industry for people who can type fast while listening to audio recordings and those who can multitask.

I believe transcription has more pros than cons simply because I know transcribers who make five figures a year working part-time. If I could start over, I would give freelance transcription a try.

But instead of figuring out everything myself, if I had money to invest in a course, I would enroll in Transcribe Anywhere's Transcription Course because it'll save a lot of time, but more importantly, I'll learn skills from professional experts and practice from study materials led by Janet who has over 20 years of experience in the transcription industry and has taught hundreds of transcribers how to make money transcribing.

Course Recommendation: Janet's Transcribe Anywhere Course (Free Training!)
Pros of Being A Transcriptionist
Here are the 5 Pros of being a transcriptionist!
Flexibility & Freedom
The most important aspect of being a transcriber is having the ability to be flexible.
You have the choice to work where you want to when you want to, and with whom you want to work. Having this much flexibility brings hope in the eyes of aspiring freelance transcriptionists.
I could sit at the beach and work for 3 hours a day or take client calls while traveling with my family.
Having the freedom to work anywhere while wearing my favorite shorts and T-shirt is something I cherish quite a lot.
I enjoy the comfort of working with just a laptop anywhere in the world. People who love pets also love working from home to enjoy spending time with their pets.
You Get to Be Your Own Boss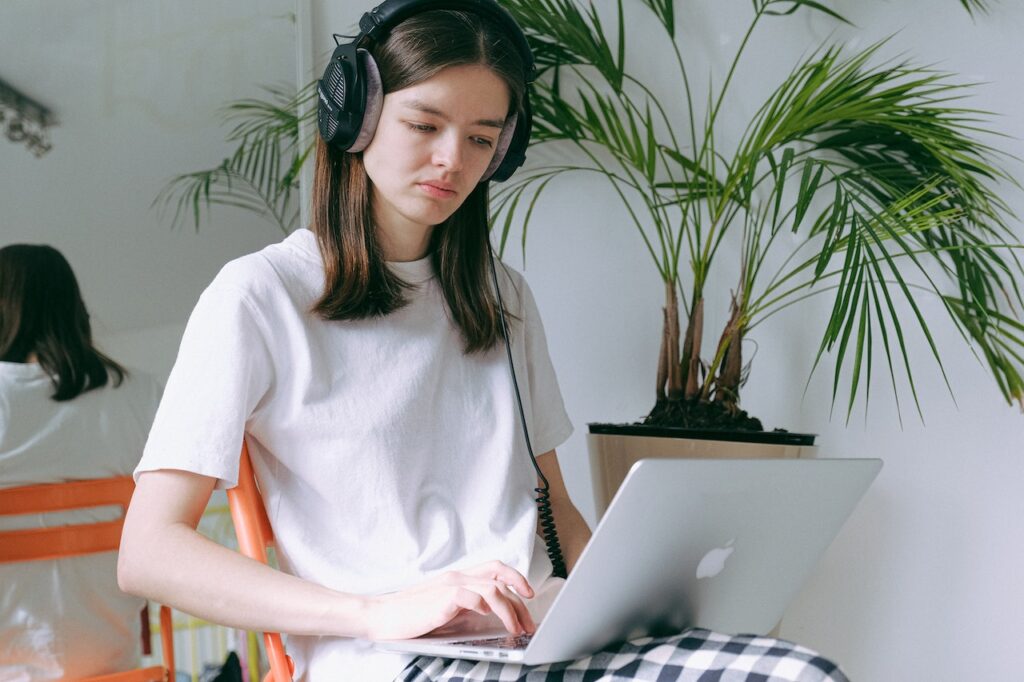 Having the freedom to make decisions and not ask permission from my superiors is another reason why so many people leave their 9-5 jobs as employees and take on transcribing as a full-time freelance career.
Being your own boss feels amazing! You call the shots as you see fit, and you do whatever you want at any point in time.
You can decide how much work you want to accomplish today, and how many hours you want to work today! You can work from anywhere, and wear anything you want (I usually wear my shorts and work on my YouTube Channel/Blog :)).
Easy To Get Started
Becoming a transcriptionist requires basic equipment like a computer, headphones, a good internet connection, and typing skills.
Your typing skills are something you need to be very good at, but apart from that, being a transcriptionist online is not rocket science.
Use websites like 10 Fast Fingers and Typing Test to improve your typing speed. You don't need advanced certification from colleges or specialized training of any sort.
But having specialized training from a professional transcriptionist with 20+ years of experience (like Janet Shaughnessy) certainly makes a lot of difference.
If you're a beginner and short on cash, you should start being a transcriber without any paid training. Just take the Free Training from Janet, use Google to learn transcription skills, and start working.
Once you're sure about medical, legal, or general transcription as a career, I 100% recommend giving the Transcribe Anywhere Course a try.
It teaches you so much more, and that ends up saving you plenty of hours to work more and get rich quicker. You won't regret purchasing it!
You Get To Choose Clients/Projects
When your boss gives you work, you can't say no to the project and pawn it off to someone else. You have to do it!
The best thing about being a general or a medical transcriptionist is that you choose which clients you want to work with. You make the call because you're the boss.
You also have the choice to work on any project you want to at any point in time.
Having the freedom to choose with whom you work and what projects you focus on is something most employees don't get.
Transcribers Make Good Money
While there is no certain fixed income earned as a transcriber, the amount of money most professional transcribers earn is pretty good.
Experienced expert transcriptionists earn a hefty 6-7 figure income (the best of the best transcribers!).
As freelance transcription is a business, the sky is the limit in terms of the money you earn. Work well, and you might touch the sky one day!
Cons of Being A Transcriptionist
Here are the 4 Cons of being a transcriptionist!
Transcribing Can Be Challenging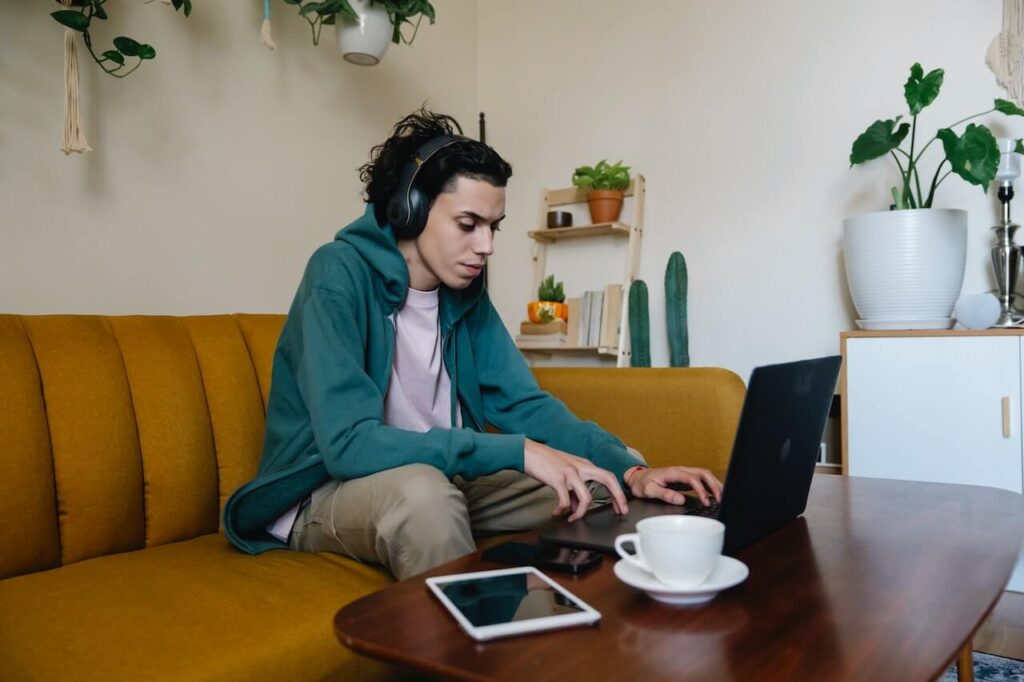 One of the most important skills of a freelance transcriber is to type fast while listening to the audio recording. Learning this skill sounds easy, but it's not!
Your clients need transcribers who are fast at typing and listening to audio simultaneously. Not just that, there are tons of essential skills a skilled transcriber must have.
87% of transcribers are below average in the industry and thus don't end up making a full-time income as a transcriptionist.
If you want a career in transcription, I recommend learning these skills properly. Using Google to learn is a great way to get started, but sooner or later, you'll need to learn from professionals in this field.
I recommend checking out Transcribe Anywhere's Free Workshop to do just that.
Transcribe Anywhere is the best transcription course on the planet taught by Janet Shaughnessy that dives deep into everything related to transcription.
Transcriptionists who've enrolled in their course usually make a five-figure income almost instantly.
Enroll for their free training first, you'll learn a lot of things about the transcription industry. Then if you have money to spend on a course, I highly recommend this one.
You can also read my in-depth review on Transcribe Anywhere here.
Transcription Can Be Monotonous
Transcription can be monotonous due to the repetitive nature of work.
Listening to audio recordings and converting them into written text while sitting the entire day is not that easy, especially when the audio file is something you have no context about.
Transcribing requires focus, constant typing, and high accuracy, all of which need you to be alert and active at all times.
Experienced Transcribers who enjoy working as a transcriptionist don't stick to the desk all day long.
They take breaks, go for walks, watch series to get distracted from work, and relax. Most importantly, they diversify the type of transcription work they get to combat the monotony.
Related >>> 13 Tips To Start And Grow A Transcription Business
Transcribing Can Cause Fatigue
Transcribing involves staring at a screen for hours and hours, focusing intensely on writing text and ensuring accuracy by listening to the audio recording at hand.
The increase in screen time, high concentration levels at all times, constant audio playing in the ear, and then proofreading the written text to rectify errors put significant strain on the eyes and overall fatigue.
The more you work, the easier being a transcriptionist will be, but to ensure you work comfortably, ensure you have proper ergonomics (comfortable chair, sturdy table, good quality headphones, and transcription software if needed), regular eye and body exercises, and short 5-minute walks every one-to-two hours.
Managing your workload and working in a comfortable environment can massively minimize ear & eye strain, and body fatigue that comes with transcription.
You May Experience Loneliness
The sad truth about being a transcriber is that you can experience loneliness. That's because you work alone with no social interaction.
You may not understand the feeling of isolation and loneliness in the short run, but the more this prolongs, the higher the chances of you feeling dull.
To tackle this, ensure you head out every day for a walk, meet your neighbors/friends, or go out for groceries.
Do something that keeps your social life active; trust me it helps!
How to Be An Online Transcriptionist: FAQs
How to Find Transcription Jobs Online?
There are many ways to find transcription jobs online.
But first, finding online transcription jobs involves creating a compelling resume or portfolio highlighting your skills and experience as a freelance transcriber.
Once you have that, use freelance platforms like Upwork, Fiverr, and Freelancer and transcription companies like Rev and TranscribeMe.
Use LinkedIn to network with companies interested in transcription services. Sending cold pitches to potential clients is another way to find clients.
Once you get a few clients, ask them for their reviews and areas of improvement and also ask them to recommend you to their business friends.
That's another easy way to get more clients and make more money as a transcriptionist.
Is Transcription a Stressful Job?
Transcription can be a stressful job due to factors like ear and eye fatigue, tight deadlines, and long hours of sitting.
That said, experienced transcribers don't get stressed out too much due to proper systems in place designed to ensure they don't overwork.
The best way to reduce stress is by ensuring you take up less work and give yourself free time to relax and do the things you enjoy.
Is Being A Transcriber Worth It?
Being a transcriptionist is certainly not an easy job. It offers a ton of benefits over a traditional job, but there are certain disadvantages that you can't ignore.
I would prefer working as a transcriptionist if I wanted to escape my 9-5 job or if I'm looking to make money as a side hustle.
If you're confused about whether transcription is the right career path for you, I suggest giving Janet's Transcribe Anywhere Free Training a chance where she'll give you a complete walkthrough of how transcription works and how to make money transcribing.
Read More >>> How To Become A Transcriptionist (With No Experience)
Enjoyed this post? If so, you might want to subscribe to my newsletter. It usually contains life lessons and money-related topics, some interesting observations, links to articles or books I've read, and tips to be a better person. If you're interested in these things then subscribing will be simply wonderful 🙂 PS: Subscribe and Get your Freebie below!
Also, I'm a YouTuber now! If you're interested in Pinterest Marketing, Blogging, or business-related things, Subscribe to my Channel and I'll see you in the comments!