How to Start an Online Magazine In 2023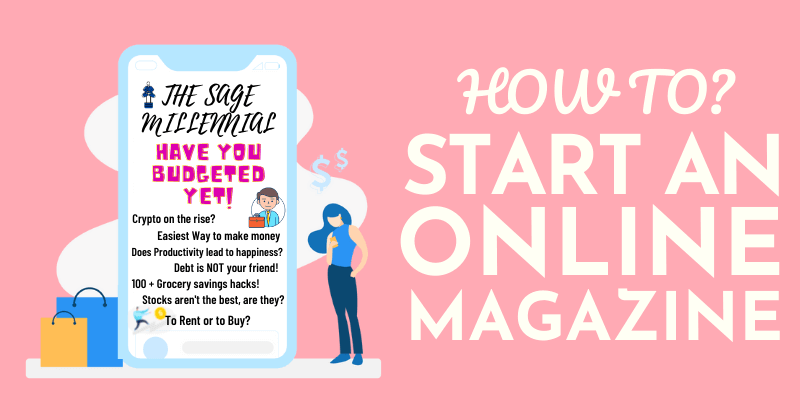 This article may contain affiliate links. If you make a purchase using my links, I'll earn a small commission at no extra cost to you. I appreciate your support!
An online magazine is nothing but your traditional print magazine digitized due to the internet. Today people need topics on the go, so the time to wait for a new magazine to knock on our doors isn't the most appropriate option. 
That's why the rise in digital magazines has come into play. You can easily read them on your phones, laptop and tablet devices.
But wait, what do you call them, eMagazines or digital magazines or online magazines or online publications? Basically, they all mean the same thing so don't mind me when I use all these words in my article.
In this article, I'll walk you through my '8 Step Successful Formula to Start and Grow an Online Magazine from Scratch'. I'll also be sharing some practical tips that could benefit you once I'm done with the steps.
It's going to be a long and informative article so I suggest you take notes, paper notes will do 🙂
Are Online Magazines Popular?
Keeping aside the fact that online magazine publishing saves paper cost and transportation cost (both help the environment get better), online publications are so popular because you can easily infuse more colour, more graphics and a better viewing experience on multiple devices.
People get instant access to the latest news and trends happening straight to their inbox. The content they read has gifs, videos that help make the digital magazine more interactive and fun to read.
Companies love digital magazines because it's an easy way to reduce costs and serve their magazines on an ever-broader scale.
Are Online Magazines Profitable?
Back in the day, print magazines had fewer options to make money, like banner ads and subscription fees, etc.
Digital magazines are much cheaper than print magazines as you don't have to spend a dime on printing costs as well as transportation costs.
In all, profitability is easier and much faster when compared to print magazines. That's why many traditional publishers have created a digital edition of their magazines. 
But whether online magazine publishing is profitable or not depends on your financial situation (costs).
How much are you spending versus how much income you're generating. Startup costs in this business are high, as you need to hire a huge staff for various aspects of your magazine.
If you rely only on a subscription model to make an income, making profits will come tough. Instead, diversify your revenue streams so your earning potentials increase.
This should offset most of the high costs; in the short run you may not earn a high income but once you gain a huge audience that reads your articles, making millions isn't impossible.
My best suggestion is to focus on creating a huge loyal audience that trusts you and loves your content. Once you're there, you could make money through webinars, courses, e-books, digital & physical products and so much more.
You'll learn about the different types of revenue streams when we get to step 7.
8 Steps To Start A Popular Online Magazine
1. Niche Down To Choose A Topic
Research your audience's interests, figure out what they like, and dislike, what topics keep them focused, and what topics they run away from.
You also need to find out how big your market is. If there aren't many people interested in topics that you feel are interesting for your magazine, your earnings will also be below.
You also need to consider your personality when choosing a niche. After all, you're the one running the entire operation. If you don't know the industry extremely well, success is going to be tough, very tough!
So choose a niche topic that you like, your audience likes, make sure you have enough people interested in the topic, and figure out at least 3 ways to make money. 
2. Write down your Goals for this Magazine
Your goal to start an online publication in 2023 could be to make money or it could be to grow a large audience or grow your personal brand (your name) or raise awareness about a topic that's close to you or you want to work with advertisers and create a loyal following. 
It's best to write down your business goals as it helps make your agenda simpler. Your thoughts are aligned with your actions and flow in the same direction.
For example, let's assume your goal to start a digital magazine is to make money, you have a situation – You could get a big brand to work with you on the condition that you give them a hefty discount.
If your goal is solely to make money, agreeing to this decision may not be the best choice but if your goal is to work with big brands and grow your personal brand, this might be the right choice.
Yes, you wouldn't make money but you will make yourself more valuable in the market.
3. Hire Writers and Editors
The secret sauce behind an excellent magazine is the write-up you'll find inside the magazine.
Writing so much content alone is impossible for a single person. You need to have a group of good writers who can write content without your presence.
Spend some time conducting interviews and talking to people who are writers in your niche.
Ask them to showcase their portfolio, figure out their writing style and see if it does justice to your magazine's look and feel.
Sage Tip: Use Google Docs to write your drafts, it's easy for editors to edit and share.
Do you want your writers to write in a flow, to be formal or informal, casual or business-oriented language, spicy or subtle yet punchy; there are a bunch of aspects you need to look at when hiring a writer.
If you write down your aims and goals as we discussed in step 2, answering these questions should be fairly simple. 
Just like you need top-notch writers, you also need editors. An editor can bring out the shine in a bland article. Your writer will write a good article but your editor will take that article to the next level.
They correct grammatical errors, check for spelling mistakes, and improve words by using synonyms (for example, good can be satisfactory or great or awesome or stunning). They also restructure sentences to beautify them so readers can be more engaged with the online magazine.
Your writer could be your editor but your editor will provide a fresh perspective to the written matter, anything that doesn't make sense will be scrapped and anything that does make sense will be given a boost which won't happen if your writer is your editor.
4. Prefer Websites to Host your Digital Magazine
When most people think of online magazines they think of PDFs or flipbooks as their front.
The problem is that they aren't customizable nor do they adapt to your screen size. Font size remains constant and if you try enlarging images, it gets blurry.
In all, using PDFs and flipbooks might be easy but it's not the most comfortable option for your subscribers. An Online Hosted Website works great on any device.
For this, you need to buy a domain (your website URL – like Bloomberg.com) and hosting (where you can store your data online).
Want a super-fast hosting plan (that includes LiteSpeed servers) for an affordable price? You probably want to grab my Hostinger Link. I use Hostinger to host my website and make sure it loads super fast!
Then install your content management system and your hard work will be reduced drastically as these CMS have various tools to help you out with almost anything within minutes.
The biggest advantage of using an online website is that you have to code anything. All the content you publish will serve as a great mobile experience.
You can create different laptop and mobile views for your subscribers, you can add email newsletters, lead generation pages, social media icons, and banners everything can be done easily with a CMS.
The best part, you can edit your content once you hit publish; if you made a mistake, you have every opportunity to rectify it immediately.
Writing an article for your magazine will be the same as writing a blog post like the one I'm writing right now.
I use WordPress as my content management system to write my blog posts because you can customize almost anything with ease. There are other easier alternatives to WordPress like Wix and Squarespace.   
5. Create a Layout for your Digital Magazine
Your online magazine layout needs to be very smart and strategic. What goes where and why it goes there is going to determine how well your readers like your online magazine. 
People like fast content, they like to see something for less time and get maximum output from it. If you place your most popular content at the end of your digital magazine, don't expect your readers to feel great.
Figuring out all of this at the start is impossible because you need A/B testing and stats for that but by reading a handful of articles on this concept (increasing time on page, pageviews, reducing bounce rate, etc), you can create an awesome layout that your viewers will love to interact with.
Sage Tip: Your magazine layout must include ad spaces too, placing ads anywhere could ruin a good magazine format for your readers. 
6. Graphics & Photography are Key Elements of a Great Magazine
Magazines contain news that we may find in newspapers but the reason why one person prefers a magazine over another is that a magazine is filled with colors and graphics and beautiful images. These are called visuals of a magazine.
A magazine with a boring design is not a magazine anybody is going to buy. Your graphic design is just as important as your writing team if not more. Magazines are more about elegance, classy looks, lifestyle, and the dream.
Information is a vital piece of it but the theme is what ties it up together. You'll have to take great photographs and create attractive graphics to match the tone of your magazine.
I don't recommend using stock photos but if you can't spend money hiring a photographer, sites like Unsplash and Pexels will be able to solve your problems. They have a great collection of high-quality stock photos you can use for free, no strings attached!
7. Chalk Out Your Revenue Models
If you can't figure out ways to monetize your magazine, you're in for money trouble. Fortunately, there are some lucrative revenue models to make money.
Subscription Fees
Subscription fees are the most obvious way for a magazine to earn a living. But if you rely only on subscription fees, your digital magazine business isn't going to last very long because you can't charge exorbitant prices.
That's why using other sources of revenue clubbed with subscriptions is the way to go if you plan on sustaining this business.
Most publishers prefer to use the "Freemium" model to sustain their business while attracting new people. Freemium means offering a part of your content for free, then charging a subscription-based model to the reader.
The Wall Street Journal uses this very strategy to make money. They have plenty of articles but they'll show you about 10% of those articles, if you want to read any further you must purchase their subscription.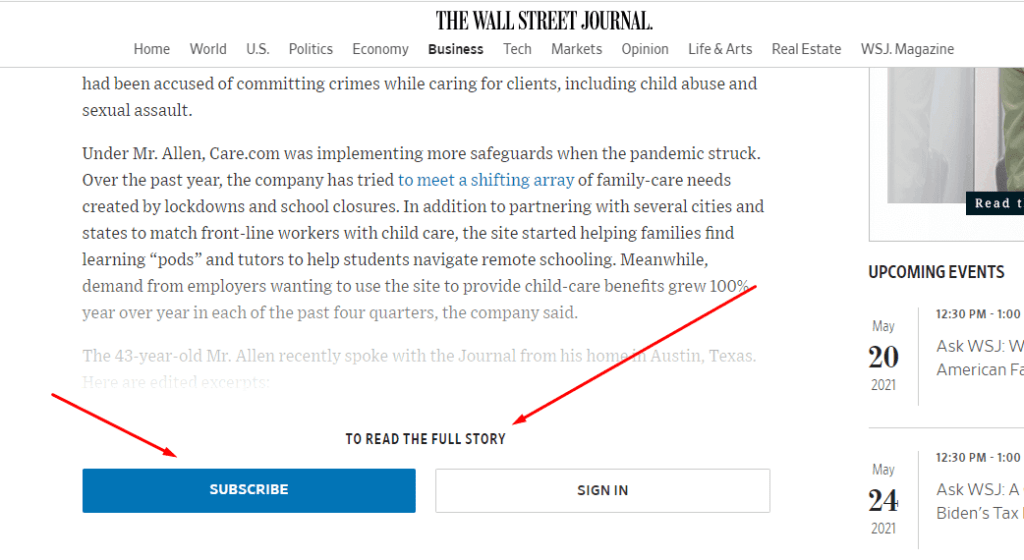 Advertisements
This is the most common revenue model you'll see in magazines. Selling advertising space inside your magazine is a great way to make money. There are two ways you could go about this.
1. Google AdSense
If you don't want to put too much energy into placing advertisements in your online magazine, Google AdSense is the way to do it. Google Ads finds out the reader's interests and accordingly places ads based on those interests. This means your readers are more likely to click on those ads.
Google will then pay you a percentage of the total revenue the advertiser has set. Google ads are easy to use and set up but on the downside, you end up earning less as Google is taking up part of your profits. 
2. Contacting Individual Companies
The traditional approach to advertisements is by contacting individual companies through email. If they like your brand and want to work with you, they'll give you money to place their banners on your website.
This also works the other way around where potential advertisers want to get in touch with you, create a Contact Us page specifically for such advertisers.
Some tips –
1. If you're not well known in the digital magazine space, get ready to give steep discounts, give discounts to advertisers who are willing to buy more than one ad or who are willing to increase the time frame to keep those ads on your website.
You must give 20% or 25% discounts without hesitation to these companies if you're new to this space.
2. Send them a free copy of your digital magazine as a good gesture so they could analyze how their ad could perform in a new magazine like yours.
Sponsored Posts
If there are companies in your niche that want to partner with you, doing a sponsored post for them could be a smart method to earn loads of money.
This isn't the same as placing advertisements on your pages. Here you're writing an entire article on the company's products/services, talking about its merits and demerits.
Companies love sponsored posts because that sponsored article is on the web as long as your business runs thus growing their business. For example, a plant fertilizer company wants you to write an article for them in your magazine, and for this, they're ready to pay you.
Your first step is to scrutinize this company and make sure they're legit and their product/service is good for your readers. The next step is to discuss the money, then start writing an article and publish it in your magazine. 
Note: You must include that the article you're writing is a sponsored post. Disclaimer is very important, don't skip it. If possible, write this disclaimer right before you start discussing the  
Live Events/Webinars
Once you create a strong bond with your readers, you could start doing live events and webinars.
People love these types of events and are ready to spend some cash on them. Make sure you infuse quality content during such events as people will expect it to be worth their cash, if you disappoint them once, they won't attend any of your future events.
Affiliate Links
Affiliate links are yet another simple way to earn a lot of money. Here's how affiliate marketing works: you (the owner of the magazine) write content about the benefits of coconut trees during winter.
In that article, you add an affiliate link to a company that sells a high-quality product for a reasonable price.
Your readers click on the link and if they're interested, they make a purchase, and you earn a commission. This is called making money through affiliate marketing.
You promote a product/service that you trust and believe in, your readers make a purchase and you earn a small percentage of the money spent from the product/service company.
The easiest and largest affiliate marketing network is Amazon, you can apply for its affiliate program and use its products to make money online.
8. Promote Your Online Magazine on Digital Platforms
Don't wait for your online magazine to launch to start promoting it. By promoting before launch, you're creating curiosity and getting people excited.
Social media should be a part of your content marketing strategy. From Day 1, your only goal should be to find new people to check out your magazine. You should treat them as if they're your friends, engaging with your audience is the simplest way to ensure there's trust and a sense of comfort.
Using Social Media Marketing will help you reach new people and maintain a relationship with the existing audience. For example, you could open an Instagram page where you show them behind the scenes what it's like to create a disrupting magazine from scratch.
Show them how your team works, get your team to interact with them, go live, reply to comments, and tweet anything you feel like.
Your social media team should focus on all platforms at first, then narrow it down to the platforms that bring in the highest conversions. 
To grow using social media, you must focus on A/B Testing, using different marketing tactics, and analyzing your data.
Sage Tip: You could show your social media followers a sneak peek of your upcoming magazine by sharing an image of your "Table of Contents". 
My Top Tips for Your Digital Magazine
1. Start with a Free Magazine
Your online magazine is live. You've been building up your online presence to attract customers (your potential readers) but they may not be convinced or many don't know how good your magazine is, after all, you're new and there are numerous magazines out there.
People need to find the magazine interesting to make a purchase, and the simplest way to do that is by giving them a magazine for free.
This strategy is simple: every time a new visitor lands on your page, you need to convince them to buy your digital magazine. If they aren't convinced, show them a pop-up with a free magazine (ensure it's the latest magazine).
Ask them to enter their name and email address and grab their copy. If they find the magazine interesting they can start paying. You'll see a high conversion rate because everybody likes freebies.
Just because they took a free copy doesn't mean they'll buy into the magazine program, for that they need to love your online magazine.
If you have another strategy that converts as well as the free magazine plan, don't hesitate to implement it. After all, marketing is nothing but A/B testing. You could also look at other online publishers and try figuring out how they get sales.  
2. Have a Unique Style of Delivering your Magazine
There's already a lot of content on the web. Most of this content is available for free and easily accessible to anyone. For every paid option out there there's always a free alternative that is equally good but slightly hard to find.
You're the new business that joins this community. Do you think a person would pay you when they could probably get that information for free elsewhere?
I know I wouldn't pay unless you have something new to talk about or maybe your graphics and website colors are mesmerizing or you include a bunch of funny jokes between serious articles to break the ice or maybe you have a unique style that no one in the community has or you writing tone is funky/humorous/relatable/serious, etc.
The point I'm trying to make is that you need to have a few unique aspects that few or no other magazines have. That way you have some edge over the old guys in the magazine business. 
Experiment with new types of content to see what works better. The ones with the most views, social shares should be a part of your content strategy
3. Guest Posting
Guest posting is a smart way to get your digital magazine in front of a wider audience. Guest posting gives you instant access to the audience on the website you're writing an article. Everyone who reads that article probably knows you now.
This makes your online presence better, giving you more exposure and in turn more readers and revenue. If you include links back to your website (aka backlinks), your domain authority will improve (which means that Google will like you a little more thus giving you more traffic).
If you target specific websites that fall into your niche for guest posting, you're slowly establishing your authority in that niche.
For example, your niche is gardening and your magazine is all about types of plants, gardening, fertilizers, and so on. You make a list of 100 websites that write about one or more of these niche topics and shoot them an email asking them to allow you to guest post on their website.
Now If I am a person seeking valuable information in this space and I find numerous blog posts and websites but if I see your name pop up as the author for a few of the posts I read, I'm going to consider you an expert in the niche, aka you've established authority in the gardening niche. 
4. Document Everything Systematically
I made the mistake of not documenting changes I made on the web, my website page views suddenly decreased and I didn't know why. It took me a lot of time to figure out what went wrong and rectify it. So trust me, documenting (date-wise) is super important.
You are going to have many teams involved like the writing team, graphics team, etc. Each team is going to do numerous tasks each day. You need to know what they're doing and who's doing it and when they're doing it. This helps to rectify errors fast.
Let's say on May 17, 2023, your traffic suddenly dropped by 35%. Usually, you would get 1000 a day, but now you're getting 6500. Why did this sudden drop take place?
Is it because the editing team or the graphics team made some changes or did the marketing team send some wrong message to your audience?
The best way to know this is by seeing when the problem started occurring, in our case May 17, then look out for changes made to the magazine that day. Maybe the writing and editing team didn't publish anything that day.
Do this and you'll find exactly what caused the problem. Then rectify it and you should see your traffic slowly coming back to normal.
5. Have a Content Plan
A man without a plan is bound to mess things up (same applied to a woman!). Just like you have a business plan from Day 1, you need to create a content plan for your online venture even before you launch your online magazine. 
Your content plan must include things like what you want to put up in your magazine, like featured news, regular news, interviews, podcasts, comedy center, case studies, etc.
Once you have this figured out you need to chalk out a systematic plan on how to approach each one of them. You also need to include who will be in charge of the task so things are simpler for everyone to understand.
Let's say you decide to do weekly interviews with someone in your niche, you need to have a list of all people (knowledgeable in the niche), then send emails to them asking them if they're up for an interview for your online magazine.
Then you need to prepare the questionnaire, set up everything necessary (like cameras, audio set-up, proper lighting), shoot the interview, edit the video, cross-check everything, then post it live.
There are so many steps involved in doing an interview (I'm sure I've missed a bunch of steps), it's better to write it all down so you don't miss steps and everything goes smoothly. Similarly, create steps for other aspects of your magazine. 
6. Reach out to Hard-to-Reach People
Everybody wants to interview famous people that are hard to reach as these people grow the magazine's audience thus increasing sales.
Your digital magazine will benefit if you can bring a hard-to-reach person. While you may have a slim chance of pulling this off, doing so will be beneficial.
Use LinkedIn to find out who works for these famous people, try connecting with them and climb the ladder. You could also send emails but if you're new, connecting to people close to your target person may increase your chances.
7. Bring Everything Together
My final tip for you is to bring it all together. You've set up your website creation team, your social media profiles are in check, your keyword research team is working hard, and your writers and editors are fast and awesome.
That's great, now you've got to take all these teams and turn them into one single team. For example, the writers need to coordinate with editors, the editors will coordinate with the social media team (to start promoting the article before publishing) and the graphics team (to create graphics for the article written).
Start creating your process on a piece of paper, then show it to your team and discuss it further.
Ask them how they feel the process should flow, take inputs, and make changes. Once you have a proper flow of things, digitize it using Excel or any other app.
Stick it on the wall as everyone should remember the process and start your online magazine business. You can always change the process later but for now, create a process that brings maximum efficiency.
Ready. Set. Magazine. – Are You Ready?
I've told you everything I know about starting and building your magazine. Now before you start hiring a content writing team, graphic designers, marketing teams, etc. I want to ask you, "Is starting an online magazine the right choice for you?"
I'm not asking you to answer this because you might fail or because a magazine business plan sucks (cause it's profitable and anyone who follows the steps and tips properly can make it), I'm asking this because starting an online magazine business is a full-time job and it's expensive.
You require a huge team of writers, editors, graphic designers, marketers, managers, and SEO experts to run the business smoothly.
You could lower costs by doing a few tasks yourself but it's still not a low-cost business. Try understanding why you chose to pick this business, if it makes sense, don't hesitate to start. Follow my guide and you'll be good to go.
If you have any questions regarding creating a digital magazine, I'll be glad to help you. Comment below with your queries.
Enjoyed this post? If so, you might want to subscribe to my newsletter. It usually contains life lessons and money-related topics, some interesting observations, links to articles or books I've read, and tips to be a better person. If you're interested in these things then subscribing will be simply wonderful 🙂 PS: Subscribe and Get your Freebie below!
Also, I'm a YouTuber now! If you're interested in Pinterest Marketing, Blogging, or business-related things, Subscribe to my Channel and I'll see you in the comments!