4 Best Ways To Make Money Online In India 2023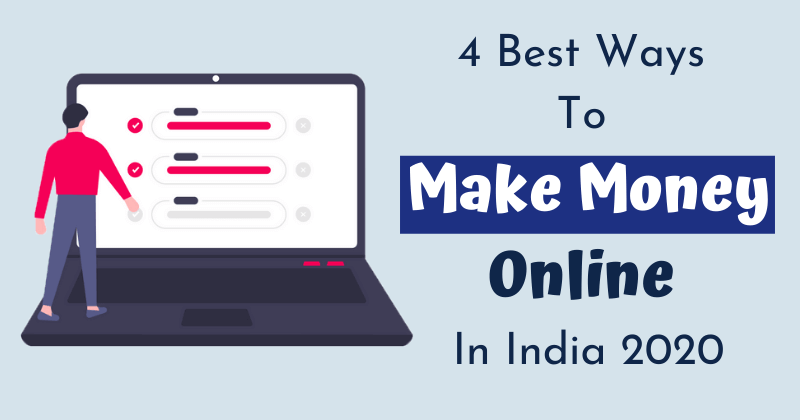 This article may contain affiliate links. If you make a purchase using my links, I'll earn a small commission at no extra cost to you. I appreciate your support!
Let me ask you something, Do you have a smartphone or a laptop? If you do then you already know how millions of people are making a fortune online.
Some of these people started an online business and have become millionaires today!!! 
I'm sure at some point in time even you thought about starting your own online business, quitting your day job, and working on your online business while laying down on a beach, mesmerizing, isn't it? 
But soon you forget about that dream because you got confused about which online business to start and how exactly to start it and we're lazy to take the next step.
Worry no more, today you'll learn about the 4 Best ways to make money online. 
These will surely take time to grow, but once they do, sitting on the beach and working won't be just twice a year, moreover, it can be every single day.
Before we get started, here are a few quick tips to understand before you begin your journey to make money online:
Get rich quick schemes are nothing but B.S. don't waste your time or money on them.
All those Guru's who claim you can make money with little to no effort are lying to you. Usually, so that you buy their courses and they make money off you. Scam!!
No one knows how to make money online in the beginning, only with practice,  constant learning, and sincere efforts, you can make real money and financially sustain yourself in the long run.
Okay now that you understand what you should expect from the four ways to make money online, let's get started.
4 Best Ways To Make Money Online In India 2023
1. Become a freelancer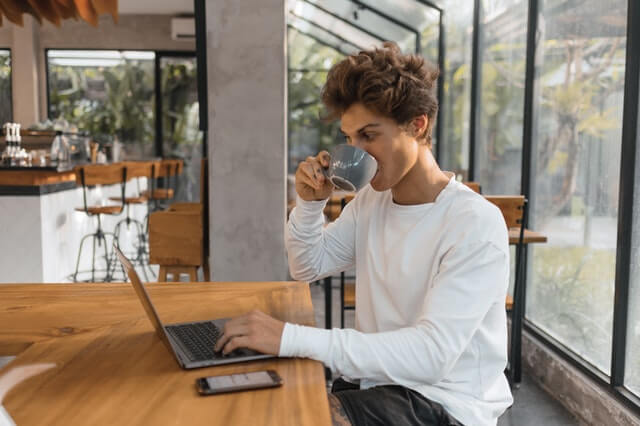 I'm pretty sure you've heard about freelancing from a dozen other blogs! If not, freelancing is a platform where companies (big and small) pay a certain amount of money to people (who are willing to provide good quality work relating to the specific needs of the employer. 
The employer wants the work done and the person (you – the freelancer) gets the work done and is paid for the efforts and output provided. 
The only two skills you need to develop to be an awesome freelancer is:
Your core skill which will be offered to your employers.
Marketing skills.
If you're serious about making freelancing a full-time income, you need to learn to be a good marketer.
That means you need to learn how SEO works and how you can tweak your work (basically your freelancer profile) and showcase it to most companies.
If you do this right, you'll start getting jobs, the rest depends on your core skills which will help you perform your best. 
Impress the employer and he/she will give you a five-star rating. Repeat this again and again and you'll soon be a top-ranking freelancer on the platform you choose.
Choosing a platform for freelancing is quite important as not all platforms specialize in the same skill set that you're looking for. I've written an article on the Top 10 freelancing platforms to get started as a freelancer. 
I suggest you pick 2-3 freelancing platforms out of the 10 and get started right away. There's a ton of scope if you're willing to put in the time and learn how to freelance your service to the companies that need you the most. 
Anyone can enter the freelancing industry without losing anything, you're not investing money, just invest a lot of time, polishing your existing skills, and learn how to rank on the top in these freelancing platforms.
If you're looking for an online course that dives deep into the world of freelancing and delivers results, here are my top course recommendations:
🏆 Best Freelance Writing Courses (2023) 🏆
🏆 Best Freelance Writing Courses (2023) 🏆
2. Learn stock market trading
The stock market is a platform where companies sell their shares to the public and get paid for them. You as an investor purchase a stock i.e shares of the company and hope to make a profit when you sell it. 
In a nutshell, that's what the stock market is and how you can make money through it. Most call it gambling and stay away from the stock market, but you've got to realize one fact about making money. 
"There is a lot of Money in Money"
It simply means the best sector to make money is the place where the money is flowing every single day, like banks, financial institutions, hedge fund companies, stock markets, etc.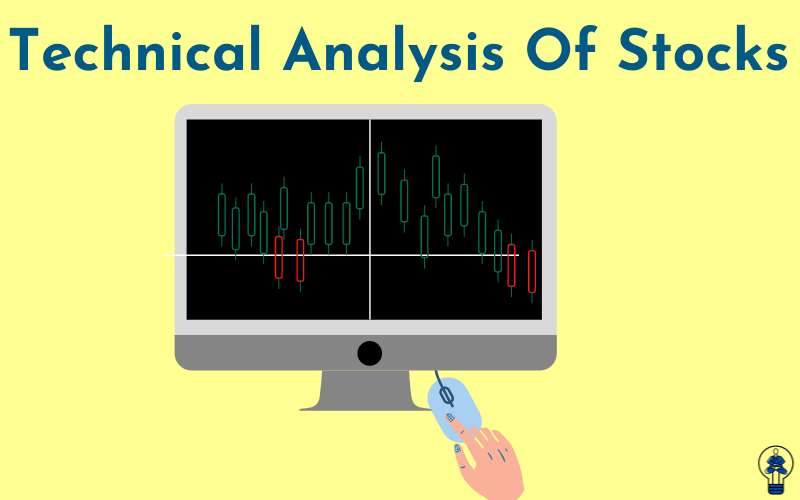 Unlike freelancing, you can't start making money without investing anything in the stock market, that's just not how it works. You can make a full-time income in freelancing without any investment but in stock trading, spending money is the second step. 
If spending money is the second step, then what's the first?
Steps to Become a Stock Market Trader
Step 1. Narrow down and research
Choose a few companies based on the industry you prefer and start doing your research on them, what they do, how they perform, their profits and losses, their balance sheet, basically all the news regarding the companies you want to invest in. 
Understand your risk-taking capacity and study those companies that fall in that category. 
For instance, if your risk-taking capacity is high, you should do your research on smallcap stocks, but that doesn't mean you should ignore large-cap stocks. 
Maintain a well-balanced portfolio containing small, mid, and large-cap stocks in the preferred industry you want, if you are want to take more risk, just increase the small-cap stock as they tend to make the most profits but are also highly risky.
Step 2. Use a stock market simulator
A stock market simulator is a place exactly like the real stock market, the only difference being, here you can trade fake money for fake shares but the prices fluctuate exactly as the Stock Market does. 
You can purchase shares using the simulator but you won't really possess those shares nor will you use real money for trading. This is the best way to learn about the stock market. You can buy shares at the given price and estimate when to sell them to see a profit.
A beginner should always try out his skills before jumping into the real deal, and the best way to do that is by using a simulator. Please don't miss this step, take some time to learn and get it right.
Step 3. Start small 
You've done your research thoroughly, you've used the simulator, and your accuracy to predict whether a stock will do good or bad is great, good work. Now you might think you're ready but don't move too fast. 
Almost 70% of people who aggressively invest in the stock market lose most of their money in a period of five years. Invest a little, maybe 10 shares of midcap or smallcap stocks and try to make a profit on these. Don't be in a haste, you might just lose all your money.
Step 4. Progressively overload your portfolio
Ever heard the term progressively overload? All my gym bros love this term. If you ever did weight lifting, you might know that there is a term called progressively overloading which means when you get used to a particular weight and you can easily do that exercise, try increasing the weight of that exercise by adding in a few extra pounds. 
However, if you try the heavier weight and you can't do the exercise, you must drop down to the previous weight. Let's use this exact strategy in the stock market. 
Let's say you invest Rs 8,000 a month in the stock market in electronics-based companies. You make a decent profit on it over a period of 6 months. And you're confident that you can get better results if you invest more. 
Then for the next 3-4 months, you invest Rs 12,000 a month. If you make better returns, keep pouring in more money, but if you made less and had bad results, go back to investing Rs 8,000.
Note: Stock Market's profit or loss does not depend on the amount you invest, it's based solely on the accuracy of your prediction of the company's growth in the industry. 
The more you predict, the more accurate you are, and the chances for you to make more profits increases drastically. Thus you should always start small and gradually increase it over a period of time. 
Stock market traders, especially Day Traders keep putting in money all day long, they're right in front of their laptops ready to buy and sell every second. This is good but you don't need to go in the stock market that deep, learn to buy good stocks, and flip it for profits when you can. 
Don't be a day trader as it is extremely difficult and you need to be a really good stock market trader. Even professionals lose money in the stock market. So don't go overboard with the stock market but it's surely a great way to make money online.
3. Run an E-commerce Dropshipping Store
Wouldn't it be cool if you could sell products all over the world without owning any product in hand? 
That's where an e-commerce store comes into the picture. An e-commerce store means you're selling a product online using a website. Any time anyone orders a product from you, you can ship it to them and you make a profit out of that deal. 
But don't you need a warehouse to keep the stock? If you use the dropshipping method for your e-commerce store, then you don't need to hold any stock at all. Confused? Let me explain.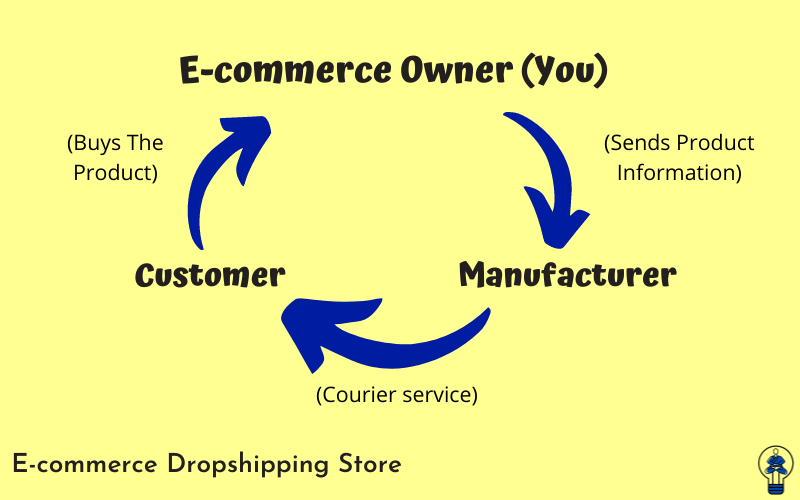 If you use the dropshipping method, every time you get an order, you need to inform the manufacturer of the details of the order, then the manufacturer using a courier service delivers it to the customer. 
All you have to do is market the product to the customer i.e get the customer to like your products and make a purchase. The remaining will be handled by the manufacturer and the courier service. It sounds simple but it's not that simple. Let's understand it Step by Step.
Steps To Start an E-commerce Store
Step 1. Do market research
The biggest mistake you might make with your online store is deciding which product to sell. Most people enter the e-commerce industry with the intention of selling a product that they found helpful or a product they like. 
But just because you like a product doesn't mean a thousand others like it. You need to sit down and do a complete analysis of what consumers spend on and what they usually prefer buying online. Jot down five different products you can sell and narrow it down to one.
Step 2. Use AliExpress and Shopify/WooCommerce
Now you need to find a manufacturer who sells the product you want. Almost all drop shippers use AliExpress as a source to contact Chinese manufacturers. 
AliExpress is a portal where Chinese manufacturers showcase their products which can be sold all over the world. AliExpress is extremely reliable and easy to use. You can contact these manufacturers and they will be happy to help you solve your manufacturing problems. 
Now that your product is ready to be sent, you need a website where you can showcase your products and start marketing them to specific customers.
The best e-commerce platforms out there are Shopify, BigCommerce and WooCommerce, but in my experience, Shopify and BigCommerce are the most sorted e-commerce platforms on the market. 
If you want to use Shopify, you need to buy a domain and buy a Shopify Plan.
For BigCommerce, I have a special discount link that you can use. This will give you access to premium Bigcommerce plans for an affordable price.
If you want WooCommerce, you need to purchase a domain and hosting. Then install WordPress and add WooCommerce in WordPress as a plug-in and you're good to go.
WooCommerce is free but you need to have hosting service along with your domain. (Hosting can be expensive depending on the company you purchase it from).
Want a super-fast hosting service (that includes LiteSpeed servers) for an affordable price? You probably want to grab my Hostinger Discount (Free SSL and Domain included). This hosting works smoothly with WooCommerce!
Note: 
1. A domain is the name of your website and hosting is the server on which you can use the domain and run a website online. Without hosting, no one can view or buy anything from your website.
2. If you're tight on budget, using WooCommerce might be a better option as Shopify packages are quite expensive.
3. Shopify is the best and safest option between the three e-commerce platforms.
Step 3. Set up your online store
Now that you're ready with your manufacturing chain and decided on the platform you're going to use for e-commerce (Shopify – Best Overall, WooCommerce – Best If low on Budget), it's time to make your website beautiful so that when customers land on your website, they fall in love with the design and it indulges them into buy numerous products from you! 
One key factor you need to decide when designing your website is your website's color. There's a term called Colour Psychology and it tells us what each color means to an individual and how he or she reacts to it.
For example, red color means attention, power, motivation, desire, and so on. Choose a color that reflects your product and which sends a specific message you want your audience to get, if you choose red, your audience will be oriented towards feeling energetic and motivated, if you're selling a motivational e-course, red could be a good fit! 
You can read this article from Coschedule. Here Ashton Hauff explains in detail color psychology. Once you read this, you'll get the idea of how color affects a person.
Step 4. Use Oberlo/Alidropship to import products to your e-commerce store
It's time to bring the products to your website, for that you can use Oberlo. 
It's a great software designed to reduce your e-commerce, it's easy, and using Oberlo, you can import any product from AliExpress to your Shopify store in just a few clicks. If you use WooCommerce, you can use Alidropship. EasyPeasy right!!! 
Step 5. Start marketing
Before you start marketing you need to set up a few things like finding a courier service (there are many plug-ins for that), set up a payment method, and some other things. 
Once you do all that, people need to see you buy from you. That's why you need to start marketing your store. The best and most common approach dropshippers use is Facebook paid marketing. Learn Facebook ads, create ad groups and start pouring in money. 
This will be by far the most difficult step as Facebook ads aren't easy to understand and you need to learn a lot of things about consumers' behavior. 
Check out this article about Facebook ads from Neil Patel, it's got a lot of information you'll need to understand Facebook marketing.
But don't just stick to Facebook for Marketing, use other social media platforms like Instagram, LinkedIn, Pinterest, initially try running paid ads as they will bring orders to your website, over time as your website gets a lot of organic visitors, you can reduce the marketing spend if you wish.
Thus in just five not-so-complicated steps, you can start your own e-commerce business. What are you waiting for? Head over to WooCommerce or Shopify and get started right away.
4. Start an online business
Have an idea that can solve a problem? Or an idea that can make the life of a common man simple? Awesome! Make a product or service which can either solve a problem or make one's life easier and start selling it online. 
But having a great idea doesn't mean you'll make money, for that you need to learn digital marketing, SEO, content writing, website designing, and quite a few things. You might put in more effort towards everything else other than your product at first, but that's the process. 
If you do all this properly, you'll soon start making a few bucks and in time you'll have a successful business that generates a lot of money by selling a unique product or service.
How to find a product/service to sell?
The most logical way to find a product/service is by looking at what's going on around you every day. Just observe what people do every day, how they do it, why and when they do a particular task. 
The more you observe, the better you'll understand people which will help you find a need in the market. Once you find a problem that a lot of people face, the next step is to solve that problem and make sure it's easy and simple for your customers. 
Don't try creating a complex product and assume your customers will understand what it is and how it will benefit them. 
Note: 
The product/service you sell should provide value to the consumer's life.
The price of the product/service must be equivalent to the value it provides.
You don't need a large customer base to make money, even a problem faced by a few people if implemented correctly can result in a great business for you.
How Can You Make Money Online
In this blog post, I've just listed the 4 methods, I think to work great to Make Money Online. There are at least 20 other ways you can make money online. According to me, these are the best ones to start making money and reach financial freedom.
Remember, you can only make money online if:
You are determined to change your life for the better.
You are open to learning new skills.
You can pivot and change the way you operate when necessary.
If you really want to start a side hustle or quit your day job once and for all.
In today's generation when almost everyone has a laptop or a phone with a good internet connection, it is fairly easy to say that you can start a successful online business that makes you enough money to never work for someone again.
All you need is the desire to learn along with the willpower to implement the side hustle you choose to work on for your future. You'll find the remaining pieces as and when you learn and grow.
Which one of these 4 Make Money Online Ideas would you prefer to implement? Let me know down in the comments.
Enjoyed this post? If so, you might want to subscribe to my newsletter. It usually contains life lessons and money-related topics, some interesting observations, links to articles or books I've read, and tips to be a better person. If you're interested in these things then subscribing will be simply wonderful 🙂 PS: Subscribe and Get your Freebie below!
Also, I'm a YouTuber now! If you're interested in Pinterest Marketing, Blogging, or business-related things, Subscribe to my Channel and I'll see you in the comments!