Fat Stacks Review (2023): Niche Site Profits Course Worth It?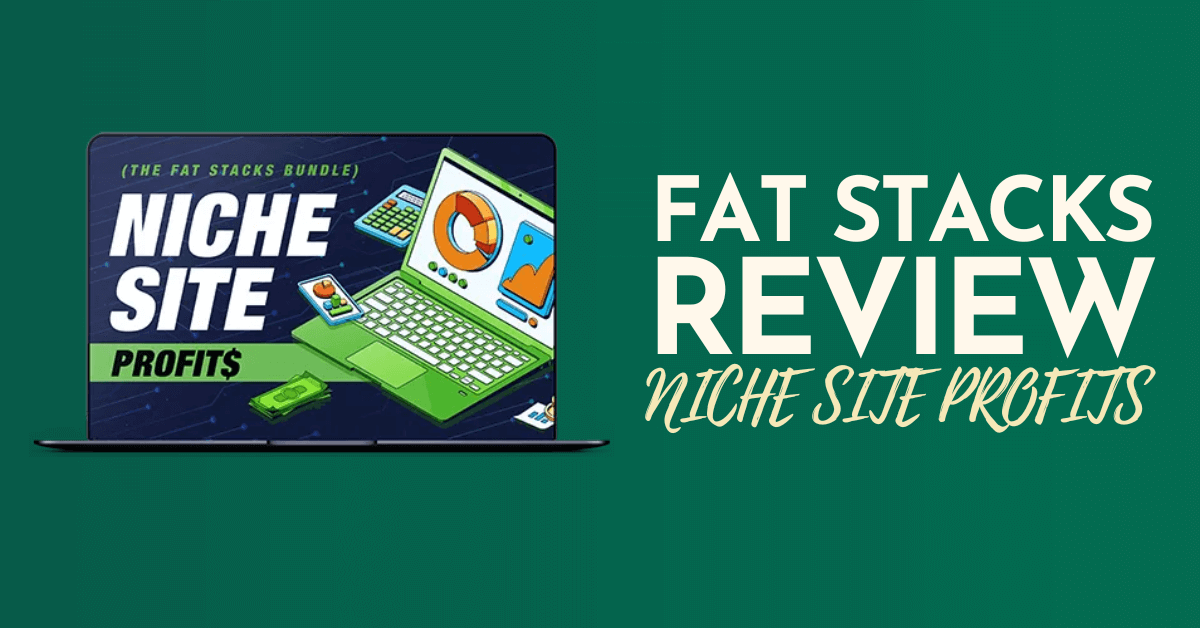 This article may contain affiliate links. If you make a purchase using my links, I'll earn a small commission at no extra cost to you. I appreciate your support!
Niche Site Profits (previously known as Fat Stacks Course) is a popular blogging course on making money via display ads and making a full-time income.
Jon Dykstra, founder of Fat Stacks Blog, created Niche Site Profits with the sole purpose of providing a simple formula to make thousands of dollars blogging online without selling products or relying on affiliate programs!
I'm sure you're wondering if making that much money without selling products or affiliate marketing is possible, but on average, Jon earns $75,000/month from one website.
Jon is living proof that making money using simple methods is very possible!
In this Fat Stacks Review, I'll review every aspect of this comprehensive course to help you decide if this online blogging course is well suited for you!
And I'll also answer the most important question – Is Fat Stacks a value-for-money course?
Check out my Quick Summary and Verdict below to get the answer!
Quick Summary & Verdict
Overall Rating: 4.8/5
Content Value: 4.9/5
Customer Service: 4.8/5
Value For Money: 4.7/5

Fat Stacks Niche Site Profits takes a new approach to blogging by teaching you new and unique tips to earn income from display ads. Jon has put everything into this bundle course to make it power-packed, useful, yet simple for all individuals.

His techniques are somewhat opposite of what blogging gurus teach and that's what makes Fat Stacks stand out.

An affordable blogging course suitable for beginners and experienced bloggers to help them make passive income online using simple steps (course material gets regular updates + freebies)

Fat Stacks Pricing
Fat Stacks Niche Profits Site costs $497, which includes all the bundle courses. Fat Stacks also offers a 30-day Refund Policy!
Pros
Constant Updates To The Course
Fatstackers Mastermind Forum
30-Day Refund Policy
Jon Dykstra Is A Cool Guy
Cons
Not All Content Is Relevant
What Is Niche Site Profits?
Niche Site Profits is an online blogging course to create high-earning income niche sites using simple methods to establish authority sites.
Jon Dykstra, founder of Niche Site Profits, is an experienced niche site creator who's been a content writer for 11+ years and has built a six-figure portfolio of 16+ websites with high traffic, most of which generate passive revenue through display ads.
Jon has been featured in Forbes, Entrepreneur, Kinsta, Authority Hacker, and other websites, and his courses are well respected in the blogging space.
The course focuses on finding high-volume, low-competition keywords, writing content related to these keywords, and getting tons of traffic to earn income through display ads.
That doesn't mean Jon doesn't teach and suggests using affiliate marketing to increase your income. It means you don't have to rely on affiliate marketing to bring a good chunk of your income.
Jon's blogging strategies are unique and unlike most popular blogging courses. That's because most online courses talk about complex ways to earn money through affiliate marketing, while Jon makes things super simple.
Note: Jon focuses on display ads to earn income. His teaching methods are simple, straightforward, and logical. But if you're unclear about the Fat Stacks course, check out his free mini-course that breaks down his blogging approach and strategies. Doing this will give you a clear idea whether you like his course or not.
Is Fat Stacks Blogging Course Suited For You?
Jon Dykstra's Niche Site Profits is the most practical online blogging course out there, but is the Fat Stacks perfect for you?
Because the course isn't for everyone! I mean that!
Niche Site Profits Course is for you if:
You're a beginner and want to make money online building niche sites
You don't know how to make a few thousand dollars a month through display ads
You have the money to invest in a simple yet powerful course
You're willing to implement EVERYTHING Jon teaches in Fat Stacks
Niche Site Profits Course is not for you if:
You're not willing to spend 4-12 hours each week learning
You're looking to make money immediately
You're lazy, and you hate working on your website
You don't have the money to fund this course!
If you're tight on schedule and fall into the second category of people, don't put money into this course!
You need to learn and implement what Jon teaches if you want to see positive results. You could simply try out this free mini course where Jon gives you a blueprint for making money via blogging.
What do I think you should do?
If you're serious about blogging and making money without focusing too much on affiliate income, you won't go wrong with Fat Stacks Niche Site Profits.
It's suited for beginners and experienced site owners, it takes you through the entire roadmap practically of how you can build websites and make money online through ads.
That said, the course has a unique take on things, that is different from most blogging courses. Jon shows you how to write articles using simple proven steps.
You'll learn a No Nonsense Formula that earns 5 to 6 figures a month, most of which is passive.
If these things are something you're interested in, I recommend signing up for Jon's Niche Site Profits Course.
They open their doors a few times a year, so I recommend keeping an eye out if you want to take blogging and grow your income online to a whole other level.
I recommend Joining Their Free Training here! If you've already made up your mind about Fat Stacks, Sign Up for their Course here!
Niche Site Profits Cost & Refunds Breakdown
The Fat Stacks Course, Niche Site Profits costs $497.
The price keeps fluctuating, so I suggest locking your price or being one of the first to get the most discounted price when you're enrolled in Jon's Free Course on making money through blogging.
Fat Stacks Refund Policy
Jon offers a generous 30-day refund policy. That means once you purchase the course, you have 30 days to try it out. If you don't like it, you can ask for a refund, no questions asked!
I'm glad Fat Stacks is offering a refund policy as not all valuable blogging courses offer a refund, especially a 30-day refund policy.
Fat Stacks Blogging Course Breakdown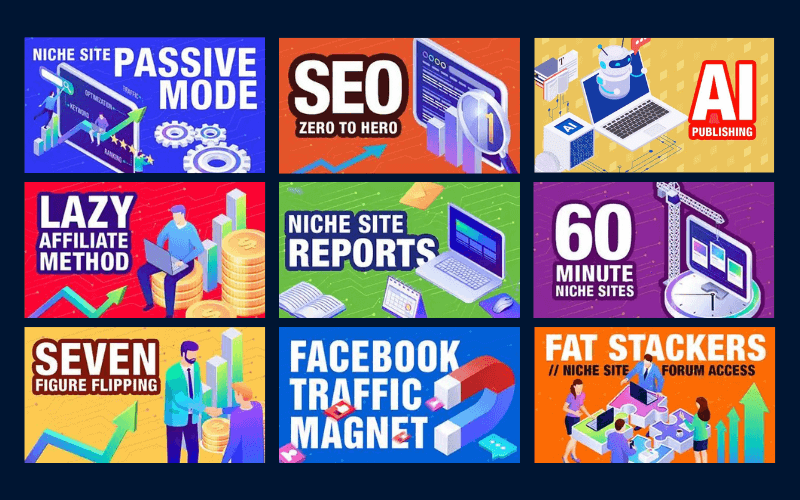 Inside the Niche Site Profits course, you'll find 17 courses that will teach you how to get a niche blog up and running and get thousands of visitors each month to make consistent ad revenue using display ads.
Niche Site Profits main course teaches you how to make sites like 'Fat Stacks' which means simple, fun sites, with meaningful content that ranks high in search engines and earns big.
Jon's training reveals everything you need about building websites from scratch, with advanced information presented in simple methods.
Jon has spent all his time building the Fat Stacks course, and trust me, it's a course that worth every penny!
Key topics you'll learn:
Selecting Profitable Niches
Finding Easy Winning Keywords (Simple Formula For Keyword Research)
Earning Maximum Ads Profits
Various Free Tools and Checklists
And so much more…
Obviously, all this won't magically make your website an overnight success.
You'll have to put in work to get results, but having a simple-step approach to making money is the easiest way to earn a full-time income.
9 Bonus Courses
Mastermind Forum
The Fatstackers Mastermind Forum is about getting answers to all the questions you need. People here are extremely friendly and helpful, which makes asking questions way easier.
Top bloggers who earn thousands of dollars a month continue to help beginners in the forum.
If you're ever stuck and wondering what's the solution, log into the forum and ask the question immediately. Jon himself reads all the posts daily and even comments when necessary.
Get Your Niche Site Up In 60 Minutes
Getting your profitable niche site up in 60 minutes is a simple yet powerful bonus that will solve a bunch of your techy site issues.
Here are some things you'll learn in this bonus course:
Have your website up and running in 60 minutes
Jon's Theme and Plugin stack for maximum speed and best optimization
Use the exact layout Jon uses to bring $50,000+ per month from one site
23 Video Tutorials to master WordPress – For absolute beginners
Configure your website for speed and site structure
Dos and don'ts of great domain names
Affiliate Income Without Articles
Jon doesn't hate affiliate marketing.
He uses it on all of his blogs but doesn't rely on it to make a sizable income. He makes an extra $10-20,000 a month over his display ads income through affiliate marketing.
Here are some things you'll learn in this affiliate bonus:
How to promote offers WITHOUT writing articles
The most lucrative affiliate product type
5 on-site methods to promote your affiliate offers
The easy way to find WINNING offers
How to find goldmine keywords (with this 3-letter word)
Learn the Lazy Affiliate Method
This module will help you earn extra money on the side of running an affiliate program without much hassle.
Simple SEO For Millions Of Clicks
Simple SEO bonus course is a powerful module where you'll learn to optimize your site for search engines and ensure you rank on top without any hassle.
Here are some things you'll learn:
The SEO plugins Jon deploys on all his sites
Simple streamlines SEO Strategy that ranks informative articles (10+ years of experience clubbed into one)
135k referring domains. Built none. How to do link building fast
How to crank up your site speed to green (Google Page Speed Insights Scores)
How to increase pageviews and on-time site up to 81%
Jon's 17-point "Keep 'em hooked" checklist to increase audience retention
How To Sell Sites For Up To 42X Their Value
If you're a blogger to sell your websites at a point of time in the future, this course will help you get 42X your income.
Jon has sold 8 of his sites for that multiple, which means he knows exactly how to make that happen for you too.
Here are a few things you'll learn about selling sites for 42X multiple:
A 10 points system to consider when selling websites
10 things that make your site irresistible to buyers
A lawyer's perspective on non-competes
The uncomfortable truth of selling website shares
4 best places to sell your site
Learn to protect your site to get more money from buyers
Get Free Traffic From Facebook
Facebook is a powerful source of traffic you can use to grow your niche blog and increase your online income.
Here are some things you'll learn in this course:
The simple way to find out what you should post
5 must-see Facebook Pages that are killing it
Winning FB traffic ideas for wicked cheap
How to find out what your competitors are doing
3 steps to automate the whole thing
Get A Behind The Scenes View Of Jon's Sites
Getting a first look behind the scenes of tons of sites hosted by Jon helps you get a breakdown of the entire site from a professional blogger who's made $100,000 a month.
Here are a few BTS scenes you'll learn:
A log of every change to Jon's sites since 2019
Each site traffic and content count to get better clarity
The revenue from display ads made on each site
28 Content providers compared to get the best value
Full access to any experiments Jon's running (Constant course updates)
Get Passive Income From Your Sites
If you're juggling through life and need a passive way to earn money, writing content to rank that rank on Google is a smart way to earn money.
In this course, you'll get access to all the templates, and processes Jon uses to make his site earnings passive.
Figuring out all this takes years, but Jon makes that easy by providing you a shortcut to access information backed by running hundreds of experiments.
Here are a few things you'll learn:
How to turn your site into a passive asset
21 carefully written order templates
Where to find a dream team for cheap
All the common costly pitfalls to avoid
The free tool that manages everything
Publish 10X Content On The Cheap
Publishing content is by far the most important thing for sites to make money online.
Due to AI, things have become a tad bit easier, but there's still a long way to go.
Jon uses his exact strategy with AI content, coupled with his 10+ years of experience as a blog writer, to give you the best process to publish content 10X faster for cheap.
Here are a few things you'll learn:
Should you publish AI content?
How to get the most out of the image generation process
Jon's AI strategy (based on SAFETY)
The Layering technique for high-quality articles
Over the shoulder: How I use AI tools Effectively
How to leverage AI for Pinterest (Social Media)
AI Publishing checklist
Pros and Cons Of Fat Stacks
What I DID Like
Constant Updates To The Course
Jon runs multiple websites where he tests a bunch of ideas to optimize and tweak his websites. If something works repeatedly, he adds it to the course.
Constantly testing, tweaking, and sharing results with his course members makes this course future-proof and valuable.
You'll learn effective ad revenue strategies using which you can increase your ad income and earn more money.
Fatstackers Mastermind Forum
Fat Stacks Forum is a gem! You can ask questions, and start discussions, and fellow fatstackers will welcome your questions with open arms.
Everyone is extremely active and friendly in the forum and helps each other grow, and that is simply amazing.
There are at least 3-4 posts per day, Jon himself checks the forum daily and actively answers questions.
You'll also find professional bloggers earning thousands of dollars a month answering basic to advanced-level questions to help fellow fatstackers.
It's a bunch of people who've built a friendly cozy community, helping each other create better websites to earn a living.
30-Day Refund Policy
I just love it when course owners offer a refund for 30 days.
That shows me they care about their students, they understand the value of money, and more importantly, they are confident about their online course.
Going through the Fat Stacks modules, it's clear that Jon is very confident about it.
He's sure if you learn and implement all the course content, you'll increase your blog income, earn 10x on display ads, and be financially satisfied.
If you're unsure about the Niche Site Profits course, I suggest signing up for Jon's free course now!
Jon Dykstra Is A Cool Guy
Not all course creators are easy to approach and have a nice fun chat. It's not their fault, they're probably busy with a gazillion things, and so is Jon, but he is very approachable.
It's good when course creators have a friendly attitude, it makes the course more enjoyable and exciting in my opinion.
Not just that, Jon has spent countless hours perfecting the course to ensure we don't waste time, and utilize that time to create more content.
What I DIDN'T Like
Not All Content Is Relevant
Like any course, not all content is relevant to your website. Some courses are slightly advanced, while some aren't related to your niche.
You could simply skip these or refer to them in the future. The Affiliate Marketing Course needs you to have premium software worth $500.
That's not something everyone will be comfortable spending, so if you're not, find free alternatives to this software.
That said, purchasing software like this seems illogical, but can speed up your content journey and help you grow your income faster. See what works for you, and accordingly learn from these courses.
Best Your Niche Site Profit Alternatives
Fat Stacks Niche Site Profits is one of the best affiliate marketing courses out there, but other alternatives are equally good or much better than Fat Stacks.
There are two types of blogging strategies that most bloggers use to earn a full-time income.
Using ad revenue
Using affiliate income
Fat Stacks is more focused on targeting low-competition, high-volume keywords that bring huge traffic to the site, to then monetizing it with display ads.
For the two courses, I'm going to recommend you, use the second approach to making money through blogging, and that's affiliate income.
The Authority Site System and The Affiliate Lab are the best affiliate marketing courses that break down website building, affiliate marketing, SEO, and everything you need to know about growing your online website in 2023.
I've reviewed both these courses in-depth and found that both are equally value-for-money courses that I can easily recommend to anyone looking to earn a side income or pursue blogging full-time and do it being an affiliate marketer.
Here's my final recommendation as to which Fat Stacks Alternative Blogging Course you can opt for:
Niche Site Profit Review: Is Fat Stacks Worth It?
After looking into all the aspects of Fat Stacks Niche Site Profits, I believe that Fat Stacks is a great course for blogging looking to grow their income using display ads as the primary income source.
The course is packed with valuable information that helps you make a ton of money (provided you follow the contents of the course!)
I recommend taking this course as it'll help you go from a few hundred dollars to a few thousand dollars a month.
The strategies explained are unparalleled to other blogging courses and the best I've come across.
I hope this Fat Stacks Review helped you decide if the Fat Stacks Blogging Course is the right course for you.
These review articles take up a good chunk of time and a lot of going back and forth.
If you found it helpful, and want to say Thanks, use my affiliate sign-up button below at no extra cost to you!
Feel free to leave your comments below if:
You have a question or feedback
You need me to clarify something regarding my Fat Stacks Review
You wish to share your Niche Site Profits review with everyone
Have you enjoyed this post? If so, you might want to subscribe to my newsletter. It usually contains life lessons and money-related topics, some interesting observations, links to articles or books I've read, and tips to be a better person. If you're interested in these things then subscribing will be simply wonderful 🙂 PS: Subscribe and Get your Freebie below!
Also, I'm a YouTuber now! If you're interested in Pinterest Marketing, Blogging, or business-related things, Subscribe to my Channel and I'll see you in the comments!