The Affiliate Lab Review (2023): Is It Really Worth It?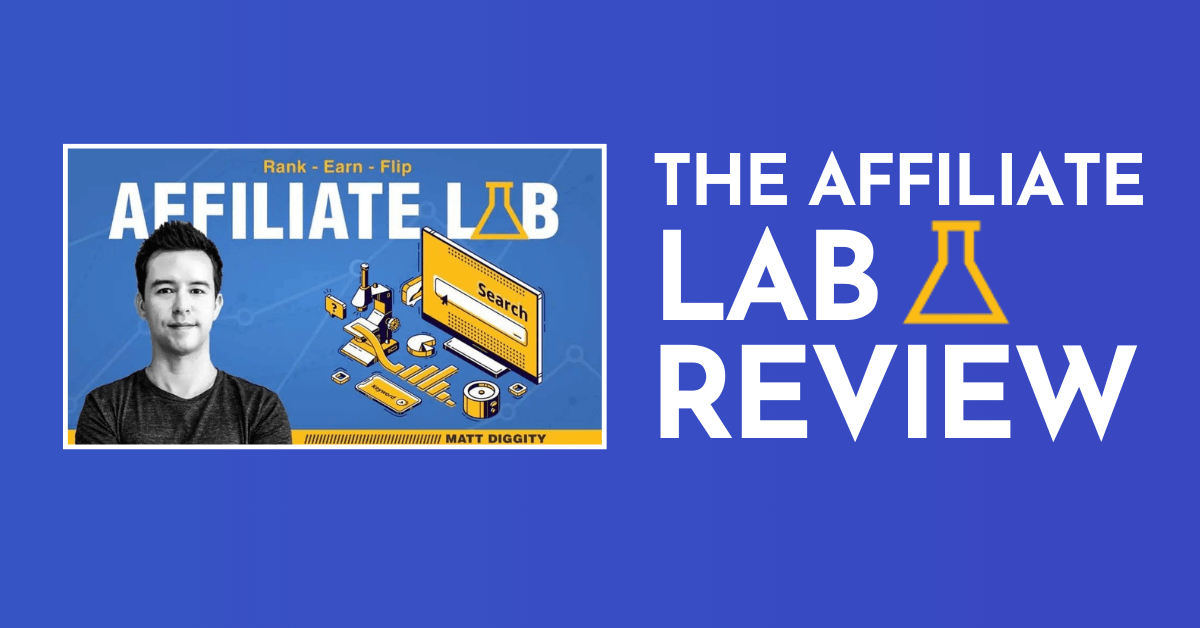 This article may contain affiliate links. If you make a purchase using my links, I'll earn a small commission at no extra cost to you. I appreciate your support!
Want to build an online website, learn the best SEO tactics, and make a lot of money? Affiliate marketing is the smart way to go!
When you want to learn affiliate marketing, a course that often pops up in every search result is – The Affiliate Lab by Matt Diggity.
The Affiliate Lab is an online SEO + affiliate marketing course that teaches newbies how to build a highly profitable website from scratch using theory and over-the-shoulder examples of practical websites.
The course teaches you theory and practicality to help you learn all the skills necessary to earn a hefty affiliate income online.
But is the course actually good? Is The Affiliate Lab worth the hype?
In The Affiliate Lab Review, I'll review every aspect of this comprehensive affiliate marketing course to help you decide if this online SEO course is legit and well-suited for you!
And I'll also answer the most important question – Is The Affiliate Lab a value-for-money course?
Check out my Quick Summary and Verdict below to get the answer!

Quick Summary & Verdict
Overall Rating: 4.9/5
Content Value: 5/5
Customer Service: 4.9/5
Value For Money: 4.8/5

The Affiliate Lab is the best affiliate marketing course by Matt Diggity, who created this SEO course after running thousands of tests on hundreds of websites in multiple niches since 2011.

Is The Affiliate Lab Legit?
Yes, The Affiliate Lab is Legit. Matt provides a step-by-step blueprint to grow your online income via affiliate marketing. You'll learn how to find profitable niches, write content, grow your site (using advanced search engine optimization strategies), and earn a full-time six-figure income.

The Affiliate Lab Pricing
TAL costs $997 for the entire course (Core Training + 11 Bonus Courses)
Pros
Lifetime Updates
Daily SEO Testing
Advanced Level Facebook Group
The Backlink Blueprint Strategy
Organizes Your Business
Highly Advanced SEO Affiliate Marketing Course
Cons
No Refund Policy
Complex For Absolute Beginners
Hours Of Updated Content
Black Hat SEO Strategies
Not All Bonus Courses Are Good
What is The Affiliate Lab?
The Affiliate Lab, founded by Matt Diggity, is an online course to make money via affiliate marketing.
The course is targeted towards beginners and advanced bloggers and uses SEO and affiliate marketing to grow a profitable online website.
You'll get access to powerful SEO strategies tried and tested by Matt himself to build your authority site from scratch.
Like any course, The Affiliate Lab is not the best course out there, but it's better than 98% of all courses. Why? Because Matt uses a few unorthodox tips that may seem illogical at first!
But Matt has proved time and again, that he can build successful affiliate websites on numerous topics from scratch and make a fortune through affiliate marketing and selling these websites for 30-50x multiples.
He's the real deal, and this course is one of a kind!
If you want to learn more about The Affiliate Lab – course breakdown, cost, pros and cons, alternatives, and the little things that make or break this affiliate marketing course, I suggest you stick around!
Who is Matt Diggity?
Before launching his affiliate SEO course and making thousands of dollars, Matt Diggity was working 60 hours per week in a cubicle as an electrical engineer.
Like most engineers, Matt had a nervous breakdown, after which he decided to do something more enriching with his life.
He learned how to rank websites and make money through affiliate commissions, and he knew this was the real deal!
Matt has wasted thousands of dollars figuring out various SEO strategies and has failed.
After doing this with over 100+ websites, he learned what works and what doesn't.
At that point, he got so good at ranking websites and making 5 to 6 figures simply through affiliate income that he started selling those websites and making even more money.
The next obvious step was consulting other companies on how to grow their websites and make a full-time income from their authority sites.
At this time, The Affiliate Lab was born!
The Affiliate Lab is the perfect course to learn the best SEO strategies that you can use to earn affiliate income.
People who've taken the course have 3x – 10x'ed their investments, all because of The Affiliate Lab course.
Is The Affiliate Lab Suited For You?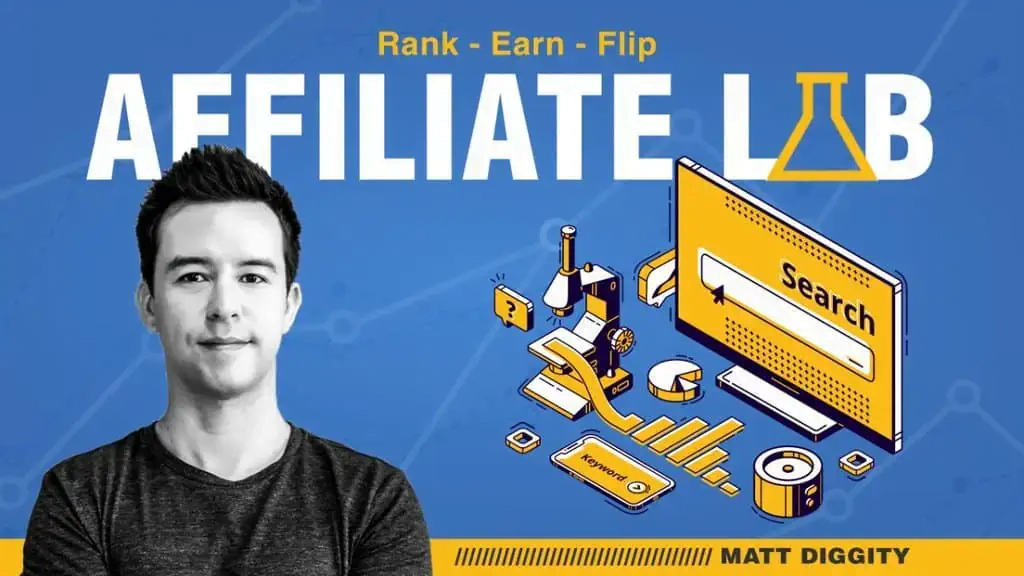 Matt Diggity's The Affiliate Lab is the most creative and logical affiliate marketing course out there, but is the course for you?
Because the course isn't for everyone! I mean that!
The Affiliate Lab is for you if:
You're a beginner ready to learn advanced SEO practices.
You're at the advanced blogging stage and want to polish your SEO game to take your niche website to the next level (Matt offers really advanced strategies that surprise even the best-advanced authority site owners).
You've been unsuccessful at SEO & digital marketing.
You're looking into making passive affiliate income.
You're motivated and success-driven.
You're willing to learn and implement everything Matt teaches.
You have the funds to purchase TAL.
The Affiliate Lab is not for you if:
You're a lazy person.
You're not willing to spend 4-10 hours each week learning.
You're looking to make money ASAP.
You don't have the funds to purchase TAL.
If you're part of the first category, I suggest signing up for Matt's Affiliate Lab, at the price of $997 right away simply because I'm not certain when this price may go up (highly possible prices may increase as content value has just kept growing!)
The Affiliate Lab is a great course taught by a smart guy who has been in the industry for 12+ years and tried thousands of optimization tests on hundreds of websites to ensure he and everyone who takes this affiliate marketing course makes abundant money.
If you're part of the second category (not for you), I wish you luck!
This course won't be suitable for you as it is packed with intense information to help you take your site to the next level, and purchasing the course will only make you regret your purchase (no refund policy).
The Affiliate Lab Cost & Refunds Breakdown
The Affiliate Lab Costs $997, where you get instant access to core Affiliate Lab training along with 11 bonus courses to boost your authority website faster.
The amount of content Matt offers for just $997 is an absolute steal.
I highly recommend going down the below section, where you'll learn how much information you'll be provided in The Affiliate Lab course.
All this is just for $997!
Note: Prices fluctuate, and $997 is the lowest price offered by Matt. If I was you, I would grab the offer before it runs out!
The Affiliate Lab Refund Policy
The Affiliate Lab does not believe in refunds, so Matt does not offer a refund policy. This means once you purchase the course for $997, you won't get your money back.
The Affiliate Lab Course Breakdown
The Affiliate Lab is the most in-depth information-dense course, you'll ever find. Throughout the course, you'll learn a lot of things that can make you feel Wow, and That's Crazy Good!
The Affiliate Lab is broken down into:
TAL Core Training
TAL 11 Bonus Courses
The Affiliate Lab Core Training
The Affiliate Lab Training includes everything about SEO, Blogging, Affiliate Marketing, and making money through websites.
Some of the things you'll learn are:
Niche selection using Niche grading tool
Using Recursive Keyword Research Process to uncover all high volume low competition rich keywords
Best Site structure that Google loves
Step-by-step of how to build a niche website from scratch
How to create content that ranks on page 1 forever
Breakdown of Google Updates and Avoiding Penalties
Onsite & Offsite SEO Optimization Process Checklist
Mastering Amazon Affiliates, About Us Page, Recommended Resources, and all relevant pages
Best Free/Cheap SEO Software Alternatives
Building the real E-A-T For Google
Perfecting Anchor Text and internal link-building
Conversion Rate Optimization (CRO)
How to outsource content (free Swipe templates included)
and so much more…
These are just 30% of everything you'll learn inside Matt's The Affiliate Lab.
Check out the TAL Sale Page to learn more about what is covered in their core training and sign up for the course now (discounted price at checkout)
The Affiliate Lab Bonus Courses
The Beginner's Lab
Here you'll learn how to set up your blog.
Some topics covered are:
Setting up your first website
How to setup WordPress on your website
Purchasing and integrating domain name
Choosing the best hosting provider based on your budget
Setting up Analytics
Exclusive Facebook group
In this Facebook group, you'll get all your questions answered related to SEO, affiliate marketing blogging, and running an online business.
TAL Facebook group is quite active and useful to solve doubts and learn new things about blogging. With over 3400 people, it's a great spot to interact and learn.
CRO Masterclass
Conversion Rate Optimization (CRO) is where the magic happens. You'll learn:
5 keywords that will increase your click-through rates
The simple element that can add 11.12% engagement on your page
Alternative Call To Action that perform better
Free WP plugin to increase your sales by 7.65%
Improve audience retention
3 psychological Tricks for a Higher Affiliate Commission Rate
Featured Snippets Masterclass
Learn how to get from the third page right to the top of the first page as featured snippets.
The 5 steps process to take away the featured snippets from your competitors
2 biggest mistakes to avoid while optimizing for featured snippets
5 things to do if Google refuses to feature your site on position 0
Authority Blueprint
In this bonus course, you'll learn how to take your average site and turn it into an authority site that ranks for thousands of keywords and competes with the top-ranking websites.
Website Flipping Masterclass
While earning affiliate income is amazing, Matt encourages bloggers to sell their websites for 30-40x of the website's value.
All this money upfront makes bloggers love this bonus course, and Matt guides you step-by-step on how to successfully flip your website.
Outreach Masterclass
Learn how to outreach, out and build effective links by using the most creative ways. You'll get a template that you can easily use to attract links.
Website Recovery Kit
The website recovery kit includes 3 blueprints to help you get your site unstuck, recover from a Google algorithm update, and ensure you don't avoid penalities.
Optimize Your Health
This bonus course is focused on your health. Life is not all about working, making more money, and optimizing SEO for the best results.
Matt gets that and prioritizes this module to ensure you have a work-life balance and enjoy your blogging journey.
SEO Testing Crash Course
Matt conducts SEO testing from time to time. Here's what you'll learn in this module:
What to test to get the most traffic gains
How to set up a time-based test that can multiply your clicks
Tools you can use to test for completely free
On-page tricks that boost clicks by 6x
Topical Authority Masterclass
Koray GÜBÜR (an expert on topical authority) reveals everything you need to know to create a niche website that ranks with content only.
After learning this module, you don't have to worry about building backlinks. Koray will teach you how to rank content with free tools from scratch and without link building.
Pros and Cons Of The Affiliate Lab
The Affiliate Lab, like any online course, has flaws that you need to be aware of.
That said, TAL is still much better than other SEO affiliate marketing courses on the web.
It packs enough valuable information to defeat most courses and is a one-of-a-kind marketing course to make money.
I'm sure after reading all the pros and cons, you'll find that the pros far outweigh the cons of TAL.
What I DID Like
Lifetime Updates
Google Algorithms change all the time, and purchasing a course that was created three years ago doesn't make sense!
Why invest in outdated content? That's why Matt offers lifetime updates on his flagship SEO course.
Here's what he says, "If anything changes in the SEO world, the course changes with it".
And if you're wondering about what happens with the old tactics and tips that are outdated, well those are removed and immediately replaced by new and updated powerful strategies to boost your authority site and maximize your earnings.
This way you'll always:
Know what SEO/Affiliate strategy works.
Get the results of the latest successful tests (done by Matt for you).
Never waste time on outdated SEO strategies.
Daily SEO Testing
Matt pours his heart and soul into testing the latest strategies to figure out how to make it work to grow your online site.
Matt has numerous sites he's running, along with an SEO company and a power-packed course, and still manages to constantly test various SEO strategies to give us the best and most updated information.
Matt has access to all those sites from various niches; he knows exactly what works, what doesn't, and how to generate enough revenue, over and over again.
All the data gathered from these sources is put forward in an easy-to-understand course so you implement these advanced-level strategies and make money with affiliate marketing like Matt.
Advanced Level Facebook Group
The Affiliate Lab Facebook group has 3400+ people who are interested in making money through their websites.
The group is packed with smart entrepreneurs, SEO experts, affiliate marketing gurus, and lots of friendly people open to help you solve any issue you have.
Apart from these friendly individuals, Matt himself takes some time each day to actively answer questions and solve issues faced by his students.
If you join TAL, I urge you to spend time on this Facebook group. Read some of the previous posts, and comments and learn what you can, as I haven't seen such an informative and friendly Facebook group.
The Facebook group also has a motto, "What happens in the group, stays in the group."
The Backlink Blueprint Strategy
Building backlinks is hard, and no matter what Google says (Google: Backlinks are not important!), backlinks are important! If you have a smart backlink strategy, your success rates skyrocket.
Well, Matt has cracked the code to build effective high-quality backlinks in his recently updated Backlink Blueprint Strategy.
These newly added tactics will help you rank your sites much faster by aiming for the right set of backlinks.
You don't need to spend hours figuring out how to reach out for backlinks as Matt has a foolproof strategy that gives you a week-by-week breakdown of link building along with dos and don'ts of link building.
These advanced strategies make Google quickly trust your authority and help you rank that much faster. Trust me, Matt's backlink strategies are top-notch, you surely don't want to miss these!
Organizes Your Business
How do you run your business? Do you write your ideas anywhere?
Use Google Docs for everything? Do you follow processes, and maintain trackers, sheets, and payment systems?
Most individual bloggers fail to understand the importance of being organized.
The best part of being organized is that you save time, which can be used to work on more important things like growing your affiliate marketing business.
Matt provides cheat sheets, checklists, spreadsheets, SOPs, business structure, and ideas to ensure your business is organized well!
I'm already a guy who's organized, but the templates and other resources provided go above and beyond to make your business seamless and easy to operate.
Highly Advanced SEO Affiliate Marketing Course
The Affiliate Lab is unlike any course I've seen. It teaches you strategies no blogging course ever tries to teach.
It dives so deep into each module that makes understanding theory and practical concepts fairly easy.
Along with that, Matt also gives you templates, step-by-step processes, and tons of support along the way. That's what makes TAL the perfect package.
The course is on the more techy side, but if you're looking for an advanced blogging course that skyrockets your income in just a few months (provided you apply these strategies), The Affiliate Lab is the perfect course for you.
What I DIDN'T Like
No Refund Policy
87% of the courses I've reviewed have a refund policy for their students. Sadly, Matt does not offer a refund under any circumstances. Once you've paid for the course, you're locked in!
That's a bummer, but Matt has an explanation for this, which totally makes sense (I would still prefer a refund policy!)
Tons of scammers purchase the course, make copies out of it, and sell it online for a tenth of the price. They steal all the hard work Matt has done and give it away for free. Once they have copied everything, they ask for a refund. Nobody likes that!
Another group of people buy the course, don't put actual effort into implementing the strategies put together by Matt, and then blame him for selling a stupid online course and ask for a refund.
For these two reasons, Matt has stopped offering refunds on The Affiliate Lab.
As I said before, this course is really good and worth your investment, but only purchase it if you're committed to learning and growing your income.
Complex For Absolute Beginners
Don't get me wrong, TAL is suitable for beginners, provided you know something about affiliate marketing, content writing, and making money.
Most people looking for an affiliate marketing course usually know what they're getting themselves into.
If you don't, then TAL may get slightly complicated for you.
If that's the case, feel free to ask questions in the Facebook group or reach out to customer support. You could also Google it up!
That said, Matt does explain everything from scratch, and if you carefully listen to him, it'll be a no-brainer.
For me, most of the modules were super easy to understand, while some were a bit heavy, where the Facebook group helped a lot.
Hours Of Updated Content
Running experiments and updating course content regularly is something I appreciate a lot, but sometimes it's confusing what's new and recommended right now.
For example, Matt makes a video on a topic and says this is what you should do, but 6 months later he changes the strategy.
Now you need to go to the new strategy, binge hours of updated content, learn the new strategy, and then apply it on your website.
But this means Matt needs to delete the old recommendation and ensure everyone moving forward follows the new recommendation based on current tests.
Even the best of us make mistakes, so naturally, Matt may miss deleting a video or written content, which may confuse students on what's the latest and greatest.
Not a huge deal breaker! Obviously, I prefer the updated content, it's super resourceful.
Apart from this, some software videos are outdated. These videos need an update so new joiners easily understand how to use them instead of spending extra time trying to find the filters, an option Matt clicked in the course.
Black Hat SEO Strategies
Google frowns upon using black hat SEO strategies, and Matt sort of prefers using them. The majority of his course is ethically correct by 1% of it can be questionable. Matt openly says that he offers both kinds of strategies.
Following these tips isn't mandatory so feel free to skip these points if you don't agree with it. Most affiliate marketing courses don't talk about these tips and that's good and bad.
I wouldn't follow black or grey hat strategies but knowing them and learning about them gives me a better understanding of how Google and other search engines work.
Not All Bonus Courses Are Good
Bonus courses are something I look forward to, but the bonus courses by guest speakers in TAL aren't mindblowing.
I mean these guest speakers offer average to good quality information. Some information I can easily find on the web, while a few advanced concepts are explained, but in a complicated way.
Luckily, Matt also speaks about these concepts in the core training, where he breaks them down well.
I don't suggest spending all your time at once figuring out the bonus courses.
Some do have a good take on affiliate marketing and SEO strategies, and I'm sure you'll learn a few worthy tricks, but when you feel a bonus course is not worth it, skip and move to the next bonus course.
Best The Affiliate Lab Alternatives
The Affiliate Lab vs. Authority Hacker
Authority Hacker is one of the best affiliate marketing courses online.
Mark Webster and Gael Breton are the founders of The Authority Site System, a course designed for beginners and experienced site owners to help them build their authority site and make a full-time income or take their existing authority site to a whole other level.
The Affiliate Lab and Authority Hacker courses are on par with each other in terms of the quality of the course, customer service, and overall success rates.
The Authority Site System is perfect for beginners and experienced bloggers, whereas The Affiliate Lab is perfect for beginners, experienced, and advanced bloggers earning a couple hundred dollars a month in affiliate earnings.
The Affiliate Lab takes the Authority Hacker affiliate course a step further by offering advanced-level affiliate marketing tips and tricks. While this seems great, advanced affiliate tips can be tough to grasp.
Authority Hackers TASS has a more modern dashboard, better audio, and video quality offers interactive courses, 30+ copy/paste templates, free resources, offers real-life case studies, and a 30-day refund policy (TAL does not offer refunds).
The Affiliate Lab costs $997 (Post discount)
The Authority Site System costs $749 (Post 50% discount)
Here's my final recommendation:
Check the table below for the best affiliate marketing courses on the planet.
The Affiliate Lab vs. Niche Site Profits (aka Fat Stacks)
The Affiliate Lab and Niche Site Profits (Fat Stacks) are tough to compare as even though both are in the category of making money online through a site, their strategies to approach are different.
The Affiliate Lab focuses on affiliate marketing to make money, while Niche Site Profits focus on monetizing with display ads and huge volumes of traffic.
With The Affiliate Lab, you can get less traffic and still make a good chunk of money, but for Niche Site Profits, you need more traffic to earn through display ads.
Both strategies to make money online are legit and amazing. Both courses also have smart Facebook communities to interact with.
Choosing one of the two boils down to which monetization strategy you want to focus on.
Here are reviews for Both the courses:
Is The Affiliate Lab Worth It?
The Affiliate Lab is one of the best affiliate marketing and SEO courses for site owners. Period!
Matt dives deep into the nitty gritty of building websites (without coding experience), generating revenue, and flipping websites (if needed) to make a wholesome full-time income.
Most online courses spend time teaching theory, while some only spend time doing practical things.
Matt understands that to learn all the concepts perfectly, it's important to learn the theory and how to implement it practically, so he offers the best of both worlds in TAL.
That's what makes The Affiliate Lab so informative and eye-opening. Website owners have made serious affiliate commissions after going through Matt's online course.
All said, you need to spend countless hours learning and implementing all the strategies tips, and tricks Matt talks about in his videos.
Put in the hard work, and the results will flow!
FAQ Section
Are There Any Up-Sells With The Affiliate Lab?
No there are up-sells once you purchase Matt's course. Everything you need to build, monetize, and flip websites is included in the course upfront.
That said, The Affiliate Lab recommends tools and services to help scale your site faster. None of these recommendations are mandatory and can easily be avoided but investing in these tools can make you more money faster.
Is The Affiliate Lab Good For Beginners?
Of Course! The Affiliate Lab is perfectly suited for beginners with no experience in SEO, websites, and affiliate marketing.
There are modules dedicated to teaching beginners how to build sites from scratch and create authority site owners.
Does The Affiliate Lab Make You Rich?
Well, that depends! It depends on how much effort you take to implement the course.
Matt will provide you with all the necessary content to make you rich but after that, it's how you learn and execute the strategies and advanced tactics Matt dives deep into in the affiliate course.
You can easily make 5 figure incomes consistently if you spend hours learning and tweaking your authority site.
I hope The Affiliate Lab Review helped you decide if The Affiliate Lab is a suitable course for you.
Feel free to leave your comments below if:
You have a question or feedback
You need me to clarify something regarding my The Affiliate Lab Review
You wish to share your The Affiliate Lab Review with everyone
Have you enjoyed this post? If so, you might want to subscribe to my newsletter. It usually contains life lessons and money-related topics, some interesting observations, links to articles or books I've read, and tips to be a better person. If you're interested in these things then subscribing will be simply wonderful 🙂 PS: Subscribe and Get your Freebie below!
Also, I'm a YouTuber now! If you're interested in Pinterest Marketing, Blogging, or business-related things, Subscribe to my Channel and I'll see you in the comments!