What is an IPO | How to Invest in an IPO in India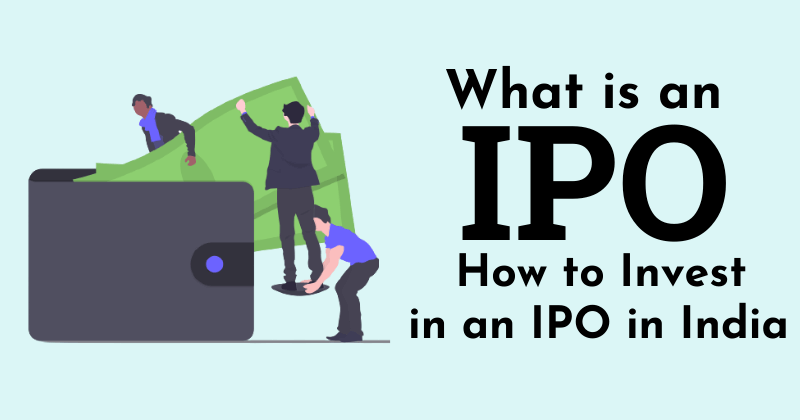 This article may contain affiliate links. If you make a purchase using my links, I'll earn a small commission at no extra cost to you. I appreciate your support!
Of course, you've heard that a company went public and the people that invested in it made a fortune. It's a classic IPO story, but the grass isn't always green, an investor must make an informed decision before investing in an IPO.
The stock market can be divided into two definite segments; 
Primary Market
Secondary Market
Any company wanting to launch an IPO does it in the primary market. This is the place where investors can purchase shares directly from the company. 
Once the shares are allotted in the primary market and the company's name is listed on the stock exchange, investors can start trading these shares. This is called the secondary market.
What Is An Initial Public Offering (IPO)
IPO stands for Initial Public Offering and is the process of offering shares of a private company to public investors. 
This is the first time the company issues its shares to the public. Before an IPO, the company is a private company and after issuing shares to the public, it becomes a public listed company on a recognized stock exchange. 
In India, the National Stock Exchange (NSE) and the Bombay Stock Exchange (BSE) are the popular stock exchange platforms. 
Before an IPO, the company has very few shareholders; the founders and outside investors (if any) but after the IPO, every individual that buys a share of the company is a shareholder of the company. 
In simple words – an IPO means a company is 'going public'.
Advantages Of An IPO
The IPO is an exciting time for the company as well as the investors like us. 
It usually means the company has got enough business to take on additional capital and continue to grow. 
It is the only easy way for the company to get enough cash for massive expansion. The company uses this to buy new infrastructure, hire more employees and any other essential things the company needs. 
As for the individual investor (you and me), we get a first-hand opportunity to invest in the company during an IPO. If they are lucky, they stand to make millions when the IPO is issued. 
How are Shares Allotted in an IPO
There are three categories for investing in an IPO. This includes:
Qualified Institutional Buyer 
Non-Institutional Investor
Retail Individual Investor
Each category has specific details regarding the allocation of shares. As an individual investor, people like you and me, we fall in the third category – Retail Individual Investor. 
As an individual investor, we are allowed to invest in small lots ranging from Rs 10,000 to Rs 15,000 depending on the issuing company. 
The maximum amount we can apply for is Rs 2 lakhs. As for allotment of these shares, if the demand for the shares is less than the supply, everyone that has applied will be allotted shares. 
If demand is greater than the supply, the issuing company conducts a lottery system and those chosen in the system get their shares. This is called oversubscription and you may often see this trend in newly issued IPOs. 
How To Invest In An IPO
There are a few steps an investor needs to follow to attain wealth through an IPO. The steps an investor needs to take are as follows: 
Decision
The first step an investor needs to take is to decide whether he or she is interested to invest in a company during its IPO. 
The best way to go about this is by going through the company's prospectus and understanding everything they do and seeing if there is an actual need for something like this. 
If the company issuing an IPO solves a huge problem to many individuals and businesses, then the potential for that company is huge, meaning you can invest in it. 
If the financial documents seem not so interesting and have bad numbers, you should probably not invest in it during its IPO. 
Investors that have been investing for some time find it easier to decide whether to invest in a company or not, decision making applies more to the new investors in the market. 
Funds available
If you're clear about investing in an IPO, it's time to figure out if you have the funds to invest or not. 
Investing in an IPO is not like investing in 1 stock of a company, you can buy Individual stocks of already issued companies in the secondary Market i.e the stock market but for an IPO, you need to buy a set of shares called a 'Lot'. 
Individual investors are allowed to invest in small lots of Rs 10,000 to 15,000 depending on the company. You can purchase these to a maximum of Rs 2,00,000. 
An investor can use his savings to buy a company's share. If the investor does not have enough funds, he can avail a loan from a bank at the interest rate decided by the bank. 
A higher credit score will help you lower the interest rate charged. 
Open a Demat-Cum-Trading Account
No investor can apply for an IPO without a Demat account. 
The function of a Demat account is to provide the investor with a place to buy, sell and store their shares and other financial securities electronically. 
You can open a Demat account easily with any investment trading firm. You will need to submit your PAN card no, Aadhar card number and bank account details for opening a Demat account. 
The investment trading platforms I recommend are Zerodha and Groww.
After the investor has opened a Demat-Cum-Trading account, he needs to get familiar with ASBA. 
Application Supported by Blocked Account is an application that enables the banks to arrest funds in the applicant's bank account.
This is mandatory for every IPO applicant and is made available to every applicant in Demat form. 
Bidding & Allotment
Now that your trading account is ready, you need to find the IPO of the company you want to invest in, read all the documents and place your bid value. 
Bidding is done based on 'lot size'. The lot size is the minimum number of shares you as an investor has to apply for in an IPO. 
In most cases, demand increases supply which means the issuing company will use the lottery system to allot shares.
After the shares are successfully allotted, it is credited in the investor's Demat account.
Note: If you want to sell the shares after an IPO, you will need to wait till it appears on the stock exchange (usually takes a week) and then you can trade the shares. 
Eligibility norms required for an IPO
The individual should be an adult and should be capable of entering into a contract.
The individual should have a PAN card issued by the income tax department of the country
The individual should have a valid Demat account where he will receive the shares.
While it is not necessary to have a trading account, I suggest you should open a trading account especially if you want to trade the shares in the stock exchange.
Where to search for Upcoming IPOs
You can check for the latest IPO on your Investment Trading platform or Stock Market apps like MoneyControl.
There are a lot of IPOs each month, you don't have to or need to invest in all of them because everyone says IPO gives excellent returns. 
I've seen people losing money in an IPO and I've seen people making tons of money in an IPO. 
The main difference between the two is that the one that makes money reads all he can get about the company, reads articles written by other financial experts and makes an educated decision. 
Yea sometimes luck works when investing in an IPO but not all the time. 
Is An IPO A Good Investment?
Honestly, It depends. You need to do a proper analysis of the company you are planning to invest in. 
Initial Public Offerings are generally considered extremely beneficial as they give investors a chance to grow their money exponentially. 
An IPO also helps the issuing company as they get capital to further expand their business. 
Happiest Minds Technologies IPO which was issued on 7 September 2020 saw a whopping increase of 150 times the ask price. 
I know it all looks pretty on the outside for IPOs but few hit losses when shares are issued. 
That's why it is in your best interest to check their financials, see what they do, how many employees they have, how they make money and investors invested in the company.
IPOs are golden tickets to earn a lot of money. The key is to find the right company and invest in it, you'll earn returns in the short and the long term. The trick – To find the right company and you're in for a good treat.
So are you planning on investing in an IPO? Study the company before you jump into the bumpy ride!
Enjoyed this post? If so, you might want to subscribe to my newsletter. It usually contains life lessons and money-related topics, some interesting observations, links to articles or books I've read, and tips to be a better person. If you're interested in these things then subscribing will be simply wonderful 🙂 PS: Subscribe and Get your Freebie below!
Also, I'm a YouTuber now! If you're interested in Pinterest Marketing, Blogging, or business-related things, Subscribe to my Channel and I'll see you in the comments!