Stacks Review (2023): How It Works & My Experience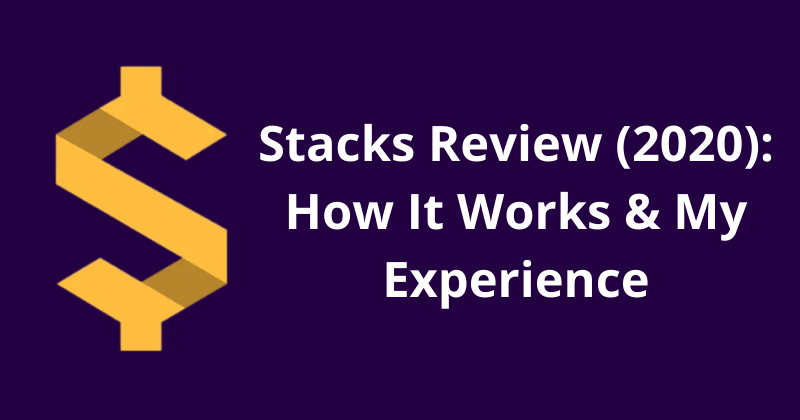 This article may contain affiliate links. If you make a purchase using my links, I'll earn a small commission at no extra cost to you. I appreciate your support!
Saving can be difficult, especially if you are an avid spender. Most people set goals to save some money each month, some write it down, try their best to save money but often give up too easily. 
Usually, the reason for giving up too easily is not knowing how to save money strategically and because the process isn't enjoyable.
People who want to save money are divided into two categories:
People who simply want to save
People who want to save to achieve a goal.
The first type of people are the ones that usually give up, they don't know what they're saving, what will happen to their lives once they save 'X' amount of money.
The latter ones are goal-oriented which is great cause now you have a reason to save money and live frugally. 
It can be for your wedding or a mini-vacation with your best friends or to buy a house. 
The sole benefit of having a goal is that you know what you're saving for, you know that if you won't save enough, your goal will not be completed. 
As easy as saving money sounds, it's a bit complicated. That is where a goal-oriented savings app comes to help you achieve your goals. 
Today we'll be looking at Stacks Mobile App and see if this app can help you easily achieve your goals, make the journey faster, and ensure you never face a problem you can't solve. Let's get started!
What Is Stacks: Save Better App?
Stacks: Save Better is a goal-based savings app that helps you save money and fulfill your goals. 
The app has a lot of features in it like goals, groups, coaching, outsourcing, and much more. 
Goals represent your personal goals like buying a car or a house or going on a Europe trip, planning a wedding, etc. 
With groups, you can save together. Let's say you and your friends want to save $1000 in total for a road trip. 
By adding all members to the Stacks group, you can do just that. Once the goal is completed, you will see a notification telling you that you're ready! 
If you want help completing a task, you can outsource your activities. Personal finance is a growing industry, not many know how to budget or manage their finances. That's why Stacks allows Coaching Calls to help you get there easily.
Why Was Stacks Created?
The app was created with one goal in mind – To help us achieve our goals. Planning for the future can be exhausting especially when you don't know what problems lie ahead. 
You may be fired from your job or you may be faced with an emergency. At such times, your savings account needs to have some cash, or else things might be difficult for you and your loved ones. 
Stacks guides you to reach your financial goals with ease so that you can plan for YOUR future. 
Who Can Use Stacks?
Stacks are for those who dream about big things like going for a vacation with friends, or planning a wedding but need to stay within budget, or trying to get out of debt. 
Whatever your needs are, Stacks have got you covered. Right now they only have an IOS App but I've spoken to Stacks Team and they told me that an Android version is on its way. 
If you're using an iPhone, I suggest you try out the app and see your money being saved in an easy and fun way.
5 Reasons why Stacks Is An Effective Goal-Savings App
1. It's Different from a Traditional Savings Account
Can you set multiple goals in your savings account? I doubt that. With Stacks, you can have multiple goals all under a single roof. 
It even supports donating, if your parents or relatives want to donate money to your goal, they can do so using the app.
2. Career Planning
Out of all the features they provide, this is my favorite. If you wake up in the morning and ask yourself if the job you're doing satisfies you and the answer to that doesn't put a smile on your face, it's time to look for a job change or perhaps an industry change. 
We all know how difficult this can be, with over 1000 different jobs, and so many opportunities to grab, it can seem impossible to choose the industry you most resemble with. 
After you book a scheduled call, a career coach will identify your strengths, weigh the advantages and disadvantages of each option, and choose the perfect one for you. 
All you've to do is answer the questions the coach asks you. 
3. Outsource Tedious Tasks
Stacks doesn't just stop at coaching sessions, it takes it one step further by letting you outsource the work you don't have time to do or have zero knowledge about the task. 
You can book tasks such as building a budget, creating a personalized debt repayment plan, creating a wedding day plan, building an itinerary for your travels, and also help you start a side hustle like building a Shopify Store or an Amazon business or even launching an LLC company. 
Once you book a task, the Stacks team will assign you an expert who will get your work done smoothly. 
4. Flexibility
You can put as little or as much money as you wish into a stack. There is no minimum limit and no maximum limit. 
When do you want to achieve your goal? You can set a time frame (say 6 months or 2 years) and according to that the app will help you reach your financial goals. 
5. Personalized to Cater to your Needs
Stacks Mobile is personalized to the very core. They understand that your needs are your needs and they defer from another person's needs. 
If you want to start a side hustle, what do you do? You use Google right! And read articles on Side hustles. 
To choose one idea out of the hundreds of ideas to make money is difficult and time-consuming. 
That's where Stacks make it simple – the coach on call helps you identify your unique skill set, determines how much time and resources you can allocate towards this side hustle, and recommends the perfect option for you.
Stacks Mobile Reviews From Actual Users
Dylanhay – Downloaded this to save for holiday gifts, and it literally made it so easy. Started saving months in advance and before I knew it, I had a notification saying my goal was complete! So much flexibility and makes saving money easier. If you're looking for a good savings app, look no further!
Mlmadi3 – This app is awesome! Saved for our covid wedding and even though our plans changed several times it was great to know we had the financial part covered. We even hired a coach last minute to help us put together a day of plan!
Haley232 – Stacks coaching not only saved me time but made my trip even better than I could have imagined. I used Stacks to save for my trip then hired an expert to help me plan and book the activities for my family!
DaneS99 – Stacks is incredibly easy and convenient! Using it has helped me realize all of the things I really WANT to put money towards, as well as provide realistic goals and a sense of motivation to reach those goals! Getting friends involved to get more out of life is another awesome addition!
Karelvalco – Stacks: Save Better offers an easy to use platform that introduces a social aspect to savings. The layout is similar to some social apps that we use, which makes it so easy to use. By linking to your bank account, you can start to see that money grow towards your savings goals. 10/10 recommend. 
How To Get Started with Stacks Mobile App 
In four simple steps, you can start using the app to its best.
Step 1: Download the app
Your first step has to be to download the app from the IOS platform – App Store.
Step 2: Create your Stacks account
Fill in all the necessary details the app asks for. Once you do that, you will have your own Stacks account.
Step 3: Link your Bank Account
Once you sign up, you will need to link your bank account with the app. This will help you and the app to properly allocate funds. If you want to change/add a new funding source, check out the FAQ Section.
Step 4: Choose a plan and Start Saving for your Goals
There are Three plans – Basic, Gold, and Platinum. Below you'll find details for all three plans.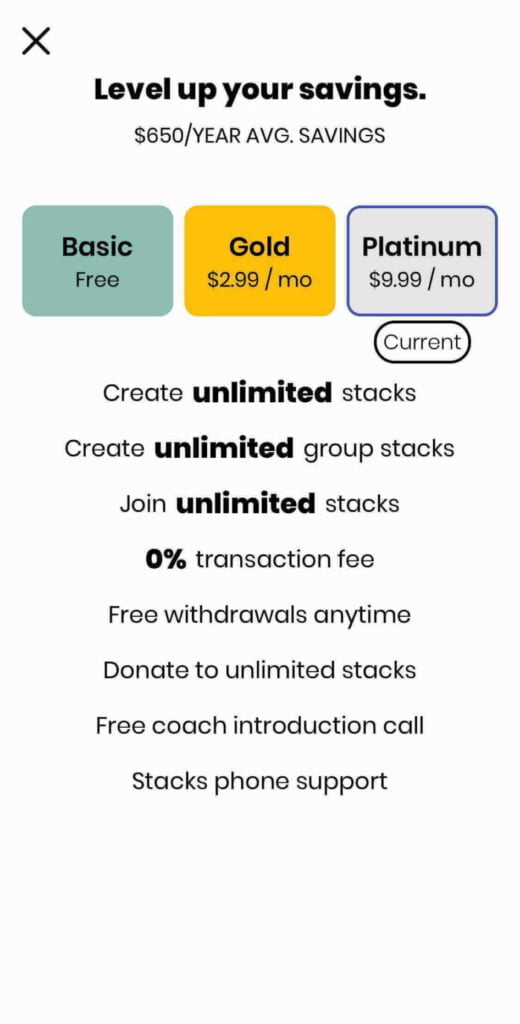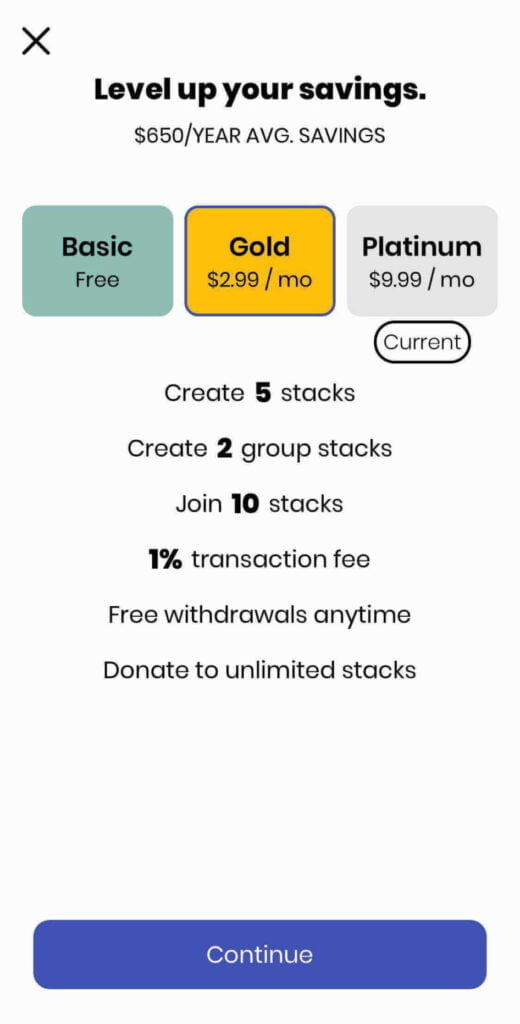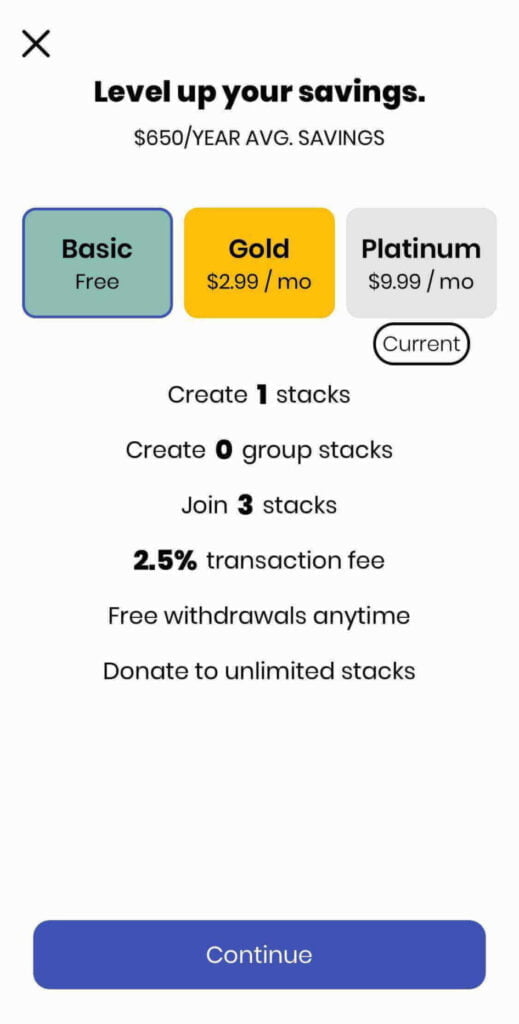 I would recommend you start with the basic plan, see how comfortable you are with this app, then as you identify your goals, you can shift to Gold and Platinum plans. 
If you ask me, I would suggest you take the platinum plan as it has all you need plus an introductory coaching call to guide you. 
For those who find it difficult to understand personal finance, Stacks have a top-notch coaching service program you need to try. 
It knows that not everyone is great at managing your finances, so it provides coaches to help you get your finances in check. 
A professional coach calls you and maps out your entire financial budget for you. 
Not only do you understand personal finance and budgeting but you also have a customized plan all ready for you to take action on. Isn't that just great! 
Final Thoughts: Is Stacks App Worth It?
Our mornings start with work and end with work. There's practically no time for rest or entertainment. 
With Stacks, you can make this all happen, and you don't even need to do the hard work. The app is simplified for you to set an effective goal, according to your financial condition, your time frame, and resources. If things get difficult, there are professional coaches to help you get there easily. 
The sole focus of this app is to improve your standard of living, help you enjoy life, be financially ready, and plan for things in advance. 
The app also allows you to form a group and save together, now that's a feature most companies don't offer.
I feel this app is really good, if there is one place I wish it improved, that would be creating an Android version of the app as I know many individuals use android phones. 
But after speaking to the team, android users need not worry as it will be on the Play Store in a few months!
If you have any more questions, refer to the FAQ section.
Feel free to leave your comments below if:
You have a question or feedback
You need me to clarify something regarding my Stacks Review
You wish to share your Stacks journey with everyone!
Enjoyed this post? If so, you might want to subscribe to my newsletter. It usually contains life lessons and money-related topics, some interesting observations, links to articles or books I've read, and tips to be a better person. If you're interested in these things then subscribing will be simply wonderful 🙂 PS: Subscribe and Get your Freebie below!
Also, I'm a YouTuber now! If you're interested in Pinterest Marketing, Blogging, or business-related things, Subscribe to my Channel and I'll see you in the comments!