How to Write & Publish an Ebook: 13 Advanced Tips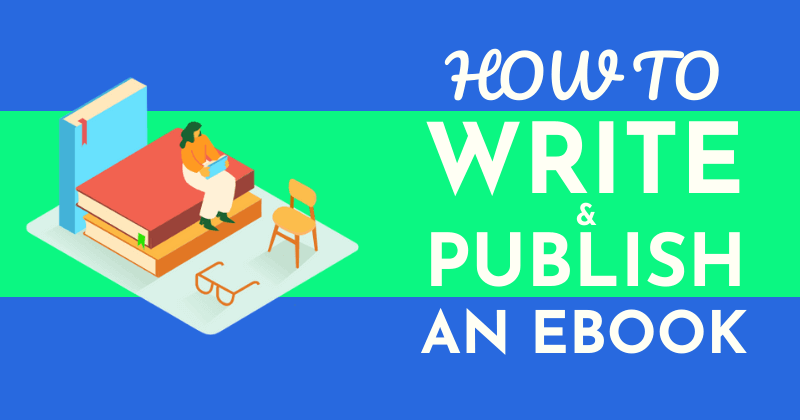 This article may contain affiliate links. If you make a purchase using my links, I'll earn a small commission at no extra cost to you. I appreciate your support!
Anyone can write, edit, publish, and market an ebook for free! If you don't know how to do it for free, don't worry, I'm here to help. My guide will teach you all I know about writing, editing, publishing, and marketing an ebook completely for free.
I'll share some courses and books that can add value to your ebook writing journey, you don't need to purchase them but they could make your ebook writing and publishing journey much easier. Let's get started!
What Is an Ebook?
Ebook stands for Electronic book and is used to read a book on a digital platform like a computer, mobile, or ebook reader. Ebooks are becoming very popular as it's easy to carry along; you could have 10 or even 100 ebooks inside your ebook reader stored in your tiny bag for a road trip.
If you like tech, ebooks are definitely going to spice up your life. I have a Kindle reader, and whenever I travel, I use it to read books without worrying about carrying a dozen books 🙂
If you're using a Kindle, you can easily highlight points, write notes and click on the words to know their meaning. All these features are why ebooks are a trendy subject and that's why I feel you should try writing an ebook. 
Why Write an Ebook?
Ask any person why they don't want to publish a book, and they'll probably say it's because it takes a lot of time and money.
I feel the biggest advantage of an ebook is that it's electronic so you don't need to print books, you can publish ebooks yourself. Publishing an ebook is super easy and there are many guides to teach you to do that.
The next most significant factor why people don't write a book is because the upfront investment is high (because you print books + shipping costs). Ebooks need not be printed, the only investment you'll need is your time.
Ebooks are a growing industry so once you have an ebook online, you can earn some income from the ebook for life (considering your digital marketing strategies are well planned – Step 9 will teach you that).  
Unlike physical books that may take a few days or a week to arrive, ebooks are available immediately.
If you have a blog (like mine) or a youtube channel or a group of people, you could tell them about your ebook and convince them to buy it, read it, and review it. 
You can add links to other social media profiles and drive your ebook readers into your long-term readers, for example, by adding links to your blog posts or your landing pages.  
What's Your Primary Goal With The Ebook?
Maybe your primary goal with the ebook is to make money or maybe it's to gain an email address by offering the ebook for free. 
If it's to make money selling ebooks on Amazon, Kobo, and other platforms, then your competition is any book that's on those websites. 
If your ebook is meant to create a sales funnel (by collecting email addresses), you will need to create opt-ins, landing pages, and so on to promote it in your blog or website. 
You could also offer a chapter of your ebook for free to email subscribers as an incentive. This is a great strategy to increase your email list. 
Deciding your strategy will help clarify your objectives with your ebook. 
FREE Ebook Checklist Printable
How Hard Is It To Write An Ebook?
Case 1: Writing an ebook to get emails (freebie)
On a scale of 1 to 10, writing an ebook and selling it for free to get emails is a 4. If you intend to collect emails, you can get an ebook done much faster because you don't have to change formats (pdf file works), and you don't need to write a lot. Most free ebooks are about 10-30 pages, that's not a lot if you think about it.
Case 2: Writing an ebook to sell online
On a scale of 1 to 10, writing a high-quality ebook is a 10. Does that mean you should avoid writing an ebook? NO! If you plan to write an ebook to sell on Amazon, Kobo, or other such platforms, your ebook needs to be very good.
You need to put in a lot of time because you don't just have to write, you also need to design, format, and publish all by yourself.
So yes, it can be overwhelming but stay the course and you might make an incredible ebook that people love and also make a lot of money.
If you want to learn how to be a bestselling author and make money self-publishing books, Check out this Nick Stephensons Your First 10K Readers Course! (Review)
Best Book Writing Software (My Favourite!)
When it comes to writing down content, I don't think it can get any easier than Google Docs. I use Google Docs to write all my articles and it never disappoints. 
 It simply does the job and lists down points and chapters systematically. It saves the write-up on its own and you can even use google docs offline. You can add links, and comments, change page layout, add margins, page numbers, and a whole lot of features all for free.
Plus if you want to share your work by asking for a suggestion or during the editing process, google docs does a pretty good job.
If you have a slow laptop with a low internet connection, you may face some lagging issues when you write (I have faced this), not a big issue, in such cases, Microsoft Word might suit your needs better. 
But if you still want to know the best book-writing software on the internet, I've linked an article, read it here, best book-writing software.
How to Properly Structure an Ebook?
There is no set structure to follow when writing an ebook but basically you need to segregate your ebook into chapters.
If you're writing a long book, you could also break it down into sub-chapters so that the readers could easily grasp your information and because it will be much easier for you to write. 
Writing an ebook is quite similar to writing a blog post, the only difference being that ebooks are much longer and more in-depth than blog posts.
If you want to learn more about the structuring of an ebook, you can read this article by designrr.
​How to Write Your Ebook from Start to Finish​: 9 Steps
Step 1: Figure out YOUR Interests
Daymond John is a businessman and an investor in the famous series Shark Tank. He has written a couple of books, the latest one is Powershift where he teaches you how you can transform any situation to your liking, and he teaches you how to make more sales.
This book teaches you everything you need to learn to be successful, why did Daymond John write this book? because his interests align with success, sales, and so on.
My point is that most people write what they're good at, and their core skills are expressed in such books.
So take some time to find out why you're passionate about what motivates you, what got you success, and how it helped you. 
P.S. If you haven't read Daymond's e-book Powershift, here's the Amazon link!
If you don't know what interests you, google top book niches and pick a few that you can write on.
Step 2: Pick a Topic People NEED
The quickest way to find if you're writing a topic people need is by doing keyword research. Use a keyword research tool, type in your keyword (say: Instagram marketing), then see if you can find traffic to these keywords. Usually, any number above 300 is a good start.
Look at the image below, On the left, we have Ahrefs Keyword Generator and on the right we have Ubersuggest.
There is a lot of money searching this term every month, so you could write a book on Instagram marketing.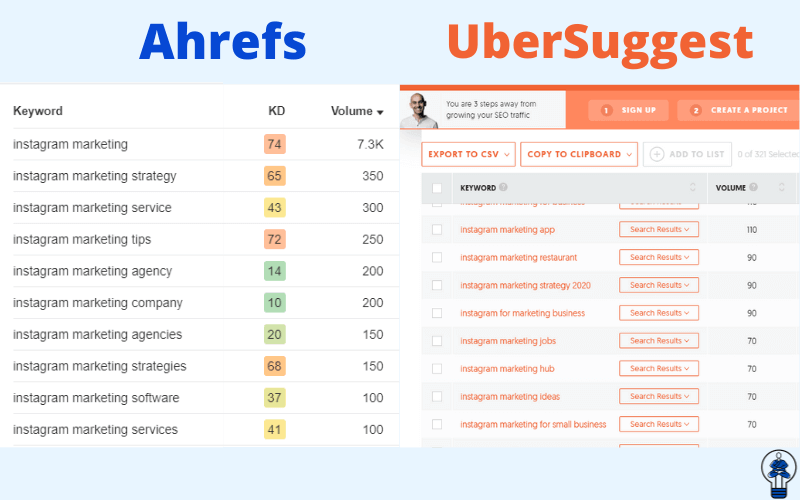 Best Free Keyword Tools:
1. Ahrefs Keyword Generator
2. Ubersuggest
Using this same keyword strategy, you can search for any keyword you wish to write an ebook on. Simply put in the keyword and see the traffic it gets each month. Anything above 300 search traffic is a good number.
Now make a list of all the keywords related to Instagram marketing and use these keywords while writing your money-making ebook.  
Step 3:  Give a Title & Outline Each Chapter of your Ebook
Your title is going to be the main eye-catcher for every ebook reader so you'll need to spend a lot of time thinking of a title that best describes your ebook to your audience.
Anyone who reads your ebook title must understand what it is without even reading the summary or description of the book.
Managing so many tasks is a Nightmare! I recommend writers use a to-do list app like Any.do (For Individuals) and Teamwork (For Teams) to streamline their work and keep things organized.
Something like "Decoding Instagram Marketing For Beginners (7 Steps)" tells me that the topic is specifically related to Instagram marketing and that the book is for beginners. It also tells me that I can learn Instagram marketing in 7 steps. This is how your title should be like, clean and to the point.
Few Points To Note for an Effective Ebook Title
1. It should be easy to say
2. Your Title should send a trigger emotion
3. Title should be clear and concise
4. It should state exactly what readers can expect in the book
When constructing a title, keep these 4 points in mind. 
Once you get your title ready it's time to outline the ebook systemically.
It all starts with an Introduction. Here you need to engage the readers to continue reading your book by describing to them all the things you'll be talking about in the book.
You could also talk about your backstory, your pitfalls, and how you decided to write this ebook.
The most important aspect i.e the central idea of your ebook must be to show the readers a clear path as to how this ebook will benefit them.
If you can show them the benefit in a very simple way, I don't see any reason why your readers won't be engaged with your content. 
To understand how to outline your ebook, let's take our previous example and construct an outline.
Main Title – Decoding Instagram Marketing For Beginners (7 Steps)
Introduction
Chapter 1: Instagram is the New Bright life
Chapter 2: Why Decoding Instagram Is Key To Making Money
Chapter 3: Step 1 – Your Business Interests, Goals, and Objectives
Chapter 4: Step 2 – Consistency Is Key
Chapter 5: Step 3 – Do Hashtags Work?
Chapter 6: Step 4 – Tweaking Engagement to Max Potential
Chapter 7: Step 5 – Spending More Time, Does it Work?
Chapter 8: Step 6 – Reels or IGTV or Posts?
Chapter 9: Step 7 – Paid Ads is the Real Deal?
Chapter 10: The Instagram Algorithm
As you can see I wrote down 10 chapters that I feel make some sense to Instagram marketing. Now I am no expert in this field so I highly suggest you don't copy this as it's not researched and I've mentioned these just as an example so you could understand how to outline your ebook.
You can create as many chapters as you like but remember that more chapters don't mean more quality content.
All you need to ensure is your content is top-notch and you don't compromise on creating a really good ebook for your readers.
Sage Tip: Be sure to create a consistent flow of structure across each chapter. Even if you're writing an information-based ebook, your chapters need to co-exist and establish a bond between each other. 
Step 4: Create Sub-Chapters for Each Chapter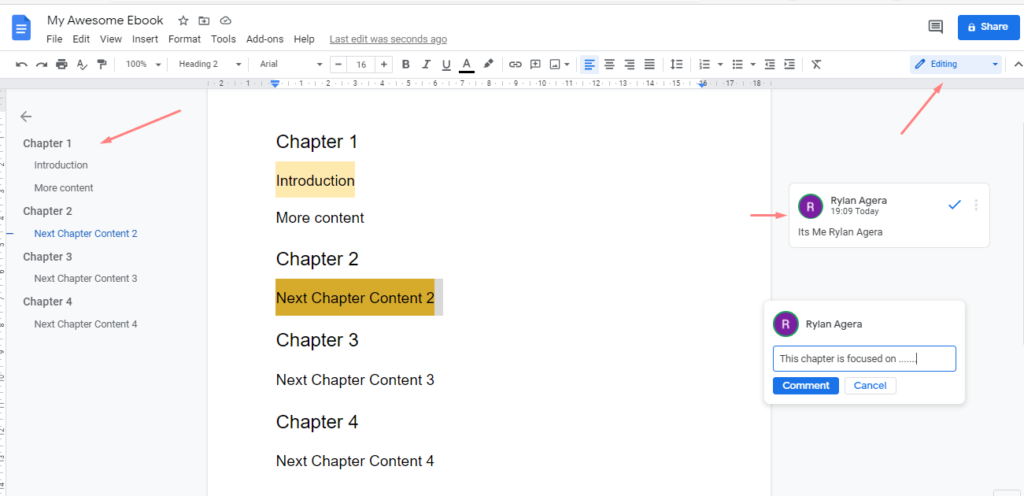 The easiest way to create your chapters and subchapters is by thinking of all the things that pop up in your mind related to the topic. Reels, IGTV, Posts, and Stories are four things that pop up in my head relating to Instagram marketing. 
Now let's expand one chapter to help you understand this better.
Chapter 3: Step 1 – Your Business Interests, Goals, and Objectives
Sub-chapter 1: Understanding your Business Interests
Sub-chapter 2: How to Identify Goals and Objectives
Sub-chapter 3: Aligning Interests & Objectives for Instagram
Don't judge me if the chapters seem awful :), as long as you get my example, we are good to go! 
Most books you see on the internet are very lengthy, but that doesn't mean you too need to write a long book. Length doesn't determine the quality of an ebook, what determines is does your ebook solves a person's needs and how well your content connects to your readers.
If that's equivalent to 10 pages or 100 pages, that's your choice. One mistake I see people making is dragging the same topic for 20 pages without concluding. If you can state a point in 5 pages, don't make a mistake by dragging it to 20 pages. 
The main purpose of bifurcating your ebook into chapters and subchapters is to simplify the contents of your ebook, making it easy to navigate and read.
It also makes your life simpler as you can approach a 100-page book one sub-chapter at a time.
Need help writing? Here are some freelance writing courses that can boost your writing and freelance skills and make you a ton of money!
🏆 Best Freelance Writing Courses (2023) 🏆
🏆 Best Freelance Writing Courses (2023) 🏆
Step 5: Start Writing
I suggest you stick to Google Docs or Microsoft Word as they are free. In the initial days, don't worry about how many words you write per day.
If you have a bad typing speed, I suggest you use Typing Test and practice typing for 10-15 minutes a day, this will improve your typing speed.
But a good typing speed is useless if you can't let your ideas flow when you're typing. No worries, even this skill comes through practice.
You don't need to use typing test for this, just write whatever you feel like, and in time your mind-finger connection will be better, then you can type fast while thinking (it's a slow process, don't expect improvements immediately)
Now when you start writing your ebook, sit down and start typing whatever comes to mind.
Google a few things if you're confused about certain topics and keep writing. I suggest you make the first draft a long draft, then your second draft should focus on reducing sentences and enhancing the reading experience.
Your first draft is not your final draft so let your ideas flow. I don't suggest you write books at a high speed because usually when I write a lot of words a day, my write-up isn't that awesome.
Instead, when I write moderate words a day, I can see my quality of writing is better.  
For my blog posts, I like to book a time slot with myself every day (that's usually 2-4 in the afternoon) and I write as much as I can in that time frame. You should also allot time slots where you'll only be focusing on writing words for your ebook. 
In this stage, don't worry about editing what you write. Keep writing till you finish all the chapters you had to write. Once that's done, move on to the next step.
Sage Tip: If you're a blogger, you can write each chapter and its sub-chapters just like you would write a blog post with H2, H3, H4 titles in it. 
Step 6:  Edit your Ebook
If you thought writing is hard, let me break the ice – Editing is much harder. Editing may take you twice or thrice the amount of time you spent on writing your ebook.
Plus editing can get really boring because you're reading your article again and trying to improve it, rectify errors, and make it simpler yet more interesting to read. I find editing hard because I like to write, and editing whatever I wrote is a huge task.
If you wrote 100 pages, you now need to edit these 100 pages for grammatical errors, better sentence structure, better use of words (for example, 'good' can change to 'amazing'), reducing repetition and average sentences, making sense of structural flow between chapters, adding new matter like stats, quotes, concepts, personal stories, etc.
There are a lot of things that you need to do once you get done with your first draft. All this work takes a lot of mental energy leading to boredom and stress. I suggest you break down the editing process into chapters or sets of pages (like 5 pages a day). 
If you have money to spend, hiring a book editor will be a really good idea. You'll save a lot of time, energy, and mental stress. You can then spend all this time working on your ebook cover, and marketing campaigns.
Some Tips to Edit Content Easily
1. Edit in a different environment
2. Read your story out loud
3. Use many Grammar Check Tools 
A common question asked is "How many times do I Edit my Ebook?" Most professionals prefer doing 3 drafts, whether you should increase or decrease your draft edits depends on your first draft.
How good is your first draft? Did you write a lot of uninteresting things that will need mending? Analyze your content and edit it slowly and nicely.
Sage Tip: Editing is a slow process, don't try speeding it up. It won't do any good. 
Step 7:  Use the Right Colours & Add Visuals
Color plays a very important role in the human mind. Every color has a meaning behind it, each color sends a unique signal to the reader. That's why understanding color psychology is the first step before you pick any color to supplement your ebook.
To learn color psychology I referred to the Color Psychology Article by CoSchdeule, read it carefully, make notes and pick your color according to the message you want to send to your readers.
Adding visuals enhances your entire being hugely. Images shouldn't be placed to break the monotony of text rather they should be placed to provide greater depth and understanding of the text.
You could use royalty-free stock photos or make your photos using Canva or Photoshop. 
In the FAQ section, I have shared my top three websites for royalty-free stock photos.
Step 8: Publish Your Ebook (For Free)
While publishing your ebook, don't forget to change the format of your ebook. For example, Kindle supports formats like MOBI, PDF, etc.
Here's the complete list of formats currently supported by Amazon Kindle.
If you're not publishing your book on Kindle, then wherever it is you're publishing, spend some time to format your file, cross-check to see if the format is made correctly, and only then publish it.
Often when you use free online converters to convert files, they get corrupted or some pages get erased.
You must check everything properly before you proceed. You could also hire a freelancer from Fiverr if you want to make sure nothing goes wrong. 
Step 9: Promote Your Ebook
If nobody knows you have published your ebook, guess what, no one will buy your ebook. Writing an ebook is extremely important but promoting it is equally important. Here are 5 ways to promote your new ebook
1. Your Website/Youtube Channel
If you have a website or a youtube channel you can use these platforms to promote your ebook for free. Write a few articles and link your landing page to your blog post.
As for Youtube, add the link in the description below. You could write a few articles on topics surrounding your ebook and add links. You can also create youtube videos on similar topics and tell your viewers to check the link. 
Hey, I've started a YouTube Channel, Support me and I hope you enjoy my content 🙂
2. Use Social Media
Social media is the easiest way to get people to buy your products. Ideally, you should share your ebook link on all social media platforms to gain maximum exposure but if you don't have too much time, pick two social media platforms that you feel perform best and share your ebook on those platforms. 
3. Email your Subscribers
Send an email to all your email subscribers and try convincing them that your ebook can improve their life. Spend some time trying to write a really compelling email. 
4. Use Paid Advertising
Use Instagram and Facebook paid ads to bring new leads to buy your ebook. All you need to do is write a few good lines, create a banner, and start paid advertisements. Paid advertisements usually convert really well. So if you do have money, spend it on paid advertising.  
5. Share it on Facebook/Whatsapp groups
Lastly, you can share your links in your Facebook groups. If you're not in any, you better join groups relating to your niche. Let's say your ebook is about oceans and lakes, you need to find Facebook groups that discuss oceans and lakes. 
Don't forget to track your marketing campaigns, and tweak them based on statistics.
13 Advanced Tips to Write The Best Selling Ebook
1. Set A High Daily Word Count
I'm sure you've heard of quotes like Dream Big and Aim High. If you plan to write seriously, setting a daily word count is essential. As to how much you should set your daily word count is up to you.
That'll mostly depend upon factors such as how much time you can devote a day, how fast you can write, and especially how much you can write without being exhausted.
Whatever word count you prefer, keep your daily target slightly more than that. I would say 1000 words per day seems like a good start, after some time you can increase this to 1500/2000 words per day.
Read More >>> 16 Foolish Mistakes You Make When Writing An Ebook
2. Include Statistics In Your Digital Book
People love stats. By including a few statistics in your ebook, you're increasing your credibility and making the book a much better source of information.
You might say that eating green vegetables has immense health benefits but if you talk about a case study done by XYZ and the results clearly state that eating green vegetables can improve your health, people are more likely to believe you and trust you henceforth.
Just make sure you link to the research finding you're talking about. If you don't find any research done on the topic you're looking for, don't add anything. It's better to exclude statistics rather than falsify information to gain credibility!
3. Highlight Important Points/Quotes/Stats
Want to enhance your ebook? Highlight quotes, important points, and statistics. Highlighting catches the eyes of the reader and tells him to focus on a given point.
This is useful especially when you want your reader to read something with more attention.
It also helps to break the monotony caused by the color black. This doesn't mean you start highlighting something on every page of your ebook, just highlight those things that really add some value to the reader. 
4. Add Call-To-Actions Strategically Throughout Your Book
The relationship with your readers doesn't end at the time they finish reading your ebook. You need to engage them in your ecosystem and the best way to do that is by optimizing your ebook for lead generation and various promotions.
What is a CTA? CTA stands for Call-to-Action and is basically an action that a website tells you to act on. Let's say you link the word 'healthy keto foods' in your ebook, that link takes the reader to a blog post on healthy keto recipes.
Now the reader has entered the lead generation phase and you are going to try to insert him in your (sales) marketing funnel.
The blog post has a free ebook on '10 effective strategies to have a good keto lifestyle and to gain access to that the reader has to enter his email.
If he enters his email, he's part of your email sales funnel and you can provide him value for free and slowly gain his trust. Once you know the reader is comfortable with you, you can sell him other courses/ebooks/webinars, etc.
Learn to create a great sales funnel and you'll never stop making money. Your ebook readers have probably purchased the ebook through your marketing funnel, your task now should be to reconvert them further down your marketing funnel.
Don't flood your ebook with links to all your blog posts or landing pages. That'll be too spammy! Only the most important and valuable links should be in your ebook. 
5. Chalk Out At Least 3 Ebook Titles
When writing a blog post, I don't rely on the first title that pops up in my mind. You need to try out numerous book titles before you finalize one.
A good headline must contain some form of emotion, a trigger response in the head, it should create excitement in the person and it should be clear and specific. 
The key to creating interesting titles is being specific with your titles. If your goal is to target people that wish to learn Instagram marketing, Don't write a title like, "How To Master The Game Of Marketing".
Instead, you could write a title, "Decoding Instagram Marketing For Beginners (7 Steps)". Did you get it? The more specific you keep your title, the easier it is for people to understand what your book is going to give them.
You could write as many titles as you'd like but having 3 titles is a must! Here's an article by themeisle on the best headline analyzer for blog posts.
Paste your headlines on all of these websites and follow their guidelines on how to improve your headline. A Headline analyzer is extremely helpful in determining if a title is good or bad. 
6. Use Exciting Keywords in Important Places
Words like Exciting, Amazing, Awesome, Spectacular, Mesmerising, Stunning, etc are great words to grab your reader's attention.
Try including such words in your title, description, summary, introduction, and in between some chapters.
Your readers want to learn and grow but they also want to get excited and cheered up, these powerful words help you ignite their energy thus getting them motivated to read ahead. 
Find emotionally exciting words on Google, make a list of the words you like and prefer adding to your ebook and use these words. It will make your ebook much better and more interesting!
7. Make Them Believe You're Credible
Neil Patel is an expert in all things Digital. When he launches a new online course on YouTube, he always talks about his social proof.
He talks about the companies he has worked with, businesses he's started, and the success he's achieved.
He talks about these things to gain credibility so that people trust him and watch his courses.
He wants them to think of Neil Patel every time they have a Digital Marketing related problem.
He gains their trust and converts them into leads that help him make money. The most important aspect of any online business is gaining credibility. Do that and the money will follow.
8. Ask Questions And Keep Space For Readers To Fill It
Readers need to feel connected with you when they read. The more interaction you create the more they like you.
Asking questions can be a great way to get them to follow the tips given in the book. Ask them questions, then leave some space for them to write their answers down.
Tell them that they shouldn't move forward without noting down their answers. Keep asking 1 or 2 questions after each chapter (if you wish), this will act as an exercise and summary explanation for your readers. 
9. Experiment Visiting New Places To Write
Being creative is tough. One way that I think works for me is by changing my place of writing. Let's say I usually write in my bedroom, for a few days I'll shift to the living room and write.
This will hopefully bring up my creativity and make my ebook more interactive and exciting. This may not work for you but it does work for me and I think you should try it. 
10. Use Synonyms To Enhance Reading Experience
Instead of 'Great', you can use 'Amazing or Incredible. Instead of 'Bad', you can use 'Pathetic'. You see using heavy words can take your ebook from a 6.5 to a 9.3! You can use a Thesaurus to find synonyms for words that you feel need some more enhancement.
This improves the reading experience which makes the reader feel more enriched, it also helps readers learn new words if they are unknown to these words. Overall using synonyms of generic words does add good taste to your book experience.  
11. Talk About Your Ebook On Digital Platforms
An easy yet highly converting strategy to sell your ebook is to keep talking about it again and again.
Most people make the mistake of marketing the ebook once it's ready to launch. If you're doing that, you're leaving a chunk of sales on the table.
Here's how to approach this advanced strategy, find out all the places you could talk about your ebook; monthly events, your YouTube Channel, blog posts, Facebook groups, and all other social media platforms.
All you have to do is tell them that you've started writing a new book and spend about x hours on it every day. Something like that.
Keep reminding them that you're spending your time writing your ebook, and talk to them about your struggles and new learnings. the best example of this would be Ali Abdaal's video.
12. Create Offers & Discounts To Increase Conversions
If you're selling ebooks through your landing pages, you can create offers and discounts for anyone willing to purchase or is confused if they should make a purchase or not. Discounts are great and help increase conversions which means more money in your pocket.
If you're selling on platforms like Amazon, you need to ensure you participate in all offers and promote such offers to your audience.
Let's say Amazon has an offer on selected credit cards, you need to tell your audience and subscribers that Amazon is having this offer and they could get a good discount during this offer.
Doing simple things like sending an email to your subscribers can lead to conversions quickly. Just make sure you follow the next advance tip as following tips 12 & 13 together can reap better benefits!  
13. Ask For A Review
If you don't ask, you won't get it. It's as simple as that. Some writers feel asking for reviews sounds greedy and desperate. This is far from true!
You are spending time and energy writing the almost perfect ebook that you wish your readers will love and for all this effort you think that asking for a review will be too much! Don't make the mistake of underselling your ebook.
One of the first things I do before I make a purchase is to check the reviews. If I see good reviews, I feel more confident buying the product.
When you're writing emails to tell your subscribers that they must buy your ebook, add an additional line asking them to review the ebook once they finish reading it.
You can also add a few lines at the end of your ebook asking the readers to write a review once they read it.
Most people won't make the effort to write a review but those who do will give you their honest opinions. Always Ask for a Review! 
How Much Should Your Charge for the Ebook?
Pricing an ebook boils down to these two points:
1. Where are you selling it? if you're selling your ebook on Amazon, then selling your ebook at a lower price point seems to be the right choice. You'll sell more as Amazon has a large market base but at a lower price point.
Whereas if you're selling on your website, you can price the ebook as per your thinking. This doesn't mean you price your ebook too high, it simply means you can price it higher than you would on Amazon.
2. What do similar authors charge? The second point is identifying how much other authors charge. Nobody is going to buy an ebook if you're pricing it two times more than a competitor. You need to price it smart and that can be achieved if you choose your price based on other authors in the same field. 
Selling Ebooks on Amazon Vs Your Website
You shouldn't sell your Ebook on Amazon and your website unless you price your book the same in both places.
Usually, book writers who sell on Amazon have low prices to compete but people who sell their books on their website price ebooks at a higher price.
If long as your book provides value to the reader, charging a higher price is fair. But don't ever sell the same ebook for a higher price on your website and a lower price on Amazon.
If you want to use Amazon, list your ebook there, then apply to the Amazon affiliate program, grab your ebook's link, and promote it on your website.
Make a beautiful landing page that educates the customer on why your ebook is the most valuable out there, then direct them to your Amazon ebook page. 
Sage Tip: Freelance Writers Den is an online course focused on helping you make a full-time income (5 to 6 figures) with freelancing.
Inside the den, you'll find pro freelancers teaching you how to make money, the smart way. If you're interested to grow your income or make a full-time income, check out Freelance Writers Den to learn more.
Books to Read for Writing EPIC Ebooks
If you like reading books and you want to make your ebook more interesting, you should read at least one of these books I'm recommending.
Note that all the books I'm recommending have Amazon Affiliate links through which you can make a purchase, I may earn a little at no extra cost to you 🙂
1. The Anatomy of Story: 22 Steps to Becoming a Master Storyteller
2. Steal Like an Artist: 10 Things Nobody Told You About Being Creative
3. Bird by Bird: Some Instructions on Writing and Life
There are at least 4 other books that are worthy of coming to this list, I didn't add them because the above 3 books are the best. Once you finish reading these three books, feel free to reach out at [email protected] and I'll send you the name of the remaining four books.
Should you Write an Ebook Fast?
So back to the basic question, should you write your ebook in a week or a month? No, you shouldn't  
Most authors allot 6 months to 1 year to write their book. Some give themselves a deadline of 4 months. Nowadays people are getting their books done in under a week too.
So how much time should you allot to your ebook depends on your vision for your ebook. If you want to take time and write it slowly, that's fine but if you want to get it done by the weekend no problem.
Although I feel writing a book is a huge process and rushing it will only mean that the ebook is not worth reading. 
I've seen many new writers struggling on improving their writing speed so here are two websites where you can practice your writing skills and improve your writing speed. Spend 10 minutes a day on this to see some speed results.
1. Typing Test
2. Typing Practice
Use a typing test when you want to find out your speed and accuracy. Use Typing Practice when you want to find errors and improve your typing speed. Both help to improve typing speed but Typing Practice is better.
Should you choose a topic you know little about?
Not being familiar with a topic means you need to spend more time on research and try competition with authors who know far more than you on the topic.
Instead, pick a topic that you know enough about, then do some research. this will make you extremely good at the topic and thus your ebook will be a high-value ebook.
If you must choose a topic you know little about, you better spend hours and hours reading, listening, and watching content on the topic. Make notes and ask google multiple questions. 
Should you Hire a Freelancer to Write your Ebook?
I don't think you should hire a freelancer to write your ebook. People read an ebook to learn and know more about you.
It's like a story bundled with knowledge served on a silver platter. By hiring a freelancer you're making the writer think you're someone else.
I also don't like hiring a freelance writer for ebooks because an ebook is something that's going to stay with your name forever, so I feel you should write it yourself. Even if that means taking a year or two to finish the book.
That being said, freelancing is a booming industry and new start-ups are using freelancers to get their job done, here are a few advantages of hiring freelancers. So by no means, I'm against freelancing as a career, I just feel freelancing your ebook isn't an ideal option.
What should be the ideal length of your ebook?
If the purpose of your ebook is to take your readers through your marketing funnel, then your ebook can be anywhere from 10-30 pages. Considering you're selling it for free in exchange for their email address.
If your purpose is to sell it as a storybook or an informational product, then I suggest it should be more than 80 pages. Why? because most books are at least 100 pages (if they're selling on Amazon).
The number of pages in your book doesn't matter if your quality is top-notch. A longer book is usually preferred to be more valuable but if you can write less but assure people that they're going to love the book, I don't see any reason why your book cannot be a best-selling book.
 Don't forget to divide your book into bite-sized chapters so that anyone who reads your book can consume parts of the book with ease. 
Should you write a Free Ebook before writing a paid book?
If you have a blog or a youtube channel or any source of marketing platform, writing a free ebook may be a great way to show your audience that you can write a really informative/amazing ebook.
If your audience is confused about whether to buy your ebook or not, you could hook them up with your free ebook, and then if they like push them for the paid ones.
This helps build trust and long-term business for you. This isn't compulsory but if you do have some time to chalk out a 10-page free ebook, it can boost your chances of reaching a larger audience and making more money.
How to Write an Ebook that Sells?
Relatability! It's all about being relatable to your readers. When they read your ebook, they need to find it relatable to their life in some shape or form, then they'll love the story you're trying to sell.
You could give them 'What If" circumstances like 'What if you had 30 hours, how many hours would you work every day?'. Read various articles on how to connect with your readers without physically meeting them. These strategies are what make an ordinary ebook extraordinary! 
If you want to learn how to be a bestselling author and make money self-publishing books, Check out this Nick Stephensons Your First 10K Readers Course! (Review) In this course, Nick shows you exactly how he makes a ton of money selling books and how you can get the same results!
In What File Formats Can You Save an Ebook?
This depends on the website you're trying to sell our ebook. If it's Amazon, then here's the list of ebook formats applicable. If you're planning to sell it on your website, you could format it to pdf as pdf is the most widely used reading format. 
P.S If you're using Google Docs, you can easily export pdf format by clicking in file – download – pdf format. You can also format using the other options in the download dropdown.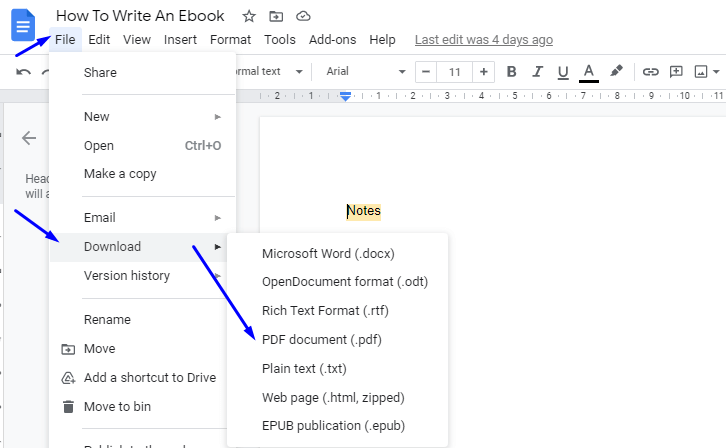 Can you use images from the internet?
Randomly using images from the internet may lead to a penalty. There are a few great websites that offer royalty-free images (CC0 license), meaning these images can be used anywhere on the internet without getting penalized.
All images on these websites are royalty and attributed free so you can use as many images as you'd like to from these websites. 
It's always preferred to use original images in your ebook but for some reason, if that's not possible, these three websites will surely help you.
Should I number my ebook pages?
I don't think numbering pages is essential as my kindle already provides numbering automatically. Even Pdf files usually have a numbering system. But if you wish you could add numbers to your pages.
You could write chapter-wise page numbers in the index to keep your readers informed but it's not mandatory! In google docs, go to insert – Page numbers – choose any one option.  
Can you really make money writing ebooks?
Yes, you can make money from writing an ebook if you do thorough market research, understand what readers want to read about, and formulate a story or success recipe on that topic. the two key points are 
1. Your content should be relatable
2. It should be simple, and to the point yet interesting, and practical.
Is it Free to Publish an Ebook on Amazon?
It's completely free to publish an ebook on Amazon KDP. there are a few technical things to do but it's not difficult and there are many articles to help you out.
Here's a complete guide to publishing an ebook on Amazon. 
What Can an Ebook Be About?
Your ebook can be about anything you feel like writing. The beauty of self-publishing is that there's no boss to tell you what to do! You can think of any topic, make it as long as you want, design it as per your liking, and sell it for the price you feel is right.
No one's going to force you into anything. If you're unclear about what to write about, 'google best book niches' or 'topics to write for my ebook' 'how to choose a topic for my ebook' or 'best ebook ideas'.
Brainstorm and select 3-4 ebook ideas. Then pick anyone that you feel you could write to with all your heart and soul and start writing.    
Is Publishing an Ebook Worth It?
Without a doubt! Ebooks sell! Having any piece of content on the internet is worth it. Be it an ebook or a blog post, an article or a youtube video, a podcast, or a webinar. they're all worth it.
The more content you have on the web the better your chances of success in this internet game. So put on your seatbelt and start publishing content on the internet. It's not a waste of time but it's a long-term plan that'll reap tremendous benefits!
Do you have any questions or suggestions on how to craft the perfect ebook? Let me know in the comments below.
Enjoyed this post? If so, you might want to subscribe to my newsletter. It usually contains life lessons and money-related topics, some interesting observations, links to articles or books I've read, and tips to be a better person. If you're interested in these things then subscribing will be simply wonderful 🙂 PS: Subscribe and Get your Freebie below!
Also, I'm a YouTuber now! If you're interested in Pinterest Marketing, Blogging, or business-related things, Subscribe to my Channel and I'll see you in the comments!