7 BEST Virtual Assistant Courses Online (2023)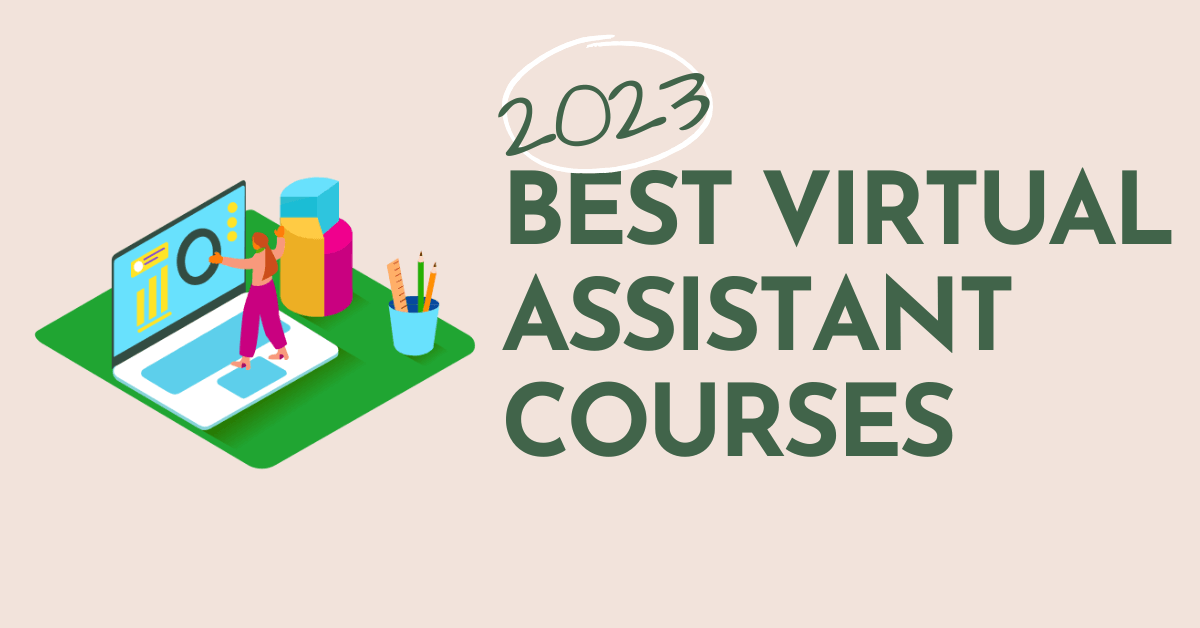 This article may contain affiliate links. If you make a purchase using my links, I'll earn a small commission at no extra cost to you. I appreciate your support!
I heard you want to be a virtual assistant. Interesting career choice!
Being a VA is one of the most promising career paths in 2023. It's easy to learn, and set up, and you work on your timings!
So why can't everyone crack this skill and become a successful virtual assistant? Eh, that's cause there's more to being a VA than it seems!
In this guide, I will break down the best courses for virtual assistants in 2023.
I've spent many hours reviewing these courses, most of these VA training have an in-depth review which can be useful if you need to learn more about them before you make a purchase.
Before diving right in, let's understand what virtual assistants do and if you should take a VA course to succeed and be rich.
What Do Virtual Assistants Do?
Virtual assistants are remote employees who offer their skills and time in exchange for money!
For example, businesses need digital marketing services to manage their social media, you fill the gap by offering your social media services to your client (aka business), and they pay you for your time and efforts!
Maybe my friend's e-commerce business needs help with packaging and labeling products, so they need virtual assistants like you to help their business.
The work you do depends on who you work for and what they need. I'll list a few things most virtual assistants do so you'll get a rough idea of how it goes.
Responding to emails and phone calls
Copywriting and ghostwriting for blogs
Social media & Digital marketing
Pinterest VA management
Blog post or content researching
Scheduling meetings
Booking travel and accommodations
Preparing & Maintaining customer spreadsheets/other details
Organizing manager's/team's calendars
Performing market research
Creating presentations
Act as an HR queries and issues
Provide customer service to clients, orders, etc
WordPress maintenance and tech support
Graphic Designing
Youtube/Podcast video editing
Bookkeeping and administrative tasks
Why Should I Take a Virtual Assistant Course?
Let me just say that taking a virtual assistant course is not necessary! You can learn "How to be a virtual assistant" without purchasing a VA course too!
BUT….
Taking a virtual assistant course (like the ones I've mentioned below) puts you on a fast track to building a successful virtual assistant business, and making a full-time income as a VA!
It gives you answers to questions that you might have to spend countless hours figuring out.
You'll learn from someone who has been in your shoes and succeeded with flying colors.
They have spent hours practicing and figuring out how to stand out and be one of the top-paying VAs in their field, so learning from these top experts drastically increases your chances of making money as a virtual assistant!
A Course is streamlined, has a step-by-step approach, and offers bonuses, and courses that can help any beginner turn pro in a few months!
That's why I recommend you choose any of the below VA courses and fast-track your VA career (provided you can afford it)
While researching virtual assistant training, I came across 30 somewhat courses, most of which offer you nothing for a lot of money! (Seriously, I wonder how people fall for such scammy VA courses), but some courses are totally worth it!
In this best virtual assistant courses article, I've reviewed the top 7 virtual assistant courses so that you only learn from the right places, build a successful VA business, and get rich!
Best Overall Virtual Assistant Courses
If you're in the market for the best Virtual Assistant course that has everything you need and more, the two courses (below) will blow your mind!
These courses are perfect for all course takers, be they beginners or advanced-level VAs! Their course structure is on point, and they have a ton of resources, additional bonuses, live community, etc.
🏆 Best Virtual Assistant Courses (2023) 🏆
🏆 Best Virtual Assistant Courses (2023) 🏆
1. The Savvy System
The Savvy System is hands down one of the best legit online courses that teaches people how to become professional Virtual Assistants and make a full-time income as a VA.
TVS was created by Abbey Ashley, a successful virtual assistant, and entrepreneur with over 12 years of experience in the field.
In my professional opinion, The Savvy System is the best virtual assistant training course for entrepreneurs who wish to start a virtual assistant agency or work as a freelance VA.
Abbey and her team are highly determined, goal-oriented, and successfully driven which inspired their course – The SavvySystem, A Premium Virtual Assistant course designed for beginners wishing to start their freelance career as a virtual assistant (in 30 days) and looking to form a structured online business that makes 5-6 figures in profit each year!
I know it sounds magical, but Abbey has created the perfect system that ensures anyone (with the desire to learn, grow, and take action) can make a full-time income as a VA!
This Course is suited for you if:
You can afford to invest in yourself (By Enrolling in the Course)
You're focusing on building a money-making business
You're looking for an advanced virtual assistant course (to guide you)
You're ready to make money and take charge of your life
The Savvy System Cost & Refunds Breakdown
The Savvy System comes in three price plans:
SavvySystem Lite – $997 (Part Payment – 12 payments of $97/month)
SavvySystem Pro – $1497 (Most Popular) (Part Payment – 12 payments of $147/month)
SavvySystem Ultimate – $2997 (Part Payment – 12 payments of $297/month)
They also offer another course bundle with The Ultimate Plan – The Savvy Vault (extremely valuable for professional VAs)
Refund Policy
The Savvy System comes does offer a refund policy for all three plans:
SavvySystem Lite – 7-Day Money Back Guarantee
SavvySystem Pro – 30-Day Money Back Guarantee
SavvySystem Ultimate – 30-Day Money Back Guarantee
If after purchasing the course, you're not fully satisfied with the contents, you will get a 100% refund from The Virtual Savvy Team within the time frame.
The Savvy System Course Breakdown. Here's everything you'll learn
Discover Your SkillSet
Pricing And Packages
Branding Academy
Processes And Assets
Payments, Invoicing, And Taxes
Legalities
Marketing 101
The Ultimate Marketing Plan
Web Development 101
The Virtual Assistant Lifestyle
Raising Your Prices
Building A Team
Not just that, If you opt for SavvySystem Pro, You'll get free access to these useful bonuses!
The VA Toolbox and Mock Portfolio Template
Marketing for Introverts
Skyrocket your online business using LinkedIn
Savvy Your Site
The VA Template Vault
The SavvySupport Squad
Pros
Extremely Comprehensive Course
Turns You Into Professional VA
Exclusive Job Opportunities
Not Too Girly
Fresh Videos Every Month
Cons
It's Not Cheap
Bonuses Are Confusing
Student Review: Kayleigh – "I can't believe it, y'all! One year. One year ago, I quite literally stumbled upon Abbey Ashley and found out about virtual assistant businesses. Now a year later and I run a VA and OBM agency. Like WHAT. I seriously always tell my family I had no clue this is the path I was going down, but HERE WE ARE, SIS! Someone pinch me! Literally living my dream life. Just thought I would post in the group that has helped me in so many ways. Thanks, Virtual Savvy!"
The SavvySystem is certainly one of the best virtual assistant courses out there.
So is it worth it? – Yes, it is indeed a good course designed to help fresh virtual assistants make a full-time income in this online space. Check out their Free Training below to learn how to become a Booked Out Virtual Assistant in 2023!
2. The VA Foundry Members Club
The VA Foundry Members Club helps you become a successful virtual assistant in 30 days.
The course is designed for beginners looking to make money as a VA.
It's mostly suited for women as it has more of a women-led vibe. Samantha Browne and Jo Jensen are the proud founders of The VA Foundry Members Club.
Sam and Jo have approximately 20 years of experience as virtual assistants and have built VA businesses.
They also run a successful blog on The VA Foundry where they share trends, some tips, and tricks on being a Virtual Assistant.
If you fall under one of the below categories, you need to consider taking this course!
You're working all the hours possible, but it's not showing in your bank account
You're looking to grow your team but don't know where to start
You've got a team, but it's causing more headaches than it's worth
If you're unsure how well the course performs, here are a few reviews to help you decide!
The VA Foundry Members Club Course Cost
They offer a subscription plan; the costs are below!
$247 NZD or $229 AUD per month (approx $154 USD)
$2470 NZD or $2290 AUD per year (approx $1540 USD)
If you've decided to buy into the course, I recommend opting for the Yearly Plan, as you will technically get two months free!
Not to worry, your membership can be canceled at any time!
Refund Policy
The VA Foundry Members Club offers a 30-day pro-rata refund policy.
It means if you cancel your subscription in the first 30 days, you will be refunded the amount for the days you haven't used yet!
The refund policy is different than most virtual assistant training I've reviewed, but course takers don't seem to have a problem with this system, so you can relax and enjoy the course!
The VA Foundry Members Course Structure
The Foundry has a total of 160 lessons which will take you through the entire journey of becoming a virtual assistant in the least time possible!
I found the training to be quite comprehensive, detailed and up to date with the latest information.
Sam and Jo are quite friendly, and their courses feel comfortable, so that's a plus point!
You'll also be part of their Facebook Group, which has few members, but the group is quite active and resourceful.
Pros
Practical Comprehensive Course
Active Facebook Group
30-Day Money Back Guarantee
Sam and Jo Are Great Hosts
5+ Bonus Courses
Cons
Monthly Subscriptions might be a turn-off
Overall, if you are a virtual assistant looking for a supportive community and resources to help you grow your business, The VA Foundry Members Club is definitely worth considering.
Best Value for Money Virtual Assistant Course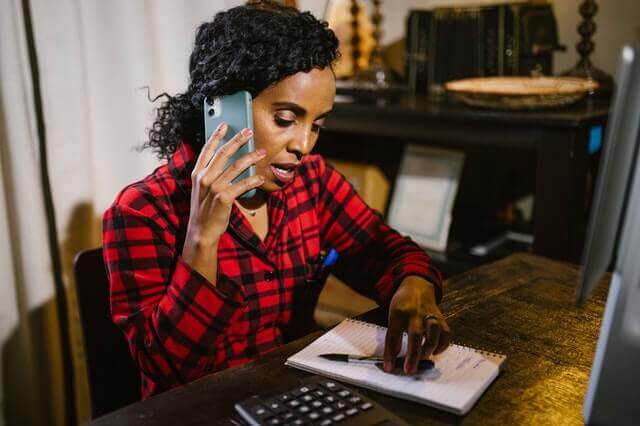 If you're looking for a virtual assistant course that packs all that goodness and makes it affordable for all, here are my Top 3 recommendations!
Related >>> 15 Pros and Cons Of Being A Virtual Assistant!
3. Virtual Excellence Academy
Virtual Excellence Academy is a business-building course for beginners looking to quit their 9-to-5 job, earn more money, and live a life worth living.
This course focuses on making you a wealthy entrepreneur as a Virtual Assistant so that you can enjoy life while also working at a meaningful job that isn't toxic.
Hannah Dixon (Founder of Virtual Excellence Academy) is a Virtual Assistant Coach who has trained more than 16,000 VAs while she is a Virtual Assistant.
She has worked with 26,000 VAs and is one of the best teachers to learn from in the Virtual Assistant Space.
1. The Signature Program – $900
The Signature Program is suited for most Virtual Assistants looking to learn and master the art of freelance as a VA. Here's everything you will get once you buy the Signature Program:
30+ Videos, 9 Modules
Lifetime access to all learning materials, updates, and inner circle in the Virtual Excellence Academy
BONUS 1. Get Clients Now Course
BONUS 2. Rapid Breakthrough Therapy 21-day program
Discounts on future DNK products, events, and experiences
If you ask me, The Signature Program is a great value-for-money course, and you should click the purchase link right now! It gives you everything you need to make your freelance business succeed.
2. The Legacy Edition – $1300
If you're wondering why pay the extra $400 and get the Legacy Edition! Well, the legacy edition Includes everything from the Signature Program and –
Podcast Management Kit
WordPress Kit full course
Contracts+ Bundle
Twitter Mastery
Sales & Marketing Mastery Workshop
Niching Masterclass
Facebook Networking Bundle
Lifetime access to all of the included courses and workshops (and Discounts to future DNK products)
The Legacy Edition is suited if you don't mind spending the extra cash and need additional guidance on the topics I've mentioned above.
Refund Policy
Virtual Excellence Academy does not offer refunds for their course because once a student enrolls they get immediate access to all course materials, community events, bonus courses, and course materials.
Pros
Certified Virtual Assistant
Comprehensive Training
Plethora of Positive Reviews
Active Facebook Group
Lifetime Access with Free Updates
Cons
No Refund Policy
Not Always Open For Enrollment
Student Review: Andreea Alina, Virtual Assistant – My life completely changed for the better when I joined. I signed up at the very last moment and could feel that it will be an important moment, but I could never anticipate how many awesome people I will meet, how many new things I'll learn, or good it feels to build an authentic business. In just three months, I was fully booked for my services and got a good client through Hannah's matchmaking service too. So glad to be here!
In my professional opinion, Hannah's Virtual Excellence Academy is a pretty great Virtual Assistant course, and if you sign up for their course, you won't be disappointed at all!
VEA gives you the content, tools, community, and a great team that you need to succeed as a VA.
I admire their Facebook group as there are a lot of discussions happening there, and it's a great place to make like-minded friends and network with potential clients.
You WILL become a virtual assistant if you complete all the action steps, put in the effort, and implement the strategies in this course.
Check out their Free 5 Day VA Challenge where Hannah teaches you how to break out of the bubble and make money as a Virtual Assistant in just 5 days!
4. 90 Day VA
The 90 Day VA is a legit online course that teaches people how to become professional Virtual Assistants and make a full-time income as a freelance VA.
90 Day VA created by Esther Inman, is a professional virtual assistant and founder of the Virtual Assistant Internship (VAI).
90 Day VA is an online virtual assistant course founded by Esther Inman (a professional VA and founder of Virtual Assistant Internship).
The 90-Day VA Course teaches you everything you need to learn to launch and run a successful virtual assistant business in 90 days or less.
I know it seems impossible, but Esther's 90 Day VA program is designed in a way that can get you results in 90 days (provided you learn, take action, and work hard towards your VA goals!)
If you're a beginner, this course will help you get off the ground and make money ASAP!
90-Day VA Course Cost Breakdown
The 90 Dya VA comes in two plans:
90 Day VA Monthly Payment Plan – $77 (for 12 Months)
90-Day VA One-Time Payment Plan – $797
Refund Policy
90 Day VA offers a 14-day money-back guarantee which means if you don't like the course, you can get a 100% refund within 14 days.
You'll learn a ton of things like:
Learning new skills and improving current skills
Repurposing Content on social, blogs to grow more
Mastering Instagram and TikTok
Learn the tricks of being a Pinterest VA
Podcast VA 101
Video Editing and Youtube
Email Newsletter Writing & Scheduling
WordPress Maintenance
Opting for their course will also lead to getting bonuses. Here are some bonus courses you'll get instant access to!
Where to Find Good Clients
How to create an application kit and remote resume (+ useful templates)
Writing contracts and proposals
Setting your prices (Pricing Strategies)
Handling taxes, bookkeeping, insurance, etc.
The best ways to receive payments
Onboarding clients
Pros
Course Structure
Teaches From Real Life Experience
14 Day Guarantee
Dives Deep Into Small Aspects
New Monthly Videos
Energetic Videos
Cons
No Lifetime Access
Lacks Video Summaries
Student Review: Caiti – I'm on track to make $1000 this month from a posting I found in this group! The client has been a dream to work with over the last couple of months, and I spend a very limited number of hours knocking out her assignments each week.
All in all, this is one of the best value-for-money courses, and if you're willing to put in the time and effort to learn the course materials, it will be an ROI-positive course (you won't be disappointed at all)
Check out their Free Online Class below on how to work from anywhere and make money as a Virtual Assistant.
5. $ 10K VA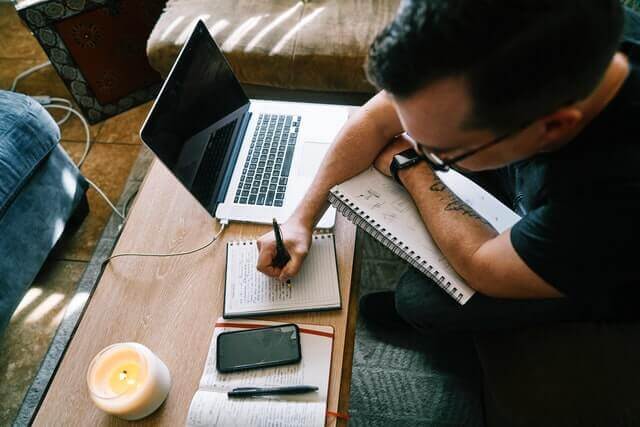 The $10K VA is another foolproof VA learning course that helps you make money and build your own freelance virtual assistant business from scratch!
Starting a VA business is simple!
I can start a VA business by the end of the day if needed. but running a successful business that makes money every month, brings in new income while retaining old clients, and builds a team around this is not an easy task!
That's where Kayla (founder of $10K Va) comes in. Kayla has built a system that covers all aspects of being a successful virtual assistant.
The course teaches you the basics of how virtual assistants make money, some basics of Microsoft Office, trendy VA skills, and how to find home jobs as an aspiring virtual assistant.
If you're a beginner, you'll benefit quite a lot from their initial courses.
For the experienced folks, the latter part of the course focuses on complex VA topics that can drive results and get you sharp at your VA business.
$10K VA Cost Breakdown
The $10K VA has a standard plan which costs $497.
Want to save $200?
I bet you do!
Here's what you do –
Go to their sales page, read up about everything, and make a decision.
Then Sign up for her Free Workshop at kaylasloan.com. Then during the workshop, a buy the course pop-up will appear at the end of the screen (includes a $200 discount)
Click that and make the payment. Voila, you just saved $200!
Refund Policy
$10K VA does not offer refunds, aka a money-back guarantee!
I wish there was a refund policy, as it builds trust and encourages the student to buy the course.
But Kayla promises results, so if you're into the VA business or want to build a career around it, I recommend giving this course a try!
$10K VA Course Structure
The $10K VA course is broken down into 7 core modules (most courses are in text format), and they'll go over everything virtual assistants need to learn!
Here's what you'll learn:
What is a Virtual Assistant?
How to Find and Pitch Virtual Assistant Jobs
Pricing Services and Getting Paid
Building Client Relationships the Right Way
Running the Day-to-Day as a $10K VA®
Making Your Online Business Legit
Up-level Your VA Business
Project Management
Pros Of $10K VA
Value for money course (considering $200 Discount!)
Comprehensive Guide to Become a VA
Well Structured courses
Cons Of $10K VA
No Refunds
More Text-based courses
No Indication of training updates
Student Reviews are vague
Overall the $10K VA seems like a good virtual assistant course for beginner and advanced VAs looking to grow their businesses.
But the reviews are a bit confusing and seem old. Plus the training doesn't get frequent updates.
That said, nothing much has changed in the VA teaching space, so it's not a huge deal breaker.
The course is great and justifies the price it's at, and if you're considering a course under $300, I can easily recommend the $10K VA course!
Best Budget-Friendly Virtual Assistant Courses
If the above courses are a bit expensive for you, and you're looking for a budget-friendly course that gives you the basics of being a virtual assistant online, here are my best recommendations.
6. Must-Have Skills (Training) for Virtual Assistants in 2023
This budget-friendly course by Erin Booth is the bestselling virtual assistant course on Udemy, and it's quite clear why Erin's VA course is a hot-selling pick!
Erin has over 24 courses on Udemy around virtual assistant and has trained over 45,000 students with an overall course rating of 4.7, Erin is excellent at teaching beginners and professionals how to make money being a virtual assistant in 2023!
You'll learn how to provide high-quality work, sort out the most recurring tasks, enhance research, and must-have skills. You'll also have access to pre-made spreadsheets, documents, and templates to help you work smarter and build an online virtual assistant business faster!
Skills you will learn in this course:
Calendar Management
Inbox Management
Expense Reporting
Social Media Maintenance
Research
Lead Generation
Event Planning
Travel Booking
Photo/Presentation Editing
Making Purchases
Managing workload
Reporting, invoicing clients, and running business operations
This is not an all-in-one VA course for beginners but a skill-driven course for freelancers.
If you're new to the virtual assistant space or a beginner who needs proper guidance on virtual assistant work, and if you're on a budget, I recommend Erin's course on must-have virtual assistant skills!
Buy Erin's Must-Have Skills For Virtual Assistants NOW!
7. New Virtual Assistants: Launch Your Business Blueprint
This Udemy course is another best-selling course by Erin Booth, and here she teaches you how to set business policies, scope of work, and hours of work done (for clients). You'll learn how to market your services on social media.
Here are a few things you'll learn:
How to launch your business with little money
Tools needed to get started
How to find ideal clients
Create and manage a website for Google
Determine working hours and ideal income
Overall business operations and client work management
The New Virtual Assistant Course by Erin will take you from A to Z, on how to launch your online virtual assistant business, attract clients, determine the type of freelancer you want to be, and how much money you can make building an online business.
It's suited for beginners on a tight budget, and who need to learn a blueprint to being a virtual assistant and a basic understanding of the VA industry.
Buy Erin's Business Blueprint Virtual Assistants Course NOW!
Which is the Best Online Virtual Assistant Course For Me?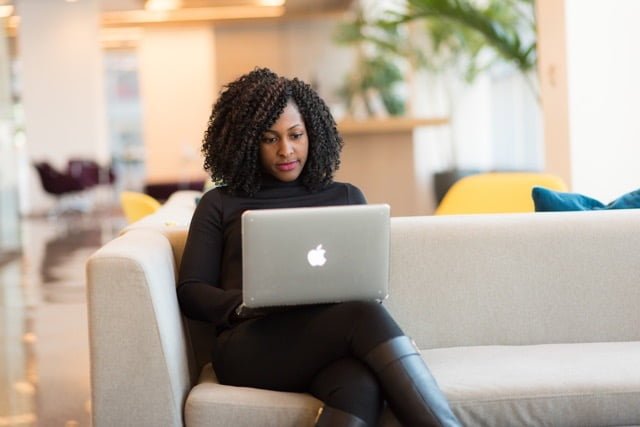 All of these virtual assistant training courses are the best ones so you should be good to go with any of the above choices!
But If you're wondering what's the Best Overall VA course out of these 5 best courses, then I have to pick The Savvy System!
It's the ultimate course that includes everything and guarantees that you make money as a VA, so that would be my pick.
If you're on a budget, prefer a course from the Best Value for Money VA Courses lists like Virtual Excellence Academy or 90 Day VA, or any of the two Budget-friendly courses by Udemy.
These courses offer more for a much lower price thus making them amazing deals!
🏆 Best Virtual Assistant Courses (2023) 🏆
🏆 Best Virtual Assistant Courses (2023) 🏆
Most of the above courses offer Free Training before purchasing the course, so I recommend trying out their free courses first, then making a purchase!
Feel free to leave your comments below if:
You have a question or feedback
You need me to clarify something regarding my Best Virtual Assistant Courses Review!
You wish to share your Best Virtual Assistant Courses Review with everyone!
Read More >>> How to Make Money as a Virtual Assistant (2023)!
Have you enjoyed this post? If so, you might want to subscribe to my newsletter. It usually contains life lessons and money-related topics, some interesting observations, links to articles or books I've read, and tips to be a better person. If you're interested in these things then subscribing will be simply wonderful 🙂 PS: Subscribe and Get your Freebie below!
Also, I'm a YouTuber now! If you're interested in Pinterest Marketing, Blogging, or business-related things, Subscribe to my Channel and I'll see you in the comments!