5 BEST Transcription Courses Online (2023)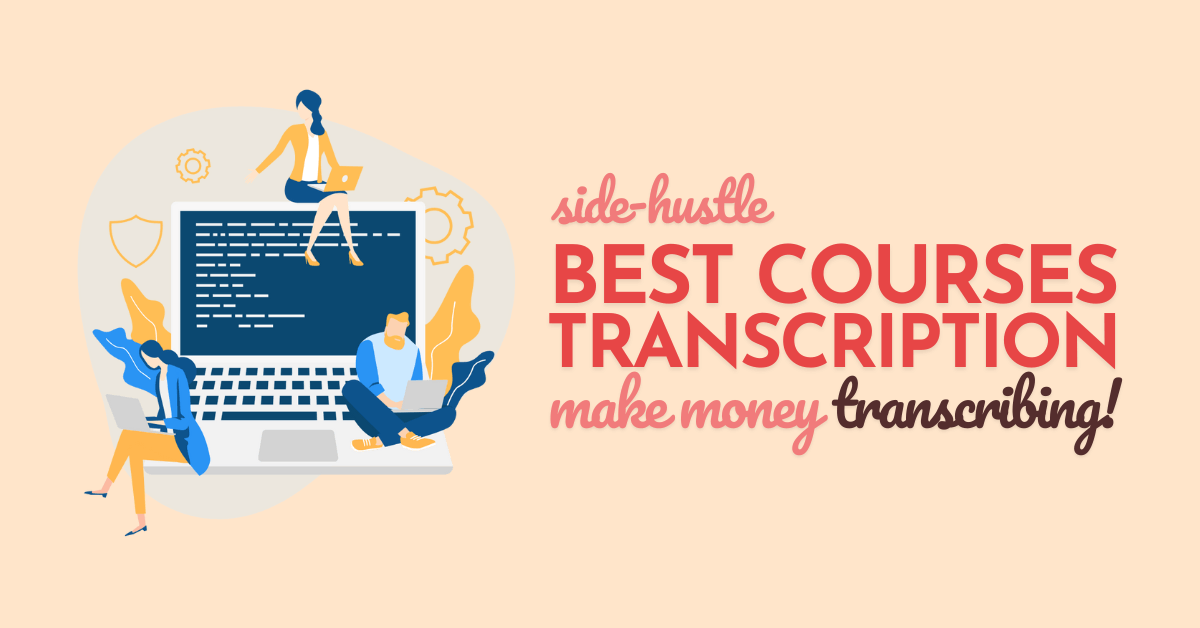 So you want to be a transcriptionist?
Well, this guide is all you need to find the best transcription courses on the planet!
Before we begin, let me be clear that opting for a transcription course is not necessary, you can learn on your own by browsing through YouTube/Google, but that will take a lot of time!
After 20+ hours of searching and learning through various online transcription courses, I've narrowed the list to the 5 best online courses for transcribers.
If you want to save time and have some money that you can invest in a course that builds you an extra income on the side, keep reading my article on the BEST Online Transcription Courses in 2023 and pick any of the below courses to get started.
Let's Go!
5 Best Online Transcription Courses
Best Overall: Transcribe Anywhere
Transcribe Anywhere is hands down the Best Transcription Course I've reviewed. It ticks every aspect that an online course would have.
Janet Shaughnessy, the founder of Transcribe Anywhere, has been a transcriptionist and entrepreneur with over 20 years of experience.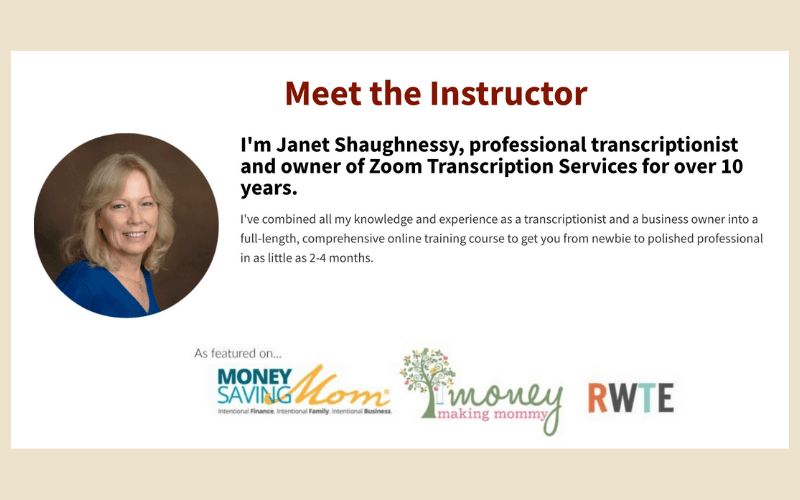 She is a known figure in the transcription industry, and her course Transcribe Anywhere is a highly credible course that beginners and professional transcribers refer to when trying to have in-depth knowledge about transcription.
Is The Transcribe Anywhere Legit?
Yes, Transcribe Anywhere is a legitimate and reputable online transcription training platform. TA is the only course certified by the AAERT, and that's a great deal!
Transcribe Anywhere's courses are well-structured, including 6 core modules, 1 bonus module, multiple practice exercises, and valuable insights into the transcription industry.
Students also gain access to a supportive Facebook community, where they can connect with instructors and fellow learners for networking opportunities and to learn from one another.
There are many positive reviews on Janet's course about how it helped them grow their business and make money as a transcriber.
Many people have praised the comprehensive nature of their Legal and General Transcription course and its helpfulness of Janet.
Transcribe Anywhere Cost
Transcribe Anywhere has two courses – General Transcription & Legal Transcription.
General Transcription: $497.00 (OR 4 installments of $125/month)
Legal Transcription: $597 (OR 4 installments of $150/month)
General Transcription & Legal Transcription: $797.00 (OR 4 installments of $200/month) (Save $297)
Both Courses + Website & Support + Live Access to the Transcribe Anywhere Team: $3997.00 OR 4 installments of $1000/month)
If you only wish to pursue General Transcription, then the course for $497 is the best choice for you!
If you want to enter the Legal Transcription field, opt for the $597.
If you plan to study both, instead of buying them separately by paying a premium of $297, you can get both at a good discount for $797!
TA Refund Policy
Transcribe Anywhere does not offer a refund once the course is purchased! So I suggest you only buy the course if you are 100% committed to learning and becoming a transcriber!
Pros:
Accredited by the AAERT
Lifetime Access, Facebook Group & Course Updates
Free Transcription Workshop
Practice Dictation Files
Dives Into Marketing Your Business
Cons:
Time Investment Required
No Money-Back Guarantee
Is The Transcribe Anywhere Worth It?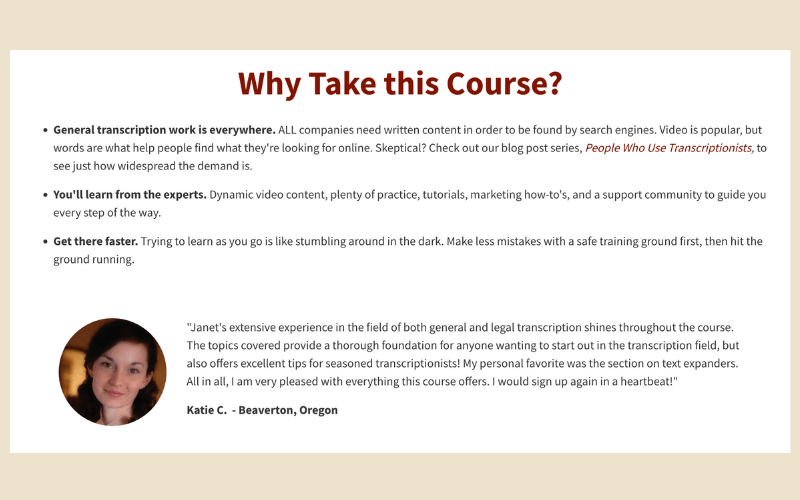 Transcribe Anywhere is an online course for anyone looking to make money transcribing.
The course is comprehensive, easy to understand, and provides good support and resources.
Now these are good, but what if I can get you a better deal?
Transcribe Anywhere currently has a Free Workshop, which I recommend you should sign up for. At the end of the workshop, you'll be eligible to get a 20% off on any of the above courses!
Yes, that's right! 20% off on all TA courses. The Free Workshop is a limited-time offer, so hurry up before the offer expires!
All said and done, if being a transcriber is the way to make money for you, I highly recommend this course. Check it out!
Verdict: TA justifies the price of $499. You can get an additional 20% discount after attending their Free Workshop!
If you need more clarity, check out my in-depth Transcribe Anywhere Review!
Transcription Certification Institute
Transcription Certification Institute is an online course for beginners on a budget that want to invest in a transcription course that will teach them about growing and making money as a transcriptionist.
It's an alternative course to Transcribe Anywhere for individuals wishing to learn General Transcription (note: they don't offer legal transcription courses like Transcribe Anywhere)
It's an expert-leading institute with a practical career-focused approach, 14 lessons in total, with a guaranteed internship at the end of the course!
Is Transcription Certification Institute Legit?
Transcription Certification Institute is a legit online transcription course suited for newbie transcribers who want an online course that teaches them how to be successful transcribers and make a living doing that.
TCI offers lifetime access to all course lessons, HD video lessons, course materials, self-assessment quizzes for each lesson, lots of audio transcription files (catering to each level of difficulty), and resources (free transcription software, tips, and strategies).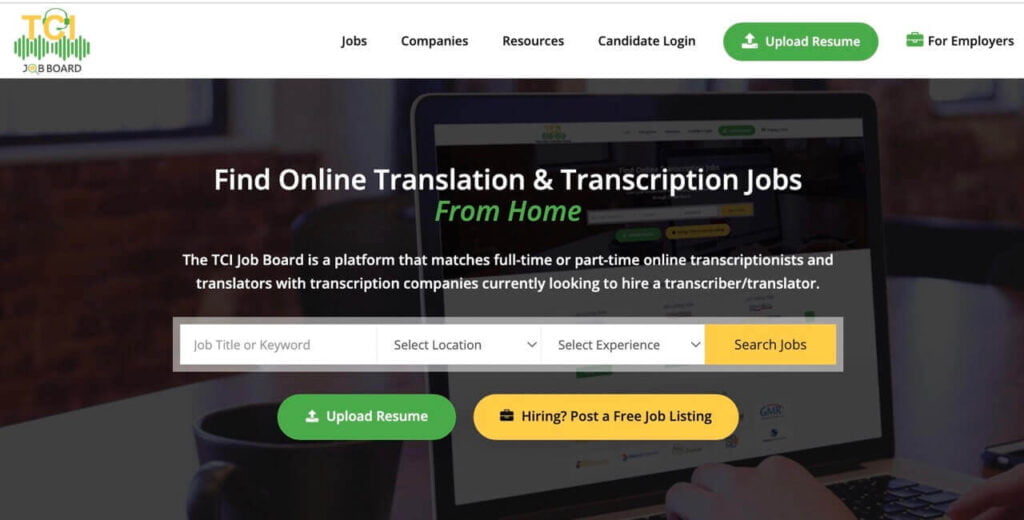 You'll also learn the best transcription tips and tricks from experts, build a roadmap for creating a transcription career, hire transcribers, and much more!
The guaranteed internship they offer, although unpaid is good in my opinion, as it gets you practical training to transcribe 5 hours of audio files for a large transcription company.
If you perform well, post-internship, the company might reach out for a paid job!
Even if that's not possible, the internship will surely boost your portfolio (note: companies need to release a letter stating the intern worked for them along with a review on how you did as a transcriber for them)
There are some good things about TCI, but it's not certified by the AAERT, and the transcription training provided is not as good as Transcribe Anywhere especially since both Transcription Certification Institute and Transcribe Anywhere cost the same!
Transcription Certification Institute Cost
Transcription Certification Institute Costs: $499 (Part-Payment – 3 payments of $199)
They accept payments made from credit cards and PayPal.
TCI Refund Policy
The Transcription Certification Institute offers a Full Refund for their course on two conditions:
You have paid the full amount beforehand
Your request for a refund in writing before Lesson 4
This way course takers don't take advantage of TCI, so if you want a refund, do it before finishing Lesson 4!
Pros:
Guaranteed Internship
Quiz After Each Lesson
Dedicated Job Board
Ongoing Career Support After Course Completion
Free Access to Accuracy Assessment Tool
Cons:
No Free Trial
Better Transcription Course At the Same Price
Is The Transcription Certification Institute Worth It?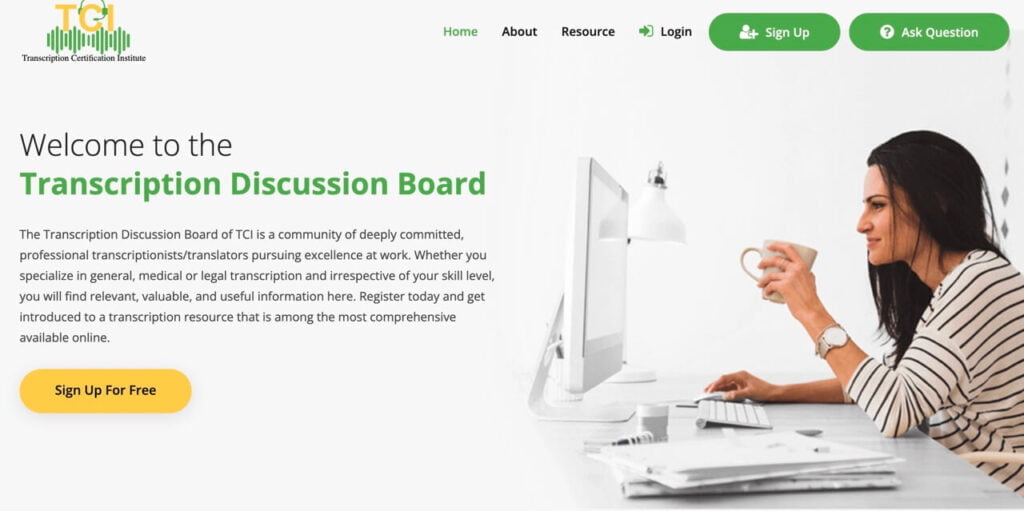 While there are some benefits of taking the Transcription Certification Institute, it does lack in a few places.
I would recommend TCI if you want a guaranteed internship post-course completion. It will help boost your chances to make money and enhance your portfolio.
If you get the course for under $350, and you're tight on a budget, then I can see this course making complete sense!
At that price, this course is definitely something I'll recommend! They do have offers from time to time, so grab the deal if it's at a discount.
At $499 I don't see the value especially because Transcriber Anywhere charges the same price and packs a ton more value which makes it a pretty good offer!
Verdict: Purchase the course if it's less than $350!
Udemy – How to Become a Transcriptionist
If you're just starting or wish to explore transcription as a new career opportunity, don't have the budget for Transcribe Anywhere, and need to learn the ins and out of the industry to build a blueprint for your work-from-home transcription career, this is the course for you!
Udemy's Course on How to Become a Transcriptionist is currently the Highest Rated Transcription Course with an average rating of 4.7 (ratings of 2,250+ students) and 7300+ students enrolled in this course.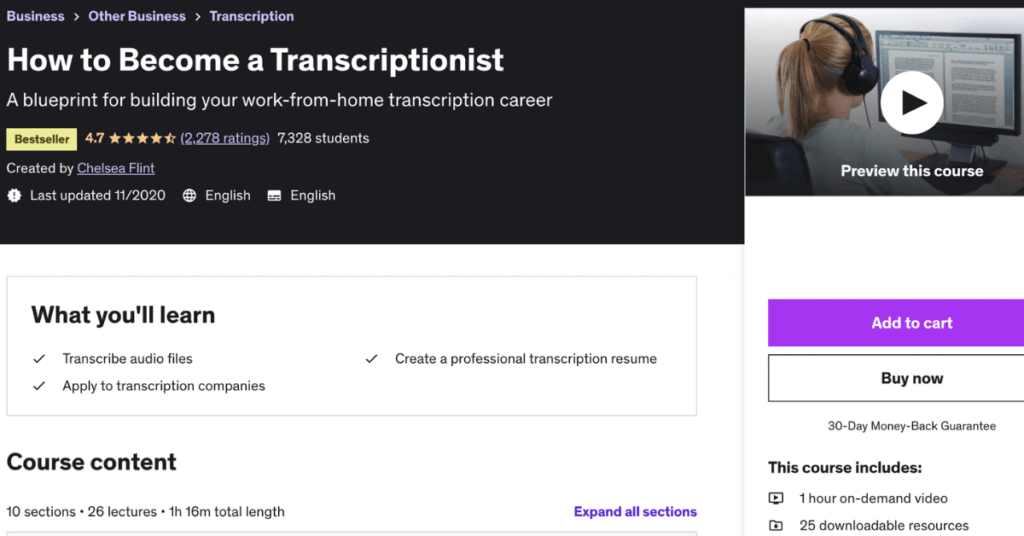 Chelsea Flint, a professional transcriptionist, has transcribed hundreds of podcasts, interviews, forums, and speeches in her career.
She has two courses on transcription, both have 4+ ratings with good content and value for her students.
In her course, you'll learn how to:
Transcribe audio files
Create a professional transcription resume
Apply to transcription companies
The course modules include 10 sections with a total length of 1 hour 16 minutes.
The Requirements for the course are:
Headphones ($10 earbuds will work)
A free version of Express Scribe
Microsoft Word
Chelsea can teach you how to earn $15-$25 per hour working part-time from home.
Her signature course – How to Become a Transcriptionist, will teach you everything you need to know about working with and getting hired by well-paying transcription companies and making money to financially sustain yourself.
This course is well-designed, contains good content, and is a great course for beginners.
You will improve on skills like Strengthening your typing and grammar skills, using transcription software (Express Scribe).
There will be three attached audio files with answers for your practice.
Additionally, Chelsea will also help you create a transcription-specific cover letter and resume, find the best companies to work for, manage the business side of transcription, grow your business, and obviously earn more income!
You'll need to put in the time and effort to grow your skills (that's given in any industry, still mentioning.) If you're willing to do that, I recommend this Udemy course!
SkillShare – Step-by-Step Transcription from Home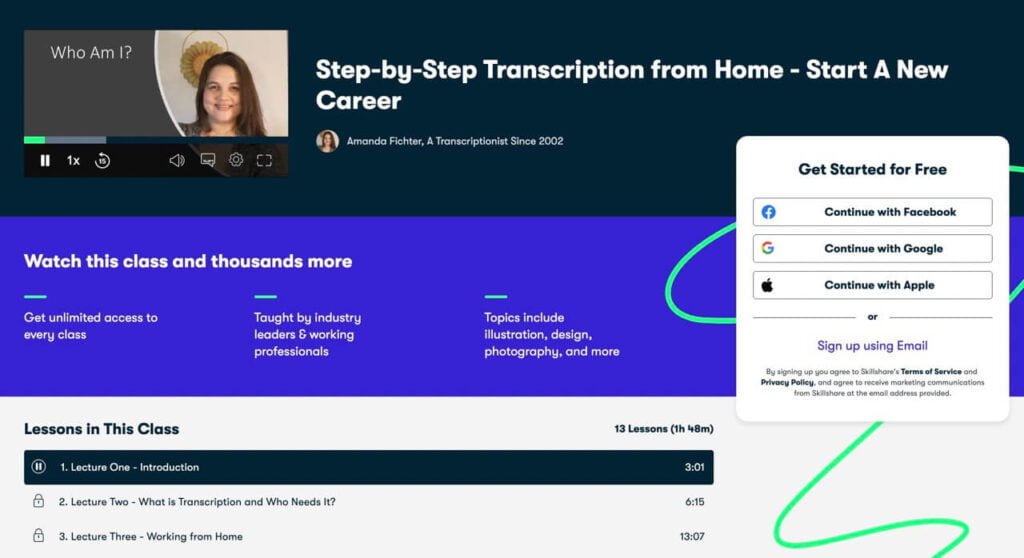 Amanda Fichter, the SkillShare course creator has 17+ years of experience as a transcriber. Amanda's course is one of the best SkillShare courses on Transcription, with 13 lessons and a total time of 1 hour 48 minutes.
This course is designed to give you a concrete framework on how to be a transcriber from home, and if you're persistent and work hard, you'll also be able to convert this into a full-time income.
This transcription course is specifically designed to cater to beginners who wish to work from home and are interested in transcribing, regardless of whether they have prior training.
It provides comprehensive training for aspiring transcriptionists and addresses the specific requirements and challenges associated with working from home in this field.
Here's what you'll learn:
Beginnings and Setting Up Your Office
This course begins by introducing the concept of transcription and then provides detailed guidance on setting up a home office, including specific equipment and software requirements for transcription work.
It covers essential tools like transcription headphones, a keyboard, a foot pedal, a comfortable chair, a table, and good software.
Training in Several Transcription Styles, With Guidance, and Then On Your Own
The course proceeds to train you in various transcription styles. You will listen to audio samples and learn how they are transcribed.
Following each training session, you will practice transcription using audio files along with reference documents for comparison and further study.
Where to Locate Transcription Work
After acquiring the necessary skills, the course focuses on finding transcription work.
It includes instructions on updating your resume and assisting you in discovering online and local opportunities for transcription jobs.
The Best Part of this Course – The final project consists of transcribing a video. The transcription will be checked, and you will be graded on the same. Practicing gives you hands-on transcription experience, which is simply great!
Is this course suited for you?
If you wish to work as a general transcriptionist, this course would be a great place to learn the necessary skills.
However, if you plan to specialize in legal or medical transcription, this course proves to be a foundational starting point.
It equips you with the necessary office setup and transcription skills that are essential to building a successful freelance business.
If you intend to pursue general transcription, and potentially explore medical or legal transcription in the future, this course is the perfect starting point.
If you're an experienced transcriber, you won't learn much from this course; For you guys, I recommend Transcribe Anywhere General or Legal Transcription Course!
SkillShare – Transcription and Captioning Masterclass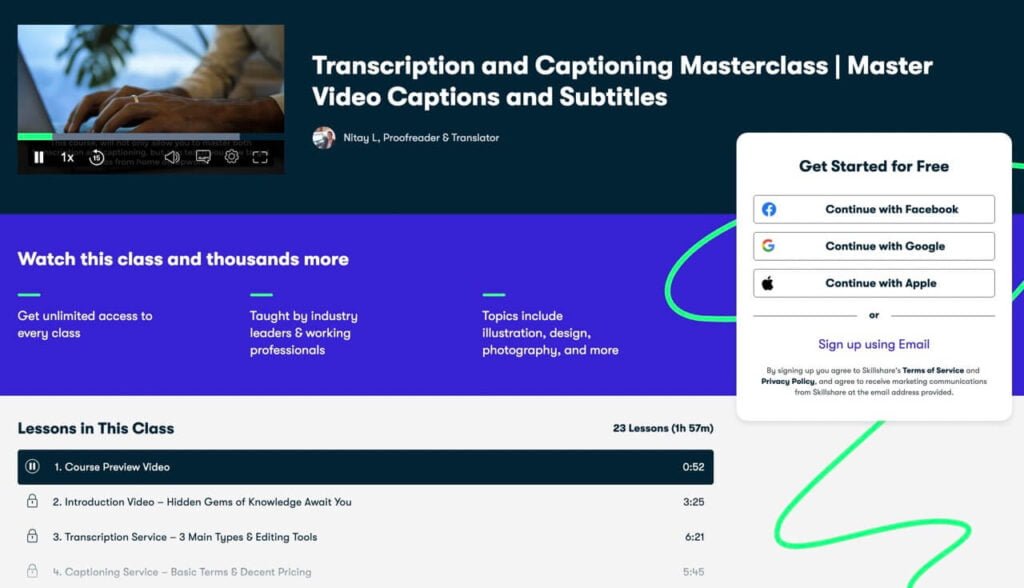 Transcription and Captioning Masterclass by Nitay L is another bestselling SkillShare course on transcription. Nitay is a professional proofreader, transcriptionist, and translator at Upwork!
The course has 23 lessons and a total length of 1 hour 57 minutes.
Here's what you'll learn:
Basic Transcription Terms & Process of Transcription
How to Use Free & Paid Transcription Editing, Translation & Automation Tools
How to Effectively Remove Background Noises
Best Keyboard Shortcuts & English AutoCorrect Software
Practice Activities to get good exposure and sharpen your Transcription Skills
How to Work in Transcription Through Online Job Sites ( + Upwork In-Depth Guide)
Is this course suited for you?
There are a ton of plus points for this course, one being that it not only teaches you how to be a transcriber but also dives deep into captioning and a bit of proofreading.
Nitay also breaks down how to get clients through Upwork by helping you set up your Upwork profile perfectly!
The course gets regular updates with fresh content for free.
If you go through the lesson plans, you'll notice there's a lesson on removing background noise using Audacity; this course is not just a transcription course but a whole bundle on how to make money by breaking it down every step of the way!
There is a bonus lecture at their end to help you grasp transcription essentials!
I highly recommend Nitay's course for beginners and individuals who wish to learn editing, translation, and automation tools to be more effective transcribers!
FAQ Section
Which is the Best Legal Transcription Course?
If you plan on being a legal transcriptionist in 2023, I firmly believe that Transcribe Anywhere Legal Transcription course is one of the best transcription courses!
They explain and teach you everything you need to learn and more in their signature legal transcription course.
Transcribe Anywhere's general transcription costs $497, and their Legal Transcription costs $597 (part-payment plan of $150/month)
You pay $597, learn everything about legal transcription, and you will be a professional legal transcriber in a few months!
That, according to me, is the fastest way to start and build a successful side hustle.
You could opt for a college degree sort of thing for legal transcriptionists (if that exists), but let's be honest – most degrees cost way too much, take up too much of your time, and still might not teach you the best tips and tricks about the industry!
That means Transcribe Anywhere's Legal Transcription course seems like the best option there is!
Which is the Best Medical Transcription Course?
Transcription is quite similar to a doctor's degree. You can be a general physician, or you can specialize as a heart doctor called a cardiologist.
The base studies for being a doctor are the same. Similarly, General transcription is the base foundation that prepares you for many different types of transcription niches.
The difference between general and medical transcription, are the medical-related terminologies, jargon, and the fact that medical transcriptionists might require a certificate to provide their services.
When searching for medical transcription training, ask your state about which courses they recommend and try enrolling for those courses.
If you wish to learn general transcription, pick a course from the Top Transcription courses listed above and start your journey.
Once completed, you can search for medical transcription certifications and pass the test to start working.
Which is the Best Free Transcription Course Online?
There are a few reputable free transcription courses available online that can help you learn and improve your transcription skills.
The most prominent one I know of is the Free Workshop offered by Transcribe Anywhere.
The Free Workshop covers the basics of transcription and sets you up with the best tools and equipment you need to be a professional transcriber.
It includes lessons on grammar, punctuation, formatting, and transcription techniques. They also show you how to convert this side hustle into a full-time work-from-home gig.
It's a great free course that offers a ton for nothing, so I highly recommend it to anyone even remotely thinking about working on side hustles!
The next free course would be Amanda's SkillShare Course. Skillshare currently has a free trial period where you can access their courses for free.
So if not the free workshop, simply sign up for Amanda's course, and I'm sure you'll not regret learning these high-income skills.
Do you need a transcription certification to work as a transcriptionist?
While owning a transcription certificate is not necessary, it improves your credibility if you have one.
Most platforms and companies are more interested in your skills as a transcriber, and if you can deliver on the job, there's no reason why they won't prefer you for other work!
Many transcriptionists acquire their skills through experience, practice, and self-study.
If you have excellent typing skills, a strong command of grammar and punctuation, good listening abilities, and the ability to research and verify information, you may be able to find transcription work without certification.
But for most individuals (including me), who, are good at these skills but not good enough to learn and be successful transcriptionists, for those I recommend a course that offers a certification.
Additionally, certification programs often provide structured training on specific transcription software and industry standards, which can be beneficial when working with specific clients or in specialized fields such as general or legal transcription.
As for medical transcriptionists, you may need certification from an accredited institution. So check that before you choose to be a medical transcriber.
Are online transcription courses worth it?
If you have the money for it, then yes, online transcription courses are worth it. Provided they are good courses and not some random course with zero credibility.
You can learn transcription yourself by reading articles, and browsing videos on youtube, but the fact is that you won't learn everything on youtube, especially how the top transcribers in the world make money!
Plus figuring it out yourself works but takes up a lot more time. You'll be trading time to save some money; in the short run, that might prove to be great, but you're better off with a professional course that knows what it's doing and can help you systematically achieve your goals.
If you don't have the money, I recommend reading my article on how to be a transcriptionist in 2023! I've done a thorough study on top professional transcribers and mapped it all out in this above-linked article. Enjoy!
Then use Google and Youtube to learn and practice transcription.
My Thoughts: Best Transcription Courses
If you've read this article well, you already know the answer!
I do like Transcribe Anywhere, and thus it's the best online transcription course I would recommend to anyone who's at the beginner or advanced stages of transcription and needs a structured guide on how to get rich transcribing by either being a freelancer or finding online transcription jobs.
If you're still not clear about transcription as a career, I highly recommend starting with their Free Transcription Workshop.
The Workshop will teach you all about transcription, and how to build an online transcription business and also give you 20% off on their signature Transcribe Anywhere course (which is simply icing on the cake!)
You can try cheaper courses if you wish to, but they will only end up wasting your money to a large extent.
These 5 courses are the best transcription courses and the ones I recommend!
If you're on the fence about whether you should or should not choose a transcription career, you might want to read this article I've written – 12 Things To Know Before Becoming a Transcriptionist!
Not to worry because I also wrote an article on the Top 13 Tips to Grow Your Transcription Business!
Have a great read 🙂
Enjoyed this post? If so, you might want to subscribe to my newsletter. It usually contains life lessons and money-related topics, some interesting observations, links to articles or books I've read, and tips to be a better person. If you're interested in these things then subscribing will be simply wonderful 🙂 PS: Subscribe and Get your Freebie below!
Also, I'm a YouTuber now! If you're interested in Pinterest Marketing, Blogging, or business-related things, Subscribe to my Channel and I'll see you in the comments!