How to Start an Online Boutique: 10 Lucrative Steps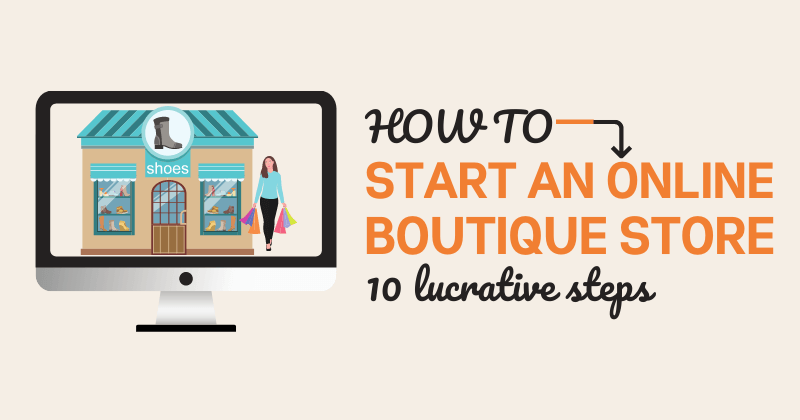 This article may contain affiliate links. If you make a purchase using my links, I'll earn a small commission at no extra cost to you. I appreciate your support!
Are you ready to start an online boutique store in 10 simple steps? The online shopping industry is booming today with more and more people relying on online shopping as their daily bread.
Starting an online boutique in this day and age is unbelievably profitable for entrepreneurs. 
Statista has projected the apparel and accessories industry to increase its revenue to 156.3 billion U.S. dollars by 2024.
Ordering accessories or clothes in minutes is faster than changing your clothes, driving to the mall, and buying. No wonder people prefer online shopping!
I have good news for you, I can help you create business models and give you 10 lucrative steps to run your online boutique from the comfort of your home. 
To add some extra sauce to this article, I have also shared 5 essential skills, advanced Level Pro Tips (to start an online store), and some Don'ts (you must avoid them at all costs). This is going to be a loooooooong article, so let's begin.
5 Skills Needed To Start Your Online Boutique
1. Positive Mindset
When everyone around you makes fun of you, having a positive mindset is your only energy source. In business, you're going to face a lot of problems, you either cry about it or solve the problem and move on. A positive mindset will keep you close to your goals.
2. Managing Finances
Starting an online boutique will take money. As a business owner, your job is to do everything, right from finding the right product to creating a marketplace for it to marketing it and ensuring your money is well spent.
If you never studied finance in your college days, you're going to find this hard to learn. You can take up online courses from Skillshare (Grab One Month Free Offer) and Udemy. Here's what you must know:
Understand your credit score
Allocate money wisely
Types of business loan
Budgeting
Cost-cutting
These are basic things you need to learn to financially sustain your business. People with no financial knowledge often start a business and within months file for bankruptcy because they spend on anything that shines.
To file for taxes and manage your books of accounts, use QuickBooks or hire an accountant.
3. Digital Marketing
Products don't sell themselves. You need to use digital marketing to sell your products. I'll be covering more in detail how to use digital marketing to make your store a popular online boutique but to understand all that you need to take courses, and read up on a few articles about digital marketing. 
There's SEO, CRO, Ads, Organic Traffic, Social media sites, forums (like quora), etc. You can take basic courses from Youtube, and read articles for a better understanding.
If you're new to marketing, you'll need to spend time learning how to use your money to make more money. 
Facebook ads seem simple at first but the infinite customizations to target your specific audience will make it extremely confusing. Learn the basics and I'm sure your marketing life will be slightly easier.
Some Digital Marketing Blogs to follow:
Neil Patel
Backlinko
Ahrefs
Moz
4. Time Management
The beauty of being your own boss is that nobody tells you when to start and stop working. You create your own hours, set your task list, and even if you don't complete those tasks, there's nobody holding you accountable.
Set a proper to-do list
Prioritize tasks properly
Discard non-essential tasks
Overcome Procrastination
Give yourself breaks
I used to write my daily tasks on paper but I never really looked at it. So on most days, my tasks were pending and my productivity was zero. I realized I used my phone a bunch of times. That's when I found the Todoist App.
Todoist is a to-do list to organize your life. You can set tasks for Today, 7 Days, A Month, and so on. You can also create custom tabs to store specific tasks like a Shopping list (tab) and inside it, you can write all your groceries.
Todoist has priority dots (P1, P2, P3, P4), it's colorful, and you can set sub-tasks, reminders, and much more. This is now my daily to-do list. Try the Todoist App and see if it improves your productivity.
5. Creativity
Creativity is about building a better mousetrap and finding a solution for a problem more efficiently. Being creative has its benefits in all walks of life, and developing your creative skills will help your online boutique succeed.
I'll share 4 Creativity Tips that you need to follow
Become an expert
The more you know about your niche, the easier your creativity fluids will flow. New ideas will blossom enabling you to do new things nobody in the market is currently doing.
Take Risks
Every creative person takes a leap of faith and does something no one else can. Taking risks doesn't mean success all the time; you'll fail more than you succeed but this will ignite your creativity.
Eliminate Negativity
Being negative increases your stress levels, reduces your productivity, increases bad habits, and reduces creativity. Listen to motivational videos on YouTube and Spotify to get out of the negative vibes.
Brainstorm
What do you do when you have something in your mind? You think, right? Brainstorming is a common response we exhibit when we're in a situation. Putting stress on your brain forces your creative side to flow out.
Without further ado, let's jump right into the 10 steps necessary to run a successful online boutique.
If you want to start an online thrift store, Here's your 7-Step Guide.
How to Start Your Online Boutique at Home: 10 Steps
Step 1: Defining Your Niche Product
Finding your product is the most interesting step yet people give up because they can't find anything valuable enough to sell. If there's nothing valuable, E-commerce businesses wouldn't be making enormous profits year over year.
Now let's talk about why choosing a niche product will be preferable. When you're new to the online business space, you have no credibility.
To develop credibility, your online boutique needs to be good at one thing, it could be fashion accessories, kids' shoes, or men's belts. People need to remember you for a specific product. 
Follow these steps to pick out a profitable niche for your online boutique:
Write down your interests
Think about what you're interested in. I like men's suits or watches or glasses (eyewear). Brainstorm and write down all the ideas.
Niche down
Now that we have selected products based on our interests, let's niche down. This won't be so easy if you're doing it for the first time. Try understanding how I do it.
Glasses

Laptop Glasses
Sunglasses
Reading Glasses
Zero Power Glasses
Now I will choose "Laptop Glasses" as my niche and I will try to sell it to anyone who wants laptop glasses.
Check if people need such a product
You need to find out if there's a demand for the product. You can use keyword tools, browse through Amazon, ask local people and see what's already doing well. 
If people don't need laptop glasses, it's pointless trying to sell them. If your product is not needed, start again with Step 1.
Step 2: Conduct A Thorough Market Research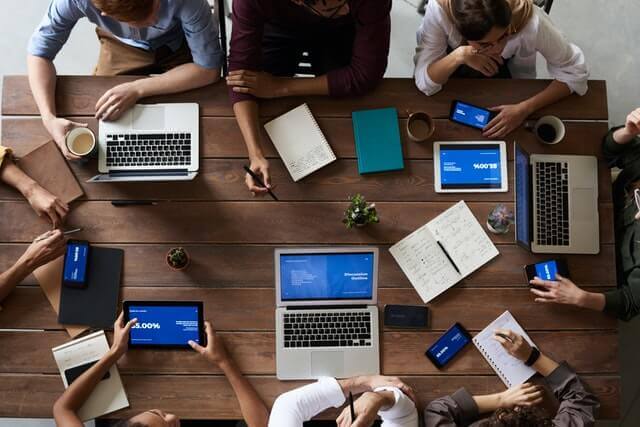 Market research should save your time spent on understanding your potential customers. You need to find out everything you can about your potential customers – their likes, dislikes, styles, mindset, the reason for purchase, peak time and season, problems and difficulties, etc. 
Your job is to find out purchasing details about your visitors. One way I would do that is to check out well-known eyewear glass websites (they must sell computer glasses). Then I would see their most sold/popular laptop glasses (best sellers). Try finding a pattern there.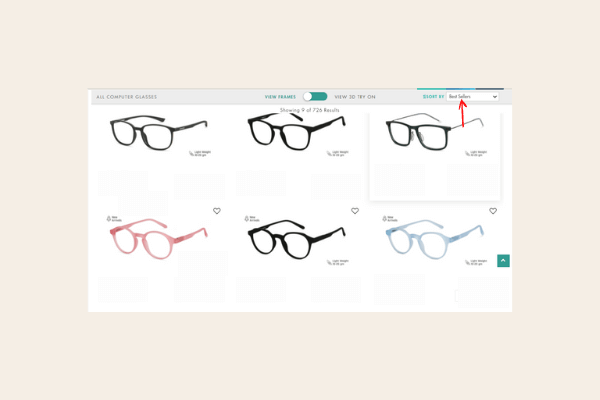 In the above image, you can see that four out of six shades are dark in color. Also, notice that the first three and the next three have the same shape. Most of the glasses are Unisex so I can sell these to men and women (I was thinking of only selling them to men). 
Dive in deeper and I'm sure you'll get more ideas and identify patterns in consumer buying.
You'll also need to figure out why customers prefer one product over another, try figuring out your ideal customer's mindset, and apply those principles in your product. 
Conducting market research will ensure your online boutique is not another e-commerce platform but is something that keeps customers' values and needs first thus providing premium service.
Let's say your target audience likes new fabric (men's belts), dark blue or brown are preferred colors. During your research, cowboy-style belts were fast-selling products. 
They are looking for belts for the short term and would like to buy new belts every few months. In short, they prefer buying 10 belts for $50 instead of buying 2 belts for $50.
Note: Constructing a good business plan is essential to overall business growth and stability. These 10 steps along with pro tips and don'ts ensure your business plan is strong and practical.
Step 3: Choosing A Meaningful Name
Choosing a meaningful name boils down to three points: I use The MOM Strategy every time I need to come up with a creative name!
Meaningful: Your name must have a meaning behind it. It doesn't need to be too fancy but it needs to catch the visitor's eyes. If there's a story behind your name, people can relate to it immediately. 

Esntls is a clothing brand that focuses on basic essential clothes like t-shirts, shorts, track pants and so on. Anyone who reads the name will know that here you get basic essential clothes for everyday wear. 
Original: There needs to be some originality in the name. This point isn't a must, but your name can be more attractive if there's something original about it. Something like 'Rylan'sDen' is original. Here you'll find fashion accessories that suit my style.
Sage Tip: The more original and meaningful you can make your online boutique, the better your potential visitors will relate to you and in turn increase sales. 
Memorable: Your name should be easy to spell and pronounce. Something like "Wytgeaq" (I don't know what this means!), which is difficult to spell and pronounce will not be memorable. 

If it's not remembered, word-of-mouth advertisements won't work nicely. People are likely to misspell the name if it's not something they're used to hearing; for example – Henry types "Wytqeaq", and doesn't get any results. Keep it simple and keep it memorable.
Example: "Aurum" in Latin means Jewellery. Aurum is meaningful, it's unique, original, and memorable (words aren't so difficult to remember).
If you need an intuitive dashboard for a smooth workflow for your team, check out Teamwork project management software.
Step 4: Secure Domain, Social Handles, and Business Licenses
Domain

The minute you finalize your online boutique name, you need to check if the domain exists. I use Hostinger to buy my domain, you can use whichever platform you prefer and trust. You can also check if your domain exists at Hostinger.

You can buy Hostinger hosting at a discount (free domain and SSL certificate included), Here's your sweet Hostinger Discount.

Once you're done with your business license stuff, buy your domain name immediately. 
Sage Tip: Don't tell your domain name to anyone before you buy the domain. Once someone has purchased the domain, you'll need to pay a huge multiple to acquire it from them. 
Social Handles
The next big step is to secure all social handles. Facebook, Instagram, Twitter, LinkedIn, TikTok, etc. You don't need to use all of these for your boutique business but it's important to secure handles so you could market them if it makes sense in the future.  
Business Licenses

The final step in Step 4 is to find out about business licenses you need to start an online boutique and get them. A simple Google search will give you all the answers. If in doubt, ask your neighbors or friends or Facebook groups. 

Once you get your domain, and social handles, and get done with all your business licenses, it's time to move to Step 5.
Super Important: All credentials such as login details and passwords must be systemically kept in an excel sheet. Make an excel sheet and store all the data, you can also use Trello or some other platforms if you wish. 

Step 5: Get Your Supply Chain Ready
This is a very important step, you need to figure out and get your supply chain ready.
If you are not creating a new product, you can use the dropshipping method or buy products, store it (with you) and sell them when orders come. Both methods have their pros and cons, choose any method you like and get started.
Find a Manufacturer/Wholesaler
Quality products are going to be your top priority. Customers can smell a bad product and can easily dampen your online boutique.

Getting in touch with manufacturers will be the best way but manufacturers don't fulfill small orders, so they won't entertain a young company like yours. 

When this happens, wholesalers are your second-best option. Go to wholesale apparel markets, ask local vendors (retailers) and use google to find out wholesalers. 

Meet at least 4-5 wholesalers, buy one or two from each wholesaler to test their products, and plan logistical problems with them. The one who satisfies you the most should be your wholesaler.  
Order management and delivery
How are orders going to be fulfilled? You need to figure out the most economical yet fastest way to fulfill orders. One-day deliveries are rare nowadays (except for Amazon), if you can do that, people will be more inclined to buy from you. 

If you don't have storage space to keep the products, you can use dropshipping to send the necessary details to your wholesaler, who packs, labels, and gives it to the delivery company (eg – FedEx). 

Then the delivery company delivers the package to the customer. Or you can buy in bulk, store in house, pack and label and keep it ready for delivery. The three most important aspects you need to take care of are: 

1. Correct product
2. Speed
3. Saving money

I have worked with an apparel company in the past and giving customer X a product he didn't order isn't something new.
Sage Tip: Download the PDF Version of the article so you could read it offline, and revisit it anytime. 
Syncing Quantity
If you're buying from a manufacturer/wholesaler, always take a count of their stock. I can't tell you how many orders I have canceled (when I worked at an apparel company) because we assumed the manufacturer had stock. 

Then we need to refund the customers and say sorry; they rarely return because we deceived them. Always mention "Out Of Stock" for such products, when they are back in stock, restock them in your online store. 
Step 6: Set Up Your E-Commerce Store
It's time to build your online e-commerce store! There are a few amazing e-commerce platforms that you could choose but mainly it boils down to Shopify, BigCommerce, and WooCommerce. 
These companies are the giants in the space, they have the best customizations and services in the industry.
Both are equally good but if you're a beginner, I would recommend Shopify because of the many unique and interesting features it offers that the competition doesn't.
The customizations Shopify offers are unlike any other company. Its user interface is smooth and it gets the job done really well.  
If you want to check it out, here you go – Get Started With Shopify! (Discounts Included)
People do like Shopify more and I get why! It has a good dashboard but BigCommerce is also not bad!
BigCommerce offers premium-level service that only the biggest companies use, it has slightly more customizations and discount options than Shopify. 
Note: For a limited time, BigCommerce is offering a Free One-Month Trial (No Credit Card Required!) to help you get started with your online business.
You can cancel the plan after a month if you don't like it. I don't see a reason why anyone would miss this huge discount. 
BigCommerce comes with built-in features and apps whereas Shopify has third-party apps that you can connect with (at extra cost). 
I've used Shopify and I do like it and recommend it to almost anyone who wishes to start an e-com store.
Once you buy an e-commerce platform, you'll need to set it up, connect your domain, design the website, and add product listings, product descriptions, and product details such as tags, prices, etc.
You may also want to create bestsellers, recommended products, latest patterns, exclusive limited-time offers, and Buy One Get One Free, Under ___ offers to attract visitors and boost sales.
Doing all this will take a lot of time, if you're working solo, take two weeks to a month to set everything up, and ensure your delivery man and manufacturer work smoothly.
That's why starting with the right e-commerce platform with easy-to-manage tools and a smooth user interface makes perfect sense.
Shopify does a great job handling your problems and making your life easier. There are also hundreds of free tutorials online on how to set up a Shopify Store.
Start Your Business With Shopify Today!
Step 7: Sort Out Accounting & Taxes
Managing your finances and filing sales tax is more important than running a lucrative online business.
Don't be too happy if you're making money because it could all go away if you're not smart with money management and you don't know your tax laws. 
Luckily there are many software out there that make your life simpler. QuickBooks is a good example of accounting software.
QuickBooks makes your life easier by managing all invoices and payments within the software. 
You could also hire an accountant who will manage all this and hopefully give you some great tax-saving tips. 
Start Your 30-Day Free Trial With QuickBooks!
Step 8: Start Online Marketing
Instagram Marketing
First, create an Instagram account, create posts and stories on Canva (Get Pro Plan for 30 days), and schedule them using Later or Hootsuite.


Consistently post once a day (at least once in three days)

Use relevant hashtags
At least 3 stories a day
1-2 Reels a day (must-use strategy!)
Use IGTV, Guides to reach more people
Engage your audience through contests, quizzes, fun stuff, and comedy.
Go Live (must-use strategy!)
Run paid ads on Instagram
Facebook Ads
Facebook has some similarities to Instagram, so using hashtags, uploading stories, posting frequently, quizzes, and all those things were quite important in the early days. 

Once you build a decent customer base, these people will market for you for free. Facebook ads are another way to acquire customers.
Tip: Connect your Instagram account with your Facebook account. Then you can post stories and posts on both platforms in a few clicks. 
Google Ads
If you're ready to spend money to acquire customers, spend a portion of your money on Google Ads. 52% of the entire world population uses Google.

Showcasing your ads to people on Google always pays off. Learn how to run effective ads before spending money. You could lose your money if you don't know what you are doing.
Content Writing for SEO
What you're reading now is content a.k.a Blog Post. Content writing is an invaluable skill and a very important part of a successful company's marketing strategy. Big companies dominate the space because they use content writing to their advantage. 

It helps build domain authority and means your website ranks higher in the organic search results. To learn more, here's an article by Neil Patel. 
Influencer Marketing
A quick strategy to generate a lot of sales is Influencer marketing. Many companies are now shifting their money from buying traditional ads to spending money on influencer marketing. 

People trust people, so when a famous influencer promotes a product, people believe them and buy the product. This can be a smart way for your online boutique to make money.
Quora
Quora is similar to Content writing but here you are writing on an already existing platform that is very very huge. About 500 million people per month use Quora to search and find answers. 

Now you can't get all 500 million people as your customers but even if you can target 0.01% (about 50,000) and get them to buy your products, I am sure your business can be a million-dollar business very soon (if it's not already).
Email Marketing
Email marketing is your gold mine, every platform is owned by someone else, which means if you break their guidelines, they can and will ban you. Imagine losing 50,000 customers from Quora because you made a foolish mistake!!! 

Nobody can steal your email list. That's why acquiring emails and keeping your email subscribers engaged is an important skill you need to learn.
Pinterest
Do you know the top stores marketing on Pinterest? They are all Online Boutiques. Why? Because people like seeing clothes, fashion accessories and Pinterest is the perfect spot for such items. 

You can easily grow your Pinterest, I am in the personal finance and productivity space and my Pinterest monthly views are about 300K.
If a platform allows you to 'go live' and interact with your audience, do that. Going live and showing your audience behind the scenes, answering their business questions, talking about life, and randomly talking build trust. 
These same people love your brand till the very end and support you all the way through. Instagram and Facebook live once a week is something every marketing strategy must-have. 
Online marketing is all about trial and error. You won't get awesome results at once. Create an ad – run it for a few weeks – see how it performs – make changes accordingly. Repeat this process over and over again to see consistent growth and profits.
Step 9: Constantly Work On CRO
CRO stands for Conversion Rate Optimization which means working towards increasing the percentage of visitors/buyers to your website. In our case, our job has to be to increase our purchasing conversion rates so that we get more sales and in turn make more money.
To understand this better, imagine a scientist working in a lab. The scientist tried multiple different combinations, ideas, strategies to develop the desired results. When he fails, he discards that idea and moves to another idea.
While working on CRO, you should also try and test different items on our e-commerce website to attract more visitors into buying products or signing for our newsletter.
Let's assume that out of every 100 visitors on your website, 7 people purchase a product worth $90. Now That is 7% of 100, so our current conversion rate for cart value of $90 is 7%. We want more, so we run an experiment, let's say we give combo offers (buy 3, get 1 free for $90).
You wait for two weeks to a month (the time frame depends on you) and then you compare your stats. Doing this change sparks an interest in visitors and this time 12% out of 100 visitors buy products worth $90. One change increased your cart value by 5%.
Then we start with our next experiment, let's say we 'Buy Button' is more eye-catching. We assumed this would work and expected a 3% increase but it did the opposite, conversion rates went down by 3.5%. No need to be upset, change the 'Buy Button' setting to the previous one.
Working on CRO doesn't always mean success, there's usually more failure and less success but once you figure out what works, your customers will like your website and your sales will keep increasing. 
CRO is a wide subject that requires extensive study and understanding of website layout. Read more articles and update your knowledge for the best results.
Step 10: Smoothen The Process 
Customers like easy things, they want to buy items in a few clicks. They want to make decisions in minutes. Nobody likes spending too much time scrolling and not finding anything valuable enough to make a purchase. 
Your greatest task once everything is set is to smoothen the process. If Brian wants to purchase a Grey T-shirt from your online boutique, he wants to buy it in under a minute. If your buying process has 7-8 steps, that means he's surely not going to order anything anytime soon. 
Cut down the steps and make it simple to buy. So once a visitor finalizes the product, a few clicks, and voila, the product has been ordered.
The same goes for order packaging, delivery, website layout, and personalized products. People want to feel like they're important, by doing fast delivery, they'll love you. 
Give the customers multiple shipping options, 1-day delivery, 1-week delivery, scheduled delivery, etc.
Don't you like it when Amazon gives you 1-day delivery for free? I go crazy!
Pro Tips To Keep In Mind
Pro Tip 1: Create an FAQ, Contact Us & About Us Page
Regardless of what niche you are planning to sell, creating an FAQ, Contact Us and About Us page is a MUST.
Visitors don't buy products from random websites. They try to find out if a website is legitimate or not. The most obvious page they look out for is the About Us Page. 
Then they browse through the product but they have a few questions, well they visit the FAQ Page.
Lastly, they still have doubts or queries that need personal attention so they visit the Contact Us Page.
I want to focus more on the About Us page because that's where most businesses make mistakes. They treat this as an ordinary bio page. Believing that means you're leaving customers on the table, your about us page is a sales page. 
You need to write content about us in such a way that your audience likes what they read and are ready to make a purchase. Yea, that means include 1-2 product links on the about page. It means to make it aesthetically appealing and take new visitors on a beautiful journey. 
An About Us page must include the following things:
Your reason to start an online boutique
Featuring Founder's and Core Teams with an image and a small bio
Product sourcing and descriptions (general information)
Describing customers what your business stands for
Ensuring you'll always put customers before anything else
Giving Free Stuff (this could be ebooks, templates, blog posts, charity donations, courses, etc – optional)
Want to learn how to write and edit an ebook from scratch? – Read this in-depth article.
You can label these three pages as per your preference but you need them to build a loyal community.
Pro Tip 2: Direct Your Customer To Make A Sale
Have you heard about Customer Journey Map? Customers Journey starts when a visitor lands on your website and ends when he purchases or exists from your website. What he does in that time is called the Customer Journey. 
As usual, here's an example: Jane opens the Apple website, browses the iPhone section, checks the different iPhones, picks iPhone 12 Pro, and makes a purchase. Assume we have a customer journey map of 1000 visitors. 
We make an analysis and figure out that almost 80% of them click on the iPhone tab over the other options but only 30% end up buying an iPhone. Now we need to make a better landing page, include more images, context, and graphics to make the visitor buy the product. 
Our data also suggests that 60% of visitors check out the About Us Page, most of them don't buy anything. What I can do is insert an email opt-in form on that page (create an incentive). They didn't purchase the product immediately but I have their email, which means I could sell them sometimes in the future.
Here's an article by Hubspot on creating a Customer Journey Map.  
Pro Tip 3: Price Higher Initially and Offer Discounts
I assumed entrepreneurs know this pro tip, but some don't, some do but still hesitate to use it. People want things for cheaper rates and now that competition is so fierce, the same high-quality products are being offered at much cheaper rates. 
I like cheaper products but you need to think about which business you're in – Are you in the money-making business or are you in the empty pockets business? A small margin (selling price – cost price) means you restrict growth. 
If your ads cost increases, you may see no profits whatsoever. You don't have money to grow your business, you can't upgrade tech because you don't have money, you can't hire because the little money you make goes into your pockets. 
Price a product at 100 (cp -40) and offer discounts (20%), making your selling price 80. This is just one way to price your products.
If you offer high-quality products with good customer service and after-sales service, I can't find one reason why anyone wouldn't pay extra. Charge more, offer some discount but keep margins high for growth and expansion.
Also give them multiple payment methods like debit cards, Google Pay, PayPal, and some others trusted payment methods.
What NOT To Do When Running Your Online Boutique Store
DON'T: Stuff Your Homepage & Shopping Pages
I GET IT! You have 100 products to display but that doesn't mean you show 7 products in a single row! In most online boutiques, I've seen 3 products in a row, Amazon shows 4 in a single row (laptop users) and 2 for mobile users.
Putting more products in a single row would give the customer a wider look but at the cost of a clean user interface. The images and text will be smaller making it difficult for the customer to view the product.
DON'T: Ignore Customer Reviews
You're never going to be the best company for belts or women's clothes because of the immense competition. That means there's always room for improvement and growth in any business. 
That's why businesses are always focusing on increasing their database (audience), increasing conversion rates (discussed in Step 9), and providing better quality for their customers. 
When you ignore reviews and feedback, you are simply saying NO to improvement. Now I'm not saying that you need to start focusing on every comment and feedback you get and pivot your business strategy accordingly, what I'm trying to say is that if out of 100 reviews 70 reviews say that you must discard light yellow belts because they're simply bad, you better listen to them. 
You should also not ignore customer reviews because people like it when their feedback is implemented. They'll come back and buy again because you satisfied their request.
DON'T: Avoid Website Graphs and Stats
Google Analytics is the key to abundant wealth for any online boutique. GA gives you in-depth data that I doubt any other analytics tool ever gives you. 
This data is extremely useful for understanding customers, mapping customer journeys and reducing abandoned carts. GA also gives you insights on which platform users use, their state, peak time, traffic sources, etc. 
Hiring a GA expert would be beneficial as learning everything will take time. Let's say GA stats show that 65% of your visitors are from Australia, while 22% are from the United States, using this information, you can spend a majority of your ads money on Australia as your product has more demand in that country. 
DON'T: Use The Same Ad Set
We have discussed experimentation before but I'll touch on it again. Don't just run one single ad forever, people get bored seeing the same ad again and again. Keep creating new ads, compare various ads to see which performs better and why. 
If an ad set with you sitting by the pool did 10% better than the other ad set, your new ad should also include water bodies (like beach, lake, pool).
DON'T: Use Stock Photos
Probably the saddest thing you could do is using stock photos when you have real products. I have seen a lot of Instagram Business profiles uploading stock photos from websites and claiming to sell such products. 
NO NO NO! 
You better click some real product photos that you plan to sell on your online store. You don't need a professional camera to do a simple photoshoot. YouTube has videos teaching you to do professional product shoots with your smartphone. 
Most smartphone cameras today are decent enough to capture good-quality photos. If you can afford it, do a proper product photoshoot.
Starting An Online Boutique With No Money
Want to start an online boutique for free? I'll show you how to do it. Most of the steps involved are the same, some minor changes and you can run an online boutique without any initial investment.
First, understand where your money is going. Your biggest expense is going to be inventory which can be zero if you use dropshipping. This way you don't need to purchase products before you sell them, you pay after you've sold the product. 
Delivery is the next expense but this too is solved if you do dropshipping, as your manufacturer/wholesaler will deliver for you. You pay him (weekly or monthly) after the orders have been placed and you've received the money in your bank account.
The next expense is a domain name and hosting plan. Until 5 months ago, I didn't know that you could get a domain and hosting for free at some websites. Yes, 100% free domains and hosting are available for a year. 
New companies that don't have brand value and credibility in the market provide huge discounts and extremely few websites offer free domains and hosting plans for a year. You'll need to google a bit, search terms like "Free domain and hosting for a year". 
Read some blog posts and watch a few youtube videos, follow the steps and you'll get your free domain and hosting.
Note: Companies offering free domain and hosting plans aren't reputable. Only buy if you trust blogger's and YouTuber's recommendations. Some websites have genuine plans for free. I suggest buying the paid hosting plan. 
If you haven't yet decided which hosting to buy, you can grab my Hostinger discount and get a free domain and SSL certificate (FYI – I recommend Hostinger because I use it on this website).
The final expense necessary to start an online boutique is advertisements. Now running Facebook, Google Ads is not essential but earning money in the initial phase without ads is difficult, especially if your product is not brilliant. 
But there are free ways to market your product and make money from your online boutique. Of course, you'll need to put more effort but it's possible.
Online Boutiques FAQ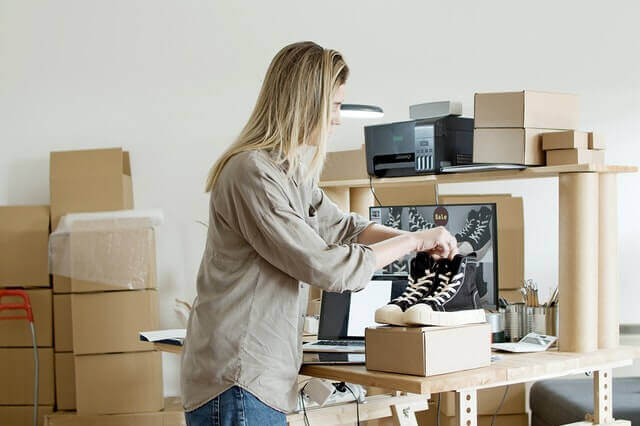 Can you start an online boutique with no experience?
Anyone can start an online boutique store. All the information you need is available free on the web. You can start an online store without experience but you will need to spend time learning everything.
How much does it cost to start an online boutique?
The four main costs of starting an online boutique are
1. Website (domain & hosting)
2. Inventory (products)
3. Delivery
4. Advertisements
Work your way around reducing each of these costs. How much your expenses are dependent on how much you want them to be. I've shown you the freeway to run an online boutique.
How Long Does It Take To Make Money?
If you play it right, you will be profitable from the first month itself. As long as you understand that your expenses need to be less than your income, and sales and fewer returns must be your number 1 priority, I don't think loss is something you will ever incur.
What is a good profit margin for Online Boutiques?
The more unique and rare your product is, the higher you can charge for it. The beauty of online stores is the higher profit margin. I think a reasonable profit margin would be about 10-20%.
 
After a year into business, you should expect your profit margins to be about 30% or more.
It's not that easy to make 30% but work hard on your ads, bring down your cost of goods, try reducing delivery costs (bulk delivery could help).
Brainstorm new ideas, read articles, talk to businesses in the space, you will come across so many interesting ways to increase your profit margins.
Online Boutique Business Plan PDF
Grab a FREE Copy now!
Are Online Boutiques Profitable?
I don't need to think twice to say that Online Boutiques are indeed lucrative. 
More and more people today are shifting to online stores to shop for anything and everything they need. 
This is a golden opportunity for entrepreneurs to make money selling products. With the right skill sets, proven strategy, and advanced tips, you can start and run an affordable online boutique that is profitable in no time. 
Work hard, learn fast, fail fast, and work hard again. With the amount of information available on the Internet, I think you can learn any skills you want and make as much money as you want.
This guide will surely be helpful to anyone planning to start running an online boutique. Scroll Up to the top of the page to download a pdf version of the article; re-read it whenever you find things confusing.
Read More >>> 20 Best Ways For Teens To Make Money!
Have you enjoyed this post? If so, you might want to subscribe to my newsletter. It usually contains life lessons and money-related topics, some interesting observations, links to articles or books I've read, and tips to be a better person. If you're interested in these things then subscribing will be simply wonderful 🙂 PS: Subscribe and Get your Freebie below!
Also, I'm a YouTuber now! If you're interested in Pinterest Marketing, Blogging, or business-related things, Subscribe to my Channel and I'll see you in the comments!