How To Start An Online Thrift Store (2023)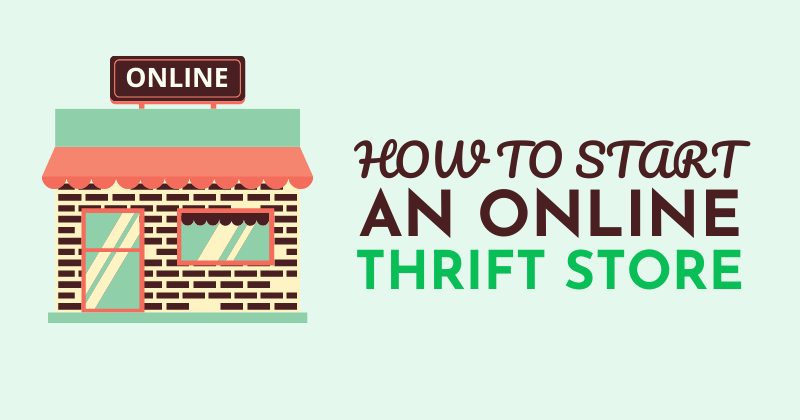 This article may contain affiliate links. If you make a purchase using my links, I'll earn a small commission at no extra cost to you. I appreciate your support!
So you want to start a second-hand store a.k.a thrift store to sell used products?
But you don't know how to get started with setting up shop!
In this article, I'll break down the costs you may incur, inventory management, advanced tips to help your thrift store stand out so that you can set up a profitable thrift store. Let's get started.
What is a Thrift Shop? 
A thrift shop or a consignment shop is a store that sells second-hand products such as clothes, furniture, electronics, books, etc.
Products that can be reused can be sold at thrift shops. Back in the days, thrift stores were popular as a means to raise money for charity purposes but it has evolved to a more profit-oriented business approach. 
Here's the basic one-line business plan for your online thrift store: Buy second-hand products at low prices and sell them at prices cheaper than MRP but more than the price you paid for it. The margin earned is your sweet profit!
Let's take an example, you purchased a pair of used shoes for 800, you sell the pair for 1000, the original price for it is 1300. So your profit is 1000 – 800 = 200 and you sold less than MRP but more than your cost.
Thrift Shopping simply means buying used items for a cheaper rate. You usually find thrift shops at flea markets, individual stores and garage sales. Like all industries, thrift stores have also started selling online. By doing a quick google search, you'll find a lot of online stores. 
How Much Does It Cost To Start An Online Thrift Store?
Your cost includes:
Product Cost
Delivery system
Employees (if needed)
Paid Ads
So in all, we aren't looking at an expensive business to start. Product costs are usually little and websites aren't that expensive. So you can easily bootstrap this business with limited income.
How much do Thrift Stores Make?
If you're planning to make your thrift store the next multi-million dollar business, you're in for a good amount of work. Thrift stores can make good money but they aren't usually a sure path to a lot of money.
Because the complete business runs on small margins on products that you sell. If you increase margins and sell at high prices, that's not thrift stores! Thrift stores mean selling used goods at cheaper prices.
So you'll have to keep your profit margins nominal while ensuring the quality of the product is maintained well. You'll also have to pay rent and other such retail expenses. That's why starting an Online Thrift Store seems like a better option. 
I did a little research using Ahrefs Keyword Generator and found out that the word "Thrift Stores Near Me" in the United States gets a whopping 3,69,000 google searches each month! 

What does this mean? It means that people are interested in buying second-hand products from thrift stores but can't find the ones that meet their interests.
Let's say you understand what these people really need and deliver it to them on a silver platter; guess what, they'll be your loyal customers.
By figuring out a way to solve their needs, you're looking at huge profits in this space.
How to Start an Online Thrift Store from Home: 7 Steps
The steps to start a thrift store are the same whether you do your business online or offline. There are a few key differences in strategies that I'll be explaining within these steps. 
I do suggest starting an online thrift store over an offline thrift store as it's an easier way to make money. Here's what you should follow if you plan to start a thrift store online:
Note: These steps also work if you're planning to start a thrift store on Instagram!
Step 1: Figure out What You Want to Sell
Thrift stores usually sell everything and anything they get. While it might sound great, it's hard to find the right people. That's why it's always a better option to niche down to one or two categories (at most) while you're setting up your online thrift store.
You can write articles in the niche, and put social media content specific to that niche, thus the people you'll attract are also highly enthusiastic about your company and you.
Not sure what items to resell? Here's a PDF of 47 household items (by Rob and Melissa) you can use to start your online thrift store. At the bottom of the landing page, you can get free access to 5 steps to make money flipping and a wholesome workshop.
Step 2: Create a sellable website layout
Your website is going to be your source of contact. You better spend time coming up with a good website layout that is proven to sell. You can use already existing templates and tweak them to your preference.
To get started, I recommend joining Shopify to run your new e-commerce website.
Shopify is one of the best and safest e-commerce management platforms that handles everything you'll ever need for your online thrift store.
Its simple and powerful user interface and management tools will help you grow your online business super fast!
To learn more about Shopify, click here – Get Started With Shopify Today!
Step 3: Source Products
Have you decided how to source products from time to time? Better get started on this immediately. Without products you're not going to sell anything, I hope you remember that!
Step 4: Create an Inventory Management System
Your inventory management system needs to be smooth just like you wake up in the morning, brush your teeth, make breakfast, and rush to the office. If there isn't a streamlined process as to how your inventory is going to be handled, you're calling for a big problem.  
Step 5: Hire a Professional Photographer
This is an optional step! You could do this yourself (it's not too difficult) but hiring a professional photographer is an added incentive to make your products speak to the customers.
If you do business offline, having photoshoots is not necessary as customers can touch the things they like but online they see and make a purchase.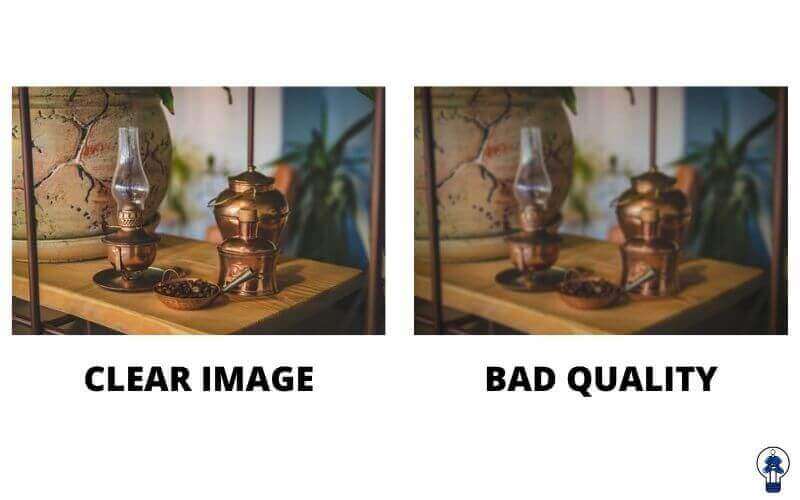 Look at the image above, the left image is clear whereas the right image is slightly blurred and dark. Which one looks better? A good product photo is very essential, so if you don't know how to click decent photos from your phone, don't hesitate to hire someone or rent a professional camera and do a product photoshoot.
Sage Tip: You'll be having a lot of products, and hiring a photographer every time will be expensive. Invest in a good camera phone or a professional not too expensive camera to click photos whenever you need them.
Step 6: Set up Payment & Shipping
Keep multiple payment options in front of the customer. That way your customer won't cancel the order because of limited payment options. Payment options like Google Pay, direct bank account, PayPal, and some local payment options are a must.
Once you handle the payment end, start finding shipping partners and find out your average shipping costs. Type courier services in 'your country' to find out the best shipping partners for your business.
If you're just a beginner and aren't sure where to host your website, check out Shopify. It's one of the best e-commerce platforms created for beginners to get started with selling products right away.
As far as I know, the top courier service for e-commerce stores is FedEx but FedEx is expensive so you need to see which courier service best fits your needs.
Step 7: Create a Marketing Plan
This is the most important step of the master plan for a profitable thrift store. In the early days of your business, you'll need to spend at least 70% of your time on marketing your products online.
This will help people find you and grow your business. Here are a few things you should be focusing your energy on while creating a marketing strategy.
Here's what your marketing plan must look like:
Upsell and Cross-sell
So upselling is when you ask customers to increase their cart value by offering them products of higher quality in comparison to the product they are planning to buy.
Let's say they plan to buy a wired mouse for their laptop, now upselling this would mean you show them a wireless mouse that is slightly more expensive but will better fulfill their needs.
Now let's understand cross-selling with an example; Let's say your customers are going to purchase an antique wooden table, right before they make the payment, you show them products that are complementary to the wooden table, like wooden chairs or a cloth to cover the table.
By using this strategy you may see that about 65% of your customers would purchase that cloth (example) and this will increase your order value.
Ready to start your profitable thrift store? Learn how to do that in as little as 14 Days. Here's your Free 75 Minute Workshop Seat. You don't want to miss this!
Publishing one article each week
Blogging is everything. Customers look at reviews all the time before making a purchase. They try to understand the market, browse through multiple different products and then make the best choice.
To simplify their work, they read blogs and watch YouTube videos. So if you want to have a chance to increase your sales, you better start writing articles circling your products. If you're selling plant containers on your online thrift store, write articles that revolve around that topic.
Gardening articles
Types of plant containers
The best materials for plant containers
How to choose the best pots for your plants
Best pots for Indoor plants/Outdoor plants
It took 3 min to find these five topics, you can easily write 10 articles around these five topics. Remember, the more in-depth articles you write, the better your chances are to rank your thrift store in Google search results. You can use free keyword tools to find topics to write articles on.
Implementing SEO strategies
SEO stands for Search Engine Optimization and it means using your keywords (like plant containers is a keyword) to rank on Google so you get organic traffic and make money.
For this, you'll need to read articles and practice good SEO strategies. Also, build backlinks to your website. When other websites link to your website, that is called backlinks.
Usually, when a website finds your content interesting and valuable, they link to you. This increases your website value which helps you to rank on google and get more traffic. More Traffic = More Sales = More Money!
Start posting on social media platforms
Your social media platform is going to be a major point of contact for your customers. You need to update your social profiles with the latest offers, discounts, steps to purchase, new products, quizzes, Q & A, live talks, competitions, hashtags, etc.
You need to create a comfortable environment for anyone and everyone who follows you on your social media platforms. They need to feel amazing, only then they'll think of purchasing products from you.
Talk to them, solve their queries, ask them what they want you to do, and see if you can make it possible. The more you interact on social media, the more your community will grow leading to higher sales and repeat loyal customers.
Paid Advertisements
Writing articles, implementing SEO strategies, and posting on social media won't generate sales right from the first day. For that, you'll have to rely on paid advertisements.
Neil Patel is an expert in digital marketing and he suggests that while running ads, you must have an omnichannel approach.
So initially you must run paid ads on Google, Facebook, Instagram, Youtube, and a few other platforms. After a month or so, analyze the conversions and see the worst-performing ads and stop spending money on them.
By following these 7 steps, you can easily start and run a successful profit-making thrift store on Instagram or through your website from scratch.
If you ask me, a website will surely be a better choice than Instagram but if you don't want to take the time to solve countless problems that your website can run into, feel free to use Instagram to make money from your thrift store.
Where Do Thrift Stores Get Their Inventory From?
Bulk Distribution Centres
Bulk distribution centers are such that the goods can be purchased by weight instead of per piece. Find such places and keep your eyes wide open. 
Donations
If you get your inventory through donations, try to figure out how you can schedule this.
Then schedule a day in the week when all the people in various neighborhoods come and give you the things they don't want but your business needs. Make a small truck available and get it to your warehouse.
As for new products, it's best to go out of your way and find other local shops (related to your niche) and start hunting for new products to add to your existing product line. 
Note: Repeated customers may get bored with the same old products so you need to bring new products to your product line from time to time.
How to Keep Track Of Your Inventory?
You'll need to figure out a smooth and easy way to keep track of your inventory.
Here are a few pointers to keep in mind:
Don't wait till you sell out
Set a margin alarm (let's say your margin alarm is at 10% inventory, so when 10% inventory remains, you'll get notified and a new order can be placed immediately)
Use professional inventory management software
 If you're not using inventory management software, your second best option is to create a master Excel sheet consisting of name, description, image link, quantity, cost price, selling price, maximum discount, color (if you have variants), etc. 
4 Advanced Rules to Follow When Starting an Online Thrift Store
1. Good Customer Service is the Key
Be polite and respond to all comments. Go live on Instagram at least twice a week. Ask what's bothering them, and what products they need.
Then figure out a way to solve their problem in the most effective way possible (for you and them). Request them to upload a story when they get their product. 
Ask for feedback, and make them feel comfortable and well served. Instagram is all about communicating and making others feel happy.
Sage Tip: Post their photo (with your product) on your Instagram page (only if they don't have a problem with it). Usually, people love it when companies do this as it makes them feel super special.
2. Have a Strong Message
Nowadays it's all about the message behind the company. There are at least 10 companies in every industry, so what makes yours special?
What's that one element in your business that makes the customer choose you over other companies selling in the same space? A strong purpose and a strong message will help you get there easily.
Sage Tip: Your message must be positive, strong, brief, and interesting and it must resonate with the audience.
3. Know Your Target Audience
The only way you could sell your goods to the maximum number of people that visit your website is by knowing the type of audience that is interested in your product. This includes their geography, their interests, feelings, goals, average income, spending habits, etc.
For example, your target audience could be black men aged 25 – 40 who live in the USA. This will also help you during paid ads as you can narrow down your ad targeting.
4. Go to all Flea Markets
These are the places where most people buy thrift items. It doesn't matter if you have an online thrift store, being in flea markets is essential.
You could easily get hundreds of valuable customers who you can sell to on the spot and also tell them to visit your website for more items
Pros and Cons of Opening an Online Thrift Store
The Good: Pros
1. You make better margins
Online marketing is much better and cheaper than offline marketing, so it's obvious that you can spend less on marketing thus having better profit margins for the business.
You could use this extra cash to give great discounts to your online customers.
2. You don't pay rent to set up shop
Rent prices are touching the roof. Real estate prices are ever-increasing and setting up a shop where you may get a few handful of visitors a day isn't a profitable venture.
As for online thrift stores, all you need is a website (which is much cheaper) (even if you go with the best website providers).
3. You can target a larger audience and thus grow faster
Let's say you set up an online store in Vancouver or Alabama.
You can target only Vancouver, Alabama, the US, Canada, the UK, or whatever you feel your product will do good.
Start running ads targeting those regions and people staying in those places will start finding you and making a purchase.
4. You don't need to buy property insurance
If you own the property, you might need to buy property insurance. Well, the good news is that you don't need property insurance when you're doing an online business.
5. Flexible working hours
No need to stand at the shop for 10 hours a day waiting for people to come and buy products. Online businesses have no specific hours, you can work at any time, and working hours are pretty flexible. 
6. You don't need a big staff (5 full-time employees is sufficient)
Kylie Jenner built her 900 million dollar business with just 7 full-time and five part-time employees.
The staff seems pretty low for a 900 million-dollar business but she pulled it off because for an online business, having an enormous staff isn't necessary. Most of the work is streamlined and with a few clicks, major problems can be handled.
The Bad: Cons
1. Securing used products
One of the biggest problems of running a thrift store is accessing products whenever you wish.
Finding good quality used products like clothes or furniture isn't always easy. The key is to have multiple places to go to when you need a stock of goods.
Having just a single supplier or vendor won't do any good especially if the supplier doesn't have products himself.
2. Slim profit margins
In the pros list, I have said that online thrift stores have better profit margins and now I'm saying profit margins are slim. No, I didn't make a mistake in typing, thrift stores have slim margins, be that online or offline.
Sure online profits are better than offline profits but in general, profits earned by thrift stores are slim.
That's because people come to you to buy products at cheaper rates. A 2% or 7% discount won't attract customers, so you'll have to give steep discounts thus the slim margins!
3. Managing returns
These products aren't new so you're probably going to have a lot of returns on the product you offer.
Now you can reduce returns by offering low prices initially or by ensuring the products you sell are of excellent quality but returns are usually a cost every business faces.
E-commerce businesses have return rates of 25%, which means out of every 4 customers that purchase from you, one might return the product due to some reason.
You can reduce these returns by asking the customer exactly why they want to return the product.
Most often customers return products for silly reasons, these silly reasons cost you a lot of money! So it's better to have a return questionnaire policy in place 
How to Make Your Thrift Store Stand Out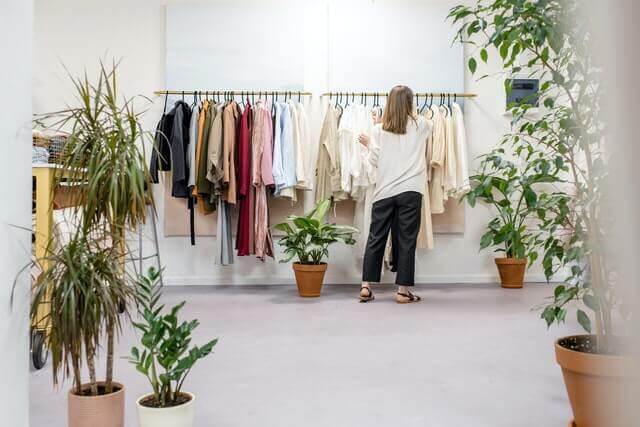 The best way to make your thrift store stand out is by having a good story behind your brand. Why did you choose to sell these specific products? Let's go back to plant containers, why did I choose to sell plant containers?
It can be because growing up my parents taught me a lot about plants and gardening. What makes your company different from other plant container companies? What unique skills do you bring to the table?
Answering questions can make your business plan clear and sharing it with your customers will help you connect with them on a deeper level. Here's an article that should help you – 9 Questions to ask before starting a Business.
23 Thrift Store Ideas
If you're confused as to what thrift store ideas you can start online, here are a few profitable ones I found online.
Books
Funky Costume 
Clothes
Electronics
Baby Resale Store
Furniture
Plant containers
Anything antique
Fashion
Jewellery
Trophy
Stationary
Candles
Festival Decorative
Art & Craft
Water products
 Pastry items
Kitchen accessories
Decorative lights
Plush toys
Car toys
Purse & bags
Photo frames
Save your seat now at Rob & Melissa's workshop for new thrift store owners. It's time to turn your passion into money.
How to Make Thrift Stores Profitable
I'll get straight to the point, starting thrift stores from scratch and making them profitable isn't an easy task. But here are two points you must take notice of –
1. Start an Online Thrift Store
Offline stores have a few problems, the biggest one is scalability; you can attract new customers that are outside your locality easily. If your brand is very popular and word of mouth works great, you might get new customers.
Online, that's not the case. You can easily attract customers from all over the world or from one specific area, the choice is up to you.
You also don't need to pay rent to set up a shop or hire a shop assistant to welcome customers and sell products, one of your team members can handle the entire online marketing.
2. Systemically Buy and Manage your Inventory
You need to know where to buy products from. You also need to know how to store them systematically and make sure you know the quality of each product so you could restock it.
Your accountant will need the total inventory value to file taxes.
So having a simple process to handle inventory from the get-go will ensure a smooth business for you. 
No business is easy to start, almost all businesses today are money-making businesses, entrepreneurs fail because they can't seem to understand what the customer wants and create an easy way to solve their problems.
If you're not in the US, thrift stores are still a new concept, educate the market, provide value, develop trust, have a good message, and be honest, money and success will follow.
If you have any questions about starting an online thrift store, let me know in the comments. I'll try my best to help you out.
Enjoyed this post? If so, you might want to subscribe to my newsletter. It usually contains life lessons and money-related topics, some interesting observations, links to articles or books I've read, and tips to be a better person. If you're interested in these things then subscribing will be simply wonderful 🙂 PS: Subscribe and Get your Freebie below!
Also, I'm a YouTuber now! If you're interested in Pinterest Marketing, Blogging, or business-related things, Subscribe to my Channel and I'll see you in the comments!