23 Ways To Save Money For Your Wedding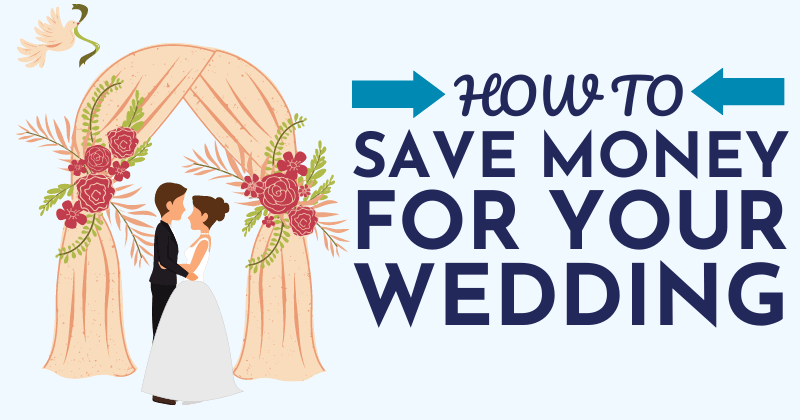 This article may contain affiliate links. If you make a purchase using my links, I'll earn a small commission at no extra cost to you. I appreciate your support!
The day is nearing, the love you so immensely have for your spouse is going to be official, finally! Most people are afraid to get married. When asked why they were afraid, the usual responses were, "I don't have the money to fund for the wedding". 
While weddings are expensive and do take a heavy toll on your budget, you can do some things that will make sure you save money and still enjoy your wedding. If that sounds awesome, let's dive into today's topic.
23 Ways To Save Money For Your Wedding
#1 Wedding Save Money: At The Venue
1. Pick an off-season month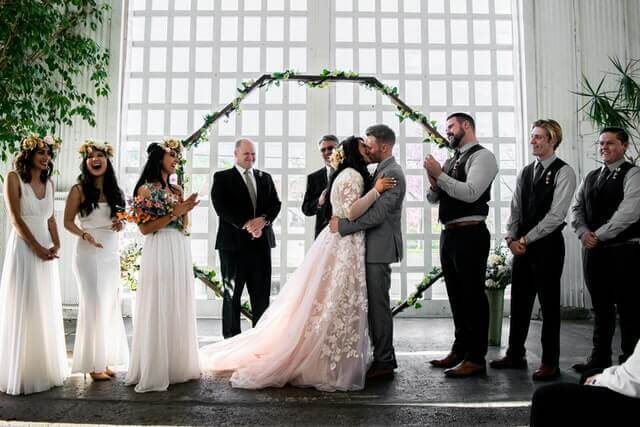 Getting married in December may sound perfect but consider your costs increasing by 20% (at least). 
During peak wedding months, you'll be charged exorbitant prices. Try to bargain and you'll be left unnoticed. 
Because if you're not ready to take the venue, someone else who's ready to spend that much for their wedding will book it. 
That's why you see couples booking venues a year in advance. Anytime between March to June is generally considered off-season and if possible, keep your wedding at these times. 
The rates will be reasonable and your pockets won't be empty. 
2. Negotiate Unreasonable Costs
Lots of unreasonable expenses may pop up during the wedding or after the wedding, especially at the venue, they can charge you extra for so many things. 
Don't hear them out blindly. Ask them for proof and a logical explanation to justify those excess costs. 
After you hear them out, if these costs seem irrelevant and unnecessary, politely decline these costs. 
Note: When booking the venue for the wedding, if they find you naive, they're likely to trick you into paying extra. Check the paperwork and listen carefully to everything they have to say. Be confident and firm when you talk. 
3. Ask For Add ons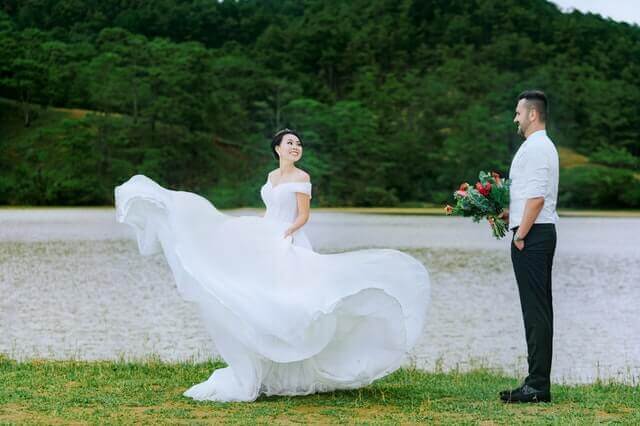 Here's a good idea to get the most of your wedding venue. Ask for add ons for your wedding. Your first step is to bargain the price of the venue. 
If after an hour or two of bargaining, you'll still don't reach a price point you're comfortable with, ask them for their resources. What things they can provide for the celebrations. 
That may include tables, chairs, fans (if it's an open ground), basic decorations, a centrepiece and lightings which can save you thousands. 
Some venues charge you for these things and if that's the case, ask for the quotation without these add ons and resources and compare the prices. 
If you can buy/rent these things from another company for cheaper, you've saved some money. 
4. Prefer Weekdays Over Weekends
Saturdays and Sundays are popular days to get married, but it's also the more expensive day to get married. 
Monday to Friday, rates are slightly cheaper so try to keep your wedding on these days. 
It's an easy way to save some cash. Afternoons are better than evenings in terms of cost, so if your family allows you to hold an afternoon wedding, I suggest you opt for an afternoon weekday wedding for best and affordable prices. 
#2 Wedding Save Money: Decorations & Flowers
5. Don't opt for an expensive decorator
Decorations make a wedding look beautiful. It brightens up the entire place and makes it look alive. 
Decorations are one of the most important things in a wedding and that's why decorators charge a heft price. 
So before you finalise the best decorator who is also the most expensive one, find out local decorators who can do the job for a fraction of the cost. 
But what if they don't do a great job? Read the next point to make sure they don't mess up.
6. Consider Doing It Yourself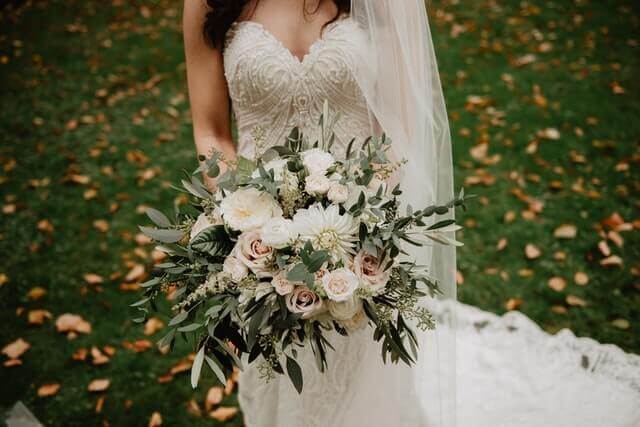 Most decorators have and use the same standard decorations that they use for all their weddings. They lack uniqueness and new ideas. 
You don't need to stick to their agenda and their age-old ideas. Grab your phone and start searching for new wedding ideas. Here's a tip, use Pinterest to find new and innovative ideas for your wedding. 
Pinterest is by far the best platform for decorations, they have videos, images and articles on how you can make things from scratch with little money. 
It's a hub for beautiful budget-friendly weddings. You'll have to spend a few hours, but you'll find fresh, unique and really beautiful ideas that will enhance the way your wedding looks. 
People will be shocked when they see your decorations and ask you who did all this, at that time proudly take your name! 
You can hire a local decorator who isn't as expensive and discuss Pinterest ideas with them. 
7. Pick up In-Season flowers
Fresh flowers are very expensive, just ordering a bunch of orchids or lilies will cost you bizarre numbers. 
If you can avoid spending on flowers, check out the next point for alternatives to wedding flowers. If you insist on having flowers for your wedding, I suggest you pick up in-season flowers. 
Some flowers have a good supply during specific months, pick the ones that are most available in your wedding season and you'll save money. 
It's basic flower economics, higher the supply, lower the price for the commodity and lower the supply, higher the price for the commodity. Be smart and prefer in-season flowers. 
8. Use Candles/Balloons in place of flowers
Candles can brighten up the place quickly. Candles are also much cheaper than flowers and they look beautiful. 
So if you're tight on budget to buy expensive flowers, feel free to skip flowers altogether and use candles in its place. 
If you find colourful candles, there's nothing like it. If not candles, why not big balloons. 
A stunning balloon design arc would look super cool and funky. Use white balloons to take your decor to the next level. 
#3 Wedding Save Money: The Invitations
9. Go For Digital Prints
Don't hesitate to choose digitally made wedding cards in place of physical cards. 
You can send out digital cards for one-tenth of the cost of actual physical cards. As for RSVPs, you can send a google form or let your wedding card manager handle it. 
Normal paper isn't expensive but the quality paper used for weddings is, and by printing a lot of these cards, you're spending more than you should. 
If necessary, print a few cards for your close relatives and send digital cards to the rest.
10. Design Your Card
Do you know what's better than hiring a wedding card manager to design your cards? Doing it yourself. Don't be afraid, it's much easier than you know. 
Google 'Create Wedding Cards' and you'll get multiple options. One of these options will include 'Canva' and I highly recommend you use Canva to design your card. 
The great thing about Canva is there is already a ready-made template you can use to create your wedding cards. 
In less than 5 minutes, you can design and type everything you want to include in a card. 
Canva is an industry-leading platform for creating digital templates, I use them for my blog and my social media accounts like Pinterest and Instagram. 
If you don't follow me on Instagram, go ahead follow me right away – I keep spreading valuable knowledge on Instagram all the time!
11. Don't invite the entire world
Your wedding must include your family and relatives, your close friends and your spouse's close friends and family. 
It's pointless to call people you hardly speak to. All you're doing is increasing your expenses. Make a tough guest list, add as many people as you think can come if you have unlimited money. 
Then trim it down to only those who you care about and talk to. You can save a lot of money on food and drinks just by cutting 10 people from your wedding. 
Don't feel embarrassed if you don't call those you don't hang out with. It's your wedding and it's your money!
#4 Wedding Save Money: The Dress
12. Check out the local markets
It's not compulsory that you buy a wedding dress from a luxurious place nor is it compulsory that you stitch a dress. 
To reduce your expenses, you can check out the local markets to buy your wedding dress. 
There might be a few places in your vicinity that have a variety of wedding dresses at an affordable price. 
Go there and search for your dress. If you find one that fits you and makes you look stunning, why not make a purchase. 
13. Rent Out Your Dress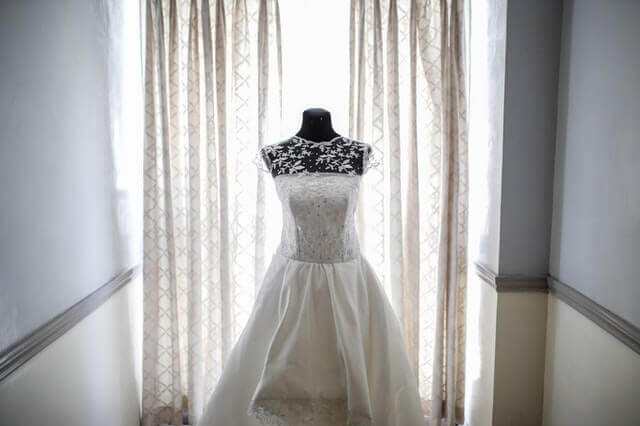 Let's face it, wedding dresses are way too expensive for a common man like you. The money you save on buying a dress can be used for your future or your honeymoon. 
In such cases renting your dress can be the best decision you might take for your wedding. 
Owning your wedding dress is exciting and has its awesome feeling, but it's expensive. 
If you still feel you need to own your dress, that's fine. Try squeezing other things for the wedding to fit in your dress cost.
14. Try Second Hand Dresses
Another alternative to buying your wedding dress is to buy a second-hand dress. You'll get it for a 30% discount and sometimes even half the price (if you search properly). 
If you're worried about the quality of the dress, don't be so worried as a wedding dress is only used once at the wedding and then probably never used again. 
So it doesn't get so dirty if it does give it for dry cleaning and you're good to go. You'll save cash and you get a wedding dress. 
15. Borrow from Friends and Family
Has your friend been married recently or does she still have her wedding dress? Why don't you give it a try? 
See if it fits you, if it does fit and makes you look beautiful, you just got yourself a free wedding dress. If not, try out the 3 tips I've mentioned above and saved your money.
#5 Wedding Save Money: Catering
16. Book The Caterer in advance
Like anyone else, even caterers do charge more than normal rates during short notices. 
So it's always better if you inform the caterers well in advance that you'll need their delicious food. 
They get a heads up and you won't be panicking at the end moment. This will give you enough time to check out their menu, try different items (if you wish) and choose those foods for your wedding meals.
17. Don't choose Complex Dishes
The caterer's menu will be filled with a lot of different food items. The more complex the name of the dish gets, the more pricey it tends to be. 
Especially during a wedding, don't try something you've never tasted before, go for your routine items and you'll be thanked for the food. 
Try something you have no idea about and people may criticize. Rule of thumb is if you're keeping 7 items to eat, 1 or 2 of them can be something new and different while the rest must be what everyone usually eats. 
18. Strategically Buy & Place Drinks
Stick to beer and wine. Don't go for full stock super crazy and expensive whiskeys or wines. You're providing food and drinks to a bunch of people, not just 5 or 10 close relatives. 
Normal beer and wines are way cost-effective and it kinda does taste the same. Another Pro tip for drinks, if you want to keep expensive signature drinks, keep it towards the end of the wedding. 
That way most people will fill their tanks with beer and wine, leaving them little to no space for signature drinks. It's a smart way to keep the expensive stuff and still keep your pockets full. 
#6 Wedding Save Money: General Tips
19. Don't keep multiple Photographers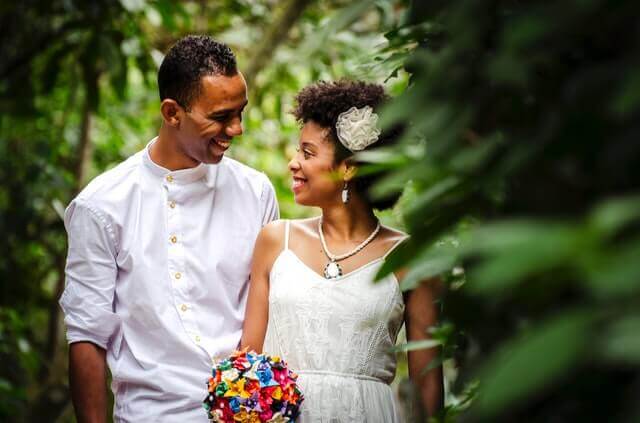 Every additional photographer means more money out of your pockets. 
If you have a huge place, keeping 2 or 3 photographers should do the job. Many photographers may tell you to keep 7 or 8 people, for each additional person standing you'll be charged beforehand. 
So be wise and don't request for excess photographers. Your wedding photos will still look great. The same goes for musicians. One or two can do the job, you don't need 5 unless you're doing a live music event.
20. Pick up New Talent
Think about picking up new talent instead of choosing the best in the industry. 
They're probably the best because everyone chooses them, they're probably way too expensive. 
You can use social media to find new talent, they can be booked for much less than the pros and who knows they might be better than the so-called pros. 
There are over 100 new photographers and musicians in your neighbourhood who will put in more efforts to make your wedding one you'll remember. 
They need recognition in the market, so they will do the best they can. 
21. Maintain A Budget List
You can't compromise on a budget list. A budget list will help you know how much you're spending on each item and recording all wedding-related expenses. 
You need to know where your money goes and maintaining a wedding list is the perfect way to do that. 
You can use ready-made wedding budget planners or use a simple excel sheet or write it in a book. 
You need to refer to this multiple times so make sure you maintain a properly detailed budget sheet. Under each category see how you can save money and cut costs.
22. Hire A Wedding Planner
You might think that hiring a wedding planner might be too much on your budget but it's the opposite. 
If you're looking for a lets-make-it-look-bomb-for-cheap, you should have a wedding planner. These guys know the wedding industry inside out. 
They know how to throw a grand Rs 1 crore wedding as well as an elegant Rs 10 lakhs wedding. So naturally, they have all the contacts who can do the work for much less. 
Plus they handle all the hassle leaving you with little to no work to do during your wedding. Doesn't that sound fun?
23. Donate to a Charity
This isn't a saving money tip but it certainly is a good deed. Giving money to charity gives you immense pleasure and comfort. 
You feel good because you've done a good thing. You're helping those people who need help don't always look to save money or make money, while all that is essential, you also need to think about those who can't afford anything. 
What's better than donating money on the best day of your life! 
The Bottom Line
You don't need to downsize on all aspects of your wedding. What you can do is spend generously on the things that matter to you and your spouse, and cut down on the rest.
Compromise on all things that aren't so important or simply don't include it in the wedding. 
To make sure you don't exceed your decided budget, it's best to write down all your expenses in a budget template or an excel sheet and keep updating it as and when it's necessary. 
Do you like to save money on weddings? If so, how do you make sure you save the most on your wedding? Let me know in the comments and I'll add it to this list! 
Enjoyed this post? If so, you might want to subscribe to my newsletter. It usually contains life lessons and money-related topics, some interesting observations, links to articles or books I've read, and tips to be a better person. If you're interested in these things then subscribing will be simply wonderful 🙂 PS: Subscribe and Get your Freebie below!
Also, I'm a YouTuber now! If you're interested in Pinterest Marketing, Blogging, or business-related things, Subscribe to my Channel and I'll see you in the comments!