Blinkist Review 2023: Book Summaries Worth It?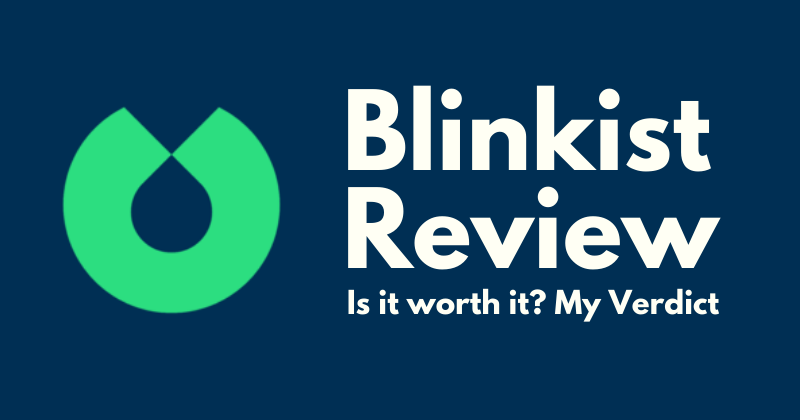 This article may contain affiliate links. If you make a purchase using my links, I'll earn a small commission at no extra cost to you. I appreciate your support!
I like reading books but my problem is that I don't have too much time to read. Just like our lives keep getting busier and busier, the number of newly published books is increasing year over year.
This means we only have 24 hours to read an infinite amount of books. There are way too many books and not enough time to read them all.
Now reading all these books isn't necessary but books give us knowledge and help us understand life better, making us feel more in touch with ourselves, so we must put in some time to understand these books. That's where Blinkist comes to the rescue.
While you may not have time to read through the entire book, you could listen to the audio version summary and get the gist of the book. Blinkist offers you quick and easy summaries of popular non-fiction books.
Summarizing books is not something new. You've probably seen a lot of podcasts, books, courses, and apps trying to summarize a book. 
So what makes the Blinkist App different from so many alternatives out there? Is Blinkist the best book summary app? Read my Blinkist Review to find out! Let's Go. 
In this in-depth Blinkist review, here's what you'll learn.
By the end of this Blinkist review, you will have enough information to decide whether Blinkist Premium Subscription is meant for you, along with 6 book recommendations from the Blinkist app and my thoughts on the entire book summary ecosystem.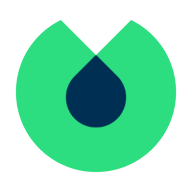 Quick Summary & Verdict
Ratings: 4.5/5
Blinkist does a great job delivering higher–quality non-fiction book summaries than its competition. The Blinkist app is well structured for a great user experience, the price is reasonable and it does offer a free plan. Highly recommended! Do give it a try.

Is Blinkist Valuable?
Yes, Blinkist helps to learn key insights from some of the best books on the market.

Summary
Blinkist is a book summary platform for online non-fiction books. I like using Blinkist because it's easy to use, saves a lot of time, improves my IQ, and looks elegant.

Blinkist Pricing
$99 Per Year
Pros
Anytime access to summaries
High-Quality Audios
Subdivided blinks
Immersive User Experience
Cons
May Freeze due to Bad Internet
Free Audiobooks could be better
What Is Blinkist?
In Short (pun intended), Blinkist is an online non-fiction book summary service. Instead of reading books, you can listen to and read the summary of these books in a few clicks.
Currently, there are over 4500 book summaries and new book summaries are constantly being added to ensure your book listening journey never ends.  
It doesn't end there, they also have podcast summaries and audiobooks (audio versions of the whole book). Let's take an example – Never Split the Difference, they have a book summary along with the audiobook.
You will have to pay extra for the audiobook but you will get it at a steep discount as you're a premium user. More on that when we talk about the Features of Blinkist.
But Why Blinkist – What Problem Does It Solve?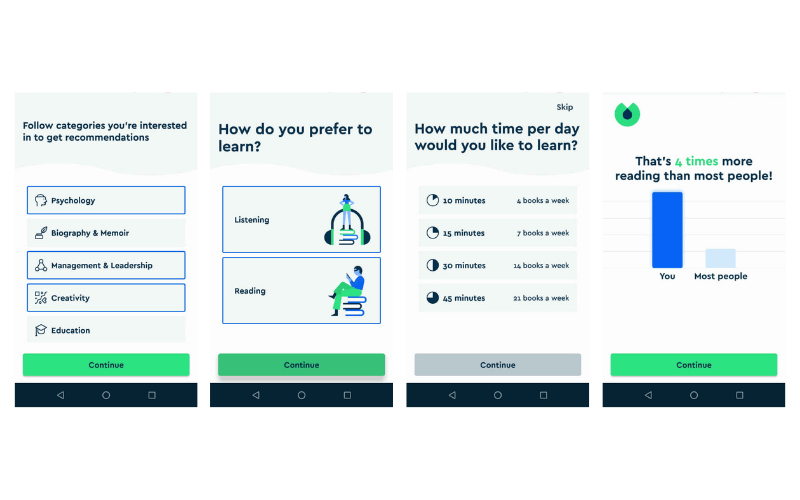 To understand why we need an app like Blinkist, we need to understand the logic of books. Books are made up of chapters and pointers.
You start with one chapter, then read the next, and so on. Each chapter has a title that somewhat summarizes the entire chapter in one line.
If I have to tell you that you must eat food before 8 pm to live longer and stay healthy, whether I do this in one line (like I just did), or I write 5 pages to properly explain my theory.
A person who doesn't have enough time on their hands to read through the explanation of why one must eat food before 8 pm could really benefit from the summary. 
Blinkist solves this issue by giving us summaries of these interesting books in 15 – 20 minutes.
Their sole goal is to ensure you get access to the most popular books without spending too much time on a single book.
I don't suggest you stop reading books altogether and use Blinkist all the time. I believe in reading books but summaries are great as they save time. 
Here's what you can do:
If you're not sure if a book is worth your time, open the Blinkist App, search for the book summary, and listen to the audio(you can also read the summary if you prefer).
If 15 minutes of listening to the audio grab your attention and get you excited, I am sure reading the book will be fun and interesting for you.
I liked Blinkist because now I don't need to spend weeks trying to get key points of a book, I listen to a 20 min summary, write down the key points, then use these to improve my workflow or get more productive or manage my money better.
I can spend more time executing whatever I learned from these books instead of learning (for weeks), than executing.
User Experience on Blinkist – My Thoughts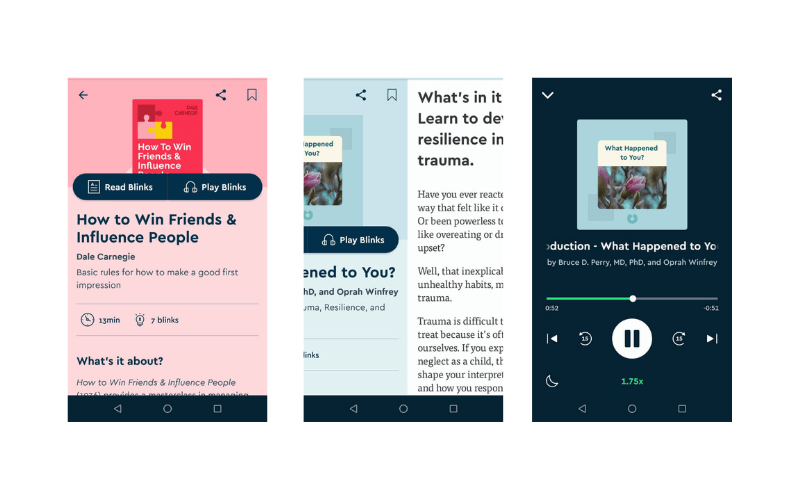 Right off the bat, I can say that the Blinkist Team has spent much time on how we use the app.
They really wanted us to feel at ease when we started listening to a blink. The design is minimalist with a few primary colors seamlessly placed.
There aren't too many options for you to check making it simple and easy for beginners to use the app. The Blinkist app is available on both Android and IOS devices.
When you open the app for the first time, they give you a short tutorial on how everything works.
They have four buttons on the home screen – Home, Explore, My Library, and Settings. Click on the Explore option and they'll show you categories followed by different audio files.
At no point are you going to feel like the punch of colors is too much, I find it soothing to have white in the background.
Their thumbnails are beautiful and add more richness to the entire book summary experience for some reason. Even the website interface is seamlessly easy and handy.
Not too many clickable items on the page make it easy for us to focus on things we can listen to. So 10/10 for a smooth user experience for the Blinkist.
Main Features of the Blinkist App
1. The Blinkist app is divided into three main categories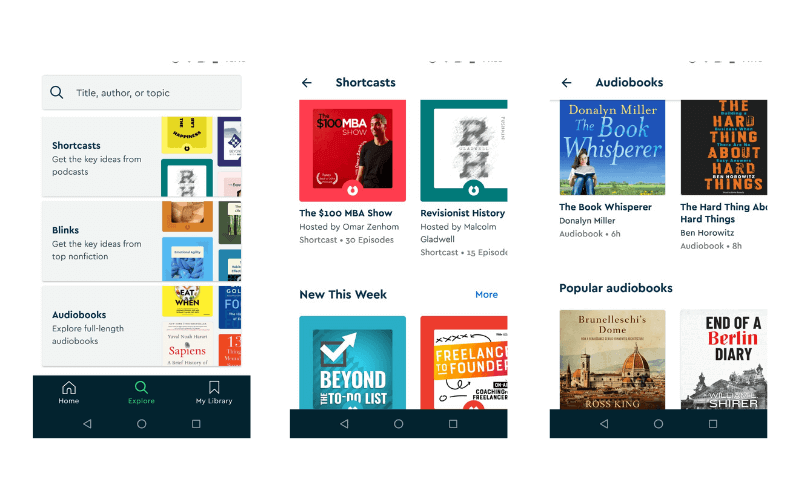 Shortcasts are Podcasts in a compressed form. Let's call it Podcast Summaries. Here you'll find shortcasts from the most popular podcasts summarised for quick understanding.
Many podcast hosts like taking interviews or talking about certain specific topics, now these can go on for hours or more.
If you don't have the time or the patience to listen to the whole thing but are still interested in learning, short casts are the one for you.
These bite-sized audio + readable clips are so good and informative that I love listening to them. 
B. Blinks are non-fiction book summaries and that's the highlight of Blinkist. Not explaining anything more cause you already know everything (if you've been reading my article!).
C. Audiobooks are nothing but the whole book in audio form. These books aren't included in the package but as a Blinkist Premium user, every audiobook you purchase will be provided to you at a heavy discount (70 – 90% discount as per my research).
If your sole purpose is to consume audiobooks, I prefer using Audible because they have a larger library (of course they do!).
Blinkist is a great platform for everything summarized but for audiobooks, I think Audible has a better content library, more on that later.
2. You Can Read and Listen at the same time
Usually, an audiobook or anything related to audio doesn't contain written-up content. There's just audio and you listen to it.
Well, the interesting feature of Blinkist is that you can listen to the book summary or read it or do both.
Click on the blink you're interested in, then you have the option to read and listen to it.
Keep swiping to read the next blink, the audio will shift blinks accordingly. You will also see a progress bar at the bottom while you're turning pages.
You can highlight sentences that you like, and adjust speed like 2x or 0.5x. The final blink is a summary of all the blinks you read or heard.
It's a great summary for an already summarised blink. The structure is not very different from Spotify.
Spotify has a similar user interface that makes listening to music or podcasts amazing, I feel that's why Blinkist is being accepted so nicely in the market.
3. It has over 5000 Blinks
Okay now, 5000 is a lot of books to listen to. Even if you're free a lot. Don't believe me, let's take a quick example – Let's assume you have 3 hours every day for 365 days and in those 3 hours, you listen to Blinkist Blinks.
The average blink is about 15 minutes.
So 3 hours X 60 Minutes X 365 days = 65700. Divide this by 15, 65700/15 = 4380 Blinks. So even if you listen to Blinks 3 hours a day 365 days, you won't run out of blinks.
Also by then, they'll have a bunch of new blinks added as they keep expanding their library.
Pros and Cons Of Blinkist
The Good – Pros
Access to Book Summaries On The Go: Having instant access to a short version of a long book anytime is an advantage I appreciate.
When you're traveling to work, using public transportation, or sitting in a car doing nothing, put in your earphones (or read) a blink (that's what they call summarized books).
Subdivided for Better Understanding: Every blink is subdivided into smaller blinks (a blink within a blink) to make it easier for you to grasp the information.
Just like books have chapters to make reading simpler, each blink has multiple blinks (chapters) internally for a better grasp of the subject.
Affordable When Compared to Competition: I know that there are some free alternatives available but they aren't as simple, straightforward, and beautiful as Blinkist.
Considering the many features it packs and 5000 + blinks currently on the app, the price you're paying for them is way lower than buying audible or physical books.
Highlighting Certain Things: They have a highlighting feature that lets you highlight a specific part of a blink that you can refer to later on.
High-Quality Great Experience: I'll be talking about a few alternatives later on in this post but what those apps don't have that Blinkist has is the beautifully simple and elegant user experience.
The audio you hear is crisp and definitely high quality and there's a feeling of joy listening to the audio.
Most audio summaries sound like a robot and simply spoil the experience of listening to summaries, but not this one!
Web Interface + App: Most summary services are apps you can download on IOS or Android devices. You can use Blinkist on your laptop, your iPad, and your mobile app.
90% of the time I use the app but sometimes I like keeping my phone aside with my internet turned off so I don't get disturbed. Those times, having a web interface can be handy. 
The Bad – Cons
Every company has some flaws and so does this one. Let's see where it needs to work.
Freezes Quite A Lot: I also faced the same problem with Spotify when you have a terrible internet connection, your audio freezes and takes time to buffer.
This problem can be solved if you have a decent connection but if you travel a lot and some locations don't have great internet connectivity, listening to a quick book summary could be a problem.
Free Audiobooks: I know the app doesn't focus on audiobooks but they have included a bunch of audiobooks for their users on the app and the web.
If they could have offered it for free, I guess things would be easier. I would be happy to pay slightly more if I were to get free access to all audiobooks. Just a thought, not really a bad thing.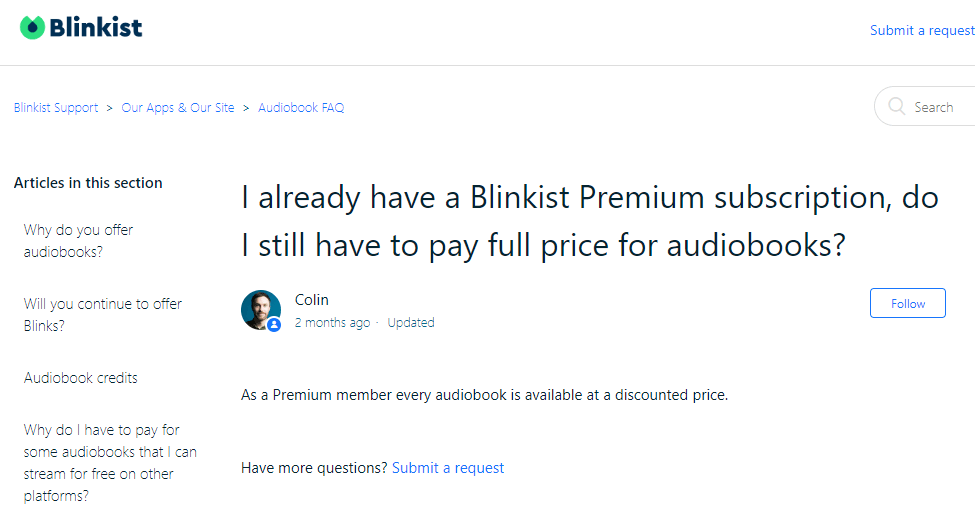 How much does Blinkist cost?
Blinkist is free to download. They have a free account but with that free account, you can read or listen to only one summary each day that is selected by them.
You don't get to choose which summary you would like to hear today. Full access to all contents on the app and website requires a Blinkist premium subscription. 
Blinkist costs $99 (monthly payments) or $59 (if paid for an entire year). Yes, they offer 50% off on their annual packages.
I think Blinkist offers different prices depending on where you stay. Don't worry, that means they ensure Blinkist is affordable to all countries all over the world.
By opting for a Blinkist Premium subscription, you get a 7-day free trial, which means you can cancel on the 7th day and you won't be charged a penny.
How to Effectively Use Blinkist
Blinkist has surely made its good name in the market with over 19 million people all over the world using Blinkist and learning something new every day. 
Most avid book readers confuse Blinkist as the app that is supposed to replace reading books forever.
Let me correct you by saying that it's not here to replace reading or listening to books at all.
It's here to provide short summaries of books so that it's easy to understand what the book is all about. Now I will share with you two ways to effectively use Blinkist.
Sneak Peek Into Books: Choosing which book to read is always a challenge. I can hardly find exactly what the book contains.
In such instances, listening to a book summary before I start reading the whole book is a great choice.
By doing this, I have an idea of what the book is all about. If the gist doesn't get me excited or curious or provide me with something of value, I don't read the book. I save time by not reading a book I may not be interested in.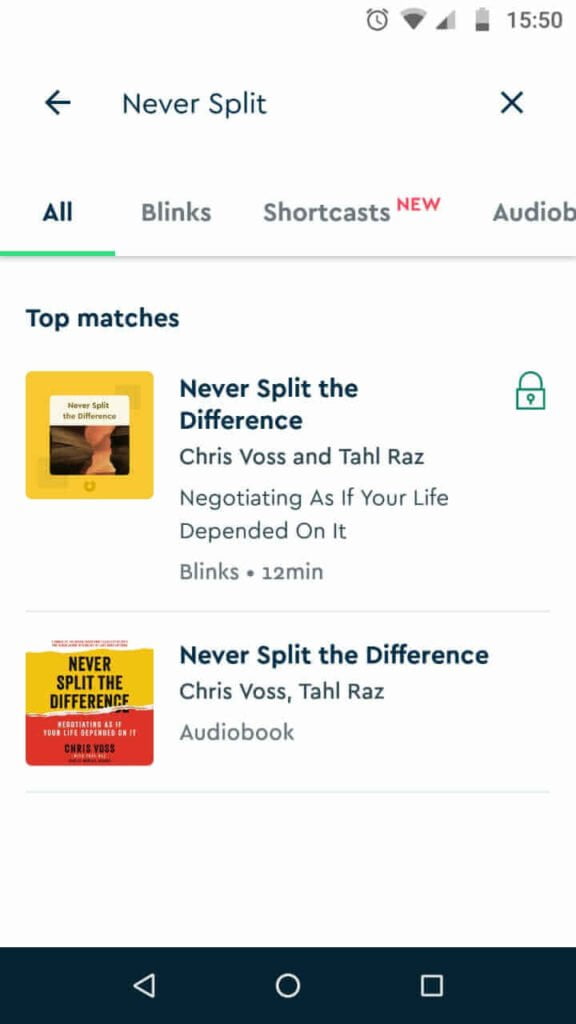 Recapping Books: Revisiting a book you once read to recap everything you learned is a great way to improve and revise your knowledge of that book. Let's say I read "Rich Dad Poor Dad", the classic book on money.
I can't remember all the topics that were discussed in the book. Now I can listen to the blink and get a quick recap of everything given in the book. That's a nice way to remember and understand books.
My 6 Favourite Book Summaries on Blinkist
My taste won't be the same as your taste. I like money, personal development, success, motivation, and entrepreneurship books. You may like other categories like psychology, politics, nutrition, and so on.
Anyway, I'll give you the top 6 books I enjoy reading. I hope you'll find something good here.
1. How To Win Friends & Influence People
This popular book is written by Dale Carnegie and teaches you why the first impression is important and how to make a good first impression. The audiobook summary is 13 minutes long and is pretty good.
You'll learn people skills, how to talk, approach people and ensure people adore you. Highly recommend this summary. 
2. The Hard Thing About Hard Things
Ben Horowitz does a brilliant job explaining the harsh truth about building a business and being a CEO.
He explains why the job of a CEO is tough and lonely, further teaching you how to ensure you don't fall down in your journey to success.
The summary is slightly more at 22 minutes because Blinkist didn't want to miss explaining any key points. This book is for you if being a CEO or founder is something you wish to be one day.
3. Think Like Zuck
Some like Mark Zuckerberg while some don't. Irrespective I think you should give this audio summary a shot.
The main focus here is to take an in-depth look into the five principles that made Facebook a successful company.
You will also learn more about Mark and how he thinks and approaches a problem. A resourceful book you must read, if not, a book summary will do too. An alternative book summary for this is – The 7 Habits Of Highly Effective People.
4. Journey Of Awakening
Journey of Awakening is a personal guide to learning and growing yourself with meditation.
You'll learn deeper things through meditation, figure out your path to self-realization, and learn to manage doubt, fear, anxiety, and stress.
Ram Dass is the author, it's 13 minutes long and is for anyone who's spiritually curious or stressed out or anyone looking to learn proper meditation from an expert. 
5. Power Relationships
Power Relationships is all about building networking and maintaining relationships with clients, new colleagues, or lifelong friends.
The author Andrew Sobel and Jerold Panas teach us how to establish, nurture and reap the rewards formed from these powerful relationships in an easy way.
This blink is 16 minutes long and is for those looking to expand and enhance their client relations or someone who wants to excel in their career. I think this one is a must-listen for all. 
6. Don't Take Yes for an Answer
This book is written by Steve Herz where he explains to us how we can amplify our energy to get exceptional results. By constantly improving yourself, you're breaking out of the bubble and achieving results you only dreamed of.
It's a 15-minute read/listen and is for those who are ambitious in life (I hope we all are ambitious in life, thus it's a book for all of us!)
All the books mentioned above are available on Blinkist as well as on Audible.
If after you listen to the summary, you like this book, go ahead and buy a copy from Amazon or hear the entire book on Audible to get a more in-depth view and expand your knowledge horizon.
Head over to this link to get your 7-Day Free Trial for Blinkist Premium. 
5 Alternatives Blinkist To Consider
1. Blinkist vs getAbstract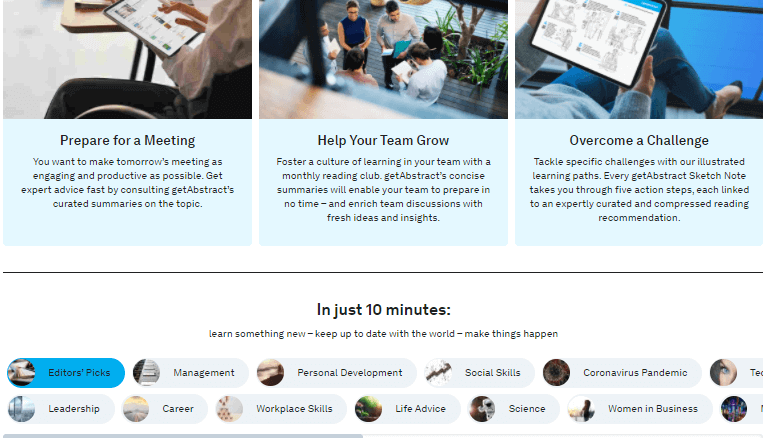 The major difference between the two audiobook summary services (other than the price) is that Blinkist is more focused on the common man trying to improve their skills, be more productive and learn more things, getAbstract is targeting corporate clients.
They offer a non-fiction library consisting of topics most suited for corporate employees and businessmen like how to prepare for meetings, how to help your team grow, the future of AI, and so on.
getAbstract has two packages for individuals, the starter pack is for $99 (includes 5000 summaries) while the pro plan is for $299 (includes 22000 summaries).
In comparison, Blinkist offers 4500 summaries at $99 (monthly) or $59 (if paid for an entire year at once).
If your goal is to be better in the corporate field, you may like the content getAbstract offers. It's much better than Blinkist (if your goal is – corporate success).
Blinkist is like an all-rounder while getAbstract focuses on success in work. If you're interested in trying this book summary service, here's a discount you don't want to miss – TRY getAbstract.
2. Blinkist vs Storyshots
Now let's talk about StoryShots, the user interface is quite similar to Blinkist, meaning I like the UI of the app, it's minimalist and beautiful.
The biggest advantage of Storyshots is the price. They are the cheapest option in the entire competition while still being very good.
They also give you a lifetime discount of up to 90% (the offer may change, please check). It also has the option to read or listen to a book summary and does a good job summarizing the book.
They keep adding new books to their library so you won't run out of books to read.
They also provide videos and animations to make your learning experience more fun and interactive. This is a good alternative if you don't like the slightly higher cost of Blinkist.
I liked Storyshots so I can recommend it to you, If you're interested, click here to get a discount – Storyshots Subscription.
3. Blinkist vs Audible
What is your primary goal? Are you interested in listening to full books or are you interested in short summaries of those books? Do you like fiction or non-fiction books? 
If you like listening to full books, Audible should be your focus. If you like non-fiction but you don't mind reading fiction books occasionally, Audible is your friend.
Blinkist does have audiobooks too but Audible has a huge library and it is more logical if you're interested in listening to entire books.
You can also take both, use audible when you want to get a deeper understanding of the book, and Blinkist to summarize the book you've just read. It's a good combination. 
Audible is a great platform and I highly recommend it but if you like short summaries and quick-to-grasp information, Blinkist is your choice.
4. Blinkist vs 12min
12min is quite similar to Blinkist in terms of book summaries.
12min is focusing on multilingual audiences from all over the world. They are new to this arena with more than 300 book summaries to date.
They have a free plan where you get access to one book summary per week and their paid plan is $69 per year.
They are growing fast but Blinkist does have a humongous library of 4500+ blinks so I would have to let Blinkist take this win.
5. Blinkist vs MentorBox
Have you heard of Tai Lopez? He's a millionaire and now offers many courses and programs for others to find success as he did.
As exciting as it sounds, their courses are usually a waste of money with no value and a lot of money.
Well, MentorBox is the same. MentorBox is a subscription service that collects important lessons from popular self-help and personal development books and makes it like a book summary.
The business makes money solely based on upselling its customers, while you may be able to purchase it for $1, they upsell you like crazy. In all MentorBox is not worth it!
I've heard a lot of complaints online and their customer service isn't good. Blinkist is a great alternative to MentorBox. So Blinkist 1 – 0 MentorBox.
Looking at these alternatives, the best option is Blinkist. If you find Blinkist pricing slightly expensive, Storyshots is my second-best recommendation. It's as good as Blinkist with a few distinctions.
Is Blinkist worth it?
I cannot answer this question for you. You need to think and answer this for yourself.
I've stated the pros and cons of using the app and I have concluded that Blinkist is worth it. I will still state a few key points that should help you come to a conclusion:
1. With the premium subscription, you're acquiring the skills that usually take you weeks or months (if you read the entire book).
By learning these skills in minutes, you can start implementing these skills in your day job, business, side hustle, and your personal life. You'll save more time which could be used to work more or relax and take more breaks. 
2. You can learn on the go. I feel this is a big advantage. Earlier when technology wasn't so advanced you had to carry books in your bag if you planned to read outdoors. Now a Kindle can store over 50 books that I'm sure you won't finish anytime soon.
Blinkist is somewhat like the next generation of consuming books fast. It's not here to replace books but is for those who are bad at time management but like to learn on the go.  
3. I'm sure you've heard of the common coffee example, calculate how much you spend on coffee or tea or outdoor breakfast a month, and multiply that by 12 to figure out how much you spent a year on food. Then analyze how much you could have saved if you cooked all this at home.
Now, what's more expensive? Blinkist yearly premium subscription ($59) or your coffee/breakfast every day for 365 days? I don't even need to calculate to figure out what's a better choice.
Common FAQ'S
1. Is Blinkist Free?
They do have a free plan where you get access to one "Free Blink of the Day: every day selected by them.
If you don't buy their premium plans you can still browse through the app and see everything they offer.
You can't do much with this free plan but if you're unclear about making the purchase, try it out.  
2. Can you Use Blinkist Offline?
Yes, you can use Blinkist Offline. You need to add the Blinks to your Blinkist library using an internet connection.
Once they're in the library, you can use them even when you're offline. Want to know how to add a blink to your library? Here's a quick guide by Blinkist.
3. How to Cancel Your Blinkist Subscription?
Cancel Blinkist Subscription on Apple IOS (App Store):
1. Go to settings
2. Click on iTunes and Apple Store
3. Select and click on View Apple ID
4. Search for Blinkist, then Cancel Subscription
Cancel Blinkist Subscription on Android:
1. Go to Google Play Store
2. On the left, click on My Subscriptions
3. Click Manage(where you see Blinkist) and Cancel Subscription
Cancel Blinkist Subscription on Website (laptop):
1. Log into your Blinkist account
2. Head over to Account Settings
3. Cancel your existing subscription
4. Can Blinkist Subscription be Shared?
Currently, Blinkist does not offer any shared service but you can use your premium plan on various devices, just remember to log in through the same account. Everything will be synchronized properly on all devices.
5. How many book summaries are on Blinkist?
There are currently over 4500 book summaries on Blinkist. They keep adding more content each month.
6. Is Blinkist a Substitute for Reading Books?
No, Blinkist is not a substitute for reading books. Blinkist caters to a different audience, the audience that doesn't have too much time on their hands, the people who don't like reading, or the people who like to know the gist of the book are the kind of people for whom Blinkist was created.
It could be a substitute for books sometimes but it can't replace books completely because no summary could ever include every valuable point included in the book.
That's just not possible. Read How to Effectively Use Blinkist to understand how I feel Blinkist should be used.
7. Is Blinkist Value for Money?
Considering the huge library they have, I feel Blinkist is value for money. The simple minimalist user interface along with key ideas extracted from each book makes it even better.
I hope you liked the Blinkist Review. I did quite some research, tested the app a lot, and tried figuring out if downloading Blinkist really made any difference in my life.
I found Blinkist valuable for summarized audio versions of popular books and I think you should try it too.
Do you wish to be a bestselling author, perhaps have your name in the New York Times bestsellers list, and make six-figure income self-publishing books? If so, I highly recommend checking out this Nick Stephensons Your First 10K Readers Course! (Review)
Feel free to leave your comments below if:
You have a question or feedback
You need me to clarify something regarding my Blinkist Review
You wish to share your Blinkist Book Review with everyone!
I'll be more than happy to reply to all your comments 🙂
Have you enjoyed this post? If so, you might want to subscribe to my newsletter. It usually contains life lessons and money-related topics, some interesting observations, links to articles or books I've read, and tips to be a better person. If you're interested in these things then subscribing will be simply wonderful 🙂 PS: Subscribe and Get your Freebie below!
Also, I'm a YouTuber now! If you're interested in Pinterest Marketing, Blogging, or business-related things, Subscribe to my Channel and I'll see you in the comments!