Todoist Review 2023: Best To-do List To Organize Your Tasks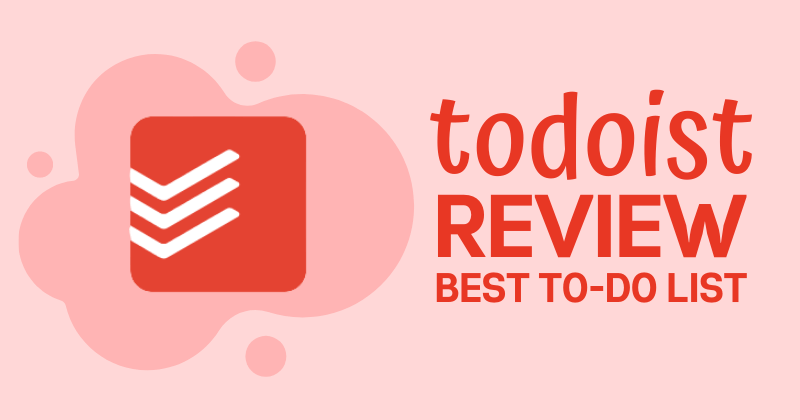 This article may contain affiliate links. If you make a purchase using my links, I'll earn a small commission at no extra cost to you. I appreciate your support!
If you're hunting for the best to-do list on the internet, one that works on all platforms, sync's in seconds, has a simple and clean user interface, has collaboration tools for team members, organizes your tasks, and reminds you to complete them, Todoist is the best to-do list you'll find. 
My in-depth Todoist review will break down all the features, pros and cons, and alternatives of Todoist to help you make an informed decision.
I've been using for Todoist for 3 years and in that time I tried other to-do list apps but I keep coming back to Todoist for it's simplicity and intuitive features!
In a hurry? Take a good look at my Quick Todoist Summary and Verdict below.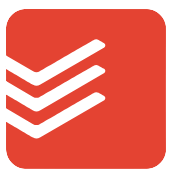 Quick Summary & Verdict
Ratings: 4.5/5
With a minimalist and powerful design, Todoist has helped me complete my work & personal tasks without hassle.
On a daily basis, I create tasks, sub-tasks, add descriptions for each task, and assign priorities to these tasks. This creates a smooth workflow to achieve my tasks.

Will Todoist Pro Increase Productivity?
Yes! Todoist Pro has some essential features that reduces procrastination, makes completing tasks easy, and improves efficiency. I highly recommend this to-do list app.

Todoist Summary
Todoist is a personal task management software that helps you organize your life by completing tasks in a productive manner.
Organize your tasks systematically with multiple projects, labels, filters, reminders, collaboration features, and more.

Fees Charged
Pro Plan: $3/month (paid annually)
Free Plan: Available!
Pros
Cross-Platform Syncing
Productive User Interface
Shortcuts To Simplify Tasks
Works Offline
Cons
Reminders (Only in Paid Plans)
150 Filters & 300 Projects (Only in Paid Plans)
What is Todoist & Why Use It?
Todoist is the Best To-do List on the market that focuses on you completing your tasks and improving your productivity.
It's power-packed with useful features that help reduce procrastination, improve productivity, organize tasks using a clean UI that strictly focuses on work and completion of tasks. 
The smooth UI is what stands out and that is why I love using Todoist as my favorite task managing app. Todoist works well with laptops, mobiles (iOS and Android), smartwatches, emails, and browsers.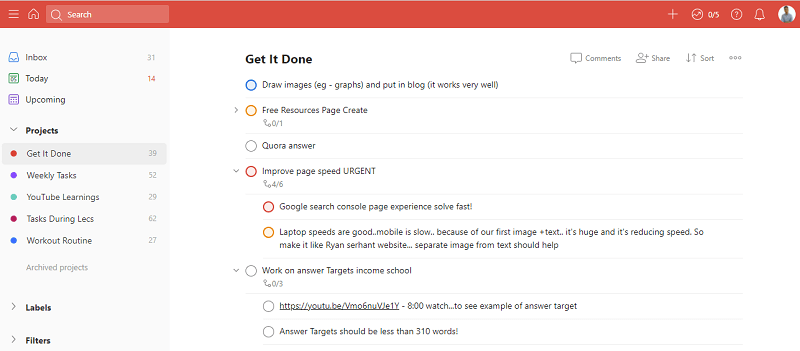 Todoist has a free and paid version. With the free version, you can be productive but when you opt for the Pro Plan they offer, there's no turning back. To get most of your to-do list, you only need to spend $3/month (Pro Plan).
As a student, teacher, employee, or businessman, there are a bunch of tasks you've got to do. I know I have at least 15 tasks that I still haven't completed. Using a notebook to write these tasks is cute but not so effective. 
Why I use Todoist is because it helps me better organize all of my tasks in different projects. I can use labels, filters, priorities, dates to get more productive and work smart.
What makes Todoist so special is its unique and elegant-looking dashboard with colors that are simple yet powerful. 
The entire ecosystem helps me manage my tasks well.
In essence, Todoist is my favorite personal and professional task management software and I'm about to show you what all it can do to boost your productivity. Let's start with the Todoist Review!
Todoist Features
Todoist is packed with some powerful features to accomplish your unfinished tasks.
The Free Plan has basic features but lacks some advanced features that the Pro plan contains. Let's look at all the features.
Todoist Mobile App
Todoist is a web-based task management software but it also has an app (on both iOS and Android) that makes our productive life very easy.
I use the mobile app almost 90% of the time, I have it on my home screen (as a widget) so every time I access my phone, I see it there and I know I have to get to work and stop wasting time (super effective:))
Reminders
probably the most valuable thing about Todoist is that I can set reminders and it will remind me! I am the kind of person who keeps 8 different alarms every day to ensure I complete my daily tasks. Having this integrated within the app works like a charm.
Note: This feature isn't included in the Free Plan. You will need to upgrade to their Pro Plan for $3/month to use reminders. 
Inbox
My Inbox is usually filled with not-so-urgent things. Like if I do these tasks after a few months, It wouldn't make a difference.
Now I know the purpose of an inbox is to have all your tasks properly listed. I plan to clear my inbox sometime shortly 🙂
Today and Upcoming
I use the Today Tab a lot. Anytime I write a task and allow it to be completed by the end of the day, It appears in this tab. So let's say I write a task in my 'Weekly tasks' Project and set the due date to 'Today'. 
This task will now appear in the Today Tab. I love this feature because no matter where I write, I don't need to look at 7 different projects to see my daily tasks, It's all on one tab.
The Upcoming tab works a little differently. 
Here all your tasks are arranged date-wise, not just 7 days or a month but like an entire year task calendar. I don't use it too often but If you've got a lot of things (especially in the future), you can use upcoming to see it date-wise. 
Projects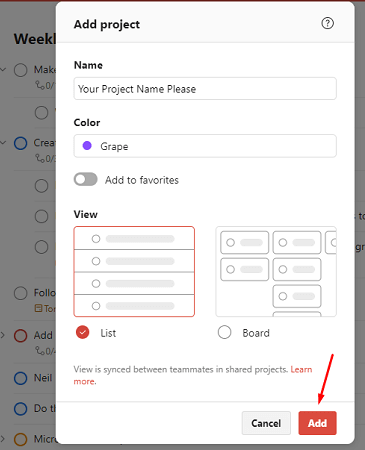 This is where I'll spend most of my time. I add all my tasks in one of the four projects I've created. The fifth project is my workout exercises. I used to use notepad but it lacked beauty in some way so now I use a task list to write down the exercises I will do.
To create a new project, click on the '+' icon, name your project, choose the color you wish, select a view-list or board (you can keep changing your views once the project is created), and hit 'Add'. Your new project has been created. 
You can also group multiple projects into one, see the above image, I've created a sub-project (Weekly Tasks) under 'Get it Done'. It's a simple drag and drop. 
Labels & Filters
Labels and Filters are collections of all tasks categorized according to the labels and filters you set. It lets you group certain tasks that are needed in multiple projects.
In the below image, you can see three labels created – only_laptop, only_mobile, and movies_to_watch.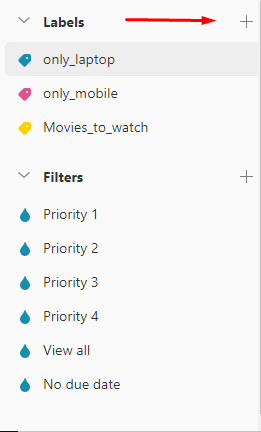 Let's say I'm in a place where I can't use my laptop to work. I want to know those tasks that I could do using my phone, I click on the 'only_mobile' label and pick any task from the list.
Filters categorize tasks into priorities, P1 (Red), P2 (Yellow), P3 (Blue), P4 (no color). 
You can also add filters according to your preferences. I often use labels majorly the 'only_laptop' and 'only_mobile' when I'm traveling. I don't use filters that much so I just have three but I've seen some YouTubers use 50 filters and maximize their productivity. 
I'm going to explore this feature much more in the future. The free plan comes with 3 filters so it gets difficult for anyone (using the free plan) to add more filters. The pro plan has 150 filters that you could add.  
Creating Tasks & Sub-Tasks
My favorite feature of Todoist and the feature I most use is the 'Sub-Tasks' feature. Sub-tasks are nothing but tasks inside of tasks. you could do as deep as you want. Here's an example of sub-tasks.
You can add new tasks inside of sub-tasks. This way I can understand a task better. I write any idea that pops my mind in these sub-tasks and comes back to it later. 

Look at the above image and let's create a task together:
Click on Add Task
Type in your task, Schedule it for 'Today' by typing Today, Choose a Priority Level (P1, P2, P3, P4), set reminders & comments & labels (if you wish).
Click in Add task to add the task to your project. Now you can also add sub-tasks to the same task by clicking Add Sub-Task.
You can also add a description related to that task
Click the button below to get access to Todoist Pro Plan and kick-start your productive journey.
Adding Collaborators
You may want to share your Project list with your team or you're working on a college project where you need to distribute work. Collaborating on Todoist is quite simple and very effective.
To start collaborating, you need to invite the person, they'll sign up for a Todoist account and they can start working with you.
You can assign tasks, create sub-tasks, add comments, reminders, etc. Companies use Todoist to create entire team workflows all within the app.
You can also check what work has been completed and all such details. The user interface is designed for easy collaborating. 
Productivity View
Todoist has a Productivity View that helps you review completed tasks, tracks how your performance has been, and rewards you with karma points. You can see the number of tasks completed daily and weekly basis.
You can set your daily goals and try getting them done. I haven't checked this feature out too much but reading the reviews online, people do love this feature, it helps them be more efficient as there's a daily goal they need to accomplish. 
Customizable Themes
Todoist offers themes to make your to-do list interesting. As of this date, they have 13 different colors (all solids) that you can use as per your likings. In case you wanted to know, I use the 'Royal Blue'. They give you 5 color options for free, the remaining 8 come with the pro plan.
View as Kanban Board
If you've used Trello, you know what a Kanban board is. The Kanban board view got so famous that every major to-do list app made added this view.
If you have a set of tasks, like 10 steps to publish a YouTube video or 3 tabs named 'To-Do', 'Doing' and 'Done' or Priority tabs like P0, P1, P2, P3, P4.
Then add tasks to one or all of the tabs. Once you finish a task, simply move your cards from the left to the right. This shows that the task you've been working on has made progress.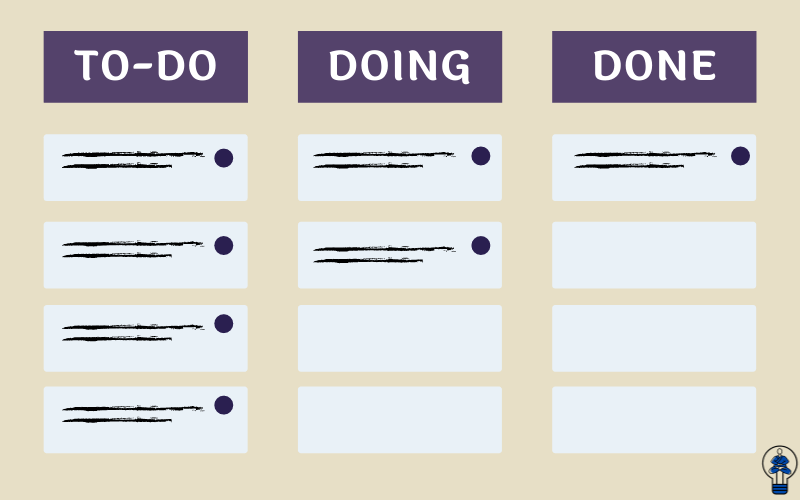 The beauty of a Kanban view is that you can see multiple tasks in the same frame making it easier to work and map out things.
Automatic Backups and .CSV Export
The Pro Plan offers automatic backups of all your data labeled with date stamps. You can download these backups as a .CSV file. This feature is good if you want to restore your projects, labels, and filters or if you wish to import these tasks into another to-do list.
I don't use this feature because I don't need to restore completed tasks nor do I want to shift to another to-do list app. 
Google Calendar Integration
Sharing tasks using Google Calendars is quite simple so Todoist has integrated with Google Calendars to make our work life simple. You could also use Zapier to connect other apps with Todoist.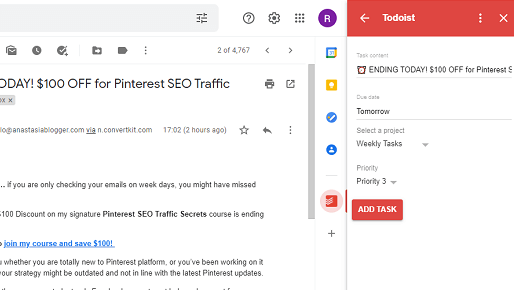 Along with that, the software has Gmail & Outlook integrations which you can use to instantly turn emails into tasks. I usually use my phone to add a new task from my email but this feature does come in handy. 
Browser Extension
Todoist has browser extensions and it works with:
Currently, I'm using Microsoft Edge with Google as my default browser and it works like a charm. It may work with other browsers too, I haven't tried it yet.
When I work on my laptop, I don't like using my phone. I keep my phone away from me because if it's next to me, I'm bound to waste time. In such instances, I use the browser extension to add new tasks and complete pending tasks. 
Try this: Use the Todoist app then use the desktop version. When you write something on the browser, it's more likely to get done, I don't know how, it just gets done! Grab the Todoist Premium Plan Now!
Pros and Cons Of Todoist
The Good:
Cross-Platform Syncing
Todoist works smoothly with all your devices such as the Mac, Windows, iOS, and Android devices. You can use the application in all of the best operating systems and it syncs well. So, a task you create on your apple watch will sync with other devices (your app, website, browser extension) within seconds. 
Productive User Interface
Even if you haven't used a premium to-do list before, the user interface of the software won't confuse it. It's designed in such a way that anyone can find their way to using the app in a matter of minutes.
The UI is minimalistic, quite elegant, and loaded with useful features. Even with so many interesting features, the app and the website look clean and peaceful.
Shortcuts To Simplify Tasks
'Every day', 'Every 4 days', 'Every workday' are some shortcuts you can use to repeat your tasks. It's a very handy functionality that I use all the time. I have about 4 tasks that I need to do every 3 days, instead of remembering the tasks indefinitely, I do this – 'Task Name' every 3 days, the app does the rest.
Works Offline
Todoist has an offline mode and it's activated whenever you don't have access to an internet connection. I use Todoist Offline when I don't want to start my mobile internet (because then I'll have to reply to messages, emails and I'll waste time on social media).
All the changes you make in Todoist when offline will be automatically synced when the internet connection is available. 
The Bad:
Reminders
Wait a second! Isn't Reminders a Pro Point? Yes and No. I like reminders and I use reminders all the freaking time! But I wish they included reminders in the free version. That way more people could appreciate a good product like this.
Creating 150 Filters & 300 Projects
Like I said before, the free version of Todoist is brilliant but it lacks a few key features that only the Pro plans contain. Creating Projects is the main task of a to-do list.
Restricting it to only 5 Projects makes it difficult especially if you're managing a team. At the same time, having filtered data accessible at any time is useful.
If you can pay $3/month for the Pro Plan, don't hesitate. It's worth the cost, unlimited reminders, multiple projects and filters can certainly add productivity points to your daily life.
Todoist Free Vs Pro Plans
Todoist comes with three different plans: Free, Pro ($3/month), and Business ($5/month). You can opt for the business plan if you have a huge team under you.
For most users, the Pro Plan is sufficient and it's the most value-for-money plan. The free plan offers a good amount of features but lacks some useful features you'll find in the Pro Plan. 
| Todoist Free Plan | Todoist Pro Plan |
| --- | --- |
| $0 per month | $3 per month (paid annually) |
| 5 active projects | 300 active projects |
| 5 collaborators per project | 25 collaborators per project |
| 5 MB file uploads | 100 MB file uploads |
| 3 filters | 150 filters |
| 1-week activity history | Unlimited activity history |
| No Reminders | Unlimited Reminders |
| No Auto backups | Auto backups |
| Basic Themes | Pro Level Themes |
| No Priority Support | Priority Support |
Buy the Todoist Pro Plan and see a huge spike in your efficiency and productivity. Accomplish more tasks today with Todoist.
How I Use Todoist To Maximize Productivity
By now I hope you've figured out the importance of Todoist in my productive life. Having a to-do list is very important as it helps get work done and ensures maximum efficiency.
Here's how I use Todoist in my daily life:
I wake up in the morning, unlock my phone and I see my tasks for the day (even though I may not want to, it's stuck right there!). What this does is it signals my mind to start working and get tasks done.
Try adding the Todoist widget on your homepage. I am certain that by looking at it every time you unlock your phone, your mind will focus on completing tasks off your to-do list. 
When I work during the day, I keep my phone away. If in that period I need to check my tasks, I go to the website (or use the browser extension) and add/read/remove tasks. 
Before I started using Todoist, I used to have 8 different alarms to complete my task every day (No Kidding!). Now, I set reminders on the app and it does the work.
Todoist is a great way to stay organized and efficient. My productivity has certainly seen a huge upward trend after I started using the app and the website. 
3 Todoist Alternatives You Could Consider
I like Todoist and I don't see anything better than that but these alternatives are also good. Presenting to you 3 Todoist Alternatives that you may want to think about opting for. You could completely skip this part if you've already made up your mind.
Any.do vs Todoist
Any.do is another personal task management software that I love and use sometimes. You can create and schedule tasks for teams in seconds. Its quick and interactive UI makes it stand out.
I like the web version (desktop) of Any.do more than its mobile version. In each task, you can add a tag, set day & time, pick a list, add subtasks, notes, and even attachments.
The Dashboard makes it easy for you to see each task and everything added to the task. If you need to attach files to your task and have a Dashboard where you can see each task in this format, Any.do will be a great choice for you
Any.do Review: 4.8/5
You can sign up for Any.do Here.
Trello Vs Todoist
No to-do list review is completed without Trello. Trello was my first to-do list and I still use Trello, not for task management but for storing passwords, layouts, documents, and other website-related things.
Trello uses the Kanban Board which is an effective way to improve efficiency. If you want a sleek to-do list with Kanban Board view, Todoist is your best choice.
If you only want the Kanban board view to visualize things properly, Trello will suit your needs. Here's an article by Trello talking about the Kanban Board.
Trello Review: 4.6/5
Asana vs Todoist
Asana is another Todoist Alternative that is intuitive and works great. Asana is suited for complex projects and task assignments.
I recommend Asana to those who focus more on team projects than individual tasks. Asana is more customizable, and has additional Team related features like better assigning, face icons, and so on. 
Asana Review: 4.6/5
Read this article to get 13 Additional Todoist Alternatives to improve your productivity!
FAQ'S
How to use labels in Todoist
Labels is an awesome feature that helps you group tasks together for a specific purpose. Let's say I want to assign some tasks specifically for nights. Instead of creating another project where you put the same task in two different projects (reading articles would be in the project learn more and also night tasks).
Instead, use Labels. Create a label called 'Night_tasks'. Then label reading articles task using our new label. Every night when you don't know what tasks to do, head over to labels and pick a task to work on.
Labels come in handy when I'm not sure what to do and feel lazy to do something.
How to see completed tasks
If you unselect 'Hide Completed Tasks', you will be able to see your completed tasks then and there. If not, then click on your avatar in, top right-hand corner of the screen, then select Activity Log.
Choose the required project and from the dropdown, select 'Completed Tasks'. Now you will see all the completed tasks. 
You can click on the task again to undo the completed task. It will go back to the project it was earlier in. 
How to set up recurring tasks
We all have tasks that we have to do daily like exercising, running website speed tests, scheduling images, blog posts, etc. Writing these tasks every day is a pure waste of time. Thankfully, we can set up recurring tasks using Todoist, here's how to do it:
Type out your task
Then add the word 'every' after it
Then depending on when you want the task to repeat, type Monday or Week or Day or Month.
Example: Exercise legs and abs every day; Bring chicken every Tuesday.
Simple? Some more words to make life simpler:
every day – Every day at 9 am
every evening – Every day at 7 pm
every weekday/workday – Every Monday, Tuesday, Wednesday, Thursday, and Friday
every 3 days – Every 3 days starting today
There are some more, but I think this much is good enough! Have fun using recurring tasks. 
How to undo completed tasks
Click on the required project
Then click on the three dots on the top right corner of the screen.
Select Show Completed Tasks.
Scroll down to see the completed tasks. Click on the circle with a tick icon to undo completed tasks.
How to assign tasks
To assign tasks in Todoist:
Create a task to assign
Click on the share icon
Enter the person's email or name (if you've already entered it before)
The task will be assigned (don't forget to add a due date and a reminder!)
Is Todoist Pro Worth It?
The Pro version has its perks. The biggest one is Reminders, which the Free plan doesn't have. Moreover, pro includes themes, automatic backups, priority support, access to create 300 projects, shareable projects with more than 5 people.
If you're an individual person looking for a minimalist to-do list and you don't want Reminders and other such features, the free plan is perfect for you.
But if you have a team or you have multiple different tabs and projects and tasks to manage (like most people), the pro plan offers premium features (for $3 a month) is a steal. I hope the Todoist Review helped you decide if this to-do list software suits your needs.
Feel free to leave your comments below if:
You have a question or feedback
You need me to clarify something regarding my Todoist Review
You wish to share your Todoist journey with everyone!
I'll be more than happy to reply to all your comments 🙂
Enjoyed this post? If so, you might want to subscribe to my newsletter. It usually contains life lessons and money-related topics, some interesting observations, links to articles or books I've read, and tips to be a better person. If you're interested in these things then subscribing will be simply wonderful 🙂 PS: Subscribe and Get your Freebie below!
Also, I'm a YouTuber now! If you're interested in Pinterest Marketing, Blogging, or business-related things, Subscribe to my Channel and I'll see you in the comments!
Todoist Review 2023: Best To-do List To Organize Your Tasks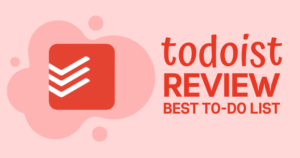 Todoist is my Favorite To-Do List App due to its simplicity and powerful features. Create new tasks, add labels and priority levels to improve productivity.
Price: 3
Price Currency: $
Operating System: Browser, App, Chrome Extension
Application Category: Personal Development & Productivity