OneOpinion Review 2023: Legit Survey Site?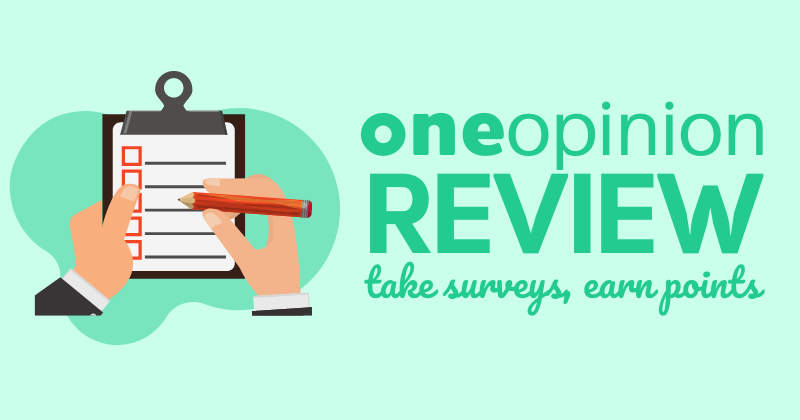 This article may contain affiliate links. If you make a purchase using my links, I'll earn a small commission at no extra cost to you. I appreciate your support!
Are you in the hunt for good survey opportunities where you get to fill surveys, test products, and earn some extra cash? Well, you are in the right place! 
OneOpinon is an online survey website that helps you make money. They collect surveys from market research companies and give them to you.
In this in-depth OneOpinion Review, I will point out all the features, pros, and cons of OneOpinion surveys to ensure you don't waste time on low-value surveys to earn extra cash.
In a hurry? Take a good look at my Quick OneOpinion Summary and Verdict below.
Quick Summary & Verdict
OneOpinion is not the best survey website out there, but it is one you could include in your survey portfolio.

Is OneOpinion Survey Safe?
OneOpinion is a trusted survey platform to make money from home. You can earn points and redeem them using PayPal or gift cards.

OneOpinion Summary
OneOpinion is a GPT (Get-Paid to) Survey Site that pays you for filling out surveys on their platform. They have lots of surveys on their platform, and you can make up to $5 per survey.

Top 4 Survey Sites (OneOpinion Alternatives)
1. Swagbucks
2. MyPoints
3. PrizeRebel
4. InboxDollars
Is OneOpinion Legit?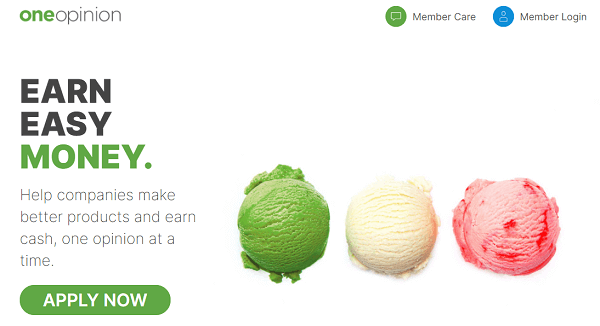 OneOpinion is a 100% legit survey company to earn rewards. OneOpinion is a part of Dynata Group, which operates out of Texas, USA.
The business is not BBB (Better Business Bureau) Accredited but has been given an A+ rating by BBB themselves.
The reviews on Trustpilot (a website for customer reviews) rates OneOpinion at 1.7, which is very bad! But I didn't buy this! 
So after doing some digging on the web and using OneOpinion surveys to earn some points, I concluded that OneOpinion is a good survey platform to make money on the side. 

Not only is the survey platform legit, but it is also secure. OneOpinion uses 2-Step Verification to ensure your account is safe and protected from hackers. 
OneOpinion isn't the best survey site out there, but it's one of the reputable ones that you count on.
There are negative comments about not receiving payments, and then there are positive comments on how easy it is to make money doing these surveys.
So, should you count on them like 1, 2, 3? Yes, absolutely!
My simple strategy to make a good side income off filling surveys is signing up to at least five different survey sites. I will talk more about this later. 
If you want to Sign up on OneOpinion Surveys, follow the steps below:
1. Click on Sign Up
2. Chat with Emily (Your ChatBot)
3. Verify your email address
4. Start taking online surveys
The Sign Up process is quick and easy. It will take you a few minutes to complete the entire process. 
Emily, your chatbot will ask you your name, date of birth, email address, and you will have to accept their user agreement. You will receive a confirmation email; confirm your email address, and you're in the survey system.
You may also have to provide some additional information like your interests, hobbies, likes and dislikes, qualities, country, lifestyle, opinions (on random things), health, and so on.
This is done to understand you so that OneOpinion could send specific surveys based on your interests.
How Do OneOpinion Surveys Work?
If you're working on a project for your company and you need some inspiration or you need a third person to analyze your project, you ask someone that fits the bill, right?
That person looks at your project reports and gives you their feedback. Based on the feedback received, you make necessary changes and showcase your project. Survey Sites like OneOpinion work the same way. 
OneOpinion conducts surveys for large businesses that need honest market opinions before they launch their product.
Every business conducts market research, so your job is to do product testing or fill out some surveys (honestly), and in exchange, you get paid. 
The company analyzes your information and works on improving its product/service. 
OneOpinion includes online surveys, product testing surveys, mobile-based surveys, teen and daily surveys. As soon as you sign up, you'll see a dashboard where you can check out surveys and fill them up quickly to earn cash.
How Much Can You Make On OneOpinion?
If you expect to get rich doing online surveys, you are going to be disappointed. Survey Sites like OneOpinion aren't meant to make you rich. They are a means to give you extra cash each month to pay a few bills or have dinners. 
OneOpinion works on a point system basis, which means each point you earn is worth $0.001. 
10 points = $0.01
100 points = $0.1
1000 points = $1
10000 points = $10
The top surveys pay up to 4500 points ($4.5), and it may take about an hour to complete. 
You will get email updates about new surveys. 
On your dashboard, information like time taken to complete a survey, points for the survey will be stated clearly.
You may have to answer a few questions before you are eligible for any survey. This is to ensure you match the target demographic the company is looking for.
New surveys are quite frequent here. These surveys will appear on your dashboard every week, assuming you fit the target demographic for that survey.
How much you earn from the survey platform depends on how many surveys you fill.
How To Redeem Your OneOpinion Survey Points?
To redeem money from OneOpinion, you must touch the minimum $25 redemption threshold (25,000 points).
Most survey sites I know have $10 as their redemption threshold, not a problem if you are looking to make $100 or so dollars a month from this; that $25 threshold won't make a difference.
Pros and Cons Of OneOpinion
Pros
They have good customer service. You can email or call them any time of the day, and a representative will solve your queries quickly.
OneOpinion is aware of the scams happening to survey sites, so it lets you enable 2-step verification for additional security protection.
OneOpinion offers you 50 points if you screen out of a survey. Even if you couldn't complete the survey or didn't qualify for it, you will still receive 50 points. Awesome!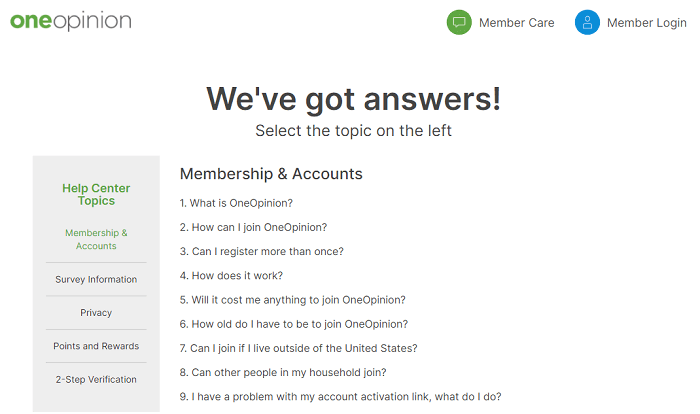 They provide an extremely detailed FAQ Page where you will find answers to all the questions you could have. 
These FAQS are helpful, so I suggest you give them a quick read before you run to the races.
Cons
Most of the survey companies offer sign-up bonuses to attract more customers. It's a win-win situation for both parties. 
The fact that OneOpinion doesn't offer sign-up bonuses makes me slightly dislike the survey site.
Some people are finding payment claiming issues. They cannot withdraw the amount earned. 
While this isn't a common problem, there are enough reviews to prove this problem exists. OneOpinion must do something to solve this.
If you are on the hunt for the best survey sites known to humankind, you might want to read my in-depth review on the best survey sites in 2023, or you could read OneOpinion Alternatives at the end of this post (scroll down a little). 
How to Make Money Taking Online Surveys
Surveys have become the new side hustle to earn extra income, but you won't get rich by doing surveys from one platform. 
To make a decent income by taking surveys, you need to sign up for multiple survey platforms (minimum 3) and check the latest surveys on each of them.
Calculate the average time spent on each review with the money you earn for that review. Here's an easy trick, find surveys with the highest task points and which takes the least time to complete. These surveys are your number 1 priority.
Be sure to check out the alternatives to the OneOpinion survey below.
Final Thoughts On OneOpinion Surveys: Worth Your Time?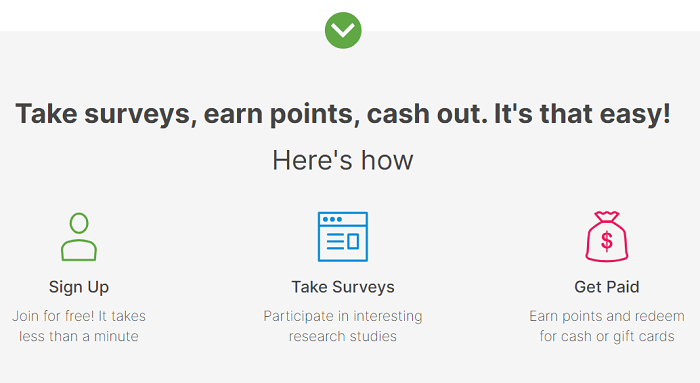 OneOpinion has made it easy for new beginners to earn cash. Each survey gives you 500 – 1000 points, and you'll need to make at least $25 (25,000) to cash out.
This gpt site is legit and safe, so you don't need to worry about security issues. 
The best way to maximize your returns is to club OneOpinion with its alternatives (scroll down to find the best OneOpinion Alternatives).
If you believe you can make a living just off these survey sites, you're looking at this the wrong way!
Even if you go for the best survey site out there – Swagbucks, you'll still not be able to make what you would through your day job.
Survey sites like OneOpinion and Swagbucks help supplement your primary income source. 
If you have any further questions regarding OneOpinion, refer to their FAQ Page.
Some Key Tips to Always Remember:
Enable Email reminders for surveys, but use separate emails for each survey site.
Enable anti-virus software and make sure you stay away from untrusted website surveys.
Sign up for at least three survey sites.
Don't spend too much time filling surveys; take breaks.
Learning new skills can make you more money in the long run, so focus on learning new skills.
6 Best OneOpinion Alternatives
Using just one survey site to make money is simply foolish. The strategy with making money off survey sites is using 3-5 survey sites. 
That's why, in this OneOpinion Review, I have picked the Top 6 surveys sites that can maximize your survey income.
Pick any 3 of these top gpt sites, start filling surveys and see your bank account cash increasing.
1. Swagbucks
If you want the most popular and wealthy survey site out there, you might want to sign up for Swagbucks.
For each completed survey, Swagbuck gives you Swagbuck points which can be redeemed for gift cards or cash. 
The average points earned range from 40 to 200 points which in dollars is 40 cents to $2. 
You can make serious money if you consistently fill surveys. Swagbucks is reputable and has been in the industry for a long time so you can easily trust them; also their customer care is good!
Swagbucks Review: 4.9/5
Start Surveys With Swagbucks Here!
2. MyPoints ($10 Amazon Card)
Not only does MyPoints give new users a $10 Amazon Gift Card but it's also a reputable survey site where you can make some money. 
MyPoints is another GPT site that offers money (in terms of a gift card or cash) every time you fill out a survey. 
Additionally, you get points for shopping too, which means if you shop at places like Walmart, Best Buy, Home Depot, Amazon, and many more stores, you will get cashback from MyPoints.
MyPoints Review: 4.9/5
Sign Up For MyPoints (Get $10)
3. PrizeRebel
PrizeRebel isn't as big as Swagbucks, but it has plenty of surveys to make money. You can spend time doing surveys, offers, and tasks, watching videos, and taking daily polls. They have a good variety of tasks to do.
Pick the ones that pay the most and fill it up. Withdrawals are available through cash, gift cards, or rewards. Watching videos and filling out surveys usually pays the most, so focus your energy on that.
PrizeRebel Review: 4.9/5
Check out my In-Depth PrizeRebel Review here!
4. InboxDollars ($5 Bonus)
InboxDollars is a legit site to make money from home. InboxDollars like PrizeRebel and MyPoints give you cash rewards for completing surveys. 
Not only that, but it also rewards you well for watching videos, shopping (cashback), playing games, collecting coupons, and reading emails. 
They have partnered with top companies like Netflix, Target, Walmart to ensure members like you get interested in completing surveys while earning more money.
To this date, InboxDollars has paid $80 Million in cash rewards to their members. That's a whole lot of cash!
With loads of credibility in the survey space and having paid millions in cash, InboxDollars can help you make a decent side income each month.
InboxDollars Review: 4.8/5
5. YSense
YSense is a comparatively new platform in the best survey sites segment, and it's doing a good job finding a place in the top positions. 
With YSense, you can work on surveys, check out offers, and earn cash through referrals. YSense also gives bonuses to help you make more money. 
They have a bunch of options to cash out. Depending on where you stay, they'll provide you with gift cards from those companies. They also have a PayPal withdrawal ($10).
YSense Review: 4.7/5 
6. OpinionInn Panel
The OpinionInn Panel is a scam so people stay away from it. Well, they pay those who fill surveys and make through referrals! They're legit.
Just like YSense, OpinionInn is a relatively new site that pays you for completing surveys. Payout withdrawals are through PayPal, and they have a good amount of surveys at any given point in time. 
If you are confused between YSense and OpinionInn, I would choose YSense over OpinionInn, but both are almost the same!
OpinionInn Panel Review: 4.5/5 
Sign Up For OpinionInn Panel Now 
If you decide filling surveys isn't your cup of coffee, there are many more ways to make money. 
That is for my OneOpinion review.
Feel free to leave your comments below if:
You have a question or feedback
You need me to clarify something regarding my OneOpinion Review
You wish to share your OneOpinion Survey journey with everyone!
Also, do you make money through survey sites? And if Yes, then what's your most favorite survey site? I gotta know this! Comment below.
Enjoyed this post? If so, you might want to subscribe to my newsletter. It usually contains life lessons and money-related topics, some interesting observations, links to articles or books I've read, and tips to be a better person. If you're interested in these things then subscribing will be simply wonderful 🙂 PS: Subscribe and Get your Freebie below!
Also, I'm a YouTuber now! If you're interested in Pinterest Marketing, Blogging, or business-related things, Subscribe to my Channel and I'll see you in the comments!