PrizeRebel Review 2023: Best Survey Site?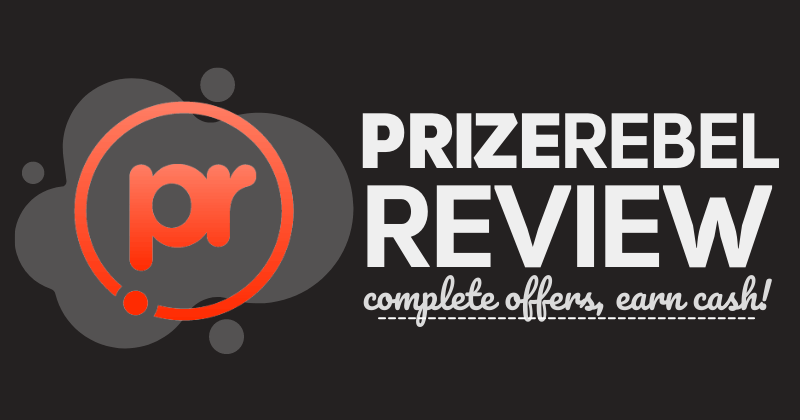 This article may contain affiliate links. If you make a purchase using my links, I'll earn a small commission at no extra cost to you. I appreciate your support!
Anyone who has Googled for best survey sites has heard of PrizeRebel. 
PrizeRebel is a popular survey site that pays you for filling online surveys and opting for other money-making offers. Users love the platform and enjoy earning money every day. 
I find joy in writing the PrizeRebel Review because the platform is one of the best survey sites out there. 
In a hurry? Take a good look at my Quick PrizeRebel Summary and Verdict below.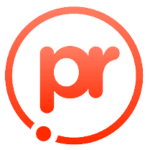 Quick Summary & Verdict
Ratings: 4.9/5
PrizeRebel is one of my favorite survey platforms out there. The simplicity, clean dashboard, wide range of rewards, and high points per survey makes PrizeRebel a real Prize!

Is PrizeRebel Legit?
Yes, PrizeRebel is legit and is a great way to earn a side income on the weekends or in your free time. I recommend PrizeRebel to all those who want to start earning some extra income in their free time.

Can You Make Money With PrizeRebel?
PrizeRebel has distributed over 20 million dollars in cash and gift cards to its members since 2007. 
A wide variety of online surveys and offers makes it easy for beginners to make additional income using PrizeRebel. This shouts credibility and it tells you that earning extra money from PrizeRebel is possible.
Pros
Get Paid For Failed Surveys
Great Customer Support
Flexible Withdrawal Options
Clean Dashboard
Cons
Personal Information Is Disclosed
Disqualified from Few Surveys
What Is PrizeRebel?
PrizeRebel is a free GPT (get-paid-to) survey website that rewards users for completing simple online tasks, surveys in exchange for gift cards, cash, and offers. 
PrizeRebel was founded in 2007 and has had a very successful journey to this date. 
They have paid out over 20 million dollars to their users for completing surveys and other tasks. 
Their current user base is 6 million, although the active user base should be much lesser. PrizeRebel is an easy money-earning opportunity; sign up and start filling surveys. It is easy, hassle-free, and interesting. 
Is PrizeRebel Legit?
PrizeRebel is a legit survey site. If you do not believe me, check out their homepage. I wouldn't be writing this prizerebel review if I didn't believe it to be legit!
They openly talk about customer reviews and gifts real customers have purchased with PrizeRebel cash. 
The company is transparent and honest with how they treat their users. Hence, the company is not a scam. 
You can safely browse through the platform without stressing about illegal problems. Complete the surveys, be honest, be consistent, and you can easily make money.
PrizeRebel has a thriving business of over 15 years, paying millions of dollars to its users. Their reputation has always been high and has consistently provided value to their users. 
They have a very in-detail support page where you will find everything you need to know about PizeRebel Surveys. 
PrizeRebel also has a YouTube Channel to help you get more money using their platform.
Hey There! —> You can check out this article for my top 15 survey sites. Pick any four of these online survey sites and start filling surveys.
While browsing through user testimonials on their page and other review sites, I could see positive comments about success stories. Of course, there are a few users with bad reviews, but that is barely minimum.
Anyone can sign up for PrizeRebel! They accept new users from all countries. Countries like the USA, UK, Australia, and Canada have an advantage as these countries have the maximum earning potential compared to other countries.
That is because online surveys are shown based on what data companies need. If a company wants to promote a product in the USA, people staying in the USA will likely fill those surveys.
The eligibility criteria is 18 years. People in the age group 13-18 can use PrizeRebel to earn an income with parental permission.
PrizeRebel is a safe GPT site to make money. Start Making Money Today with PrizeRebel!
Can You Make Money On PrizeRebel?
PrizeRebel has a lot of money-making options to choose from; we will discuss each of them below.
Promo Codes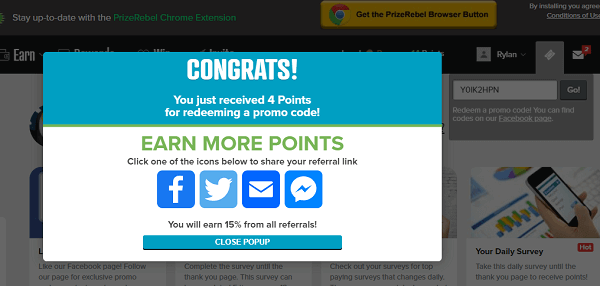 PrizeRebel loves you dearly, so they give you promo codes to earn extra points for free! All you have got to do is check out their Facebook page for promo codes. 
They have an expiry date on these promo codes, so I suggest you keep a close eye for new posts on their Facebook group.
Filling Surveys
Surveys are the essence of the platform. You fill surveys, earn points and redeem them. Surveys are recommended based on the information you provide in your profile and your surveys. 
Do not give false opinions on those surveys, be practical and answer honestly. The last thing you want is PrizeRebel not recommending you new surveys to fill.
Note: You will have to complete a screener before taking the survey to ensure you qualify for the survey. PrizeRebel generously gives you PrizeRebel sweepstakes entry and some points if you don't qualify for the survey. No survey site does that! 
While filling surveys, you need to look at two columns:
Task Points
Time to Complete
How many points will each task give you, and how much time you'll take to complete those tasks? Aim for surveys with high task points that take less time to complete.
For example, 
1) Task 1: 100 points, 10 minutes
2) Task 2: 130 points, 6 minutes
3) Task 3: 80 points, 9 minutes
Out of these three tasks, you should pick Task 2, followed by Task 3 and Task 1.
Start calculating in terms of time and points, and you will soon be maximizing your time and money.
Offer Walls
Offer walls can be anything. It could be a survey, an app download, a paid offer (pay to play), or some other kind of offer. App downloads are super easy to do. 
All you have to do is download the app, browse a little, keep it installed for a day or two, and get paid. 
The process hardly takes 5 minutes, do this for an hour (every day), and you are looking at approximately $12/hour.
You could also grab a Pay to Play offer. Here you will need to spend money on a product, and they will either give you cashback or ask your honest opinions on the product. 
These Pay to Play offers are the most money-making. But you don't need to take them unless you need the product. There are plenty of free options to make money in PrizeRebel.
Keep an eye on Offer Walls! 
Watch Videos
You already spend time watching videos on YouTube. Instead, watch videos through PrizeRebel. 
The reward points aren't as lucrative, but you are doing nothing. Simply click on the video, watch it and then watch the next video.
Some videos are entertaining, while some are educational. You'll learn something new and earn money at the same time.
If you have a busy lifestyle, just start the video and finish your chores. How difficult is that!
Games
Now, who does not like playing games? Huh! I reduced playing games because it wasted my time, and I wasn't making money out of it. 
Thanks to the PrizeRebel survey site, I play games and earn points that I then redeem for Amazon gift cards. 
They may ask you to install the game, and they could ask you to play it and reach certain levels to get more points. 
Delete the apps a day or two after installing them. You can easily earn higher points downloading and playing some games. Playing games is fun and money-making. 
Online Shopping
I am sure you know what a cashback is! PrizeRebel uses the same technique to pay you points to shop online. 
You can purchase goods and services that they recommend, and they'll pay you a hell of a lot of points in return. 
While this might seem like the smart way to earn, don't buy a product if you don't need it. The last thing you want to do is waste money. 
Referrals
PrizeRebel has an Earn With Referrals Tab, where they give you a unique link to share with your network to earn extra points. I have used the same link in this article. 
That means, if you use my link and sign up, I earn 15% of the referral points you make. The minute you sign up for PrizeRebel, you get the unique referral link that you can share with your friends and make money. 
Here is how you do it:
Head over to referrals and copy your unique link.
Share this link with your contacts and get them interested enough to sign up. 
For every successful signup, you get 15% of the lifetime points your referral earns, which could mean a very lucrative passive income for you.
PrizeRebel Chrome Extension
PrizeRebel also has a chrome extension to help you stay up-to-date with the latest surveys and offers on their website. The Chrome extension ensures you don't need to log in to the dashboard and check for surveys every time. 
Just click on the extension and get your work done. It is a handy tool, and PrizeRebel rewards you 5 Points for this.
How To Get Started With PrizeRebel
Step 1: Sign Up With PrizeRebel
Signing up is simple. Put in your name, email address, password, and you have signed up with PrizeRebel. You could also sign up with Facebook.
Signing up is free. PrizeRebel will send you a confirmation email, confirm the email in your inbox. You can sign up for a new account by clicking the button below.
Step 2: Fill Your Profile Details
As soon as you sign up, they ask you for your details like,
where are you from
what work do you do
how much you earn, gender, etc. 
Don't get intimidated by these questions; PrizeRebels Algorithm needs to know you better to provide you with the best surveys and offers out there. Take enough time to answer these questions.
For your time, PrizeRebel credits you 10 points.
Once you have answered the questions, quickly check out their dashboard and get familiarized with it.
Step 3: Take Surveys To Earn Points
Ready. Set. Speed. You're ready now, take multiple surveys every day, download and play the games they ask you to, complete offers and earn rewards.

Earning an income through surveys is a long-term strategy. Consistently spending 15-30 minutes every day could make you a good number of points. 
Before most surveys, you will have to answer a few questions to determine whether the surveys suit your characteristics. If it's a match, you get to complete the survey, earn points and redeem it for cash. 
Sometimes, your points may not reflect immediately on your dashboard. The surveys you take are hosted on third-party sites, and thus they need to send survey completed confirmation to PrizeRebel.
Check back in a few hours, and your points will be visible on your dashboard.
Step 4: Redeem Points for Cash or Gift Cards
Alrighty! The last step is the best. Redeem those points!!! You can either use Gift cards or Cash (PayPal).
To see which gift cards and cash redeemable choices PrizeRebel offers, you'll need to create an account. 
They have plenty of options to redeem your hard-earned money. Instead of worrying about redeeming points, prepare a strategy to fill maximum surveys in the least time possible.
Step 5: Repeat The Process
If you still haven't figured out how survey sites work, let me explain it. You need to constantly fill surveys to earn points that will pay you money.
Spend all your free time filling surveys. The more time you spend, the more money you stand to make.
PrizeRebel Features
PrizeRebel likes conducting games to make your survey-filled journey thrilling. So to make things interesting, it rewards consistent users with their Account Level Features. 
This segments a user into five membership levels:
Bronze
Silver
Gold
Platinum
Diamond
Every new user starts at Bronze level and works their way to the top i.e. Diamond level.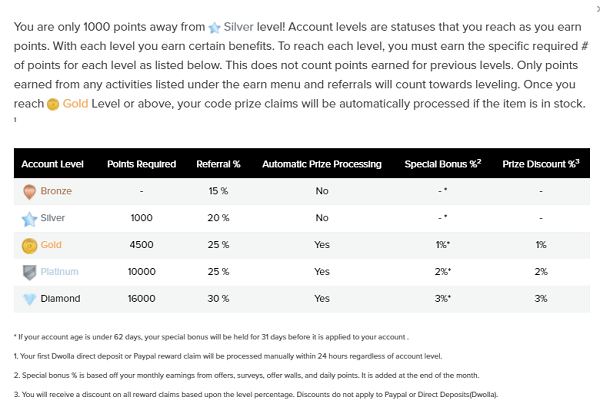 As you can see, a diamond level user earns a hefty 30% for each referral's points for a lifetime, while the Bronze level user earns just 15%. 
This system encourages people to push themselves to earn more points. 
More points = Higher levels = More rewards = More Money.
How Much Are PrizeRebel Points Worth?
When compared to other survey sites, PrizeRebel points are worth much more. That's why I recommend this survey platform to most of my peers.
Here's the breakdown of PrizeRebel Points:
1 PrizeRebel Point = $0.01
300 PrizeRebel Points = $3
1000 PrizeRebel Points = $10
You can withdraw your money at any time, provided you have the minimum payout threshold of $5. 
Paypal is the most commonly used withdrawal system on PrizeRebel. You can also use Gift cards like Amazon.
Pros and Cons Of PrizeRebel
Pros:
Get Paid For Failed Surveys
Before you start a survey, they test you to ensure you fit the criteria market research companies needs. In case you fail to meet the criteria, PrizeRebel pays you 10 points.

I haven't seen any survey site do this, so it's for sure a plus point.
Survey Sites are known for their average customer service, but PrizeRebel isn't topping that list. They have an awesome customer service team. 
To get in touch with them on specific technicalities, you can drop them an email (refer to their Contact Us page), and they will get back to you in a day or two. 
90% of the time, you don't need to get in touch with someone as they have a comprehensive FAQ section that can answer most of your queries. 
Before sending them an email, read the FAQ section. If your problem still exists, send an email, and your query will soon be resolved.
Flexible Withdrawal Options
PrizeRebel gives you a wide variety of gift card withdrawal options to choose from. You can also use cash or direct bank transfer. It makes redeeming money easy and quick.
A lot of survey sites have messy and overcrowded dashboards. It makes searching for anything complicated and irritating. A clean dashboard makes things a whole lot easier.
Cons:
Let's face it No GPT site is perfect. They all have some issues. I've listed the most common issues I faced while using PrizeRebel.
Personal Information Is Disclosed
This is a general problem of all survey sites out there. Companies pay you if you provide them with valuable information. 
Companies want to know what type of product works best in the market and for this, they take your honest opinions. 
If you're uncomfortable sharing some details about your lifestyle, you might want to think of other ways to make money.
Getting Disqualified from Surveys
PrizeRebel makes a good effort to provide you with perfect surveys, but they still have a lot to improve. 
Out of every 10 surveys I clicked on, I was disqualified for 4. So about 60% accuracy is what I got out of PrizeRebel. 
Tips To Make The Most Of PrizeRebel GPT Site
1. Limited Time Promo Codes
PrizeRebel is known for limited-time offers. You don't need to make an effort to earn points. 
Simply copy and paste the promo code on the top right corner of your PrizeRebel Dashboard. 
It is the fastest way to earn points and make money.
2. Gift Cards Could be A Better Choice
The sad part about earning additional income through survey platforms is that the money isn't too much. What's worse is that services like PayPal will charge you some fees to use their platform. 
Now, these charges will be minimal, but you will feel the pinch. If you use Amazon gift cards or redeem them using other gift cards, you're not charged.
For example, You earned $50
Redeemed using PayPal: $47
Redeemed using Amazon gift card: $50
I didn't calculate the rates PayPal is currently charging because it differs from country to country, but I hope you get my point through this example. 
Is PrizeRebel Survey Worth It?
PrizeRebel is an excellent survey website for those who want to earn extra cash. The dashboard is loaded with surveys. 
The vast amount of surveys, along with the credibility of PrizeRebel, puts this amongst my Top 5 Survey Sites list. 
Spend time filling out surveys but don't spend all of your time doing this. Spend some time learning a new skill. This is a long-term strategy, but it's worth it.
Combining forces can surely boost your earnings: I mean, use 3-4 survey sites simultaneously to make money. 
Fill daily challenges, the extra survey offers in 4 survey platforms, and you will triple your survey earnings in no time. 
Below I have listed my favorite alternatives to PrizeRebel. Choose any 3 of these surveys, sign up, fill in your profile details and start earning.
Top PrizeRebel Alternatives. 
1. Swagbucks
Swagbucks is the most popular survey site known to Mankind. Swagbucks ticks all the points when it comes to the perfect surveys platforms out there.
For each completed survey, you earn Swagbuck points, which can be redeemed for gift cards or cash. Don't forget to fill the daily surveys on your dashboard to earn easy points.
The average survey points earned range from 40 to 200 points which in dollars is 40 cents to $2. You can earn nice money if you consistently fill surveys. 
Swagbucks Review: 4.9/5
Start Surveys With Swagbucks Here!
2. MyPoints ($10 Amazon Card)
Not only does MyPoints give new users a $10 Amazon Gift Card, but it's a reputable survey site where you can make some money. 
MyPoints is another GPT site that offers money (in terms of a gift card or cash) every time you fill out a survey. 
Additionally, you get points for shopping, which means if you shop at places like Amazon, Best Buy, Home Depot, Walmart, and other such stores, MyPoints will provide cashback. 
Overall, MyPoints is a great survey site, and you could add this to your surveys portfolio without hesitation.
MyPoints Review: 4.9/5
Sign Up For MyPoints (Get $10)
3. InboxDollars ($5 Bonus)
InboxDollars is a legitimate site to make money online. InboxDollars like Swagbucks give you cash for completing surveys.
Not only that, but it also rewards you well for watching videos, shopping (cashback), playing online games, collecting coupons, and reading emails. 
They have partnered with elite companies like Netflix, Target, Walmart to ensure your get maximum cash rewards.
To this date, InboxDollars has paid $80 Million in cash rewards to their members. Ain't that awesome!
With loads of credibility in the survey space and having paid millions in cash, InboxDollars can help you make a good side income each month. 
InboxDollars Review: 4.8/5
4. YSense
YSense is a comparatively new platform in the best survey sites segment, and it's doing a great job creating a place among the top survey sites. 
With YSense, you can work on surveys, check out offers, and earn extra cash through referrals. YSense also gives bonuses to earn some extra money. 
They have a bunch of options to cash out. Depending on where you stay, they will provide you with gift cards from those companies. They also have a PayPal withdrawal ($10). 
YSense Review: 4.7/5 
PrizeRebel FAQ Section
How do you get Free Points on PrizeRebel?
PrizeRebel frequently offers "Promo Codes" to their users on their Facebook Group. Stay active on this group for new posts. As soon as they post, redeem your free points. These codes are available for a limited period only!
How to Delete your PrizeRebel Account?
PrizeRebel doesn't have an clickable option to delete your survey account but if you really want to delete your account, here's how to do that:
Go to their Contact Us page and send them an email requesting them to delete your account. Give them a few days to get back to you and they will delete your account.
As always, if you have any questions regarding this prizerebel review, let me know in the comments below. I'll be happy to help you make money through surveys.
Also, what do you think is the best way to earn money in your free time? (that doesn't need any special skills, like survey websites). 
Shoot down your ideas in the comments, I would love to write an article on your unique ideas.
Have you enjoyed this post? If so, you might want to subscribe to my newsletter. It usually contains life lessons and money-related topics, some interesting observations, links to articles or books I've read, and tips to be a better person. If you're interested in these things then subscribing will be simply wonderful 🙂 PS: Subscribe and Get your Freebie below!
Also, I'm a YouTuber now! If you're interested in Pinterest Marketing, Blogging, or business-related things, Subscribe to my Channel and I'll see you in the comments!