The 5 Best Free Budgeting Apps In 2023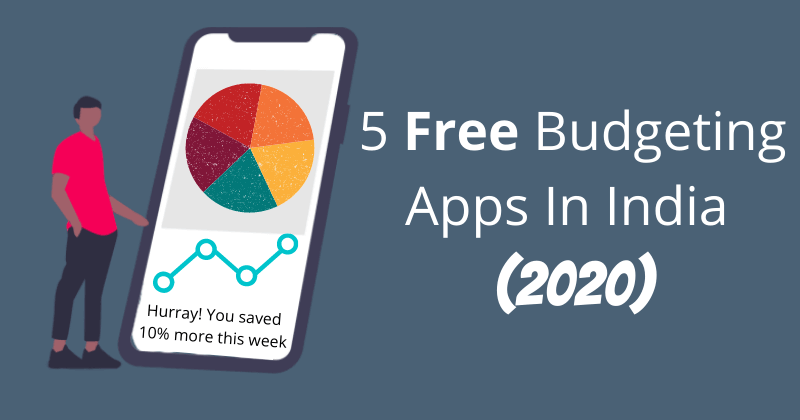 This article may contain affiliate links. If you make a purchase using my links, I'll earn a small commission at no extra cost to you. I appreciate your support!
Need to get your spending on track but confused on How to get started? 
No more excuses to avoid budgeting, no more saying yes to useless wants.
Do you want to achieve Financial Independence? If yes, then you better start Budgeting right away.
Getting your finances on track isn't as easy as it seems. Detailing every single transaction you have in a day is seriously a lot to ask from any person.
Thankfully, due to the amazing progress of the internet and the use of phones in our day-to-day life, budgeting can be much easier.
Criteria For The Recommendation
The app should have all basic budgeting features;
In terms of look and feel, the app should be at least "Good".
The app should guide you properly and make the user experience smooth
It should be a Free Budget App.
Let's simplify budgeting by using the budgeting apps given below. Few apps go deeper with graphical representation while some stick to the basics, Both are good and will do the work. Choosing between one majorly depends on how you would like to manage your finances. 
Below I've listed down the 5 Free Budgeting apps I feel will surely give you a good boost and help you get in control of your finances. 
Whatever you end up choosing, you'll definitely get a better understanding of your finances.
Best Graphs Oriented App
Wallet
Wallet is a great app if you want to get started on budgeting to reach financial independence. You can add cash at hand and sync your bank account for better and easy budgeting. You have the option to add your expenses and choose a category for each expense. 
So if you spent RS 100 on a pizza, click on the plus icon, choose your category in this case – food – restaurant – fast food. Put in the amount and you are done. If your balance increases or decreases somehow, you can always adjust it by clicking on the "Adjust balance" button and entering the balance you have left. 
Further, the app shows you a pie chart along with a graphical representation of your expenses making it easy for you to understand your expenses on the go. The app also takes extra effort to create easy to understand graphs, charts and breakdowns in the side menu. Click on that menu and explore all the options.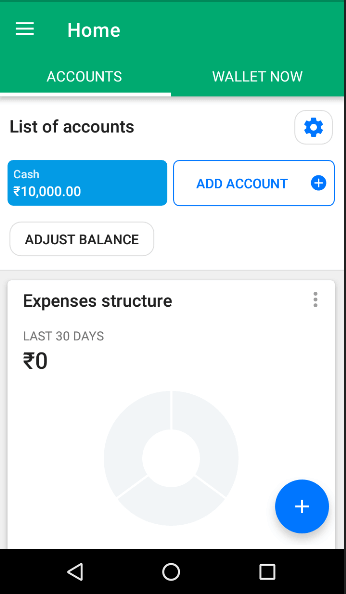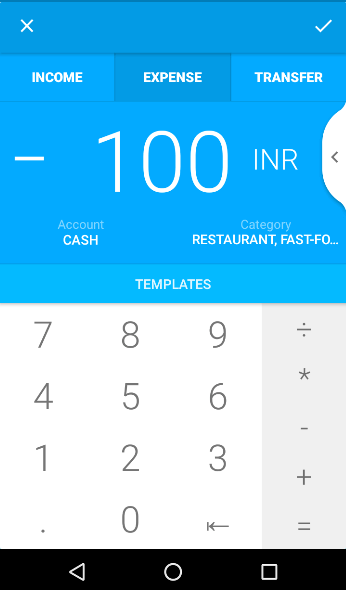 A great feature is that it displays your expenses based on needs and wants, eliminating the stress of your deciding the difference between the two. The app is a bit techy for those who are technologically challenged but it provides you with a chunk of data which can help you cut off unnecessary expenses. 
Budgeting app rating: 8/10.
Best Easy-To-Use App
Monefy
If all you need is an app to help you record your expenses and subtract it from your total income, Monefy is the app for you. Its simple user interface is just great for anyone who just wants to add their expenses. 
The best part is that you can add expenses for a specific category in just a click. It's all displayed on the main screen. Monefy also has a convert currency feature which is good if you have various currency accounts. I don't have it so this feature wasn't useful for me.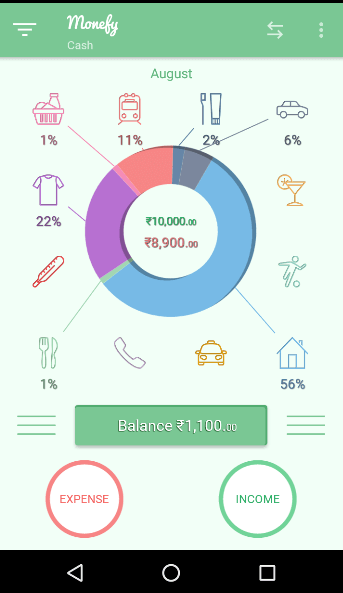 The pro version has a few more features like syncing your account with your spouse, multi-currency, password protection and option to add new categories. But I don't recommend the pro version as the other apps mentioned here provide you that in their free version.
Choose this app if:
All you want is to record your expenses
You like a simple and fast app interface
You dislike graphs and just want to know your leftover income each month.
Budgeting app rating: 7.5/10.
Best Basic Budgeting App
Monthly budget planner & daily tracker
All the budgeting apps I tried and tested I had to go to the setting option to change my currency to Indian Rupees, but in iSaveMoney (name of the app), it lets you choose your currency right in the beginning along with the date and time format. Thus simplifying your work.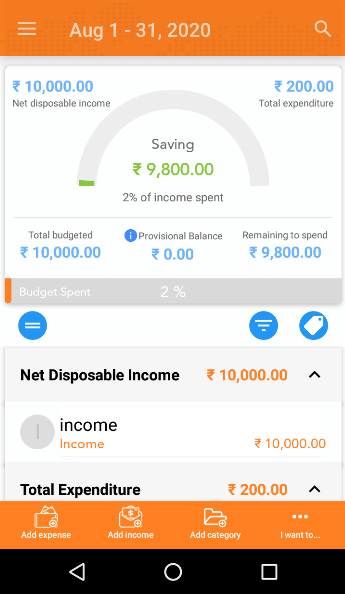 The app is slightly hard to understand but has all you need for maintaining a good budget. I also found the app to function a little slow compared to a few other apps I tested, the slower speed wasn't that big an issue but was noticeable. 
You can enter your expenses and income in detail and also add more categories and name them specifically according to your preference. The app only has important features and cuts out all other unnecessary features other apps have. You can easily edit a category by swiping left and delete a category by swiping right. 
Budgeting app rating: 7/10.
Best Overall Budgeting App #1
Mobills Budget planner
The first question it asks you when you open the app is "What's your main Financial Goal?" And you get four options to choose from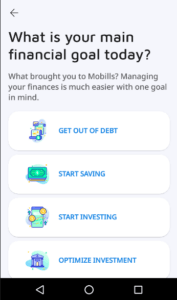 I chose the start saving option and here's what I got.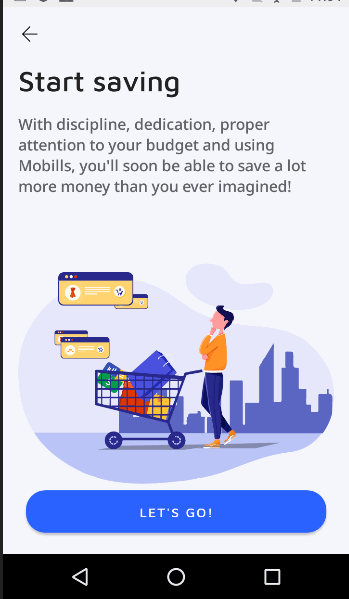 Isn't that interesting? The app has taken a lot of effort to make budgeting a fun process unlike other apps in the market. Sure, managing your finances is a serious as well as boring thing to do but that doesn't mean it can't be made interesting. 
I mean just look at this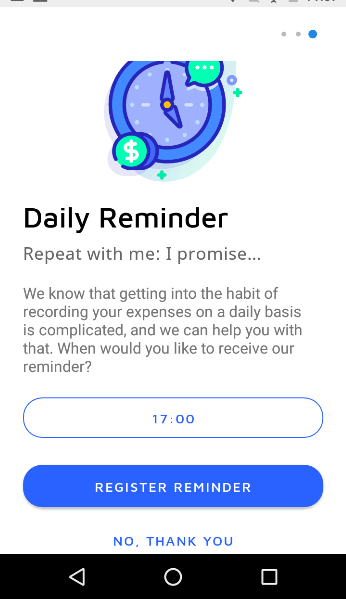 A reminder to help you stay in track with a good quote to motivate you on your journey to financial freedom. 
Once you complete the registration, it gives you a basic tour of the platform and I've got to say, I like the app. You can add new categories, add your credit card details, transfer money and a lot more for free. It has additional features which can help you reach your financial goals faster. 
It also guides you when you create your budget, e.g.:- when I started creating a budget, it said, "We recommend you do not spend more than 80% of your income". These tips work great if you're a beginner or intermediate in budgeting your income and expenses.
It also has a dark mode for those who don't like white or bright colours also for free.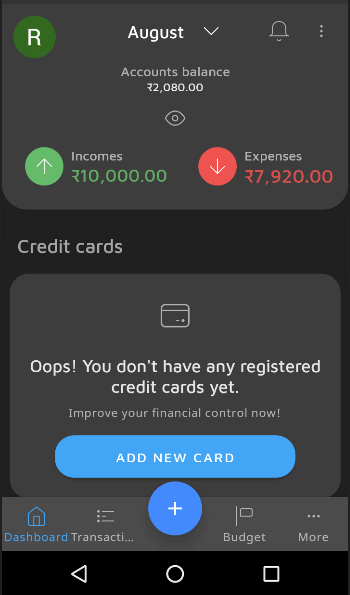 I can easily recommend anyone this app as I found the app to work smoothly. It's easy to understand, the graphics look great and there are few motivation boosters to keep us on track.
Budgeting app rating: 9.5/10.
Best Overall Budgeting App #2
Money Manager
Money manager works as a balance sheet of a company. If you wanted a better functioning Excel sheet as your budgeting app, Money Manager will be a great choice for you. I'm a graphics guy, I like to see intricate graphics and good colour combinations but honestly, this app isn't that bad. 
I prefer this over many others I've tested. This app is quite simple – click on the plus icon and you get in detail about your expenses. For example – Here, I have added an expense of Rs 100 on a burger. 
One thing that caught my eye which I didn't see on the other budgeting apps is the option to take a picture. I can upload a picture of the burger I'm eating and it will be displayed. Isn't that great?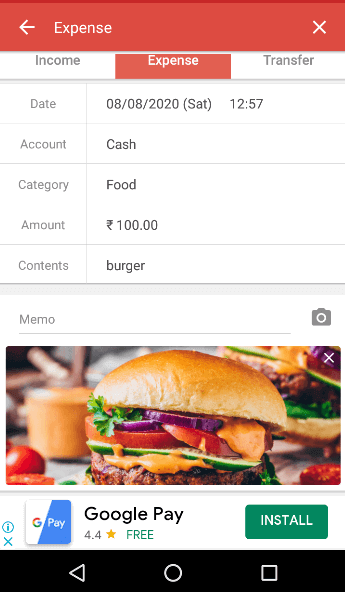 Choose this app if:
If you want a detailed budgeting app
If you want minimal graphics
If you like to add images of your expenses.
Budgeting app rating: 9/10.
How To Smartly Budget In 2023
In this day and age, learning how to manage your finances is more crucial than earning an income. You can make money but if you can't control your expenses and save and invest the money you make, it's pointless. 
These aren't the only apps out there to help your budget, you can always choose an app you're comfortable with and get started. 
If you don't like using an app and prefer budgeting on paper, you can download my Free Monthly Budget Template, print it, and start writing on it. 
You can also make your budget template at home. It's very easy. Take a pencil and paper and get started. Want to create a digital budget template like mine? Use Canva and get as creative as you can.
You see, there are so many ways you can have a budget to track your expenses. Use an app or take my budget worksheet or create one using paper or create a digital budget using Canva.
So what are you still waiting for? Get up, and go fill in your monthly budget and be a money-saving machine!
Do you like pen and paper budgeting or budgeting on an app? Let me know down in the comments.
Enjoyed this post? If so, you might want to subscribe to my newsletter. It usually contains life lessons and money-related topics, some interesting observations, links to articles or books I've read, and tips to be a better person. If you're interested in these things then subscribing will be simply wonderful 🙂 PS: Subscribe and Get your Freebie below!
Also, I'm a YouTuber now! If you're interested in Pinterest Marketing, Blogging, or business-related things, Subscribe to my Channel and I'll see you in the comments!