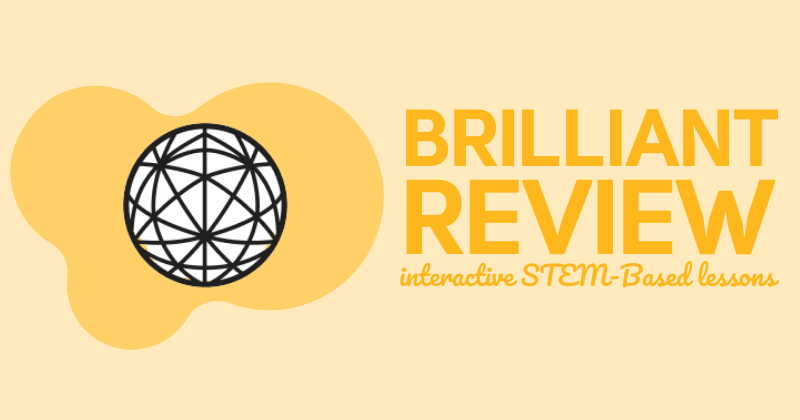 This article may contain affiliate links. If you make a purchase using my links, I'll earn a small commission at no extra cost to you. Thank you for your support!
In this review of brilliant.org, I analyzed all the aspects of brilliant.org so that you can decide whether Brilliant Premium is worth your time and money.
Knowledge is Power! The more you learn, the smarter you are. Learn new skills, and your demand in the job market increases, your grades rise, people admire and respect you more, you can solve real-life problems, etc.
I am writing this Brilliant.org review because Brilliant unlike other online courses, is unique, interactive, simply fun, and should help you achieve the above qualities.
In a hurry? Take a good look at my Quick Brilliant.org Summary and Verdict below.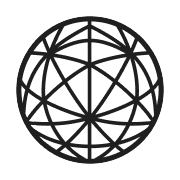 Quick Summary & Verdict
Ratings: 4.7/5
Brilliant.org replaces online video lectures with interactive lessons, puzzles, quizzes which makes understanding concepts easier for beginners and advanced learners. Complex concepts are made as simple as 1 + 1 = 2.

Is Brilliant.org Valuable?
Yes, Brilliant.org is an effective way to learn courses in math and science. I feel a Brilliant subscription is worth your money and time.

Brilliant.org Summary
Brilliant is an online learning platform that uses gamification to enhance the learning process to make it interactive and interesting. The unique teaching methods applied here are practical, which makes learning very easy.

If you want a 7-day free trial plan along with 20% off your yearly brilliant premium subscription, click the button below!
Pros:
Interactive Learning Experience
Daily Puzzles
8 Principles For Learning
Interactive Community
Offline Mobile App
Cons:
Offers Only STEM Based Courses
Doesn't Offer Certificates
Expensive Monthly Subscription
What is Brilliant.org?
If you were looking for a course that teaches you subjects found in STEM (Science, Technology, Engineering, and Mathematics), you might have encountered Brilliant.org.
Unlike every other online course website that uses videos and text-based content to teach you subjects, brilliant.org takes a whole new approach towards learning by using Bite-Sized Interactive Lessons to explain complex concepts using simple logic.
Sue Khim, the Founder of Brilliant, found it difficult to break down puzzles and math problems as a child. Back then, her dad used to teach her new & simple ways to solve puzzles.
She figured that many people find it extremely difficult to solve math questions, understand logic and break down scientific aspects.
Like most entrepreneurs, she wanted to make math and other complicated sums easy for people like you and me.
The Light Bulb Moment!!!
She created Brilliant, An online learning platform for people of all ages to study STEM-based subjects. The goal was to make Math and other subjects easy, enjoyable, and less daunting.
Brilliant was founded in 2012. Currently, they have 60+ courses for math, physics, science, technology, quantitative finance, and computer science.
In 2022, Brilliant.org has more than 9 million registered users website users and over 2 million brilliant.org app users each month. 
Brilliant.org was created to make learning simple but has it delivered on that promise? 
Are 2 million active users wasting their time, or are they enhancing their skills? Let's dive deeper and find out in this Brilliant.org Review!
Who Is Brilliant.org For?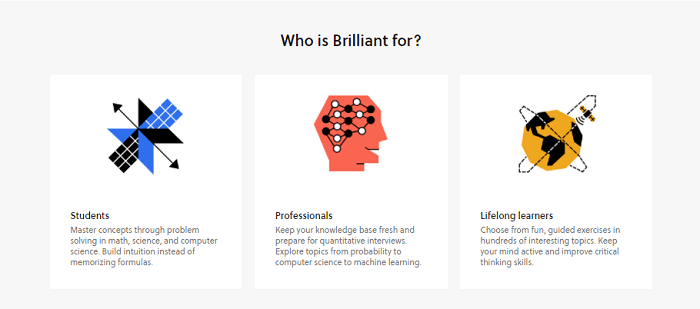 Brilliant.org is for those who want to learn about Math, Science, Technology, using a new and unique method that makes learning easier. 
If you're a teacher, a student, a young kid, or an adult, they have courses that each one of you can learn. The courses you'll learn through brilliant.org will add new valuable skills to your resume.
Learning should never stop, and the team at brilliant.org understands this well, so the courses they curate are suited for lifelong learners.
Hey there! Get 20% off your yearly brilliant premium subscription right now. 
Subject You Can Learn At Brilliant.org
I have listed down all the subjects you can learn on Brilliant:
Foundational Math:
Logic, Joy of Problem Solving, Mathematical Fundamentals, Number Theory, Pre-Algebra, Number Bases, Infinity, Algebra Fundamentals, Algebra, Complex Numbers, Geometry Fundamentals, Beautiful Geometry, Geometry, 3D Geometry, Math History, Probability Fundamentals, Applied Probability, Perplexing Probability, Casino Probability, Random Variables & Distributions, Statistics Fundamentals, Contest Math, Pre-Calculus, Trigonometry, Knowledge, and Uncertainty.
Advanced Math:
Calculus Fundamentals, Integral Calculus, Calculus, in a Nutshell, Multivariable Calculus, Introduction to Linear Algebra, Linear Algebra with Applications, Vector Calculus, Differential Equations, Group Theory, Math for Quantitative Finance, Statistics.
Foundational Science:
Scientific Thinking, Science Essentials, Physics of everyday, Waves, and Light, Classical Mechanics, The Chemical Reaction, Knowledge and Uncertainty, Electricity and Magnetism.
Advanced Science:
Astrophysics, Gravitational Physics, Special Relativity, Solar Energy, Computational Biology, Quantum Computing, Quantum Objects.
Foundational Computer Science:
Computer Science Fundamentals, Algorithm Fundamentals, Programming with Python, Data Structures, Introduction to Neural Networks, Search Engines.
Advanced Computer Science:
Cryptocurrency, Artificial Neural Networks, Machine Learning, Computer Memory, Quantum Computing. 
The courses mentioned below focuses on improving your conceptual knowledge, builds intuition, helps in preparing for interviews, and makes your brain work hard while enjoying it.
Brilliant.org Pricing Plans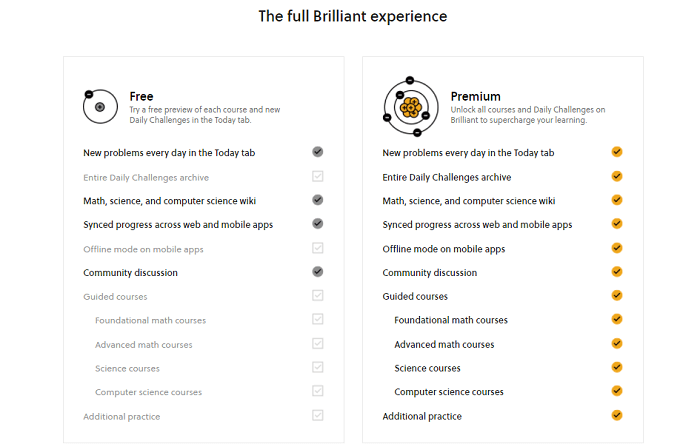 Brilliant.org offers a 7-day free trial (check it out here). During this time, they won't charge you a penny. After seven days, the pricing structure is as follows:
If you take a monthly subscription plan: $24.99/month
If you take a yearly subscription plan: $12.49/month ($150/per year)
A Group of 3+ people: $299.98/per year
Take the monthly subscription if you plan on using the platform for less than six months (12.49 X 12 = 24.99 X 6). A six-month plan (paid monthly) is equal to an annual subscription plan. Thus I recommend you opt for the yearly plan for the first year. You can get a bunch of courses completed in that time. 5 days before your yearly subscription is up for renewal, cancel the subscription.
The yearly plan will be 50% cheaper than your monthly plans. If you want it for 2-3 months, the monthly plan will suit your needs.
Pros and Cons Of Brilliant.org
The Good: Advantages Of Brilliant.org
Interactive Learning Experience
Each course is crafted in a creative way that you've probably never seen before. Instead of listening to the teacher speaking, you get an immersive learning experience that makes things easier.
Adjust to a new learning experience may take some time, but once you get a hold of it, learning complex concepts is super simple.
Daily Puzzles
I got addicted to Daily Puzzles at one point! It's so entertaining and interesting. Even the ones I got wrong didn't demotivate me. Daily puzzles are one of those super awesome features that you can't live without. It's the perfect way to learn a subject in depth.
Other than the daily puzzles, you'll find infinite quizzes and puzzles wrapped in the course to keep you occupied.
Brilliant also has another system where they believe that you need to brush up your skills once in a while. For this, they keep updating their courses with new modules, puzzles, and so on.
The 8 Principles For Learning
If you didn't figure it out yet, Brilliant.org is unique. They have a specific teaching system to ensure math and science are made simple for almost everyone.
The online learning platform made 8 principles of learning to make their courses one of a kind. All the courses you'll find on their platform are written with these core principles in mind.
Here are those principles:
Exciting
Cultivating Curiosity
Active Learning
Applicable
Community Driven
Doesn't Discriminate
Allows Failure
Sparks Questions
Interactive Community
Community learning gives you the experience to work as a team. Learning together makes learning fascinating.
Their community pages contain thousands of pages of content made by the community experts from Brilliant.org. The community wiki is handy when you get stuck.
Offline Mobile App
Once you buy the brilliant premium subscription, you will get full access to their mobile app (available on Android and iOS platforms). You don't need an internet connection at all times.
Simply download these courses and watch them offline anywhere at any time. This feature is quite useful as when I'm traveling with no internet connection, I can still consume these courses and keep myself busy.
The Bad: Disadvantages Of Brilliant.org
Offers Only STEM Based Courses
The courses you'll find on brilliant are STEM-based courses, which means courses related to Science, Technology, Engineering, and Mathematics are available.
If you could take the method of teaching and add new Non-STEM-based courses, people eager to learn don't need to subscribe to various platforms to learn multiple things.
Brilliant.org could be a one-stop-shop for learning in a fun and interactive way. I understand that brilliant wants to be a hub for STEM-based courses, but expanding to other courses could be better for their students.
Doesn't Offer Certificates
Knowledge is more important than a certificate, but while applying for a job, a certificate does add value.
I am a little disappointed that users don't get certificates upon completion because that would be simply awesome. I hope they give certificates in the future as I'm sure it will add value to anyone's resume.
Expensive Monthly Subscription
The monthly subscription is $24.99. That's pricey. Even though the course packs some good content, recommending a course for $24.99 a month doesn't seem too great.
They do have a yearly plan that's for $12.49 and is certainly more appealing. Bundle that with a 20% discount and a 7-day free trial, I'm starting to like the yearly subscription. Grab the offer below.
Brilliant.org Testimonials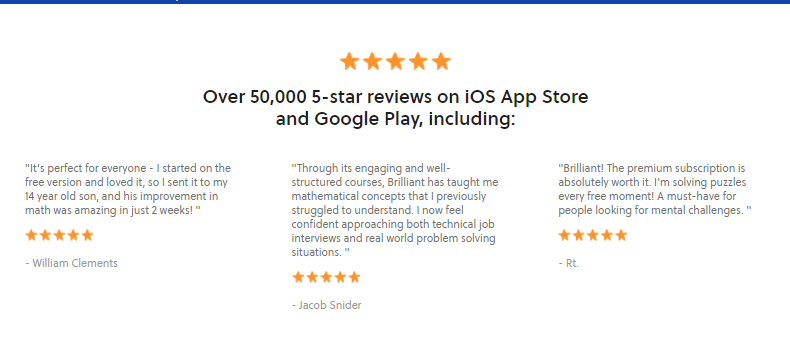 I compiled some of the reviews I read all over the web on Brilliant.org.
Making Complex Problems Easy
Many positive reviews are saying that complex math problems have been simplified.
People feel more confident when approaching technical math and science-based interviews because concepts have been made simple. People that used to hate math love it and enjoy spending time studying.
Fast Learning
Understanding challenging concepts in a few days isn't rocket science at brilliant.org. When reading the reviews, people said that they could think and process concepts in a matter of days.
Updated Content
Brilliant won't let your mind get old. It constantly updates the content, adds new puzzles, daily exercises, and so much more to keep your learning alive.
Aesthetically Beautiful
Brilliant has a very aesthetic and minimalist feel. It has quite the graphics, animations, and elements that make it appealing to the eye.
Description, pre-requisites, general information to each course is well defined and explained. 
Brilliant.org is also quite popular on Trustpilot, with a rating of 4.6.
Best Courses on Brilliant.org
Made up your mind about taking the Brilliant Yearly Subscription? I chose three courses that fascinated me the most. If these interest you, grab a 7-days free trial here.
P.S. If not, they have 60+ more courses you could choose from :). Don't you worry!
Logic
If you look at the most popular courses on Brilliant, you'll see 'Logic' topping the list, and that's for a reason. Logic challenges your critical thinking skills using knights, logic gates, knaves, and many more things.
The course has 265+ concepts and exercises with 37 interactive quizzes to keep you busy.
You don't need any previous knowledge and experience to get started with this course. If you want to exercise your brain and learn faster ways to tackle logic problems, say Hello to Logic.
At the end of the course, you should be able to deal with real-life logic-based situations, spot logical fallacies, understand game theory, machine logic, and a lot more mental ability quizzes.
Applied Probability
What if I tell you how to win a game based on pure luck? Wouldn't that be super cool!
Applied probability will teach you to understand the world around you by teaching how random events can be predicted using probability.
Probability as a subject always fascinated me in school, and this course has taken my probability desires to a whole new level.
Enough talking. Out of every 150 people that read this article, 93 will take the brilliant course. Did the course teach me that?
Why don't you see that for yourself! Brilliant.org Premium Membership. Don't worry, the link below contains 20% Off and a 7-Day Free Trial.
This course has 190+ concepts and exercises along with 23 interactive quizzes to sharpen that brain of yours.
Applied Probability might get slightly confusing if you don't have a basic understanding of Algebra and basic probability logic. You can take up the Casino Probability Course in Brilliant to make things simpler.
At the end of this course, you'll learn the fundamentals of probability which will help you understand real-life situations right from sports to science to games.
Math for Quantitative Finance
This course is heavy. You'll learn a lot of new concepts like Bayes' Theorem, Expected Value, Fermi Estimation, Hypothesis Testing, Interview Prep, Markov Chains, Matrices, Parameter Estimation, Probability, Statistical Distributions, Utility Functions, Variance, and Covariance, etc.
This course dives deep into statistical modeling and helps you understand the chaos of the financial markets. This course will develop your math skills while also educating you on financial markets.
Some basic understanding of math, probability, and random variables would be preferred.
Brilliant Team claims that by the end of this course, you will be able to crack any Quantitative Finance Interview. If that's so, this course is EPIC.
Brilliant.org Cancelling Membership & Refund
The cancelation process is pretty fast. Head over to your subscription settings page, where you'll find a 'cancel button' Click on it, and your subscription will be canceled immediately.
Sometimes you may not see that button. In such cases, you've probably canceled it from Google Play Store, App Store, or PayPal.
They clearly state that they don't refund money. You could cancel at any time but don't expect a refund.
If you have a genuine reason, they could make an exception (by refunding you the money), so don't forget to send an email. 
If you're confused at any time regarding payment structure, cancellation, or refund, you can get in touch with their support team at [email protected].
They have an excellent support team that is fast and quite reliable. You shouldn't have a problem communicating your queries.
Is Brilliant.org Premium Worth It?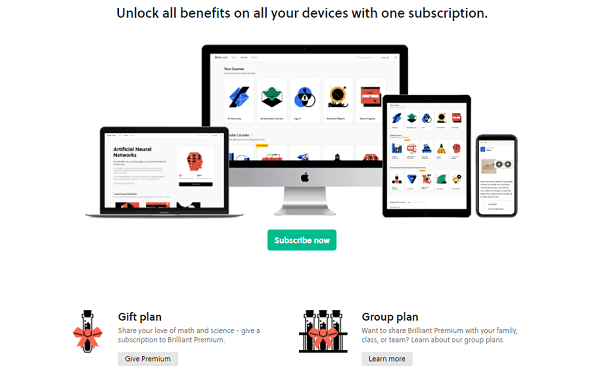 After considering all the aspects of Brilliant, I found Brilliant.org to be worth my time and money.
The learning experience, the puzzles, quizzes, community wiki, gamification, aesthetics, and many more features made the online learning platform highly productive for all STEM-based learners.
The concepts are short, explained easily to ensure you don't doze off in the process.
The free plans don't provide enough value as you can't complete a course. A few easy puzzles won't help you master the subject. That's why a premium subscription is needed.
Considering the slightly high price, I don't suggest you should have it for more than a year because you can complete most of the essential study materials in that time.
Keeping in mind the pros and cons discussed above, I can certainly recommend the Annual Brilliant Premium Plan for people who wish to learn such heavy concepts in a more visual and interactive method.
Do I recommend Brilliant for a person interested in diving deep into STEM-related subjects? Yes, Of Course. Brilliant courses are essential and the need of the hour.
Again, Brilliant doesn't offer certificates on completing the course, so if you strictly wish to use this to build up your academics (where certificates are essential), this may not be the best option for you.
Alternatives to Brilliant.org
Brilliant.org Vs DataCamp
If you're in the coding space and you haven't heard of DataCamp, I'm surprised. DataCamp is the leading Data course platform that helps you build data skills online.
They have a lot of high-quality courses, interactive exercises, and short videos suited for beginners and advanced-level data analysts.
Brilliant offers some courses relating to Python (a coding language). I did check it out and concluded that DataCamp Python courses are much better.  
Choose DataCamp when you want to learn anything related to Data, Python, and R. Choose Brilliant when you want to learn STEM-based concepts.
I've personally tried their courses, I recommended them to my coding peer. The quality of teaching is top-notch. It's worth the price – Check Out DataCamp Courses here.
DataCamp Review: 4.8/5
Brilliant.org Vs Khan Academy
This review would be incomplete without Khan Academy. Khan Academy is another online learning platform where you can learn STEM-based concepts for FREE.
Yes, they provide all their resources for free. They have a website and a YouTube Channel where they teach such concepts for free.
The advantage Brilliant.org has over Khan Academy is that brilliant is more interactive and more fun & game-based learning. If you're short on money, don't hesitate to try out the courses available at Khan Academy.
In all, Brilliant's annual plan is value for money, and if you're interested in the content they provide, you should try out their yearly plan.
That's all for my Brilliant.org Review. If you have any questions, leave them in the comments below, and I'll answer them.
Enjoyed this post? If so, you might want to subscribe to my newsletter. It usually contains life lessons and money-related topics, some interesting observations, links to articles or books I've read, and tips to be a better person. If you're interested in these things then subscribing will be simply wonderful 🙂 PS: Subscribe and Get your Freebie below!