6 Best FIRE (Financial Independence Retire Early) Books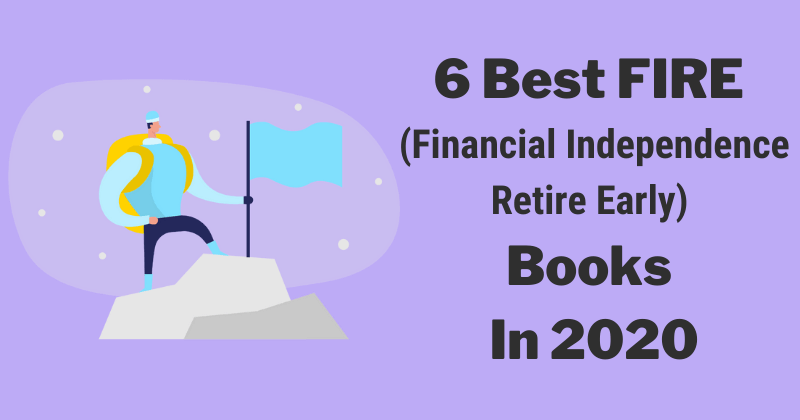 This article may contain affiliate links. If you make a purchase using my links, I'll earn a small commission at no extra cost to you. I appreciate your support!
While it's hard to retire early, it might take you 30-40 years at least; the truth is that it's never been easier to retire early. 
You may take 30 years to retire if you follow the age-old principles of financial independence.
The modern approach to this ensures that by following a few simple and logical steps, anyone can retire early in just a decade or less. 
Meet The FIRE Movement, an acronym for Financial Independence Retire Early which states that if you aggressively save, live frugally, and invest your money wisely, early retirement in your 30s or early 40s is a reality. 
If that excites you, read more about the FIRE movement. Why? Because it's not as easy as it seems. Most people won't be able to adjust to such a lifestyle. I've written a detailed article on Financial Independence Retire Early (FIRE) and the 4 things you must learn from FIRE. 
Without wasting time, let's see the best books for the FIRE movement.
6 Best FIRE (Financial Independence Retire Early) Books
1. Your Money or Your Life by Vicki Robin & Joe Dominguez

This is the first book to ever introduce the FIRE movement. This book will completely change how you look at money. 
After reading this I'm sure that your financial habits will change for the best. It gives you a step-by-step method to calculate how much you should earn per hour to achieve financial independence. 
The book takes time to explain your mindset toward your goals, which changed my perspective about money. Your money or Your Life has sold over 1 million copies. No wonder it's so good. 
This is the perfect book for you to get started on your FIRE (Financial Independence Retire Early) Journey.
Purchase Your Money or Your Life Now!
2. Financial Freedom: A Proven Path To All The Money You Will Ever Need by Grant Sabatier

This book is written by Grant Sabatier, who went from $2.26 to millions in under 5 years. He is the best example of how ordinary people like you and me can get rich if we can do the things others are afraid to do. 
He has his fair share of struggles and has practiced FIRE throughout his journey. Grant also has a blog named "Millennial Money" which is probably the best personal finance blog I've seen on the web. 
In 14 easy-to-understand chapters, Grant lays out all his pro-level secrets to make money and retire early. Not only that, but the book also teaches you practical ways to save money, and invest in stocks, bonds, and real estate. 
If you want financial freedom or want to get started with FIRE, go ahead and grab this book. It's a steal. 
Purchase Financial Freedom By Grant Sabatier Now!
3.  Quit Like A Millionaire: No Gimmicks, Luck, Or Trust Fund Required by Kristy Shen & Brice Leung

Isn't the title too catchy? You can judge this book by its cover, it certainly provides value as the title says. Kristy and Brice are owners of the blog "Millennials Revolution". 
This book is more towards motivating you to achieve the goals which in this case is being a millionaire. Quit like a millionaire is the perfect blend of motivation, story, and strategies. 
I would say if you're just starting and have no clue what to do, why to do and how to do it and seriously need the push and the motivation, quit like a millionaire will be your best friend. 
Purchase Quit Like A Millionaire by Kristy Shen & Brice Leung Now!
4. The Simple Path to Wealth by JL Collins

If you want a less complicated book to get you to financial independence, think no further. JL Collins does an amazing job at explaining how to get there.
Although the book focuses more on investment and portfolio building, don't come under the assumption that it won't teach you how to be financially free. 
He gives you pointers like, if you can live on 4% of your investment every year, you are financially independent or Rule #1 Never Loose money and Rule #2 Never forget Rule #1, are great pointers to remember which take you closer to FI. 
Right from managing and avoiding debt to investing in the stock market to frugal living to using money to buy freedom and retire early, it explains all of it.
Purchase The Simple Path to Wealth by JL Collins
5. The 4-Hour Workweek by Tim Ferriss

A classic book isn't it? You've probably heard of this book, maybe even read it. It's quite famous and certainly worth it.
This book is more inclined towards entrepreneurship, but get this, it shapes and helps you manage your finances better and inculcates smart effective habits in you which ensure your FIRE movement works smoothly. 
Let me tell you, this book is a mindset book and if you think you're strong in that area, you can skip reading this book. As for others, please read this book.
Although Tim makes it sound super easy to work from any location of your choice just for 4 hours a week or so, definitely not practical it teaches you to broaden your perspective. 
The book provides you with practical business tips which can help your business grow exponentially. I knew a few tips but some were completely new to me. 
How to automate your business and build a passive income were some of my best reads in this book. Tim stresses retiring early and explains how we can retire early. 
Purchase The 4 Hour Workweek by Tim Ferriss
6. Retire Early with Real Estate by Chad Carson

Chad Carson quickly asks you, "what does it mean to live a life that matters?" Ever thought about what you will do with so much money? Now's a good time to ponder on this! 
The book is broken down into 7 parts with each part containing a few chapters on real estate and how to get wealthy.
All the steps all extremely logical and aren't impractical, so yes you can implement these strategies in your real estate game. 
It teaches you to start investing in FIRE (Financial Independence Retire Early) and helps you achieve using the power of real estate. Instead of building a vast real estate portfolio, Chad ascertains how much you'll need to retire and then insists you work your way up. 
If you're in the real estate sector and want to use real estate to fasten your retirement age, go all in and apply the tips and tricks in this book. 
Purchase Retire Early with Real Estate by Chad Carson.
Few other books you should read
Related: 6 Best Books For Entrepreneurs In 2023. 
These books are filled with knowledge and are considered the starter books for anyone entering the personal finance, retirement early and financial independence segments. 
Once you read a few FIRE books don't forget to read the five additional books above, they are great knowledge-packed books. These books will surely help you to reach FIRE (Financial Independence Retire Early)
What's your Favorite FIRE (Financial Independence Retire Early) Book? Let me know in the comments below.
Enjoyed this post? If so, you might want to subscribe to my newsletter. It usually contains life lessons and money-related topics, some interesting observations, links to articles or books I've read, and tips to be a better person. If you're interested in these things then subscribing will be simply wonderful 🙂 PS: Subscribe and Get your Freebie below!
Also, I'm a YouTuber now! If you're interested in Pinterest Marketing, Blogging, or business-related things, Subscribe to my Channel and I'll see you in the comments!