6 Best Books For Entrepreneurs In 2023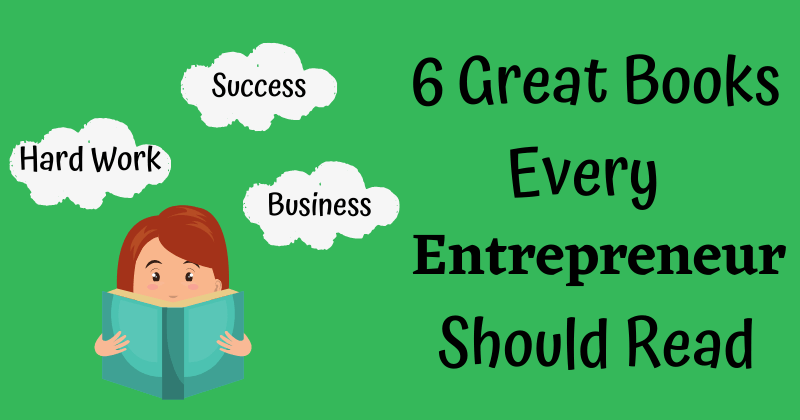 This article may contain affiliate links. If you make a purchase using my links, I'll earn a small commission at no extra cost to you. I appreciate your support!
Being an entrepreneur can be exciting till the point you figure out that you don't know how to run a successful business. Now it's daunting and exhausting, putting in the hours can stress you up pretty badly. 
But what do you do? How do you learn to be a better entrepreneur?
Just pick a book and start reading. Successful entrepreneurs who have struggled to reach the top have immense knowledge and great experience in the business world. These people write books that teach you exactly how to grow a business. 
The following are the best books for entrepreneurs that will help you to grow your business as well as yourself as an entrepreneur. It will also teach you life skills which are all essential components of a great entrepreneur. 
Your knowledge definitely isn't as high as theirs but you can always learn from them by reading their books. 
These books will give you the basics of what you need to start, run, and grow a business and also give you valuable advice on the way.
6 Best Books For Entrepreneurs In 2023
1. Rich dad poor dad
This book is written by Robert Kiyosaki and published in the year 1997. This book has sold over 32 million copies in more than 109 countries and has also been on the New York Times Bestsellers for over six years.
Rich dad poor dad is one of those books every human on earth should read. This is the book that teaches you the basics of finance and how you can grow your business like a Pro.
In the book, Robert explains that having two dads helped him to understand how to run a business that makes money so that you don't have to face a financial crisis.
I read this book once a year, cause the value provided is enormous, and every time I read this book I learn something new.
Why should you read this book?
Perfect Book to understand finance and money.
It teaches you the fact that you always have a choice in life.
It explains the difference between rich and poor dad mentality.
It teaches you that learning doesn't get over after school.

>>> Purchase Rich Dad Poor Dad Now!
2. Atomic Habits
Atomic habits is written by James Clear and were published in the year 2018. In this book, 
James Clear has explained to us in very simple language how habits are formed and how we can shape ourselves to unlearn bad habits and keep good habits. 
This is basically a book that focuses on our habits, how to shape them to develop long-lasting habits, and how you can work effectively to achieve success both in your personal and professional life. 
That is why this book is a must-read. Most of you might have a great idea, and might even start executing the idea but if you don't know how to be productive and get your tasks completed, accomplishing your dreams is beyond your reach.
He teaches you extremely basic tricks and techniques to learn new habits, be it going to the gym or studying if you read this book you can easily make it a habit.
Why should you read this book?
Changing your habits can make you very productive.
Learn about how creating new habits can help you grow your business.
It teaches you to follow a set routine every day at ease.

>>> Purchase Atomic Habits Now!
3. Rework
Rework is written by Jason Fried and was published in the year 2010.
Rework is not just any normal business book. It is "THE BOOK" if you want to learn, grow, and sustain a business. Rework teaches you a faster, easier, and smartest way to find success in your business. 
I've already read this book two times and I will be rereading it in the near future. It cuts the nonsense not so important knowledge you learn from people who pretend to be gurus and teaches you some real-life skills to fight in the business world. It gives you effective strategies to be more productive and improve motivation. 
One thing I started implementing instantly is to make tiny decisions instead of big decisions. Big decisions are hard to make, and that's why achieving it can be quite challenging.
Why should you read this book?
It gives you a smarter way to succeed in your business.
Doesn't make you run around the bush on advice
Mark Cuban says that following the principles in Rework is much better than any MBA program.
Why six-month plans fail and how to achieve targets.

4. Start With Why
Start with why is written by Simon Sinek and was published in the year 2009. If you're an entrepreneur or hoping to be an entrepreneur, this book is definitely for you. 
Simon Sinek asks you a simple question, "why?" Why do you want to start a business? Why do you want to sell this specific product? Why do you get out of bed every day in the morning? Why should customers buy your product? Why do you want to be an entrepreneur? Why do you want to make money?
You see, these are some of the many questions Simon Sinek wants you to ask yourself before you begin your success journey. 
If you can answer these questions honestly, you'll be extremely clear on your goals and expectations with this business. 
If not, work on it till you get a crystal clear answer on your WHY! He also explains what makes a good Leader which is an essential skill needed by every entrepreneur.
Why should you read this book?
It helps you define your WHY.
It helps you in goal setting.
It teaches you discipline and gives you the clarity to operate your business.
It makes you a better leader.

>>> Purchase Start With Why Now!
5. The 10X Rule
The 10x Rule is written by Grant Cardone and was published in the year 2011. Who is Grant? He is a real estate investor who has properties over $700 million. 
Grant Cardone is a beast when it comes to putting effort to get results and his book clearly follows the same principles. 
The 10x Rule is increasing your productivity 10 times what you are doing right now. You must set your targets 10 times of what you wanted to achieve and work 10 times to accomplish those goals. If you don't know how to work, this book is for you. 
The 10x rule has hugely helped me to take massive actions and not be an average person. 
By 10Xing your efforts you can be sure you won't ever have financial problems and your business will flourish like never before.
I am serious when I say you should read this book every 6 months. It's like an adrenaline rush that motivates you to reach 10X heights.
Why should you read this book?
If you want to achieve massive success in life.
It teaches you to take accountability and responsibility for your actions.
If you don't want to be average.
Learn how to dominate your field and sell your business like a pro.

>>> Purchase The 10X Rule Now!
6. The Psychology Of Selling
The psychology of selling is written by Brian Tracy and was published in the year 1985. 
Every entrepreneur knows that the key to a successful business is sales. If there are no sales, the company won't make any money.  
In this book, Brian Tracy teaches us how to sell not only our products but ourselves too. 
Having a product doesn't do any good if you can't make the person buying it fall in love with you and your product. It gives you effective strategies to sell your products to anyone and everyone. 
Nowadays most people sell their products without first focusing on the basics of sales. This book helps you understand that and teaches you how you can make the customer love your product over and over again.
Why should you buy this book?
To learn to sell your products to your customers.
It helps you grow your business.
It teaches you how customers think and act.
Master the art of confidence.

>>> Purchase The Psychology Of Selling Now!
Which Book Is The Best For Entrepreneurs?
There is no one book that will make you a better entrepreneur. All of these books are the perfect start to your journey. 
Once you finish reading them and understanding everything they teach you, read some more books on topics you are struggling with within your business. 
As Harry Truman said, " Not all readers are leaders, but all leaders are readers. "
Don't stop reading books because you can't always know everything but you can definitely learn something every day.
Related: 15 Things Successful People Do in Their 20s
Let me know in the comments below which book inspired you to become an Entrepreneur.
Enjoyed this post? If so, you might want to subscribe to my newsletter. It usually contains life lessons and money-related topics, some interesting observations, links to articles or books I've read, and tips to be a better person. If you're interested in these things then subscribing will be simply wonderful 🙂 PS: Subscribe and Get your Freebie below!
Also, I'm a YouTuber now! If you're interested in Pinterest Marketing, Blogging, or business-related things, Subscribe to my Channel and I'll see you in the comments!