Rank Math Review: Why I'm Never Switching Back To Yoast SEO!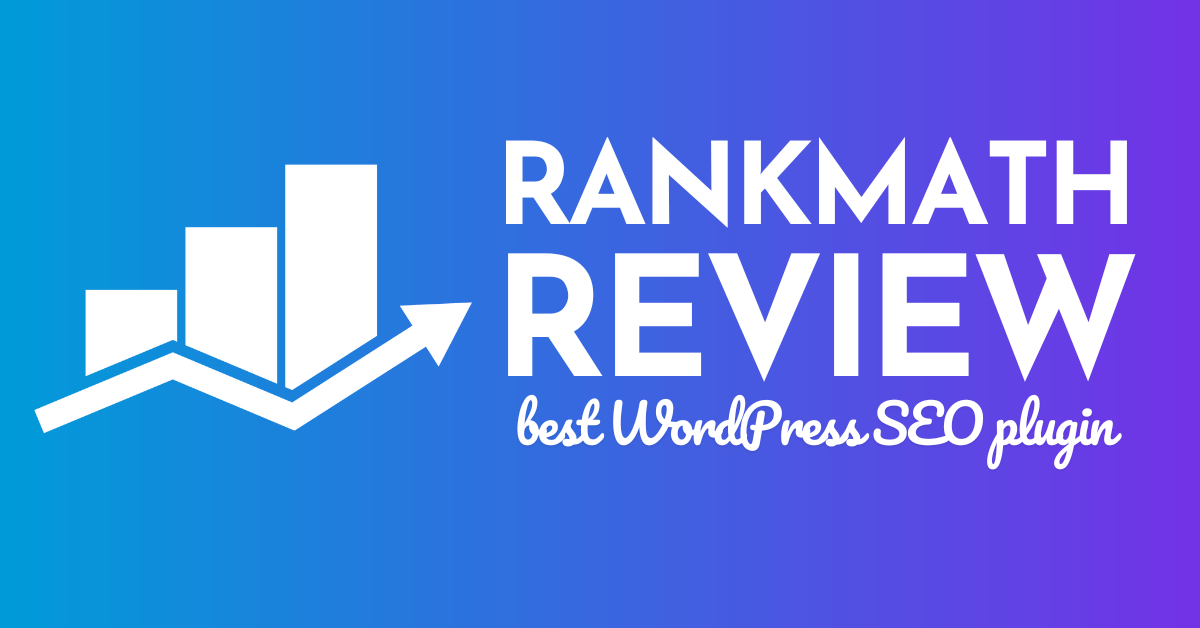 This article may contain affiliate links. If you make a purchase using my links, I'll earn a small commission at no extra cost to you. I appreciate your support!
Every WordPress user and blogger needs an SEO Plugin to optimize their website and rank higher on Google and other search engines!
When it comes to SEO tools for WordPress users, I always recommend Rank Math!
Whether you're a beginner or an experienced SEO professional, the Rank Math SEO tool makes it easy to optimize your website and helps you rank for more keywords.
Most bloggers claim Rank Math is even better than its competitors!
So in this Rank Math Review, I'll break down Rank Math WordPress SEO Tool to help you decide if this tool can boost your site ranking or not.
And by the end, I'll let you know if Rank Math is the best WordPress SEO Plugin!
Let's begin!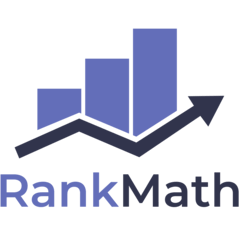 Quick Summary & Verdict
Overall Rating: 4.8/5
Tool Value: 4.8
Customer Service: 4.7
Value For Money: 4.8

Is Rank Math Legit?
Yes, Rank Math is a legitimate WordPress SEO plugin trusted by SEO professionals all over the globe. Rank Math is a comparatively new plugin that has gained a strong reputation in the SEO industry (with 2+ Million users) and has made itself a reliable choice for optimizing your website's search engine performance.

Rank Math Testimonials
Here are a few testimonials by Rank Math users on the WordPress tool!

Bottom Line
Rank Math is the perfect WordPress SEO tool that takes your website optimization to a whole new level. From on-page optimization to keyword analysis and schema markup integration to its smooth user-friendly interface, Rank Math's got you covered! Rank Math frees up your time to work on other business aspects by outranking your competition and driving more organic traffic to your website.

Rank Math Pricing
Individual Plan – $59/year
Business Plan – $199/year
Agency Plan – $499/year
Pros
Responsive & Knowledgeable Support Team
Seamless Integration & Migration.
Engaging in Community Forums & Facebook Group
Clean & Modern User Interface
Rank Math Content AI (AI Assistant)
Cons
Learning Curve for Advanced Features
Potential Plugin Conflicts
What is Rank Math?
Rank Math is a Search Engine Optimization plugin designed specifically for WordPress users. Rank Math is recommended by some of the best seo websites like Ahrefs, SEMrush, Moz, Backlinko, SEJ, and Hubspot.
It helps website owners and content creators optimize their content to improve search engine rankings.
You can easily customize important SEO settings to ensure that your website is properly indexed and displayed in search results.
The WordPress tool also offers valuable suggestions and recommendations based on best SEO practices to help you optimize your content effectively, which helps create better content for your viewers.
It also helps you create and configure HTML Sitemaps and helps in tracking keyword rankings!
Additionally, Rank Math supports structured data, allowing you to enhance your website's appearance in search results with rich snippets and other relevant information.
If you're using Yoast SEO or other SEO plugins and don't want to shift to Rank Math because it might be confusing, you can take a back seat as Rank Math offers seamless one-click migrations from other SEO Plugins to Rank Math.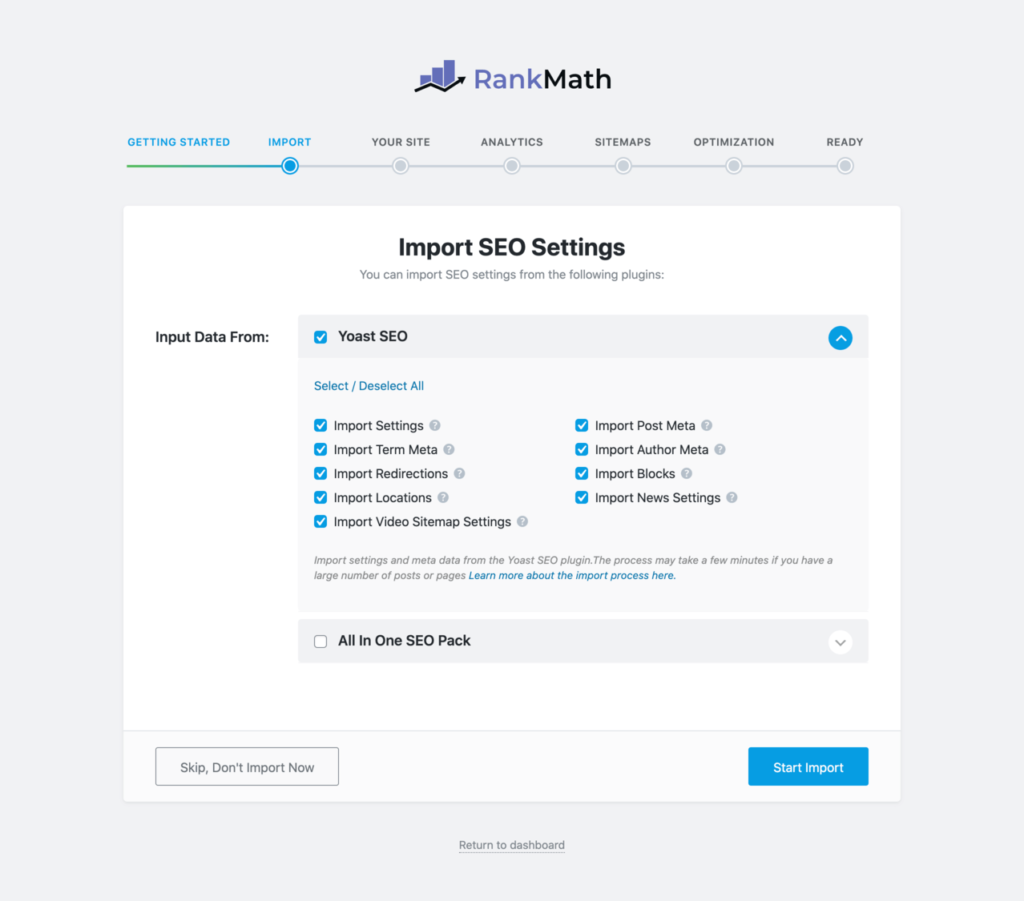 Is Rank Math Suited For You?
Whether you're an individual blogger, a small business owner writing articles to find new clients or a large enterprise growing its business, Rank Math offers features and functionalities that can massively boost your SEO game.
Rank Math is one of the feature-rich freemium SEO plugins, which I believe works for most WordPress users!
For beginners with no SEO experience, you can simply follow the steps in various YouTube videos on how to set up Rank Math effectively.
For experienced users, there are a ton of advance level features that you can tweak to get more refined results.
The extensive customization options allow you to fine-tune your SEO settings according to your specific requirements which ensures you get the desired results!
For people with no experience, I don't recommend playing with advanced-level settings as you can easily break your website, and the basic settings are perfect for 98% of users!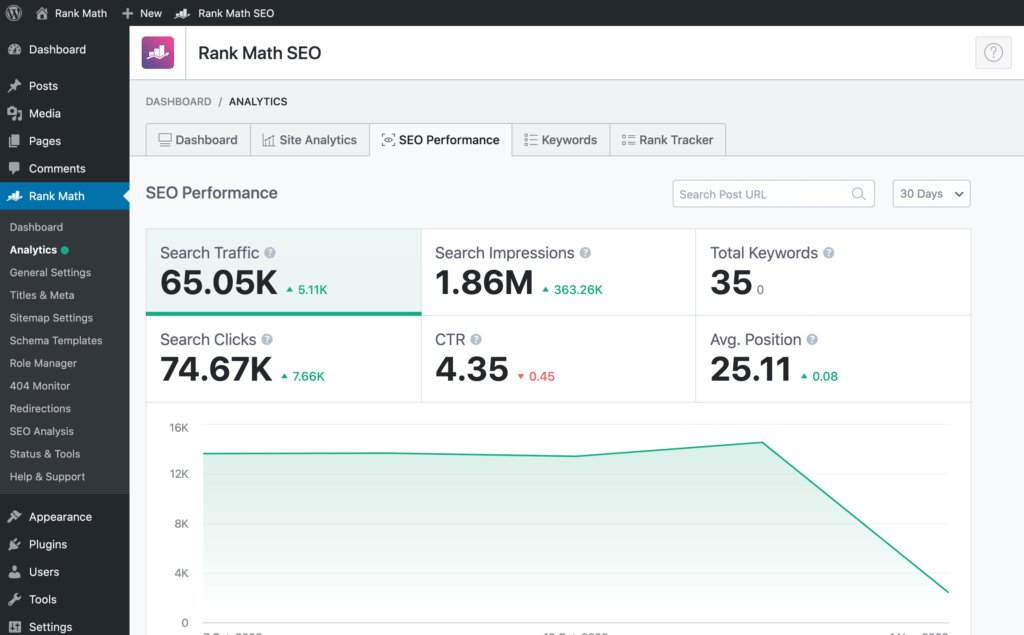 Rank Math is suited for you if:
You're want to build an online business
You're looking for an advanced SEO tool/best Free WordPress SEO Tool
You want to automate repetitive SEO tasks
You're not satisfied with your current Free SEO Plugin
You're willing to work hard writing blog posts and optimizing your website using Rank Math and other widely used SEO practices.
You're ready to make money and take charge of your life
Rank Math Cost & Refunds Breakdown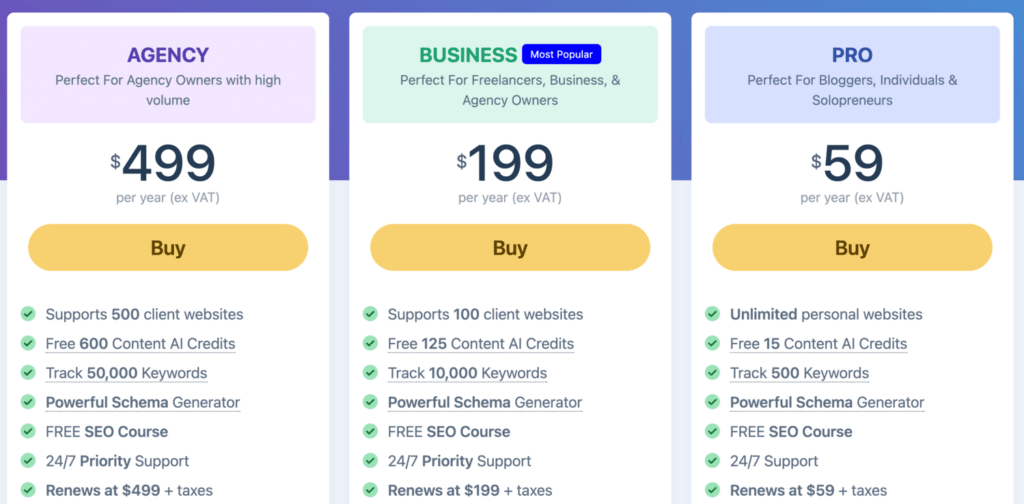 Rank Math offers free plans which in my opinion is more than sufficient for most users!
But the Pro plans offer a bunch of premium features that make any blogger think if they should opt for the Pro plans or not!
So let me help you get a clearer picture!
Rank Math Free vs. Pro Version: Which One to Choose?
They offer three plans depending on how you operate your business!
Rank Math PRO Individual ($59/year)
The Individual Plan is best suited for bloggers, Individuals & Solopreneurs like Me!
You'll get a bunch of premium features like Advanced Google Analytics 4 & Google Search Console Integration, Keyword Rank Tracker, 25 Free Content AI Credits, Advanced Schema Generator, Google Video/News SEO Sitemap, and a ton more brilliant features.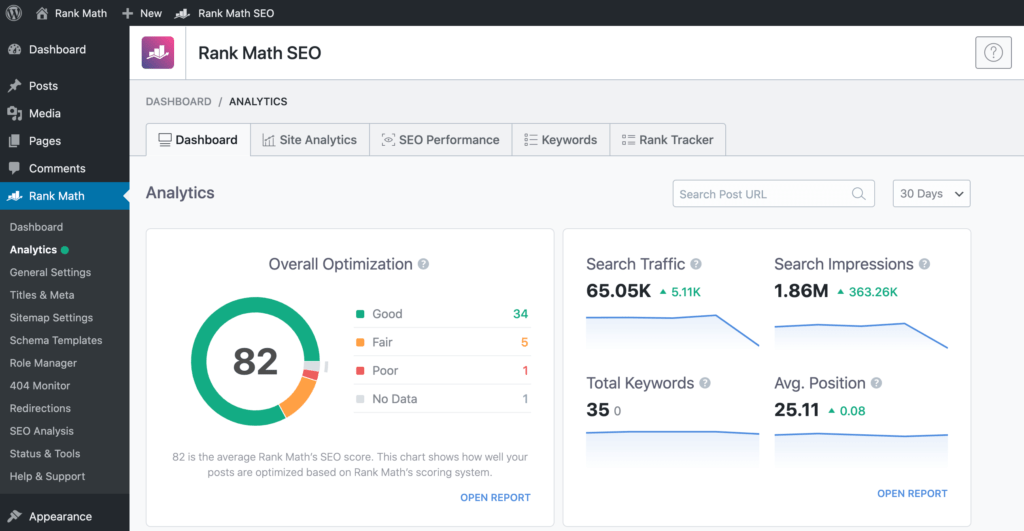 You'll also get a list of the Top 5 Winning/Losing Keywords and Posts that makes your SEO work much easier!
The price is quite reasonable at just $59 for an entire year! For some that may be expensive, but make a few affiliate sales, and I'm sure the Pro plan (considering the premium features it provides) will sound like a steal!
Rank Math PRO Business ($199/year)
The Business Plan is best suited for Freelancers, Business, & Agency Owners.
You'll get all the features included in the Individual Plan and some additional super features like tracking 20000 keywords, 200 Free Content AI Credits, the option to white label email reports, support & client management for 200 client sites, and much more!
The price is justified at just $199 for an entire year. I recommend businesses with 200 or less than 200 clients use the Rank Math Pro Business plan!
Rank Math PRO Agency ($499/year)
The Agency Plan is best suited for Agency Owners with high volume.
The Ageney Plan is their Top Tier plan to handle all your Website SEO needs!
In the Agency Plan, you will get all of the Personal and Business plans features and more additional features like support & client management for 750 client sites and an option to track 75000 keywords.
The Agency plan is only for huge companies, so 98% of people won't need this plan!
The price may seem high at $499 for an entire year, but for an agency with over 700 clients, the pro plan is a steal!
I recommend the Agency plan only if you have a client base of at most 750 to use the Rank Math Pro Agency plan!
Overall, For beginners and most individuals, I recommend opting for the free plan, as it has a ton of features to help you boost your site rankings.
But once you start earning money from your blog, you should invest in Rank Math Pro Individual Plan to get these additional premium benefits as they can easily help you reach your goals faster!
Check out this page to understand all the key differences between different Rank Math Plans!
Rank Math SEO Feature Breakdown
Rank Math offers a ton of features, I mean a ton!
That's why they're one of the best WordPress SEO tools! They offer more than all SEO tools I've come across.
Here are most of the important features Rank Math offers its Free and Pro plan users.
Quick Installation & Configuration Wizard
Basic & Advanced Level On-Page Optimization
24x7x365 Rank Math Support Team
Advanced SEO Analytics Modules
Smart Google Analytics 4 & Google Search Console Integration
Accurate Rank & Position History Tracker
Comprehensive Keyword & Content Analysis
XML Sitemap Generation and Management
Google News & Video Sitemap
Advanced Automated Image SEO Module
404 Error Monitoring and Redirection Manager
Local SEO & Business Optimization
WooCommerce SEO Optimization
Social Media Previews & Quick Integration
Integrated Google Trends Tool
Rich Snippet Support
Import/Export Settings With a Single Click
SEO Analyzer (Based on 40 SEO Factors)
Top 5 Winning/Losing Posts/Keywords
Single Post SEO Reports
Active Page/Post Speed Tracking
Default Open Graph Thumbnail
Bulk Edit Titles & Descriptions For All Posts
Minimal Impact on Website Loading (Lightweight Plugin)
Compatibility with Popular Page Builders
Importing Schema Markup from Other Websites
Advanced Schema Generator & Custom Builder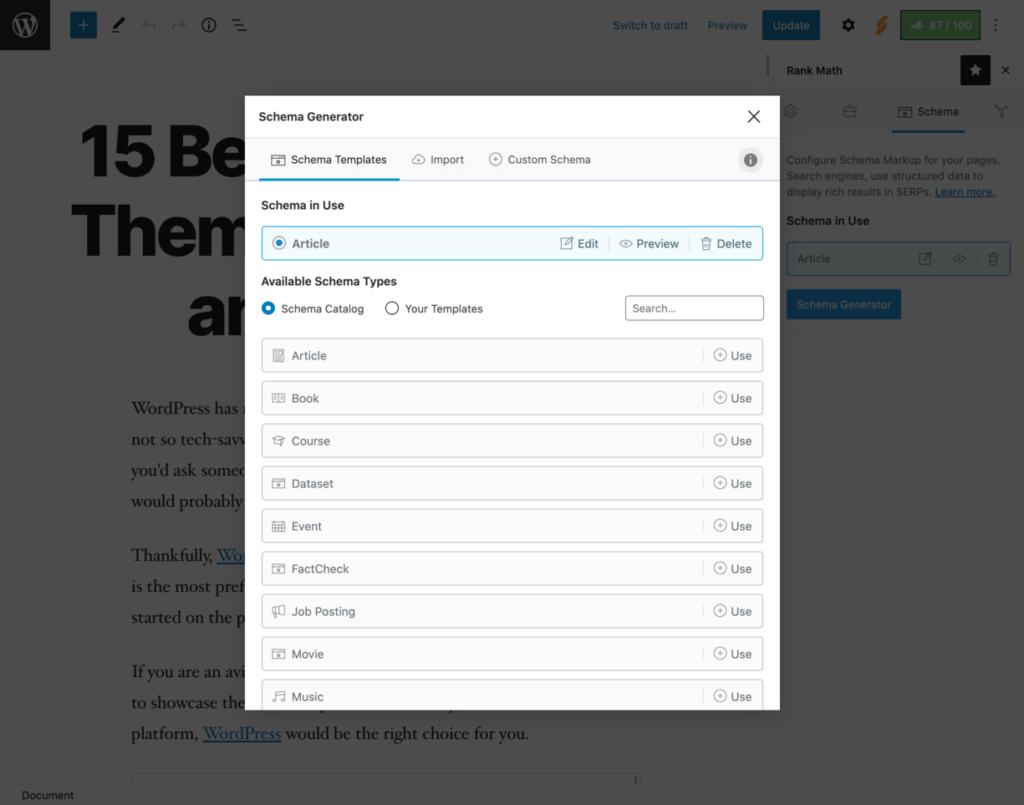 This looks like an exhaustive list of features Rank Math provides, but there's more!
If you want a detailed analysis of all the features Rank Math provides for their Free and Pro Plans in a table format, I recommend checking out their Pricing Page.
Pros and Cons Of Rank Math SEO
Pros
Responsive & Knowledgeable Support Team
I've had my share of confusion, and every time I broke something on my website or did something I don't completely understand, I reach out to Rank Math's support team!
They've always replied in 1-2 working days with solutions to address my queries. Their team had been trained quite well and quickly try to solve any concern I may have.
They also have the option to add sensitive data where you can add details that you only want the support team to see.
I had an issue once for which I needed to give my WordPress login credentials to the team and I did so through the sensitive data box!
Seamless Integration & Migration
Rank Math seamlessly integrates with popular page builders like Elementor and Divi and themes like Kadence.
It also offers compatibility with WooCommerce, to enable easy optimization of e-commerce websites.
Apart from that, it also helps migration from other SEO plugins (like Yoast SEO Plugin or All-In-One SEO Plugin) with a simple click.
Rank Math can copy all the necessary SEO settings from your existing plugin to their database in a single click.
In less than 5 minutes you can connect your previous SEO plugin to rank math, get all the settings, and start using Rank Math for your future website optimizing needs. Isn't that impressive!?
Engaging in Community Forums & Facebook Group
I'm a part of Rank Math Forums and Facebook group, and I don't actively participate in these places, but I do look from time to time to get updated on what's new and buzzing.
Their community forums and Facebook groups are interactive and great spaces to solve small doubts.
You can ask for tips and tricks on using Rank Math to the fullest, improving your website speed, and much more.
Once you join Rank Math and these groups, make it a habit to interact and learn from other Rank Math users. Simply said, don't be lazy like I am!
Clean & Modern User Interface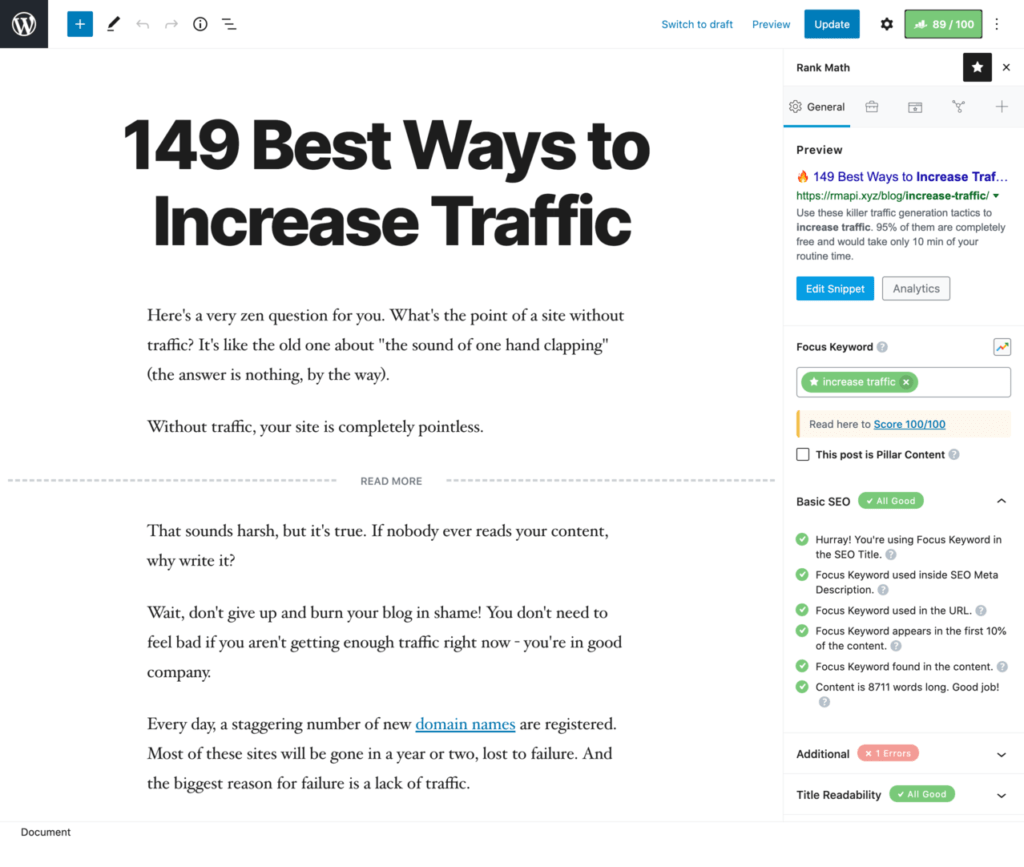 Rank Math has a clean and easy-to-adapt user interface built to provide relevant information when needed the most.
While editing posts, you can see how well your article scores out of 100. With this, you can make instant improvements to your post's On-Page SEO.
Additionally, Rank Math offers advanced snippet previews, allowing you to see how your post will appear on search engine results pages.
You can also preview rich snippets and social media previews, gaining a comprehensive understanding of how your post will be displayed across various platforms.
Rank Math Content AI (AI Assistant)
Content AI is a great AI feature that makes content writing easy and fast. It helps you by writing content with focus keywords.
Rank Math is the first WordPress SEO plugin that uses AI by giving you dynamic recommendations, focus keywords, links, and much more!
You won't be able to take full advantage of this AI feature with the free plan, as it only offers 5 Credits. You'll need to purchase it separately to make the most of this feature.
Not to worry, you will need to pay $50 for 225 credits!
Using Rank Math Content AI makes writing content that ranks easier to create, saving you time to focus on other business activities.
Cons
Learning Curve for Advanced Features
Setting up Rank Math is easy if you follow a YouTube tutorial, and most features with the free plan are somewhat easy to understand, but the Pro Plans have some advanced features that you will need some time to learn.
If you know zero or basic knowledge about SEO, then I recommend reading more about these features once you get them or reaching out to the Rank Math support team, and they'll help you understand these features better.
Potential Plugin Conflicts
Every WordPress plugin has compatibility issues with a few other plugins.
This can happen because the code written in the Rank Math plugin conflicts with the code in another plugin. The same is said for themes.
After downloading the plugin, if you see your site breaking or something not working properly, you need to start troubleshooting right away. If you can't solve it, reach out to the support team immediately.
To make things easier, Rank Math has an article with a list of common plugin conflicts. If you're facing an issue, check this list, then proceed!
Positive & Negative Rank Math Reviews
Debra Basson (TrustPilot) – I have no affiliation with this product owner other than using the product and I seldom review software products or plugins outside of platforms but there are always exceptions. SEO is a serious topic and little understood by most small business owners other than it's "a big deal". This plugin really connects all the dots in a very affordable way and puts you on the map – pun intended! If SEO isn't your thing, but you understand it's important this product will be just perfect for you. It certainly solved a lot of my headaches.
Jorge L Cabrera (ProductHunt) – If it is not the best SEO plugin for me it is the most complete, I use it in my day-to-day and I recommend it, they have to continue improving the internal audit that is carried out a little more. But overall I give it 1000 points.
Labo (Trustpilot) – Best SEO WordPress Plugin – I'm working in SEO for over 12 years now and I've never had a better SEO plugin. So many features (as well in the free version), a really nice and helpful support team, and almost no impact on loading time. 5 Stars – a must-have for every WordPress website.
Best Rank Math SEO Alternatives
I'm sure there are more than 50 WordPress SEO Plugins, but as you already know, most of them aren't great; Honestly, they're bad!
A few notable exceptions are good, and I've used some of them!
Below is the Best Rank Math SEO Alternative – Yoast SEO Plugin.
Rank Math Vs Yoast: Which Is Better?
While Yoast SEO and Rank Math are both good SEO plugins, there are some reasons why most bloggers prefer using Rank Math.
Features: Both Rank Math and Yoast SEO offer a comprehensive range of SEO features, but Rank Math offers a bunch of additional useful features for free.
Credibility: Yoast SEO has a long-standing reputation as a WordPress plugin. It has been in this space for decades, whereas Rank Math is newer in this space but has quickly gained the trust of 2+ Million WordPress users.
Pro Plans: When I compared Rank Math Pro Plan and Yoast SEO Premium, it was clear that Rank Math's pro plans offer so much more for much less prices than Yoast, making it a clear winner.
They also offer higher quality customer support and unlimited websites. The thing I dislike the most about the Yoast SEO Plugin is that for some premium features, separate purchases need to be made.
Overall, Yoast is a good SEO plugin, but when compared to Rank Math, it fails to show its value as Rank Math offers more for a lesser price.
This may change in the future, but as of now, I do recommend Rank Math over Yoast to anyone looking to build an online business on WordPress using SEO.
Verdict: Is Rank Math Worth It?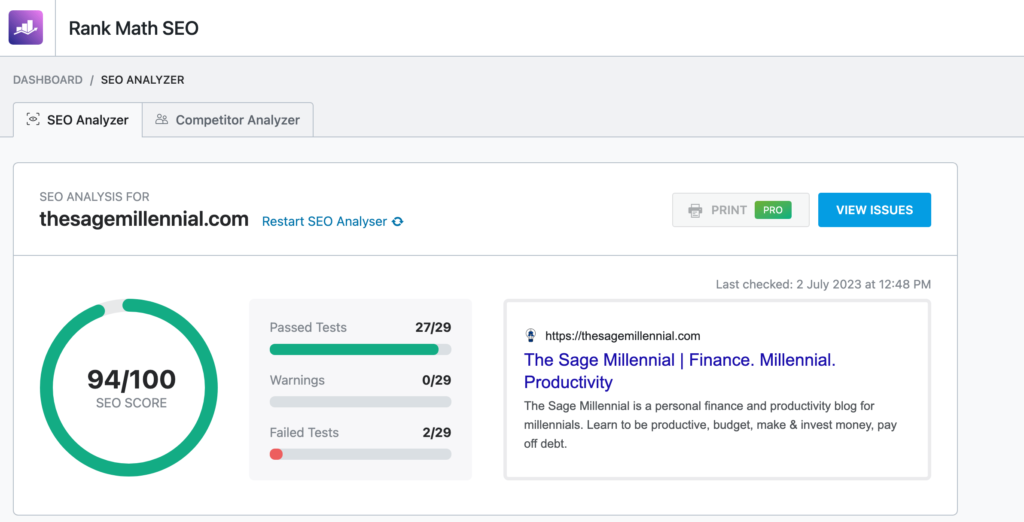 So Is Rank Math the Best WordPress SEO plugin for you?
Yes, it is! Rank Math is the perfect SEO tool for anyone looking to up their WordPress SEO game and rank higher on search engines!
If your 2023 goal is to elevate Your SEO Efforts and build a website that makes money, I recommend giving Rank Math SEO Plugin a shot!
There are tons of tutorials on setting up Rank Math, they also have a super fast support team, and if you need instant help, you can always check out their Facebook page or community forums.
The clean and modern UI of Rank Math and tons of other features make it an ideal choice for anyone looking to be an SEO expert who wants most of the SEO process to be automated!
That's all from my side for Rank Math SEO Review!
Feel free to leave your comments below if:
You have a question or feedback
You need me to clarify something regarding my Rank Math Review
You wish to share your Rank Math SEO Review with everyone