Freedom App Review (2023): Is It Worth Your Time?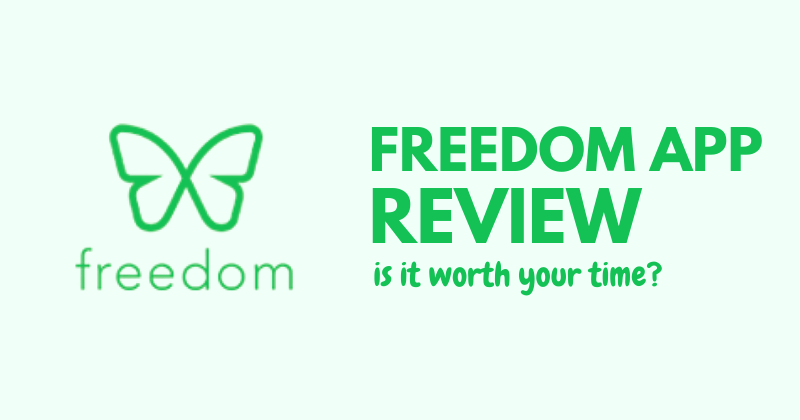 This article may contain affiliate links. If you make a purchase using my links, I'll earn a small commission at no extra cost to you. I appreciate your support!
Do you check your phone every 3 minutes to see the latest notifications from your friends or check up on your emails every 15 minutes? 
We are all in the same boat! There's no denying that our phones distract us from doing things that help us achieve success. 
I've tried to distance myself from my phone, even kept it in a different room but to no avail…
That's when I found Freedom.to! 
Freedom app helps you establish a simple goal:
To Eliminate all distracting websites from all your devices so you can focus on your work, learn something new, and achieve success!
If you've been struggling to keep your hands off your smartphone, this is certainly an app you should consider downloading on your phone, tablet, and laptop (they also have a browser extension!).
Over 2 Million people use the Freedom Platform to get work done without being distracted by their devices, I'm one of them! 
In this Freedom App Review let's see why they use Freedom and how you can use the Freedom Platforms to increase your productivity.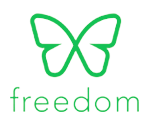 Quick Summary & Verdict
Ratings: 4.7/5
Freedom App helps you be more productive and gets work done by eliminating all internet distractions. Highly recommend Freedom to anyone trying to block websites, and distracting apps to reduce social media consumption.

Is The Freedom App Legit?
Freedom App is a legit and safe app & website blocker designed to help you reduce screen time and take your privacy with utmost priority.

Freedom Testimonials
Here are a few testimonials by Freedom Users on this productivity app!

Freedom App Summary
Freedom App is an easy way to fight digital distractions and be more productive. It gives you time to write, learn, construct, build, or start something new. The minimalist dashboard ensures you start a no-distraction session in seconds. If you wish to consistently do focused work, this app blocker is a must-try!

Freedom's 7-day Free Trial
Freedom is currently offering 7 Days Free Trial for new users so you see if this app helps you control your distractions and focus on work!`

Fees Charged
Yearly Plan: $3.3/month
(Use Code "FOCUS25" to get 25% off the Yearly Plan)
Pros
Blocks Websites And Specific Apps In No Time
Super Affordable Monthly Plans
Locked Mode
Task Scheduling Feature
Available On All Devices
Dedicated Customer Support Team
Exclusive Perks On Partner Softwares
Cons
Focus Sounds Feature Works Only On Browser
Needs Too Many Permissions
Could Modernize The Dashboard
Why Do You Need Freedom App?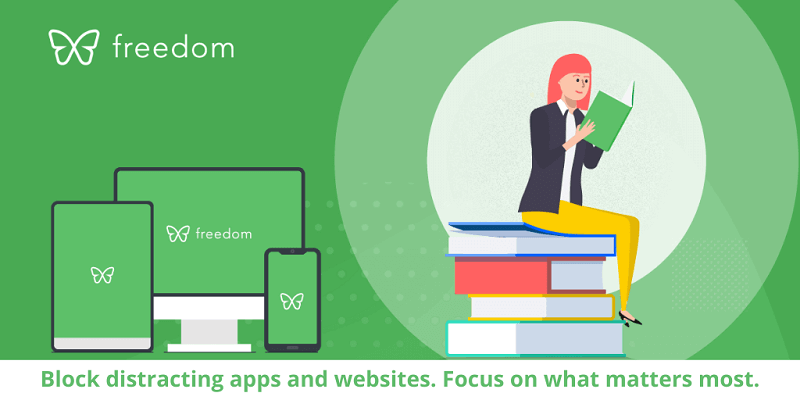 We all need freedom in our lives, freedom to speak, freedom to present thoughts & opinions, freedom to choose, freedom to live life the way we want, etc.
But we often take the freedom to work without distractions for granted! 
Let's be honest, if we don't work hard, we won't make enough money to enjoy the luxuries of life.
That's why Fred Stutzman (Founder & CEO) created Freedom App. He realized that in a world full of distractions, finding time to do deep work is almost next to impossible!
Fred made a simple yet highly effective app – Freedom, to encourage people to do deep work, achieve success in life, and stay away from distractions.
In short, Freedom is a distraction blocker, and it blocks your notifications, specific websites, social media apps, and even the whole internet for as long as you want.
It works on your mobile devices, tablets, and laptops (yes it has a desktop app), and supports Google Play Store, and iOS App Store.
Once you start using the app, every time you visit a site that's considered a blocked website, it will automatically not open!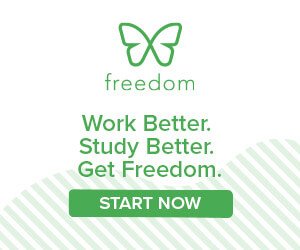 How Much Does Freedom App Cost?
Freedom comes with three plans:
Monthly: $8.99/month
Yearly: $3.3/month ($2.5/month with 25% discount, Code "FOCUS25")
Forever: $199 (heavy discounts up to 60%)
You can purchase Freedom Premium via Credit card, PayPal, or Amazon Payments.
If you carefully observe the premium plans, you will notice a huge difference between the monthly and yearly plans. That's because Freedom wants you to opt for their yearly plans. 
It's not just to force you to take the yearly plan, it's also because one month of using the Freedom App won't help you get productive. 
Developing a habit of consistently doing focused work takes a lot of time. That's why it makes sense to attract new customers towards Yearly Plans.
Do you wish to get more productive in 2023 and beyond? If yes, I suggest you grab the Yearly or Forever Plan and start using Freedom to help you grow and achieve your goals.
If you want to check out how it works before upgrading, Freedom offers 7 FREE Use Trials for all new members. 
That means you can take seven free sessions which will block all apps, distracting websites, notifications, and the entire internet.
If you wish to continue using the platform, you will need to upgrade to Freedom's premium plans.
Freedom Pros and Cons
What I DID Like
Blocks Websites And Apps In No Time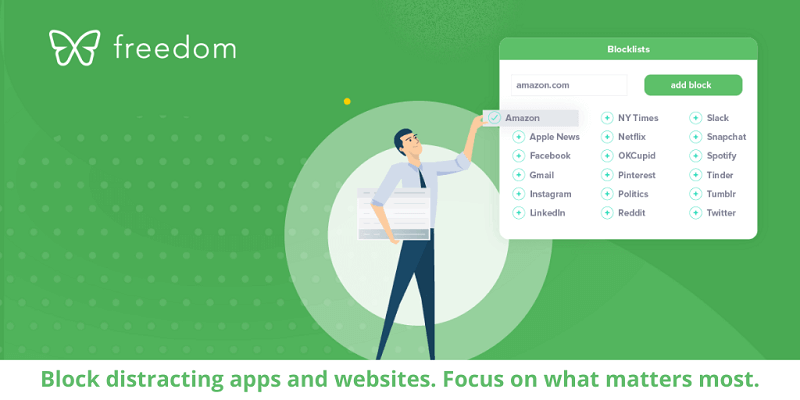 Freedom understands that we need to reduce the use of phones and other devices while working. The platform showcases that with its minimalistic look and feel. 
With just a few clicks and a minute at most, you can block all sorts of distractions from all your devices. There's an option to choose what apps you wish to block and what apps can continue running. 
With some tweaking, the Freedom app can serve your purposes well.
Super Affordable Monthly Plans
For just $2.5/month (after 25% off), you get access to all premium features like:
Unlimited Sessions & Unlimited Devices
Recurring Scheduled Session
Locked Mode
Advance Scheduling
Freedom App Perks – Partner Discounts
Focus Music, Cafés & other Ambient Sounds
Session Annotation & History
If you don't want to pay for a yearly subscription, they also have a Forever plan (one-time payment plan) only for $95.99. 
Once again, the Forever Plan is quite affordable for the value it brings to the table.
Locked Mode
Locked Mode is by far the best feature I have seen in Freedom App. It disables your ability to log out and quit a running Freedom session. 
I've faced this issue myself, I get used to something (in this case – the Freedom app), and I take it for granted. After that, I'll stop using the app or quit an Active Freedom Session. Due to locked mode, I can't do this anymore!
Unfortunately, this feature is only available in their premium plans. You'll need to pay $2.5/month to unlock this and all the other freedom app features included in the premium plans.
Task Scheduling Feature
Scheduling tasks is made very easy with Freedom.
For me, every day from 11:00 am to 12:30 pm, I work on my blogs, and during that time, I don't need anything to distract me (especially my phone!). 
Using Freedom's recurring scheduling feature:
I choose what I need to block (websites, apps, notifications)
Start and end time of the session (in my case 11:00 am to 12:30 pm)
Then I pick the days I need the recurring session for (Mon-Sun)
Give it a session name (like NoPhone Time!) 
Finally, click on the 'Create Schedule' button.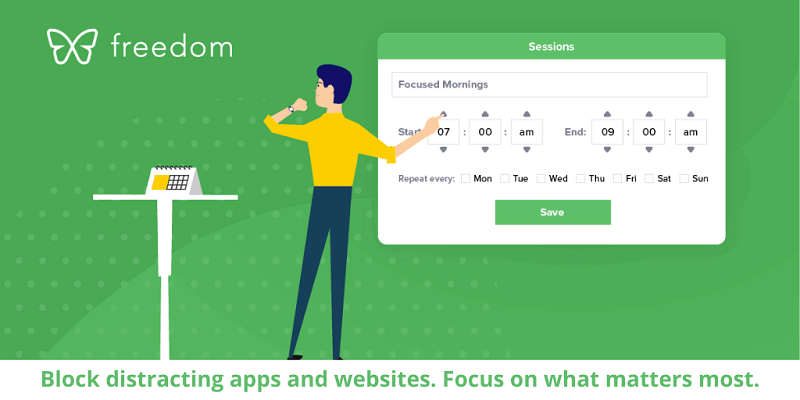 That's it! Hardly takes a minute, and now I can work every day in peace without even having to open the freedom app!
Note: To use the scheduling feature, you need to have a premium freedom account. To grab this amazing feature along with 25% off (use code "FOCUS25"). Check Out Premium Plans Today!
Available On All Devices
Other apps like Freedom also block apps and reduce distractions, but they aren't compatible with multiple devices.
Freedom works on your phone (Android and iOS), tablets, and laptops (Windows and Mac). You can sync multiple devices at once to ensure everything works smoothly on all platforms.
Dedicated Customer Support Team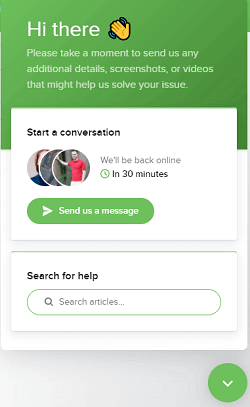 Not all companies provide a live chat customer service team. Well, Freedom does! 
And their usual response time is approximately 30 minutes, I'd say that's music to my ears. If you have any queries, you can raise a ticket, and the customer service team will get back to you.
Exclusive Perks On Partner Software
This is Big! Freedom's Premium Plans give you access to exclusive perks on premium plans for top products like Skillshare (One Month Free), Todoist, RescueTime, Fiverr Workspace, and so much more.
Freedom Premium practically pays for itself as the discounts and exclusive offers you get are quite lucrative (for example, a 2-month free Skillshare account).
What I DIDN'T Like
No focus app is perfect, but Freedom does the job of reducing distractions well, there are some things that I didn't like so much. Let's check it out!
Focus Sounds Feature Works Only On Browser
Freedom app has a feature called Focus Sounds that plays ambient sounds in the background to help you stay focused and escape from distractions. 
Listening to sounds while working is a well-known strategy to amplify productivity levels. For some reason, this feature is only available for browsers. 
If Freedom App could bring this feature to mobile devices, that be a huge help!
Needs Too Many Permissions
Using Freedom means you need to grant various permissions from your phone to restrict other apps, websites, and notifications. 
Now while this is obvious that the app can't work without permissions, I feel if they could work without accessing admin-level permissions, I would feel much better from a security and mobile battery point of view.
Note: Freedom does not send your data to their servers and respects your privacy.
Could Modernize The Dashboard
Freedom tries to keep things simple, minimalistic, and to the point. Don't get me wrong, It does what it says perfectly, but the dashboard layout feels like 2018. 
If they redesigned their dashboard layout, making it modern yet minimalistic, it would surely grab all my attention!
My Experience With Freedom
I've been using Freedom for some time now, and honestly, I believe it gets the job done. I don't touch my phone, use social media apps, and no notifications pop up on my screen. It keeps me away from distracting websites and helps me focus on my tasks.
I use Freedom 5 days a week (Mon-Fri) from 11:00 to 13:30 for writing content for thesagemillennial.com. 
I keep my phone on the other side of the room and turn off the internet, and the scheduling feature on Freedom does the rest for me. 
I used to get up to check my phone at least once in these 90 minutes, but due to the Locked Mode feature, I couldn't check any messages/notifications on my phone.
The first few weeks, I got up once in a while to check up and went back to work when I couldn't (thank you Locked Mode :)), but it became easier. 
Whenever I have these sessions now, I don't touch my phone, nor do I take breaks. I simply complete my tasks.
I like getting some work done, and Freedom has definitely helped me streamline my tasks and keep me away from being distracted!
Is Freedom Worth Your Time?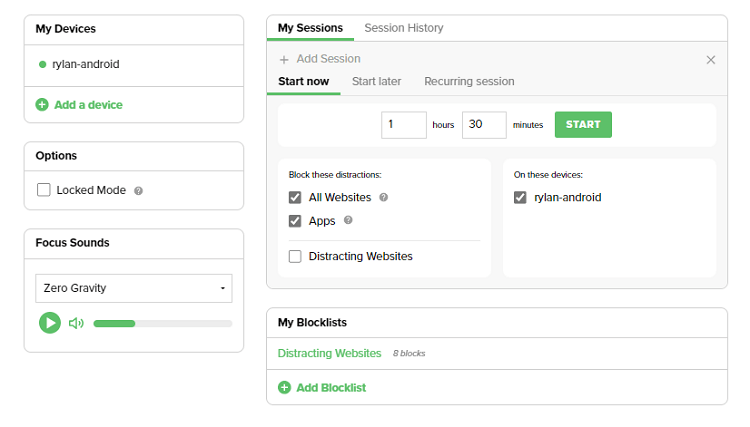 Freedom can improve on a few things, but I would surely recommend it as it's one of the best distraction blocker apps I have downloaded on my phone. 
Instead of wasting my time (like most apps do!), it saves me time and helps me focus on my work for the day. It helped make me more productive, and I'm sure if you stay the course, it will make your work easier too.
There's no point sticking to the Free Plan as it has only seven free focus sessions, lacks a bunch of essential freedom app features, and does not give you access to its exclusive product perks!
Go for the yearly plan or the forever plans for maximum benefits!
Feel free to leave your comments below if:
You have a question or feedback
You need me to clarify something regarding my Freedom App Review
You wish to share your Freedom App Review with everyone
Have you enjoyed this post? If so, you might want to subscribe to my newsletter. It usually contains life lessons and money-related topics, some interesting observations, links to articles or books I've read, and tips to be a better person. If you're interested in these things then subscribing will be simply wonderful 🙂 PS: Subscribe and Get your Freebie below!
Also, I'm a YouTuber now! If you're interested in Pinterest Marketing, Blogging, or business-related things, Subscribe to my Channel and I'll see you in the comments!
Freedom App Review (2023): Is It Worth Your Time?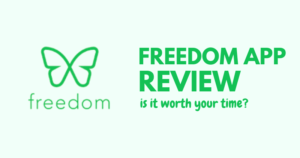 In-Depth Freedom App Review to help reduce laziness and improve productivity
Price: 2.5/month
Price Currency: $
Operating System: Android, iOS, Windows
Application Category: Personal Development