10 Best Personal Finance Books You've Got To Read (2023)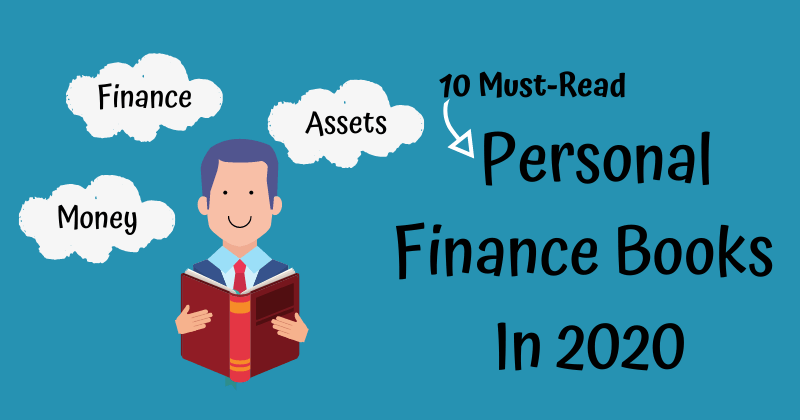 This article may contain affiliate links. If you make a purchase using my links, I'll earn a small commission at no extra cost to you. I appreciate your support!
If you're one of those people who manage their money like a Pro, pat yourself on the back, you're awesome!
But the majority of us weren't born with the power of managing our money properly!
How can you get a grip on your finances while making and growing your money, working smart, and definitely not hard? Learn, learn, and learn. 
And the Best way to Learn? Read Books!
As Garrison Keillor says, " A Book is a gift you can open again and again."
The average Millionaires and Billionaires make it a point to read at least 2-4 books a month. 
Why should everyone start reading books right away?
Strengthens the brain.
Builds vocabulary.
Reduces depression.
Improves concentration and focus.
It helps you learn something new.
Ignites new ideas.
So with that in mind, let's go through the 10 Best Personal Finance Books you must read in 2023.
Best Personal Finance Books (2023 Edition)
1. Rich Dad Poor Dad
If you were given a choice to pick one book out of these 10, Rich Dad Poor Dad should be your choice. This book is written by Robert Kiyosaki and published in the year 1997. 
This book has sold over 32 million copies in more than 109 countries and has also been on the New York Times Bestsellers for over six years.
In this book, Robert Kiyosaki explains that as a child he had two dads, a rich dad, and a poor dad. 
The poor dad was his real dad and wasn't really poor. In fact, he had a lot of money but didn't know how to manage it and would always work harder to earn more. Whereas the rich dad, his best friend's (mike) father used to look at money in a different way which set him apart from the others.
This book is perfect for you if you need to understand money, how money works, and how you can make or break your career. 
I read this book once a year, cause the value provided is enormous, and every time I read this book I learn something new.
Why should you read this book?
Perfect Book to understand finance and money.
It teaches you to understand that you always have a choice in life.
It explains the difference between rich and poor dad mentality.
It teaches you that learning doesn't get over after school.
>>> Purchase Rich Dad Poor Dad Now!
2. The Millionaire Next Door
The millionaire next door was written by Thomas J. Stanley and was published in the year 1996. You might think a millionaire lavishly spends his money on luxuries and wastes money whenever possible but that's not the truth. In fact, they aren't spenders but are savers and investors.
I was sort of surprised when I read this book cause it says that millionaires are more likely to live in modest houses like us and drive old or used cars. They don't waste money as we do, they became millionaires by saving, investing, and spending less money while living below their means. 
This book has a lot of tips and tricks used by millionaires during their journey to success.
You definitely won't be able to learn all the habits and practical tips in just one read. I suggest you re-read this book for better implementation of its principles.
Why should you read this book?
It analyzes the habits millionaires develop so that you can also develop those habits.
Learn to live below your means
Provides a straightforward viewpoint to problems
It teaches you to live a financially independent life
>>> Purchase The Millionaire Next Door
3. Think And Grow Rich
Another book that broke all records and is still considered to be one of the best books on personal finance is Think And Grow Rich. It was written by Napoleon Hill and was published in the year 1937. 
The book has been called the "Holy Grail for success" and is a must-read for anyone who wants to be successful and make riches. The 13 principles states in the book focus on mastering your mind to create the wealth of your desire. 
This book isn't like ordinary ones, it states that if your mind is strong, your potential to fulfill your financial goals is stronger.
The approach this book takes is to train your mind into believing you can reach your financial goals better and faster.
Why should you read this book?
It teaches you 13 principles to get rich.
Trains you to become a Leader.
It teaches you to figure your way out of failure.
It guides you into mastering your subconscious mind.
>>> Purchase Think And Grow Rich Now!
4. The Millionaire Fastlane
The Millionaire Fastlane is written by MJ DeMarco and was published in the year 2011. In the book, DeMarco asks us if we want to take the sidewalk or slow lane or the Fastlane to success and explains why most people never find financial success. 
He shows us that by taking the Fastlane approach, we can reach our goals much faster ad get rich at a faster speed. This book is a no-B.S. book, I think everyone should read it, especially if you're young. 
One interesting thing, he says in the book is if you want to be a millionaire get a million people buying a product or service for $ 1 and you'll be a millionaire easily. Implementing these strategies will surely put you on track to Fastlane's success. 
Why should you read this book?
If you want to crack the fast road to success.
It teaches you to not settle down for less.
It ignores the mainstream financial advice given by Guru and teaches the correct way.
>>> Purchase The Millionaire Fastlane
5. You Are A Badass At Making Money
You are a badass at making money is written by Jen Sincero and was published in the year 2017.
If you spend all your money and have no savings at the end this book is for you. It teaches you to make money as well as effective ways to reduce your expenses. 
If you feel low and feel like everything is going in the opposite direction, read this book. Jen Sincero says that in order to achieve your goals you need to be clear on what you need the money for, how much you want to earn, etc. 
This won't give you steps to be rich, it will tell you what it takes to be rich and how you can shape your mind to be rich.
Why should you read this book?
It makes you believe in what you want so that you can accomplish those goals.
It trains you to step out of your comfort zone
It helps you to get a clear picture of your financial goals.
>>> Purchase You Are A Badass At Making Money
6. The Total Money Makeover 
Dave Ramsey is the king of personal finance and making money. He is well known for teaching a lot of students about finance and how to make money. He's also written five new york times bestsellers which include The Total Money Makeover. 
In this book, Dave gives you some more tricks and amazing strategies on frugal living and budgeting in the correct way. If you think Dave Ramsey's book is a get-rich-quick scheme you're mistaken, go find another book for that. 
Here he teaches you about how savings and create funds for emergencies and pay off all your debt quickly. 
He also says that we need a solid blueprint to finish off all our debt and the best part! Ramsey gives you the blueprint! That's what makes this book a perfect steal and why you've got to read Dave's book.
Why should you read this book?
To learn to get rid of all your debt fast
To understand how to manage your money wisely
Dave Ramsey is a legend when it comes to debt and personal finance.
>>> Purchase The Total Money Makeover
7. The Richest Man In Babylon
The Richest Man in Babylon was written by George Samuel Clason and was published in the year 1926. This book takes a classic and traditional approach to personal finance and wealth creation. 
The Richest Man in Babylon is a series of parables that contains financial information put forth in the easiest way possible so that anyone struggling to understand finances can easily master the game.
This book is for those who live on a budget and find it difficult to manage their budget, cut their expenses, and save money. Another great piece of advice it gives is to save and then invest at least 10% of your income without fail.  
This book is a short read but each page contains high-quality financial guidelines for success.
Why should you read this book?
It will change your perspective on personal finance.
Teaches you to save money, and cut expenses.
It tells you to invest in those assets which you understand.
>>> Purchase The Richest Man In Babylon
8. Unshakeable: Your Financial Freedom Playbook
Unshakeable was written by Tony Robbins and was published in the year 2017.  Tony Robbins is a life coach, an author, and a public speaker and he is very good at managing money and money matters. 
He not only teaches you how to make money, save money, make more money, and grow your money exponentially but is also someone who motivates you to achieve your dreams and goals.
The book focuses on the principles and rules of investing for the average person like you and me.
In his book, he says that we shouldn't focus on what we can't control and start focusing on what we can control, and most often we fall into depression cause we focus too much on things we can't control.
The book talks about investing and how it can make you rich.
Why should you read this book?
He teaches you the real way to achieve financial freedom.
He explains how compounding can grow your money and benefit you in the long term.
It helps you to master your mind.
>>> Purchase Unshakeable: Your Financial Freedom Playbook
9. I Will Teach You To Be Rich
I Will Teach You To Be Rich is written by Ramit Sethi and was published in the year 2009. Ramit Sethi promises us the path to riches and successfully explains it to us in this book. 
In the book, Ramit Sethi lays out a six-week program to manage your money so as to live a more fulfilling life. He goes on to talk about credit cards in his first chapter and how using them correctly can result in thousands of dollars in benefits. 
Ramit also tells you to take responsibility for your problems and find a solution for them.
It majorly stresses knowing your numbers extremely well and investing your money smartly only in those funds you can understand properly as it can break your budget and financial goals.
Why should you read this book?
If you truly want to get rich.
It teaches you to think beyond money to define your perfect life.
It will help you manage your personal finance strategically.
>>> Purchase I Will Teach You To Be Rich
10. FU Money
Fu Money was written by Dan Lok and was published in the year 2009. It's a crazy book if you want to get rich. Dan is an entrepreneur and has had his struggles in his life. 
So rather than running in the bush and playing with you, he brutally tells you why you are where you are and how you can improve your potential to make money and keep your finances in check.
Dan Lok also has a YouTube channel where he gives advice to entrepreneurs.
Dan also explains why money is replaceable but time is not and how to be productive In the time you have for your business.
"Distraction is the only true luxury of poor people. Laser beam focus is mandatory for success" says Dan Lok.
The book teaches you to create an online business that sells and makes you money creating more time for you to relax.
What characteristics does an ideal businessman have? How to work smart instead of work hard? are a few questions covered in depth in this book.
Why should you read this book?
Learn to start an online business and scale to riches.
It gives you a brutally honest opinion to achieve success.
It pushes you to execute your plans right away.
Financial Independence Through Personal Finance Books
The personal finance sector is very demanding.
There are a lot of books that help you learn the basics of finance but the books recommended here are a starter guide for you to enter the finance world. 
The above books are some of the best personal finance books I've read that never get old.
I suggest you start with Rich Dad Poor Dad as it gives you a holistic approach to the world of finance and then pick at least 3-4 books as these books will increase your financial knowledge, improve your budget, reduce your expenses, teach you the difference between assets and liabilities and how to acquire assets.
Reading books will surely put you on a Fastlane to achieve massive wealth and success.
Let me know in the comments below which personal finance book has changed the way you look at finances.
Have you enjoyed this post? If so, you might want to subscribe to my newsletter. It usually contains life lessons and money-related topics, some interesting observations, links to articles or books I've read, and tips to be a better person. If you're interested in these things then subscribing will be simply wonderful 🙂 PS: Subscribe and Get your Freebie below!
Also, I'm a YouTuber now! If you're interested in Pinterest Marketing, Blogging, or business-related things, Subscribe to my Channel and I'll see you in the comments!